An in-depth look at the Coronavirus Aid, Relief, and Economic Security (CARES) Act, a mammoth, $2.2 trillion relief package that provided direct payments to millions of American families and forgivable loans to small businesses and corporations, to name j
Totaling over $2 trillion, the CARES Act was the largest economic stimulus package in American history, but confusion, delays, and even fraudulent activities…
In just a few months in early 2020, the entire world changed.
Outbreaks of an unnamed, acute respiratory illness had emerged in China at the end of 2019, and by the first few months of 2020, infections of the highly contagious virus had spread around the world. The World Health Organization (WHO) officially named the SARS-CoV-2 virus "COVID-19" and declared a global health emergency on March 11, 2020. Within a week, U.S. government officials instituted social distancing measures in an effort to contain the virus, imposing mandatory lockdowns of businesses, schools, and nearly all other public places.
On Wall Street, the stock markets became extremely volatile—the Dow Jones Industrial Average lost 37% and the S&P 500 fell 34%, triggering a stock market crash. The airline industry petitioned the government for a $50 billion bailout, saying it would go bankrupt otherwise. The National Restaurant Association asked for $145 billion, predicting up to 7 million employees would lose their jobs. Over 3 million Americans filed for unemployment benefits in the third week of March 2020 alone. The government needed to take quick action.
What is the CARES Act?
The CARES Act, or the Coronavirus Aid, Relief, and Economic Security Act, was the U.S. government's response to this unprecedented economic crisis. Congress passed the Act on March 25, 2020, and it was signed into law by President Donald Trump on March 27, 2020.
CARES was a mammoth, $2.2 trillion relief package that provided direct payments to millions of American families and forgivable loans to small businesses and corporations, to name just a few.
What are the components of the CARES Act?
The CARES Act provided trillions of dollars of aid to millions of Americans in a variety of forms such as unemployment benefits, foreclosure assistance, student loan relief, and payroll loans:
| | |
| --- | --- |
| Corporations | $454 billion |
| Small businesses | $349 billion |
| Households | $301 billion |
| Unemployment insurance | $250 billion |
| Tax deferrals | $221 billion |
| Other | $198 billion |
| States | $117 billion |
| Hospitals | $117 billion |
| Airlines | $61 billion |
| Public transit | $25 billion |
| Total | $2.093 trillion |
Individual and family assistance
Single taxpayers received one-time stimulus payments of $1,200, and families that earned less than $150,000 received $2,400 plus $500 per child. These payments were considered tax-free.
Unemployment benefits
The CARES Act provided an additional $600 per week to those receiving unemployment benefits through July 26, 2020, along with 13 more weeks of assistance to those who had already claimed the maximum amount (26 weeks) of regular unemployment benefits.
Foreclosure relief
The CARES Act placed a temporary moratorium on eviction filings and provided certain other protections to tenants of federally assisted rental properties. This moratorium was eventually extended through August 26, 2021.
Student loan relief

Under CARES, federal student loan repayments (and interest accumulation) were suspended through September 1, 2023, and employer-funded loans and interest were tax-free through December 31, 2020, for up to a maximum of $5,250 per employee. In addition, a $14 billion relief fund was established to help both students and universities with the cost of course materials, technology, food, and other services.
Medicare increases
Medicare services moved online during the COVID-19 pandemic; through CARES, Medicare coverage expanded to include telehealth appointments. In addition, Medicare prescriptions were expanded to include refills of up to 90 days.
Business assistance
Funding initiatives under the CARES Act included treatment, diagnosis, and protection measures for hospitals and community health centers. It also established a "Ready Reserve Corps." of frontline healthcare workers and increased Medicare payments to medical providers in the year 2020.
Additional government funding was aimed at the research and development of a COVID-19 vaccine (the Coronavirus Preparedness and Response Supplemental Appropriations Act) as well as unemployment compensation (the Families First Coronavirus Response Act), which also took effect in March 2020.
But research labs and hospitals weren't the only ones who received government assistance. The U.S. Department of Defense Received $1 billion, which it ultimately used for non-pandemic-related purposes.
Small businesses were eligible for funding under the $669 billion Paycheck Protection Program, which provided forgivable loans to businesses, nonprofits, and faith-based organizations with less than 500 employees. Employers were also eligible to defer Social Security tax payments for two years, along with other tax benefits, such as increased tax deductions on businesses that claimed net operating losses of 80%–100% in the 2018–2020 period. It also raised the limit on tax-deductible contributions from 10% to 25%.
Who benefitted from the CARES Act? How equitable was it?
The CARES Act provided more than $2 trillion in relief to individuals, families, small businesses, and critical sectors of the U.S. economy, such as airlines and transportation. However, an August 2020 report from the Brookings Institution, a nonpartisan think tank, revealed that individuals experienced confusion and delays surrounding both unemployment benefits as well as stimulus payments—and the lowest-income households experienced a significantly longer delay than higher-income households.
Much of this was due to the method in which these payments were delivered: If the IRS did not have an individual's direct deposit information on file for their tax refunds, payments went through the mail, where they could languish for weeks at a time.
Black and Hispanic populations were especially vulnerable to the economic shocks caused by the pandemic, since they had lower rates of emergency savings and had a higher likelihood of facing eviction, skipped bills, and food insecurity. These same demographics experienced 8% and 11% longer delays, respectively, in receiving their stimulus payments than white demographics.
In addition, the Justice Department has been investigating hundreds of individuals for exploiting the CARES Act by fraudulently receiving relief payments through the Paycheck Protection Program and COVID-19 Economic Injury Disaster Loans. This includes instances of bank fraud, wire fraud, identity theft, and money laundering. As of December 2021, nearly 100 individuals were sentenced to prison for falsifying documents and using fake identities in order to obtain payments.
Did the CARES Act help the economy?
Seen through a number of metrics, CARES is considered a success. The U.S. unemployment rate fell from 14.7% in April 2020 to 3.6% by August 2020. According to Sharon Parrott, the President of the Center of Budget and Policy Priorities, a nonpartisan policy organization, there were actually 10 million fewer Americans below the poverty line in 2020 than in 2019, if you include government assistance. Medicaid enrollments over the period also increased by 16 million people, and there was no reported surge in evictions, either.
But the CARES Act also created negative outcomes, such as adding at least $1 trillion more to the federal deficit, according to the Congressional Budget Office. Eviction rates actually surged over 40% in 2023 due to the end of the moratorium period on federally backed mortgages as well as national rent increases in the double-digits: The national average was 14%, or $250 per month more between 2019 and 2023.
Did the CARES Act expire?
CARES Act funds expired on September 30, 2021.
A second round of stimulus payments, known as the Coronavirus Response and Relief Supplemental Appropriations Act of 2021, took effect on December 27, 2020. This $900 billion package included a one-time payment of $600 per taxpayer, with an additional $600 per dependent under age 16. In addition, taxpayers who did not initially receive a stimulus payment were eligible to claim one on their 2020 tax returns.
Soon after President Joe Biden was sworn into office, he signed the American Rescue Plan, a $1.9 trillion act, in March 2021, giving taxpayers up to an additional $1400.
unemployment
foreclosure
stimulus
dow jones
sp 500
federal reserve
irs
mortgages
congress
trump
vaccine
treatment
spread
social distancing
pandemic
coronavirus
covid-19
unemployment
stimulus
stock markets
china
world health organization
Guerilla gardening: how you can make your local area greener without getting into trouble
Many people are gardening on land that is not theirs – here are some things to consider to avoid getting into trouble.
When Richard Reynolds first started gardening around London's streets, he was so worried he might be arrested that he worked under the cover of darkness. Reynolds was one of the UK's first modern guerrilla gardeners, a movement that encourages people to nurture and revive land they do not have the legal rights to cultivate.
Gardening, in general, offers physical and mental health benefits. But as many as one in eight British households have no access to a garden or outdoor space of their own.
This issue is particularly pronounced among city dwellers, ethnic minorities and young people. A 2021 survey conducted in England revealed that those aged 16-24 were more than twice as likely to lack access to a garden or allotment compared to those aged over 65.
---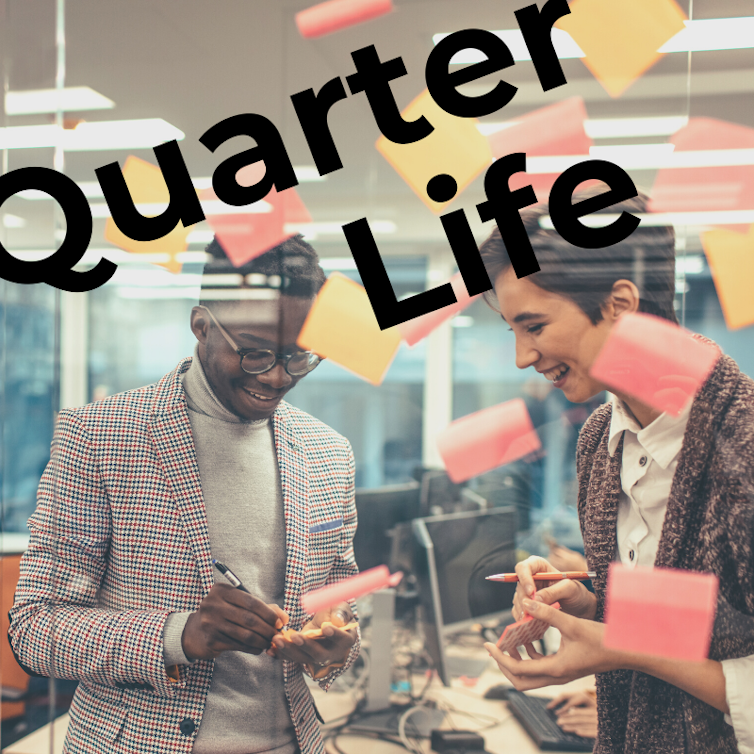 This article is part of Quarter Life, a series about issues affecting those of us in our twenties and thirties. From the challenges of beginning a career and taking care of our mental health, to the excitement of starting a family, adopting a pet or just making friends as an adult. The articles in this series explore the questions and bring answers as we navigate this turbulent period of life.
You may be interested in:
How community gardening could ease your climate concerns
Three ways to get your nature fix without a garden
How often do you think about the Roman empire? TikTok trend exposed the way we gender history
---
Guerrilla gardening is a particularly good option for these groups of people. It can involve planting herbs or vegetables for a whole community to enjoy, spreading seeds or plants, tidying weeds, or even something as simple as picking up litter.
But if you're considering becoming a guerilla gardener, it's important to understand your rights. Could you be arrested for it? And should you wait until after dark?
Can you be prosecuted?
It's important to remember that much of the unused or abandoned land that is potentially suitable for guerilla gardening in towns and cities throughout the UK is owned by local councils. Common examples of such locations include broken pavements with missing slabs, wasteland and the central areas of roundabouts.
Although much of this land is already open for the public to walk over, actively gardening on it would become an act of trespass.
The law of trespass sounds scary. However, gardening on this land would be a breach of civil law rather than a crime. This means that most guerrilla gardeners are unlikely to receive a fine or a criminal record.
Landowners do have the legal right to use "reasonable force" to remove trespassers from their land. But, fortunately, it seems most councils have ignored guerrilla gardeners, having neither the time, money or inclination to bring legal action against them.
Colchester Council, for example, were unable to track down the identity of the "human shrub", a mysterious eco-activist who restored the flowers in the city's abandoned plant containers in 2009. The shrub returned again in 2015 and sent a gift of seeds to a local councillor.
In other areas of the UK, the work of guerilla gardeners has been cautiously welcomed by local councils. In Salford, a city in Greater Manchester, there is a formal requirement to submit an application and obtain permission to grow on vacant spots in the city. But the local authority tends not to interfere with illegal grow sites.
There seems to be an unwritten acceptance that people can garden wherever they want, given the abundance of available space and the lack of active maintenance. This also offers the additional advantage of saving both time and money for the local council.
You should still be careful about where you trespass though. In some areas, guerrilla gardening can lead to unwelcome attention. During the May Day riots of 2000, for example, guerrilla gardeners were accused of planting cannabis seeds in central London's Parliament Square.
Gardening at night may draw the wrong attention too, particularly if you are carrying gardening tools that might be misunderstood by the police as threatening weapons.
How can you start?
There are many different types of guerrilla gardening that you could get involved in, from planting native plant species that benefit pollinators and other wildlife to tidying derelict land to create safer places for the local community.
One of the simplest forms of guerilla gardening is planting seeds. Some environmental projects circulate "seed bombs" and others use biodegradable "seed balloons" that are filled with helium and deflate after a day, distributing seeds by air.
Whatever you try, as a guerrilla gardener you shouldn't harm the environment or spoil other people's enjoyment of the space around you. Remember that weeds and wilderness have an environmental value too. And think carefully about the species you are going to plant so that you can protect local plants and wildlife.
The most attractive species to humans might not provide the best home or food for wildlife. Some can even outcompete native plants and drive them towards extinction. Planting certain harmful, invasive or poisonous species like ragwort, knotweed or Himalayan balsam is even prohibited by law.
That said, some guerrilla gardeners have used social media to organise "balsam bashing" events, where people come together to pull up this harmful invasive plant.
Guerrilla gardening takes many forms and can bring great benefits for people and the environment. You're unlikely to be arrested for planting and growing trees and other greenery in public spaces. But remember that these spaces should be shared with everyone, including your local wildlife.
Ben Mayfield does not work for, consult, own shares in or receive funding from any company or organisation that would benefit from this article, and has disclosed no relevant affiliations beyond their academic appointment.
uk
Trans To Be Banned From Female Hospital Wards In UK
Trans To Be Banned From Female Hospital Wards In UK
Authored by Steve Watson via Summit News,
The UK Health Secretary is to issue a proposal…
Trans To Be Banned From Female Hospital Wards In UK
Authored by Steve Watson via Summit News,
The UK Health Secretary is to issue a proposal to ban trans patients from female hospital wards in the UK, as well as reinstating 'sex specific' language in National Health Service materials, according to reports.
The Daily Mail reports that "Steve Barclay will unveil the plans to push back against 'wokery' in the health service amid concerns that women's rights are being sidelined."
Daily Mail: "Trans women patients 'to be banned from female wards' under plans to be announced by Health Secretary Steve Barclay today"https://t.co/dPU9wbKEZL

— Emily Wilding Davison (@Wommando) October 3, 2023
The proposal would see only people of the same biological sex sharing wards, with care coming from doctors and nurses of the same sex, when it comes to intimate health matters.
"We need a common-sense approach to sex and equality issues in the NHS. That is why I am announcing proposals for clearer rights for patients," Barlcay stated, adding "It is vital that women's voices are heard in the NHS and the privacy, dignity and safety of all patients are protected."
He added "And I can confirm that sex-specific language has now been fully restored to online health advice pages about cervical and ovarian cancer and the menopause."
As we previously highlighted, the word 'women' was removed from such materials and replaced with non-gendered terms to be "more inclusive":
A source close to the Health Secretary told the Telegraph that "The Secretary of State is fed up with this agenda and the damage it's causing, language like "chestfeeding", talking about pregnant "people" rather than women. It exasperates the majority of people, and he is determined to take action."
"He is concerned that women's voices should be heard on healthcare and that too often wokery and ideological dogma is getting in the way of this," the source added.
Related:
*  *  *
Brand new merch now available! Get it at https://www.pjwshop.com/
In the age of mass Silicon Valley censorship It is crucial that we stay in touch. We need you to sign up for our free newsletter here. Support my sponsor – Summit Vitamins – super charge your health and well being.
Also, we urgently need your financial support here.
Tyler Durden
Wed, 10/04/2023 - 05:00
fed
uk
Sweden's Deadly Gun Violence
Sweden's Deadly Gun Violence
Swedish Prime Minister Ulf Kristersson is calling on the military to assist the police with tackling the rise…
Sweden's Deadly Gun Violence
Swedish Prime Minister Ulf Kristersson is calling on the military to assist the police with tackling the rise in gang-related violence in the country, as fatal shootings and bombings claimed the lives of 12 people last month.
As Statista's Anna Fleck reports, in the latest move, the Swedish government said on Friday that it would authorize future military assistance to the police, following a meeting between Krisstersson and the heads of both forces on how to reduce violence from organized criminal gangs. It is not yet clear exactly which duties the military will take on.
"The wave of violence is unprecedented in Sweden, but it is also unprecedented in Europe, no other country has a situation like the one we have," Kristersson commented in a televised speech.

"The police cannot do all the work themselves."
According to the Swedish Police Authority's annual reports, last year a total of 62 people were killed by gunfire, marking the deadliest year for shootings since the authorities started publishing data in late 2016.
You will find more infographics at Statista
A total of 11 people were fatally shot last month alone, in addition to one person who died in a bomb blast. These 11 bring the death toll by firearms to 42 in 2023, a figure that may rise further yet with three months left until the end of the year.
September marks the second deadliest month on record for gun crime in Sweden, following only after December 2019 when 12 people were shot and killed.
Tyler Durden
Wed, 10/04/2023 - 04:15
europe
sweden