The last two recessions hit young people hardest — here's how you can protect yourself for the next one
A personal finance expert on the steps you can take now to prepare for a possible recession.
After the pandemic and now a cost of living crisis, it seems unthinkable that the economic situation could get worse. But experts are pretty certain that the UK economy will flatline in 2023, and some are even murmuring that a recession could happen this year.
Technically, a recession means two or more consecutive quarters of negative growth in a country's economic activity. This is measured using real Gross Domestic Product (GDP). "Real" means that the effect of price changes has been stripped out, so real GDP is a measure of the volume of activity in the economy.
Recessions matter because typically, if activity contracts, unemployment rises and wages stagnate. Clearly, the loss of a job triggers a sudden, traumatic shock to your finances. Meanwhile, stagnant wages cause your living standards to fall, especially when inflation is high as it is now.
The UK has experienced two recent recessions, during the 2008 financial crisis and in the first year of the pandemic. Both have hit younger people hardest, as shown in the chart below.
The 2020 recession shut down much of the UK's hospitality sector, which has a high proportion of younger workers – overall, one in seven people under the age of 25 found themselves out of work. During the recession in 2008-09, the situation for younger workers was even worse. The UK unemployment rate rose to 8% generally but was over twice as high for the under-25s. This was due, in part, to firms cutting back on graduate recruitment schemes.
The principal driver of the current potential recession is the ongoing war in Ukraine, which is compounding existing global supply shortages – especially of oil, gas and essential foodstuffs such as grain and cooking oil. This is pushing up prices, costs and uncertainty, causing both firms and households to act cautiously, depressing economic activity.
Meanwhile, the Bank of England is trying rein in inflation by raising interest rates. This works by deliberately aiming to suppress economic activity, adding to the risk of recession.
As a young professional, there are a few steps you can take to build your financial resilience and protect yourself:
Deal with your debt
Struggling to keep up debt repayments if times get really tough can be the straw that breaks your finances. Try now to pay off any costly forms of debt, such as credit cards.
But don't overpay your student loan if you have one – unlike other debts, these repayments automatically stop if your income falls below the repayment threshold (currently £27,295 for many graduates).
---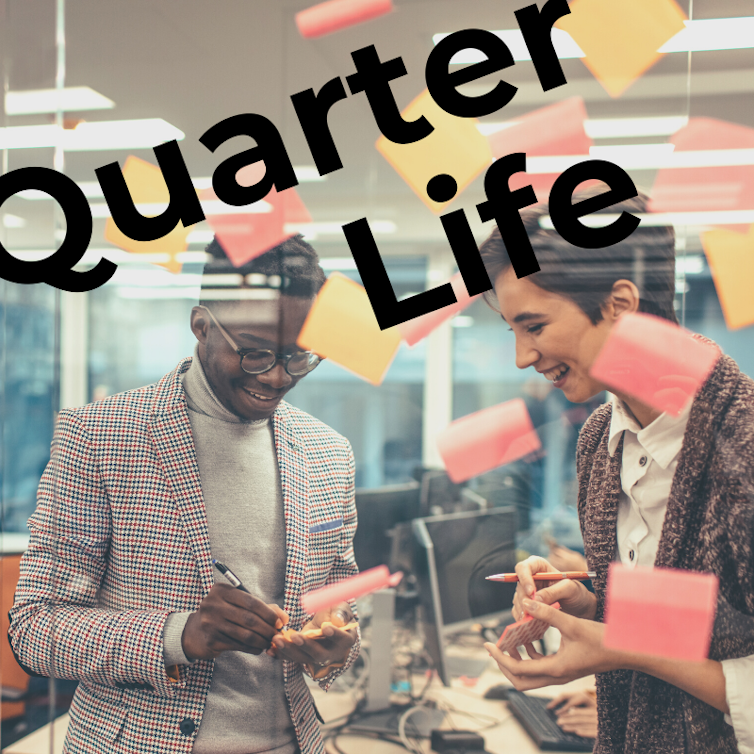 This article is part of Quarter Life, a series about issues affecting those of us in our twenties and thirties. From the challenges of beginning a career and taking care of our mental health, to the excitement of starting a family, adopting a pet or just making friends as an adult. The articles in this series explore the questions and bring answers as we navigate this turbulent period of life.
You may be interested in:
Sustainable investment: want a green place to start putting your money away? Here's what you need to know
What a £350,000 average house price means for first-time buyers in Great Britain
Four ways pensions still fail to support staff who are young, low paid and part time
---
Evaluate your saving and spending
If you can, build up a buffer of savings that you can dip into if you were to lose your job. As a rule of thumb, aim to cover three-to-six months' worth of spending, but whatever you can manage will provide some help. Keep these savings in a bank or building society account where you can access them easily and be sure of the amount you'll get back.
If you're in the fortunate position of having additional money to invest, falling stock markets could create good buying opportunities. But there's a lot of uncertainty and stock markets could slide further, meaning the value of your investments could fall before hopefully eventually rising.
Be especially wary of cryptocurrencies. These are more of a gamble than an investment. The UK's financial regulator warns that you should only risk money that you are prepared to lose.
If you are planning any big-ticket purchases – new furniture or a holiday, for example – think about deferring them until later. Similarly, now might not be the best time to start a family.
On the flip side, there may be purchases you can bring forward to save you money later. If you're planning to buy your own home, for example, it could make sense to do this sooner if a mortgage would cost less than your current rent.
Creating a budget can help you see whether you can free up some money each month for these goals. Use a mobile budgeting app or the government-sponsored MoneyHelper web-based budget planner.
Diversify your income
Another way to build resilience is to diversify your potential sources of income so that, if you were to lose your job, you would have another string in your financial bow. For example, does your industry use freelance consultants? Do you make things you could sell online, or have other useful skills?
You might also check whether there is a local exchange trading scheme in your area. These schemes, found worldwide, allow you to trade goods and services directly with people in your local community, earning and paying in time credits or a local currency. By baking or teaching, you could earn credits that you then spend with other members who, say, grow vegetables or do electrical work. By operating outside the national economy and national currency, these schemes may help maintain your standard of living during a recession.
Finally, make sure you know where to get information about your rights and financial help if you were faced with job loss – see, for example the MoneyHelper website.
Jonquil Lowe does not work for, consult, own shares in or receive funding from any company or organization that would benefit from this article, and has disclosed no relevant affiliations beyond their academic appointment.
recession
unemployment
pandemic
recession
gdp
interest rates
unemployment
stock markets
oil
uk
ukraine
Who Owns The Most Satellites?
Who Owns The Most Satellites?
Nearly 7,000 satellites orbit the Earth, serving vital functions such as communication, navigation, and scientific…
Who Owns The Most Satellites?
Nearly 7,000 satellites orbit the Earth, serving vital functions such as communication, navigation, and scientific research.
In 2022 alone, more than 150 launches took place, sending new instruments into space, with many more expected over the next decade.
But who owns these objects? In this graphic, Visual Capitalist's Bruno Venditti and Miranda Smith utilize data from the Union of Concerned Scientists to highlight the leaders in satellite technology.
SpaceX's Dominance in Space
SpaceX, led by Elon Musk, is unquestionably the industry leader, currently operating the largest fleet of satellites in orbit—about 50% of the global total.
The company has already completed 62 missions this year, surpassing any other company or nation, and operates thousands of internet-beaming Starlink spacecraft that provide global internet connectivity.
Starlink customers receive a small satellite dish that self-orients itself to align with Starlink's low-Earth-orbit satellites.
Percentages may not add to 100 due to rounding.
In second place is a lesser-known company, British OneWeb Satellites. The company, headquartered in London, counts the UK government among its investors and provides high-speed internet services to governments, businesses, and communities.
Like many other satellite operators, OneWeb relies on SpaceX to launch its satellites.
Despite Starlink's dominance in the industry, the company is set to face intense competition in the coming years. Amazon's Project Kuiper plans to deploy 3,236 satellites by 2029 to compete with SpaceX's network. The first of the fleet could launch as early as 2024.
The Rise of China's Space Program
After the top private companies, governments also own a significant portion of satellites orbiting the Earth. The U.S. remains the leader in total satellites, when adding those owned by both companies and government agencies together.
American expenditures on space programs reached $62 billion in 2022, five times more than the second one, China.
China, however, has sped up its space program over the last 20 years and currently has the highest number of satellites in orbit belonging directly to government agencies. Most of these are used for Earth observation, communications, defense, and technology development.
Satellite Demand to Rise Over the Decade
Despite the internet being taken for granted in major metropolitan areas and developed countries, one out of every three people worldwide has never used the web.
Furthermore, the increasing demand for data and the emergence of new, more cost-effective satellite technologies are expected to present significant opportunities for private space companies.
In this context, satellite demand is projected to quadruple over the next decade.
Tyler Durden
Thu, 09/28/2023 - 19:20
uk
china
NIH Doctor Flagged Wuhan Virus Lab Safety Problems As Early As 2017
NIH Doctor Flagged Wuhan Virus Lab Safety Problems As Early As 2017
Authored by Tom Ozimek via The Epoch Times,
A doctor working for the…
NIH Doctor Flagged Wuhan Virus Lab Safety Problems As Early As 2017
Authored by Tom Ozimek via The Epoch Times,
A doctor working for the U.S. government in 2017 visited the China-based virus research facility that may have leaked the pathogen that causes COVID-19, and sounded the alarm on safety issues at the lab earlier than previously reported, according to documents obtained by The Epoch Times.
Dr. Ping Chen, who worked for the National Institute of Allergy and Infectious Diseases (NIAID), visited the Wuhan Institute of Virology (WIV) in October 2017 and prepared a report for her superiors after her visit.
While a version of her report obtained by a Freedom of Information Act (FOIA) request was fully redacted, Sen. Ron Johnson (R-Wis.) and his team were granted an opportunity to carry out an in-camera review of the report that had some of the redactions removed.
"It is clear to me by talking to the technician that certainly there is a need for training support" at the Wuhan lab, Dr. Chen wrote in the report, parts of which were attached to a letter sent by Mr. Johnson to Department of Health and Human Services (HHS) Secretary Xavier Becerra on Sept. 21.
The letter, which was obtained by The Epoch Times, includes fragments of Dr. Chen's report and suggests that HHS and the U.S. National Institutes of Health (NIH) were aware of safety issues at the Wuhan facility as early as October 2017.
The P4 laboratory on the campus of the Wuhan Institute of Virology in Wuhan, Hubei Province, China, on May 13, 2020. (Hector Retamal/AFP via Getty Images)
Earlier reporting based on two State Department cables and correspondence records obtained by Judicial Watch indicate that NIH was made aware of safety problems at the Wuhan lab in 2018, the year after Dr. Chen's report.
"I think the institute would welcome any help and technical support by NIAID," Dr. Chen wrote in her 2017 report.
Mr. Johnson wrote in his letter to Mr. Becerra that Dr. Chen's 2017 report partially served as the basis for a Jan. 19, 2018, State Department cable that raised safety concerns about the Wuhan virus lab.
Evidence suggests that SARS-CoV-2, the virus that causes COVID-19, leaked from the Wuhan facility before spreading across the world. According to the so-called lab leak theory, the deadly pathogen that caused the pandemic escaped the Chinese facility, which was conducting risky gain-of-function research on bat coronaviruses that was partially funded by U.S. taxpayer dollars.
Demands
Mr. Johnson demanded that HHS provide a version of Dr. Chen's 2017 report that contains fewer redactions in order to scrutinize its contents more closely and determine how closely it aligned with the cable.
"In the public FOIA document, HHS redacted Dr. Chen's entire report claiming that it contains privacy and deliberative information," Mr. Johnson wrote.
"It seems apparent that the only reason that HHS redacted this information was to hide the report's contents from the American people. Perhaps HHS did not want the public to fully understand the fact that NIH and NIAID officials were aware of safety concerns at the WIV dating as far back as 2017," he added.
Mr. Johnson also accused NIH and HHS of obstructing his probe.
"HHS and NIH continue to obstruct my oversight efforts," he wrote. "It is unacceptable that HHS and NIH had Dr. Chen's report in its possession and only provided a slightly less redacted version for my staff to review in camera."
He demanded that HHS provide unredacted copies of Dr. Chen's report and all documents and communications relating to the report and to the Wuhan lab.
Mr. Johnson also asked for Dr. Chen to sit before a congressional panel and testify.
He set an Oct. 5 deadline for HHS to comply with his request.
HHS officials didn't immediately respond to a request by The Epoch Times for comment.
Chinese virologist Shi Zhengli is seen inside the P4 laboratory in Wuhan, China, on Feb. 23, 2017. (Johannes Eisele/AFP via Getty Images)
'Preponderance of Evidence' for Lab Leak
In August 2021, a report by Republican lawmakers noted a "preponderance of evidence" that the virus that caused the COVID-19 pandemic leaked from the Wuhan lab.
Chinese officials have denied the lab leak claim, insisting that the virus made a natural jump from animals to humans.
Rep. Michael McCaul (R-Texas) said in testimony before the Coronavirus Select Subcommittee Republicans that evidence points to a lab leak as the likely origin of the virus, saying that "it's time to completely dismiss the wet market as the source of the outbreak" and "the preponderance of the evidence that it came from the lab is very convincing."
U.S. intelligence agencies later said in a report that a natural origin and a lab leak are both plausible hypotheses but that a lack of evidence makes a definitive conclusion either way impossible.
It's a sentiment echoed by Mr. McCaul in his testimony.
"Unfortunately, we may never know for certain because the Chinese Communist Party went to great lengths to cover up this outbreak," he said. "They detained the doctors in order to silence them. They disappeared journalists. They destroyed lab samples. They hid the fact there was clear evidence of human-to-human transmission. And they have refused to allow a real investigation into the origins."
Wuhan Lab Funding Controversy
The U.S. Agency for International Development awarded a total of $1.1 million to the WIV between October 2009 and May 2019, the agency wrote in a May 2021 letter (pdf) to Rep. Guy Reschenthaler (R-Pa.).
Mr. Reschenthaler alleged that the funding was used for a study that used gain-of-function research to create "a hybrid, man-made virus by inserting a spiked protein from a wild coronavirus into a mouse-adapted SARS-CoV backbone, which could infect human airways."
The agency said the funds were channeled through EcoHealth Alliance and were meant for the purpose of advancing research on critical viruses that could pose a threat to humans. It also denied claims that the money was used for gain-of-function research, which seeks to boost viral lethality for the purpose of studying it.
In June 2022, the House Appropriations Committee approved a ban on sending any further funding to the Wuhan Institute of Virology.
More recently, the NIH quietly removed the WIV from a list of foreign facilities that are eligible to receive U.S. taxpayer funds to conduct animal experiments.
Tyler Durden
Thu, 09/28/2023 - 19:40
hhs
transmission
pandemic
coronavirus
covid-19
wuhan
hubei
china
Just 3 Nobel Prizes cover all of science – how research is done today poses a challenge for these prestigious awards
The Nobel Prize categories were set up more than a century ago. Since then, science has grown and evolved in unpredictable ways.
I've been primarily an experimental chemist – the kind of person who goes into the laboratory and mixes and stirs chemicals – since the beginning of my career in 1965. Today, and for the past 15 years, I'm a full-time historian of chemistry.
Every October, when the announcements are made of that year's Nobel laureates, I examine the results as a chemist. And all too often, I share the same response as many of my fellow chemists: "Who are they? And what did they do?"
One reason for that bewilderment – and disappointment – is that in many recent years, none of my "favorites" or those of my fellow chemists will travel to Stockholm. I am not suggesting that these Nobel laureates are undeserving – quite the opposite. Rather, I am questioning whether some of these awards belong within the discipline of chemistry.
Consider some recent Nobel Prizes. In 2020, Emmanuelle Charpentier and Jennifer A. Doudna received the Nobel Prize "for the development of a method for genome editing." In 2018, Frances H. Arnold received the Nobel Prize "for the directed evolution of enzymes," which she shared with George P. Smith and Sir Gregory P. Winter "for the phage display of peptides and antibodies." In 2015, Tomas Lindahl, Paul Modrich and Aziz Sancar received the Nobel Prize "for mechanistic studies of DNA repair."
All of them received Nobel Prizes in chemistry – not the Nobel Prize in physiology or medicine, even though these achievements seem very clearly situated within the disciplines of medicine and the life sciences. There are many other similar examples.
These recent mismatches are even clearer when you look further back in time. Consider the 1962 Nobel Prize awarded to Francis Crick, James Watson and Maurice Wilkins "for their discoveries concerning the molecular structure of nucleic acids and its significance for information transfer in living material." DNA, of course, is the most famous nucleic acid, and these three scientists were honored for deciphering how its atoms are bonded together and arranged in their three-dimensional double-helix shape.
While the "structure of DNA" most certainly is an achievement in chemistry, the Nobel Assembly at the Karolinska Institute in Stockholm awarded the Nobel Prize in physiology or medicine to Watson, Crick and Wilkins. Clearly, their Nobel achievements have had great consequences in the life sciences, genetics and medicine. Thus awarding them the Nobel Prize for physiology or medicine is quite appropriate.
But note the disconnect. The Nobel Prizes in chemistry in 2020, 2018 and 2015 are more life-science- and medicine-oriented than Watson, Crick and Wilkins' for the structure of DNA. Yet the former were awarded in chemistry, while the latter was in physiology and medicine.
What is going on? What does this trend reveal about the Nobel Foundation and its award strategies in response to the growth of science?
A gradual evolution in the Nobel Prizes
Several years ago, chemist-historian-applied mathematician Guillermo Restrepo and I collaborated to study the relationship of scientific discipline to the Nobel Prize.
Each year, the Nobel Committee for chemistry studies the nominations and proposes the recipients of the Nobel Prize in chemistry to its parent organization, the Royal Swedish Academy of Sciences, which ultimately selects the Nobel laureates in chemistry (and physics).
We found a strong correlation between the disciplines of the members of the committee and the disciplines of the awardees themselves. Over the lifetime of the Nobel Prizes, there has been a continuous increase – from about 10% in the 1910s to 50% into the 2000s – in the percentage of committee members whose research is best identified within the life sciences.
Restrepo and I concluded: As go the expertise, interests and the disciplines of the committee members, so go the disciplines honored by the Nobel Prizes in chemistry. We also concluded that the academy has intentionally included more and more life scientists on their selection committee for chemistry.
Now some perceptive readers might ask, "Is not the discipline of biochemistry just a subdiscipline of chemistry?" The underlying question is, "How does one define the disciplines in science?"
Restrepo and I reasoned that what we term "intellectual territory" defines the boundaries of a discipline. Intellectual territory can be assessed by bibliographic analysis of the scientific literature. We examined the references, often called citations, that are found in scientific publications. These references are where authors of journal articles cite the related research that's previously been published – often the research they have relied and built on. We chose to study two journals: a chemistry journal named Angewandte Chemie and a life science journal named, rather aptly, Biochemistry.
We found that the articles in Angewandte Chemie mostly cite articles published in other chemistry journals, and the articles in Biochemistry mostly cite articles in biochemistry and life sciences journals. We also found that the reverse is true: Scientific publications that cite Angewandte Chemie articles are mostly in chemistry journals, and publications that cite Biochemistry articles are mostly in biochemistry and life science journals. In other words, chemistry and the life sciences/biochemistry reside in vastly different intellectual territories that don't tend to overlap much.
Not letting labels be limiting
But now, perhaps a shocker. Many scientists don't really care how they are classified by others. Scientists care about science.
As I've heard Dudley Herschbach, recipient of the 1986 Nobel Prize in chemistry, respond to the oft-asked question of whether he's an experimental chemist or a theoretical chemist: "The molecules don't know, nor do they care, do they?"
But scientists, like all human beings, do care about recognition and awards. And so, chemists do mind that the Nobel Prize in chemistry has morphed into the Nobel Prize in chemistry and the life sciences.
Since the Nobel Prizes were first awarded in 1901, the community of scientists and the number of scientific disciplines have grown tremendously. Even today, new disciplines are being created. New journals are appearing. Science is becoming more multidisciplinary and interdisciplinary. Even chemistry as a discipline has grown dramatically, pushing outward its own scholarly boundaries, and chemistry's achievements continue to be astounding.
The Nobel Prize hasn't evolved sufficiently with the times. And there just are not enough Nobel Prizes to go around to all the deserving.
I can imagine an additional Nobel Prize for the life sciences. The number of awardees could expand from the current three-per-prize maximum to whatever fits the accomplishment. Nobel Prizes could be awarded posthumously to make up for past serious omissions, an option that was used by the Nobel Foundation for several years and then discontinued.
In truth, the Nobel Foundation has evolved the prizes, but very deliberately and without the major transformations that I think will certainly be required in the future. It will, I believe, eventually break free, figuratively and literally, from the mire of Alfred Nobel's will and more than a century of distinguished tradition.
When Nobel designed the prizes named after him in the late 1800s and early 1900s, he couldn't have known that his gift would become a perpetual endowment and have such lasting – indeed, even increasing – significance. Nobel also could not have anticipated the growth of science, nor the fact that over time, some disciplines would fade in importance and new disciplines would evolve.
So far, the extremely competent and highly dedicated scholars at the Nobel Foundation and their partner organizations – and I acknowledge with real appreciation their selfless devotion to the cause – haven't responded adequately to the growth of the sciences or to the inequities and even incompleteness of past award years. But I have confidence: In time, they will do so.
Jeffrey I. Seeman does not work for, consult, own shares in or receive funding from any company or organization that would benefit from this article, and has disclosed no relevant affiliations beyond their academic appointment.
genome
antibodies
dna
sweden