Stock Market Today: Dow Jones, S&P 500 Gains Today; SoFi Soars After Regulatory Approval; BofA, MS Beat Estimates
The stock market recovers today after investors got better-than-expected bank earnings.
The post Stock Market Today: Dow Jones, S&P 500 Gains Today; SoFi Soars After Regulatory Approval; BofA, MS Beat Estimates appeared first on Stock Market News,…
Stock Market Today Mid-Morning Updates
On Wednesday, the Dow Jones Industrial Average is up by 120 points Morgan Stanley (NYSE: MS) and Bank of America (NYSE: BAC) reported impressive earnings. This comes as a relief after a broad sell-off yesterday, as investors continue to digest higher 10-year Treasury yields topping 1.9% on early Wednesday. Rising bond yields to the highest in 2 years hammered tech stocks again yesterday sending the Nasdaq to its lowest closing in three months, at 2.6%.
Today, UnitedHealth (NYSE: UNH), a Dow component, also reported strong fourth-quarter and full-year financials. Full-year revenue was $287.6 billion, growing by 12% year-over-year. The company saw double-digit growth at both Optum and UnitedHealthcare. Net earnings for the full year were $18.08 per share. "Our strong 2021 performance and confident growth outlook for 2022 and beyond reflect the accelerating innovation and expanding capabilities across Optum and UnitedHealthcare," said Andrew Witty, chief executive officer of UnitedHealth Group. 
Among the Dow Jones leaders, shares of Apple (NASDAQ: AAPL) are up by 0.28% today while Microsoft (NASDAQ: MSFT) is also up by 1.16%. Home Depot (NYSE: HD) and Nike (NYSE: NKE) ticked higher at 0.23% and 0.97% respectively on Wednesday. However, among the Dow 30, financial leaders like Visa (NYSE: V) and JPMorgan Chase (NYSE: JPM) are trading lower.
Shares of electric vehicle (EV) leader Tesla (NASDAQ: TSLA) are is up 1.93% on Wednesday. Rival EV companies like Rivian (NASDAQ: RIVN) and Lucid Group (NASDAQ: LCID) are also up by 3.85% and 3.82% today. Chinese EV leaders like Li Auto (NASDAQ: LI) and Xpeng Motors (NYSE: XPEV) are trading lower at 1.44% and 2.15% respectively.
Dow Jones Today: Treasury Yields Continue To Stay At Pandemic Era Highs
Following the stock market opening on Wednesday, the S&P 500, Dow Jones, and Nasdaq are trading 0.69%, 0.43%, and 0.90% higher. Among exchange-traded funds, the Nasdaq 100 tracker Invesco QQQ Trust (NASDAQ: QQQ) is up by 0.73% on Wednesday, while the SPDR S&P 500 ETF (NYSEARCA: SPY) is up by 0.55%.
Today, the yield on the benchmark 10-year Treasury note was trading at 1.856%. With persistent inflation and by extension interest rate hikes around the corner, investors could be on the defensive. This is evident by yesterday's sell-off. Though Fed officials are now in a blackout period before their meeting next week, policymakers are painting a picture that they are gearing up to raise interest rates and eventually draw down on the Fed's balance.
Banks are also likely embracing the era of higher interest rates. This comes as they pivot away from the profitability of capital markets businesses in favor of greater net interest income in loan portfolios. While rising rates are typically good for the financial sector, this could also be a double-edged sword as big banks report disappointing earnings due to higher costs. This can be seen by Goldman Sachs' (NYSE: GS) missed earnings yesterday.
[Read More] Best Stocks To Buy Right Now? 4 Consumer Discretionary Stocks To Know
Sofi Stock Surges On Key Regulatory Win
SoFi Technologies (NASDAQ: SOFI) is among the key names making headlines in the stock market today. Notably, this is thanks to the company's latest breakthrough in the regulatory space. In detail, SoFi received approval from both the Office of Comptroller of the Currency and the Federal Reserve. This approval allows SoFi to become a national bank. In particular, the approval is for an application to become a bank holding company through the acquisition of Golden Pacific Bancorp. As you can imagine, all of this would be a significant win for SoFi. Accordingly, investors appear to be well aware of this too.
Evidently, SOFI stock is currently surging by a whopping 19% as of today's opening bell. Providing insight into all of this is SoFi CEO, Anthony Noto. Noto highlights, "With a national bank charter, not only will we be able to lend at even more competitive interest rates and provide our members with high-yielding interest in checking and savings, it will also enhance our financial products and services to ensure they efficiently meet the needs of our members, business partners, and communities across the country, while continuing to uphold a high bar of regulatory standards and compliance." By and large, SoFi appears to be firing on all cylinders now and investors seem to be jumping on.
[Read More] Top Stock Market News For Today January 19, 2022
BofA And Morgan Stanley Jump On Better-Than-Expected Quarterly Figures
In other financial sector news, two more big banks reported their latest quarterly earnings figures today. Unlike yesterday, Bank of America (BofA) and Morgan Stanley (MS) topped estimates in their latest earnings calls. For starters, BofA posted an earnings per share of $0.82 on revenue of $22.17 billion for the quarter. In terms of earnings, the bank beat consensus estimates of $0.76 a share. Additionally, BofA also saw its fourth-quarter profit increase by 28% year-over-year. This adds up to a whopping $7.01 billion. 
According to the firm, a key contributor to its current performance would be improving credit quality. The likes of which are allowing BofA to release $851 million in pandemic loan loss reserves and book an almost half a billion-dollar benefit after charge-offs of $362 million. Moreover, BofA states that this is the lowest loss rate for loans over the past 50 years. As it stands, BAC stock is currently trading higher by 4.15% today.
Following that, MS reported earnings of $2.01 per share on revenue of $14.52 billion in its latest quarterly update. To highlight, the company topped earnings projections of $1.91 but fell shy of revenue estimates of $14.6 billion. Even so, CEO James Gorman notes that MS posted record revenues for the fiscal year. Gorman cites notable performances across the firm's core business segments as driving factors for the year. Testament to this is MS's Wealth Management division, growing client assets by almost $1 trillion throughout the fiscal year. Because of all this, MS stock is currently up by 1.85% today.
---
If you enjoyed this article and you're interested in learning how to trade so you can have the best chance to profit consistently then you need to checkout this YouTube channel. CLICK HERE RIGHT NOW!
---
The post Stock Market Today: Dow Jones, S&P 500 Gains Today; SoFi Soars After Regulatory Approval; BofA, MS Beat Estimates appeared first on Stock Market News, Quotes, Charts and Financial Information | StockMarket.com.
dow jones
sp 500
nasdaq
stocks
pandemic
fed
federal reserve
etf
interest rates
JA Worldwide Inducts 2022 Laureates into the Global Business Hall of Fame
JA Worldwide Inducts 2022 Laureates into the Global Business Hall of Fame
PR Newswire
BOSTON, May 26, 2022
BOSTON , May 26, 2022 /PRNewswire/ — The Global Business Hall of Fame, presented by JA Worldwide, features entrepreneurs and business leader…
JA Worldwide Inducts 2022 Laureates into the Global Business Hall of Fame
PR Newswire
BOSTON, May 26, 2022
BOSTON , May 26, 2022 /PRNewswire/ -- The Global Business Hall of Fame, presented by JA Worldwide, features entrepreneurs and business leaders spanning the last two centuries. From the inventor of blue jeans to the co-founder of one of the world's leading biotech companies, visitors to our digital showcase find inspiring influencers to kindle their entrepreneurial spirit.
About the Global Business Hall of Fame
The Global Business Hall of Fame is not only reflective of JA's global reach, the diversity of JA students in 115 countries, and a wide range of global industries, but also prioritizes nominees who are working toward the Global Goals for Sustainable Development (SDGs), reinforcing to young people that they have the power to be a force for global good.
In addition, nominees for new laureates are grouped into two categories:
Leader: An executive-level professional who inspires others, the Leader's contributions have advanced the landscape of business with a focus on improving lives. As a result, the Leader has led companies and initiatives toward the Global Goals and is a role model who exhibits social values, inclusivity, and a global point of view. The Leader is likely to have led ventures with a large scope of responsibility, resources, and talent.
Innovator: Under 40 years of age, entrepreneurial in spirit, and community focused, the Innovator is changing the landscape globally or has recently emerged on the global stage. The Innovator is an inspiration, full of energy, passionate about work, courageous, and a promoter of change and innovation on behalf of the global good.
Each of our new laureates joins a digital exhibit with immersive, aspirational content, redesigned this year—thanks to the support of Delta Air Lines—to look and feel like a hall-of -fame exhibition. The Global Business Hall of Fame inspires young people through laureate stories and achievements.
The Global Business Hall of Fame 2022 Laureates
We're pleased to announce our 2022 laureates:
About JA Worldwide
As one of the world's largest and most-impactful youth-serving NGOs, JA Worldwide delivers hands on, immersive learning in work readiness, financial health, entrepreneurship, sustainability, STEM, economics, citizenship, ethics, and more. Reaching more than 12 million young people each year through nearly half a million teachers and business volunteers, JA Worldwide is one of few organizations with the scale, experience, and passion to build a brighter future for the next generation of innovators, entrepreneurs, and leaders. Visit us at jaworldwide.org.
Contact
Tere Stouffer
Chief Marketing Office
JA Worldwide
+1-212-641-0747
tere.stouffer@jaworldwide.org
View original content to download multimedia:https://www.prnewswire.com/news-releases/ja-worldwide-inducts-2022-laureates-into-the-global-business-hall-of-fame-301555546.html
SOURCE JA Worldwide
economic growth
grants
pandemic
covid-19
press-release
How digital technology can help keep cities green and pleasant
We know cities need green spaces – but what should they look like and where should they go?
Parks, small woodlands and even simple patches of grass not only keep a city attractive, but also help people find a sense of bliss in an otherwise bustling urban environment. With new technologies, we can plan and monitor these urban "green spaces" better than ever before.
As several studies have highlighted, nature within urban settings plays a pivotal role in combating many of the global public health challenges commonly associated with urbanisation. This includes maladies such as depression and high blood pressure. A 2022 study showed that trees actually have the ability to improve urban air quality as leaves and pine needles capture pollutants from the air.
That cities do need green spaces is therefore not a particularly contentious issue. It is, however, an open question as to how much green space a city ought to have. Even here, science can provide some guidelines, as research points to at least 9 square metres of green space per individual, with an ideal value of 50 square metres per capita in a city (for comparison, an average UK car parking space takes up about 12 square metres).
Green landscaping
The big question is therefore what kind of green space do we want? A well-kept but human-made park? Or something more natural and unkempt, such as groves, meadows or field-like areas? As we discuss in our forthcoming book, Designing Smart and Resilient Cities for a Post-Pandemic World: Metropandemic Revolution, this is largely contingent on the geographic preconditions of the city in question. The World Health Organization (WHO) recommends a diversity of different kinds of green areas if possible, yet it is an inescapable fact that some cities are blessed with lush vegetation while others are not.
However, all is not lost for cities without much natural green area, as such environments can be constructed in urban settings that have previously been bereft of naturally growing trees and grass. This "green landscaping" can be undertaken even in areas that would otherwise seem unlikely. One prime example is the High Line in New York City, a 1.45 mile (2.33km) long elevated linear park built on an abandoned railway viaduct. Since it opened in stages about a decade ago, the High Line has become an exemplar of green landscape redesign that seeks to turn obsolete infrastructure into green, vibrant public spaces.
While it is known that greenery has positive effects on mankind at large, it is more difficult to prove the exact causal relationship in exactly how green areas affect our health. In this regard, digital technology can be an essential tool for urban planners to determine where green landscape redesign is best employed.
Smart technology
One concept that is seeing particularly rapid development is "smart urban forests", which refers to using tree monitors, 3D-imagery and other internet of things-linked technologies to help manage the forest. This "internet of nature" could monitor soil health, measure air pollution or ensure urban forests are adequately hydrated.
Future technology could also enable the use of open data platforms and more public engagement. Planners could collect various perspectives from the general population using an app, for instance, while also using digital technology to map and boost urban biodiversity and to ensure that green areas are placed where they will achieve maximum efficiency.
One example of this is the Treepedia research initiative, which was launched in 2016 by Massachusetts-based MIT Senseable City Lab. Treepedia aspires to raise awareness of urban forests by the use of digital vision techniques based on Google Street View images.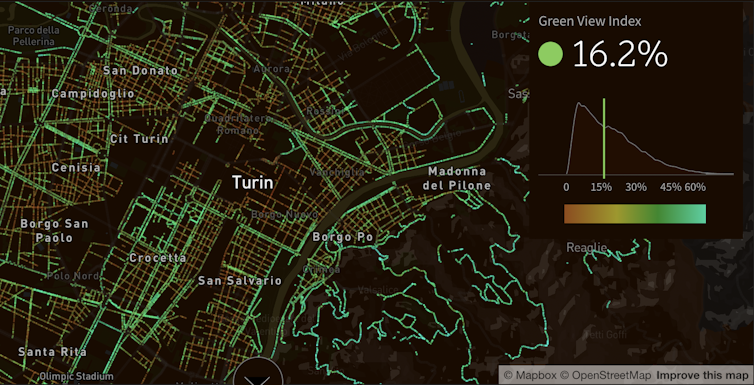 Treepedia focuses on pedestrian street trees found in multiple cities around the world, as opposed to parks. The main reason is that pedestrians are more likely to see street trees without planning to, whereas most people in parks made an active choice to be there. Using an open-source library, Treepedia means the public can calculate the quantities of tree coverage for their own city or region.
If urban planners become more aware of the potential of digital technology, then urban green spaces should have a bright future. However, designing the optimal green space that we want for our cities may also call for a deeper future collaboration between urban planners and engineers.
---
Read more: Neighbourhood green space is in rapid decline, deepening both the climate and mental health crises
---
Anthony Larsson works for the Stockholm Chamber of Commerce.
Andreas Hatzigeorgiou is also CEO of the the Stockholm Chamber of Commerce, and sits on the board of the Stockholm Senseable Lab, which is a collaboration between MIT and the KTH Royal Institute of Technology.
depression
pandemic
uk
world health organization
Demand for commercial properties soars nationwide amidst economic expansion and stock market volatility, according to RE/MAX® Canada Brokers
Demand for commercial properties soars nationwide amidst economic expansion and stock market volatility, according to RE/MAX® Canada Brokers
Canada NewsWire
TORONTO, May 26, 2022
Investors flock to 'bricks and mortar' as hedge against inflation in …
Demand for commercial properties soars nationwide amidst economic expansion and stock market volatility, according to RE/MAX® Canada Brokers
Canada NewsWire
TORONTO, May 26, 2022
Investors flock to 'bricks and mortar' as hedge against inflation in Q1 2022
TORONTO, May 26, 2022 /CNW/ -- With North American stock markets dangerously close to correction, bricks and mortar properties continue to resonate with institutional and private investors, particularly those who are personally vested, across almost every commercial asset class in major Canadian centres, according to RE/MAX brokers.
The RE/MAX Canada 2022 Commercial Real Estate Report found demand for industrial, multi-unit residential – particularly purpose-built rentals – and farmland was unprecedented in the first quarter of 2022, with values hitting record levels, while retail and office are starting to show signs of growth in multiple markets. Highlights from the report, which examined 12 major Canadian centres from Metro Vancouver to St. John's, include the following:
92 per cent of markets surveyed (11/12) reported extremely tight market conditions for industrial product in the first quarter of 2022.

Newfoundland

-

Labrador

was the only outlier.
67 per cent of markets surveyed (8/12) found challenges leasing industrial space. Included in the mix were

Vancouver

,

Edmonton

,

Calgary

,

Winnipeg

,

Ottawa

, the

Greater Toronto Area

,

Hamilton

-

Burlington

-Niagara and

London

. Some realtors are recommending tenants start their search for new premises at least 18 months before their current leases come up for renegotiation.
While demand for overall office space in the core remains relatively soft in 92 per cent of markets (11/12) across the country, Metro Vancouver continues to buck the trend.
Suburban office space continues to prove exceptionally resilient in 67 per cent of markets surveyed (8/12). Those markets include

Vancouver

,

Calgary

,

Saskatoon

,

Winnipeg

,

Hamilton

-

Burlington

-Niagara,

Ottawa

,

Halifax

-

Dartmouth

and

Newfoundland

-

Labrador

.
Development land remained sought after (industrial/residential) in 67 per cent of markets surveyed (8/12) including

Vancouver

,

Calgary

,

Regina

,

Saskatoon

,

Winnipeg

,

Ottawa

, the

Greater Toronto Area

and

Halifax

-

Dartmouth

.
End users are encountering challenges in terms of expanding their businesses due to land constraints/shortages, with specific mentions of this noted in

Vancouver

, the

Greater Toronto Area

and

Regina

.
Retail is on the rebound in 75 per cent of major Canadian markets (9/12), with strong emphasis on prime locations in neighbourhood microcosms. The trend has been identified in

Vancouver

,

Edmonton

,

Calgary

,

Saskatoon

,

Regina

,

Winnipeg

,

Hamilton

-

Burlington

-Niagara,

Toronto

and

Ottawa

.
Download the full report with detailed regional market insights HERE.
"The overall strength of the Canadian economy continues to propel massive expansion in commercial markets across the country in 2022," says Christopher Alexander, President, RE/MAX Canada. "What began as heightened demand for industrial space to accommodate a growing ecommerce platform during the pandemic has blossomed into a full-blown distribution and logistics network that encompasses millions of square feet in markets across the country. Recent volatility in the stock markets has also prompted a shift to greater investment in the commercial segment as investors look to real estate as a hedge against inflation."
Given the current shortage of land/space, developers and end users looking to build, have become increasingly creative in 58 per cent of markets surveyed (7/12), including Metro Vancouver, Edmonton, Regina, Saskatoon, Winnipeg, London, and the Greater Toronto Area. The supply/demand crunch has proven the adage, 'necessity is the mother of ingenuity', as new solutions emerge in the marketplace. In Metro Vancouver, Oxford Properties introduced the first industrial multi-storey industrial/commercial space in 2019 and a second stratified multi-storey facility—Framework by Alliance Partners—is planned for False Creek Flats. The first building is nearing completion and leased to Amazon while the first and second phase of the False Creek development is sold out and a third phase is currently selling at $725 per square foot.
In the future, municipalities may also consider industrial land reserves, registered areas dedicated to industrial in municipalities that are experiencing land constraints, given overwhelming demand.
"Land development is pushing city boundaries in major centres and municipalities are scrambling to accommodate residential and industrial intensification," says Alexander. "At present the process is painfully slow in most centres, even where land is already serviced. Given the on-going likelihood of demand, policy that helps availability or fast-tracking of approvals would certainly be a boon to the market." 
The RE/MAX Canada 2022 Commercial Real Estate Report also identified a growing trend in infill land assembly that targets retail storefront/strip retail malls in mature areas for mixed-use developments by institutional and private investors. These new developments almost always have a residential housing component on top, often purpose-built rentals or condominiums, given the shortage and need for greater densification. Smaller investors and end users are largely shut out of this market and tenants are having difficulties securing long-term leases in these key areas. Canada Mortgage and Housing Corporation (CMHC) is offering an exceptionally attractive financing package for multi-unit, purpose-built residential construction, with a 50-year-amortization rate, low loan-to-value ratios, and favourable interest rates.
Institutional and private investors remain exceptionally active in the commercial market across the country, spurring demand for industrial/office/retail product on a large-scale basis. Extensive portfolios are a primary target, especially those containing 10 or more properties. Spillover from activity in major centres is also serving to bolster smaller, secondary markets, where affordable price points, in relative terms, prove attractive, especially as savvy investors anticipate future needs and potential, given urban sprawl, density, population growth, pricing and inventory trends. 
While retail is making a comeback in prime neighbourhoods, the return of foot traffic should have a positive impact on the market moving forward. Revitalization of older retail spaces and malls is underway to enhance the shopper experience and influence the return to in-person shopping. This, in turn, is attracting tenants. The sector is expected to continue to strengthen as markets move past former pandemic constraints and more favourable conditions emerge to support retail growth.
RE/MAX Canada has found that cannabis outlets are largely over-represented in most major Canadian centres. As the industry amalgamates, there could be an influx of retail inventory returned to the market over the next 12 to 18 months.
Other trends noted in the commercial market by RE/MAX Brokers include novel ways to expand exposure and streamline the selling process. As inventory of farmland dwindles and price per acre has risen, realtors have turned to auctions with great success in Saskatchewan. Saskatoon, for example, which typically has about 300 listings for grain farms for sale at this time of the year, has seen available properties drop to under 90. Realtors have turned to auctions as a more effective way to increase exposure to a wider audience, generating offers from across the country, as well as the US. The trend is another sign of a heated marketplace where buyers are willing to compete for the right product in the right location in a transparent process.
"The soaring price of commodities has bolstered Western Canadian markets, with resource-rich provinces such as Saskatchewan, Alberta, and Manitoba experiencing unprecedented growth as industries emerge from their slumber," says Elton Ash, Executive Vice President, RE/MAX Canada. "Saskatchewan, in particular, is reinvigorated, with the economic engine just heating up in agriculture, mining, forestry, and potash."
Continued strength is forecast in commercial markets, supported by population growth and further economic expansion. According to the RBC Economics, Provincial Outlook published in March, GDP growth is expected to climb to 4.3 per cent in Canada, led by BC, Saskatchewan, and Alberta in 2022. An unquenchable demand for product in the industrial, multi-unit residential and farmland sectors will persist as intentions remain strong, despite a serious scarcity of inventory. Buyers, large and small, will continue to seek opportunity as investors increasingly favour tangible assets. Dollar volume is up across the country in almost every market as the principals of supply and demand impact values. Lease rates are also edging upward. With the pandemic fading quickly from memory, the return to the workplace – either full-time or in a blended/hybrid format – is expected to spark the next wave of growth, revitalizing downtown office buildings, and breathing new life into the core.
About the RE/MAX Network
As one of the leading global real estate franchisors, RE/MAX, LLC is a subsidiary of RE/MAX Holdings (NYSE: RMAX) with more than 140,000 agents in almost 9,000 offices with a presence in more than 110 countries and territories. RE/MAX Canada refers to RE/MAX of Western Canada (1998), LLC and RE/MAX Ontario-Atlantic Canada, Inc., and RE/MAX Promotions, Inc., each of which are affiliates of RE/MAX, LLC. Nobody in the world sells more real estate than RE/MAX, as measured by residential transaction sides.
RE/MAX was founded in 1973 by Dave and Gail Liniger, with an innovative, entrepreneurial culture affording its agents and franchisees the flexibility to operate their businesses with great independence. RE/MAX agents have lived, worked and served in their local communities for decades, raising millions of dollars every year for Children's Miracle Network Hospitals® and other charities. To learn more about RE/MAX, to search home listings or find an agent in your community, please visit remax.ca. For the latest news from RE/MAX Canada, please visit blog.remax.ca.
Contributing RE/MAX Brokers and Agents:
| | | |
| --- | --- | --- |
| Metro Vancouver | Saskatoon | Greater Toronto Area |
| Steve Da Cruz | Brent Haas | Michael Davidson |
| RE/MAX Commercial Advantage | RE/MAX Bridge City Realty | RE/MAX Realtron |
| 604.889.9293 | 306.641.6929 | Realty Inc. |
| | | 416.831.7108 |
| | | |
| Edmonton | Winnipeg | |
| Scott Hughes | Mark Theissen | Ottawa |
| RE/MAX Commercial Capital | RE/MAX Professionals | James Palmer |
| 780.915.7895 | 204.794.5700 | RE/MAX Hallmark |
| | | 613.698.5356 |
| Calgary | London | |
| Darryl Terrio | Eavan Travers & Gary Robinson | Halifax-Dartmouth |
| RE/MAX Complete Realty | RE/MAX Advantage | Craig Snow |
| 403.930.8555 | 519.649.6000 | RE/MAX Nova |
| | | 902-499-7886 |
| | | |
| Regina | Hamilton-Burlington-Niagara | |
| Mack Macdonald | Conrad Zurini | Newfoundland & Labrador |
| RE/MAX Crown Real Estate | RE/MAX Escarpment | Jim Burton |
| 306.539.6806 | 905.573.1188 | RE/MAX Infinity |
| | | 709.682.8663 |
Forward looking statements
This report includes "forward-looking statements" within the meaning of the "safe harbour" provisions of the United States Private Securities Litigation Reform Act of 1995. Forward-looking statements may be identified by the use of words such as "believe," "intend," "expect," "estimate," "plan," "outlook," "project," and other similar words and expressions that predict or indicate future events or trends that are not statements of historical matters. These forward-looking statements include statements regarding housing market conditions and the Company's results of operations, performance and growth. Forward-looking statements should not be read as guarantees of future performance or results. Forward-looking statements are based on information available at the time those statements are made and/or management's good faith belief as of that time with respect to future events and are subject to risks and uncertainties that could cause actual performance or results to differ materially from those expressed in or suggested by the forward-looking statements. These risks and uncertainties include (1) the global COVID-19 pandemic, which has impacted the Company and continues to pose significant and widespread risks to the Company's business, the Company's ability to successfully close the anticipated reacquisition and to integrate the reacquired regions into its business, (3) changes in the real estate market or interest rates and availability of financing, (4) changes in business and economic activity in general, (5) the Company's ability to attract and retain quality franchisees, (6) the Company's franchisees' ability to recruit and retain real estate agents and mortgage loan originators, (7) changes in laws and regulations, (8) the Company's ability to enhance, market, and protect the RE/MAX and Motto Mortgage brands, (9) the Company's ability to implement its technology initiatives, and (10) fluctuations in foreign currency exchange rates, and those risks and uncertainties described in the sections entitled "Risk Factors" and "Management's Discussion and Analysis of Financial Condition and Results of Operations" in the most recent Annual Report on Form 10-K and Quarterly Reports on Form 10-Q filed with the Securities and Exchange Commission ("SEC") and similar disclosures in subsequent periodic and current reports filed with the SEC, which are available on the investor relations page of the Company's website at www.remax.com and on the SEC website at www.sec.gov. Readers are cautioned not to place undue reliance on forward-looking statements, which speak only as of the date on which they are made. Except as required by law, the Company does not intend, and undertakes no duty, to update this information to reflect future events or circumstances.
SOURCE RE/MAX Canada
gdp
interest rates
economic expansion
pandemic
covid-19
press-release