Futures, Oil Jump As Record Dollar Rally Fizzles
Futures, Oil Jump As Record Dollar Rally Fizzles
US futures and European stocks advanced, shaking off data that showed China's economy expanded…
Futures, Oil Jump As Record Dollar Rally Fizzles
US futures and European stocks advanced, shaking off data that showed China's economy expanded slowest pace since the initial 2020 Wuhan outbreak amid pervasive lockdowns...
... while the dollar's record surge stalled at the end of a week in which markets have been whipsawed by shifting expectations for monetary tightening by the Federal Reserve and worries over global economic growth.
S&P futures traded at session highs, rising 0.38% or 14 points to 3807.50 signaling a higher open for US stocks after Wall Street closed with a small drop as investors dialed back expectations of how aggressively the Fed will hike interest rates to combat inflation. Europe's Estoxx50 gained 1% in quiet trading while Asian stocks closed mixed after lower-than-forecast China GDP data. Oil reversed recent losses which briefly dragged it below the 200DMA, and was also near session highs, up 3% even as WTI is poised to end the week below $100 a barrel for the first time since April.  Commodity metals remained under pressure, with copper touching below $7,000/t, its lowest level in 20 months, as growth data from China fueled concern around the demand outlook for commodities while gold tested support at $1,700/oz. Treasuries rose and the the yield curve between two-year and 10-year maturities remained inverted, something viewed as recession signal. The Bloomberg Dollar Spot Index dipped from a record high.
In premarket trading, Wells Fargo dropped after missing analysts' second-quarter profit estimates, adding to worries about the outlook for corporate profits after disappointing results yesterday from JPMorgan Chase & Co. and Morgan Stanley. Here are some other notable premarket movers:
Pinterest (PINS US) shares surge as much as 16% in premarket trading after the Wall Street Journal reported that activist investor Elliott Management has acquired a stake in the social- media company.
Codexis (CDXS US) tumbles 21% in premarket trading after the enzyme engineering company cut its sales guidance for the year and reported preliminary quarterly revenue that trailed the average estimate.
Vonage (VG US) rises 7% in premarket trading after Ericsson receives all the necessary approvals from regulators to buy the cloud-based communications provider.
Solar stocks could be active on Friday after Senator Joe Manchin told Democratic leaders he wouldn't support new spending on climate measures or tax increases. First Solar (FSLR US) falls 2% in premarket trading.
Investors are evaluating how hawkish the Fed must be to curb inflation and the likely toll on the economy. Bets on a one-percentage-point July rate hike have been scaled back after the latest commentary pointed toward 75 basis points; a retail sales miss in this morning's data should take a 100bps rate hike off the table.
"It seems most market operators are buying the news after selling the rumor of more monetary tightening brought by a higher US CPI," said Pierre Veyret, a technical analyst at ActivTrades. Investors now expect a 0.75-1% rate hike from the Fed at the end of the month, he said adding that the tightening cycle is projected to end with the benchmark rate at about 3.2% in 2023, with monetary policy then seen as easing to combat slower economic conditions.
The pace of monetary tightening along with ebbing liquidity still threatens to stir more market volatility after steep losses for stocks and bonds in 2022. In his latest comments, Fed Governor Christopher Waller backed raising rates by 75 basis points this month, nixing Nomura's base case of a 100bps rate hike, though he said he could go bigger if warranted by the data. St. Louis Fed President James Bullard echoed some of those comments, saying he favored hiking by the same amount.
"We need liquidity to dry up in order to reduce inflation," Erin Gibbs, chief investment officer at Main Street Asset Management, said on Bloomberg Radio. "It's a challenge, it's a difficult situation, transition. I don't envy the Federal Reserve, but we've known there has been too much money out there and that's why we're here in this position."
In Europe, the Stoxx 50 rallied 1.2%. DAX outperforms adding 1.7%. Autos, energy and retailers are the strongest-performing sectors, while luxury stocks got hit after data showed China's economy grew at the slowest pace since the country was first hit by the coronavirus outbreak two years ago. LVMH led the declines in European luxury stocks while Richemont and Burberry slide as China's Covid Zero policy weighs on results. Louis Vuitton owner LVMH down 2.2%, while Birkin handbag maker Hermes and watch maker Swatch fall 1.1% and 3.1%, respectively, as China is a key market for luxury houses. Italy's benchmark index rallied after the country's president rejected an offer from Mario Draghi to resign as prime minister. Here are the biggest European equity movers:
European automakers and car-parts suppliers lead gains in Europe with the Stoxx 600 Autos sub-index up as much as 3.8%. BofA analysts say current sector concerns are overdone.
Uniper gains as much as 12% on Friday as Goldman Sachs upgraded the stock and progress was said to be made on its rescue package. Fortum, which owns 75% of Uniper, up 3.4%.
Fevertree shares fall as much as 33%, the most on record, after the high-end tonic maker cut its outlook for the year. RBC said the profit warning raises questions about the company's pricing power and long-term earnings potential, while UBS pointed to concerns about the "visibility on 2022 and beyond."
Burberry shares drop as much as 7%, the most since March 4, after the British fashion brand surprised investors by reporting a weak 1Q in the Americas. The operating environment in China remains "extremely volatile," according to Morgan Stanley.
Richemont shares fall as much as 6%, the most since May 20, with the 1Q sales beat not enough to quell investor concern over the broader macro-economic backdrop, including what Citigroup calls an "uncertain recovery in China."
TomTom shares gained as much as 9.8%, most since Feb. 7, after company reported "satisfactory results given challenging circumstances," writes ING.
Hapag-Lloyd shares drop as much as 7.1% after Morgan Stanley cuts its recommendation to underweight from equal-weight on expectations that demand for containers will decline in 2023.
Direct Line shares rise as much as 3.6% following a 12% drop for the motor insurer in the prior session. Berenberg upgrades its rating to buy, saying the decline has created an opportunity, while JPMorgan cuts its ratings on both Direct Line and peer Admiral.
Rio Tinto shares fall as much as 2.9% in London after the miner's 2Q production report, with the company noting headwinds from a global economic slowdown and China's Covid outbreaks.
Aston Martin shares jump as much as 28%, reversing an early decline, after the luxury car-maker announces a funding package. Friday's gain is the biggest since May 2020.
Earlier in the session, Asian stocks declined as renewed fear of a crackdown on enterprises battered Chinese internet names while traders assessed the market impact from weaker-than-expected China growth data and corporate earnings.  The MSCI Asia Pacific Index fell as much as 0.6%, on track for a weekly decline. Alibaba dragged down the Asian benchmark and the Hang Seng Tech Index following a report that said some company executives were summoned for talks by authorities in Shanghai in connection with the theft of a vast police database. All but two sectors slipped.  Stocks in China declined after data showed that the world's second-largest economy grew 0.4% in the second quarter, the slowest pace since the country was first hit by the coronavirus outbreak two years ago. While the lower-than-expected expansion extended hopes that Beijing would maintain its easing stance, the latest figure puts its GDP target out of reach. According to Jack Siu, Greater China chief investment officer at Credit Suisse, the government's current fiscal stimulus on tax rebate and the front loading of special purpose bonds issuance should bring 2022 GDP to 4.8%. READ: Fresh Scrutiny of Alibaba Sends China Tech Stocks Into Tailspin "While disappointing growth data gave views that the current easing stance would be maintained, traders are waiting for the government's further response as banks, property and other sectors are hit by regulations and growth concerns," said Kim Kyung Hwan, a Chinese equity strategist at Hana Financial Investment.
Asian stocks are poised for their worst week in about a month amid worries about resurging virus cases in China and a possible global recession. Central banks in the region and elsewhere have been tightening their policy to curb high inflation, with decisions by Singapore and the Philippines surprising investors earlier in the week.
Japan's Nikkei 225 rose as the yen held near a fresh 24-year low, remaining close to 140 per dollar.  The Nikkei 225 advanced 0.5% to 26,788.47 at the 3 p.m. close in Tokyo, while the Topix index was virtually unchanged at 1,892.50. Out of 2,170 shares in the index, 745 rose and 1,334 fell, while 91 were unchanged. "The yen's depreciation to 139 yen provided support, but there is a limit to that," said Mamoru Shimode, chief strategist at Resona Asset Management.
In Australia, the S&P/ASX 200 index fell 0.7% to close at 6,605.60, dragged lower by miners and energy stocks as commodities from iron ore to copper declined. Pendal was the worst performer after reporting net outflows for the third quarter of A$4.2 billion. Iron ore miners dropped on weaker prices for the steelmaking ingredient. Goldman analysts also cut their rating on peer BHP, while Rio Tinto warned of headwinds emerging from a global economic slowdown and China's Covid-19 outbreaks. In New Zealand, the S&P/NZX 50 index fell 0.6% to 11,122.61.
In FX, the Bloomberg Dollar Spot Index slumped with AUD and NZD the weakest performers in G-10 FX, while CHF and SEK outperform. The euro held above parity, rising to session highs as US traders walked in. Sterling hovered near a two-year low against the US dollar, which remains broadly supported by demand for the safe-haven greenback. Markets will be keeping an eye on a debate between UK Conservative party candidates later in the day for a steer on who could become the country's next prime minister. The Aussie weakened for a second day after Westpac trimmed its forecast for RBA rate hikes, and iron-ore prices tumbled. The yen rose from a 24-year low as risk sentiment was subdued amid weak Chinese economic data and concerns over aggressive policy tightening in the US.
In rates, Treasuries rose, led by the belly, while gilts jumped at the open and bunds extended gains. Treasuries were slightly richer across the curve with front-end lagging, mildly flattening 2s10s and 2s5s spreads. Yields richer by 2bp to 3bp across the curve with 10-year around 2.93%, trading broadly inline with bunds and outperforming Italian bonds by 4bp. Peripheral spreads widen to Germany with 10y BTP/Bund adding 6.5bps to 213.4bps. Italian bonds yields rose at the front end of the curve as political uncertainty prevailed: indeed, the focus remains on Italian bonds after President Sergio Mattarella rejected Prime Minister Mario Draghi's resignation late Thursday. US session includes a packed data slate and three Fed speakers before blackout ahead of July 27 policy meeting. 
In commodities, crude futures rose. WTI trades within Thursday's range, adding 0.3% to trade near $96.05. Brent rises 0.7% near $99.83. Metals remain under pressure, with copper touching below $7,000/t and gold testing support at $1,700/oz.
To the day ahead now, and data releases include US retail sales, industrial production and capacity utilisation for June, along with the Empire State manufacturing survey for July, and the University of Michigan's preliminary consumer sentiment index for July. Central bank speakers include the ECB's Rehn, and the Fed's Bostic and Bullard. Earnings releases include UnitedHealth Group, Wells Fargo, BlackRock and Citigroup. Finally, G20 finance ministers and central bank governors will be meeting in Indonesia.
Market Snapshot
S&P 500 futures little changed at 3,795.50
STOXX Europe 600 up 0.9% to 410.06
MXAP down 0.5% to 153.77
MXAPJ down 0.8% to 505.79
Nikkei up 0.5% to 26,788.47
Topix little changed at 1,892.50
Hang Seng Index down 2.2% to 20,297.72
Shanghai Composite down 1.6% to 3,228.06
Sensex up 0.1% to 53,490.31
Australia S&P/ASX 200 down 0.7% to 6,605.57
Kospi up 0.4% to 2,330.98
German 10Y yield little changed at 1.11%
Euro little changed at $1.0026
Gold spot down 0.4% to $1,702.69
US Dollar Index little changed at 108.58
Top Overnight News from Bloomberg
China's economy grew at the slowest pace since the country was first hit by the coronavirus outbreak two years ago, making Beijing's growth target for the year increasingly unattainable as economists downgrade their forecasts further. The 0.4% expansion in GDP reported for the second quarter, when dozens of cities including Shanghai and Changchun imposed lockdowns, was the second weakest ever recorded
With Italy on the brink of chaos, Mario Draghi has less than a week to forge some difficult compromises with the populists in his government that have reluctantly backed him for the past 18 months
The ECB will unveil an unlimited bond-buying tool next week to help markets better adjust to steeper and faster interest-rate increases than previously thought, economists surveyed by Bloomberg say
Copper is heading for its steepest weekly decline since the early months of the coronavirus pandemic, with fears mounting of a recession that could destroy global demand for industrial commodities
A more detailed looked at global markets courtesy of Newsquawk
Asia-Pac stocks traded mixed after the 100bps Fed rate hike bets unwound and with headwinds from China's GDP miss. ASX 200 was dragged lower by the mining sector amid losses in Rio Tinto shares despite an increase in its quarterly output and shipments, as it also warned of headwinds to its business and higher costs. Nikkei 225 swung between gains and losses but was ultimately higher intraday amid recent currency weakness and with index heavyweight Fast Retailing boosted by strong 9-month results. Hang Seng and Shanghai Comp. were indecisive after disappointing Chinese growth data which showed weaker than expected GDP and Industrial Production, although Retail Sales surprisingly expanded and the Unemployment Rate declined.
Top Asian News
PBoC injected CNY 100bln via 1-year MLF vs CNY 100bln maturing with the rate kept at 2.85%.
China's Foreign Minister Wang also commented that China-Australia relations currently face challenges and opportunities, while he added that China is willing to recalibrate relations in the spirit of mutual respect, according to Reuters.
China NBS official said downward pressure on the domestic economy increased substantially during Q2 and that the foundation for a sustained economic recovery is not solid, while the economy is facing shrinking demand and supply shock, according to Reuters.
China's Huaiyuan county has announced a lockdown amid COVID, according to local TV; 151 prelim cases were reported on July 14th, according to CCTV.
China Traders Pile Into Carry Trades While Easy Money Lasts
Telkom Indonesia Jumps Most in Seven Months on 2Q Bet
MTN in Talks to Buy Rival Telkom in Cash & Shares: M&A Snapshot
SK Hynix Is Said to Weigh Slashing Spending by 25% in 2023
European bourses are firmer across the board, as initial jittery performance dissipated with participants looking to US data and Fed speak. US futures are in the green, but only modestly so, and have been relatively contained awaiting further guidance from upcoming Fed  officials on the 75bp/100bp discussion. UnitedHealth Group Inc (UNH) Q2 2022 (USD): Adj. EPS 5.57 (exp. 5.20/4.98 GAAP), Revenue 80.30bln (exp. 79.68bln). BlackRock Inc (BLK) Q2 2022 (USD): EPS 7.06 (exp. 7.90) Revenue 4.53bln (exp. 4.65bln). AUM 8.49tln (exp. 8.86tln). Net inflows 89.57bln (exp. 116.78bln).
Top European News
ECB's Rehn says ECB likely to go 25bps in July and 50bps in September. Note, the ECB is in its quiet period at the moment.
Burberry Upbeat on Outlook But Concerns About China Remain
Aston Martin Stock Jumps as Carmaker's Fundraising Calms Nerves
Euro Extreme Bearish Bets Have Room to Grow on NatGas Shut Off
UBS Wealth Sees 15% Downside for European Stocks in Recession
FX
Dollar in need of consumption or production boost after two Fed hawks lean against 100bp hike expectations that were becoming embedded for forthcoming FOMC meeting, DXY retreats through 108.500 after setting new 2022 peak at 109.290 yesterday.
Franc outpaces fellow majors as yields retreat and curves re-steepen, while retaining bid against Euro, USD/CHF sub-0.9800 vs high near 0.9900 on Thursday, EUR/CHF depressed largely under 0.9850.
Aussie underperforms as Chinese GDP data disappoints and iron ore dumps in response; AUD/USD top heavy above 0.6750, AUD/NZD reverses around 1.1000 handle.
Loonie pares declines from new y-t-d low vs Greenback as crude prices stabilise, USD/CAD close to 1.15bln option expiries at the 1.3100 strike compared to 1.3200+ high yesterday.
Euro attempts to consolidate back on a par with Buck after fleeting if not false break below.
Yuan nurses losses after further depreciation on growth concerns and latest Covid lockdowns -Usd/Cnh and Usd/Cny slip from overnight peaks circa 6.7840 and 6.7690 respectively.
Fixed Income
Bonds back off following further retracement from lows on less hawkish Fed vibes that prompted bull re-steepening
Bunds sub-153.00 vs new 153.80 WTD peak, Gilts under 116.00 from 116.39 and 10 year T-note midway between 118-29+/118-13 stalls
BTPs stage impressive recovery to 124.30 from 121.96 trough on Thursday awaiting next chapter in Italian political drama
Commodities
Crude benchmarks are firmer, tracking sentiment, but cognizant of the Saudi-Biden meeting though an immediate production increase is not anticipated; WTI +USD 0.20/bbl.
The US is not expecting Saudi Arabia to immediately boost oil production, US eyes the next OPEC+ meeting, according to a US official cited by Reuters.
UAE says it wants more stable oil markets, will abide by OPEC+ decision; idea of a confrontational approach re. Iran is not something they buy into, via Reuters.
Spot gold remains pressured near, but yet to breach, the USD 1700/oz handle; despite a pull-back in the USD as sentiment turns incrementally more constructive.
US Event Calendar
08:30: June Import Price Index YoY, est. 11.4%, prior 11.7%; MoM, est. 0.7%, prior 0.6%

June Export Price Index YoY, est. 19.9%, prior 18.9%; MoM, est. 1.2%, prior 2.8%

08:30: June Retail Sales Advance MoM, est. 0.9%, prior -0.3%

June Retail Sales Ex Auto MoM, est. 0.7%, prior 0.5%
June Retail Sales Ex Auto and Gas, est. 0.1%, prior 0.1%
June Retail Sales Control Group, est. 0.3%, prior 0%

08:30: July Empire Manufacturing, est. -2.0, prior -1.2
09:15: June Industrial Production MoM, est. 0.1%, prior 0.2%, revised 0.1%

June Capacity Utilization, est. 80.8%, prior 79.0%, revised 80.8%
June Manufacturing (SIC) Production, est. -0.1%, prior -0.1%

10:00: May Business Inventories, est. 1.4%, prior 1.2%
10:00: July U. of Mich. Sentiment, est. 50.0, prior 50.0; Expectations, est. 47.0, prior 47.5; Current Conditions, est. 53.7, prior 53.8

1 Yr Inflation, est. 5.3%, prior 5.3%
5-10 Yr Inflation, est. 3.0%, prior 3.1%
DB's Jim Reid concludes the overnight wrap
The last 24 hours have seen another major risk-off move in financial markets, with worries about a potential recession getting fresh support from a weak round of US bank earnings as we kick off the latest results season, followed by much weaker than expected Chinese GDP growth in Q2. To be honest, it was hard to find an asset class where recession signals weren't flashing red, with yesterday seeing the S&P 500 (-0.30%) lose ground for a 5th consecutive session, peripheral bond spreads widen in Europe, and oil prices seeing their lowest intraday levels since Russia's invasion of Ukraine began.
In terms of the specific moves, equities declined across the board yesterday with the S&P 500's losses led by energy and the more cyclical sectors. Banks were a major contributor to that, and JPMorgan (-3.49%) suffered, hitting a 20-month low after their earnings missed expectations and they announced the suspension of share buybacks, whilst Morgan Stanley (-0.39%) saw investment banking revenue down -55% on the previous year. European equities also suffered significant losses, with the STOXX 600 coming down -1.53% on the day.
However, the final losses by the US close were far from where they had been at the open, with the S&P 500 recovering from intraday losses of -2.11% after the FOMC's resident hawks walked back the prospects of a super-sized 100bps hike in July, and signalled that a 75bp increase remained preferable despite the CPI beat. Tech shares were a particular beneficiary, and the NASDAQ managed to eke out a +0.03% gain by the close as a result. In terms of the comments, Governor Waller said that "with the CPI data in hand, I support another 75-basis point increase". However, he did say that if upcoming retail sales and housing data were "materially stronger than expected it would make me lean towards a larger hike". And then St Louis Fed President Bullard was quoted in a Nikkei interview that he "would advocate 75 basis points again at the next meeting." In response, futures dialled back their expectations for a 100bp move, with pricing moving down from a peak of +94bps not long before Waller's remarks came out, to +82.5bps by the close of trade.
Those remarks helped trigger a recovery among US Treasuries, with the 2yr yield falling back from an intraday high of 3.27% to end the day at 3.13%, and this morning it's fallen further to 3.12%. Yield curves also steepened on the back of the remarks, although the 2s10s curve (+4.9bps yesterday) still remains well in inversion territory at -18.1bps as we go to press. Yields on 10yr Treasuries were up +2.6bps yesterday to 2.96%, although this morning have also fallen back to 2.94%. Today we'll get further comments from Atlanta Fed President Bostic, St Louis Fed President Bullard and San Francisco President Daly, which will be important as today is the last day before the FOMC's blackout period begins ahead of their next meeting, so all eyes will be on their thoughts about a 100bps move.
Over in Europe, Italian assets lost significant ground yesterday amidst ongoing political turmoil in the country. Prime Minister Draghi tried to tender his resignation after the Five Star Movement boycotted a confidence vote in the Senate, saying that "The loyalty agreement that was the foundation of my government has gone missing", but President Mattarella rejected it, and it's uncertain what exactly will happen next. Draghi is set to address parliament next week, although early elections remain a possibility if an agreement is unable to be reached. In terms of the market reaction, Italy's FTSE MIB underperformed all the other major European indices, with a -3.44% decline that leaves the index at its lowest level since November 2020 just before Pfizer announced their positive vaccine news. Meanwhile the spread of 10yr Italian yields over bunds widened +7.7bps to 206bps yesterday, which is their highest level in nearly a month. That theme of widening spreads was echoed on the credit side too, where iTraxx Crossover widened +22.2bps to 626bps, which is its highest level since April 2020. Yields on 10yr bunds themselves were up +3.3bps.
That negative tone has persisted in Asia overnight after China's Q2 GDP data showed economic growth slowed to just +0.4% year-on-year in Q2 (vs. +1.2% expected). On a quarter-on-quarter basis, there was even a -2.6% contraction (vs. -2.0% expected), which marks the first quarterly contraction since Q1 2020 when the Covid-19 pandemic started. The data for June alone was better however, with retail sales up +3.1% year-on-year (vs. +0.3% expected), and industrial production up +3.9% year-on-year (vs. +4.0% expected). Separately, China have reported their highest number of daily Covid-19 cases in 7 weeks, with 432 infections yesterday, of which 165 were in Guangxi province. A number of equity indices have lost ground against that backdrop, including the CSI 300 (-0.05%), the Shanghai Comp (-0.24%) and the Hang Seng (-1.19%), although the Kospi (+0.22%) and the Nikkei (+0.58%) have advanced, whilst Brent crude oil prices are back above $100/bbl. US and European equity futures are also pointing to a positive start, with those on the S&P 500 (+0.32%), the NASDAQ 100 (+0.41%) and the DAX (+0.99%) all up.
Yesterday's other data releases didn't exactly help sentiment either, with US producer price inflation beating expectations as well at a monthly +1.1% (vs. +0.8% expected), although core inflation did fall to +0.4% (vs. +0.5% expected). That pushed the headline year-on-year PPI reading up to +11.3% (vs. +10.7% expected), and core fell to +8.2% as expected. Separately, the weekly initial jobless claims for the week through July 9 came in at 244k (vs. 235k expected), which is their highest level since November. Furthermore, the 4-week moving average of claims rose to 235.75k, which was its highest level since December. Instead, the main positive news came from the continuing claims data for the week through July 2, which fell to 1331k (vs. 1380k expected).
Here in the UK, the second ballot of Conservative MPs took place yesterday as they select their next leader and the country's next Prime minister. Former Chancellor Sunak remained in the lead with 101 votes, but trade minister Penny Mordaunt maintained her momentum with an increase to 83 votes, whilst Foreign Secretary Truss won 64 votes. There are now just 5 candidates remaining with the next ballot scheduled for Monday, and there are also a couple of TV debates taking place before then, so there's still the potential for things to change over the weekend.
To the day ahead now, and data releases include US retail sales, industrial production and capacity utilisation for June, along with the Empire State manufacturing survey for July, and the University of Michigan's preliminary consumer sentiment index for July. Central bank speakers include the ECB's Rehn, and the Fed's Bostic and Bullard. Earnings releases include UnitedHealth Group, Wells Fargo, BlackRock and Citigroup. Finally, G20 finance ministers and central bank governors will be meeting in Indonesia.
Tyler Durden
Fri, 07/15/2022 - 07:57
recession
unemployment
consumer sentiment
pandemic
coronavirus
covid-19
economic recovery
stimulus
economic growth
bonds
yield curve
us treasuries
sp 500
nasdaq
ftse
shanghai composite
equities
stocks
monetary policy
fomc
fed
federal reserve
us dollar
euro
yuan
senate
governor
vaccine
testing
spread
lockdown
recession
gdp
recovery
interest rates
unemployment
stimulus
commodities
gold
oil
iran
singapore
japan
wuhan
european
europe
uk
italy
germany
russia
ukraine
china
Plunging pound and crumbling confidence: How the new UK government stumbled into a political and financial crisis of its own making
Liz Truss took over as prime minister with an ambitious plan to cut taxes by the most since 1972 – investors balked after it wasn't clear how she would…
The new British government is off to a very rocky start – after stumbling through an economic and financial crisis of its own making.
Just a few weeks into its term on Sept. 23, 2022, Prime Minister Liz Truss' government released a so-called mini-budget that proposed £161 billion – about US$184 billion at today's rate – in new spending and the biggest tax cuts in half a century, with the benefits mainly going to Britain's top earners. The aim was to jump-start growth in an economy on the verge of recession, but the government didn't indicate how it would pay for it – or provide evidence that the spending and tax cuts would actually work.
Financial markets reacted badly, prompting interest rates to soar and the pound to plunge to the lowest level against the dollar since 1985. The Bank of England was forced to gobble up government bonds to avoid a financial crisis.
After days of defending the plan, the government did a U-turn of sorts on Oct. 3 by scrapping the most controversial component of the budget – elimination of its top 45% tax rate on high earners. This calmed markets, leading to a rally in the pound and government bonds.
As a finance professor who tracks markets closely, I believe at the heart of this mini-crisis over the mini-budget was a lack of confidence – and now a lack of credibility.
A looming recession
Truss' government inherited a troubled economy.
Growth has been sluggish, with the latest quarterly figure at 0.2%. The Bank of England predicts the U.K. will soon enter a recession that could last until 2024. The latest data on U.K. manufacturing shows the sector is contracting.
Consumer confidence is at its lowest level ever as soaring inflation – currently at an annualized pace of 9.9% – drives up the cost of living, especially for food and fuel. At the same time, real, inflation-adjusted wages are falling by a record amount, or around 3%.
It's important to note that many countries in the world, including the U.S. and in mainland Europe, are experiencing the same problems of low growth and high inflation. But rumblings in the background in the U.K. are also other weaknesses.
Since the financial crisis of 2008, the U.K. has suffered from lower productivity compared with other major economies. Business investment plateaued after Brexit in 2016 – when a slim majority of voters chose to leave the European Union – and remains significantly below pre-COVID-19 levels. And the U.K. also consistently runs a balance of payments deficit, which means the country imports a lot more goods and services than it exports, with a trade deficit of over 5% of gross domestic product.
In other words, investors were already predisposed to view the long-term trajectory of the U.K. economy and the British pound in a negative light.
An ambitious agenda
Truss, who became prime minister on Sept. 6, 2022, also didn't have a strong start politically.
The government of Boris Johnson lost the confidence of his party and the electorate after a series of scandals, including accusations he mishandled sexual abuse allegations and revelations about parties being held in government offices while the country was in lockdown.
Truss was not the preferred candidate of lawmakers in her own Conservative Party, who had the task of submitting two choices for the wider party membership to vote on. The rest of the party – dues-paying members of the general public – chose Truss. The lack of support from Conservative members of Parliament meant she wasn't in a position of strength coming into the job.
Nonetheless, the new cabinet had an ambitious agenda of cutting taxes and deregulating energy and business.
Some of the decisions, laid out in the mini-budget, were expected, such as subsidies limiting higher energy prices, reversing an increase in social security taxes and a planned increase in the corporate tax rate.
But others, notably a plan to abolish the 45% tax rate on incomes over £150,000, were not anticipated by markets. Since there were no explicit spending cuts cited, funding for the £161 billion package was expected to come from selling more debt. There was also the threat that this would be paid for, in part, by lower welfare payments at a time when poorer Britons are suffering from the soaring cost of living. The fear of welfare cuts is putting more pressure on the Truss government.
A collapse in confidence
Even as the new U.K. Chancellor of the Exchequer Kwasi Kwarteng was presenting the mini-budget on Sept. 23, the British pound was already getting hammered. It sank from $1.13 the day before the proposal to as low as $1.03 in intraday trading on Sept. 26. Yields on 10-year government bonds, known as gilts, jumped from about 3.5% to 4.5% – the highest level since 2008 – in the same period.
The jump in rates prompted mortgage lenders to suspend deals with new customers, eventually offering them again at significantly higher borrowing costs. There were fears that this would lead to a crash in the housing market.
In addition, the drop in gilt prices led to a crisis in pension funds, putting them at risk of insolvency.
Many members of Truss' party voiced opposition to the high levels of borrowing likely necessary to finance the tax cuts and spending and said they would vote against the package.
The International Monetary Fund, which bailed out the U.K. in 1976, even offered its figurative two cents on the tax cuts, urging the government to "reevaluate" the plan. The comments further spooked investors.
To prevent a broader crisis in financial markets, the Bank of England stepped in and pledged to purchase up to £65 billion in government bonds.
Besides causing investors to lose faith, the crisis also severely dented the public's confidence in the U.K. government. The latest polls showed the opposition Labour Party enjoying a 24-point lead, on average, over the Conservatives.
So the government likely had little choice but to reverse course and drop the most controversial part of the plan, the abolition of the 45% tax rate. The pound recovered its losses. The recovery in gilts was more modest, with bonds still trading at elevated levels.
Putting this all together, less than a month into the job, Truss has lost confidence – and credibility – with international investors, voters and her own party. And all this over a "mini-budget" – the full budget isn't due until November 2022. It suggests the U.K.'s troubles are far from over, a view echoed by credit rating agencies.
David McMillan does not work for, consult, own shares in or receive funding from any company or organisation that would benefit from this article, and has disclosed no relevant affiliations beyond their academic appointment.
recession
covid-19
subsidies
bonds
government bonds
housing market
pound
lockdown
recession
recovery
interest rates
european
europe
uk
What's next for ancient DNA studies after Nobel Prize honors groundbreaking field of paleogenomics
Thousands of ancient genomes have been sequenced to date. A Nobel Prize highlights tremendous opportunities for aDNA, as well as challenges related to…
For the first time, a Nobel Prize recognized the field of anthropology, the study of humanity. Svante Pääbo, a pioneer in the study of ancient DNA, or aDNA, was awarded the 2022 prize in physiology or medicine for his breathtaking achievements sequencing DNA extracted from ancient skeletal remains and reconstructing early humans' genomes – that is, all the genetic information contained in one organism.
His accomplishment was once only the stuff of Jurassic Park-style science fiction. But Pääbo and many colleagues, working in large multidisciplinary teams, pieced together the genomes of our distant cousins, the famous Neanderthals and the more elusive Denisovans, whose existence was not even known until their DNA was sequenced from a tiny pinky bone of a child buried in a cave in Siberia. Thanks to interbreeding with and among these early humans, their genetic traces live on in many of us today, shaping our bodies and our disease vulnerabilities – for example, to COVID-19.
The world has learned a startling amount about our human origins in the last dozen years since Pääbo and teammates' groundbreaking discoveries. And the field of paleogenomics has rapidly expanded. Scientists have now sequenced mammoths that lived a million years ago. Ancient DNA has addressed questions ranging from the origins of the first Americans to the domestication of horses and dogs, the spread of livestock herding and our bodies' adaptations – or lack thereof – to drinking milk. Ancient DNA can even shed light on social questions of marriage, kinship and mobility. Researchers can now sequence DNA not only from the remains of ancient humans, animals and plants, but even from their traces left in cave dirt.
Alongside this growth in research, people have been grappling with concerns about the speed with which skeletal collections around the world have been sampled for aDNA, leading to broader conversations about how research should be done. Who should conduct it? Who may benefit from or be harmed by it, and who gives consent? And how can the field become more equitable? As an archaeologist who partners with geneticists to study ancient African history, I see both challenges and opportunities ahead.
Building a better discipline
One positive sign: Interdisciplinary researchers are working to establish basic common guidelines for research design and conduct.
In North America, scholars have worked to address inequities by designing programs that train future generations of Indigenous geneticists. These are now expanding to other historically underrepresented communities in the world. In museums, best practices for sampling are being put into place. They aim to minimize destruction to ancestral remains, while gleaning the most new information possible.
But there is a long way to go to develop and enforce community consultation, ethical sampling and data sharing policies, especially in more resource-constrained parts of the world. The divide between the developing world and rich industrialized nations is especially stark when looking at where ancient DNA labs, funding and research publications are concentrated. It leaves fewer opportunities for scholars from parts of Asia, Africa and the Americas to be trained in the field and lead research.
The field faces structural challenges, such as the relative lack of funding for archaeology and cultural heritage protection in lower income countries, worsened by a long history of extractive research practices and looming climate change and site destruction. These issues strengthen the regional bias in paleogenomics, which helps explain why some parts of the world – such as Europe – are so well-studied, while Africa – the cradle of humankind and the most genetically diverse continent – is relatively understudied, with shortfalls in archaeology, genomics and ancient DNA.
Making public education a priority
How paleogenomic findings are interpreted and communicated to the public raises other concerns. Consumers are regularly bombarded with advertisements for personal ancestry testing, implying that genetics and identity are synonymous. But lived experiences and decades of scholarship show that biological ancestry and socially defined identities do not map so easily onto one another.
I'd argue that scholars studying aDNA have a responsibility to work with educational institutions, like schools and museums, to communicate the meaning of their research to the public. This is particularly important because people with political agendas – even elected officials – try to manipulate findings.
For example, white supremacists have erroneously equated lactose tolerance with whiteness. It's a falsehood that would be laughable to many livestock herders from Africa, one of the multiple centers of origin for genetic traits enabling people to digest milk.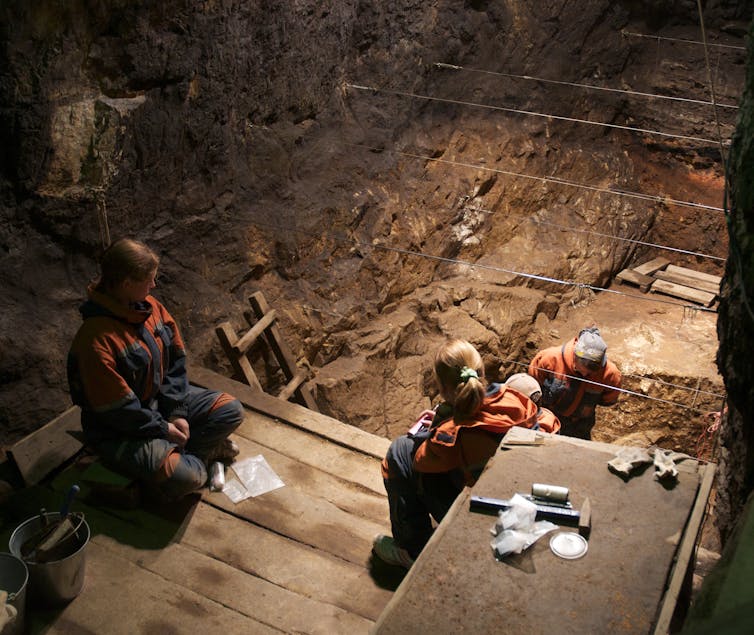 Leaning in at the interdisciplinary table
Finally, there's a discussion to be had about how specialists in different disciplines should work together.
Ancient DNA research has grown rapidly, sometimes without sufficient conversations happening beyond the genetics labs. This oversight has provoked a backlash from archaeologists, anthropologists, historians and linguists. Their disciplines have generated decades or even centuries of research that shape ancient DNA interpretations, and their labor makes paleogenomic studies possible.
As an archaeologist, I see the aDNA "revolution" as usefully disrupting our practice. It prompts the archaeological community to reevaluate where ancestral skeletal collections come from and should rest. It challenges us to publish archaeological data that is sometimes only revealed for the first time in the supplements of paleogenomics papers. It urges us to grab a seat at the table and help drive projects from their inception. We can design research grounded in archaeological knowledge, and may have longer-term and stronger ties to museums and to local communities, whose partnership is key to doing research right.
If archaeologists embrace this moment that Pääbo's Nobel Prize is spotlighting, and lean in to the sea changes rocking our field, it can change for the better.
Mary Prendergast does not work for, consult, own shares in or receive funding from any company or organisation that would benefit from this article, and has disclosed no relevant affiliations beyond their academic appointment.
testing
genetic
dna
covid-19
spread
africa
europe
Roubini: The Stagflationary Debt Crisis Is Here
Roubini: The Stagflationary Debt Crisis Is Here
Authored by Nouriel Roubini via Project Syndicate,
The Great Moderation has given way to…
Roubini: The Stagflationary Debt Crisis Is Here
Authored by Nouriel Roubini via Project Syndicate,
The Great Moderation has given way to the Great Stagflation, which will be characterized by instability and a confluence of slow-motion negative supply shocks. US and global equities are already back in a bear market, and the scale of the crisis that awaits has not even been fully priced in yet.
For a year now, I have argued that the increase in inflation would be persistent, that its causes include not only bad policies but also negative supply shocks, and that central banks' attempt to fight it would cause a hard economic landing. When the recession comes, I warned, it will be severe and protracted, with widespread financial distress and debt crises. Notwithstanding their hawkish talk, central bankers, caught in a debt trap, may still wimp out and settle for above-target inflation. Any portfolio of risky equities and less risky fixed-income bonds will lose money on the bonds, owing to higher inflation and inflation expectations.
How do these predictions stack up? First, Team Transitory clearly lost to Team Persistent in the inflation debate. On top of excessively loose monetary, fiscal, and credit policies, negative supply shocks caused price growth to surge. COVID-19 lockdowns led to supply bottlenecks, including for labor. China's "zero-COVID" policy created even more problems for global supply chains. Russia's invasion of Ukraine sent shockwaves through energy and other commodity markets. And the broader sanctions regime – not least the weaponization of the US dollar and other currencies – has further balkanized the global economy, with "friend-shoring" and trade and immigration restrictions accelerating the trend toward deglobalization.
Everyone now recognizes that these persistent negative supply shocks have contributed to inflation, and the European Central Bank, the Bank of England, and the US Federal Reserve have begun to acknowledge that a soft landing will be exceedingly difficult to pull off. Fed Chair Jerome Powell now speaks of a "softish landing" with at least "some pain." Meanwhile, a hard-landing scenario is becoming the consensus among market analysts, economists, and investors.
It is much harder to achieve a soft landing under conditions of stagflationary negative supply shocks than it is when the economy is overheating because of excessive demand. Since World War II, there has never been a case where the Fed achieved a soft landing with inflation above 5% (it is currently above 8%) and unemployment below 5% (it is currently 3.7%). And if a hard landing is the baseline for the United States, it is even more likely in Europe, owing to the Russian energy shock, China's slowdown, and the ECB falling even further behind the curve relative to the Fed.
Are we already in a recession? Not yet, but the US did report negative growth in the first half of the year, and most forward-looking indicators of economic activity in advanced economies point to a sharp slowdown that will grow even worse with monetary-policy tightening. A hard landing by year's end should be regarded as the baseline scenario.
While many other analysts now agree, they seem to think that the coming recession will be short and shallow, whereas I have cautioned against such relative optimism, stressing the risk of a severe and protracted stagflationary debt crisis. And now, the latest distress in financial markets – including bond and credit markets – has reinforced my view that central banks' efforts to bring inflation back down to target will cause both an economic and a financial crash.
I have also long argued that central banks, regardless of their tough talk, will feel immense pressure to reverse their tightening once the scenario of a hard economic landing and a financial crash materializes. Early signs of wimping out are already discernible in the United Kingdom. Faced with the market reaction to the new government's reckless fiscal stimulus, the BOE has launched an emergency quantitative-easing (QE) program to buy up government bonds (the yields on which have spiked).
Monetary policy is increasingly subject to fiscal capture. Recall that a similar turnaround occurred in the first quarter of 2019, when the Fed stopped its quantitative-tightening (QT) program and started pursuing a mix of backdoor QE and policy-rate cuts – after previously signaling continued rate hikes and QT – at the first sign of mild financial pressures and a growth slowdown. Central banks will talk tough; but there is good reason to doubt their willingness to do "whatever it takes" to return inflation to its target rate in a world of excessive debt with risks of an economic and financial crash.
Moreover, there are early signs that the Great Moderation has given way to the Great Stagflation, which will be characterized by instability and a confluence of slow-motion negative supply shocks. In addition to the disruptions mentioned above, these shocks could include societal aging in many key economies (a problem made worse by immigration restrictions); Sino-American decoupling; a "geopolitical depression" and breakdown of multilateralism; new variants of COVID-19 and new outbreaks, such as monkeypox; the increasingly damaging consequences of climate change; cyberwarfare; and fiscal policies to boost wages and workers' power.
Where does that leave the traditional 60/40 portfolio? I previously argued that the negative correlation between bond and equity prices would break down as inflation rises, and indeed it has. Between January and June of this year, US (and global) equity indices fell by over 20% while long-term bond yields rose from 1.5% to 3.5%, leading to massive losses on both equities and bonds (positive price correlation).
Moreover, bond yields fell during the market rally between July and mid-August (which I correctly predicted would be a dead-cat bounce), thus maintaining the positive price correlation; and since mid-August, equities have continued their sharp fall while bond yields have gone much higher. As higher inflation has led to tighter monetary policy, a balanced bear market for both equities and bonds has emerged.
But US and global equities have not yet fully priced in even a mild and short hard landing. Equities will fall by about 30% in a mild recession, and by 40% or more in the severe stagflationary debt crisis that I have predicted for the global economy. Signs of strain in debt markets are mounting: sovereign spreads and long-term bond rates are rising, and high-yield spreads are increasing sharply; leveraged-loan and collateralized-loan-obligation markets are shutting down; highly indebted firms, shadow banks, households, governments, and countries are entering debt distress.
The crisis is here.
Tyler Durden
Tue, 10/04/2022 - 17:25
recession
depression
unemployment
covid-19
stimulus
bonds
government bonds
credit markets
equities
monetary policy
qe
fed
federal reserve
currencies
us dollar
recession
unemployment
commodity markets
european
europe
russia
ukraine
china