Is a major recession unavoidable? Three economists give their views
How to deal with high inflation and sputtering growth at the same time.
We are in a double bind right now. Prices are going through the roof but all the signs suggest that the economy is weakening. The answer to higher prices is normally to raise interest rates, but this also induces people and firms to spend less money. The challenge for central banks is to try and deal with both problems at the same time.
We asked three economists whether they saw a way of bringing down inflation without causing a severe recession. Here's what they said:
Jonathan Perraton, Senior Lecturer in Economics, University of Sheffield
The Bank of England's decision to raise interest rates by a relatively modest 0.25 percentage points to 1.25% contrasts with the US Federal Reserve's 0.75 points hike the day before to a range of 1.5% to 1.75%. This reflects concerns in the UK that economic growth will be weaker than previously forecast.
It follows the unexpected news that the UK economy shrank by 0.3% in April, plus sobering forecasts from the Organisation for Economic Co-operation and Development (OECD) that the UK will be the worst performing major economy in 2023 apart from Russia. GDP is now only fractionally above its pre-COVID level and all major sectors are shrinking.
The Bank of England's caution is despite inflation currently being at 9% and now expected to reach 11% in the coming months. These are levels not seen since the 1980s. Forecasts have the UK experiencing one of the highest inflation rates of the leading economies.
Inflation rates in the G20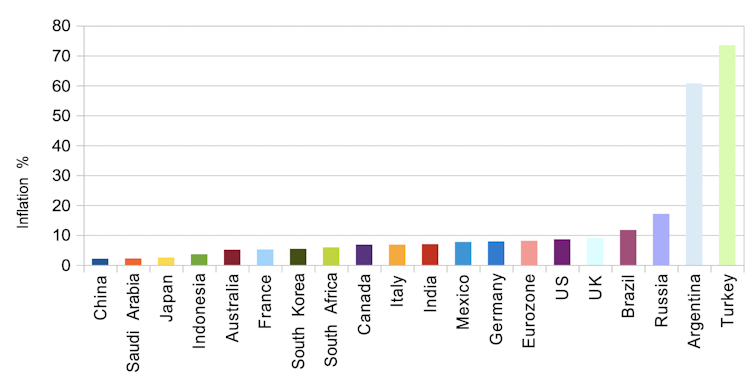 Inflation is a worldwide problem thanks to pressures on supply chains after COVID and higher energy and other commodity prices following Russia's invasion of Ukraine. However, US economist Adam Posen has pointed to Brexit as a key factor in explaining Britain's relatively high inflation. This has meant higher trading costs, weak sterling and labour shortages.
Unemployment has fallen to only 3.8%, although employment rates are still below pre-COVID levels, pointing to more people being inactive – particularly older workers. Staff shortages have become a key feature of the British economy.
You might expect this combination of low unemployment and unfilled vacancies to drive up wages. Instead regular pay, excluding bonuses, fell by 2.2% in real terms in June, the largest fall for over 20 years. So at least this does not yet appear to be a classic wage-price inflationary spiral, where firms give way to demands from workers for higher pay, pass on the costs to consumers in the form of higher prices, and workers demand even higher wages to cope. Having said that, bargaining rounds are yet to be completed and we are seeing more wage disputes in some sectors.
Until now, consumer demand has helped to stimulate economic activity in the UK, but this has partly been sustained by household savings. Some of this reflects households now spending more as COVID restrictions have been lifted but there are clear limits to how far households can dip into their savings as living standards are squeezed. Not surprisingly, consumer confidence is falling.
Longer term problems also remain. UK productivity has been very weak since the 2008 global financial crisis. There are many possible explanations, including weaknesses in capital investment and training – the latter reflected in current difficulties in filling vacancies.
In sum, the Bank of England is facing unprecedented challenges. Interest rate rises are a blunt tool to deal with supply-side problems in a British economy where growth is grinding to a halt. As long as inflation outstrips wages and the economy stagnates, it is likely to fall on the government rather than the Bank of England to provide people with support.
Brigitte Granville, Professor of International Economics and Economic Policy, Queen Mary University of London
Stagflation is upon us, so a natural focus for any "where next?" discussion must be whether we are on course for an episode as bad as the 1970s or even worse. My answer would be that recession is likely, but the 1970s experience of high inflation persisting despite repeated recessions should be avoidable. That said, even a relatively milder dose of stagflation will be painful for living standards.
The mildest way out of the present situation would be inflation promptly curing itself: by making people poorer in real terms so they can't afford to buy so much. In this scenario, inflation would ease and central banks could help with the downturn in the economy by reversing their present interest-rate hikes.
There are several obstacles to such a fast turnaround, however: the context of the post-COVID recovery and the labour market.
The main inflationary impulse has come from two factors on the global supply side. First, supply chains have struggled to cope with demand collapsing and resurging during and after COVID, made worse by China's zero-COVID policy. Second, energy and other natural resource supplies have been constrained by Russia's war in Ukraine and the west's sanctions.
The inflationary effects of these issues are being prolonged by pent-up demand from western firms and consumers due to COVID stimulus packages in the UK and especially the US, as well as unspent income accumulated during lockdowns. In the UK, for example, household deposit balances were still well above pre-COVID levels as recently as April.
It doesn't help that the financial markets have been driven to such heights by loose monetary policy. Although the bubbles have been popping recently, valuations will have to fall some way further before people feel poorer and less willing to go out and buy things.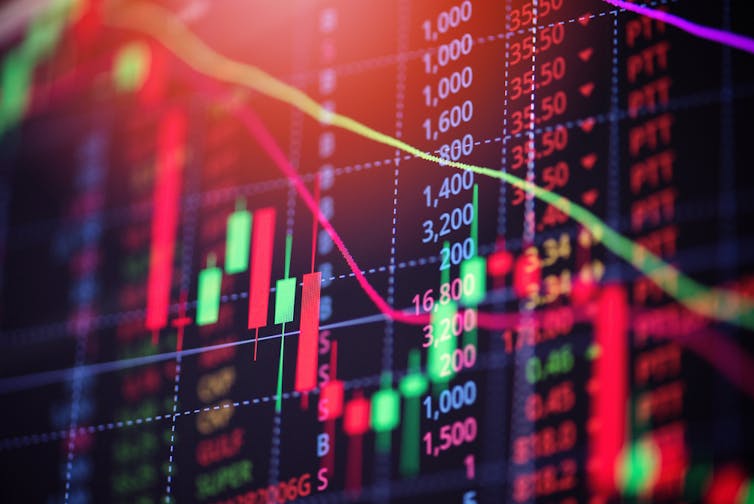 Turning to the second obstacle to a rapid reversal of the inflation surge, namely the labour market, the main problem again comes from the supply side. Labour demand from firms has normalised post-COVID, but there are too few workers. This is partly to do with more people over 50 choosing not to go back to work, but the UK has the additional problem of Brexit interrupting the flow of good quality labour from central and eastern Europe.
With too few workers, companies are being forced to pay people more – UK wages are rising at about 4% a year – and to pass on the cost to customers in the prices of goods and services. Alert to the threat of a 1970s-style wage-price spiral, the Bank of England has been raising interest rates.
But leading indicators suggest that the wage-price spiral threat is not that serious. The closely watched Purchasing Managers' Index, which gauges UK companies' optimism about the economy, shows that those in services are becoming gloomier about the coming months. You don't keep increasing prices if you think people are going to stop buying. And while we may have seen faint echoes of 1970s-style labour militancy in transport, for instance, pessimistic companies are generally more likely to cut hiring plans and output rather than give way to hefty wage demands – if not shut up shop altogether.
It seems to me that this will be more decisive in determining the course of inflation since it is a long-term structural issue, whereas the post-COVID issues should eventually straighten out. So overall, I expect that the UK economy's present stagnation, quite likely dipping into mild recession, will bring inflation back down towards the 2% target. In the US, where underlying demand and credit is stronger, sharper interest hikes may be needed to achieve the same goal.
The main danger in my view is central banks becoming too dogmatic about their 2% inflation targets. In my book Remembering Inflation, I reviewed convincing research findings that inflation levels up to 5% cause little or no long-term damage to growth – especially if the inflation rate is steady rather than volatile. So once inflation eases a little, central banks should stop hiking interest rates to avoid doing more harm than good.
Chris Martin, Professor of Economics, University of Bath
The UK labour market is going to be key to how the UK economy performs in the coming months, and its prospects are finely balanced. On one hand, it proved resilient during the pandemic. The furlough schemes were a success, protecting the labour market from the worst effects of the crisis. The fall in employment was around three times lower than in the 1970s, even though the economic contraction was much greater.
Employment also recovered more quickly than in previous recessions. Vacancies are over 50% higher than before the pandemic. Average wages excluding bonuses are rising by about 4% a year, with even higher growth for drivers and workers in construction, software development and warehousing.
UK employment rate (%)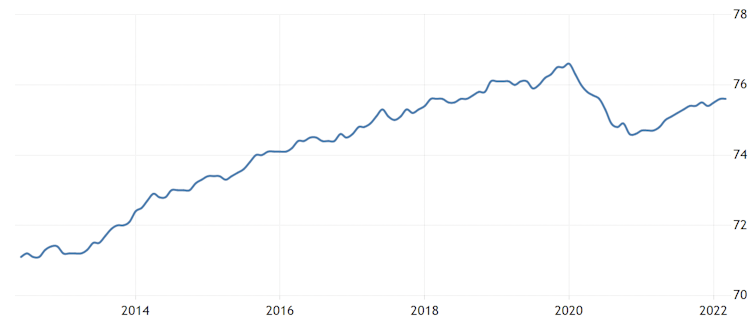 On the other hand, employment is still lower than before the pandemic by close to 250,000 workers. Real wages are still no higher than in 2008. And the macroeconomic context is gloomy: it is hard to see how the labour market will thrive if growth is weak or non-existent.
Several factors make the next few months hard to assess. First, unemployment is no longer a useful labour market indicator. Workers are nowadays categorised as employed, unemployed or inactive. Unemployed workers are actively seeking work but the inactive are not. Of the circa 250,000 drop in employed workers since 2019, 80% are inactive; only 20% are now unemployed.
Economists have a much weaker understanding of the inactive than the unemployed. This matters because most people getting hired are from the inactive rather than the unemployed category.
Second, perhaps surprisingly, Brexit has not reduced migration, but it has changed it. There are fewer EU citizens employed in the UK, but more workers from Nigeria, India and similar countries. They tend to be more highly skilled and to work in health and social care, rather than in hospitality.
More skilled workers should be good for productivity and fill vital roles in health and social care, but hospitality is struggling at the same time. However, it is not yet clear if these changes are permanent, and this too makes the labour market more difficult to forecast.
In addition, the behaviour of vacancies and their relationship to hiring seems to have changed. The most recent data shows 1.3 million vacancies, around 40% higher than pre-pandemic. But this has not resulted in record numbers of workers being hired. Whatever the cause, we can no longer rely on high vacancy posting to generate rising employment.
Finally, a striking divide is opening between the public and private sectors. Private sector employment is back to pre-COVID levels, but public sector employment lags behind. Private sector wages are currently increasing by 8%, compared to just 1.5% for the public sector. Forecasting public sector employment is difficult, since it is immune to some of the market forces that drive the private sector, although there seems little prospect of noticeable growth over the next few months.
So what is the outlook for UK employment? Above all, firms are likely to be looking for fewer workers as chronic weak investment and slowing consumer expenditure points to stagnant or falling GDP.
These negative forces will be offset by the large number of vacancies currently being offered by firms and by relatively large wage rises in some parts of the private sector. This may induce some of those workers back into the labour market who have withdrawn following the pandemic.
On balance, I would expect a fall in employment of up to 100,000 workers in the coming few months. That's less than 0.1%, so it's not going to greatly exacerbate all the other problems in the economy.
The authors do not work for, consult, own shares in or receive funding from any company or organisation that would benefit from this article, and have disclosed no relevant affiliations beyond their academic appointment.
recession
unemployment
pandemic
stimulus
economic growth
stocks
monetary policy
federal reserve
recession
gdp
recovery
interest rates
unemployment
stimulus
india
europe
uk
russia
ukraine
eu
china
Five things you can do to help you have a more positive birth experience
Becoming a parent can be nerve-wracking – but there are many things you can do to feel more in control.
Whether you're a first time parent or have had children before, you're probably willing to try anything to ensure you have the most positive birth experience you can. After all, the kind of birth experience you have can not only affect your own mental health, but can have an affect on parent-child bonding, as well as partner-to-partner relationships for years after giving birth.
It can be confusing to know what to expect or where to turn to for advice, especially as maternity services have changed due to falling staff numbers and the continued impact of COVID-19. But here are a few things you can do yourself as you navigate your maternity care, which may help you have a more positive birth experience:
1. Get educated
Studies have shown that signing up for antenatal classes can help reduce fear, depression and anxiety – both during pregnancy and after birth.
Typically, antenatal classes will help you understand what's happening to your body during pregnancy and explain the birth process. They may also teach you coping strategies to help relax during labour, alongside guidance on caring for your new baby. Antenatal classes can also be a great way of meeting other parents going through the same thing as you.
Another option is creating a personalised care and support plan, which is offered by most NHS trusts in the UK. This is a tool you can use with your care providers to explore what's important to you – and discuss what your range of options are, such as your preferred place of birth, or whether you prefer skin-to-skin contact with your baby immediately after birth.
Understanding what your body's going through, and making a personalised plan for your birth, may help you feel more prepared and less anxious about what to expect.
2. Know your carers
Being cared for by one nominated midwife, or being assigned to a team of familiar midwives, is shown to be associated with better outcomes for you and your baby – including decreased chance of having a premature labour and lower likelihood of needing interventions (such as birth with the help of forceps). You're also more likely to be satisfied with your overall experience.
When an allocated midwife is not an option this makes choosing the right birth partners crucial. They can not only offer you reassurance, encouragement and support but can be your advocate, help you try different positions in labour and help provide you with snacks and drinks. Most typically these would be trusted loved ones. But be aware that research shows birth partners may also feel anxious or overwhelmed at taking on this role, and may struggle with seeing a loved one in pain – so it's important to be realistic about your expectations, and choose the right person. It may be the best birth partner for you is a close friend or relative.
3. Challenge care recommendations if you aren't happy
There are likely to be many other options available to you – such as where you might give birth, or how you want to be cared for during labour.
During antenatal appointments be sure to pause, think and ask about benefits, risks and alternatives to the care being proposed. Research shows how important choice and personalised care are for expectant parents who want their voices and preferences to be acknowledged, and to receive consistent advice.
If you have concerns over a suggestion your care providers have made or have questions, don't be afraid to ask. Take your birth partner with you if you prefer, who can empower you to ensure your voice is heard. After all, care providers are duty bound to ensure you make fully informed choices.
4. Don't always listen to your friends and family
Once people hear you have a baby on the way it seems everyone feels the need, without asking, to tell you the full (and often graphic) details of their own children's birth.
But it's perfectly acceptable to politely change the subject if you don't want to listen, or if hearing these stories makes you nervous or worry. It's also worth remembering that each person has a different labour and birth, even with their own children – so what was true for someone else is likely not to be the same for you. While it can be helpful for some people to debrief after the birth, it's okay to avoid hearing this yourself if it makes your nervous, and maybe suggest they speak with a professional about their experience instead of telling you.
5. Visit your preferred place of birth
Many maternity units are now opening up their doors again to tours and informal visits – and those that aren't are doing this virtually.
Becoming familiar with where you might give birth – even down to where you might park on the day – can help you feel more confident about giving birth. It may also remove some of the unknown, helping you regain a sense of control – which in itself is linked to a more positive birth experience.
For those planning a homebirth, speak to your midwife about how you can improve your space to facilitate the most safe and positive experience. For one of the most important days of your life, visualising where this will take place ahead of time can help you feel more confident and in control.
Ultimately, it's important to remember that no one can predict exactly how your labour and birth journey will go. Even after heeding the above steps – there's always a chance you may need to consider a plan B, C or even D. But no matter what, remember you've done your very best, and you're not likely to repeat this exact experience the next time.
Claire Parker does not work for, consult, own shares in or receive funding from any company or organisation that would benefit from this article, and has disclosed no relevant affiliations beyond their academic appointment.
depression
covid-19
uk
Is it safe to buy WTI crude oil after bouncing from horizontal support?
A lot has happened in the energy markets in 2022, especially in the oil markets. WTI crude oil price surged to $130 in the second quarter of the year,…
A lot has happened in the energy markets in 2022, especially in the oil markets. WTI crude oil price surged to $130 in the second quarter of the year, after only in 2020 it had traded in negative territory.
Futures contracts settle daily, and back in 2020, during the COVID-19 pandemic, when demand for oil declined sharply, clearinghouses let the futures contracts settle below zero for the first time ever.
Since then, however, the market has bounced dramatically. Few traders have bet on energy prices, especially because in the last years, the rise of the ESG meant many investments fleeing the energy field.
But supply chain issues, monetary and fiscal stimulus during the pandemic, and the Russian invasion of Ukraine are major drivers in the energy space. After reaching $130/barrel, the WTI crude oil price has corrected but found strong support at the $100/barrel area.
The recent bounce in the last few days came from Macron's comments during the G7 meeting. He said that the United Arab Emirates does not have spare capacity to produce more oil, something confirmed yesterday by the UAE authorities.
UAE is producing at maximum capacity based on its OPEC+ agreements. Therefore, the price of oil should remain bid on every dip.
A triangular pattern forms on the daily chart
The technical picture looks bullish while the price remains above horizontal support seen at the $100/barrel. Moreover, a confluence area given by both horizontal and dynamic support made it difficult for the market to extend its decline.
As such, a triangular pattern suggests more upside in the price of oil. A triangle may act as both a continuation and a reversal pattern, and traders focus on a breakout above or below the upper or the lower trendline.
Furthermore, every attempt to the downside since last March was met with more buying. Therefore, it is hard to argue with the bullish case, especially since the series or higher lows remains intact.
All in all, the WTI crude oil price remains bullish, and the triangular pattern may break either way. However, as long as the $100 level holds, the bias is to the upside.
The post Is it safe to buy WTI crude oil after bouncing from horizontal support? appeared first on Invezz.
stimulus
pandemic
covid-19
stimulus
oil
ukraine
Preventing the next pandemic: Learning the lessons
In the first of a three part series, Ben Hargreaves looks at what the odds are of another
The post Preventing the next pandemic: Learning the lessons appeared…
In the first of a three part series, Ben Hargreaves looks at what the odds are of another pandemic arising in our lifetimes and what can be done to lower the risk of this happening again.
The current pandemic is still very much underway. The question is, as one study was recently entitled, whether the current phase brings the world closer to the end of the pandemic or just to the end of the first phase? What is clear is that due to vaccines and therapeutics, the critical early phase of the pandemic is over. As the article suggests, what could lie ahead is a process of learning how to live with a persistent circulation of the virus and, with this, consistent spikes of cases, likely occurring periodically and more often in the winter months.
With the current pandemic refusing to dissipate, the discussions around future pandemics become more difficult to countenance. As identified very early into the current pandemic by the WHO, there is the risk of fatigue arising over long-term global health crisis response, which becomes an issue when acknowledging that the current times we're living through could happen again. Research has suggested that in any given year there is a 2.5 to 3.3% chance of a pandemic on the scale of COVID-19 occurring. Not only this, the expectation is that such events are becoming more likely, with estimations that the probability of outbreaks such as the current pandemic will likely grow three-fold in the next few decades.
Pharma invested
The acceptance that there will potentially be another pandemic within many people's lifetimes underlines the importance of using the emergence of COVID-19 to better protect ourselves against the next threat. Although it's come at a high cost, the world is now in a strong position to prepare itself, with the lessons from the current pandemic still fresh in mind.
One clear benefit is that the pharmaceutical industry has proven that it is able to develop and safely deliver vaccines in a much shorter timeframe than usual. A typical vaccine development timeline takes between five and 10 years; the vaccines approved for COVID-19 emerged much more quickly.
Though the next pandemic could prove to be a more complicated target to vaccinate against, the success of the vaccines and the financial gains that were achieved would see companies eager to engage in development. Already, the industry is seeing greater research and funding being diverted back into vaccine development, with mRNA vaccines holding particular interest. This should see a pipeline of vaccine candidates better stocked than on the emergence of COVID-19, if this can be sustained into the future.
Global governance
However, the work required to prevent the next pandemic is far broader than vaccines and therapeutics, which are essentially the last defence. In the future, the entire global health system will need to change to become more resilient, which requires many individual changes but can be broken down it smaller, logical actions that have outsized outcomes. One such action is simply coordination at the highest levels.
There were warning signs prior to COVID-19 that a pandemic could be possible, with the outbreaks of Zika and Ebola viruses, both of which have occurred intermittently for years but had attained wider notoriety after bigger outbreaks in the last decade. Despite this, coordinated efforts on the response to the current pandemic lacked cohesion – many countries adopted different methods of combatting the spread of the virus and containment. Once vaccines were on the market, countries competed against one another for access, thereby denying them to the countries without the economic firepower to match.
A recent report for the G20 group of nations, on preventing the next pandemic, concluded: "It requires establishing a global governance and financing mechanism, fitted to the scale and complexity of the challenge, besides bolstering the existing individual institutions, including the
WHO as the lead organisation. A primary one is training and hiring adequate levels of health workers."
The report broke down four major gaps that need to be addressed, on a global and national level, to be able to respond more quickly, equitably and effectively when further pandemics occur:
Globally networked surveillance and research: To prevent and detect emerging infectious diseases
Resilient national systems: To strengthen a critical foundation for global pandemic preparedness and response
Supply of medical countermeasures and tools: To radically shorten the response time to a pandemic and deliver equitable global access
Global governance: To ensure the system is tightly coordinated, properly funded and with clear accountability for outcomes
Spending money to save money
The hiring of additional healthcare workers, the build-out of surveillance systems, support provided for R&D into infectious diseases, and the creation of a stockpile of medical countermeasures all require funds. This is a major question of the report for world leaders: Whether there is the appetite for further funding into pandemic preparation? The global economy has taken and continues to feel the financial blow of COVID-19.
However, the report calls for more public funding to be put into health in the coming years, with the authors stating that approximately 1% of GDP must be committed by low- and middle-income countries. In terms of funding for international efforts for preventing the next pandemic, the figure is estimated at $15 billion per year, sustained for the coming years. Compared to the sums spent on vaccines and therapeutics during the current pandemic, the investment is far lower and will help boost what the report calls, "a dangerously underfunded system."
Beyond all action is a tactic for mitigating pandemics that is known as primary prevention. Fundamentally, this means going before all of the previously discussed methods to tackle the virus at the root cause.
Research has called for greater emphasis to be put on elements that prevent virus spillover, where a virus jumps species. The authors identify three areas where a difference can be made: reduced deforestation, better management of the wildlife trade and hunting, and better surveillance of zoonotic pathogens before any human is infected. The authors suggest that even a 1% reduction in risk of viral zoonotic disease emergence would make any efforts in this direction cost-effective. They end their study, stating, "Monothetic 'magic bullets,' including diagnostic tests, treatments, and vaccines, failed to control COVID-19 as it spread around the globe and exacted the largest health and economic toll of any pathogen in recent history. This makes plain that we cannot solely rely upon post-spillover strategies to prevent a similar fate in the future."
The post Preventing the next pandemic: Learning the lessons appeared first on .
vaccine
pandemic
covid-19
containment
spread
gdp