Oxford scientists: these are final steps we're taking to get our coronavirus vaccine approved
Oxford scientists: these are final steps we're taking to get our coronavirus vaccine approved
Of the hundreds of potential COVID-19 vaccines in development, six are in the final stages of testing, known as phase three clinical trials. One of these – ChAdOx1 nCoV-19 – is the vaccine we're developing at the University of Oxford.
To be approved, vaccines need to go through multiple rounds of testing to show that they're safe and effective. A combined phase one and phase two trial of the Oxford vaccine has demonstrated that it is safe – with only short-term side-effects and no serious unexpected events reported – and that it elicits an immune response.
The purpose of a phase three trial is to assess whether this vaccine-induced immune response is strong enough to actually protect people from COVID-19. Proving this would pave the way for the vaccine to become publicly available.
How a phase three trial works
Usually a phase three trial has two groups, one receiving the vaccine being tested and the other a placebo or "control" injection, for example saline or a vaccine against a different disease.
To show that the vaccine is effective, there should be significantly fewer cases of the target disease in the vaccinated group compared with the control group. Depending on infection rates for the disease, a phase three vaccine trial may involve thousands to tens of thousands of volunteers.
For ChAdOx1 nCoV-19, clinical trial volunteers are located in countries across five continents: the UK, Brazil, South Africa, the US and India. The vaccine is being evaluated in these different regions and populations of the world to ensure that results of the trial are "generalisable" – that is, that its findings can be said to apply to people outside of the groups tested.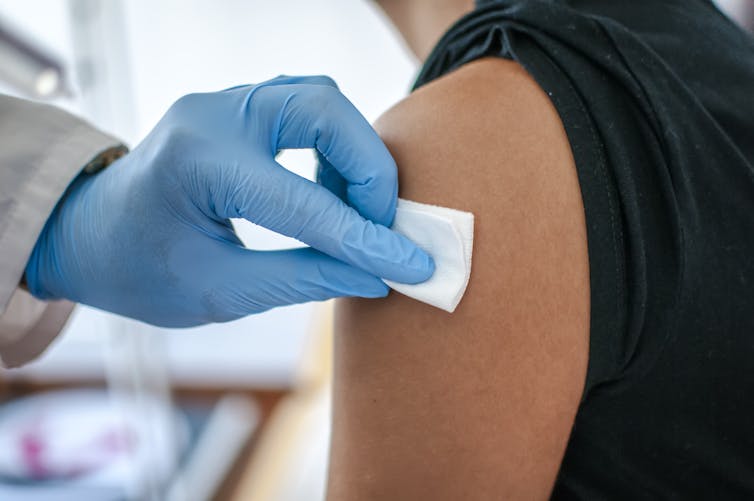 In the UK we're testing the vaccine in health workers, as they're more likely to be exposed to infection than the general population. The trial there also includes volunteers from the public who are over 70. Older people are at higher risk of developing severe disease, so it's important to know if they respond to the vaccine.
Oxford and our international partners have already vaccinated approximately 17,000 people in the first three countries selected (the UK, Brazil and South Africa), with half receiving a control vaccine. Most volunteers are receiving a booster vaccination one to three months after the first, as data from our phase one/two trial indicates that this strengthens the immune response – although it's not yet clear whether two doses will be necessary to protect against COVID-19.
Once vaccinated, volunteers go about their daily lives, but are monitored to see if they get the disease. Importantly, they are told to take the same precautions against infection as everyone else – this is because we don't yet know if the vaccine works, and also because half of the volunteers will have received a control (non-COVID) vaccine.
Running phase three clinical trials in several different countries in record time is a huge logistical challenge. Working with experienced international teams has made the complex process of shipping equipment and vaccines manageable, but it's been especially taxing due to travel and flight restrictions in the UK and elsewhere.
There are also lots of different operations that need to be coordinated. We're testing the vaccine with our partners at three trial sites in Brazil and seven in South Africa, for example.
Will the vaccine be safe?
Most vaccines take at least five years to go through clinical trials, and there have been questions around whether COVID-19 vaccines are being "rushed through". The Oxford vaccine has completed a programme of pre-clinical safety testing in animals and is going through the same carefully regulated process as vaccines against other diseases. It will be tested in more volunteers in the planned clinical trials than many drugs or vaccines that are already licensed.
Vaccines like Oxford's are being developed rapidly because of the coordinated efforts of large international teams of scientists and doctors. Safety, ethics and regulatory committees are speeding things up by prioritising approval processes ahead of those for other vaccines and medicines. Nevertheless, the same rigorous standards are applied to candidate COVID-19 vaccines, ensuring no corners are cut in terms of vaccine safety.
When will we know if the Oxford vaccine works?
There's a good chance we'll know whether the ChAdOx1 nCoV-19 vaccine is effective before the end of 2020. After the successful completion of phase three trials, regulatory bodies in each country will need to review the available data before approving the vaccine for general use.
AstraZeneca, the firm partnering Oxford to develop the vaccine, is overseeing a scaling up of manufacturing in parallel with clinical testing so that hundreds of millions of doses can be available if the vaccine is shown to be safe and effective.
Rebecca Ashfield consults for SpyBiotech Ltd and OSI (Oxford Science Innovation) although these organisations will not benefit from this article. She is CSO of Ducentis Biotherapeutics Ltd, which develops novel therapies for autoimmune diseases and inflammation, but which is not involved in this trial.
Pedro Folegatti is a consultant to Vaccitech, a company that develops ChAdOx1 viral vectored vaccines (including, with the University of Oxford's Jenner Institute, ChAdOx1 nCoV-19). He receives funding from the Brazilian government for his PhD.
vaccine
testing
clinical trials
africa
india
brazil
uk
This course asks, 'What is mindfulness?' – but don't expect a clear-cut answer
Mindfulness is everywhere in pop culture today, but that doesn't mean people agree on what it means.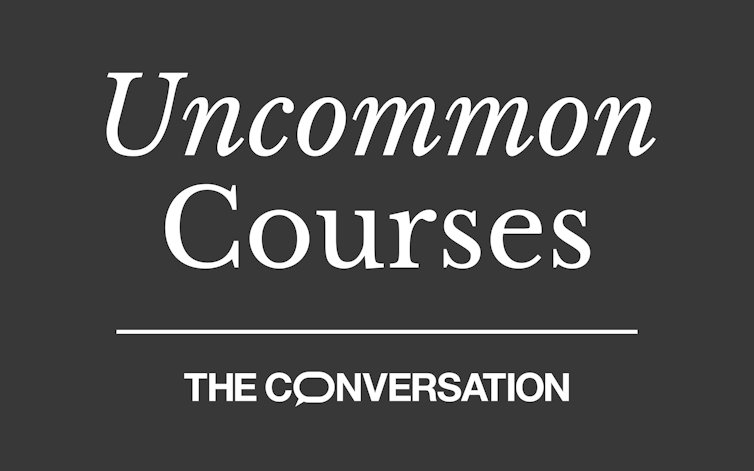 Uncommon Courses is an occasional series from The Conversation U.S. highlighting unconventional approaches to teaching.
Title of course:
"What is Mindfulness?"
What prompted the idea for the course?
As a professor of religion and ethics, particularly Asian traditions, I had already been interested in teaching a course about mindfulness. Its popularity seems to be surging: I see "Mindful" on magazine racks, and almost everyone I've met at my university has used the word at some point.
But oftentimes people say to be "mindful" when they mean "pay attention" or "don't forget": being "mindful" of a slippery road, say, or telling students to be "mindful of the deadline." I started wondering what other people meant each time they used the word. This made me realize my course shouldn't be a lecture about mindfulness, but an opportunity to explore what it is in the first place.
What does the course explore?
The course explores the origins of mindfulness in yoga and Buddhism. Mindful meditation – being attentive to one's body, feelings and thoughts – is part of one of the Buddha's central teachings, the Noble Eightfold Path, and considered key to enlightenment.
But we explore the many meanings of "mindfulness" that have emerged in recent decades, too. American professor Jon Kabat-Zinn is credited with popularizing the kind of mindfulness that has caught on with non-Buddhists today, starting with his "mindfulness-based stress reduction" program in the 1970s.
Some people are upset that mindfulness has become too mainstream and fear that it has lost its intended meaning. Buddhism scholar Ronald Purser's book "McMindfulness," for example, argues that capitalist societies have embraced mindfulness as a way to put the burden of mental health back on the individual rather than address root problems.
Students in my class read a variety of these perspectives and discuss themes such as mindfulness and mental health, mindful eating and breathing, environmental mindfulness and even meditation apps. In the end, I want each student to decide for themselves what mindfulness is.
Why is this course relevant now?
I first proposed this course right before the arrival of COVID-19, so when it launched for the first time, we met remotely over Zoom. I was tempted to drop the class after we went remote, but I quickly realized that it might help students who were wrestling with mental health issues at the beginning of the pandemic.
Each student kept a journal of our topics every week to practice mindfulness and to explore some of the therapeutic techniques. First, I asked them to find examples of the word in their everyday experiences – used on a poster at the student rec center, for example.
Later, I asked them to practice breathing and visualization techniques from the influential Vietnamese monk Thich Nhat Hanh, such as asking yourself every hour "What am I doing?" and reflecting on your mind, emotions and posture.
What's a critical lesson from the course?
Buddhism changes dramatically depending on "whose" Buddhism you are talking about. The dalai lama's form of Tibetan Buddhism, for example, is not the same as the Zen Buddhism of Thich Nhat Hanh.
It's the same with mindfulness. Thirteenth-century Zen master Dōgen taught pupils to seek mindfulness in seated meditation. Five hundred years later, on the other hand, Zen master Hakuin taught mindfulness in the midst of activity – practicing it not just on the meditation pillow, but amid the hustle and bustle of the streets.
All forms of Buddhism, though, focus on transforming suffering into lovingkindness. So teaching this course has persuaded me that if the way you teach mindfulness helps someone, it doesn't matter if it's "real" Buddhist mindfulness or not. If pop culture's version of the concept relieves someone's suffering, then I don't want to be a gatekeeper and say, "This is not real mindfulness."
What will the course prepare students to do?
All of the students in this course are first-semester freshmen. The class began as a way to get them to think critically about what mindfulness is but also offers tools to deal with the stress of college life.
Muscles grow after they heal and rest. The same is true when it comes to learning. Our minds need to take time to breathe, reflect on new information and absorb it.
I also hope students will understand that taking care of oneself can be an act of care for others. Just as on an airplane we are told to put on our own oxygen mask before helping the person next to us, we all need to take care of our own mental health in order to help those around us.
Kevin C. Taylor does not work for, consult, own shares in or receive funding from any company or organisation that would benefit from this article, and has disclosed no relevant affiliations beyond their academic appointment.
hong kong
china
pandemic
covid-19
"We Are Headed For Another Train Wreck": Bill Ackman Blames Janet Yellen For Restarting The Bank Run
"We Are Headed For Another Train Wreck": Bill Ackman Blames Janet Yellen For Restarting The Bank Run
Yesterday morning we joked that every…
"We Are Headed For Another Train Wreck": Bill Ackman Blames Janet Yellen For Restarting The Bank Run
Yesterday morning we joked that every time Janet Yellen opens her mouth, stocks dump.
Yellen opens mouth and stocks dump

— zerohedge (@zerohedge) March 21, 2023
Well, it wasn't a joke, and as we repeatedly noted today, while Jerome Powell was busting his ass to prevent a violent market reaction - in either direction - to his "most important Fed decision and presser of 2023", the Treasury Secretary, with all the grace of a senile 76-year-old elephant in a China market, uttered the phrase...
YELLEN: NOT CONSIDERING BROAD INCREASE IN DEPOSIT INSURANCE
... and the rest was silence... or rather selling.
Commenting on our chart, Bloomberg's Mark Cudmore noted it was Yellen who was "to blame for the stock slump", pointing out that "the pessimistic turn in US stocks began within a minute of Janet Yellen starting to speak."
The S&P 500 rose almost 1% in the first 47 minutes after the Fed decision. Powell wasn't the problem either: the index was 0.6% higher in the first 17 minutes after his press conference started.

Why am I picking that exact timing of 2:47pm NY time? Because that is the minute Yellen started speaking at the Senate panel hearing. The high for the S&P 500 was 2:48pm NY time and it fell more than 2.5% over the subsequent 72 minutes. Good effort.
Picking up on this, Bloomberg's Mark Cranfield writes that banking stocks globally are set to underperform for longer after Janet Yellen pushed back against giving deposit insurance without working with lawmakers. He adds that "to an aggressive trader this sounds like an invitation to keep shorting bank stocks -- at least until the tone changes into broader support and is less focused on specific bank situations." Earlier, we addressed that too:
*YELLEN: NOT CONSIDERING BROAD INCREASE IN DEPOSIT INSURANCE

At least until spoos drop below 4K again

— zerohedge (@zerohedge) March 22, 2023
Looking ahead, Cranfield warns that US financials are likely to be the most vulnerable as they are the epicenter of the debate. Although European or Asian banking names may outperform US peers, that won't be much consolation for investors as most financial sector indexes may be on a downward path.
The KBW bank index has tumbled from its highs seen in early February, but still has a way to go before it reaches the pandemic-nadir in 2020. Traders smell an opening for a big trade and that will fuel more downside. Probably until Yellen blinks.
And if Bill Ackman is right, she will be doing a whole lot of blinking in days if not hours.
While we generally make fun of Ackman's self-serving hot takes on twitter, today he was right when he accused Yellen of effectively restarting the small bank depositor run which according to JPMorgan has already seen $1.1 trillion in assets withdrawn from "vulnerable" banks. This is what Ackman tweeted:
Yesterday, @SecYellen  made reassuring comments that led the market and depositors to believe that all deposits were now implicitly guaranteed. That coupled with a leak suggesting that @USTreasury, @FDICgov and @SecYellen  were looking for a way to guarantee all deposits reassured the banking sector and depositors.

This afternoon, @SecYellen walked back yesterday's implicit support for small banks and depositors, while making it explicit that systemwide deposit guarantees were not being considered.

We have gone from implicit support for depositors to @SecYellen explicit statement today that no guarantee is being considered with rates now being raised to 5%. 5% is a threshold that makes bank deposits that much less attractive. I would be surprised if deposit outflows don't accelerate effective immediately.
Ackman concluded by repeating his ask: a comprehensive deposit guarantee on America's $18 trillion in assets...
A temporary systemwide deposit guarantee is needed to stop the bleeding. The longer the uncertainty continues, the more permanent the damage is to the smaller banks, and the more difficult it will be to bring their customers back.
... but as we noted previously pointing out, you know, the math...
Math: $18 trillion in deposits, $125 billion in the deposit insurance fund. https://t.co/Zsu2RsJk41 pic.twitter.com/nb3Ypnt1gd

— zerohedge (@zerohedge) March 21, 2023
... absent bipartisan Congressional intervention - which is very much unlikely until the bank crisis gets much, much worse - this won't happen and instead the Fed will continue putting out bank fire after bank fire - even as it keeps hiking to overcompensate for its "transitory inflation" idiocy from 2021, until the entire system burns down, something which Ackman's follow-up tweet was also right about:
Consider recent events impact on the long-term cost of equity capital for non-systemically important banks where you can wake up one day as a shareholder or bondholder and your investment instantly goes to zero. When combined with the higher cost of debt and deposits due to rising rates, consider what the impact will be on lending rates and our economy.

The longer this banking crisis is allowed to continue, the greater the damage to smaller banks and their ability to access low-cost capital.

Trust and confidence are earned over many years, but can be wiped out in a few days. I fear we are heading for another a train wreck. Hopefully, our regulators will get this right.
Narrator: no, they won't.
Tyler Durden
Wed, 03/22/2023 - 21:20
sp 500
stocks
pandemic
fed
senate
epicenter
european
china
China's Auto Industry Association Urges "Cooling" Of Price War, As Major Manufacturers Slash Prices
China's Auto Industry Association Urges "Cooling" Of Price War, As Major Manufacturers Slash Prices
Just hours after we wrote about maniacal…
China's Auto Industry Association Urges "Cooling" Of Price War, As Major Manufacturers Slash Prices
Just hours after we wrote about maniacal price cutting in the automotive industry in China, China's auto industry association is urging automakers to "cool" the hype behind price cuts.
The statement was made in order to "ensure the stable development of the industry", Automotive News Europe reported on Tuesday. 
The China Association of Automobile Manufacturers even went so far as to put out a message on its official WeChat account, stating that "A price war is not a long-term solution". Instead "automakers should work harder on technology and branding," it said. 
The consumer disagrees...
Recall we wrote earlier this week that most major automakers were slashing prices in China. The move is coming after lifting pandemic controls failed to spur significant demand in China, the Wall Street Journal reported this week. Ford and GM will be joined by BMW and Volkswagen in offering the discounts and promotions on EVs, the report says. 
Retail auto sales plunged the first two months of the year and automakers are facing additional challenges in trying to transition their business models to prioritize EVs over conventional internal combustion engine vehicles. 
Ford is offering $6,000 off its Mustang Mach-E, putting the standard version of its EV at just $31,000. Last month, only 84 of the vehicles were sold, compared to 1,500 sales in December. There was some pulling forward of demand due to the phasing out of subsidies heading into the new year, and Ford had also cut prices by about 9% in December. 
A spokesperson for Ford called it a "stock clearance". 
Discounts at Volkswagen are ranging from around $2,200 to $7,300 a car. The cuts will affect 20 gas powered and electric models. Its electric ID series is seeing price cuts of almost $6,000. The company called the cuts "temporary promotions due to general reluctance among car buyers, the new emissions rule and discounts offered by competitors."
Even more shocking is Citroën-maker Dongfeng Motor Group, who is offering a 40% discount on its C6 gas-powered sedan, now priced at $18,000. 
Kelvin Lau, an analyst at Daiwa Capital Markets, told the Journal that automakers are also trying to get rid of 500,000 vehicles collectively stored in their inventory, most of which are older vehicles that won't meet new emissions standards.
David Zhang, a Shanghai-based independent automobile analyst, added: "Some car makers have been seeing very few sales. At this rate, the manufacturers' production and dealership networks will collapse."
Tyler Durden
Wed, 03/22/2023 - 18:00
subsidies
pandemic
europe
china