How cashless societies can boost financial inclusion — with the right safeguards
The UK could learn a lot from developing economies about using digital payments to boost financial inclusion.
Cashless societies, where transactions are entirely digital, are gaining traction in many parts of the world, particularly after a pandemic-era boom in demand for online banking.
Improvements in digital payment infrastructure such as mobile payments, digital currencies and online banking, make it more convenient for people and businesses to buy and sell things without using cash. Even the Bank of England is looking into how a digital pound might work, showing the potential for a significant shift from physical cash to digital payments in the UK.
---
Read more: How a digital pound could work alongside cryptocurrencies
---
Fintech companies have accelerated the transition towards cashless payments with innovations including mobile payment apps, digital wallets, cryptocurrencies and online banking services. The COVID pandemic was also a tipping point that created unprecedented appetite for digital transactions. Fintechs emerged as a life line for many during lockdowns, particularly vulnerable populations that needed emergency lines of credit and ways to make and receive payments.
By 2021, approximately 71% of adults in developing countries had bank accounts. But this leaves nearly 30% of the population still needing access to essential financial products and services. Fintechs can provide more affordable and accessible financial services and products. This helps boost financial inclusion, particularly for the "unbanked", or those without a bank account.
In the UK, around 1.3 million people, roughly 4% of the population, lack access to banking services. The government and financial institutions have worked together to promote the adoption of digital payments, and the UK's Request to Pay service allows people and businesses to request and make payments using digital channels such as Apple Pay and Google Pay.
But other countries are moving faster towards a cashless society. In Sweden, only about 10% of all payments were made in cash in 2020. This move towards cashless payments in the country has been facilitated by mobile payment solutions like Swish, which people can use to send and receive money via mobile phone.
Boosting financial inclusion
India has gone even further. In less than a decade, the country has become a digital finance leader. It has also made significant progress in promoting digital financial inclusion, mainly through the government's flagship programme, the Pradhan Mantri Jan Dhan Yojana (PMJDY).
India's banks also participate in mobile payment solutions like Unified Payments Interface (UPI), which can connect multiple accounts via one app. India's digital infrastructure, known as the India Stack also aims to expand financial inclusion by encouraging companies to develop fintech solutions.
Many developing economies are using digitalisation to boost financial inclusion in this way. Kenya introduced its M-Pesa mobile money service in 2007. While microfinance institutions that provide small loans to low-income individuals and small businesses were first introduced in Bangladesh in the 1970s via the Grameen Bank project.
Digital lending has also grown in India in recent years. Its fintechs use algorithms and data analytics to assess creditworthiness and provide loans quickly and at a lower cost than traditional banks.
These innovative platforms have helped to bridge the gap between the formal financial system and underserved populations – those with low or no income – providing fast access to financial services. By removing barriers such as high transaction costs, lack of physical branches and some credit history requirements, fintech companies can reach a wider range of customers and provide financial services that are tailored to their needs.
It's the tech behind these systems that helps fintechs connect with their customers. The increased use of digital payment methods generates a wealth of data to gain insights into consumer behaviour, spending patterns and other relevant information that can be used to further support a cashless society.
Helping the UK's unbanked
Countries like the UK could also promote digital financial inclusion to help unbanked people. But this would require a combination of government support, innovation and the widespread adoption of mobile payment solutions.
There are some significant challenges to overcome to create a true – and truly fair – cashless economy. For example, a cashless system could exclude people who do not have access to digital payment methods, such as the elderly or low-income populations. According to a recent study by Age UK, 75% of over 65s with a bank account said they wanted to conduct at least one banking task in person at a bank branch, building society or post office.
Providing more cashless options could also increase the risk of cybercrime, digital fraud such as phishing scams and data breaches – particularly among people that aren't as financially literate.
There is a dark side to fintech: algorithm biases and predatory lending practices negatively affect vulnerable and minority groups as well as women. Even major financial firms such as Equifax, Visa and Mastercard can get compromised by data breaches, creating valid concerns about data security for many people.
Cross-border transfer of personal data by fintech companies also concerns regulators, but there is still a lack of internationally recognised data protection standards. This should be addressed as the trend towards cashless societies continues.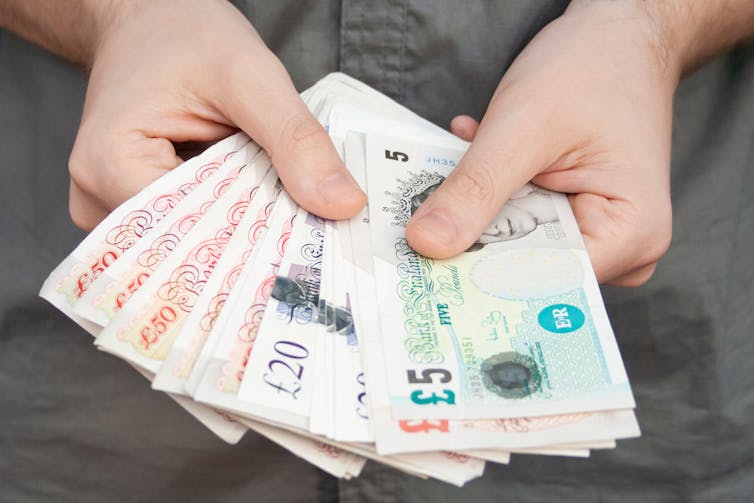 Building guardrails
Regulations affect how fintech companies can provide financial services but ensure they operate within the law. Since fintech companies generally aim to disrupt markets, however, this can create a complex relationship with regulators.
Collaboration between regulators and fintech companies will boost understanding of these innovative business models and help shape future regulatory frameworks. Countries like India have shown the way in this respect. An innovation hub run by UK regulator the Financial Conduct Authority is a good start. It supports product and service launches and offers access to synthetic data sets for testing and development.
Fintech can help finance become more inclusive. But it needs policies and regulations that support innovation, promote competition, ensure financial stability and – most importantly – to help protect the citizens of these new cashless societies.
Thankom Arun does not work for, consult, own shares in or receive funding from any company or organisation that would benefit from this article, and has disclosed no relevant affiliations beyond their academic appointment.
currencies
pound
pandemic
testing
india
uk
sweden
Saudi Arabia Sentences Schoolgirl To 18 Years In Prison Over Tweets
Saudi Arabia Sentences Schoolgirl To 18 Years In Prison Over Tweets
Via Middle East Eye,
Saudi Arabia has sentenced a secondary schoolgirl…
Saudi Arabia Sentences Schoolgirl To 18 Years In Prison Over Tweets
Saudi Arabia has sentenced a secondary schoolgirl to 18 years in jail and a travel ban for posting tweets in support of political prisoners, according to a rights group.
On Friday, ALQST rights group, which documents human rights abuses in Saudi Arabia, revealed that the Saudi Specialised Criminal Court handed out the sentence in August to 18-year-old Manal al-Gafiri, who was only 17 at the time of her arrest.
The Saudi judiciary, under the de facto rule of Crown Prince Mohammed bin Salman, has issued several extreme prison sentences over cyber activism and the use of social media for criticising the government.
They include the recent death penalty against Mohammed al-Ghamdi, a retired teacher, for comments made on Twitter and YouTube, and the 34-year sentence of Leeds University doctoral candidate Salma al-Shehab over tweets last year.
The crown prince confirmed Ghamdi's sentence during a wide-ranging interview with Fox News on Wednesday. He blamed it on "bad laws" that he cannot change. 
"We are not happy with that. We are ashamed of that. But [under] the jury system, you have to follow the laws, and I cannot tell a judge [to] do that and ignore the law, because... that's against the rule of law," he said.
Saudi human rights defenders and lawyers, however, disputed Mohammed bin Salman's allegations and said the crackdown on social media users is correlated with his ascent to power and the introduction of new judicial bodies that have since overseen a crackdown on his critics. 
"He is able, with one word or the stroke of a pen, in seconds, to change the laws if he wants," Taha al-Hajji, a Saudi lawyer and legal consultant with the European Saudi Organisation for Human Rights, told Middle East Eye this week.
According to Joey Shea, Saudi Arabia researcher at Human Rights Watch, Ghamdi was sentenced under a counterterrorism law passed in 2017, shortly after Mohammed bin Salman became crown prince. The law has been criticised for its broad definition of terrorism.
Saudi Crown Prince Mohammed bin Salman has confirmed that retired teacher Muhammed al Ghamdi was indeed sentenced to death for his tweets.

He blamed the sentence on "bad laws."https://t.co/2YFNWLO4B0 pic.twitter.com/gm91G9p5dD

— SAMRIReports2 (@SReports2) September 22, 2023
Similarly, two new bodies - the Presidency of State Security and the Public Prosecution Office - were established by royal decrees in the same year.
Rights groups have said that the 2017 overhaul of the kingdom's security apparatus has significantly enabled the repression of Saudi opposition voices, including those of women rights defenders and opposition activists. 
"These violations are new under MBS, and it's ridiculous that he is blaming this on the prosecution when he and senior Saudi authorities wield so much power over the prosecution services and the political apparatus more broadly," Shea said, using a common term for the prince.
Tyler Durden
Sun, 09/24/2023 - 11:30
european
Biden To Join UAW Picket Line As Strike Expands, Good Luck Getting Repairs
Biden To Join UAW Picket Line As Strike Expands, Good Luck Getting Repairs
Authored by Mike Shedlock via MishTalk.com,
In a symbolic, photo-op…
Biden To Join UAW Picket Line As Strike Expands, Good Luck Getting Repairs
Authored by Mike Shedlock via MishTalk.com,
In a symbolic, photo-op gesture to win union votes, Biden will head to Michigan for a token visit.
Biden to Walk the Picket Line
Tuesday, I'll go to Michigan to join the picket line and stand in solidarity with the men and women of UAW as they fight for a fair share of the value they helped create.

It's time for a win-win agreement that keeps American auto manufacturing thriving with well-paid UAW jobs.

— President Biden (@POTUS) September 22, 2023
Taking Sides
CNN had some Interesting comments on Biden Talking Sides.
Jeremi Suri, a presidential historian and professor at University of Texas at Austin, said he doesn't believe any president has ever visited a picket line during a strike.

Presidents, including Biden, have previously declined to wade into union disputes to avoid the perception of taking sides on issues where the negotiating parties are often engaged in litigation.

On September 15, the day the strike started, Biden said that the automakers "should go further to ensure record corporate profits mean record contracts for the UAW."

Some Democratic politicians have been urging Biden to do more. California Rep. Ro Khanna on Monday told CNN's Vanessa Yurkevich that Biden and other Democrats should join him on the picket line.

"I'd love to see the president out here," he said, arguing the Democratic Party needs to demonstrate it's "the party of the working class."
UAW Announces New Strike Locations
As the strike enters a second week, UAW Announces New Strike Locations
UAW President Shawn Fain called for union members to strike at noon ET Friday at 38 General Motors and Stellantis facilities across 20 states. He said the strike call covers all of GM and Stellantis' parts distribution facilities.

The strike call notably excludes Ford, the third member of Detroit's Big Three, suggesting the UAW is more satisfied with the progress it has made on a new contract with that company.

General Motors plants being told to strike are in Pontiac, Belleville, Ypsilanti, Burton, Swartz Creek and Lansing, Michigan; West Chester, Ohio; Aurora, Colorado; Hudson, Wisconsin; Bolingbrook, Illinois; Reno, Nevada; Rancho Cucamonga, California; Roanoke, Texas; Martinsburg, West Virginia; Brandon, Mississippi; Charlotte, North Carolina; Memphis, Tennessee; and Lang Horne, Pennsylvania.

The Stellantis facilities going on strike are in Marysville, Center Line, Warren, Auburn Hills, Romulus and Streetsboro, Michigan; Milwaukee, Wisconsin; Plymouth, Minnesota; Commerce City, Colorado; Naperville, Illinois; Ontario, California; Beaverton, Oregon; Morrow, Georgia; Winchester, Virginia; Carrollton, Texas; Tappan, New York; and Mansfield, Massachusetts.
Contract Negotiations Are Not Close
Good Luck Getting Repairs
Good luck getting your car repaired:

Auto worker strikes now expanding to *38* parts and distribution locations across 20 states.

This feels like a movie.

(via CNBC)

— CarDealershipGuy (@GuyDealership) September 23, 2023
Party of the Working Cass, Really?
Let's discuss the nonsensical notion that Democrats are the party of the "working class".
Unnecessary stimulus, reckless expansion of social services, student debt cancellation, eviction moratoriums, earned income credits, immigration policy, and forcing higher prices for all, to benefit the few, are geared towards the "unworking class".
On top of it, Biden wants to take away your gas stove, end charter schools to protect incompetent union teachers, and force you into an EV that you do not want and for which infrastructure is not in place.
All of this increases inflation across the board as do sanctions and clean energy madness.
Exploring the Working Class Idea
If you don't work and have no income, Biden may make your healthcare cheaper. If you do work, he seeks to take your healthcare options away.
If you want to pay higher prices for cars, give up your gas stove, be forced into an EV, subsidize wind energy then pay more for electricity on top of it, you have a clear choice. If you support those efforts, by all means, please join him on the picket line for a token photo-op (not that you will be able to get within miles for the staged charade).
But if you can think at all, you understand Biden does not support the working class, he supports the unworking class.
Tyler Durden
Sun, 09/24/2023 - 10:30
stimulus
ontario
UK Quietly Passes "Online Safety Bill" Into Law
UK Quietly Passes "Online Safety Bill" Into Law
Authored by Kit Knightly via Off-Guardian.org,
Buried behind the Brand-related headlines…
UK Quietly Passes "Online Safety Bill" Into Law
Authored by Kit Knightly via Off-Guardian.org,
Buried behind the Brand-related headlines yesterday, the British House of Lords voted to pass the controversial "Online Safety Bill" into law. All that's needed now is Royal assent, which Charles will obviously provide.
The bill's (very catchy) long-form title is…
A Bill to make provision for and in connection with the regulation by OFCOM of certain internet services; for and in connection with communications offences; and for connected purposes.
…and that's essentially it, it hands the duty of "regulating" certain online content to the UK's Office of Communications (OfCom).
Ofcom Chief Executive Dame Melanie Dawes could barely contain her excitement in a statement to the press:
"Today is a major milestone in the mission to create a safer life online for children and adults in the UK. Everyone at Ofcom feels privileged to be entrusted with this important role, and we're ready to start implementing these new laws."
As always with these things, the bill's text is a challenging and rather dull read, deliberately obscure in its language and difficult to navigate.
Of some note is the "information offenses" clause, which empowers OfCom to demand "information" from users, companies and employees, and makes it a crime to withhold it. The nature of this "information" is never specified, nor does it appear to be qualified. Meaning it could be anything, and will most likely be used to get private account information about users from social media platforms.
In one of the more worrying clauses, the Bill outlines what they call "communications offenses". Section 10 details crimes of transmitting "Harmful, false and threatening communications".
It should be noted that sending threats is already illegal in the UK, so the only new ground covered here is "harmful" and/or "false" information, and the fact they feel the need to differentiate between those two things should worry you.
After all, the truth can definitely be "harmful"…Especially to a power-hungry elite barely controlling an angry populace through dishonest propaganda.
Rather amusingly, the bill makes it a crime to "send a message" containing false information in clause 156…then immediately grants immunity to every newspaper, television channel and streaming service in clause 157.
Apparently it's OK for the mainstream media to be harmful and dishonest.
But the primary purpose of the new law is a transfer of responsibility to enable and incentivize censorship.
Search engines ("regulated search services", to quote the bill) and social media companies ("regulated user-to-user services") will now be held accountable for how people use their platform.
For example: If I were to google "Is it safe to drink bleach?", find some website that says yes, and then drink bleach, OfCom would not hold me responsible. They would hold Google responsible for letting me read that website. Likewise, if someone tweets @ me telling me to drink bleach, and I do so, Twitter would be held responsible for permitting that communication to take place.
This could result in hefty fines, or even potentially criminal charges, to companies and/or executives of those companies. It could even open them up to massively expensive civil suits (don't be surprised if such a legal drama hits the headlines soon).
Unsurprisingly the mainstream coverage of the new laws barely mentions any of these concerns, instead opting to put child pornography front and centre. Because the Mrs Lovejoy argument always works.
That's all window dressing, of course, what this is really about is "misinformation" and "hate speech". Which is to say, fact-checking mainstream lies and calling out mainstream liars.
Section 7(135) is entirely dedicated to the creation of a new "Advisory committee on disinformation and misinformation", which will be expected to submit regular reports to OfCom and the Secretary of State on how best to "counter misinformation on regulated services".
This is clearly a response to Covid, or rather the failure of Covid.
Essentially, the pandemic narrative broke because the current mechanisms of censorship didn't work well enough. In response, the government has just legalised and out-sourced their silencing of dissent.
See, the government isn't going to actually censor anyone themselves, protecting it from pro-free speech criticism. Rather, huge financial pressure will be applied on tech giants to be "responsible" and "protect the vulnerable". Meaning de-platforming and cancelling independent media via increasingly opaque "terms of service violations"
These companies will be cheered on by the vast crowd of jabbed-and-masked NPCs who have been so successfully brainwashed into believing the "they are a private company and can do that they want" argument.
This has been going on for years already, of course, but that was covert stuff. Now it's legal in the UK, and is about to get a lot worse.
It won't be just the UK either, considering the messaging on "misinformation" being seen at the UN in the last few days, we should expect something similar on a global scale.
You can read the full text of the Online Safety Bill here.
Tyler Durden
Sun, 09/24/2023 - 08:10
grants
uk