Blain: Q1's Madness & A Plentiful Supply Of Hype
Blain: Q1's Madness & A Plentiful Supply Of Hype
Authored by Bill Blain via MorningPorridge.com,
Things Can Only Get?
"No one ever went broke underestimating the intelligence of the people…"
Q1 was "interesting". More financial…
Blain: Q1's Madness & A Plentiful Supply Of Hype
Authored by Bill Blain via MorningPorridge.com,
Things Can Only Get?
"No one ever went broke underestimating the intelligence of the people…"
Q1 was "interesting". More financial madness in 3 months than I've seen in 35 years, but at least it was fun. How much more sober and boring might the market become? Deliveroo's botched IPO suggests Investors ain't as stupid as we think.
And finally, after the misery of driech 1st quarter and lockdown, we enter the bright sunlit promising uplands of Q2. As the song goes … "Things can only get better". Except, of course, they seldom do…
April 1st would traditionally be the day I attempt to play some un-hilarious joke on the market – a April Fool… but the market has pretty much beaten me in terms of barely believable stooopid throughout 2021. Hype is a commodity in plentiful supply.
You really can't compete with the madness we see all around and everyday. From SPACs of "tech" companies using Excel spread-sheets to make a dollar sale for every $5 they spend. Meme stocks that roller-coaster depending on the anger of RobinHoods. An unwearable digital sneaker that costs $10k as a Non-Fungible Token. ESG funds with oil majors as their top positions, or the sustainables fund highlighting an auto's green bond dedicated to improving car safety as an ESG compliant investment – car safety? Who would have thought? Or a fund up to its' oxters in tumbling EV paper sagely declaring the stock will quadruple despite rising competition.
Or maybe it's the way the market was on tenterhooks as a result of 3 basis points move in the "risk-free-rate" of government bonds. In bonds there is truth – and if they rise, the whole confabulation of higher for longer in stocks will shatter.. or so say the doomster pessimists. The optimists are certain central banks will keep juicing the party forever.
Or maybe it's been the proofs of how distorting ultralow interest-rates are to market behaviour. The hunt for returns distorts common sense. Investors become easy marks for promises of low-risk/high returns. Widely speculative investment moonshots are passed off as safe and predictable. Shirts will be lost. And zero returns means investors have to juggle – and might just be tempted to bargain their souls with the pernicious gods of leverage. That didn't end well for Archegos or the bank's that found themselves funding it.
The reality, however, is the madness may be passing.
I think there are shades of reality beginning to make themselves felt across markets. Telsa, the bell-weather of hyped valuations, remains well off its Jan peak. It is still seriously overpriced. The rotation out of the over-hyped corners of Trend and Momentum driven Tech hopes, into the dull, boring and predictable earnings of fundamental and value equity plays is well underway.
That shift is being accelerated by the growing realisation – no matter what the Germans say – that vaccines are beating the pandemic and the world will reopen. Stocks that did well on pandemic now face a reckoning; did they meet and exceed their adoption expectations? Likewise, the pandemic losers are the next guess – which will recover fastest and strongly enough to survive.
I detect a new sense of purposefulness hitting many of the investment desks I speak with – they hype, fear and bubble of the pandemic is being replaced with a more sober and facts-based analysis of what the future looks like.
I'm particularly excited by Blackboulder's new "ERM" ETF. The Economic Reality & Management Fund aims to realise value in firms adversely affected by the swirls and currents of market fashion – investing in underperforming stocks impacted primarily by direction and distortions. Target investments include firms derated by the market because of perceived ESG failings, pandemic side-effects, political factors such as race and gender, and market hype.
The concept isn't a "bad-boys" fund, but seeking price discrepancies where the effects are overplayed. The key feature of the fund, however, will be the quality of target firm's management. The concept is to pick strong management who can deliver highly profitable, high dividends and growth with "sustainable" future earnings rather vague and woolly notions about saving the planet. A surprisingly high number of long-established firms meet the fund's criteria – but attract little market focus when the unmissable alternative is investing in an asteroid mining start-up valued at $10 bln.
And speaking of disappointments.. I guess we have to talk about Deliveroo, officially the worst IPO in UK financial history.
Oh dear. Yesterday's crash sets the bar high in term of fantabulous hopes meeting crushing reality. Embarrassing for our financial genius and ex-Vampyre Squid Chancellor Rishi Sunak who hyped the already over-hyped deal with his comments on "sky-high growth", and "dynamic business".
There wasn't much to like about the deal. The fact it would not qualify for the index because of the golden share structure leaving control in the hands of the founder – failing the Governance test, or the way in which it treats its gig-workers – failing the Social test.  Most big London funds used these excuses to back away. James Anderston, the soon to retire manager of Scottish Mortgage was "lukewarm" on the deal because of its slowgrowing market and overreliance on London.
I am going recycle something I wrote for CapX back way back in Feb on Deliveroo.. I originally entitled it: "Deliveroo – Just what is a pizza delivery firm worth?"
"The Deliveroo IPO ("Initial Primary Offering") at a valuation around …. well anywhere from £5-£10 bln depending on whom you ask. Apparently attracting a new listing of such high calibre highlights the attractions of UK Finance Inc relative to Europe. It's being hailed as a major Tech listing for the UK. Really? If the definition of Tech is ordering a bike delivered pizza online, then it seems a pretty low threshold.

The 8-year-old Deliveroo is riding high (pardon the pun) as a result of the pandemic – not everyone took lockdown as an opportunity to learn new cooking skills. It's been taking over 6 million orders per month, distributing over £4.1 bln from food outlets in 2020, primarily in the UK, with Deliveroo taking up to 25% of that value in fees from the food providers. It claims rising repeat orders and steadily growing "user engagement" providing "a recurring revenue stream that grows over time" as the company says.

Yet, 8-year-old Deliveroo has consistently failed to post a yearly profit. (Note the deliberate emphasis on 8-year old.) That's apparently ok – its prioritising growth over returns. Although revenues in the Pandemic year rose 55%, it still lost £224 mm in the last quarter! It remains to be seen just how resilient user engagement will be once the economy reopens – especially after D-Day ("Drunk Day") April 12th when Pub Gardens reopen.

The whole proposition of Deliveroo and competitors like Just East is based around expectations the online food delivery market will continue to grow to infinity. Fantastic. What's not to like or even question about Gen XYZ and their inability to feed themselves… And apparently it's not about delivering them a pizza, but being able to collate data to target more junk food at them and lining them up for robotic drone deliveries tomorrow. (Always tomorrow.)

Let's be brutally honest – the takeaway food sector has been around for years, and isn't really that disruptive. There was a time, a long, long time ago when we walked or drove to the Chinese or Fish & Chip shop. Now Deliveroo picks up food from its own dark "editions" kitchens flipping out Micky Dees' burgers or another brand's Peri-Peri Chickens. Apparently Dark Kitchens – cheap and easy to run are a massive differentiator when it comes to the long-term returns from Deliveroo.

The company has done "tech": "Frank" is its' algo based on predictive tech to "efficiently" distribute orders based on the position of restaurants, riders and customers. Smart tech means they've been able to cut preparation time by 20% enabling everyone to get more delivery work, make more food, and get food faster. Wow.. (that's a very unimpressed wow btw.)

Moreover, Deliveroo is also a classic case-study of 2020s finance. Call something disruptive, and no matter how base and blasé its business model is, it will soon be worth billions. Well… perhaps it's time to step back and smell the coffee – from which ever high street shop you with it delivered from.

Just apply some simple tests – The Blain DuB-De-PreP test. (Say it fast – sounds better.) Deliveroo may be disruptive, but is it a Dull, Boring, Defensible, Predictable and Profitable stock? No. Its not.

Are there any barriers to entry into Deliveroo's market? Nope. Anyone can deliver take-away food. Mini-cab drivers have been doing it for years. Now there are a plethora of other firms including larger, better funded firms like Uber Eats, Door Dash, and big ad spending Just Eats. All of these firms compete for clients with deals and advertising spend. All of them compete for delivery staff. All of them compete to get restaurants into their dark kitchens. In a market with room for maybe 2 competitors, Deliveroo is at number 3.

Are the risks limited? No, there are major extrinsic risk factors including health and safety, regulation, and market risk. In addition, delivery drivers are increasingly demanding better pay and conditions – which are being agreed by the courts. A business model founded on ripping off cheap Gig economy workers will fail when the courts mandate pension plans. To be fair, its delivery riders have been allocated stock.

Is Deliveroo in possession of a strong balance sheet? Can any firm which consistently fails to post profits be called strong? (Rhetorical question.) And just how dependent on capital markets conditions is the firm? If interest rates rise and the current tech bubble bursts then how is the firm going to attract the ongoing capital markets infusions it requires to cover up its long-term losses?

Let's say it triples its market share, and keeps its cost base low and turns profitable next year? What stock multiple should it command? Something massive because it's such a secure business, or some low to reflect the obvious weakness?

Nor can I get myself particularly enthused about Deliveroo's management. If I was talking about a founder who fundamentally loved and understood the rich culinary history of the UK (in other words, someone focused entirely on delivering the best fish'n'chips or Curry), I might get it. But, Will Shu was an investment banker posted to London peeved at the lack of quality delivery options to Morgan Stanley's Canary Wharf offices.

Looking at the rest of the board I'm not getting that strong governance and passion vibe – I'm seeing a firm providing junk food hits to folk who should be eating healthy, meaning food delivery firms as probably a fail on the S of ESG – Unless they can show me 80% plus of their revenues are organic salads grown by transgender cooperatives..?

All of which means… I'm not terribly excited about Deliveroo. But, having worked in Canary Wharf late into the evenings many times in the past, I can understand exactly why it might have seemed a good idea at the time.."
Tyler Durden
Thu, 04/01/2021 - 08:45
bonds
government bonds
pandemic
stocks
etf
spread
lockdown
interest rates
oil
europe
uk
In This "Age of Funemployment," Is a Recession Possible?
For weekend reading, Gary Alexander, senior writer at Navellier & Associates, offers the following commentary: Come mothers and fathers throughout…
For weekend reading, Gary Alexander, senior writer at Navellier & Associates, offers the following commentary:
Come mothers and fathers throughout the land

And don't criticize what you can't understand

Your sons and your daughters are beyond your command

Your old road is rapidly aging… For the times they are a-changing

– Bob Dylan, 1963
Bob Dylan turned 82 this week, and I guess he's a little old fashioned now, too, since he recorded an album of Sinatra standards in 2015 ("Shadows in the Night") and a Christmas carols album in 2009.
The times are changing in the employment market, too. Work has almost become a four-letter word…
Suzy Welch, 62, a Baby Boomer professor of management practice at NYU's Stern School of Business and co-author with her late husband Jack of several best-selling business books, wrote a fascinating Op-Ed column in The Wall Street Journal last week ("For Gen Z, Unemployment Can Be a Blast, May 18, 2023).
She introduced her latest batch of "bright and shiny young MBA students" who spoke of their lazy, hazy plans after graduation: "I'll work when I work. Until then, I'll just do some funemployment."
Ms. Welch said she "literally screamed in class" the first time she heard that word, shouting, "What, what, what? Are you literally saying 'funemployment' – like unemployment can be fun?"  The class then "burst into laughter."
Yes, of course that's what they meant, but they were trying to keep that word secret from the older generation of up-tight Baby Boom professors, since those draft-dodging, dope-smoking hippies of the Vietnam era had now become like their parents – and their students didn't trust anyone over 30!
For those young ones who still want to work, the older employers must also watch their step, since the old hierarchical order at work is mostly dead, if not buried. In his new book, "Generation Why" (released this month), Dr. Karl Moore of Montreal's McGill University speaks of the new workplace rules, which sound like no rules – a dangerous minefield for managers. In his introduction, Moore makes three points.
There are three basic changes from our (Boomer) management era:
(1) Transparency over secrecy: Young workers can discover all your faults, errors, and past mistakes by surfing the Internet, so transparency is king;
(2) Credentials no longer matter as much; an MBA is the old BA, but experience trumps degrees, so all that massive college debt may be wasted; and
(3) Introverts and quieter thinkers can now lead, not just those bombastic extroverts. By Moore's measures, 30% to 35% of C-suite leaders are now introverts. *
*To clarify terms, "C-suite" refers to anyone with "Chief" in the title, like Chief Executive Officer, Chief Operating/Chief Financial, or Chief Managing Officer. Also, here are the generally accepted birth cohorts:
Moore has a CEO Insights course at McGill for MBAs. He also takes 30 students each year to some of the fastest growing global economies to see how they do it. He calls it the "Hot Cities of the World Tour."
They just returned from Ghana and Ivory Coast this March. In these 12-day tours, he also has a chance to dine and talk with these 30 students (Millennials and now Gen Z kids) to probe their views.
As cohorts in two colleges in Southern California in the 1970s, Moore and I emailed over this, and he told me these tours are promoted as "Taking the Future to the Future," meaning future business leaders go to where the world is growing fastest. Some of his previous trips were to Israel, the UAE, India, and South Africa.
In his study of young workers for this book, Moore conducted over 800 interviews with under-35 workers (and shirkers) in Canada, the U.S., Japan, and all over Europe, as well as over 750 C-suite executives. Previous to his academic career, Moore also spent 11 years working in high tech firms, so he has the advantage of being a capitalist believer and doer, not just a business critic, as is so common in academia.
In the U.S., Moore writes, over one third of workers are Millennials (age 27-42), recently surpassing Gen X as the largest component of our workforce. Globally, there are 1.8 billion Millennials, about a quarter of the world, and 86% of Millennials come from developing economies, which may determine who rules the Century. Put bluntly, will the hardest workers of the world surpass our new funemployment cohort?
How Can We Have A Recession With So Many Job Openings?
A classic warning sign of a recession ahead is an inverted yield curve, which we have endured for nearly a year now without a recession. The yield curve inverted before the last four real recessions, in 1982, 1990, 2000, and 2008.
Even with the artificial 2020 recession, caused by a forced COVID-19 lockdown, the yield curve was neutral before that recession. Today, we have the most inverted yield curve since the double-dip recessions of 1979-82, yet we still stubbornly grow our GDP each quarter since mid-2022.
It's hard (some say impossible) to have a recession with the unemployment rate at a record low, jobs continuing to expand at a solid pace, nearly 10 million jobs going begging and wages usually outpacing prices, resulting in real wage gains. Everywhere you look, you're likely to see "HELP NEEDED" signs.
Jobs are opening even faster: The percentage of all U.S. business owners reporting job openings that they cannot fill rose by 2 points to 45% in April — maybe because "funemployment" is still widely preferable?
The labor force participation rate remained at 62.6% in April, below the pre-pandemic reading of 63.3% in February 2020, but that rate itself was historically low. It was over 64% from 1984 to 2012, peaking in 2001, when I argue (in recent columns) that we moved from a Growth economy to a Debt economy.
Funemployment Comes Home to Roost
To close on a personal note, I've worked every month since April 1962, age 16, first on a paper route by car, then as a night janitor to work my way through college. I commuted to work at a desk job for nearly 40 years before moving to my late parents' home in the San Juan Islands of Washington State to work online as an editor. I tried to match the work ethic of my parents, who worked in the Great Depression.
This week marks the date when two of our five grown grandchildren arrive to live with us for the next few months, and maybe longer, as part of their funemployment option. It's a grandparents' dream come true, having these wonderful young ones around us – and a great help in our old age, a win-win situation.
One says, "I don't want to sit in an office from 9 to 5 each day." I responded, "Neither did I, nor probably 90% of those who did it, but we felt we had to." These kids already have online and "gig" jobs, not office jobs.
I know I'm old-fashioned about work, but (with Karl Moore) I'm learning from the youth, and I know that both of these two fine youngsters will find fulfilling jobs and careers after living with us, with the caveat that retail jobs, construction, and even janitor work aren't careers, but training ground for showing up on time, respecting rules, learning manners, and serving customer needs. They'll find their best work.
It's a brave new world for old fogies. But it's comforting to know these kids will soon be old fogies, too.
recession
depression
unemployment
pandemic
covid-19
yield curve
lockdown
recession
gdp
unemployment
africa
india
japan
canada
europe
June 2023 Monthly
June is a pivotal month. The US debt-ceiling
political drama cast a pall over sentiment even if it did not prevent the
dollar from rallying or the S&P…
June is a pivotal month. The US debt-ceiling political drama cast a pall over sentiment even if it did not prevent the dollar from rallying or the S&P 500 and NASDAQ from setting new highs for the year. It is as if the two political parties in the US are playing a game of chicken and daring the other side to capitulate. Both sides are incentivized to take to the brink to convince their constituents that they secured the best deal possible. No side seems to really want to abolish the ceiling because it has proven to be an effective lever for the opposition to win concessions over the years. Still, a higher debt ceiling and some reduction in spending in the FY24 budget are the middle ground. 
Many think that this time is different. The partisanship, they say, is so extreme that a default is possible. They can point to severe distortions in the T-bill market and the elevated prices to insure against a US default (credit default swaps). Neither side can be sure it will not be blamed for a default's expected and unexpected consequences. The risk of playing chicken is that neither driver swerves at the last minute. There are only downside scenarios in a default situation, even if it lasts for a short term and no bond payment is missed. On the other side of the debt ceiling, bill issuance will rise, and the Treasury will rebuild its account held at the Federal Reserve. This could drive up short-term rates and reduce liquidity. 
In addition to fiscal policy, a monetary policy drama is also playing out. The Federal Reserve began hiking rates in March 2022, and at the May meeting, Chair Powell indicated that a pause was possible. Although he made it clear that it was not a commitment, the markets saw the quarter-point move as the last. However, a combination of stronger economic data, sticky price pressures, and some hawkish comments saw the pendulum of expectation swing toward a hike at the June 13-14 meeting (60%). Moreover effective Fed funds rate (weighted average) is about 5.08%, and the market-implied year-end effective rate is around 5.0%. It was near 4% as recently as May 4, which illustrates the extent of the interest rate adjustment. Even if the Fed stands pat in June, we expect Chair Powell to validate market expectations that another hike will likely be forthcoming (July). 
There continue to be worrisome economic signs in the US, including the inverted yield curves, the precipitous decline in the index of Leading Economic Indicators, an outright contraction in M2 money supply, the tightening of lending standards, and a reduction in credit demand. However, at the same time, despite some slowing, the labor market is strong, with an improvement in prime working-age participation. Consumption rose by 3.7% in Q1 and appears off to a good start in Q2, with stronger auto and retail sales in April. Supply chain disruptions have improved, shipping costs have receded and are back within the 2019 range. The Atlanta Fed's GDP tracker sees growth of 1.9% in Q2, near the Fed's non-inflation speed limit of 1.8% and though a bit faster than Q1 (1.3%).
Another drama that has unfolded is the stress on US banks. Banks with increasing low-yielding assets did not offer competitive interest rates with prime money market funds (only invest in US government/agency paper) and the US bill market itself. While the banking system lost deposits, several of the largest banks reported increased net interest income. However, even after the deposits at small banks stabilized, pressure continued on their shares. That selling pressure seemed to be exhausting itself. June may be a pivotal period for this drama too. Still, many regional banks are exposed to the commercial real estate market, which is under pressure. 
Europe avoided a tragic winter energy crisis, but the drama is that inflation is providing sticky, and the regional economy looks as if it stalled at the end of Q1. Indeed, revisions show that the German economy contracted 0.3% in Q1 after a 0.5% contraction in Q4 22. The eurozone and UK economies expanded by 0.1% quarter-over-quarter in the year's first three months. The eurozone and UK appear stuck in low gear, but the market is confident of quarter-point hikes by the European Central Bank and the Bank of England in June. 
Japan has a drama of its own. The Bank of Japan is under new management, but it turns out that its extraordinary policy was not simply a function of former Governor Kuroda's idiosyncrasies. Several surveys of market participants saw June/July as the likely timing of an adjustment in the policy settings. However, Governor Ueda's call for patience suggests little sense of urgency, and some expectations are being pushed out to the end of Q3. The recent history of lifting interest rates or currency caps suggests a dramatic market response even under the best circumstances. Still, the best time to adjust the cap on the 10-year bond is when it is not being challenged. The BOJ is the last of the central banks with a negative policy rate. This is increasingly difficult to justify. The swaps market is not pricing in a positive rate until early in the second half of the fiscal year, which begins on October 1.
Geopolitics are always dramatic. It seems clear that US officials, including President Biden, had recognized that bringing NATO to Russia's border was provocative. After relatively mild responses to Russia's invasion of Georgia and the taking of Crimea, the reaction to last year's invasion of Ukraine is a big shock to nearly everyone. The US has led a coalition that has stymied Russia by arming Ukraine with weapons, training, money, and intelligence.
Initially, China appeared to be a net loser of Russia's invasion. NATO is stronger. US leadership was again demonstrated. Parallels between Ukraine and Taiwan were drawn ubiquitously. There has been a rapprochement between South Korea and Japan, and both are boosting military spending. The US secured new bases in the Philippines. However, China is finding its own opportunities. 
Just as the US thinks Russia is in a quagmire, China may think it has the US in one. President Biden has cast the defense of Ukraine as the frontline of the battle between democracy and authoritarianism. However, American public support is not particularly strong, and continued unlimited support may become a political issue in next year's election. Meanwhile, China has moved into the vacuum created by the US and European sanctions. China has secured Russia into its sphere of influence, which Beijing could not have dreamed of before the invasion. Using the swap lines with the PBOC has allowed several developing countries to pay for imports from China. It is similar to producer-financed sales in market economies. China is exploiting niches that the US and Europe have created purposefully or otherwise. Even taking into account the problematic debt that has arisen from the Belt Road Initiative, it is creating and solidifying a trade network that may be of increasing importance to China going forward.
The sharp rise in interest rates in May made for a challenging time for risk assets. Equity indices for developed and emerging market economies fell in May, but there were notable exceptions. The S&P 500 and NASDAQ rallied to new highs for the year. Germany's DAX and French CAC set record highs, while Japan's Topix and Nikkei reached their best levels since 1990. Among emerging markets, Brazil (~6%), Chile (~4%), Poland (~3%), Hungary (~6%), Taiwan (~6%), and South Korea (~2.3%) are notable exceptions.
Emerging market currencies mostly fell in May. The JP Morgan Emerging Market Currency Index fell by 1.3% after slipping about 0.35% in April. It is the first back-to-back monthly decline since a four-month drop in June through September last year. It is essentially flat on the year. Latin American currencies continue to stand out. They accounted for four of the top five emerging market currencies in May:  Colombia (~5.1%), Mexico (~1.9%), Peruvian sol (~1.0%), and Chile (~0.4%). The South Korean won was the exception; its 1% gain put it in the top five.
Bannockburn's World Currency Index, a GDP-weighted basket of the currencies belonging to the dozen largest economies, fell by about 1.4% in May. This reflected losses of most of the currencies against the dollar. In the BWCI, only the South Korean won (~1%), the Mexican peso (~1.9%), and the Russian rouble (~0.3%) appreciated against the dollar. Combined, they account for about 6% of the basket. The yen was the weakest, losing about 3%, but the euro was not far behind with a 2.75% decline. The Chinese yuan was third, with slightly more than a 2.1% decline.
BWCI bottomed early last November near 92.80, confirming the dollar's top. It rallied into early February to peak near 98.15. The decline into March retraced about half of the rally, while the year's low set in late May (~95.25) is within 0.75% of a critical area. This is consistent with our base case that while there may be some scope for additional dollar gains, it looks limited as the interest rate adjustment also appears to be complete or nearly so. In our analysis of the different currencies below, we have tried to quantify where the base case breaks down.
Dollar:  The interest rate adjustment, where the market converges to the Fed rather than vice versa, and the knock-on effect of supporting the US dollar unfolding broadly aligns with the view sketched here last month. The two-year yield rose by around 65 bp in May to about 4.65%, the highest since mid-March. The year-end policy rate is near 5% rather than 4.5% at the end of April. We suspect that the interest rate adjustment is nearly complete, helped by what will likely be slower economic growth after the rebound in Q2. The growth profile may be almost a mirror image of 2022. Then, the economy contracted in H1 and rebounded in H2. This year, the economy appears to have grown near trend in H1 and looks set to slow in H2. The odds of a Fed hike on June 14 were around 65% before the Memorial Day holiday (May 29), and it is fully discounted for the July meeting. The Fed's economic projections will be updated. The 0.4% median forecast for growth at the March meeting seems too low and will likely be increased. At the same time, the 4.5% year-end unemployment rate seems too high. Unemployment was at 3.4% in April. The median forecast bring it down a bit. The debt ceiling wrangling does not put the US in the best light, but barring an actual default, it will not have lasting impact. Outside of the T-bill market and the credit-default swaps, investors took this peculiar American political tradition in stride. Our working hypothesis has been that the dollar was going to "correct" the selloff that began in early March as the bank stress struck. In the last full week of May, the Dollar Index exceeded the retracement target near 104.00. A move above the 104.70 area would suggest potential back toward the 200-day moving average (~105.75) and the March high near 106.00. A break below the 103.00 area would suggest a high may be in place.
Euro: Eurozone rates could not keep pace with the dramatic swing higher in the US. Germany's two-year yield rose by about 20 bp in May, less than half what the US experienced. Yet, the euro's roughly 2.75% decline in May was not only a dollar story. The proverbial bloom came off the rose. The fact that with a combination of preparedness and good luck (low oil/gas prices and a mild winter), the eurozone avoided an energy crisis. The positive economic impulses carried into February, but by the end of March, economic growth stalled, or worse. After a second look, Germany contracted by 0.3% in Q1 (initially estimated at zero) after a 0.5% decline in economic output in Q4 22. The European Central Bank started later than most G10 countries to begin adjusting monetary policy, and institutional rigidities may make price pressures more resistant. The ECB meets on June 15 and the market is confident of a quarter-point hike that would lift the deposit rate to 3.50%. The staff will also update its economic forecasts. The terminal rate is seen at 3.75% in late Q3 or early Q4. On June 28, European banks are due to pay back the ECB around 475 bln euros of loans (Targeted Long-Term Refinancing Operations). They account for around 6% of the assets on the ECB's balance sheet and almost 45% of the outstanding TLTRO loans. The sheer magnitude of the maturity could prove disruptive, and some banks may look to find replacement funding. The ECB's balance sheet has been reduced by about 3% this year and the repayment of the TLTRO would do more with a single blow. Recall that end of the of last year, European banks returned almost 492 bln euros. The euro overshot our $1.0735 objective. We suspect the euro's downside correction is nearly over, but a break of the $1.0680 area may signal losses back to the March low near $1.05.
 
(May 26, indicative closing prices, previous in parentheses)
 
Spot: $1.0725 ($1.1020)
Median Bloomberg One-month Forecast $1.0890 ($1.0960)
One-month forward $1.0740 ($1.1040)   One-month implied vol 6.8% (7.5%) 
 
 
Japanese Yen: Rising US rates seemed to have dragged the greenback higher against the Japanese yen. The gains in May took it a little through JPY140, the highest level since the end of November, and beyond the halfway marker of the drop from last October's high near JPY152. Just as there may be some more room for the US 10-year yield to climb above 3.80%, there may be scope for the dollar to rise further against the yen. The next important chart area is around JPY142.50. Underlying price pressures in Japan continue to rise, and the weakness of the yen only adds to the pressure on the BOJ to adjust its monetary settings. The economy expanded by 0.4% in Q1, well above expectations, and in late May, the government upgraded its monthly economic assessment for the first time in ten months. Several surveys found many see a window of opportunity in June or July for the BOJ to adjust monetary policy. Most of the speculation has focused on yield-curve-control (YCC), which caps the 10-year yield at 0.50%. We do not think it will be abandoned entirely, and targeting a shorter-dated yield may be considered. It could lift the overnight target rate to zero from -0.10%. If experience is any guide, when it comes, the timing will likely surprise, and it is bound to be disruptive. It will likely weaken the correlation between the exchange rate and US yields. Lastly, there is much talk about a snap election in Japan over the summer as Prime Minister Kishida looks to secure his mandate and support for him, and the cabinet has risen recently. He hosted the G7 summit and brandished leadership. Politically, it may be the most opportune time before September 2024 LDP leadership contest, while the economy is relatively strong, the stock market is near 30-year highs, and he is perceived favorably.
Spot: JPY140.60 
(JPY136.30)    
Median Bloomberg One-month Forecast JPY133.45 (JPY133.05)
One-month forward JPY139.95 (JPY135.75) One-month implied vol 10.8% (9.5%)
 
British Pound: 
May was a month of two halves for sterling. In the first half of the month, it extended its recovery off the for the year set on March 8 near $1.1800. Sterling peaked on May 10 at around $1.2680, its best level since June 2022 and an impressive recovery from last September's record low of about $1.0350. In the second half of May, sterling trended lower and fell back to almost $1.2300. Our base case is that the move is nearly over, with the $1.2240 area likely to hold back steeper losses. However, if this area goes, another cent decline is possible in this benign view. Stubborn inflation and a firm labor market have produced a dramatic interest rate adjustment in the UK that may lend sterling support. The year-end policy rate is seen above 5.50%. This is a 70 bp increase since the middle of May. The two-year and 10-year Gilt yields were mostly flat in the first half of May and soared around 75 bp in the second half. The 10-year breakeven (the difference between the inflation-protected security and the conventional bond) rose a little more than 10 bp in the last couple of weeks. The Bank of England meets on June 22, the day after the May CPI is published. The market is debating whether a 25 bp or 50 bp hike will be delivered. We lean toward the smaller move unless the incoming data surprises.
Spot: $1.2345 ($1.2565)   
Median Bloomberg One-month Forecast $1.2400 ($1.2480) 
One-month forward $1.2355 ($1.2575) One-month implied vol 8.0% (7.6%)
 
 
Canadian Dollar: The Canadian dollar fell by about 0.60% against the US dollar in May, making it the best performer in the G10. The Swiss franc was second with twice the loss. After testing April's low (~CAD1.3300) in early May, the US dollar recovered and set the month's high (~CAD1.3650) in late May. While interest rate developments can help explain the broader gains in the greenback, the exchange rate with Canada seems to be more sensitive lately to the general risk environment (for which we use the S&P 500 as a proxy) and oil. The price of July WTI collapsed from around $76.60 at the end of April to a little below $64 on May 4. It worked its way back up to almost $75 on May 24 before stalling. There has been a significant interest rate adjustment in Canada over the last few weeks. The 2-year yield rose by nearly 60 bp. At the end of April, the market was pricing in a cut before the end of the year and now it is fully discounting a hike. The Bank of Canada meets on June 6. The swaps market has a 33% chance of a hike and a hike is fully discounted by the end of Q3. At the end of April, a June hike was seen as less than a 10% risk. A move above CAD1.3700 could signal a return to this year's high set in March near CAD1.3860.
 
Spot: CAD1.3615 (CAD 1.3550) 
Median Bloomberg One-month Forecast CAD1.3405 (CAD1.3475)
One-month forward CAD1.3605 (CAD1.3540)   One-month implied vol 6.0% (5.8%) 
 
 
Australian Dollar: The surprising quarter-point hike by the Reserve Bank of Australia saw the Australian dollar fray the upper end of the $0.6600-$0.6800 range that has dominated since late February. Disappointing employment data, concerns about the pace of China's recovery, and the sharp selloff of the New Zealand dollar (following the central bank's hike that could be the last one) weighed on the Australian dollar. It recorded the lows for the year slightly below $0.6500. There is little meaningful chart support ahead of $0.6400, but a move back above $0.6600 would suggest a low is in place. The squeeze on households can e expected to increase in the coming months as mortgages taken on in the early days of the pandemic will begin to float at higher rates. The RBA meets on June 6 and there seems to be little chance of a hike, though the market is not convinced that the tightening cycle is finished. A small hike (~15 bp) is possible in Q3. The first estimate of Q1 GDP is due the day after the RBA meeting, but we assume officials will have some inkling.  Although there is some talk of the risk of a contraction, it likely grew slowly. 
Spot: $0.6515 ($0.6615)     
Median Bloomberg One-month Forecast $0.6785 ($0.6710)    
One-month forward $0.6525 ($0.6625)    One-month implied vol 10.3% (10.1%)

 
Mexican Peso:  Between the central bank's pause and the broader dollar's strength, the peso fell on profit-taking after it reached a new seven-year high in the middle of May. However, the considerations that have driven it higher remain intact, suggesting its high is not in place. Those forces include the attractive carry (11.25% policy rate) and a relatively low vol currency (especially among the high-yielders), the near-shoring and friend-shoring that has seen portfolio and direct investment inflows, and, partly related, the healthy international position, with record exports and stronger worker remittances. The dollar fell to almost MXN17.42 in mid-May and its bounce stalled near MXN18.00. A break of the MXN17.60 area may signal a retest of the lows, but in the medium term, there is potential toward MXN17.00. While Mexico's government has not facilitated an investor-friendly environment, the market appears to be rewarding the strong and independent central bank and Supreme Court.
Spot: MXN17.6250 (MXN18.00)  
Median Bloomberg One-Month Forecast MXN18.1675 (MXN18.26)  

One-month forward MXN17.74 
(MXN18.1250)
 One-month implied vol 11.4% 
(10.3%)
Chinese Yuan
: China is notoriously opaque in terms of information and economic data. The market's general sense is that Beijing will take more measures to ensure growth stays on track with weak price impulses. The low CPI (0.3% year-over-year in April) is partly a function of weak demand, but the overcapacity in some sectors, such as autos, also is deflationary. A reduction in required reserves is possible. The expected policy divergence is more important to investors than modest swings in China's large and persistent trade surplus. As the dollar moved to new highs for the year in mid-May above CNY7.00, PBOC officials expressed concern about the volatility and one-way market. And the yuan's losses have been extended further. The next important chart area is near CNY7.10. Still, the yuan remains correlated with the euro and yen, and their weakness helped drag the yuan to new lows for the year. Chinese assets may not be particularly attractive to foreign asset managers, but the yuan is being used more to settle trade (and not just with Russia and Hong Kong). Its share of the SWIFT messages rose to 2.3% in April, the most in six months.

Spot: CNY7.0645 (CNY6.9185)
Median Bloomberg One-month Forecast CNY6.8625 (CNY6.8570) 
One-month forward CNY7.0500 (CNY6.9060) One-month implied vol 5.4% (4.9%)  
unemployment
default
pandemic
economic growth
sp 500
nasdaq
emerging markets
monetary policy
fed
federal reserve
real estate
mortgages
currencies
pound
us dollar
canadian dollar
euro
yuan
us government
governor
testing
gdp
recovery
interest rates
unemployment
oil
south korea
brazil
mexico
japan
hong kong
canada
european
europe
uk
germany
poland
hungary
russia
ukraine
china
Drilling down on treatment-resistant fungi with molecular machines
Fungal infections can be among the hardest to treat, and since the pandemic began they've become only more common. To prevent future antifungal resistance,…
Fungi are present on the skin of around 70% of the population, without causing harm or benefit. Some fungal infections, like athlete's foot, are minor. Others, like Candida albicans, can be deadly – especially for individuals with weakened immune systems.
Fungal infections are on the rise because of an aging population and an increased prevalence of chronic diseases. At the same time, fungi are becoming more resistant to treatment. As a result, fungal infections could soon become a serious public health threat.
In 2022, the World Health Organization released its first-ever "Fungal Priority Pathogen List," calling for improved surveillance, public health interventions and the development of new antifungal drugs.
We are an interdisciplinary team of chemists and biologists charting a new path to tackle drug-resistant infections. We are using tiny nanoscale drills that combat harmful pathogens at the molecular level. As the traditional antimicrobial research pipeline struggles, our approach has the potential to rejuvenate the fight against these stubborn infections.
Molecular machines as alternative antifungals
While doctors urgently need new antifungal drugs, developing them is challenging. First, it is difficult to develop drugs that selectively kill fungi without harming human cells because of their many similarities.
Second, fungi can rapidly develop resistance to multiple antifungal drugs at once when medications are misused or overused. As such, developing antifungal drugs is much less rewarding for drug companies than developing medications for chronic conditions like diabetes and hypertension that require long-term use.
One solution to this problem could lie in a Nobel Prize-winning technology: molecular machines.
Molecular machines are synthetic compounds that rapidly rotate their components at about 3 million times per second when exposed to light. Doctors can use a light-tipped probe to activate these molecular machines to treat internal infections, or a lamp for skin infections. The light starts the machines spinning, and that rotational motion pushes them to drill through and puncture the cell's membranes and organelles, which results in cell death.
Our group first used this technology to kill cancer cells in 2017. To target the right cells, molecular machines can be linked to specific peptides that bind only to the desired cells, allowing, for instance, the targeting of specific cancer types. Since then, we have used these molecules to kill bacteria, destroy tissue and stimulate muscle contraction. These properties make molecular machines an enticing candidate technology to address the growing fungal threat.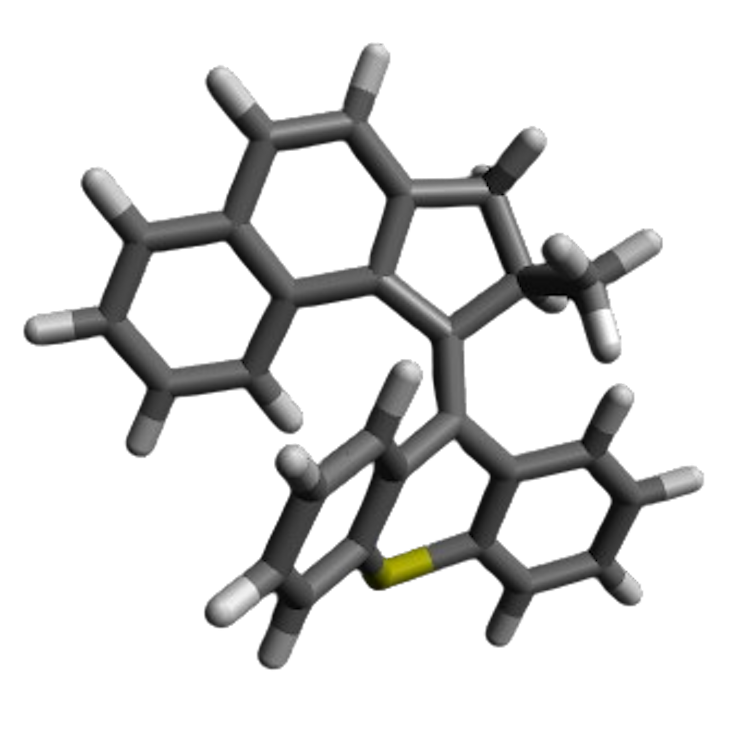 Testing antifungal molecular machines
Researchers first tested the ability of light-activated molecular machines to kill fungi in Candida albicans. This yeastlike fungus can cause life-threatening infections in immunocompromised people. Compared with conventional drugs, molecular machines killed C. albicans much faster.
Subsequent studies found that molecular machines could also kill other fungi, including molds like Aspergillus fumigatus and species of dermatophytes, the types of fungi that cause skin, scalp and nail infections. Molecular machines even eliminated fungal biofilms, which are slimy, antimicrobial-resistant communities of microorganisms that stick together on surfaces and commonly cause medical device-associated infections.
Unlike conventional antifungals, which target the fungal cell membrane or cell wall, molecular machines localize to the fungal mitochondria. Often referred to as the "powerhouses of the cell," mitochondria produce energy to power other cellular activities. When activated with visible light, molecular machines destroy the fungal mitochondria. Once the fungal cell's mitochondria stop working, the cell loses its energy supply and dies.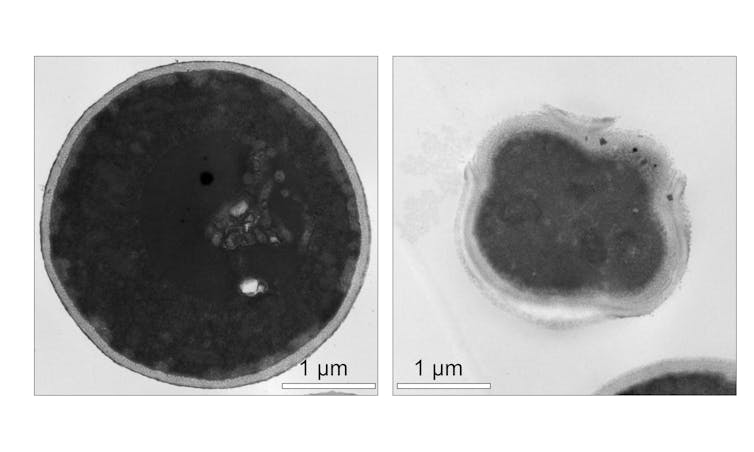 At the same time, molecular machines also disrupt the tiny pumps that remove antifungal agents from the cell, thus preventing the cell from fighting back. Because these molecular machines act by a mechanical instead of a chemical mechanism, fungi are unlikely to develop defenses against this treatment.
In lab experiments, combining light-activated molecular machines with conventional antifungal drugs also reduced the amount of fungi in C. albicans-infected worms and in pig nails infected with Trichophyton rubrum, the most common cause of athlete's foot.
New frontiers for fighting fungal infections
These results suggest that combining molecular machines with conventional antifungals can improve existing therapies and provide new options for treating resistant fungal strains. This strategy could also help reduce the side effects of traditional antifungals, such as gastrointestinal upset and skin reactions.
Fungal infection rates will likely continue to rise. As such, the need for new treatments will only become more urgent. Climate change is already causing new human pathogenic fungi to emerge and spread, including Candida auris. C. auris is often resistant to treatment and spread rapidly in health care facilities during the COVID-19 pandemic. According to the Centers for Disease Control and Prevention, strained health care systems, overuse of immunosuppressants and misuse of antibiotics have all been implicated in outbreaks of C. auris.
In the future, researchers could use artificial intelligence to create better antifungal molecular machines. By using AI to predict how different molecular machines will interact with fungi and human cells, we can develop safer and more effective antifungal molecules that specifically kill fungi without harming healthy cells.
Antifungal molecular machines are still in the early stages of development and are not yet available for routine clinical use. However, continuing research gives hope that these machines could one day provide better treatments for fungal infections and other infectious diseases.
Ana L. Santos receives funding from the European Union's Horizon 2020 research and innovation programme under the Marie Skłodowska-Curie grant agreement No. 843116.
Jacob Beckham receives funding from the National Science Foundation Graduate Research Fellowship Program.
James M. Tour receives funding from the Discovery Institute and the Robert A. Welch Foundation (C-2017-20190330). Rice University owns intellectual property on the use of electromagnetic (light) activation of molecular machines for the killing of cells. This intellectual property has been licensed to a company in which James M. Tour is a stockholder, although he is not an officer or director of that company.
disease control
pandemic
covid-19
treatment
testing
spread
european
world health organization