Woke Airline Policies Threaten Safety, Workers Say
Woke Airline Policies Threaten Safety, Workers Say
Authored by Janice Hisle via The Epoch Times (emphasis ours),
Southwest Airlines Co. is…
Woke Airline Policies Threaten Safety, Workers Say
Authored by Janice Hisle via The Epoch Times (emphasis ours),
Southwest Airlines Co. is basking in accolades for its "diversity, equity, and inclusion" (DEI) efforts, award-winning customer service, and record-breaking quarterly revenues.
Behind the scenes of that rosy picture, heartaches are afflicting Southwest, called "the airline with Heart" because of its heart-shaped logo and a corporate culture steeped in "The Golden Rule," treating others the same way they'd like to be treated.
But eight current Southwest employees, including three minorities, told The Epoch Times that "woke, leftist" DEI policies, as implemented, have tarnished the cherished Golden Rule principle, fractured a once-cohesive workforce, and, ultimately, may put safety at risk.
Faced with pandemic-related staffing shortages and pressure to add minorities, the company has changed the way it hires, trains, and disciplines workers—mostly to benefit less-qualified new hires representing the diversity rainbow, the employees say.
One Southwest flight attendant, a Hispanic female, said: "They are compromising safety for the sake of race, gender identity, and sexual preference … They're risking people's lives because of agendas."
Southwest, one of America's largest air carriers, didn't respond to messages seeking comment.
Similar issues have spread industry-wide, according to 10 airline employees who agreed to be interviewed. Four are pilots and six are flight attendants; most have 20 or more years of experience. All of them, including two American Airlines pilots, spoke on condition of anonymity to protect their jobs.
While no one thinks the policies are causing an imminent threat of a plane falling out of the sky tomorrow, all of the interviewees agreed that each time a standard is lowered, or a less-qualified employee is hired, the risk that something can go horribly wrong inches forward a notch or two. In an industry that depends on a near-miracle integration of people, machinery, and computers, even a few deviations can culminate in catastrophe.
Still, some employees worry about what could happen if current trends continue to stress out and distract safety professionals. Said one flight attendant: "It's a recipe for disaster. I just hope I'm not at work when it happens."
Us-Versus-Them Mentality
While promoting diversity sounds like a great idea, the inclusionary policies have actually become exclusionary at Southwest, employees say. Disparate treatment has divided their ranks into two distinct camps: those with "desirable" or "approved" personal, social, or political characteristics—and those without.
Minorities or people with leftist political views, varying gender identities, and alternative sexual orientations appear to be given wide latitude. This "protected class" is allowed to bend or break rules, and new hires in these classifications may be given extra chances to pass required skills tests, the employees said.
At the same time, veteran workers—especially those who are white, heterosexual, and conservative—find themselves in the crosshairs for almost anything, including making a personal statement of religious or political beliefs, the Southwest workers said. Even minorities can be shifted into this targeted group if they espouse personal beliefs running counter to causes that the company supports.
"There are two sets of standards: One for us and one for them," said an experienced flight attendant.
One of her colleagues said: "The company is trying to eliminate anybody who does not agree with their agenda. The last few years, anybody who speaks up against them, they want gone." That flight attendant said she had no problems at work until she posted her Christian religious beliefs on her personal Facebook page, along with her support of President Donald Trump. A coworker reported the posts to Southwest, and the flight attendant said she has faced repercussions ever since.
She and others say the targeting of conservatives is common—and they point to the recently publicized case of fired Southwest flight attendant Charlene Carter as a prime example.
'Targeted Assassinations' of Conservatives
Last month, a federal jury in Texas awarded Carter more than $5 million after finding that Southwest wrongfully terminated her and that her union didn't live up to its duty to represent her. The company fired Carter after she expressed her pro-life views to a union leader via social media and opposed the union's pro-abortion activism.
The company supported the union's political activism, Carter's suit says, by accommodating work-shift changes for union members so they could participate in the Women's March on Washington, D.C., in January 2017. Marchers were protesting Trump's inauguration; one of the primary sponsors of the event was Planned Parenthood. Southwest also showed "solidarity" with the protesters by bathing its airplane cabins in pink lights on some D.C.-bound flights, Carter's lawsuit says.
Documents in the case revealed that some union officials and political activists were singling out dissenting Southwest employees for "targeted assassinations," meaning that they would try to get the company to fire them, using the company's social media policy as a bludgeon.
In an interview with The Epoch Times on Aug. 8, Carter, who lives near Denver, Colorado, said she can't believe that some leaders of Transport Workers Union of America Local 556, who helped set her up to be fired, are still working for Southwest.
Carter also validated her coworkers' concerns about the disparate treatment of employees who dare to oppose leftist agendas. "I think there are a ton of cases out there just like mine," she said. Terminated employees from Southwest and other airlines have been continuously contacting Carter for help after learning about the July 14 verdict in her case.
Carter spent five years fighting in court; she thinks she was one of the first casualties of the erosion of Southwest's unique corporate culture, which she witnessed during the latter part of her 20-plus years at the airline.
"We all loved our jobs; we all loved each other—our CoHearts, that's what we called each other," Carter said, pointing out that the airline's stock ticker is LUV, a nod to its birthplace at Love Field, Texas.
Corporate Culture Shift
But corporate leadership and philosophy shifted. Carter said, her former coworkers tell her the culture is now one where people are fired on a whim, and they're encouraged to file complaints against each other over perceived insults, such as failure to use the "preferred pronoun" of a person asserting an alternative gender identity.
Employees who face such accusations are presumed guilty, a current flight attendant said, and they risk suspension or termination. "That is how we are treated now," she said.
"It's gotten ridiculous," Carter said. She was astounded to learn that lapel pins, designating preferred pronouns, are being offered to staff.
A fellow flight attendant says the company's priorities are misplaced.
"We used to be focused on hiring 'the best of the best,'" she said. "So why is it now that we feel at Southwest Airlines that we have to use the right pronouns and we have to acquiesce to someone's gender-fluid mentality?"
The DEI Effect
The interviewed employees blame DEI policies for sowing the seeds of division. Ironically, before DEI was implemented, "people were never labeled," a flight attendant said. "I find it very divisive," she said, "because now everyone is labeled, divided by race, gender sexual orientation … whatever."
"This is wrong—all the way wrong," she said.
The company's annual report, in its DEI section, says, "Southwest Airlines recognizes, respects, and values differences. … At Southwest, DEI is and always has been a part of our DNA."
All four major airlines—and many other American companies—publicly disclose DEI-related information, such as data on minority recruitment and the racial makeup of their workforce.
"Every airline is trying to push forward with minority hiring because they want to 'show that they care,'" aviation analyst Jay Ratliff said. "They're being asked, 'How many women are within your pilot ranks? … How many pilots of color?'"
If an airline's diversity metrics seem low in comparison to their competitors' numbers, the company's reputation and bottom line can suffer, Ratliff said.
That's not necessarily fair, he said, because few people have the ability, interest, and financial means to qualify as a commercial airline pilot. Amassing the FAA-required 1,500 hours of flight time with an instructor can cost $75,000 or more, pilots said.
Last year, United Airlines announced its goals: to train 5,000 new pilots by 2030 at its new flight school, with "at least half of those students to be women or people of color." The first class of new recruits "exceeded that goal," with 80 percent of the 30 students fitting that category, the airline said in a report.
Considering that white males make up about one-third of the American population, a Southwest pilot said that composing a class with 80 percent minorities and women looks like "DEI special-status hiring on steroids."
Scoring Systems Push Diversity
DEI data play a significant role in corporate ESG scores—ratings of a company's "environmental, social, and governance" performance. It's a complex—and controversial—way to assess which companies are considered "good corporate citizens."
Most of the interviewed airline employees believe that the pursuit of ESG scores is driving corporate personnel practices, including ignoring well-qualified male applicants while eagerly hiring less-experienced female and minority candidates.
Increasingly, ESG scores can help determine whether a company sinks or swims. A good ESG score can attract investors, government contracts, and favorable loan-interest rates—benefits that are especially important for the airline industry, in which lucrative U.S. Department of Defense contracts are at stake and profit margins are razor-thin because of astronomical costs for equipment and personnel.
ESG ratings have existed in some form for decades, yet they barely registered a blip on internet searches until a few months ago, amid the Biden administration's continued push for businesses to address environmental concerns and to institute "green" policies, which weigh heavily in ESG scores and DEI metrics.
Florida Gov. Ron DeSantis recently announced his intent to push back against ESG, calling it "leveraging corporate power to impose an ideological agenda on society."
Refinitiv, a company that produces ESG scores, says its process for calculating the ratings starts with collecting more than 630 ESG measures from each company's public disclosures. Other ESG assessors have their own rating systems, which means results can vary depending on which assessment method is being used. ESG advocates are now working on standardizing how these scores are calculated.
Several airline employees said it would benefit their company, their industry, and society in general if ESG scores and DEI programs were abolished.
One Southwest pilot with decades of experience said such measures create unnecessary complications with no positive effect on the airline's core mission.
"Why do we need DEI programs? Why do we need ESG? A lot of the public isn't even aware these things exist," he said. "The passengers just want people like me to get them, and their bags, to the same place at the same time, safely … DEI and ESG do nothing to support that—zero."
"I need these DEI programs and ESG scores to go out the back of the airplane like the jet fuel that we burn."
Non-Pilots Hiring Pilots
Southwest's annual report says it has been "evolving hiring and development practices to support diversity goals."
Those changes are troubling to the interviewed employees and to the pilots' union. In a letter to members last month, the Southwest Airlines Pilots Association pointed out that, for the first time in the company's 51-year history, a non-pilot is in charge of hiring pilots. The "system chief pilot" used to have that responsibility. "We are just a single step away" from hiring pilots based upon mere reviews of their resumes, association president Casey Murray wrote to union members. Southwest has about 9,600 pilots, the letter said.
Putting a non-pilot in charge of hiring pilots most likely will affect the quality of the pilots who are being hired, Southwest interviewees said. People who lack specific knowledge of this specialized job would have a hard time telling the difference between a good hire and a bad one, pilots said. One of the interviewed pilots said that the chief pilot told him: "The diversity department has a very strong voice in who gets hired."
Southwest wants to hire more than 2,000 pilots in the next year, the union's letter said, questioning whether those new hires will be required to meet Southwest's traditionally high standards. "Across the entire commercial aviation industry, employers are fighting for an ever-shrinking pool of qualified pilots," yet Southwest may be at a disadvantage to compete for those pilots. Contract negotiations with Southwest's pilots are lagging, compared to progress with other airlines' pilot unions, Murray said.
"Pilots are the fuel that powers Southwest Airlines, and right now Southwest's supply of fuel is running low. Time is growing critical, and options are becoming limited," Murray wrote.
Seeking the Best (Non-White) Pilots?
Current pilots also say they have learned that hiring decisions are being driven by a job candidate scoring system; they're unsure how long it has been in place, how it works, or whether it unfairly elevates minorities. The company controls all of that information.
Still, the employees feel confident in anecdotal evidence suggesting that the scoring system, coupled with other hiring practices, could be producing a pattern of discrimination against men, especially white men who come from military backgrounds—previously highly sought-after job candidates. "We could be wrong, but I don't think we are," said one pilot who has military experience.
That pilot said he thinks the vast majority of his colleagues have heard accounts of possible discrimination similar to the following:
When a well-qualified former military pilot applied for a job, Southwest never contacted him for an interview. But the applicant learned that a woman was hired as a pilot, despite having half as much experience in the airline industry.
Further, the man had experience as a captain while the woman had only been a first officer, who sits next to the captain in the cockpit. "It's a completely different world" when a person shifts into the captain's chair, said the pilot.
"We're leaving a lot of people behind who are better-qualified, just because they're the wrong color, or they're identified the wrong way. That's concerning. We're not putting the best up-front," he said. "We have people's lives in our hands. It's just like with doctors. If you go to a doctor, you want to go to the best doctor you can."
An American Airlines pilot with decades of experience said he was less troubled than some of the Southwest interviewees who worried about the effects of reduced standards as a result of the increased emphasis on diversity hiring. However, that pilot said he would become very concerned if standards are lowered "to the point where people aren't flying as confidently."
A second American Airlines pilot said he has observed that "training is not nearly as comprehensive as it used to be," he said. "But these people who are starting out are flying with people who are supremely qualified to be flying airplanes—so mistakes can be covered."
He thinks the reduced standards could eventually cause problems if the hyperfocus on diversity continues: "If you're looking for a diverse workforce and not a qualified workforce, you've got issues. … You haven't seen any accidents because of 'diversity,' but the potential is there."
All 11 people who were interviewed for this story, including Carter, the ex-flight attendant, said personal traits such as gender and race shouldn't be part of the equation at all.
"From the cockpit door forward, guys and gals of all ethnicities are after the same thing—and that's a safe flight," said one of the American Airlines pilots. "They don't care who sits next to them as long as they can do the job."
More Than Snack Servers
Most air passengers think of flight attendants as hospitality ambassadors who make them comfortable with beverages, snacks, blankets, and pillows. But their main purpose is to assist in the rare event of an in-flight emergency.
Six Southwest flight attendants, along with Carter, say they feel less able to perform crucial duties because of the climate in which they're now operating—and new hires appear to be less equipped to shoulder those responsibilities.
"They have just made it such a hostile work environment. Southwest has made it that way, and flight attendants are afraid to do their jobs," a flight attendant said. "But you're supposed to put a smile on your face and pretend that everything is grand."
The flight attendants describe feeling as though a backstabber is always ready to pounce, to report any action or statement that doesn't fit the corporate ideology. They're being held to strict conduct and uniform standards while "accommodations" are extended to people in protected classes, such as a minority woman who was allowed to wear a nose ring—which got a white female in trouble—and a male flight attendant who described himself as "nonbinary"—neither totally male nor totally female—being allowed to wear a skirt that appeared to be shorter than regulations allowed.
The nonbinary employee seemed to be using his position at the airline as a platform for LGBTQ activism and self-promotion, rather than focusing on benefiting the company or its customers, fellow flight attendants said. They shared screenshots of the nonbinary employee's social media posts. One is a selfie of the mustached man posing in his Southwest uniform, with the comment, "My dress looks better on me than most chicks."
That employee no longer works for Southwest, flight attendants said. Yet they said they were aware that a couple of employees faced disciplinary action for referring to the nonbinary employee as "he" in a members-only Facebook group for flight attendants.
Antics Embarrass Fellow Flight Attendants
One flight attendant perceives that the company is making skewed, unfair hiring decisions, and creating a level of absurdity that's hard to stomach. She knows of people who are related to Southwest employees and have college degrees—which go beyond the high-school education requirement for flight attendants—"and they don't get hired, and yet we have this guy, with a mustache, in a skirt, distracting us all because the company wants to fight over his pronouns."
Being a flight attendant used to be considered prestigious and classy; Southwest was viewed as "Mount Rushmore," a pinnacle for flight attendants, who felt proud just to be hired.
"Now the pride is not about the brand of Southwest Airlines," a flight attendant said. "It's about how different I can be as an employee of Southwest Airlines—like, 'Y'all need me more than I need you.'"
Public perception of the role has diminished, not just at Southwest, but across the industry. Airlines grant diversity-based exceptions to people who don't want to look or act professional, the flight attendants said.
It used to be unusual to see flight attendants behave in ways that brought embarrassment to their coworkers. Now, quite a few of the new hires who were prized for their diversity "are rather risqué," a flight attendant said. "They become very emboldened; they feel they can get away with this because they are in a protected class."
Still, Southwest has had to fire employees who pushed the envelope too far, including one minority flight attendant who solicited sex in a social media video and another who videoed herself twerking. In both instances, the videos, provided to the Epoch Times, show the employees in Southwest uniforms.
Such conduct disgusts the flight attendants, and their concern is more than superficial. "If we relax the appearance standards and we're letting people lower their professional standards, then they obviously are not equipped to handle any type of safety issue that can happen on that plane," a flight attendant said.
"Where do you draw the line and say enough is enough?"
Commitment, Skills Insufficient
One of the flight attendants who has been targeted for religious and political views said her commitment to her job boils down to this: "I will give my life for my passengers and my crew, if that's what I need to do. My last words will be, 'Let's roll,'" she said, referencing the famous words spoken by a passenger on one of the U.S. airplanes that were hijacked on Sept. 11, 2001.
She doesn't see that same level of grit from the new hires. "They don't have the same tough mentality," she said. Nor do they have the same work ethic, which might be attributable to differences between the younger and older generations.
The older flight attendant described being busy from the beginning to the end of each flight while many of the new hires tend to just serve one round of drink orders, "then they go back to the back (of the airplane) and sit down for the rest of the flight."
The new employees aren't demonstrating mastery of the skills they were supposed to have been taught, or willingness to perform them. A passenger was having a medical emergency but the flight attendant in charge of that section "wouldn't even come out of the galley to assist," said one flight attendant. Instead, she and a second colleague had to take care of the ailing passenger.
Such an incident stokes her worst fear: "Somebody's gonna die. With the lack of training that we're seeing in the new hires that are coming out … there's going to be somebody who's not trained, facing an emergency."
Read more here...
Tyler Durden
Thu, 08/11/2022 - 06:30
trump
pandemic
treatment
dna
spread
interest rates
Three Infrastructure Investments to Buy as War and Inflation Rage
Three infrastructure investments to buy as war and inflation rage offer ways to overcome ongoing economic risks in pursuit of precious profits. The three…
Three infrastructure investments to buy as war and inflation rage offer ways to overcome ongoing economic risks in pursuit of precious profits.
The three infrastructure investments to buy as war rains terror and destruction, inflation rampages and the Fed raises rates feature companies that appear well-positioned to succeed amid market mayhem. Stocks have advanced in the past couple of trading days, but the economic and geopolitical risks still leave many prognosticators warning that a new 2022 market bottom may yet lie ahead.
One of the three infrastructure investments to buy showcases a company whose unmanned drones have proven their value in Ukraine as the nation's outnumbered defenders recently have begun to push back a Russian invasion of more than 120,000 troops that began Feb. 26. Another company on the list of three infrastructure investments to buy includes a producer of solar panels that could help alleviate a war-related energy shortfall in Europe due to Russia cutting its supply of gas to nations opposing its attack of Ukraine.   
Three Infrastructure Investments to Buy Look to Evade Financial Fallout
"Stocks have been beset with no shortage of problems in recent weeks," wrote Mark Skousen, PhD, to subscribers of his weekly Home Run Trader advisory service. "The primary negative, of course, is that the Federal Reserve is determined to slow the economy, reduce demand, and thereby bring down inflation."
Mark Skousen, Forecasts & Strategies chief and Ben Franklin scion, meets Paul Dykewicz.
However, too much tightening, too fast, risks pushing the United States into a recession, continued Skousen, an economist who uses his analysis of inflation, interest rates and monetary policy in recommending stocks and options to buy. Economic statistics are showing a slowdown in the economy, if not a recession, he added.
"Even though real gross domestic product (GDP) is slightly negative, second-quarter gross output (GO) — which measures total spending in the economy — grew by 1.7% in real terms," Skousen stated. "GO includes the supply chain, which is still catching up from the lockdown-induced shortages."
Three Infrastructure Investments to Buy Face 'Super-Strong' Dollar
Additional concerns include a "super-strong dollar," sliding consumer confidence and a cooling residential real estate market, Skousen counseled.
Investors can consider an exchange-traded fund that offers broad exposure to companies providing automation infrastructure, said Bob Carlson, a pension fund manager who also leads the Retirement Watch investment newsletter.
Bob Carlson, investment guru of Retirement Watch, talks to Paul Dykewicz.
Carlson suggested Robo Global Robotics and Automation (ROBO), a fund that seeks to follow an index that is concentrated in robotics-related or automation-oriented companies. The fund had decent performance until 2022 when it plunged. The fund became caught in the downdraft that befell technology and industrial companies.
Both sectors have done poorly as interest rates rose in 2022, Carlson commented. The fund is down nearly 40% in 2022, while its three-year return is just shy of an annualized 6%.
The fund owns 81 stocks and has 17% of the fund in the 10 largest positions. ROBO's top holdings recently consisted of Cognex (NASDAQ: CGNX), Intuitive Surgical (NASDAQ: ISRG) and IPG Photonics (NASDAQ: IPGP).
Chart courtesy of www.stockcharts.com
Three Infrastructure Investments to Buy Buoyed by Unmanned Drone Stock
"Additive manufacturing technologies are at an inflection point in their ability to solve challenges faced by manufacturing companies, particularly with recent labor shortages and supply chain disruptions," according to Chicago-based investment firm William Blair & Co. "Historically, additive manufacturing applications have been limited by productivity capabilities and lack of industrial strength materials."
Executives of AeroVironment, Inc., (NASDAQ: AVAV), an Arlington, Virginia-based maker of unmanned drones and other multi-domain robotic systems, recently gave a presentation to William Blair analysts about how software from its Plank and Progeny acquisitions provided a key competitive advantage. Indeed, the success of AeroVironment's "kamikaze drones" in Ukraine may extend into Asia.
AeroVironment officials compared the Ukraine War-related Switchblade media coverage to "100 SuperBowl ads worth of press." Before the war, AeroVironment was not even authorized to export the Switchblade.
"It was used in the Middle East for over a decade, but it was viewed as a niche offering," William Blair analysts wrote. "Ukraine is providing a testing ground that proves the Switchblade 300 is incredibly valuable. Now it has U.S. State Department permission to sell to more than 20 countries. In mid-September, it was reported that Japan is evaluating purchasing several hundred kamikaze drones and is evaluating AeroVironment's Switchblade."
A recent Switchblade 600 contract for Ukraine valued at $2.2 million may be a tipping point. On Sept. 15, almost six months after an initial report that a contract was in the works, it came to fruition.
While Javelin, Stinger and TOW traditional missile systems have a three-mile maximum range, the Switchblade 600 has a 20-mile top range with similar effects. The Switchblade 600 has the same size warhead and can be launched without a visual lock on the target, William Blair analysts wrote in a recent research note.
AeroVironment Stands out Among Three Infrastructure Investments to Buy
William Blair rated AeroVironment to "outperform" the market and indicated it appears to be the favorite to win the Army $1 billion/10-year FTUAS program, but an executive at the robotics company estimated that the U.S. Navy addressable market may be larger than the potential market for the Army. Software from Planck, acquired by AeroVironment, enables the JUMP-20 military battlefield drone to perform vision-based autonomous landings onto moving platforms, such as maritime vessels.
The JUMP-20 is a vertical takeoff and landing (VTOL), fixed-wing unmanned aircraft used to provide advanced multi-sensor intelligence, surveillance and reconnaissance (ISR) services. AeroVironment's systems "flourished" during Navy IMX 2022 exercises earlier this year, according to William Blair. 
Regarded as the largest unmanned exercises in the world, IMX 2022 showed how AeroVironment's LEAP software received feeds from manned aircraft, unmanned aircraft, manned vessels and unmanned vessels. At IMX 2022, AeroVironment's LEAP software was not supposed to be the hub, but when other software "was not executing." AeroVironment's LEAP software assumed the hub role on an ad hoc basis.
"We expect AeroVironment's success at IMX 2022 to lead to contracts for its JUMP-20, Puma and Switchblade aircraft down the road," the William Blair analysts wrote.
Chart courtesy of www.stockcharts.com
Three Infrastructure Investments to Buy Include Standex International 
Standex International Corporation (NYSE: SXI), a multinational manufacturer of food service equipment, engravings, engineering technologies, electronics and hydraulics headquartered in Salem, New Hampshire, has many growth paths ahead of it. Rated by William Blair to "outperform" the market, Standex International could materially accelerate organic growth to 10% or more during the next two to three years, excluding its commercial solar panel production volumes for an innovative Gr3n joint venture with Italy's Enel (OTCMKTS: ENLAY).
That partnership with a multinational manufacturer and distributor of electricity and gas has gained importance due to the suspected sabotage of both under water pipelines of the Nord Stream 1 from Russia to Western Europe, along with one line of Nord Stream 2. Seismologists in Denmark and Sweden suggest that sizeable explosions on the order of 100 kilograms of TNT occurred in both incidents.
With Russia's President Vladimir Putin facing unexpected battlefield setbacks more than six months after he ordered a Feb. 26 invasion of neighboring Ukraine that the former KGB agent euphemistically called a "special military operation," the pipeline sabotage seems targeted to hurt European nations as winter nears. Since Putin ordered troops into Ukraine in February, Russia has cut supplies of natural gas to Europe to heat homes, generate electricity and fuel factories.
European Leaders Complain of 'Energy Blackmail' by Putin
European leaders have accused Putin of using "energy blackmail" to weaken their support for Ukraine as the country seeks to repel Russia's aggression.
Without presenting any evidence, Russian officials are attempting to blame the United States for the apparent sabotage, even though the affected nations are among America's closest allies. President Biden countered the accusations were the latest in a continuing Russian campaign of "disinformation and lies."
Biden also described the explosions of the Nordstream pipelines as acts of "sabotage" and discussed sending divers to examine the pipelines to find evidence that could be brought to light. Russia's audacious move to "annex" Ukrainian territory in a Putin-led ceremony last Friday, Sept. 30, was declared illegal by Ukraine, the United Nations, the United States and many other Western allies who said it violated Ukrainian and international law.
Solar Panel Design Aids One of Three Infrastructure Investments to Buy
Standex further plans to benefit from significantly higher research and development (R&D) investments for new product development to "materially increase organic sales growth," William Blair opined. New product launches are expected across all five of Standex's businesses in fiscal 2023, including high growth end-markets such as renewable energy, electric vehicles, human health, commercialization of space and sustainable products.
Standex's Gr3n joint venture could attain full commercialization by mid-decade, potentially becoming Standex's sixth business segment. The result could boost Standex's "organic sales growth" to the low teens in the next three to five years, the William Blair analysts wrote.
The joint venture has developed and tested a prototype for a highly innovative, extremely efficient and 100% recyclable new solar panel design that is 30-35% more efficient and weighs 38% less than traditional glass solar panels. With interest in solar panels rising as the European Union (EU) scrambles to replace the 40% of its energy previously sourced from Russia, Standex is expanding electronics' production capacity in Germany, China and India, the investment firm reported. 
"If the new recyclable, highly efficient solar panel can be cost-effectively produced, it could become the largest new product in Standex's history," according to the William Blair analysts.
Chart courtesy of www.stockcharts.com
U.S. CDC Halts Its Country-by-Country Travel Notices
The U.S. Centers for Disease Control and Prevention (CDC) dropped its country-by-country COVID-19 travel health notices on Monday, Oct. 3. Those warnings began early in the pandemic as COVID-19 cases and deaths climbed.
COVID risks affect supply and demand for infrastructure stocks, but not as much as cyclical companies whose share prices can soar when economic conditions are favorable but fall fast when inflation, a potential recession and Fed interest rate hikes imperil stock prospects. Savvy investors monitor COVID-19 outbreaks and lockdowns to forecast how certain stocks and sectors, such as infrastructure, are affected.
Another encouraging sign occurred when Canada announced on Sept. 26 that it would remove all remaining COVID-19 entry restrictions, such as testing, quarantine and isolation requirements. That development could boost trade and tourism between that country and the United States.
China's strict zero-tolerance COVID policy continues to be controversial and recently sparked a rare protest in its technology hub of Shenzhen, social media video showed. The dissent came after government officials ordered a sudden lockdown due to 10 new infections on Sept. 27 in the city of more than 18 million people. Officials ordered residents in three districts there to stay home.
China has locked down more than 70 cities fully or partially to preserve its zero-tolerance policy of COVID. However, 27 people were killed and 20 more were injured when a quarantine bus overturned on a mountain road on Sept. 20.
U.S. COVID-19 deaths ticked up by nearly 4,000, up about 1,000 compared to roughly 3,000 the previous week. Cases in the country totaled 96,481,081, as of early Oct. 5, while deaths jumped to 1,060,408, according to Johns Hopkins University. America stands out dubiously as the nation with the most COVID-19 deaths and cases.
Worldwide COVID-19 deaths in the past week rose by more than 11,000, up about 2,000 from the prior week. The number of deaths totaled 6,550,203, as of Oct. 5, according to Johns Hopkins. Global COVID-19 cases reached 619,211,562.
Roughly 79.5% of the U.S. population, or 264,112,767, have received at least one dose of a COVID-19 vaccine, as of Oct. 5, the CDC reported. Fully vaccinated people total 225,284,115, or 67.9%, of the U.S. population, according to the CDC. The United States also has given at least one COVID-19 booster vaccine to almost 110 million people.
The three infrastructure investments to buy can be repurchased at reduced prices after a rough 2022 market wide. Despite high inflation, Russia's continuing war in Ukraine and recession risk after 0.75% rate hikes by the Fed in June, July and Sept. 21, the three infrastructure investments to buy offer some insulation compared to cyclical stocks with government budgets less economically sensitive than the private sector. 
Paul Dykewicz, www.pauldykewicz.com, is an accomplished, award-winning journalist who has written for Dow Jones, the Wall Street Journal, Investor's Business Daily, USA Today, the Journal of Commerce, Seeking Alpha, Guru Focus and other publications and websites. Paul, who can be followed on Twitter @PaulDykewicz, is the editor of                                  StockInvestor.com and DividendInvestor.com, a writer for both websites and a columnist. He further is editorial director of Eagle Financial Publications in Washington, D.C., where he edits monthly investment newsletters, time-sensitive trading alerts, free e-letters and other investment reports. Paul previously served as business editor of Baltimore's Daily Record newspaper. Paul also is the author of an inspirational book, "Holy Smokes! Golden Guidance from Notre Dame's Championship Chaplain," with a foreword by former national championship-winning football coach Lou Holtz. The book is great as a gift and is endorsed by Joe Montana, Joe Theismann, Ara Parseghian, "Rocket" Ismail, Reggie Brooks, Dick Vitale and many others. Call 202-677-4457 for multiple-book pricing.
The post Three Infrastructure Investments to Buy as War and Inflation Rage appeared first on Stock Investor.
recession
pandemic
covid-19
dow jones
nasdaq
stocks
monetary policy
fed
federal reserve
real estate
cdc
disease control
army
vaccine
testing
deaths
quarantine
lockdown
recession
gdp
interest rates
india
japan
canada
european
europe
italy
germany
sweden
russia
ukraine
eu
china
Plunging pound and crumbling confidence: How the new UK government stumbled into a political and financial crisis of its own making
Liz Truss took over as prime minister with an ambitious plan to cut taxes by the most since 1972 – investors balked after it wasn't clear how she would…
The new British government is off to a very rocky start – after stumbling through an economic and financial crisis of its own making.
Just a few weeks into its term on Sept. 23, 2022, Prime Minister Liz Truss' government released a so-called mini-budget that proposed £161 billion – about US$184 billion at today's rate – in new spending and the biggest tax cuts in half a century, with the benefits mainly going to Britain's top earners. The aim was to jump-start growth in an economy on the verge of recession, but the government didn't indicate how it would pay for it – or provide evidence that the spending and tax cuts would actually work.
Financial markets reacted badly, prompting interest rates to soar and the pound to plunge to the lowest level against the dollar since 1985. The Bank of England was forced to gobble up government bonds to avoid a financial crisis.
After days of defending the plan, the government did a U-turn of sorts on Oct. 3 by scrapping the most controversial component of the budget – elimination of its top 45% tax rate on high earners. This calmed markets, leading to a rally in the pound and government bonds.
As a finance professor who tracks markets closely, I believe at the heart of this mini-crisis over the mini-budget was a lack of confidence – and now a lack of credibility.
A looming recession
Truss' government inherited a troubled economy.
Growth has been sluggish, with the latest quarterly figure at 0.2%. The Bank of England predicts the U.K. will soon enter a recession that could last until 2024. The latest data on U.K. manufacturing shows the sector is contracting.
Consumer confidence is at its lowest level ever as soaring inflation – currently at an annualized pace of 9.9% – drives up the cost of living, especially for food and fuel. At the same time, real, inflation-adjusted wages are falling by a record amount, or around 3%.
It's important to note that many countries in the world, including the U.S. and in mainland Europe, are experiencing the same problems of low growth and high inflation. But rumblings in the background in the U.K. are also other weaknesses.
Since the financial crisis of 2008, the U.K. has suffered from lower productivity compared with other major economies. Business investment plateaued after Brexit in 2016 – when a slim majority of voters chose to leave the European Union – and remains significantly below pre-COVID-19 levels. And the U.K. also consistently runs a balance of payments deficit, which means the country imports a lot more goods and services than it exports, with a trade deficit of over 5% of gross domestic product.
In other words, investors were already predisposed to view the long-term trajectory of the U.K. economy and the British pound in a negative light.
An ambitious agenda
Truss, who became prime minister on Sept. 6, 2022, also didn't have a strong start politically.
The government of Boris Johnson lost the confidence of his party and the electorate after a series of scandals, including accusations he mishandled sexual abuse allegations and revelations about parties being held in government offices while the country was in lockdown.
Truss was not the preferred candidate of lawmakers in her own Conservative Party, who had the task of submitting two choices for the wider party membership to vote on. The rest of the party – dues-paying members of the general public – chose Truss. The lack of support from Conservative members of Parliament meant she wasn't in a position of strength coming into the job.
Nonetheless, the new cabinet had an ambitious agenda of cutting taxes and deregulating energy and business.
Some of the decisions, laid out in the mini-budget, were expected, such as subsidies limiting higher energy prices, reversing an increase in social security taxes and a planned increase in the corporate tax rate.
But others, notably a plan to abolish the 45% tax rate on incomes over £150,000, were not anticipated by markets. Since there were no explicit spending cuts cited, funding for the £161 billion package was expected to come from selling more debt. There was also the threat that this would be paid for, in part, by lower welfare payments at a time when poorer Britons are suffering from the soaring cost of living. The fear of welfare cuts is putting more pressure on the Truss government.
A collapse in confidence
Even as the new U.K. Chancellor of the Exchequer Kwasi Kwarteng was presenting the mini-budget on Sept. 23, the British pound was already getting hammered. It sank from $1.13 the day before the proposal to as low as $1.03 in intraday trading on Sept. 26. Yields on 10-year government bonds, known as gilts, jumped from about 3.5% to 4.5% – the highest level since 2008 – in the same period.
The jump in rates prompted mortgage lenders to suspend deals with new customers, eventually offering them again at significantly higher borrowing costs. There were fears that this would lead to a crash in the housing market.
In addition, the drop in gilt prices led to a crisis in pension funds, putting them at risk of insolvency.
Many members of Truss' party voiced opposition to the high levels of borrowing likely necessary to finance the tax cuts and spending and said they would vote against the package.
The International Monetary Fund, which bailed out the U.K. in 1976, even offered its figurative two cents on the tax cuts, urging the government to "reevaluate" the plan. The comments further spooked investors.
To prevent a broader crisis in financial markets, the Bank of England stepped in and pledged to purchase up to £65 billion in government bonds.
Besides causing investors to lose faith, the crisis also severely dented the public's confidence in the U.K. government. The latest polls showed the opposition Labour Party enjoying a 24-point lead, on average, over the Conservatives.
So the government likely had little choice but to reverse course and drop the most controversial part of the plan, the abolition of the 45% tax rate. The pound recovered its losses. The recovery in gilts was more modest, with bonds still trading at elevated levels.
Putting this all together, less than a month into the job, Truss has lost confidence – and credibility – with international investors, voters and her own party. And all this over a "mini-budget" – the full budget isn't due until November 2022. It suggests the U.K.'s troubles are far from over, a view echoed by credit rating agencies.
David McMillan does not work for, consult, own shares in or receive funding from any company or organisation that would benefit from this article, and has disclosed no relevant affiliations beyond their academic appointment.
recession
covid-19
subsidies
bonds
government bonds
housing market
pound
lockdown
recession
recovery
interest rates
european
europe
uk
What's next for ancient DNA studies after Nobel Prize honors groundbreaking field of paleogenomics
Thousands of ancient genomes have been sequenced to date. A Nobel Prize highlights tremendous opportunities for aDNA, as well as challenges related to…
For the first time, a Nobel Prize recognized the field of anthropology, the study of humanity. Svante Pääbo, a pioneer in the study of ancient DNA, or aDNA, was awarded the 2022 prize in physiology or medicine for his breathtaking achievements sequencing DNA extracted from ancient skeletal remains and reconstructing early humans' genomes – that is, all the genetic information contained in one organism.
His accomplishment was once only the stuff of Jurassic Park-style science fiction. But Pääbo and many colleagues, working in large multidisciplinary teams, pieced together the genomes of our distant cousins, the famous Neanderthals and the more elusive Denisovans, whose existence was not even known until their DNA was sequenced from a tiny pinky bone of a child buried in a cave in Siberia. Thanks to interbreeding with and among these early humans, their genetic traces live on in many of us today, shaping our bodies and our disease vulnerabilities – for example, to COVID-19.
The world has learned a startling amount about our human origins in the last dozen years since Pääbo and teammates' groundbreaking discoveries. And the field of paleogenomics has rapidly expanded. Scientists have now sequenced mammoths that lived a million years ago. Ancient DNA has addressed questions ranging from the origins of the first Americans to the domestication of horses and dogs, the spread of livestock herding and our bodies' adaptations – or lack thereof – to drinking milk. Ancient DNA can even shed light on social questions of marriage, kinship and mobility. Researchers can now sequence DNA not only from the remains of ancient humans, animals and plants, but even from their traces left in cave dirt.
Alongside this growth in research, people have been grappling with concerns about the speed with which skeletal collections around the world have been sampled for aDNA, leading to broader conversations about how research should be done. Who should conduct it? Who may benefit from or be harmed by it, and who gives consent? And how can the field become more equitable? As an archaeologist who partners with geneticists to study ancient African history, I see both challenges and opportunities ahead.
Building a better discipline
One positive sign: Interdisciplinary researchers are working to establish basic common guidelines for research design and conduct.
In North America, scholars have worked to address inequities by designing programs that train future generations of Indigenous geneticists. These are now expanding to other historically underrepresented communities in the world. In museums, best practices for sampling are being put into place. They aim to minimize destruction to ancestral remains, while gleaning the most new information possible.
But there is a long way to go to develop and enforce community consultation, ethical sampling and data sharing policies, especially in more resource-constrained parts of the world. The divide between the developing world and rich industrialized nations is especially stark when looking at where ancient DNA labs, funding and research publications are concentrated. It leaves fewer opportunities for scholars from parts of Asia, Africa and the Americas to be trained in the field and lead research.
The field faces structural challenges, such as the relative lack of funding for archaeology and cultural heritage protection in lower income countries, worsened by a long history of extractive research practices and looming climate change and site destruction. These issues strengthen the regional bias in paleogenomics, which helps explain why some parts of the world – such as Europe – are so well-studied, while Africa – the cradle of humankind and the most genetically diverse continent – is relatively understudied, with shortfalls in archaeology, genomics and ancient DNA.
Making public education a priority
How paleogenomic findings are interpreted and communicated to the public raises other concerns. Consumers are regularly bombarded with advertisements for personal ancestry testing, implying that genetics and identity are synonymous. But lived experiences and decades of scholarship show that biological ancestry and socially defined identities do not map so easily onto one another.
I'd argue that scholars studying aDNA have a responsibility to work with educational institutions, like schools and museums, to communicate the meaning of their research to the public. This is particularly important because people with political agendas – even elected officials – try to manipulate findings.
For example, white supremacists have erroneously equated lactose tolerance with whiteness. It's a falsehood that would be laughable to many livestock herders from Africa, one of the multiple centers of origin for genetic traits enabling people to digest milk.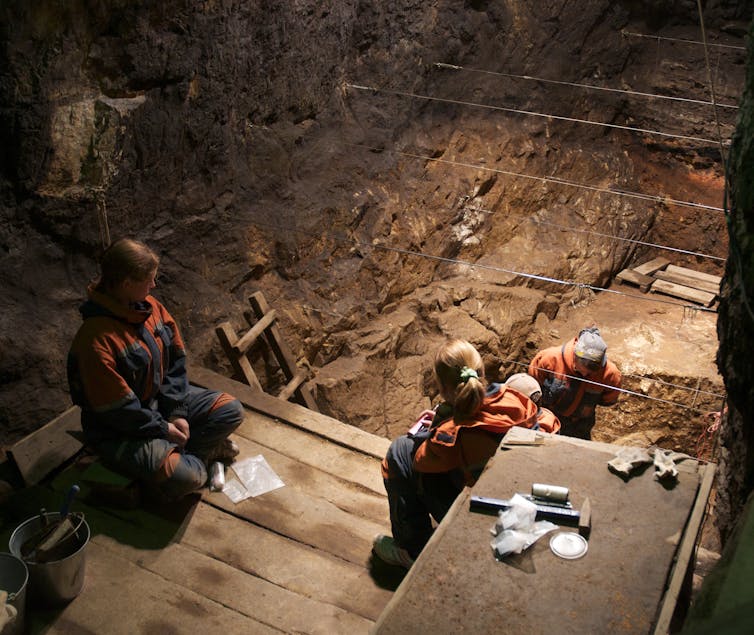 Leaning in at the interdisciplinary table
Finally, there's a discussion to be had about how specialists in different disciplines should work together.
Ancient DNA research has grown rapidly, sometimes without sufficient conversations happening beyond the genetics labs. This oversight has provoked a backlash from archaeologists, anthropologists, historians and linguists. Their disciplines have generated decades or even centuries of research that shape ancient DNA interpretations, and their labor makes paleogenomic studies possible.
As an archaeologist, I see the aDNA "revolution" as usefully disrupting our practice. It prompts the archaeological community to reevaluate where ancestral skeletal collections come from and should rest. It challenges us to publish archaeological data that is sometimes only revealed for the first time in the supplements of paleogenomics papers. It urges us to grab a seat at the table and help drive projects from their inception. We can design research grounded in archaeological knowledge, and may have longer-term and stronger ties to museums and to local communities, whose partnership is key to doing research right.
If archaeologists embrace this moment that Pääbo's Nobel Prize is spotlighting, and lean in to the sea changes rocking our field, it can change for the better.
Mary Prendergast does not work for, consult, own shares in or receive funding from any company or organisation that would benefit from this article, and has disclosed no relevant affiliations beyond their academic appointment.
testing
genetic
dna
covid-19
spread
africa
europe