With inflation and volatility looking locked in for 2021 these 5 stocks could help see you through
Just as it seemed we were almost out of the coronavirus woods a new…
The post With inflation and volatility looking locked in for 2021 these 5 stocks could help see you through first appeared on Trading and Investment News.
Just as it seemed we were almost out of the coronavirus woods a new variant has thrown a spanner in the works and is disrupting life and the economy all over again. It remains to be seen just how long term the impact of the Omicron strain proves to be. While all the early data suggests it is the most contagious yet and renders vaccines less effective than was hoped there is also a more positive spin. Early data also suggests the illness the new variant causes may be less severe.
But whatever way it goes, many of us who were optimistic earlier this year Covid-19 may soon be more or less consigned to the past in terms of its impact on day-to-day life have started to lose that optimism. At least to some extent. Who would now bet against another new variant or two appearing on the scene next year? Hopefully, new variants will continue to become less lethal as the virus attempts to evolve to survive vaccinations. But there are no guarantees.
So who would, right now, bet against another volatile year for stock markets ahead in 2022? I'm not sure I would. This means stiffening my portfolio a little more defensively with stocks I judge to be well-positioned to best weather periods of volatility that may lie ahead.
Like many economists, I was also hopeful that the 2021 surge in inflation would prove short-lived. A relatively fleeting reaction to supply chains being disrupted by the pandemic before supply rose again to balance out the leap in pent-up demand after lockdowns.
I'm now far less confident. There are a number of arguments growing in strength that higher rates of inflation may well be with us for some time.
Why higher inflation now looks bedded in
Early this year, in February to be precise, the Bank of England forecast that while inflation was expected to rise gradually throughout the year it would hold at just below 2%. And in 2022 would probably creep above that threshold but not for long. Since that spectacularly inaccurate prediction, the BoE has raised its inflation rate forecast with each new monetary policy report published this year.
The central bank most recently officially forecast inflation will peak at around 5% in April next year. That's more than double what it saw as the likely peak 10 months ago. But the Bank's deputy governor Ben Broadbent recently said he expects inflation to "comfortably exceed" that 5% figure by next spring. And at this point, who knows how much that might be upwardly revised again by February 2022?
Even if the Bank of England holds off on rate rises again this month it will almost certainly have to start hiking them from some point early next year to keep some kind of a lid on inflation. Barring new unforeseen circumstances, we can probably expect steady rises for the next several years.
The same pattern is expected to play out at the European Central Bank and the Fed will probably have to raise rates by more than we do here in the UK and in Europe.
Most markets and economic observers, myself included, underestimated the potential for inflation after a decade of sluggish economic growth following the financial crisis. The extent of supply chain disruption combined with post-lockdowns consumer demand has also caught many by surprise. The worst supply chain disruptions were expected to be over by this summer.
Unemployment levels in the UK and other developed economies could well hit record lows next year if the economy operates free of lockdowns and restrictions. That would fuel more growth and inflation.
But if Covid-19 continues to intermittently rear its head, or there are major geo-political events such as the conflict in Ukraine with Russia flaring up again, potentially at a level not seen in Europe since the Second World War or, we can expect growth to be interrupted with volatility.
Hopefully, the reality turns out to be everything goes far more smoothly than negative scenarios suggest it could. But investing is about hedging against risks as well as bravely grasping opportunity. And if everything does pan out better than expected, inflation will almost certainly hit concerning levels.
With that in mind, I think these five stocks are worth considering as hedges against inflation and volatility:
Assura
The FTSE 250 constituent you've probably never heard of, £2 billion-valued Assura is a slow, steady real estate company that develops and rents out GP surgeries around the UK. This is about as far as it gets from an exciting growth stock but Assura's 625 properties, which serve 6 million NHS patients, bring in £1.6 billion a year, 82% of which is indirectly paid by the NHS via tenants. With a valuation only 20% higher than annual revenues after a 10.5% slide in 2021, Assura represents good value. Especially in the context of a steadily growing dividend expected to produce a 4.3% yield this year.
Bunzl
Distribution conglomerate Bunzl sells companies supplies from disposable coffee cups to cleaning and hygiene products and first-aid kits. The company essentially aims to sell companies everything they need at a cheaper price than they would be able to source themselves. It's a low margin business model that relies on scale but works. Revenue growth is slow and steady rather than spectacular and has traditionally been a reliable low single-digit number year after year.
It's been a good year for Bunzl investors with the share price up 17% in 2021 with own-brand, higher-margin hygiene products driving higher sales volume. That jump in growth isn't expected to continue with low single digits expected again over the next few years. But the company has proven itself as a good hedge against inflation having managed to pass on higher expenses like increased freight costs by increasing prices.
RIT Capital Partners
Another FTSE 250 firm, RIT Capital Partners is an investment trust with an investment strategy that aims to preserve capital value while providing long term growth. Formerly known as the Rothschild Investment Trust, RIT was established in 1961 and has gained 32% in 2021. Despite those major gains RIT still trades at a slight discount to NAV.
The trust invests in a broad mix of asset classes from bonds and property to global equities and private equity. RIT tends to outperform when markets are going through a rough patch but can undershoot markets when skies are clear. Fees of 1.55% per year are a drawback but could be worth it if 2022 proves to be a volatile year.
Nestle
No matter how bad things get we still drink instant coffee and eat Kitkats. Or, at least, enough of us do to keep Nestle going strong.
Nestle's brand strength has allowed it to pass on higher costs over the past year to customers and while it's certainly not a value stock with shares currently trading at 26 times forward earnings, it's also roughly the range held for the five years ahead of the pandemic.
Organic revenue growth guidance for 2021 has been upped twice throughout the year and is currently expected to come in at 6% to 7%, which is better than consumer goods rivals such as Unilever. Nestle has also generated returns of around 50% over the past three years compared to a flat performance for Unilever over the same period.
Nestle's strength is its growth in emerging markets and that's expected to continue to be the driver of returns over the next few years.
Segro
As a warehouses landlord, Segro has hugely benefitted from the boom on e-commerce over the past couple of years.
Despite its share price gaining almost 45% so far in 2021 Segro still looks reasonable value with its market capitalisation only 50% up on its level ahead of the March 2020 market crash as the pandemic began. It managed to increase average rents, new and renewed, by 13% between July and October this year and has a vacancy rate of just 3.2%. The loan-to-value ration also stands at a healthy 23%.
Segro is now the most valuable property company listed on the London Stock Exchange, with warehouses proving more valuable assets than more glamorous categories of commercial property. That doesn't look like a trend under any immediate threat and Segro is well-positioned to take advantage over coming years.
The post
With inflation and volatility looking locked in for 2021 these 5 stocks could help see you through
first appeared on
Trading and Investment News
.
unemployment
pandemic
coronavirus
covid-19
economic growth
bonds
ftse
emerging markets
equities
stocks
monetary policy
fed
real estate
governor
unemployment
stock markets
european
europe
uk
russia
ukraine
Six Commodities Investments to Buy as Putin Wages War on Ukraine
Six commodities investments to buy amid the sustained attack of Ukraine by Russia's President Vladimir Putin and rising inflation provide potential to…
Six commodities investments to buy amid the sustained attack of Ukraine by Russia's President Vladimir Putin and rising inflation provide potential to profit even as the market has been pulling back so far in 2022.
The six commodities investments to buy include those involved in oil, gold and grain due to current supply shortages that are showing no signs of abating anytime soon. Putin's order for Russian troops to invade Ukraine on Feb. 24 has disrupted the neighboring nation's agricultural production, led to the theft of grain and imposed an ongoing blockade in the Black Sea to stop farmers from exporting their crops.
Crude oil inventories are down to a "dangerously low point" across Europe, North America and Organisation for Economic Co-operation and Development (OECD) Asia, just as spare production capacity from OPEC+ nations slid to the lowest levels since April 2020, according to BofA Global Research. Inventories of petroleum products also have fallen to "precarious levels" for middle distillates and even gasoline as the market heads into the peak of the U.S. summer driving season, the investment firm added.
As a result, refined petroleum cracks — the differences between crude oil and the prices of the wholesale petroleum products such as gasoline — recently have "spiked to record levels," contributing to volatility, BofA wrote. In addition, strategic oil barrels held by OECD governments already are low and likely to decline steeply going forward, leaving consumers exposed to future negative supply shocks, BofA predicted.
Pension Fund Chairman Recommends Broad Commodity Funds
Bob Carlson, a pension fund chairman who also leads the Retirement Watch investment newsletter, recommended Cohen & Steers MLP & Energy Opportunity Fund (MLOAX) to all the portfolios in his June 2022 issue. 
Oil and natural gas should be good investments as Europe looks to reduce dependence on Russian exports, Carlson told me. Plus, energy producers in the United States are focused on increasing cash flow and earnings, not maximizing drilling expenses in the short run to increase output, he added.
Bob Carlson, who leads Retirement Watch, meets with Paul Dykewicz.
Good investment opportunities can be found with companies that provide the pipelines, storage facilities and other infrastructure needed to supply the world with oil, natural gas and other energy sources, Carlson continued. 
"One of the attractive qualities of these investments is that their revenues are independent of the prices of the commodities," Carlson counseled. "The firms charge fees for their services, and the fees often are adjusted for inflation. Their revenues and earnings depend on the volume of commodities passing through their facilities, not the price of the commodity."
Key energy service companies provide total returns, aided by current income and price appreciation, through investments in energy-related master limited partnerships (MLPs) and securities of industry companies, Carlson pointed out. Those businesses are expected to derive at least 50% of their revenues or operating income from exploration, production, gathering, transportation, processing, storage, refining, distribution or marketing of natural gas, crude oil and other energy resources.
Chart courtesy of www.stockcharts.com
Cohen & Steers Fund Leads List of Six Commodities Investments to Buy
Cohen & Steers MLP & Energy Opportunity Fund recently held 53 positions and had 50% of its portfolio in the 10 largest positions. Top holdings of the fund included Enbridge (NYSE: ENB), Cheniere Energy (NYSEAMERICAN: LNG), Williams Companies (NYSE: WMB), TC Energy (NYSE: TRP) and Energy Transfer (NYSE: ET).
The fund has achieved strong returns since April 2020. Indeed, it has been on an upward trajectory since the second half of December 2021.
"Crucially, oil prices have held up well even in the face of a slowing Chinese economy and widespread lockdowns," according to BofA. "Given that most China indicators point to a major decline in mobility across the country, any improvement in the COVID-19 situation in large Chinese cities could send oil prices much higher."
Carlson's Chooses DBA to Join Six Commodities Investments to Buy
Despite the evils of war, investors still can profit from the rise in grain prices and other commodities through the futures markets, even as many other equities slip. Instead of buying futures directly, investors can purchase diversified agriculture commodities through Invesco DB Agriculture Fund (DBA), Carlson said.
That ETF seeks to track changes in the DBIQ Diversified Agriculture Index Excess Return. The ETF also earns interest income from cash it invests primarily in treasury securities, while holding them as collateral for the futures contracts.
The major holdings in the index are soybeans, wheat, corn, coffee and live cattle. The index is reconstituted each November.
Chart courtesy of www.stockcharts.com
Gold Funds Featured Among Six Commodities Investments to Buy
Carlson also is recommending gold through iShares Gold Trust (IAU). He described it as the "cheapest, most liquid way" to invest in the shiny yellow metal.
Gold has had its ups and downs in the face of rising global inflation, Russia's invasion of Ukraine, China's increasing military flyovers of nearby Asian nations and other geopolitical conflicts. At the same time, the U.S. dollar has been appreciating amid high inflation after the Fed recently raised interest rates by 0.5% and promised additional increases later in 2022.
However, there are many risks for the U.S. dollar, so continuing to hold gold remains a good hedge, Carlson counseled.
IAU has retreated since early March, so investors seeking to buy it now that it is rebounding still may do so. Those who believe inflation may stay through 2022 can try to capture gains before the trend no longer is a friend.
Chart courtesy of www.stockcharts.com
Skousen Calls GLD One of the Six Commodities Investments to Buy
"Gold has done far better than stocks, which are down 15-25% this year," said Mark Skousen, who is recommending SPDR Gold Shares (NYSE Arca: GLD) in his Forecasts & Strategies investment newsletter. 
Mark Skousen, head of Forecasts & Strategies, meets with Paul Dykewicz.
GLD has risen nearly 16% since Skousen recommended it about two years ago. Gold climbed 2021 in anticipation of rising inflation, but its performance has been flat so far this year. If gold truly is an indicator of inflation, the previous yellow metal's stagnant price may be signaling that price inflation will wane heading into 2023.
The investment objective is for the GLD shares to reflect the performance of the price of gold bullion, after subtracting the trust's expenses. The trust, formed on November 12, 2004, physically holds gold bars.
The trust's shares are designed for investors who want a cost-effective and convenient way to invest in gold, according to the company's prospectus. Skousen, who also leads the Five Star Trader, Home Run Trader, TNT Trader and Fast Money Alert services, recently was a featured speaker at the Vancouver Resource Investment Conference and advised attendees that he recommended gold as a minor holding in every portfolio.
Chart courtesy of www.stockcharts.com
EPD Is Another of the Six Commodities Investments to Buy
Oil has done much better as an inflation hedge than gold, Skousen said. One example is his recommendation of Enterprise Products Partners (EPD, $27, 7% yield), up 27% year to date.
EPD has been the "best performer" in the Forecasts & Strategies investment newsletter so far this year, Skousen said. Enterprise Products Partners is one of the largest publicly traded partnerships and a key North American provider of midstream energy services to producers and consumers of natural gas, natural gas liquids (NGLs), crude oil, refined products and petrochemicals. 
The company's services include natural gas gathering, treating, processing, transportation and storage. In addition, Enterprise Products Partners provides NGL transportation, fractionation, storage and import and export terminals. It further offers crude oil gathering, transportation, storage and terminals, along with petrochemical and refined products transportation, storage and terminals, as well as a marine transportation business.
I personally have owned Enterprise Products Partners since shortly after the 2020 stock market crash when I bought the stock as it started to recover. The stock has been trending upward since the end of 2021.
Chart courtesy of www.stockcharts.com
Money Manager Picks One of Six Commodities Investments to Buy
A seasoned investment professional told me that she likes farm machinery company Deere (NYSE: DE) to profit from agriculture. Michelle Connell, a former portfolio manager who now serves as president of Dallas-based Portia Capital Management, said she still likes Deere despite its 14% drop after it reported results last week.
Michelle Connell, CEO, Portia Capital Management
Deere's key issues are supply-related, since demand for agricultural equipment remains strong, especially for the company's machinery that is more environmentally friendly than its rivals, Connell continued.
Deere is also focused on providing the farming industry with autonomous equipment, Connell counseled. Wall Street analysts expect Deere to have a better story and performance in the second half of 2022 and in full-year 2023.
Connell cited the following to support her recommendation of Deere: 
-More than half its revenues come from large agriculture.
-If the war in Ukraine continues, U.S. farmers will benefit from higher prices for their crops.
-Increased agricultural profits mean that that farmers and farming corporations will be more likely to buy large, expensive farm equipment.  
Deere has fallen back since its recent high on April 20, so investors should be able to purchase shares at reduced prices, Connell continued.
Chart courtesy of www.stockcharts.com
Supply Chains May Improve as China Starts to Lower COVID Curbs
China is easing its COVID-19 restrictions and it could allow goods produced there to start flowing normally again in the coming weeks. China's lockdowns have affected an estimated 373 million people, including roughly 40% of its gross domestic product (GDP). Disrupted supply chains have affected products such as rice, oil and natural gas.
Shanghai, home to the world's largest port and 25 million residents, has strained to unload cargo due to strict regulations that have caused shipping containers to stack up. Some Shanghai residents posted videos online to complain about needing food, even though government officials sought to block such public expressions of frustration.
Chinese authorities also drew public criticism for forcibly separating young children with COVID-19 from their parents to prioritize stopping the spread of a new, contagious subvariant of Omicron, BA.2. The variant also has been causing new infections in European nations such as Germany, the Netherlands and Switzerland.
U.S. COVID Deaths Climb Past 1-Million Mark
U.S. COVID-19 deaths crossed the 1-million mark last week and have climbed further to 1,002,726 as of May 24, according to Johns Hopkins University. Cases in the United States, as of that date, hit 83,501,455. America retains the dubious distinction as the country with the highest numbers of COVID-19 deaths and cases.
COVID-19 deaths worldwide totaled 6,280,342 on May 24, according to Johns Hopkins. Cases across the globe have climbed to 526,664,642.
Roughly 77.8% of the U.S. population, or 258,562,059, have obtained at least one dose of a COVID-19 vaccine, as of May 24, the CDC reported. Fully vaccinated people total 221,001,614, or 66.6%, of America's population, according to the CDC. The United States also has given at least one COVID-19 booster vaccine to 102.9 million people, up about 500,000 in the past week.
New data on so-called "long-haul" COVID patients released on May 24 reported that even though some symptoms improve others may persist, according to the Northwestern Medicine Neuro COVID-19 Clinic. Most of the 52 patients monitored in the Northwestern study reported "brain fog," numbness or tingling, headache, dizziness, blurred vision and fatigue, even 15 months after initial diagnoses of COVID-19.
The six commodities investments to buy are intended to profit from rising energy, gold and grain prices. Despite the market's volatility, the highest inflation in 40 years, the Fed's plan for further interest rate hikes to curb price hikes and increasing federal deficits, investors are finding profitable opportunities in energy, gold and grains.
Paul Dykewicz, www.pauldykewicz.com, is an accomplished, award-winning journalist who has written for Dow Jones, the Wall Street Journal, Investor's Business Daily, USA Today, the Journal of Commerce, Seeking Alpha, Guru Focus and other publications and websites. Paul, who can be followed on Twitter @PaulDykewicz, is the editor of StockInvestor.com and DividendInvestor.com, a writer for both websites and a columnist. He further is editorial director of Eagle Financial Publications in Washington, D.C., where he edits monthly investment newsletters, time-sensitive trading alerts, free e-letters and other investment reports. Paul previously served as business editor of Baltimore's Daily Record newspaper. Paul also is the author of an inspirational book, "Holy Smokes! Golden Guidance from Notre Dame's Championship Chaplain," with a foreword by former national championship-winning football coach Lou Holtz. The book is great as a gift and is endorsed by Joe Montana, Joe Theismann, Ara Parseghian, "Rocket" Ismail, Reggie Brooks, Dick Vitale and many others. Call 202-677-4457 for multiple-book pricing.
The post Six Commodities Investments to Buy as Putin Wages War on Ukraine appeared first on Stock Investor.
treasury securities
covid-19
dow jones
equities
stocks
fed
etf
cdc
vaccine
spread
deaths
gdp
interest rates
commodities
gold
oil
european
europe
germany
netherlands
russia
ukraine
china
At least 19 children killed in Texas elementary school – 3 essential reads on America's relentless gun violence
A school shooting in a small Texas town was almost as deadly as the worst such event in US history. Such shootings have increased in frequency over the…
At least 19 children and one teacher were killed when a teenage gunman shot them at a Texas elementary school on May 24, 2022 – the latest mass shooting in a country in which such incidents have become common.
A lot remains unknown about the attack at Robb Elementary School in Uvalde, a small, predominantly Latino town in South Texas. Police have not as yet revealed a possible motive behind the attack, in which the 18-year-old went classroom to classroom dressed in body armor and carrying two military-style rifles, according to reports.
As the graph below shows, the frequency of school shootings in the U.S. has increased dramatically over the last few years.
Here are three stories from The Conversation's archives to help fill in the recent history of mass shootings in the U.S. - and explain why the government has failed to take action on gun control, despite the carnage.
1. School shootings are at a record high
The attack at Robb Elementary School was, according to the data, the 137th school shooting to take place in the U.S. so far this year. In 2021, there were 249 school shootings – by far the worst year on record.
James Densley, of Metropolitan State University, and Hamline University's Jillian Peterson log such incidents in a database of U.S. mass shootings. It has helped them build a profile of the typical school shooting suspect – some of which appears to apply to the suspect in the latest massacre. School shooters overwhelmingly tend to be current or former students of the school they attack. And they are "almost always" in a crisis of some sort prior to the incident, as evidenced by changes in their behavior. Suspects are also often inspired by other school shooters, which could go some way in explaining the rapid growth in such attacks in recent years.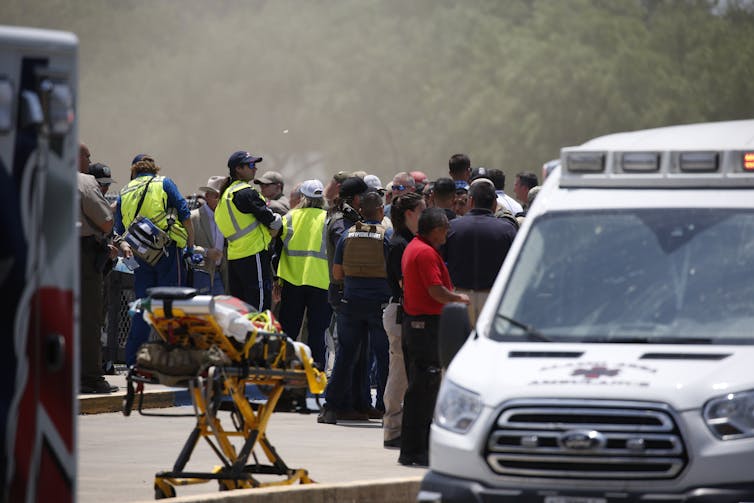 Densley and Peterson write that the "overwhelming number of shootings and shooting threats" have left schools struggling to respond, resulting in a patchwork of different measures that have failed to slow the frequency of attacks across the states. The two scholars contrast this local response to school shooting in the U.S. to the national legislative action taken in countries such as the U.K., Finland and Germany, concluding: "School shootings are not inevitable. They're preventable. But practitioners and policymakers must act quickly because each school shooting feeds the cycle for the next one, causing harm far beyond that which is measured in lives lost."
---
Read more: School shootings are at a record high this year – but they can be prevented
---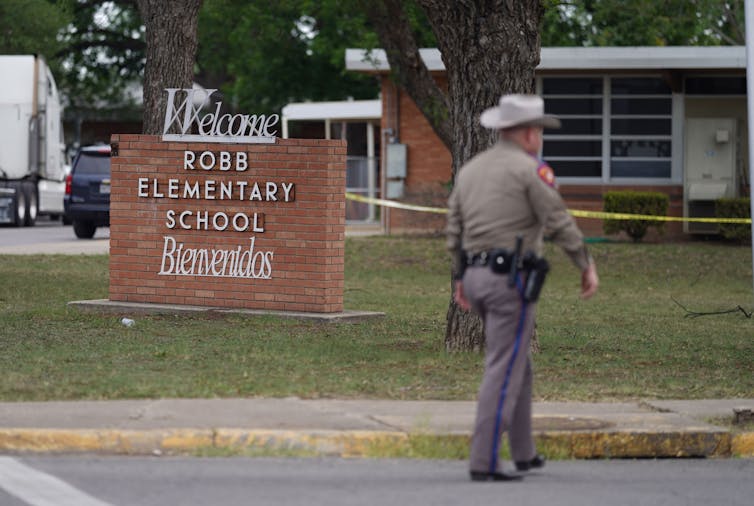 2. More guns within reach of would-be school shooters
While some of the traits that make up a "typical" U.S. school shooter may appear in those living in other countries, too, there is one area in which the U.S. stands alone – access to guns.
The suspect in the Robb Elementary School reportedly bought his military-style rifles shortly after his 18th birthday. That he was able to do so apparently with ease is likely due to the lax gun control laws in place in Texas, where the alleged shooter lived, and in the U.S. That lack of substantive regulation has led to an ever-increasing number of firearms in the hands of U.S. residents – a trend that has only accelerated in recent years, as University of Michigan's Patrick Carter and Marc A. Zimmerman and Rebeccah Sokol of Wayne State University note.
"Since the onset of the public health crisis, firearm sales have spiked. Many of these firearms have ended up in households with teenage children, increasing the risk of accidental or intentional injury or fatalities, or death by suicide," they write. It also makes it easier for would-be school shooters to get their hands on firearms that left unsecured around the house.
"Most school shooters obtain the firearm from home. And the number of guns within reach of high school-age teenagers has increased during the pandemic," they write.
---
Read more: Most school shooters get their guns from home – and during the pandemic, the number of firearms in households with teenagers went up
---
3. Why popular support for gun control isn't enough
In response to the killings in Texas, calls for stronger gun control laws are already being made, including by President Joe Biden in his speech the night of the shooting. But as evidenced by the lack of meaningful political action after the Sandy Hook massacre, in which 20 children and six school staff members were killed, the chances of getting anything through Congress appear slim.
This is despite polling that shows that a majority of Americans actually support stronger gun laws such as a ban on assault weapons.
So why doesn't the government do what the people want? Harry Wilson, a professor of public affairs at Roanoke College, has a three-part answer.
First, the United States is not a direct democracy and, as such, citizens do not make decisions themselves, Wilson writes. Instead, the power to make laws lies in the hands of their elected representatives in Congress. But "the composition and rules of Congress are also crucial, especially in the Senate," he writes, "where each state has two votes. This allocation of senators disproportionately represents the interests of less populous states."
Secondly, "polling and public opinion are not as straightforward as they seem. Focusing on only one or two poll questions can distort the public's views regarding gun control," says Wilson.
And finally, the influence of voters and interest groups acts as a counterbalance to popular opinion.
"Gun owners are more likely than non-owners to vote based on the issue of gun control, to have contacted an elected official about gun rights, and to have contributed money to an organization that takes a position on gun control," writes Wilson.
Meanwhile lobbying groups representing huge membership, like the NRA, put further pressure on elected representatives. "Elected officials want votes. There is no doubt that money is essential for political campaigns, but votes, not money or polls, are what determine elections. If a group can supply votes, then it has power," writes Wilson.
---
Read more: If polls say people want gun control, why doesn't Congress just pass it?
---
Editor's note: This story is a roundup of articles from The Conversation's archives.
congress
senate
pandemic
germany
Moderna CEO Laments 'Throwing 30 Million Doses In The Garbage Because Nobody Wants Them'
Moderna CEO Laments 'Throwing 30 Million Doses In The Garbage Because Nobody Wants Them'
Moderna CEO Stéphane Bancel is complaining about…
Moderna CEO Laments 'Throwing 30 Million Doses In The Garbage Because Nobody Wants Them'
Moderna CEO Stéphane Bancel is complaining about having to 'throw away' 30 million doses of Covid-19 vaccine because 'nobody wants them.'
"It's sad to say, I'm in the process of throwing 30 million doses in the garbage because nobody wants them. We have a big demand problem," Bancel told an audience at the World Economic Forum, adding that attempts to contact various governments to see if anyone wants to pick up the slack was a total fail.
"We right now have governments - we tried to contact ... through the embassies in Washington. Every country, and nobody wants to take them."
"The issue in many countries is that people don't want vaccines."
Watch:
Stéphane Bancel, CEO of Moderna:

"it's sad to say, I'm in the process of throwing 30 million doses in the garbage because nobody wants them. We have a big demand problem."

Notes that China doesn't want any MRNA products and how there's 7 billion doses.https://t.co/xfKZbVT8RJ pic.twitter.com/WVboChDma7

— Efron Monsanto ???????????????? (@realmonsanto) May 23, 2022
Bancel's comments come days after Bloomberg reported that EU health officials want to amend contracts with Pfizer and other vaccine makers in order to reduce supplies. 
During a virtual meeting organized by Polish Health Minister Adam Niedzielski, governments shared a joint letter to the EU Commission which reads: "We hope that the discussion with the commission and among member states will allow flexibility in the vaccine agreements," adding "We are also counting on vaccine producers to show understanding to the exceptional challenges that Poland is facing supporting Ukraine and giving shelter to millions of Ukrainian citizens fleeing the war."
Some countries are seeking to amend so-called advanced purchase agreements signed with producers, as demand for shots wanes and budgets come under strain from the fallout of the war in Ukraine and the costs of accommodating refugees.

Adjusting deals with suppliers could grant member states the right to "re-phase, suspend or cancel altogether vaccine deliveries with short shelf life," Estonia, Latvia and Lithuania's prime ministers wrote in a joint letter to Commission President Ursula Von Der Leyen late last month.
Meanwhile, in a separate letter the health ministry of Bulgaria called for an "open dialog" with the commission and pharmaceutical companies, arguing that the current arrangement forces member states to "purchase quantities of vaccines they don't need."
Tyler Durden
Tue, 05/24/2022 - 21:45
vaccine
covid-19
poland
ukraine
eu
china