Will Tesla stock surpass $1,000 a share?
Will Tesla stock surpass $1,000 a share?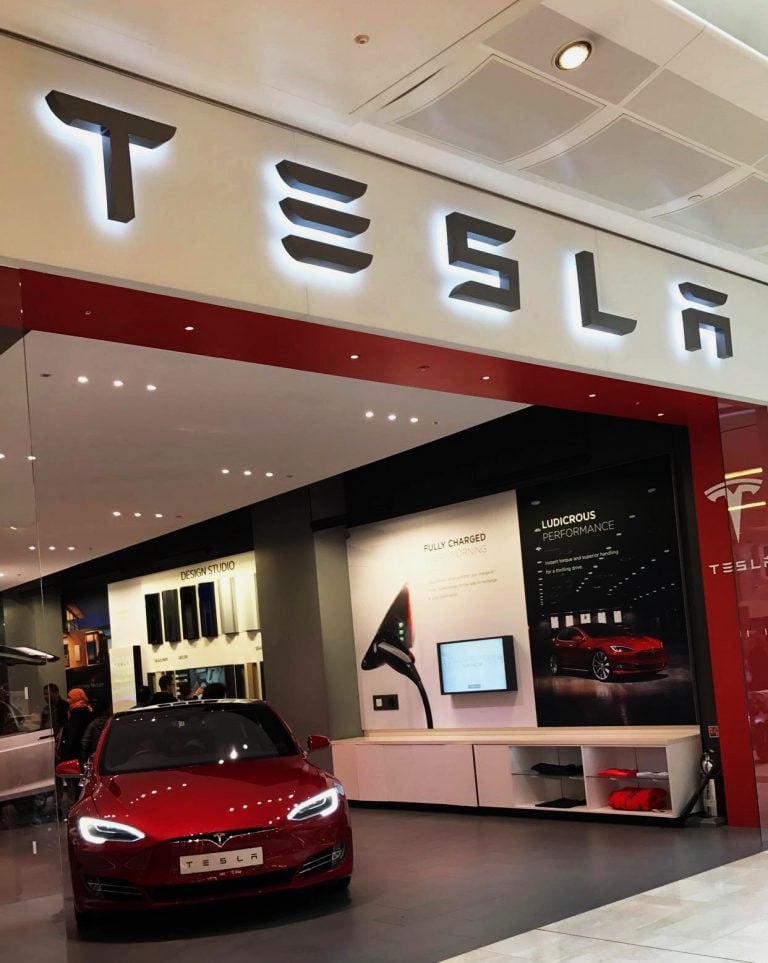 June 5, 2020 Update: Tesla stock made a run at $1,000 a share earlier this year, but it came up a bit short of that psychological level. Now it looks like the shares are making another run at $1,000, and some analysts say they could reach as high as $1,200 or even $1,500.
T3 Trading Group analyst Scott Redler told Fox Business that he believes Tesla stock is on the way to being "considered a go-to stock, same as Apple, Microsoft and Amazon." He cited technical patterns he believes indicate that the shares will approach $1,200.
Tesla stock topped $900 a share in February, and it's now flirting with that price, approaching $900 before pulling back. The shares are up by more than 100% since late March, according to data from the Dow Jones Market Data Group. Tesla is the only company with a more than $100 billion market cap that has climbed more than 100% during that timeframe.
In a post for Investopedia, Alan Farley suggested an even higher price for Tesla stock. He noted that the shares opened today's session less than 100 points below the record high of $969 set in February. The stock is up by more than 500 points off the low set in the midst of the pandemic. He believes the stage has been set for a breakout that carries Tesla stock into the quadruple digits.
Despite the challenges, like the fact that the automaker's Fremont factor was closed during the pandemic, Farley sees reasons to expect the shares to soar even further. He noted that the company's first-quarter earnings numbers beat estimates despite the pandemic. Its margins and free cash flow also increased during the quarter.
Additionally, he said Tesla's order book had the largest backlog ever at the end of March since deliveries were lagging due to the shutdowns. He sees "few obstacles to a breakout above $1,000."
Price cuts on Model 3, Model S and Model X
May 27, 2020 Update: Tesla stock slumped after it was reported that the company cut prices on three of its vehicles. The rest of the stock market is on the rise, so it appears that investors are taking the price cuts as a negative sign of demand. Tesla stock is also falling despite a significant price target increase from analysts at Wedbush.
Electrek reports that the Model 3, Model S and Model X have all received price cuts, while the Model Y is still at the same price. The price reductions came quietly overnight and slashed thousands of dollars off the prices.
The coronavirus pandemic shut down Tesla's factories, but it may have shut down demand for the company's vehicles as well. The price cuts do signal that demand has fallen, which would be a new problem for the automaker.
The price of the Model 3 has been slashed by $2,000 for all of the powertrain options. It now starts at $37,990 for the Standard Range Plus, which previously started at $39,990.
The price of the Model S has been cut even more with $5,000 coming off the base price, which is now only $74,990 for the Long Range Plus model and $94,990 for the most expensive model. The Model X has also received a $5,000 price cut, bringing its starting price below $80,000.
The Model Y did not receive a price cut, probably because Tesla is still working through the backlog of orders created before the vehicle became available. The margin on the Model Y is also slimmer than the margin on the other models, so the automaker probably can't afford to cut prices on it yet.
Tesla stock: Lawsuit filed over reopening Fremont factory
May 11, 2020 Update: Tesla has filed a lawsuit against Alameda County over its refusal to allow the automaker to reopen its factory in Fremont, Calif. On Twitter, CEO Elon Musk announced plans to file the lawsuit against the county "immediately." The county remains locked down amid the COVID-19 pandemic, and Musk has been extremely critical of the lockdown.
He also said Tesla will move its headquarters and "future programs to Texas/Nevada immediately."
"If we even retain Fremont manufacturing activity at all, it will be dependent on how Tesla is treated in the future," he said.
He also pointed out that Tesla is the last automaker left in California.
Wedbush analyst Daniel Ives said in a report over the weekend that Musk's tweet is aimed at putting heavy pressure on Alameda County to allow Tesla's factory to reopen. It also doubles down on critical comments he made about the lockdown during the conference call weeks ago.
When the lawsuit is filed, it takes the matter to the courts. For now, the big question is about moving its manufacturing activities to the Gigafactory in Nevada or possibly to Texas, where the Cybertruck may be produced in the coming years.
He noted that plenty of states will be courting Tesla and offering tax incentives if it does end up moving its operations in the coming months. Any move would be a huge windfall for other states, although it could complicate the automaker's manufacturing and logistics in the meantime.
"In a nutshell, this is a game of high stakes power and Musk just showed his cards," Ives wrote. "Now all eyes move to the courts and the response from Alameda County and potentially California State officials."
He maintains his Neutral rating and $600 price target on Tesla stock.
Production said to be halted at Chinese factory
May 7, 2020 Update: Tesla has halted production at its factory in Shanghai. Citing people familiar with the situation, Bloomberg reports that the automaker told many workers who were supposed to go back to work this week after the five-day Labor Day holiday to extend their holiday. The new return date is reportedly May 9. This means Tesla isn't producing any cars worldwide. The company's other plant in Fremont, Calif. has been idled due to the COVID-19 pandemic.
It's unclear why the automaker suddenly halted production at its factory in China. However, Chinese tech news site 36kr said it was due to shortages of components. Bloomberg's sources also said the automaker was dealing with technical problems with an important piece of manufacturing equipment that's being repaired.
Tesla stock: earnings surprise to the upside
April 30, 2020 Update: Tesla stock slipped during regular trading hours today despite the surprise profit the EV maker posted on its first-quarter earnings report. The automaker reported earnings of 9 cents per share or $16 million compared to the GAAP loss of $4.10 per share it posted in last year's first quarter. On an adjusted basis, Tesla reported $1.24 per share in earnings, compared to the year-ago adjusted loss of $2.90 per share.
Sales increased from $4.54 billion in the year-ago quarter to $5.99 billion in the first three months of 2020. Tesla stock initially climbed by more than 9% following the earnings release Wednesday afternoon. However, the shares struggled during regular trading hours today as the stock market as a whole slipped into the red.
Tesla stock downgraded amid negative oil prices
April 22, 2020 Update: Bank of America analyst John Murphy downgraded Tesla stock to Underperform just weeks after upgrading it. He does think the company is a leader in electric vehicles, but he also expects it to experience production issues.
He also predicts a spike and burnout pattern for Tesla's new vehicles and continuing cash burn from low deliveries and production, high costs and construction of new factories. He also expects the automaker to face competition from other companies as they release new EVs.
BofAML has a $485 price target on Tesla stock, which suggests an approximately 30% decline in the shares.
GLJ Research analyst Gordon Johnson has an even more bearish view of Tesla stock in light of the negative oil prices. He expects the shares to plunge to $70 due to low gas prices, competition and slowing growth.
He believes Chinese retail investors have been driving Tesla's rally since the company opened its factory in Shanghai. He also believes that even though the automaker has been selling a lot of cars in China, it won't last. He pointed out that the company has launched eight new car variants over the last two years, but during that timeframe, its sales have only increased 5.5%.
Tesla jumps on Buy initiation, China sales
April 15, 2020 Update: Goldman Sachs analysts initiated coverage of Tesla stock with a Buy rating and $864 price target this week. They like the automaker's long-term secular growth in the electric vehicle market. Analyst Mark Delaney expects Tesla's "early-mover advantage and technology cadence" to enable it to continue to hold a solid share of the market and maintain strong gross margins.
He believes Tesla has a significant lead in electric vehicles and expects the Model Y to help the company gain more traction in the SUV market. He also believes the automaker is attractively valued based on its growing revenue. He also likes Tesla's EBITDA margin compared to that of its peers. He expects Tesla to see a more than 20% compound annual growth rate for the next five years.
Tesla stock also climbed due to a jump in vehicle registrations in China, according to Reuters. Registrations of Tesla vehicles in China surged 450% in March on a month-over-month basis, according to data from auto consultancy LMC Automotive. Overall sales of vehicles in China plummeted more than 43% last month amid pressure from the coronavirus pandemic.
After this afternoon's gains, Tesla stock is now up by more than 25% for the week.
Tesla stock rises amid record-high China sales
April 9, 2020 Update: Tesla stock has been on a bit of a run this week, alongside major indices like the Dow Jones Industrial Average and S&P 500.
The company surprised investors with solid delivery numbers for the first quarter. Now it has surprised again with data from a third party. The China Passenger Car Association reported that the automaker sold 10,160 vehicles in China last month. That's a new record for monthly sales in the biggest auto market in the world.
Tesla's goal is to produce 150,000 Model 3 cars in its factory near Shanghai. The company sold about 30% of the battery electric vehicles sold in China in March, according to the CPCA. Tesla sold about 3,900 vehicles in China in February, an increase from the 2,620 vehicles it sold there in January.
Earlier this week, Jefferies analysts upgraded Tesla stock from Hold to Buy and cut their price target from $800 to $650. They said the automaker is the only one that is legacy-free and in a positive electric-vehicle-sum gain. The analysts also said Tesla is leading the technological transformation in the auto industry.
Also this week, Blue Line Capital President Bill Baruch told CNBC's Trading Nation that Tesla stock has a solid floor at the 200-day moving average, which is at $400. He added that that level also served as a ceiling for the shares previously. He believes Tesla stock could climb toward $600, adding that there are some "strong resistance levels" around that level. As of the time of this writing, the shares are up more than 3% at $569.14.
Tesla stock soars after Q1 delivery numbers
April 3, 2020 Update: Tesla stock surged late Thursday and continues to climb today after the company reported solid deliveries for the first quarter. The automaker delivered 88,400 vehicles during the first three months of the year, representing its best first quarter ever, even as the coronavirus continues to impact markets and economies. Analysts had been expecting Tesla to deliver 89,000 vehicles during the first quarter.
Based on that delivery number, Deutsche Bank analyst Emmanuel Rosner is looking for a profit of 5 cents per share, compared with the $1.25 per share in losses he had previously been expecting. Tesla is slated to release its first-quarter earnings report toward the end of April or in early May.
Despite the record first quarter, it's important to point out that Tesla's deliveries were down in the quarter compared to where they were in the three quarters before.
Tesla stock downgraded for risk
March 23, 2020 Update: Elazar Advisors downgraded Tesla stock in a Seeking Alpha post earlier this month, and today the firm offered a further explanation for the downgrade.  The firm needs three criteria before it rating a stock a Strong Buy.
The three criteria include 45% 12-month upside potential based on earnings one year out, multiplied by historic midpoint P/E. Since Tesla hasn't had much history with earnings, it didn't have a P/E, so Elazar just used 45 times. The second criteria is quarterly numbers ahead of consensus, while the third criteria is "wow," referring to the story, the numbers or some other exciting factor.
As far as trading, the firm requires strong fundamentals, stocks that are moving up, and not allowing losses to run too far. Elazar sold Tesla stock because it felt the wow factor was gone, and losses from the highs were building. The firm also saw earnings risk as sales in Europe were plunging and the coronavirus was ramping up in China. Elazar sees continued risk for Tesla stock as the coronavirus impacts business operations.
Tesla stock continues to dive with the Dow
March 16, 2020 Update: Tesla stock plummeted more than 15% during regular trading hours today, falling alongside the Dow Jones Industrial Average's 9% drop. The virtual carnage on the stock market is ever more apparent as the day drags on. RBC analysts slashed their price target on Tesla stock due to the coronavirus pandemic, while Bernstein analysts said despite the 40% plunge, the shares still aren't cheap.
In a note to investors today, RBC analyst Joseph Spak slashed his price target for Tesla stock from $530 to $380 per share and reiterated his Underperform rating. He expects demand for the automaker's vehicles to be constrained during the second quarter, possibly forcing production to be scaled back.
He now estimates that Tesla will deliver 364,600 vehicles this year, a significant reduction from the 524,200 vehicles he had been estimating before. He noted that the company's vehicles are luxury vehicles, and consumers will be struggling under the economic fallout of COVID-19. Thus, he believes investors won't pay as high of a multiple as they had been willing to pay when delivery estimates were higher.
More hedge funds went long on Tesla stock in Q4
March 13, 2020 Update: Many hedge funds have reported that they're shorting Tesla stock. However, it sounds like more funds became bullish on the stock during the fourth quarter. That means a significant number of hedge funds could have enjoyed significant gains during the first quarter, especially if they got out before the stock dropped.
Insider Monkey reports that as of the end of the fourth quarter, 51 of the hedge funds it tracks had long positions in Tesla stock. That's a 59% increase from the end of the third quarter. In the fourth quarter of 2018, 47 hedge funds had long positions in Tesla.
Morgan Stanley cuts price target on Tesla stock
March 12, 2020 Update: Morgan Stanley analyst Adam Jonas trimmed his price target for Tesla stock from $500 to $480 a share. He also cut his delivery estimate for this year to 452,000 vehicles. His previous estimate for 2020 was 500,000 vehicles, which he said is now his bull case. He reiterated his Underweight rating on the stock.
In a report today, Jonas cited the coronavirus pandemic as one reason for the reduction. He said the impact on profitability and working capital results in a lower forecast for cash flow. He now estimates Tesla's cash flow at -$300,000 for this year on an adjusted basis, which results in his lower price target for Tesla stock.
He said one factor is a slight decrease in his expectations of demand rather than supply. He added that Tesla "is in pole position in EVs," but he adds that the company's vehicles are a "high priced and discretionary purchase."
Jonas still forecasts a 10% increase in North American volumes this year, mostly due to what he believes to be a strong backlog for the Model Y offsetting potentially adverse vehicle sales in the first half of the year. He expects volumes in Europe to fall 10% year over year this year as incentives in important markets soften and amid a potential buyer's strike before the Gigafactory opens in Europe.
According to the China Passenger Car Association, Tesla delivered 3,958 vehicles in February in China, compared to about 3,500 the month before. Jonas said this implies a production run rate of a little over 1,000 units per week as of the end of February. He assumes the production ramp in China will be delayed by about two months due to the coronavirus. He was previously expecting Tesla to be producing 3,000 vehicles per week at the China factory by April. Pushing the timeline back, he estimates between 100,000 and 120,000 vehicle deliveries in China for this year, depending on how the recovery from the coronavirus shutdown goes.
Tesla stock rises as Musk announces 1 millionth vehicle
March 10, 2020 Update: Tesla stock rallied along with the rest of the stock market today as CEO Elon Musk delivered some big news. Last night, he congratulated the Tesla team on manufacturing its 1 millionth vehicle.
Congratulations Tesla team on making our 1,000,000th car!! pic.twitter.com/5M99a9LLQi

— Elon Musk (@elonmusk) March 10, 2020
The automaker has been delivering the Model S, Model X and Model 3, and deliveries of the Model Y are set to begin by the end of the first quarter.
Tesla stock plunged more than 13% yesterday amid a broad-based selloff in equities. However, today brought relief as the S&P 500, Dow Jones Industrial Average and Nasdaq Composite all saw relief.
Tesla stock sells off with the stock market as oil prices plunge
March 9, 2020 Update: Tesla stock plunged amid worries about a price war in oil, which sent crude prices tumbling. Shares of Tesla fell by as much as 14% during regular trading hours, sliding as low as $605 before a broad-based equity selloff triggered a market-wide halt in trading. The last time Tesla stock was trading in this neighborhood was in late January.
Falling oil prices spurred by the breakdown of the OPEC+ alliance are bad for Tesla. Saudi Arabia and Russia are both pouring cheap oil into the market, Bloomberg reported. Cheap oil means lower gas prices, which makes Tesla's expensive all-electric vehicles a harder sell.
Another problem for Tesla is the sharp downturn in China's automaker. The nation plays an important role in the company's growth story.
New Street-high price target for Tesla stock
March 3, 2020 Update: Tesla stock was in the green most of the day today, but by early afternoon, it had flipped into the red, falling as much as 2%. Two analysts weighed in on the EV maker today. One of them offered a Street-high target price, while the other said Tesla stock has more to fall before it will start to rise again.
JMP Securities analyst Joe Osha upgraded Tesla stock from Hold to Market Outperform and set his new price target at $1,060. Excluding price targets that look out years into the future, Osha's is the highest from major Wall Street firms.
He said although the price target implies an earnings multiple that some may feel seems "excessive," investors have been buying low-growth automakers at high multiples. Further, Tesla has notched a compound annual growth rate of 23%.
He also said that based on estimates for next year, Tesla stock is trading at around 20 times estimated earnings. That's not much higher than the S&P 500, which is trading at about 18.2 times estimated earnings for 2021. Osha's price target is based on 32 times estimated earnings and five times estimated revenue based on 2021 numbers.
He believes the recent pullback caused by the coronavirus presents an opportunity for investors to enter the stock. He also said investors may find more opportunities to buy Tesla stock in the first half of this year as further impacts from the coronavirus become apparent.
Osha also believes Tesla won't see much competition from other automakers. He believes the electric vehicles from other automakers won't be able to stand up to Tesla's EVs.
Wait before buying
Morgan Stanley analyst Adam Jonas still sees Tesla stock as an Underweight and kept his price target at $500 per share. On Monday, he said it's too early for investors to dive into the stock.
The coronavirus has taken a bite out of Tesla stock because of the important role China plays in the company's growth. Jonas said he would be bearish on the automaker even without the coronavirus outbreak. He believes investors should prepare themselves for "challenging" earnings numbers for the first quarter.
Excluding the impact from the coronavirus, he expects the company's first-quarter numbers to be weak. He noted that Tesla has been working through its China production and Model Y ramp and that demand in some parts of Europe has been weaker following a strong fourth quarter.
Jonas recommends that investors wait to see if a difficult first quarter and disruptions to supply occur before deciding whether to buy into Tesla stock again. The coronavirus uncertainty only adds to those concerns, he added.
Tesla up as short-seller calls it "biggest single stock bubble"
Mar. 2, 2020 Update: Tesla stock is back on the rise today following its biggest one-week lost since the initial public offering in June 2010. Longtime bear Mark Spiegel of Stanphyl Capital published an update on his sort of the stock, calling February "a refreshing change" because it actually worked in his favor.
In his most recent letter, which was posted in its entirety by ValueWalk, he called CEO Elon Musk a "securities fraud-committing pathological liar" and again said why he believes the company is in danger. He noted that Tesla raised $2.3 billion in a recent stock offering just weeks after Musk said on the company's earnings call that "it doesn't make sense to raise money because we expect to generate cash despite this growth level."
"In other words, if Elon Musk's lips are moving, there's an excellent chance he's lying," Spiegel wrote.
He also called investors who are long on Tesla "a mass of idiots bidding this stock to the moon because they think it's a 'hypergrowth' company." He alleged that the company's earnings are usually inflated by $200 million or more each quarter due to "its massive ongoing warranty fraud." He argued that Tesla actually lost money during the fourth quarter.
Spiegel believes demand for the Model Y is "disastrous," arguing that it will cannibalize sales of the Model 3 and be up against "superior competition from… much nicer electric" vehicles. He called the Cybertruck a "joke of a 'pickup truck.'"
He also called attention to the number of executive departures, saying that they must be leaving "because Musk is either an outright crook or the world's biggest jerk to work for (or both)." He noted that Consumer Reports found Tesla's Autopilot system to be unsafe.
You can read Spiegel's letter on Tesla stock in its entirety here.
Whitney Tilson email on Tesla
Former hedge fund manager Whitney Tilson told colleagues in an email seen by ValueWalk the following regarding Tesla stock.
Last week I met with someone who I can't identify, so you'll just have to trust me when I say he knows what he's talking about. He told me that the full-self-driving milestone that Tesla announced it reached (something about being able to handle highway entry and exits I recall), which the company used to justify releasing deferred FSD revenue into its income statement (thereby boosting its reported profitability), is a "complete joke" – it wasn't an important milestone in any way.
The same person, however, said Tesla has some of the best engineers working for it, its battery packs are TWICE as efficient as any other car maker, and he's optimistic about the Model Y – he doesn't think there will be production issues (in part because it's just a slightly modified Model 3) and said they've fixed the cold-weather battery issue.
Ron Baron loves Tesla stock
Feb. 28, 2020 Update: Billionaire Ron Baron believes Tesla could be worth $1.5 trillion by 2030. He offered his latest insight into Tesla stock in an interview with Barron's this week.
He bought almost all of his 1.62 million shares of Tesla stock between 2014 and 2016 at an average price of $219.14 apiece, amounting to $355 million. Baron noted that the company's annual revenue was only $2.5 billion in 2013 but grew to $25 billion in 2019. He expects to see it hit $33 billion this year.
By 2024, he predicts Tesla's revenue will be between $100 billion and $125 billion, and he expects Tesla stock to carrying it to a valuation of $300 billion to $400 billion. By 2030, he looks for Tesla's revenue to be between $750 billion and $1 trillion with operating profit in the range of $150 billion to $200 billion. By then he expects Tesla to be worth $1.5 trillion.
Tesla stock tanks after news of weak China registrations
Feb. 27, 2020 Update: Tesla stock tanked by more than 10% during regular trading hours today as the rest of the stock market pulled back. The shares' decline was also worsened by a report of disappointing registration numbers on Tesla vehicles in China before the coronavirus outbreak.
Registration data in China revealed a major month-over-month slowdown in demand there. Data from the government-operated China Automotive Information Net revealed that registrations of new Tesla vehicles tumbled 46% from December to January. There were 3,563 Tesla vehicles registered in China last month. Of those vehicles, 2,605 were models that were actually built in China.
Demand for electric vehicles in China has been waning over the last few months, although Tesla had managed to avoid the problems that struck the rest of the industry. However, January's steep decline in registration numbers indicates that the U.S.-based automaker isn't immune to the problems faced by the rest of the Chinese EV industry. The nation's overall vehicle market looks on track for a third consecutive annual decline amid the economic slowdown, trade tensions and now the coronavirus outbreak.
Tesla stock plunged 7% right after the markets opened. The shares were up 86% year to date through Wednesday's close. Some of the optimism that's been driving the stock has been due to the start of production at the factory near Shanghai. The automaker started delivering China-built vehicles last month. Tesla hopes to tap into the tax exemptions and subsidies that are only available on domestically built vehicles.
Concerns about the coronavirus are weighing on both Tesla stock and the broader market. U.S. stock indices also plunged during regular trading hours today.
Tesla stock driven by ESG trends instead of short squeeze?
Feb. 24, 2020 Update: Tesla stock plunged along with the rest of the stock market today, falling more than 7% to $834 per share. The shares have bucked the wider trend of the stock market in recent weeks, continuing to rise even while stock indices were falling, but that's certainly not the case today.
One firm had some interesting insight into what may have been moving Tesla stock over the last several months. Jefferies analyst Christopher Wood said in a note dated Feb. 20 that the trend in ESG (environmental, social and corporate governance) investing may actually be responsible for a significant portion of the stock's movement.
It has been widely reported that a short squeeze has driven the meteoric rise in Tesla stock, but Wood notes that ESG funds have seen massive flows recently. Tesla may be the quintessential ESG stock.
Wood argues that "big money can be made" in identifying stocks that are likely to capture ESG fund flows. He also suggests that the massive flows to ESG funds may actually be what has been driving the automaker's shares rather than short covering. He pointed out that Tesla stock had surged 119% so far this year by the time of his report, and its short interest declined only 13% during that same timeframe.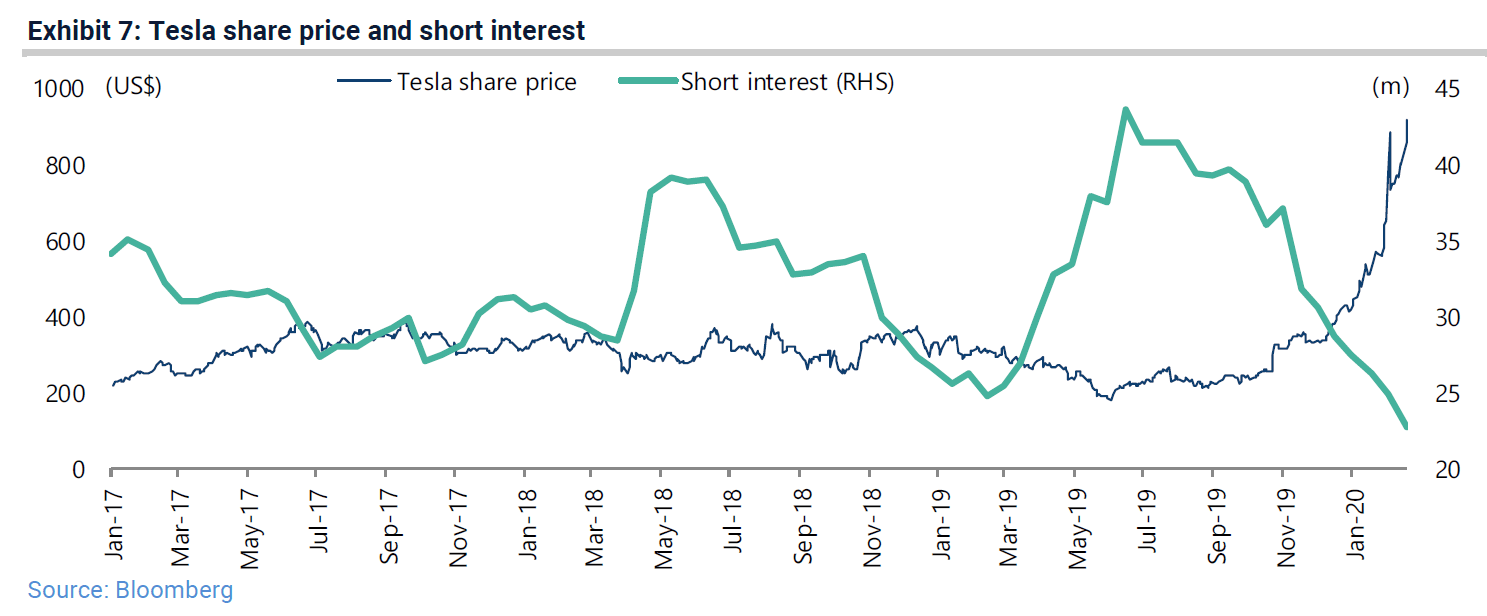 Given the number of hedge fund managers who have said that they are still short Tesla, it is an interesting argument to consider.
Tesla closes stock offering with $2.31 billion gain
Feb. 20, 2020 Update: Tesla informed the Securities and Exchange Commission that it has successfully closed its latest stock offering. The automaker raked in $2.31 billion, easily unloading all 2.65 million shares. The underwriters also immediately exercised their options to buy shares, although they had 30 days to do so.
The total share sale in the offering was 3.05 million shares, which sold for $767 each. The amount expected to be raised was $2.01 billion to $2.31 billion, and Tesla easily managed the full amount at the high end of the range. The automaker said it would use the proceeds for general corporate purposes and to strengthen its balance sheet.
Even though share offerings dilute current shareholders' investments, Tesla stock soared since the latest offering. However, on Thursday, the shares tumbled following a report about how McAfee was able to trick a Model S into speeding up by 50 miles per hour — using only a piece of tape.
These major funds bought Tesla stock right before it soared
February 18, 2020 Update: Tesla stock continues to soar, unimpeded by anything else in the market. The shares are up another 6% in early trading today after the long three-day holiday weekend. Now we're hearing that two major hedge funds bought shares just before the latest meteoric rise.
Hyperion Asset Management's Global Growth Companies Fund is in the top 1% of hedge funds based on returns. It has managed a 28% return over the last three years, surpassing 99% of its peers.
According to Bloomberg, the fund has been focused on investing in companies that can thrive when growth is low through the efficient use of technology. The strategy emphasizes companies that center on different trends of themes Hyperion management believe will last for at least 10 years. Hyperion usually holds stocks for 10 years, and its top holdings include Amazon, Microsoft and Visa.
Another fund, Renaissance Technologies, also invested in Tesla stock before the latest meteoric rise. According to Business Insider, the fund boosted its holdings in the EV maker in December to 3.9 million shares. At the time, the position was worth approximately $1.6 billion. The shares are now worth nearly $3.2 billion following the 91% increase in their value so far this year.
Charlie Munger: I would never buy or short Tesla stock
Feb. 13, 2020 Update: Charlie Munger of Berkshire Hathaway, longtime business partner of Warren Buffett, spoke about Tesla during his address at Daily Journal Corp's annual meeting. He said he would never buy or short Tesla stock. He called Tesla CEO Elon Musk "peculiar," adding that "he may overestimate himself, but he may not be wrong all the time."
Tesla stock initially declined today after the company said in a statement that it will sell $2.3 billion in shares to raise capital. However, after the premarket decline, the shares recovered quickly and were up nearly 2% by 11 a.m. Eastern.
Model Y is one of the most-anticipated vehicles
Feb. 11, 2020 Update: Tesla stock finally seems to be taking a breather today with a climb of less than 1% at midday. Of course, it takes hardly any news to lift Tesla stock, and what we have to report could serve as a bit more fuel for the fire.
Tesla's Model Y is one of the most-anticipated vehicles for 2020 so far. PartCatalog put together a list of the most-anticipated vehicles for each state in the U.S., and the Model Y captured California, Washington and Hawaii. It's no surprise that Tesla took its home state of California, but it is interesting that there's interest in two other states as well.
The most-anticipated vehicle is the much-hyped Ford Bronco with 19 states. The Chevy Corvette Stingray is in second place with 13 states, and the Land Rover Defender is in third place with six states.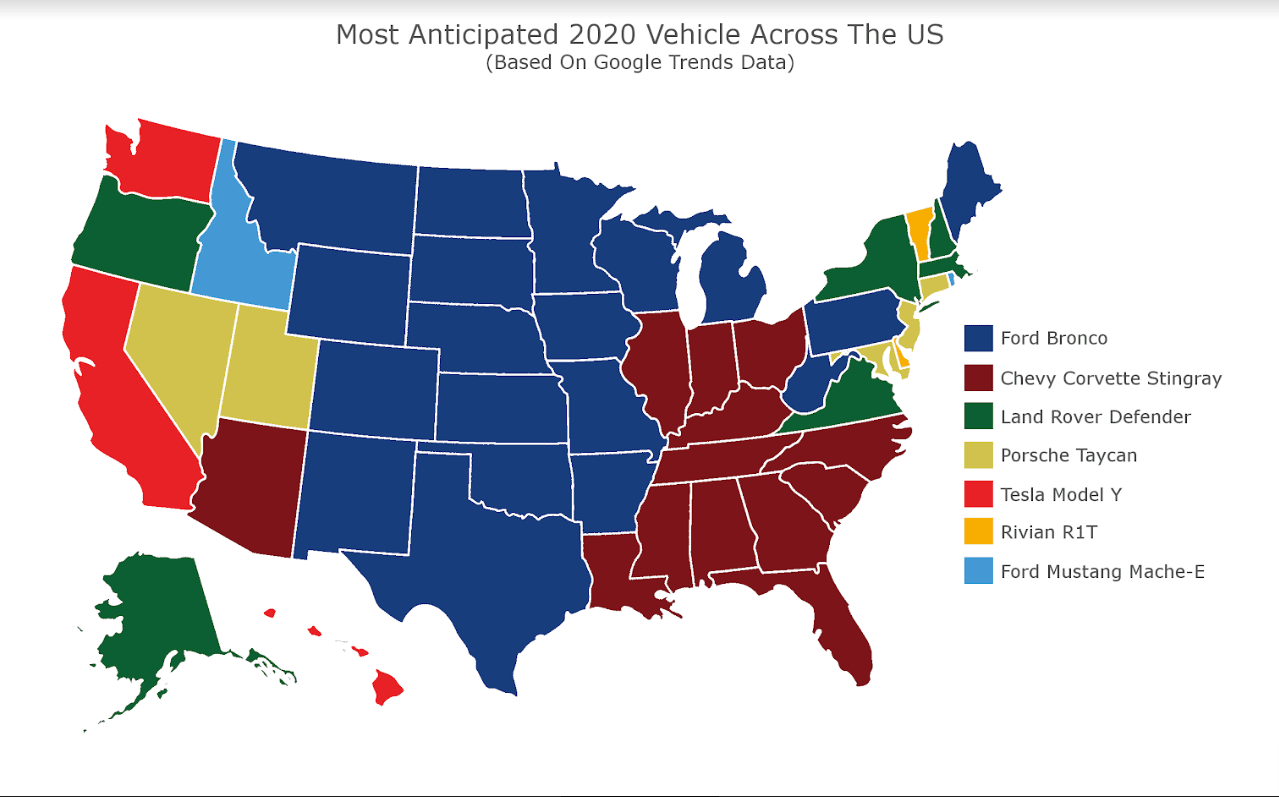 Tesla stock climbs as Shanghai factory reopens
Feb. 10, 2020 Update: Tesla stock continued its rapid climb early today as the company reopened production at its factory in Shanghai. The shares briefly topped the $800 level again but dropped back below that level as the early hours of trading continued.
Reuters reported on Friday that Shanghai authorities said they would help companies like Tesla restart product as quickly as possible. The factory there reopened today after an extended Lunar New Year holiday caused by the spread of the coronavirus. Tesla stock continues to be very speculative as today's gains come days after it was revealed that production in China would restart today.
A short squeeze is also driving Tesla stock as short-sellers are being forced to cover their positions. However, some short-sellers aren't willing to give up yet, as evidenced by the letters from hedge funds that continue to short the stock.
Concern over Tesla
Feb. 7, 2020 Update: Gene Munster of Loup Ventures, previously known for his analyst reports on Apple, is concerned about Tesla. The venture capitalist noted in a blog post that Tesla stock has soared, doubling the company's market capitalization over the last month and tripling it since the end of the third quarter. He also said that the excitement that has driven the meteoric rise in Tesla stock presents risk in the short term. He believes bulls may be overlooking a few things.
For example, he expects the first quarter to bring a sequential decline in deliveries. The automaker delivered 112,000 vehicles during the fourth quarter. Munster pointed out that Tesla removed an important statement from its fourth-quarter letter to shareholders. In the second and third quarters of 2019, the company wrote that "deliveries should increase sequentially," but that statement doesn't appear in the Q4 letter.
Tesla stock and China
Munster believes it means a significant decline quarter over quarter is in order. He also noted that the company said production will probably outpace deliveries this year. Model 3 production is set to ramp in Shanghai, and Model Y production is beginning in Fremont.
The venture capitalist also noted that the first quarter is usually seasonally weak for automakers due to poor weather, discounts at the end of the year and releases of new models. Tesla also said in its fourth-quarter letter that its finished vehicle inventory level was at 11 days of sales, the lowest in the last four years. Munster said that means the automaker delivered every vehicle it could in the fourth quarter, "leaving many showrooms empty and online inventory searches yielding 'no results.'"
He also notes that the company has been teasing its upcoming Plaid powertrain, and many Model S and X buyers are likely to wait until it is released. Other factors include the coronavirus impact on Shanghai production.
Tesla stock rumbled 0.46% to $745.52 during regular trading hours.
Hedge funds short Musk
Feb. 6, 2020 Update: Aristides Capital published an update on its short of Tesla stock in its letter to investors dated Feb. 3, 2020, which was reviewed by ValueWalk. Managing Member Christopher Brown had some very harsh words for Tesla CEO Elon Musk.
After doing well shorting Tesla stock most of the year in 2019, Brown said he should have stayed away after covering most of the position in the low $200s. However, he said he dug in a bit too hard in the fourth quarter, explaining that he has written so much on Tesla stock that he has lost his willingness to change to a different view on it.
Aristides covered some of its short of Tesla stock before the company posted its earnings and then covered most of the rest of the position by the end of the month. Brown noted that when companies shift from needing a continual supply of capital to being sustainable on their own, which is how Tesla fans now see the company, the valuation gets expanded.
Another problem for his short of Tesla stock is that the company's EV competitors didn't gain as much ground in the market as he thought they would have by now. Additionally, he thought Tesla's "poor reliability would catch up to it" as the owner base expanded beyond fanboys, but that didn't happen. Brown sees the automaker as "one of the least reliable brands and also the most loved/highest in loyalty."
Elon Musk a liar?
Finally, Model 3 orders in the U.S. seems to be going much better than what Brown had expected. But it was his words about Elon Musk that really had an impact.
"Yes, Elon Musk is a narcist and a liar, yes, he has committed multi-billion-dollar securities fraud on more than one occasion, and yes, there is certainly the appearance of some accounting shenanigans at Tesla, but none of that seems to matter," he wrote. "It's a 'cool' car with a CEO who lied to bailout [sic] Solar City, lied about a takeover, libeled an actual hero, attacks journalists and whistleblowers, and never faces any serious consequences for it whatsoever."
He also said he won't promise that he will never short Tesla again, but if he does, it will be because he sees "a huge near-term edge on some sort of catalyst."
Updates on Tesla stock
Dorsheimer continues to see Tesla as "the leading EV juggernaut and expects the upcoming battery day in April to be a major milestone to help investors understand the automaker's lead in the EV maker. However, he also believes that patient investors will see a better entry point for Tesla stock if they wait.
Interestingly, advice on Tesla stock is trending so much on Feb. 5 that if you type in "should I" into Google, the top two auto-fill suggestions are "should I buy Tesla stock" and "should I sell Tesla stock."
Previously: Tesla stock continues its hot streak on Feb. 4, 2020 with another $200 gain in a single day. The shares topped $700 on Monday and then $900 on Tuesday following another 20% gain. The EV maker's stock has been on a run for months, and it received yet another shot of adrenaline last week from the fourth-quarter earnings release. Tesla Inc. (NASDAQ:TSLA) stock shows no signs of slowing down, and short-sellers have really been taking a hit on it.
Tesla stock: running of the bulls
Shares popped on Feb. 4 following bullish commentary from billionaire Ron Baron on CNBC's Squawk Box. The automaker's valuation topped $160 billion, dwarfing General Motors' $49.4 billion market capitalization.
In fact, GM, Ford and Chrysler are worth a combined $110 billion, and their combined revenue in 2019 was $425 billion, compared to Tesla's $25 billion in revenue. Tesla's stock rise puts it on track to compete with Toyota, which is the most valuable automaker in the world at a market cap of $232.1 billion.
Baron told CNBC that he sees Tesla hitting "at least" $1 trillion in revenue over the next decade. He also said he sees "a lot of growth opportunities from that point going forward." His fund Baron Capital owns almost 1.63 million shares of Tesla stock, and he said they won't be selling any of those shares. He believes the latest bull run in the shares is "just the beginning" and predicts that the automaker "could be one of the largest companies in the whole world."
Tesla stock ratings
Numerous analysts updated their Tesla stock ratings following the company's 4Q19 earnings release. The most astonishing price target increase came from ARK Invest analysts, who wrote on Feb. 1, 2020 that they expect the shares to be worth $7,000 by 2024. Interestingly, that's their base case.
Their bull case puts Tesla stock at $15,000 or higher, while their bear case has it at $1,500, well above the $900 current price. One of the biggest factors in their price target increase is their expectation that the automaker will be able to slash costs and boost margins. They see an 80% probability of Tesla reaching 40% margins.
Wedbush analyst Daniel Ives boosted his price target for Tesla stock from $500 to $710 following the company's Jan. 29 earnings release. He set his bull case for the shares at $1,000 and said he expects the "bull party" to continue. He has a Neutral rating on the stock.
Other ratings
Feb. 5, 2020 Update: Analysts at Canaccord Genuity downgraded Tesla stock in a note dated Feb. 4, 2020. Analyst Jed Dorsheimer said he now rates the shares at Hold, down from Buy, with a $750 price target. Tesla stock powered past $960 per share in trading on Feb. 4 but then pulled back on Feb. 5 following the firm's downgrade. The stock plunged more than 12% to fall closer to $775 per share.
In his report, Dorsheimer said he saw a balanced risk/ reward for the shares following this week's meteoric rise. He said they saw a clear buy signal for the stock entering the year, but he believes the coronavirus in China is a clear headwind for Tesla's new Shanghai factory, which he said calls for "a more pragmatic position."
"Given the 3,000 per week China Model 3 production expectations in a country that remains on lockdown, we feel a reset of expectations in Q1 is likely and thus needs to be reflected in the valuation," he wrote.
Ivey wrote in an update on Feb. 3 that he believes the automaker will see 150,000 units of demand out of China alone in the coming year. He also believes the company's guidance of achieving 500,000 deliveries in 2020 is achievable. He believes Wall Street is looking for between 530,000 and 550,000 deliveries in 2020. The big factor in the number of deliveries to expect include the automaker's ability to ramp production and demand in China this year and next.
Analysts can't keep up with price surge
Canaccord Genuity wrote analyst Jed Dorsheimer wrote in his Jan. 30, 2020 update on Tesla stock that the company is "feeling more like Space X." The automaker posted $7.4 billion in revenue and earnings of $2.14 per share for 4Q19, compared to consensus estimates of $7 billion and $1.77 per share. Dorsheimer said one thing that's important to note is that the company ended the fourth quarter with $6.3 billion in cash and generated $1 billion in free cash flow, which he believes should quiet concerns about the automaker's balance sheet. He had a Buy rating and new $750 price target on Tesla stock as of Jan. 30, but the shares have now surpassed $900, putting that target underwater.
Morgan Stanley analyst Adam Jonas remains extremely bearish on Tesla stock with an Underweight rating and $360 price target as of Jan. 31, 2020. He said that in the almost nine years he has been covering the stock, investor commentary has not been as optimistic as it is now following the 4Q19 earnings release. Jonas downgraded the shares to Underweight on Jan. 16.
Hedge fund views of Tesla stock
Multiple hedge funds have covered Tesla stock in their letters to investors. Lakewood Capital wrote about its short of the shares in its fourth-quarter letter to investors dated Jan. 14, 2020. Unsurprisingly, the fund's short of the automaker was its biggest losing position during the fourth quarter at 85 basis points.
The shares rallied into the end of the year after the company posted a "slight" profit in its third-quarter earnings release, Lakewood's Anthony Bozza wrote.
"We've done this long enough to know that sentiment on stocks like Tesla can be nearly impossible to predict and are [sic] subject to large, sudden price fluctuations, and hence, we size our shorts prudently," he told investors.
He described the fourth-quarter rally as "frustrating" but added that the position didn't significantly detract from the fund's full-year 2019 results.
Although we have seen this story countless times, what's rather unique in the case of Tesla is the sheer scale of the situation," he added.
Short-sellers feel the pain
Data from S3 Partners reveals that short-sellers have lost over $8 billion just in the last month alone. On Feb. 3, 2020, short-sellers lost a staggering $2.5 billion just in a single day. Despite the sizable paper losses they have recorded in the last few years, short interest in Tesla remains high with about 24.4 million shares being borrowed and bets against the company valued at more than $15 billion. That amounts to more than 18% of Tesla's float.
Tesla is the most-shorted stock, and short interest is significantly higher than interest in the next two companies with the second- and third-biggest short interest. Less than 1% of the float is being bet against Apple and Microsoft each.
Short-sellers have been forced to cover some of their position in Tesla. According to S3, they have covered $12.6 billion worth of shares since they were below $200 in June 2019. It's likely that some of the post-earnings run in late January and early February is the result of short-sellers finally caving and covering their positions.
The post Will Tesla stock surpass $1,000 a share? appeared first on ValueWalk.
business
cornerstone
tesla stock
dow jones
sp 500
nasdaq
equities
stocks
subsidies
reopening
global growth
spread
lockdown
recovery
europe
russia
china
oil
Russia's energy war: Putin's unpredictable actions and looming sanctions could further disrupt oil and gas markets
Russian President Vladimir Putin has not hesitated to use energy as a weapon. An expert on global energy markets analyzes what could come next.
Russia's effort to conscript 300,000 reservists to counter Ukraine's military advances in Kharkiv has drawn a lot of attention from military and political analysts. But there's also a potential energy angle. Energy conflicts between Russia and Europe are escalating and likely could worsen as winter approaches.
One might assume that energy workers, who provide fuel and export revenue that Russia desperately needs, are too valuable to the war effort to be conscripted. So far, banking and information technology workers have received an official nod to stay in their jobs.
The situation for oil and gas workers is murkier, including swirling bits of Russian media disinformation about whether the sector will or won't be targeted for mobilization. Either way, I expect Russia's oil and gas operations to be destabilized by the next phase of the war.
The explosions in September 2022 that damaged the Nord Stream 1 and 2 gas pipelines from Russia to Europe, and that may have been sabotage, are just the latest developments in this complex and unstable arena. As an analyst of global energy policy, I expect that more energy cutoffs could be in the cards – either directly ordered by the Kremlin to escalate economic pressure on European governments or as a result of new sabotage, or even because shortages of specialized equipment and trained Russian manpower lead to accidents or stoppages.
Dwindling natural gas flows
Russia has significantly reduced natural gas shipments to Europe in an effort to pressure European nations who are siding with Ukraine. In May 2022, the state-owned energy company Gazprom closed a key pipeline that runs through Belarus and Poland.
In June, the company reduced shipments to Germany via the Nord Stream 1 pipeline, which has a capacity of 170 million cubic meters per day, to only 40 million cubic meters per day. A few months later, Gazprom announced that Nord Stream 1 needed repairs and shut it down completely. Now U.S. and European leaders charge that Russia deliberately damaged the pipeline to further disrupt European energy supplies. The timing of the pipeline explosion coincided with the start up of a major new natural gas pipeline from Norway to Poland.
Russia has very limited alternative export infrastructure that can move Siberian natural gas to other customers, like China, so most of the gas it would normally be selling to Europe cannot be shifted to other markets. Natural gas wells in Siberia may need to be taken out of production, or shut in, in energy-speak, which could free up workers for conscription.
Restricting Russian oil profits
Russia's call-up of reservists also includes workers from companies specifically focused on oil. This has led some seasoned analysts to question whether supply disruptions might spread to oil, either by accident or on purpose.
One potential trigger is the Dec. 5, 2022, deadline for the start of phase six of European Union energy sanctions against Russia. Confusion about the package of restrictions and how they will relate to a cap on what buyers will pay for Russian crude oil has muted market volatility so far. But when the measures go into effect, they could initiate a new spike in oil prices.
Under this sanctions package, Europe will completely stop buying seaborne Russian crude oil. This step isn't as damaging as it sounds, since many buyers in Europe have already shifted to alternative oil sources.
Before Russia invaded Ukraine, it exported roughly 1.4 million barrels per day of crude oil to Europe by sea, divided between Black Sea and Baltic routes. In recent months, European purchases have fallen below 1 million barrels per day. But Russia has actually been able to increase total flows from Black Sea and Baltic ports by redirecting crude oil exports to China, India and Turkey.
Russia has limited access to tankers, insurance and other services associated with moving oil by ship. Until recently, it acquired such services mainly from Europe. The change means that customers like China, India and Turkey have to transfer some of their purchases of Russian oil at sea from Russian-owned or chartered ships to ships sailing under other nations' flags, whose services might not be covered by the European bans. This process is common and not always illegal, but often is used to evade sanctions by obscuring where shipments from Russia are ending up.
To compensate for this costly process, Russia is discounting its exports by US$40 per barrel. Observers generally assume that whatever Russian crude oil European buyers relinquish this winter will gradually find alternative outlets.
Where is Russian oil going?
The U.S. and its European allies aim to discourage this increased outflow of Russian crude by further limiting Moscow's access to maritime services, such as tanker chartering, insurance and pilots licensed and trained to handle oil tankers, for any crude oil exports to third parties outside of the G-7 who pay rates above the U.S.-EU price cap. In my view, it will be relatively easy to game this policy and obscure how much Russia's customers are paying.
On Sept. 9, 2022, the U.S. Treasury Department's Office of Foreign Assets Control issued new guidance for the Dec. 5 sanctions regime. The policy aims to limit the revenue Russia can earn from its oil while keeping it flowing. It requires that unless buyers of Russian oil can certify that oil cargoes were bought for reduced prices, they will be barred from obtaining European maritime services.
However, this new strategy seems to be failing even before it begins. Denmark is still making Danish pilots available to move tankers through its precarious straits, which are a vital conduit for shipments of Russian crude and refined products. Russia has also found oil tankers that aren't subject to European oversight to move over a third of the volume that it needs transported, and it will likely obtain more.
Traders have been getting around these sorts of oil sanctions for decades. Tricks of the trade include blending banned oil into other kinds of oil, turning off ship transponders to avoid detection of ship-to-ship transfers, falsifying documentation and delivering oil into and then later out of major storage hubs in remote parts of the globe. This explains why markets have been sanguine about the looming European sanctions deadline.
One fuel at a time
But Russian President Vladimir Putin may have other ideas. Putin has already threatened a larger oil cutoff if the G-7 tries to impose its price cap, warning that Europe will be "as frozen as a wolf's tail," referencing a Russian fairy tale.
U.S. officials are counting on the idea that Russia won't want to damage its oil fields by turning off the taps, which in some cases might create long-term field pressurization problems. In my view, this is poor logic for multiple reasons, including Putin's proclivity to sacrifice Russia's economic future for geopolitical goals.
Russia managed to easily throttle back oil production when the COVID-19 pandemic destroyed world oil demand temporarily in 2020, and cutoffs of Russian natural gas exports to Europe have already greatly compromised Gazprom's commercial future. Such actions show that commercial considerations are not a high priority in the Kremlin's calculus.
How much oil would come off the market if Putin escalates his energy war? It's an open question. Global oil demand has fallen sharply in recent months amid high prices and recessionary pressures. The potential loss of 1 million barrels per day of Russian crude oil shipments to Europe is unlikely to jack the price of oil back up the way it did initially in February 2022, when demand was still robust.
Speculators are betting that Putin will want to keep oil flowing to everyone else. China's Russian crude imports surged as high as 2 million barrels per day following the Ukraine invasion, and India and Turkey are buying significant quantities.
Refined products like diesel fuel are due for further EU sanctions in February 2023. Russia supplies close to 40% of Europe's diesel fuel at present, so that remains a significant economic lever.
The EU appears to know it must kick dependence on Russian energy completely, but its protected, one-product-at-a-time approach keeps Putin potentially in the driver's seat. In the U.S., local diesel fuel prices are highly influenced by competition for seaborne cargoes from European buyers. So U.S. East Coast importers could also be in for a bumpy winter.
This article has been updated to reflect conflicting reports about the draft status of Russian oil and gas workers.
Amy Myers Jaffe does not work for, consult, own shares in or receive funding from any company or organization that would benefit from this article, and has disclosed no relevant affiliations beyond their academic appointment.
spread
pandemic
covid-19
oil
india
european
europe
germany
poland
russia
ukraine
eu
china
Industry groups call to block WTO IP waiver expansion to Covid-19 therapeutics
The WTO's TRIPS Council in mid-October is expected to debate whether to extend the IP waiver for Covid-19 vaccines to therapeutics and diagnostics too.
While…
The WTO's TRIPS Council in mid-October is expected to debate whether to extend the IP waiver for Covid-19 vaccines to therapeutics and diagnostics too.
While the Biden administration backed the original vaccine waiver, which critics note has not done much to expand access to vaccines as demand has dried up, US trade officials haven't offered any perspective yet on whether to expand the waiver to Covid treatments.
The US Chamber of Commerce, as well as industry groups BIO and EFPIA, this week expressed "strong opposition" to any expansion of the WTO TRIPS waiver to therapeutics or diagnostics, arguing that waived IP protections damage the nation's ability to innovate and compete.
Illinois-based IP attorney Kevin O'Connor at Neal, Gerber & Eisenberg told Endpoints News in a phone interview that he doesn't think the vaccine waiver has done much so far.
"I don't think it was the right solution for a demand problem," O'Connor said. And an extension to therapeutics "would double down" on the same concept, except small molecule manufacturing is more straightforward than vaccine manufacturing. There's also the question of whether there is a need for an extension given the voluntary licensing already in place.
BIO also noted that the expansion of a TRIPS waiver to therapeutics can create problems for therapeutics used for other indications too as these other indications "may be their only path to financial viability and sustained investment to fund future R&D initiatives."
The industry group also noted the lack of a "supply and demand challenge globally that justifies the extension of an IP waiver" considering the fact that manufacturers are supplying therapeutics at a rate that outpaces demand.
The US Chamber of Commerce also noted that in the case of Covid-19 vaccine IP, "the waiver's realization came long after its ostensible purpose was mooted by a large and growing surplus of COVID-19 vaccine supplies."
Peter Maybarduk
But Public Citizen's Peter Maybarduk told Endpoints these are "specious arguments and scare tactics," adding, "Pharma is worried and that is a good thing for people."
WTO members and developing countries pledged support for the waiver extension last summer, according to a read out of a meeting. Some even called for this extension to be discussed "with a sense of urgency given the fact that many least developed countries (LDCs) lack access to life-saving drugs and testing therapeutics."
But other member countries "cautioned that more time was needed to conduct domestic consultations on a possible extension of the waiver to therapeutics and diagnostics" while:
Some members also flagged the importance of an evidence-based negotiation as there was no evidence that intellectual property did indeed constitute a barrier to accessing COVID-19 vaccines. Some also reiterated the need for members to fully make use of all the flexibilities that already exist in the TRIPS Agreement (including compulsory licensing) before requesting new flexibilities.
vaccine
testing
covid-19
Three reasons a weak pound is bad news for the environment
Financial turmoil will make it harder to invest in climate action on a massive scale.
The day before new UK chancellor Kwasi Kwarteng's mini-budget plan for economic growth, a pound would buy you about $1.13. After financial markets rejected the plan, the pound suddenly sunk to around $1.07. Though it has since rallied thanks to major intervention from the Bank of England, the currency remains volatile and far below its value earlier this year.
A lot has been written about how this will affect people's incomes, the housing market or overall political and economic conditions. But we want to look at why the weak pound is bad news for the UK's natural environment and its ability to hit climate targets.
1. The low-carbon economy just became a lot more expensive
The fall in sterling's value partly signals a loss in confidence in the value of UK assets following the unfunded tax commitments contained in the mini-budget. The government's aim to achieve net zero by 2050 requires substantial public and private investment in energy technologies such as solar and wind as well as carbon storage, insulation and electric cars.
But the loss in investor confidence threatens to derail these investments, because firms may be unwilling to commit the substantial budgets required in an uncertain economic environment. The cost of these investments may also rise as a result of the falling pound because many of the materials and inputs needed for these technologies, such as batteries, are imported and a falling pound increases their prices.
2. High interest rates may rule out large investment
To support the pound and to control inflation, interest rates are expected to rise further. The UK is already experiencing record levels of inflation, fuelled by pandemic-related spending and Russia's war on Ukraine. Rising consumer prices developed into a full-blown cost of living crisis, with fuel and food poverty, financial hardship and the collapse of businesses looming large on this winter's horizon.
While the anticipated increase in interest rates might ease the cost of living crisis, it also increases the cost of government borrowing at a time when we rapidly need to increase low-carbon investment for net zero by 2050. The government's official climate change advisory committee estimates that an additional £4 billion to £6 billion of annual public spending will be needed by 2030.
Some of this money should be raised through carbon taxes. But in reality, at least for as long as the cost of living crisis is ongoing, if the government is serious about green investment it will have to borrow.
Rising interest rates will push up the cost of borrowing relentlessly and present a tough political choice that seemingly pits the environment against economic recovery. As any future incoming government will inherit these same rates, a falling pound threatens to make it much harder to take large-scale, rapid environmental action.
3. Imports will become pricier
In addition to increased supply prices for firms and rising borrowing costs, it will lead to a significant rise in import prices for consumers. Given the UK's reliance on imports, this is likely to affect prices for food, clothing and manufactured goods.
At the consumer level, this will immediately impact marginal spending as necessary expenditures (housing, energy, basic food and so on) lower the budget available for products such as eco-friendly cleaning products, organic foods or ethically made clothes. Buying "greener" products typically cost a family of four around £2,000 a year.
Instead, people may have to rely on cheaper goods that also come with larger greenhouse gas footprints and wider impacts on the environment through pollution and increased waste. See this calculator for direct comparisons.
Of course, some spending changes will be positive for the environment, for example if people use their cars less or take fewer holidays abroad. However, high-income individuals who will benefit the most from the mini-budget tax cuts will be less affected by the falling pound and they tend to fly more, buy more things, and have multiple cars and bigger homes to heat.
This raises profound questions about inequality and injustice in UK society. Alongside increased fuel poverty and foodbank use, we will see an uptick in the purchasing power of the wealthiest.
What's next
Interest rate rises increase the cost of servicing government debt as well as the cost of new borrowing. One estimate says that the combined cost to government of the new tax cuts and higher cost of borrowing is around £250 billion. This substantial loss in government income reduces the budget available for climate change mitigation and improvements to infrastructure.
The government's growth plan also seems to be based on an increased use of fossil fuels through technologies such as fracking. Given the scant evidence for absolutely decoupling economic growth from resource use, the opposition's "green growth" proposal is also unlikely to decarbonise at the rate required to get to net zero by 2050 and avert catastrophic climate change.
Therefore, rather than increasing the energy and materials going into the economy for the sake of GDP growth, we would argue the UK needs an economic reorientation that questions the need of growth for its own sake and orients it instead towards social equality and ecological sustainability.
The authors do not work for, consult, own shares in or receive funding from any company or organisation that would benefit from this article, and have disclosed no relevant affiliations beyond their academic appointment.
economic recovery
economic growth
pandemic
government debt
housing market
pound
mitigation
gdp
recovery
interest rates
uk
russia
ukraine