Why letting Medicare negotiate drug prices won't be the game-changer for health care Democrats hope it will be
A new law will let Medicare bargain for the first time. But a health policy scholar explains why it's unlikely to make much of a difference in how much…
Democrats hope their new health care, tax and climate law begins to rein in soaring prescription drug prices.
One of its most touted provisions allows Medicare, America's health insurance program for seniors, to negotiate some prescription drug prices for the first time, with some calling it "game-changing" and a significant victory over the pharmaceutical industry. Drug manufacturers had stubbornly opposed any governmental regulation of drug prices for decades and are likely to challenge the measure in court.
As a scholar who has published extensively on the politics of health policy, I'm skeptical that giving Medicare the ability to negotiate prices on a handful of drugs will be as transformative as the law's backers hope. While a good step, it is unlikely to make a significant difference in how much seniors pay overall for medicine.
Fortunately, there are several other provisions in the law that will do much more to meaningfully help seniors struggling with the high cost of prescription drugs.
Why US drug prices are so high
Pharmaceutical innovation over the past few decades has been tremendous. The quick response to the COVID-19 pandemic in terms of vaccine development and treatments perfectly exemplifies the incredible benefits that drug developers have brought to the world.
Yet these developments have come at a high price, particularly in the United States, where each person spends more than US$1,100 a year on drugs – up from $831 in 2013. Indeed, Americans are paying substantially more than residents of similar countries like Germany, the U.K. and Australia – who pay $825, $285 and $434 per person each year, respectively.
People who need specific high-priced drugs are even more adversely affected.
Dulera, an asthma drug, costs 50 times more in the U.S. than the international average. Januvia, for diabetes, and Combigan, a glaucoma drug, cost about 10 times more. Americans shell out, on average, $98.70 for a vial of insulin, compared with the $6.94 Australians pay.
These costs impose a big burden on Americans – 1 in 5 of whom skip medications because of the cost. Seniors are particularly affected by these problems.
The reasons for high prices are varied, including the overall complexity of the U.S. health care system and the lack of transparency in the drug supply chain. But as I noted in a 2019 article in The Conversation, the biggest reason Americans pay so much more than people do elsewhere is simple: Pharmaceutical companies face no limits setting prices.
Changing the game – a little
The new law, known as the Inflation Reduction Act and signed into law on Aug. 16, 2022, seeks to change that.
The main mechanism to do it is by allowing Medicare to negotiate prices for some of the most expensive drugs. The act gives Medicare the ability to negotiate with drugmakers for 10 drugs starting in 2026 and 20 by 2029.
The law specifies that the medications Medicare is supposed to select must account for most of its spending on drugs and be name brands with no generic equivalents. Research has found that a relatively small number of drugs are responsible for most spending.
Importantly, pharmaceutical companies may face civil penalties and additional taxes on drug sales if they do not comply with the requirements to establish a "maximum fair price" as laid out in the law.
The provision is expected to save the U.S. government about $102 billion over 10 years by allowing it to pay less on prescription drugs for Americans on Medicare – currently 63 million people. The annual savings amount to about 5% of what Medicare currently spends on drugs.
There's also a separate provision that requires pharmaceutical companies, under certain conditions, to provide Medicare with rebates if drug prices outpace inflation. That measure takes effect this year and is expected to yield $71 billion in savings over a decade.
While the government savings are meaningful, I believe seniors themselves are likely to see only a minor drop in costs as a result of this provision, mainly through slightly reduced premiums and lower out-of-pocket costs.
Where the real savings are
The provisions that will make a much bigger difference for seniors lie elsewhere.
Importantly, the new law limits seniors' out-of-pocket expenses for prescription drugs to no more than $2,000 annually. Previously, there were some restrictions but no limit. This will directly help 1.4 million seniors who exceeded the $2,000 threshold in 2020.
The law also limits how fast premiums for Medicare Part D, which provides premium-based prescription drug insurance, can rise over the next few years and implements a number of other adjustments.
It also extends the Medicare Part D low-income subsidy to 400,000 seniors who previously earned too much to qualify. This program helps people pay for premiums, deductible and copays and has been valued at $5,100 a year.
The legislation also limits the cost of insulin to no more than $35 per month for Medicare recipients only. This amounts to more than $1 billion in annual savings for seniors. Almost 16 million American seniors have diabetes and are likely to need insulin at some point in their lives.
Lastly, it also eliminates out-of-pocket costs for seniors for vaccines – a move that would have saved money for 4.1 million people in 2020.
Broader impact
There are real benefits in the bill President Biden signed into law. The government will save by negotiating prices. Seniors will save through the insulin cap and other provisions.
But I don't believe Medicare's ability to negotiate prices will be a game-changing reform.
Besides affecting prices paid by only a slice of Americans, we do not know how aggressively the federal government will seek savings. This particularly applies to any future administration headed up by a Republican president.
The pharmaceutical industry may still manage to limit the impact of price negotiations, since it will be four years before the changes take effect. The industry has a history of skillfully exploiting loopholes and a vast lobbying apparatus to put into that effort.
As for Americans who aren't covered under Medicare, drug prices may actually go up. That's because, if pharmaceutical companies do end up reducing drug prices for seniors, they may shift those costs to everyone else to make up for those lost profits.
Simon F. Haeder does not work for, consult, own shares in or receive funding from any company or organization that would benefit from this article, and has disclosed no relevant affiliations beyond their academic appointment.
vaccine
pandemic
covid-19
germany
Three Infrastructure Investments to Buy as War and Inflation Rage
Three infrastructure investments to buy as war and inflation rage offer ways to overcome ongoing economic risks in pursuit of precious profits. The three…
Three infrastructure investments to buy as war and inflation rage offer ways to overcome ongoing economic risks in pursuit of precious profits.
The three infrastructure investments to buy as war rains terror and destruction, inflation rampages and the Fed raises rates feature companies that appear well-positioned to succeed amid market mayhem. Stocks have advanced in the past couple of trading days, but the economic and geopolitical risks still leave many prognosticators warning that a new 2022 market bottom may yet lie ahead.
One of the three infrastructure investments to buy showcases a company whose unmanned drones have proven their value in Ukraine as the nation's outnumbered defenders recently have begun to push back a Russian invasion of more than 120,000 troops that began Feb. 26. Another company on the list of three infrastructure investments to buy includes a producer of solar panels that could help alleviate a war-related energy shortfall in Europe due to Russia cutting its supply of gas to nations opposing its attack of Ukraine.   
Three Infrastructure Investments to Buy Look to Evade Financial Fallout
"Stocks have been beset with no shortage of problems in recent weeks," wrote Mark Skousen, PhD, to subscribers of his weekly Home Run Trader advisory service. "The primary negative, of course, is that the Federal Reserve is determined to slow the economy, reduce demand, and thereby bring down inflation."
Mark Skousen, Forecasts & Strategies chief and Ben Franklin scion, meets Paul Dykewicz.
However, too much tightening, too fast, risks pushing the United States into a recession, continued Skousen, an economist who uses his analysis of inflation, interest rates and monetary policy in recommending stocks and options to buy. Economic statistics are showing a slowdown in the economy, if not a recession, he added.
"Even though real gross domestic product (GDP) is slightly negative, second-quarter gross output (GO) — which measures total spending in the economy — grew by 1.7% in real terms," Skousen stated. "GO includes the supply chain, which is still catching up from the lockdown-induced shortages."
Three Infrastructure Investments to Buy Face 'Super-Strong' Dollar
Additional concerns include a "super-strong dollar," sliding consumer confidence and a cooling residential real estate market, Skousen counseled.
Investors can consider an exchange-traded fund that offers broad exposure to companies providing automation infrastructure, said Bob Carlson, a pension fund manager who also leads the Retirement Watch investment newsletter.
Bob Carlson, investment guru of Retirement Watch, talks to Paul Dykewicz.
Carlson suggested Robo Global Robotics and Automation (ROBO), a fund that seeks to follow an index that is concentrated in robotics-related or automation-oriented companies. The fund had decent performance until 2022 when it plunged. The fund became caught in the downdraft that befell technology and industrial companies.
Both sectors have done poorly as interest rates rose in 2022, Carlson commented. The fund is down nearly 40% in 2022, while its three-year return is just shy of an annualized 6%.
The fund owns 81 stocks and has 17% of the fund in the 10 largest positions. ROBO's top holdings recently consisted of Cognex (NASDAQ: CGNX), Intuitive Surgical (NASDAQ: ISRG) and IPG Photonics (NASDAQ: IPGP).
Chart courtesy of www.stockcharts.com
Three Infrastructure Investments to Buy Buoyed by Unmanned Drone Stock
"Additive manufacturing technologies are at an inflection point in their ability to solve challenges faced by manufacturing companies, particularly with recent labor shortages and supply chain disruptions," according to Chicago-based investment firm William Blair & Co. "Historically, additive manufacturing applications have been limited by productivity capabilities and lack of industrial strength materials."
Executives of AeroVironment, Inc., (NASDAQ: AVAV), an Arlington, Virginia-based maker of unmanned drones and other multi-domain robotic systems, recently gave a presentation to William Blair analysts about how software from its Plank and Progeny acquisitions provided a key competitive advantage. Indeed, the success of AeroVironment's "kamikaze drones" in Ukraine may extend into Asia.
AeroVironment officials compared the Ukraine War-related Switchblade media coverage to "100 SuperBowl ads worth of press." Before the war, AeroVironment was not even authorized to export the Switchblade.
"It was used in the Middle East for over a decade, but it was viewed as a niche offering," William Blair analysts wrote. "Ukraine is providing a testing ground that proves the Switchblade 300 is incredibly valuable. Now it has U.S. State Department permission to sell to more than 20 countries. In mid-September, it was reported that Japan is evaluating purchasing several hundred kamikaze drones and is evaluating AeroVironment's Switchblade."
A recent Switchblade 600 contract for Ukraine valued at $2.2 million may be a tipping point. On Sept. 15, almost six months after an initial report that a contract was in the works, it came to fruition.
While Javelin, Stinger and TOW traditional missile systems have a three-mile maximum range, the Switchblade 600 has a 20-mile top range with similar effects. The Switchblade 600 has the same size warhead and can be launched without a visual lock on the target, William Blair analysts wrote in a recent research note.
AeroVironment Stands out Among Three Infrastructure Investments to Buy
William Blair rated AeroVironment to "outperform" the market and indicated it appears to be the favorite to win the Army $1 billion/10-year FTUAS program, but an executive at the robotics company estimated that the U.S. Navy addressable market may be larger than the potential market for the Army. Software from Planck, acquired by AeroVironment, enables the JUMP-20 military battlefield drone to perform vision-based autonomous landings onto moving platforms, such as maritime vessels.
The JUMP-20 is a vertical takeoff and landing (VTOL), fixed-wing unmanned aircraft used to provide advanced multi-sensor intelligence, surveillance and reconnaissance (ISR) services. AeroVironment's systems "flourished" during Navy IMX 2022 exercises earlier this year, according to William Blair. 
Regarded as the largest unmanned exercises in the world, IMX 2022 showed how AeroVironment's LEAP software received feeds from manned aircraft, unmanned aircraft, manned vessels and unmanned vessels. At IMX 2022, AeroVironment's LEAP software was not supposed to be the hub, but when other software "was not executing." AeroVironment's LEAP software assumed the hub role on an ad hoc basis.
"We expect AeroVironment's success at IMX 2022 to lead to contracts for its JUMP-20, Puma and Switchblade aircraft down the road," the William Blair analysts wrote.
Chart courtesy of www.stockcharts.com
Three Infrastructure Investments to Buy Include Standex International 
Standex International Corporation (NYSE: SXI), a multinational manufacturer of food service equipment, engravings, engineering technologies, electronics and hydraulics headquartered in Salem, New Hampshire, has many growth paths ahead of it. Rated by William Blair to "outperform" the market, Standex International could materially accelerate organic growth to 10% or more during the next two to three years, excluding its commercial solar panel production volumes for an innovative Gr3n joint venture with Italy's Enel (OTCMKTS: ENLAY).
That partnership with a multinational manufacturer and distributor of electricity and gas has gained importance due to the suspected sabotage of both under water pipelines of the Nord Stream 1 from Russia to Western Europe, along with one line of Nord Stream 2. Seismologists in Denmark and Sweden suggest that sizeable explosions on the order of 100 kilograms of TNT occurred in both incidents.
With Russia's President Vladimir Putin facing unexpected battlefield setbacks more than six months after he ordered a Feb. 26 invasion of neighboring Ukraine that the former KGB agent euphemistically called a "special military operation," the pipeline sabotage seems targeted to hurt European nations as winter nears. Since Putin ordered troops into Ukraine in February, Russia has cut supplies of natural gas to Europe to heat homes, generate electricity and fuel factories.
European Leaders Complain of 'Energy Blackmail' by Putin
European leaders have accused Putin of using "energy blackmail" to weaken their support for Ukraine as the country seeks to repel Russia's aggression.
Without presenting any evidence, Russian officials are attempting to blame the United States for the apparent sabotage, even though the affected nations are among America's closest allies. President Biden countered the accusations were the latest in a continuing Russian campaign of "disinformation and lies."
Biden also described the explosions of the Nordstream pipelines as acts of "sabotage" and discussed sending divers to examine the pipelines to find evidence that could be brought to light. Russia's audacious move to "annex" Ukrainian territory in a Putin-led ceremony last Friday, Sept. 30, was declared illegal by Ukraine, the United Nations, the United States and many other Western allies who said it violated Ukrainian and international law.
Solar Panel Design Aids One of Three Infrastructure Investments to Buy
Standex further plans to benefit from significantly higher research and development (R&D) investments for new product development to "materially increase organic sales growth," William Blair opined. New product launches are expected across all five of Standex's businesses in fiscal 2023, including high growth end-markets such as renewable energy, electric vehicles, human health, commercialization of space and sustainable products.
Standex's Gr3n joint venture could attain full commercialization by mid-decade, potentially becoming Standex's sixth business segment. The result could boost Standex's "organic sales growth" to the low teens in the next three to five years, the William Blair analysts wrote.
The joint venture has developed and tested a prototype for a highly innovative, extremely efficient and 100% recyclable new solar panel design that is 30-35% more efficient and weighs 38% less than traditional glass solar panels. With interest in solar panels rising as the European Union (EU) scrambles to replace the 40% of its energy previously sourced from Russia, Standex is expanding electronics' production capacity in Germany, China and India, the investment firm reported. 
"If the new recyclable, highly efficient solar panel can be cost-effectively produced, it could become the largest new product in Standex's history," according to the William Blair analysts.
Chart courtesy of www.stockcharts.com
U.S. CDC Halts Its Country-by-Country Travel Notices
The U.S. Centers for Disease Control and Prevention (CDC) dropped its country-by-country COVID-19 travel health notices on Monday, Oct. 3. Those warnings began early in the pandemic as COVID-19 cases and deaths climbed.
COVID risks affect supply and demand for infrastructure stocks, but not as much as cyclical companies whose share prices can soar when economic conditions are favorable but fall fast when inflation, a potential recession and Fed interest rate hikes imperil stock prospects. Savvy investors monitor COVID-19 outbreaks and lockdowns to forecast how certain stocks and sectors, such as infrastructure, are affected.
Another encouraging sign occurred when Canada announced on Sept. 26 that it would remove all remaining COVID-19 entry restrictions, such as testing, quarantine and isolation requirements. That development could boost trade and tourism between that country and the United States.
China's strict zero-tolerance COVID policy continues to be controversial and recently sparked a rare protest in its technology hub of Shenzhen, social media video showed. The dissent came after government officials ordered a sudden lockdown due to 10 new infections on Sept. 27 in the city of more than 18 million people. Officials ordered residents in three districts there to stay home.
China has locked down more than 70 cities fully or partially to preserve its zero-tolerance policy of COVID. However, 27 people were killed and 20 more were injured when a quarantine bus overturned on a mountain road on Sept. 20.
U.S. COVID-19 deaths ticked up by nearly 4,000, up about 1,000 compared to roughly 3,000 the previous week. Cases in the country totaled 96,481,081, as of early Oct. 5, while deaths jumped to 1,060,408, according to Johns Hopkins University. America stands out dubiously as the nation with the most COVID-19 deaths and cases.
Worldwide COVID-19 deaths in the past week rose by more than 11,000, up about 2,000 from the prior week. The number of deaths totaled 6,550,203, as of Oct. 5, according to Johns Hopkins. Global COVID-19 cases reached 619,211,562.
Roughly 79.5% of the U.S. population, or 264,112,767, have received at least one dose of a COVID-19 vaccine, as of Oct. 5, the CDC reported. Fully vaccinated people total 225,284,115, or 67.9%, of the U.S. population, according to the CDC. The United States also has given at least one COVID-19 booster vaccine to almost 110 million people.
The three infrastructure investments to buy can be repurchased at reduced prices after a rough 2022 market wide. Despite high inflation, Russia's continuing war in Ukraine and recession risk after 0.75% rate hikes by the Fed in June, July and Sept. 21, the three infrastructure investments to buy offer some insulation compared to cyclical stocks with government budgets less economically sensitive than the private sector. 
Paul Dykewicz, www.pauldykewicz.com, is an accomplished, award-winning journalist who has written for Dow Jones, the Wall Street Journal, Investor's Business Daily, USA Today, the Journal of Commerce, Seeking Alpha, Guru Focus and other publications and websites. Paul, who can be followed on Twitter @PaulDykewicz, is the editor of                                  StockInvestor.com and DividendInvestor.com, a writer for both websites and a columnist. He further is editorial director of Eagle Financial Publications in Washington, D.C., where he edits monthly investment newsletters, time-sensitive trading alerts, free e-letters and other investment reports. Paul previously served as business editor of Baltimore's Daily Record newspaper. Paul also is the author of an inspirational book, "Holy Smokes! Golden Guidance from Notre Dame's Championship Chaplain," with a foreword by former national championship-winning football coach Lou Holtz. The book is great as a gift and is endorsed by Joe Montana, Joe Theismann, Ara Parseghian, "Rocket" Ismail, Reggie Brooks, Dick Vitale and many others. Call 202-677-4457 for multiple-book pricing.
The post Three Infrastructure Investments to Buy as War and Inflation Rage appeared first on Stock Investor.
recession
pandemic
covid-19
dow jones
nasdaq
stocks
monetary policy
fed
federal reserve
real estate
cdc
disease control
army
vaccine
testing
deaths
quarantine
lockdown
recession
gdp
interest rates
india
japan
canada
european
europe
italy
germany
sweden
russia
ukraine
eu
china
What's next for ancient DNA studies after Nobel Prize honors groundbreaking field of paleogenomics
Thousands of ancient genomes have been sequenced to date. A Nobel Prize highlights tremendous opportunities for aDNA, as well as challenges related to…
For the first time, a Nobel Prize recognized the field of anthropology, the study of humanity. Svante Pääbo, a pioneer in the study of ancient DNA, or aDNA, was awarded the 2022 prize in physiology or medicine for his breathtaking achievements sequencing DNA extracted from ancient skeletal remains and reconstructing early humans' genomes – that is, all the genetic information contained in one organism.
His accomplishment was once only the stuff of Jurassic Park-style science fiction. But Pääbo and many colleagues, working in large multidisciplinary teams, pieced together the genomes of our distant cousins, the famous Neanderthals and the more elusive Denisovans, whose existence was not even known until their DNA was sequenced from a tiny pinky bone of a child buried in a cave in Siberia. Thanks to interbreeding with and among these early humans, their genetic traces live on in many of us today, shaping our bodies and our disease vulnerabilities – for example, to COVID-19.
The world has learned a startling amount about our human origins in the last dozen years since Pääbo and teammates' groundbreaking discoveries. And the field of paleogenomics has rapidly expanded. Scientists have now sequenced mammoths that lived a million years ago. Ancient DNA has addressed questions ranging from the origins of the first Americans to the domestication of horses and dogs, the spread of livestock herding and our bodies' adaptations – or lack thereof – to drinking milk. Ancient DNA can even shed light on social questions of marriage, kinship and mobility. Researchers can now sequence DNA not only from the remains of ancient humans, animals and plants, but even from their traces left in cave dirt.
Alongside this growth in research, people have been grappling with concerns about the speed with which skeletal collections around the world have been sampled for aDNA, leading to broader conversations about how research should be done. Who should conduct it? Who may benefit from or be harmed by it, and who gives consent? And how can the field become more equitable? As an archaeologist who partners with geneticists to study ancient African history, I see both challenges and opportunities ahead.
Building a better discipline
One positive sign: Interdisciplinary researchers are working to establish basic common guidelines for research design and conduct.
In North America, scholars have worked to address inequities by designing programs that train future generations of Indigenous geneticists. These are now expanding to other historically underrepresented communities in the world. In museums, best practices for sampling are being put into place. They aim to minimize destruction to ancestral remains, while gleaning the most new information possible.
But there is a long way to go to develop and enforce community consultation, ethical sampling and data sharing policies, especially in more resource-constrained parts of the world. The divide between the developing world and rich industrialized nations is especially stark when looking at where ancient DNA labs, funding and research publications are concentrated. It leaves fewer opportunities for scholars from parts of Asia, Africa and the Americas to be trained in the field and lead research.
The field faces structural challenges, such as the relative lack of funding for archaeology and cultural heritage protection in lower income countries, worsened by a long history of extractive research practices and looming climate change and site destruction. These issues strengthen the regional bias in paleogenomics, which helps explain why some parts of the world – such as Europe – are so well-studied, while Africa – the cradle of humankind and the most genetically diverse continent – is relatively understudied, with shortfalls in archaeology, genomics and ancient DNA.
Making public education a priority
How paleogenomic findings are interpreted and communicated to the public raises other concerns. Consumers are regularly bombarded with advertisements for personal ancestry testing, implying that genetics and identity are synonymous. But lived experiences and decades of scholarship show that biological ancestry and socially defined identities do not map so easily onto one another.
I'd argue that scholars studying aDNA have a responsibility to work with educational institutions, like schools and museums, to communicate the meaning of their research to the public. This is particularly important because people with political agendas – even elected officials – try to manipulate findings.
For example, white supremacists have erroneously equated lactose tolerance with whiteness. It's a falsehood that would be laughable to many livestock herders from Africa, one of the multiple centers of origin for genetic traits enabling people to digest milk.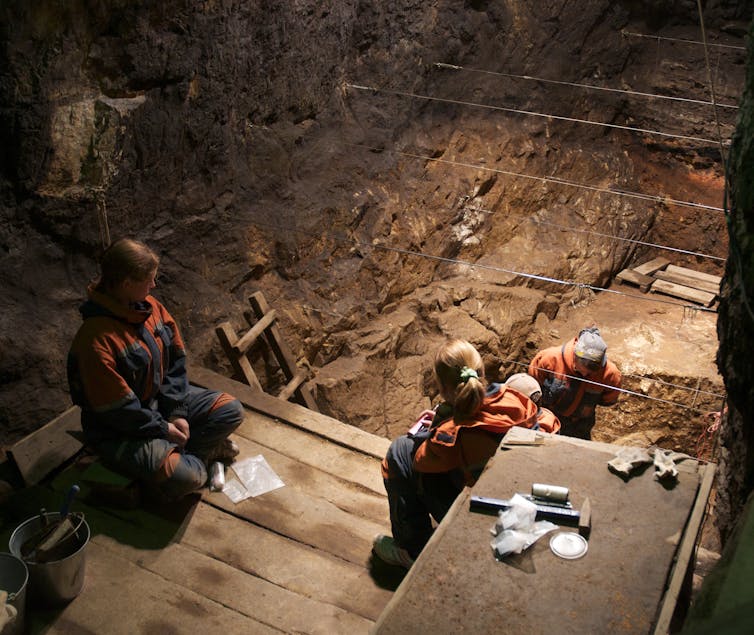 Leaning in at the interdisciplinary table
Finally, there's a discussion to be had about how specialists in different disciplines should work together.
Ancient DNA research has grown rapidly, sometimes without sufficient conversations happening beyond the genetics labs. This oversight has provoked a backlash from archaeologists, anthropologists, historians and linguists. Their disciplines have generated decades or even centuries of research that shape ancient DNA interpretations, and their labor makes paleogenomic studies possible.
As an archaeologist, I see the aDNA "revolution" as usefully disrupting our practice. It prompts the archaeological community to reevaluate where ancestral skeletal collections come from and should rest. It challenges us to publish archaeological data that is sometimes only revealed for the first time in the supplements of paleogenomics papers. It urges us to grab a seat at the table and help drive projects from their inception. We can design research grounded in archaeological knowledge, and may have longer-term and stronger ties to museums and to local communities, whose partnership is key to doing research right.
If archaeologists embrace this moment that Pääbo's Nobel Prize is spotlighting, and lean in to the sea changes rocking our field, it can change for the better.
Mary Prendergast does not work for, consult, own shares in or receive funding from any company or organisation that would benefit from this article, and has disclosed no relevant affiliations beyond their academic appointment.
testing
genetic
dna
covid-19
spread
africa
europe
Norwegian Makes Covid Change Royal Caribbean, Carnival Have Not
Only one of the three major cruises lines has chosen to make this bold decision.
Only one of the three major cruises lines has chosen to make this bold decision.
This summer, all three of the major cruise lines began loosening their covid protocols.
For a while, there was a standard protocol that the three cruise lines, Royal Caribbean International  (RCL) - Get Royal Caribbean Group Report, Carnival Cruise Line  (CCL) - Get Carnival Corporation Report, and Norwegian Cruise Line  (NCLH) - Get Norwegian Cruise Line Holdings Ltd. Report, followed. The crew had to be vaccinated and regularly tested, while all passengers 12-and-over must be vaccinated and provide proof of that before boarding and all passengers must provide a negative covid test taken no more than two days before their sailing.
Royal Caribbean, Carnival, and Norwegian all moved largely in lockstep during the pandemic. In July 2021, when all three cruise lines returned to service from U.S. ports, they had to deal with oversight from the Centers for Disease Control and Prevention.
But the companies all began relaxing those rules in different ways. For example, Royal Caribbean began accepting results from self-administered home tests, and it also decided that vaccinated guests wouldn't have to take a pre-cruise test on cruises that are shorter than 10 nights.
While it is important to still be safe and use common sense, there's now a general sense that we've generally turned the corner on the covid-era, and that everyone who is going to get vaccinated has done so by now, and President Biden officially declared the pandemic over.
The cruise industry is following suit, as Norwegian has now decided to do away with most of its covid-era protocols.
Norwegian Will No Longer Require Masks, Vaccinations, and Tests
Norwegian effective Oct. 4 will now remove all covid-19 testing, masking and vaccination requirements, owing to what the company terms positive progress in the public health environment.
"Health and safety are always our first priority; in fact, we were the health and safety leaders from the very start of the pandemic," said Harry Sommer, Norwegian Cruise Line president and chief executive officer in a statement. "Many travelers have been patiently waiting to take their long-awaited vacation at sea and we cannot wait to celebrate their return."
The Center for Disease Control has a great deal of jurisdiction over the cruise industry, as ships travel all over the world, and each country has its own health and safety standards. Last year, the CDC labeled sailing a high risk, level 4 activity, but slowly began lowering the risk level until doing away with it entirely in March. Over the summer, the CDC announced that its covid-19 Program for Cruise Ships was no longer in effect. 
Norwegian will continue to follow the health guidelines of every country it visits, and that list for customers is here.
Will Royal Caribbean and Carnival Follow?
Norwegian was the first cruise line to drop pre-cruise covid testing, unless the country the ship sails from requires it.
It's unclear, at the moment, if Royal Caribbean and Carnival if or when follows suit and drops all its requirements as well.
At the moment, both companies have covid protocols listed on their websites. 
Royal Caribbean's website states that for cruises departing from North America, "All Royal Caribbean guests age 12 and older must be fully vaccinated against COVID-19 with the final dose administered at least 14 days before sailing. We will ask that you disclose your vaccination status prior to boarding (via the Royal Caribbean app, on our website, or at the terminal)."
On Carnival's website, the company states "Carnival's protocols have evolved, making it easier for more guests to sail with simplified vaccination and testing guidelines." 
"We encourage all guests to be up to date with their COVID-19 vaccines and to test within three days prior to their cruise. However, testing is required for unvaccinated guests, or irrespective of vaccination status as specified by a destination, and on cruises of 16 nights or longer."
Vaccinated guests on Carnival cruises that provide proof of vaccination are not required to take a pre-cruise test except on cruises of 16 nights or longer or when required by a destination.
Action Alerts Plus
The Best Ideas For You To Build Wealth
A members-only investing club that helps you grow your portfolio with real-time trade alerts, analysis of major market events, and key opportunities.
Real-Time Trade Alerts
24/7 Access To The Portfolio
Portfolio Price Targets
cdc
disease control
center for disease control
pandemic
covid-19
testing