Who wins as energy bills soar? Oil and gas companies
Decommodifying energy could ensure no one dies because they can't afford to pay a bill.
Your annual energy bill could rise by another £800 in October according to UK electricity and gas market regulator Ofgem, which is set to lift the cap on energy prices (the maximum that energy suppliers can charge customers on a default tariff) in the autumn. The cap was already raised by £693 last month, bringing the average annual bill to £1,971. October's hike could see household energy bills reach £2,800 for the year.
---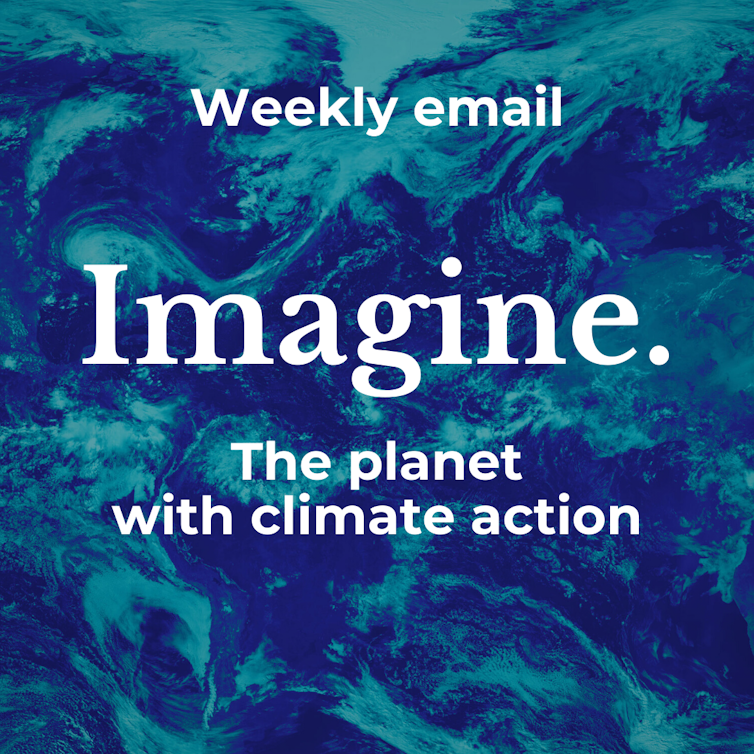 Don't have time to read about climate change as much as you'd like?
Get a weekly roundup in your inbox instead. Every Wednesday, The Conversation's environment editor writes Imagine, a short email that goes a little deeper into just one climate issue. Join the 10,000+ readers who've subscribed so far.
---
Why are energy prices going up and up? According to Sara Walker, a professor of energy at Newcastle University, the answer is simple: "Gas is almost four times more expensive than this time last year." The UK is a net importer of fossil gas, which is used to heat boilers in 85% of homes nationwide and generate a third of the country's electricity.
A spike in demand for gas as countries emerged from pandemic lockdowns last year, supply complications due to Russia's invasion of Ukraine and the UK government's failure to renew gas storage sites have all sent prices soaring, Walker says.
The result has been almost a quarter of homes entering fuel poverty. In other words, 6.5 million households are now unable to adequately heat their homes, which is "staggering for a developed country", Walker adds.
Breaking down where all that extra money is going, Walker reveals a 104% increase in the wholesale price of energy (largely tied to rising gas prices) which now accounts for roughly £1,000 of an average annual bill, compared with £500 before the cap was lifted.
"Networks are the next biggest cost, making up around £371 of the new cap – an increase of 39%," Walker says. "Part of the increase in network cost is because many smaller energy suppliers have gone bust recently, and when a supplier goes bust, other companies are asked to take on their customers."
These "suppliers of last resort", as they are called, have operating costs (such as paying workers to manage customer queries and complaints) which cannot be recovered when they take on new customers. Instead, "the cost is spread over everyone's bills", Walker says.
If customers are being made to prop up the market by paying significantly higher bills and many energy suppliers have already gone out of business, who is actually benefiting from the present arrangement? The companies extracting the increasingly lucrative oil and gas in the first place, Walker explains. And their big profits "are primarily because of the sales of oil and gas they are making in the wholesale market, so this is different to the profits of your energy supplier," she says.
Energy market failure
If fossil fuel companies raking it in during an unprecedented squeeze on living standards seems unfair, then Lee Towers, a PhD candidate in energy and politics at the University of Brighton, has worse news. He argues that injustice is baked into the way the energy market operates, and that it's not just galling for struggling consumers, it's a major obstacle to cutting emissions.
"On top of their energy use, every home in the country is paying extra on their bill to cover the cost of retrofitting programmes to increase the energy efficiency of homes, help for those in fuel poverty and subsidies for renewable [energy] generation," he says. "All of these costs are added to energy bills at a flat rate."
Towers explains that, in practise, this means "those on the lowest incomes pay a six times higher share of their income for the [green] transition than the highest income group, who also happen to have the highest CO₂ emissions on average".
"Through energy bills, people in the lowest income groups effectively self-fund their own fuel poverty support, including measures like the warm home discount – a one-off winter payment of £140 towards energy bills – while also paying towards measures that mainly benefit higher income groups, like subsidies for rooftop solar panels."
Towers believes that letting the cost of decarbonising the UK's energy system fall disproportionately on the poorest is "slowing the speed and reducing the motivation for a transition in the first place". So what's the alternative?
Gordon Walker is a professor at Lancaster Environment Centre. Writing in the aftermath of the February 2021 Texas blackouts, when fierce winter storms downed power lines and left millions shivering without heat or electricity, he argued that we must rethink the idea of energy as a commodity, and instead treat access to it as a universal right.
"When the power fails, the consequences can be devastating. Those most vulnerable to the cold or heat – older people in particular – and those living in poor quality housing, can die as a consequence of technologies losing their power. This adds to the background toll of 'excess deaths' linked to energy poverty on an annual basis," he said.
While UK residents have a legal right to not have their water supply disconnected if they can't meet bills, there is no such provision in place for those struggling to cover the cost of energy. The result is that people die – from exposure, or spoiled food and medicine – when they can no longer afford to pay.
One in ten people worldwide don't even have basic electricity provision. And yet, as Gordon says: "energy enhances many of the basic capabilities of a decent life, not only good health, but also education, communication, livelihood, self-respect and conviviality".
The idea of a universal right to energy seems less far-fetched once we remember how essential energy is to almost everything we need to do, Gordon says.
"Nobody really wants to consume energy per se. It is the heat, light, cool, communication, mobility and so on that are really valued and that really matter. There should therefore be much more focus on realising such services in ways that minimise energy use and energy bills, and cutting energy demand as part of zero carbon trajectories."
If you liked this, please consider donating to The Conversation. Your support ensures we can continue to share the voices of experts on the world's most pressing challenges.
default
pandemic
subsidies
spread
deaths
oil
uk
russia
ukraine
Cruise Line Drops Pre-Cruise Covid Testing Rule
The major cruise lines walk a delicate line. They need to take the actual steps required to keep their passengers safe and they also need to be aware of…
The major cruise lines walk a delicate line. They need to take the actual steps required to keep their passengers safe and they also need to be aware of how things look to the outside public. It's a mix of practical covid policy balanced with covid theater.
You have to do the right thing -- and Royal Caribbean International (RCL) - Get Royal Caribbean Group Report, Carnival Cruise Lines (CCL) - Get Carnival Corporation Report, and Norwegian Cruise Lines (NCLH) - Get Norwegian Cruise Line Holdings Ltd. Report have been doing that with very meticulous protocols-- but you also have to show the general public you're taking the pandemic seriously. The cruise industry has been under the microscope of both public perception and the Centers for Disease Control (CDC) since covid first appeared.
That's not because you're likely to get infected on a cruise ship than at a concert, sporting event, theme park, restaurant, or any other crowded space. It's because when you get sick at one of those locations nobody can pinpoint the source of your infection
Cruises last from 3 days to 7 days or even longer and that means that some people will get covid onboard and that will be blamed on the cruise industry. To mitigate that Carnival, Royal Caribbean, and Norwegian have rigid protocols in place that require passengers 12 and over to be vaccinated as well as pre-cruise covid tests taken no more than two days before your cruise leaves.
Once cruise line has dropped that testing requirement (at least on a few sailings) and that could lead Royal Caribbean, Carnival, and Norwegian to follow. 
Holland America Drops Some Covid Testing
As the largest cruise lines sailing from the U.S., Royal Caribbean, Carnival, and Norwegian don't want to be the first to make major covid policy changes. They acted more or less in tandem when it came to loosening, then dropping mask rules and have generally followed the lead of the CDC, even when that agency's rules became optional.
Now, Holland America cruise line has dropped pre-cruise covid testing on a handful of cruises. It's a minor move, but it does provide cover and precedent for Royal Caribbean, Carnival, and Norwegian to eventually do the same.
"Holland America Line becomes the first US-based cruise line to remove testing for select cruises. Unfortunately for those taking a cruise from the United States, the new protocols are only in place for certain cruises onboard the company's latest ship, the Rotterdam, in Europe," Cruisehive reported.
The current CDC guidelines do recommend pre-cruise testing, but the cruise lines into following those rules. By picking cruises sailing out of Europe, Holland America avoids picking a fight with the federal agency just yet, but it will be able to gather data as to whether the pre-cruise testing actually helps.
Holland America has not changed its vaccination requirements for those cruises which mirror the 12-and-up rule used by Royal Caribbean, Carnival, and Norwegian.
Some guests have called for the end of the testing requirement because they believe it's more theater than precaution because people can test and then contract covid while traveling to their cruise.
The Current Cruise Protocols Work
Royal Caribbean President Michael Bayley does expect changes to come in his cruise line's covid protocols, and he talked about them during Royal Caribbean's recent President's Cruise, the Royal Caribbean Blog reported.
"I think pre cruise testing is going to be around for another couple of months," Bayley told passengers during a question and answer session. "We obviously want it to go back to normal, but we're incredibly cognizant of our responsibilities to keep our crew, the communities and our guests safe."
People do still get covid onboard despite the crew being 100% vaccinated and all passengers 12 and over being vaccinated, but the protocols have worked well when it comes to preventing serious illness.
Bayley said that the CDC shared some information with him in a call.
"The cruise industry sailing out of the US ports over the past 12 months and how many people have been hospitalized with Covid and how many deaths occurred from Covid from people who'd sailed on the industry's ships, which is in the millions," he said, "And the number of people who died from COVID who'd sailed on ships over the past year was two."
That success may be why the major cruise lines are reluctant to make changes. The current rules, even if they're partially for show, have been incredibly effective.
"Two is terrible. But but but against the context of everything we've seen, that's it's truly been a remarkable success." he added.
cdc
disease control
pandemic
testing
deaths
europe
Visualizing A Decade Of Population Growth And Decline In US Counties
Visualizing A Decade Of Population Growth And Decline In US Counties
There are a number of factors that determine how much a region's population…
Visualizing A Decade Of Population Growth And Decline In US Counties
There are a number of factors that determine how much a region's population changes.
If an area sees a high number of migrants, along with a strong birth rate and low death rate, then its population is bound to increase over time. On the flip side, as Visual Capitalists Nick Routley details below, if more people are leaving the area than coming in, and the region's birth rate is low, then its population will likely decline.
Which areas in the United States are seeing the most growth, and which places are seeing their populations dwindle?
This map, using data from the U.S. Census Bureau, shows a decade of population movement across U.S. counties, painting a detailed picture of U.S. population growth between 2010 and 2020.
Counties With The Biggest Population Growth from 2010-2020
To calculate population estimates for each county, the U.S. Census Bureau does the following calculations:
      A county's base population → plus births → minus deaths → plus migration = new population estimate
From 2010 to 2020, Maricopa County in Arizona saw the highest increase in its population estimate. Over a decade, the county gained 753,898 residents. Below are the counties that saw the biggest increases in population:
Phoenix and surrounding areas grew faster than any other major city in the country. The region's sunny climate and amenities are popular with retirees, but another draw is housing affordability. Families from more expensive markets—California in particular—are moving to the city in droves. This is a trend that spilled over into the pandemic era as more people moved into remote and hybrid work situations.
Texas counties saw a lot of growth as well, with five of the top 10 gainers located in the state of Texas. A big draw for Texas is its relatively affordable housing market. In 2021, average home prices in the state stood at $172,500—$53,310 below the national average.
Counties With The Biggest Population Drops from 2010-2020
On the opposite end of the spectrum, here's a look at the top 10 counties that saw the biggest declines in their populations over the decade:
The largest drops happened in counties along the Great Lakes, including Cook County (which includes the city of Chicago) and Wayne County (which includes the city of Detroit).
For many of these counties, particularly those in America's "Rust Belt", population drops over this period were a continuation of decades-long trends. Wayne County is an extreme example of this trend. From 1970 to 2020, the area lost one-third of its population.
U.S. Population Growth in Percentage Terms (2010-2020)
While the map above is great at showing where the greatest number of Americans migrated, it downplays big changes in counties with smaller populations.
For example, McKenzie County in North Dakota, with a 2020 population of just 15,242, was the fastest-growing U.S. county over the past decade. The county's 138% increase was driven primarily by the Bakken oil boom in the area. High-growth counties in Texas also grew as new sources of energy were extracted in rural areas.
The nation's counties are evenly divided between population increase and decline, and clear patterns emerge.
Pandemic Population Changes
More recent population changes reflect longer-term trends. During the COVID-19 pandemic, many of the counties that saw the strongest population increases were located in high-growth states like Florida and Texas.
Below are the 20 counties that grew the most from 2020 to 2021.
Many of these counties are located next to large cities, reflecting a shift to the suburbs and larger living spaces. However, as COVID-19 restrictions ease, and the pandemic housing boom tapers off due to rising interest rates, it remains to be seen whether the suburban shift will continue, or if people begin to migrate back to city centers.
Tyler Durden
Sat, 07/02/2022 - 21:00
housing market
pandemic
covid-19
deaths
death rate
interest rates
oil
Tesla EV deliveries fall nearly 18% in second quarter following China factory shutdown
Tesla delivered 254,695 electric vehicles globally in the second quarter, a nearly 18% drop from the previous period as supply chain constraints, China's…
Tesla delivered 254,695 electric vehicles globally in the second quarter, a nearly 18% drop from the previous period as supply chain constraints, China's extended COVID-19 lockdown and challenges around opening factories in Berlin and Austin took their toll on the company.
This is the first time in two years that Tesla deliveries, which were 310,048 in the first period this year, have fallen quarter over quarter. Tesla deliveries were up 26.5% from the second quarter last year.
The quarter-over-quarter reduction is in line with a broader supply chain problem in the industry. It also illustrates the importance of Tesla's Shanghai factory to its business. Tesla shuttered its Shanghai factory multiple times in March due to rising COVID-19 cases that prompted a government shutdown.
The company said Saturday it produced 258,580 EVs, a 15% reduction from the previous quarter when it made 305,407 vehicles.
Like in other quarters over the past two years, most of the produced and delivered vehicles were Model 3 and Model Ys. Only 16,411 of the produced vehicles were the older Model S and Model X vehicles.
Tesla said in its released that June 2022 was the highest vehicle production month in Tesla's history. Despite that milestone, the EV maker as well as other companies in the industry, have struggled to keep apace with demand as supply chain problems persist.
lockdown
covid-19
china