What Employers Need To Know About How To Handle New COVID Restrictions
With lockdowns going into effect all over the country again due to the surge in COVID cases, employers all over the country are trying to figure out what to do to prepare for "The December To Remember". Can you force employees to stay put? Can…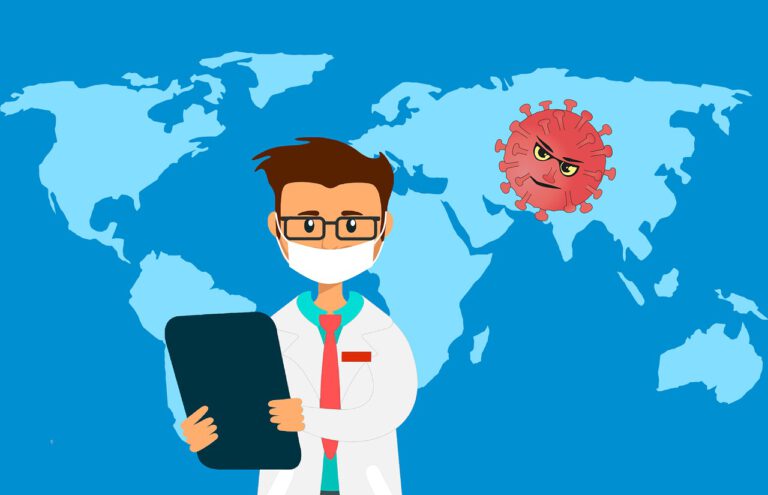 With lockdowns going into effect all over the country again due to the surge in COVID cases, employers all over the country are trying to figure out what to do to prepare for "The December To Remember". Can you force employees to stay put? Can you penalize them for going to Grandma's for Turkey Day? And, how about work from anywhere policies?
Q3 2020 hedge fund letters, conferences and more
Aaron Goldstein, a labor and employment partner at the international law firm Dorsey & Whitney, says he has been flooded daily with questions like this as cities start cracking down again. He has some advice for businesses/companies facing more disruptions based on some of the questions that he's been getting round the clock this holiday season.
COVID-19 Restrictions: Business Owners Are Panicking
"The US is experience the largest surge in cases and the second largest surge in deaths since the COVID-19 crisis began last February. Initially people were more willing to curtail their normal activities to slow the spread of the virus and ease the burden on the nation's healthcare system. However, as the COVID-19 crisis stretches into its ninth month, people are desperate for a return to normalcy. Families are fraying with school closures and being forced out of their ordinary routines of activities outside the home. Business owners are panicking as state and federal assistance runs out. Some employees are terrified to come into work while others are desperate for their next paycheck after having been furloughed or laid off," Goldstein says.
"What has often gotten lost in this tug-of-war between restrictions and COVID-19 fatigue is any sort of consistent and thoughtful approach that balances these competing concerns. Schools close while movie theatres stay open. Simple low cost precautions like masks become politicized," Goldstein says.
"When navigating the next four or five months before a COVID vaccine is (hopefully) widely available, businesses need to take a clear eyed approach that maximizes the effectiveness of their restrictions while refusing to give into the passions and prejudices of its workforce," Goldstein says.
"Requiring all employees to wear masks, regardless of a legal mask mandate, is an easy step," Goldstein says.
Scheduling Shifts
"Creatively scheduling shifts to maximize productivity while minimizing the density of the workplace is also a great idea. Rather than having one 9am to 5pm shift, consider having two 8 hour shifts so that the workplace is half as full. If employees can work from home, they should work from home," Goldstein says.
"Employers should prioritize the needs of workers who themselves have health conditions that put them at risk or who live with vulnerable individuals. But finding the office more convenient is not a reason to allow employees who can work remote to return to the office. Employees who disregard COVID restrictions should be warned, and if they persist, shown the door," Goldstein says.
"Employers must also address the risks of having a remote workforce that is increasingly stressed and worn out. There has been a massive increase in data security breaches as employees switch to unsecure home networks and engage in online activity on work computers at home that they would never engage in at work," Goldstein says.
Proving Liability
"Employers that fail to take common sense precautions face liability both in civil cases alleging negligence and under statutes such as OSHA. While it will be hard to prove that an individual case of COVID-19 came from a particular individual, super spreader events may be easier to track, making liability easier to prove," Goldstein says.
"Finally, as state and federal COVID-19 relief runs out and lost wages from botched furloughs and layoffs accumulate, employers can expect an increase in claims," Goldstein says.
"We are about nine months into the COVID-19 crisis. We probably have at least another five months to go. Like any marathon, the fight against fatigue is paramount. Employers must not lose sight of their best practices," Goldstein says.
The post What Employers Need To Know About How To Handle New COVID Restrictions appeared first on ValueWalk.
business guides
coronavirus lockdowns
coronavirus pandemic
covid-19 restrictions
december to remember
vaccine
spread
deaths
Federal Pandemic Program Forgave $809 Million In PPP Loans To White-Shoe Law Firms: Watchdog
Federal Pandemic Program Forgave $809 Million In PPP Loans To White-Shoe Law Firms: Watchdog
Authored by Mark Tapscott via The Epoch Times…
Federal Pandemic Program Forgave $809 Million In PPP Loans To White-Shoe Law Firms: Watchdog
Authored by Mark Tapscott via The Epoch Times (emphasis ours),
Federal officials forgave $809 million in Paycheck Protection Program (PPP) loans handed out during the COVID-19 pandemic in 2020 to more than 100 of the nation's top law firms and another $635 million given to hundreds of elite accounting offices, according to a new analysis of government spending to be made public on Dec. 2.
As described by the Department of Treasury, the PPP was established in 2020 to provide "small businesses with the resources they need to maintain their payroll, hire back employees who may have been laid off, and cover applicable overhead."
The program was administered by the federal Small Business Administration, which made $787 billion in federal loans to companies and firms spanning all industries. The vast majority of the "loans" were subsequently turned into grants, which didn't require repayment.
An investigation by Open the Books found that hundreds of millions of federal tax dollars went to top law and accounting firms even though most of them didn't qualify as small businesses and didn't have to lay off employees.
Open the Books is a nonprofit watchdog that uses public information laws such as the federal Freedom of Information Act to make government spending public, including "every dime online, in real time."
The Epoch Times obtained an advance copy of the investigative report.
Auditors "found an astonishing $1.4 billion in forgiven PPP loans that flowed to the largest and most successful law and accounting firms across America," the report stated.
"Today, it is an open question whether many of the firms needed a taxpayer subsidy to 'save' any jobs during the Covid-pandemic. Many racked up record revenues while their equity partners made millions of dollars.
"For example, in the years 2020 and 2021, we found equity partners individually received $7 million in profits while their law firms received $10 million in forgiven PPP 'loans.' The Guam office of Ernst & Young, a Big Three accounting firm with 365,000 employees, took a $750,000 forgiven loan.
"In 2020, millions of mom and pop businesses on Main Street had to shut down during the forced economic lockdown [occasioned by the pandemic]. So, Congress created the Paycheck Protection Plan (PPP) to compensate those businesses for their economic losses.
"Firms with 500 employees or fewer met eligibility requirements. However, Congress didn't anticipate that Biglaw and the largest accounting firms would cash in so profitably."
Among the biggest winners was Boies Schiller Flexner LLP, the New York City-based law firm of Democratic superlawyer David Boies, which received a forgiven $10.14 million PPP loan.
Boies first came into national prominence in 2000, when he headed Vice President Al Gore's legal team during the Florida presidential election recount. The election wasn't decided until the Supreme Court's Bush v. Gore decision, which put Texas Gov. George W. Bush in the Oval Office.
Boies also gained national notoriety by representing the Department of Justice in its successful prosecution of Microsoft, and he headed a legal team that challenged California's Proposition 8, which banned same-sex marriages. The proposition was approved in 2008 by voters, but the Supreme Court effectively nullified it in a 2013 decision.
His firm's PPP debt was forgiven in October 2021 under the Biden administration, even though during the period covered by the loan "the firm's equity partners earned $4.5 million each in profit compensation—receiving $2.219 million (2021) and $2.283 million (2020). The firm billed clients $480 million during this two-year period," Open the Books found.
The second-biggest law firm beneficiary of PPP loans was the Birmingham, Alabama-based Maynard Cooper & Gale, which received $10.13 million under the pandemic relief program. Even so, the firm's workforce increased from 247 in 2019 before the pandemic, to 260 in 2020 during the pandemic, and 283 in 2021.
No. 3 among the white-shoe law firms getting tax dollars via the PPP program was the New York-based Kasowitz Benson Torres. The firm's "revenues grew from $216.8 million (2019), to $219.4 million (2020) and then $238.4 million (2021). In April 2020, the firm received a $10.13 million PPP loan that was forgiven in July 2021—while profit per equity partner averaged $2.418 million (2021)," according to Open the Books.
Among the big accounting firms getting tax dollars, Prager Metis CPAs in New York City received $10.2 million, which was forgiven in June. Revenues for 2021 reached $139 million, an increase from 2020's total of $123.9 million.
Withum's of Princeton, New Jersey, was next, getting a PPP loan worth $10.1 million that was forgiven in June 2021. Withum's revenues were $425.3 million in 2021, up significantly from its 2020 total of $257 million, according to Open the Books.
Tyler Durden
Thu, 12/08/2022 - 20:20
grants
pandemic
covid-19
congress
lockdown
Chinese Health Official Admits 80-90% Of Population May End Up With COVID
Chinese Health Official Admits 80-90% Of Population May End Up With COVID
After just within the past week China's government dramatically…
Chinese Health Official Admits 80-90% Of Population May End Up With COVID
After just within the past week China's government dramatically pivoted from its ultra-harsh 'zero Covid' policy - a policy which had triggered unprecedented widespread protests against communist authorities and health officials as in some instances they barricaded whole neighborhoods into strictly controlled quarantine zones - toward what appears a full embrace of a more lax 'Swedish model' type approach, national health authorities are prepping the population for the coming Covid wave, which could impact an estimated 80 to 90% of the Chinese population, according to a fresh projection by Feng Zijian, a former deputy chief at China's Centers for Disease Control and Prevention. 
"It's going to be inevitable for most of us to get infected once, regardless of how the Covid-fighting measures are adjusted," Feng said Tuesday during a virtual conference discussing the zero Covid offramp at Tsinghua University in Beijing. As a senior health official, Feng is part of the central government's task force in implementing new policies which has moved away from the 'one size fits all' mentality that guided Beijing's health response since the pandemic began.
"Some 60% of Chinese people may be infected in the first wave, before the curve flattens, Feng predicted," as cited in Bloomberg. "By comparison, about 58% of the US population had been infected by February this year, according to a US Centers for Disease Control and Prevention analysis released in April. That was up from 33.5% in December."
So it seems two years too late, China is learning the lessons of a number of countries that embraced a more flexible stance based on understanding herd immunity early, also centered on protecting the most vulnerable demographic, the elderly and the infirm, while not shuttering the economy wholesale.
Further, as of Thursday morning in China (local time), health authorities are reporting "more than 20,000 new cases a day at the moment, as outbreaks flare from Beijing to the southern manufacturing hub of Guangzhou. That's up from less than 100 a day in June, and zero for long periods of 2020."
But China says it's ready amid its more localized approach which will seek to prep hospitals, civic authorities, and the citizenry on "proper protective measures" - such as greater deployment of at home rapid antigen test kits. "It is better to direct the flood than block it," Lu Jiahai, a senior expert at the state drug regulator National Medical Products Administration (NMPA), said.
As for this approach looking more like a Swedish model policy (though don't expect anyone in Beijing to call it that), Caixin Global recently captured the following quotes which illustrate an astounding about-face in thinking on the pandemic among Chinese officials: 
Although there are challenges in the implementation of home quarantine, the infection risks should not be exaggerated, said University of Hong Kong's Jin.

"Scientific guidelines should be provided for everyone to follow with a clear accountability mechanism, as there have been many examples that even couples in the same room didn't infect each other," said Jin, citing the experience in Hong Kong, where home isolation has been widely adopted after the worst outbreaks hit in the spring.

One resident in Beijing agreed. "I think it is more important to eliminate the irrational fear of being infected, and at the same time learn how to reduce the risk of cross-infection," Ma Qiao, who has studied preventative medicine, told Caixin.
Some of the new measures from the communist government call for isolating asymptomatic or mild Covid cases at home rather than in quarantine camps or hospitals for seven days. Anyone in contact with the infected would have to quarantine at home for five days instead of eight days at a camp and then at home.
The State Council further disbanded the rule for people to show negative Covid tests before entering public places. As the SCMP summarized of the new approach this week: "The new policy stressed that basic social and medical services need to be provided. People's movements, work and production should not be restricted in low-risk areas." 
Tyler Durden
Thu, 12/08/2022 - 20:40
disease control
pandemic
herd immunity
quarantine
new cases
hong kong
china
Around 450,000 Homebuyers Are Now Underwater As 'Early' FHA Delinquencies Hit 2009 Levels
Around 450,000 Homebuyers Are Now Underwater As 'Early' FHA Delinquencies Hit 2009 Levels
As the housing market continues to implode – marking…
Around 450,000 Homebuyers Are Now Underwater As 'Early' FHA Delinquencies Hit 2009 Levels
As the housing market continues to implode - marking a record drop in pending home sales last month amid canceled deals and price cuts, there are around 450,000 homebuyers who owe more than their house is worth as of the end of the third quarter, according to a new analysis from Black Knight. Of those, around 60%, or 270,000, bought their homes in the first nine months of 2022. In total, around 8% of mortgages taken out in 2022 are now marginally underwater, with another 20% having a low equity position.
In short, there is little risk for those who bought more than a year ago - but 2022 homebuyers haven't fared so well.
Among FHA purchase mortgage holders specifically, more than 25% have slipped underwater and more than three-quarters have less than 10% equity. This is an illustrative and, unfortunately, potentially vulnerable cohort that we will continue to keep a close eye on in the months ahead."
What's more, Black Knight found that excluding the pandemic, the 'early-payment default' (EPD) rate which tracks mortgage delinquencies within six months of origination, has hit its highest level since 2009 for FHA loans, which are government-backed loans typically issued to low-income Americans who would not otherwise be able to obtain a loan.
As one might expect, those with lower credit scores are most delinquent.
80% of homes bought through FHA or VA loans have less than 10% equity.
Digging deeper into the month's data, Black Knight found that, while still relatively low among conforming loans, the early-payment default (EPD) rate – which captures mortgages that have become delinquent within six months of origination –– has risen among FHA loans for much of the past year to reach its highest level since 2009, excluding the months in the immediate wake of the pandemic. -Black Knight
That said, just 0.84% of overall mortgages have dipped into negative equity, which is "extremely low by historical standards."
More stats via Black Knight:
Annualized appreciation slowed to 9.3% from September's 10.7%, marking the seventh consecutive month of cooling, but the smallest such decline since May
New for-sale listings in October were 19% (-94K) below 2017-2019 levels, marking the largest deficit in six years – outside of March and April 2020 when much of the country was in lockdown
Three months of stalled inventory growth is softening downward pressure on home prices from home affordability that still remains near 35-year lows
Despite the slowdown in price corrections, equity risk among 2022 purchase mortgages persists, while risk remains minimal among those who bought 12 or more months ago
"Though the home price correction has slowed, it has still exposed a meaningful pocket of equity risk. Make no mistake: negative equity rates continue to run far below historical averages, but a clear bifurcation of risk has emerged between mortgaged homes purchased relatively recently versus those bought early in or before the pandemic," Black Knight said in a statement. "Risk among earlier purchases is essentially nonexistent given the large equity cushions these mortgage holders are sitting on. More recent homebuyers don't fare as well."
In terms of market affordability, St. Louis, MO is the most affordable, while Sacramento, CA is the least affordable market based on current payment-to-income ratios vs. 1995-2003 averages.
Tyler Durden
Thu, 12/08/2022 - 15:05
default
pandemic
home sales
mortgages
housing market
lockdown