Twitter Suspends Russian Foreign Ministry Account For COVID Origins Theory
Twitter Suspends Russian Foreign Ministry Account For COVID Origins Theory
Twitter has temporarily frozen the official English-language account…
Twitter Suspends Russian Foreign Ministry Account For COVID Origins Theory
Twitter has temporarily frozen the official English-language account of the Russian Foreign Ministry for a period seven days, reportedly for an August 4th tweet blaming the United States for the coronavirus pandemic. 
The offending tweet stated that "the U.S. and its allies in Ukraine and elsewhere" might be "involved" in the "emergence of COVID-19." A Tuesday statement from the Kremlin condemned the Twitter crackdown as but another attempt to censor the Russian government perspective. 
Foreign Ministry spokeswoman Maria Zakharova slammed the move as "another clumsy attempt to shut us up" while saying Russia's assertion was made based on "documents and fresh data" - but that the US social media company doesn't have the competence to review and judge it.
The initial accusation particularly focused on the alleged actions of the US Agency for International Development, or USAID, under director Samantha Power.
While the tweet is still visible online, a warning label has been added by Twitter stating that it violated its rules on "sharing false or misleading info that might bring harm to crisis-affected populations."
The last tweet that the verified Russian MFA account sent was Aug. 4 - thus the account has likely been blocked and unable to tweet since then. 
More broadly this follows the US and European Union banning Russian state TV networks, particularly the international news channels RT and Sputnik - actions taken by YouTube as well.
This has occurred as communications between Moscow and Western governments have broken down as well, and in many cases has involved the tit-for-tat expulsion of diplomats. In general, the atmosphere has become such that it's harder for journalists and/or much of the Western public to accurately gauge the Kremlin perspective or statements on any given issue.
The @mfa-russia account is likely to go active again within the coming days, given it seems its already spent several days under the punitive Twitter suspension. 
Tyler Durden
Wed, 08/10/2022 - 17:20
european
russia
ukraine
pandemic
coronavirus
covid-19
What's next for ancient DNA studies after Nobel Prize honors groundbreaking field of paleogenomics
Thousands of ancient genomes have been sequenced to date. A Nobel Prize highlights tremendous opportunities for aDNA, as well as challenges related to…
For the first time, a Nobel Prize recognized the field of anthropology, the study of humanity. Svante Pääbo, a pioneer in the study of ancient DNA, or aDNA, was awarded the 2022 prize in physiology or medicine for his breathtaking achievements sequencing DNA extracted from ancient skeletal remains and reconstructing early humans' genomes – that is, all the genetic information contained in one organism.
His accomplishment was once only the stuff of Jurassic Park-style science fiction. But Pääbo and many colleagues, working in large multidisciplinary teams, pieced together the genomes of our distant cousins, the famous Neanderthals and the more elusive Denisovans, whose existence was not even known until their DNA was sequenced from a tiny pinky bone of a child buried in a cave in Siberia. Thanks to interbreeding with and among these early humans, their genetic traces live on in many of us today, shaping our bodies and our disease vulnerabilities – for example, to COVID-19.
The world has learned a startling amount about our human origins in the last dozen years since Pääbo and teammates' groundbreaking discoveries. And the field of paleogenomics has rapidly expanded. Scientists have now sequenced mammoths that lived a million years ago. Ancient DNA has addressed questions ranging from the origins of the first Americans to the domestication of horses and dogs, the spread of livestock herding and our bodies' adaptations – or lack thereof – to drinking milk. Ancient DNA can even shed light on social questions of marriage, kinship and mobility. Researchers can now sequence DNA not only from the remains of ancient humans, animals and plants, but even from their traces left in cave dirt.
Alongside this growth in research, people have been grappling with concerns about the speed with which skeletal collections around the world have been sampled for aDNA, leading to broader conversations about how research should be done. Who should conduct it? Who may benefit from or be harmed by it, and who gives consent? And how can the field become more equitable? As an archaeologist who partners with geneticists to study ancient African history, I see both challenges and opportunities ahead.
Building a better discipline
One positive sign: Interdisciplinary researchers are working to establish basic common guidelines for research design and conduct.
In North America, scholars have worked to address inequities by designing programs that train future generations of Indigenous geneticists. These are now expanding to other historically underrepresented communities in the world. In museums, best practices for sampling are being put into place. They aim to minimize destruction to ancestral remains, while gleaning the most new information possible.
But there is a long way to go to develop and enforce community consultation, ethical sampling and data sharing policies, especially in more resource-constrained parts of the world. The divide between the developing world and rich industrialized nations is especially stark when looking at where ancient DNA labs, funding and research publications are concentrated. It leaves fewer opportunities for scholars from parts of Asia, Africa and the Americas to be trained in the field and lead research.
The field faces structural challenges, such as the relative lack of funding for archaeology and cultural heritage protection in lower income countries, worsened by a long history of extractive research practices and looming climate change and site destruction. These issues strengthen the regional bias in paleogenomics, which helps explain why some parts of the world – such as Europe – are so well-studied, while Africa – the cradle of humankind and the most genetically diverse continent – is relatively understudied, with shortfalls in archaeology, genomics and ancient DNA.
Making public education a priority
How paleogenomic findings are interpreted and communicated to the public raises other concerns. Consumers are regularly bombarded with advertisements for personal ancestry testing, implying that genetics and identity are synonymous. But lived experiences and decades of scholarship show that biological ancestry and socially defined identities do not map so easily onto one another.
I'd argue that scholars studying aDNA have a responsibility to work with educational institutions, like schools and museums, to communicate the meaning of their research to the public. This is particularly important because people with political agendas – even elected officials – try to manipulate findings.
For example, white supremacists have erroneously equated lactose tolerance with whiteness. It's a falsehood that would be laughable to many livestock herders from Africa, one of the multiple centers of origin for genetic traits enabling people to digest milk.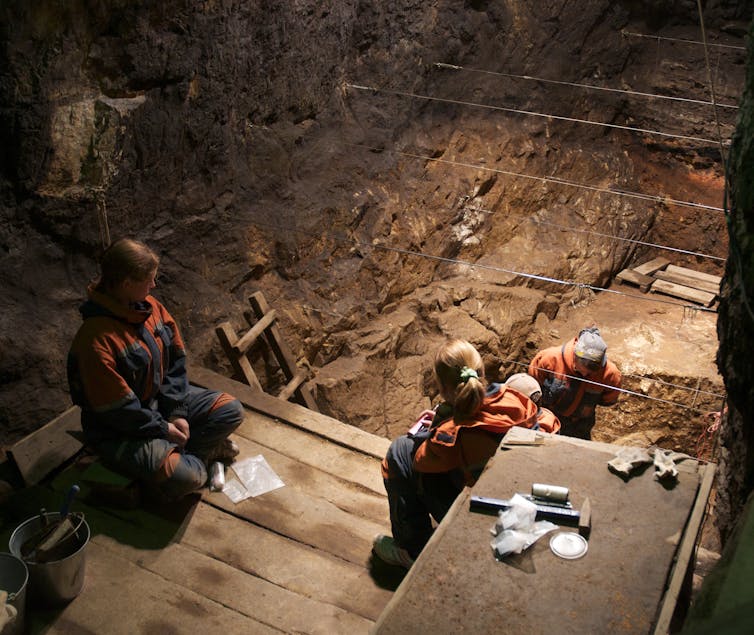 Leaning in at the interdisciplinary table
Finally, there's a discussion to be had about how specialists in different disciplines should work together.
Ancient DNA research has grown rapidly, sometimes without sufficient conversations happening beyond the genetics labs. This oversight has provoked a backlash from archaeologists, anthropologists, historians and linguists. Their disciplines have generated decades or even centuries of research that shape ancient DNA interpretations, and their labor makes paleogenomic studies possible.
As an archaeologist, I see the aDNA "revolution" as usefully disrupting our practice. It prompts the archaeological community to reevaluate where ancestral skeletal collections come from and should rest. It challenges us to publish archaeological data that is sometimes only revealed for the first time in the supplements of paleogenomics papers. It urges us to grab a seat at the table and help drive projects from their inception. We can design research grounded in archaeological knowledge, and may have longer-term and stronger ties to museums and to local communities, whose partnership is key to doing research right.
If archaeologists embrace this moment that Pääbo's Nobel Prize is spotlighting, and lean in to the sea changes rocking our field, it can change for the better.
Mary Prendergast does not work for, consult, own shares in or receive funding from any company or organisation that would benefit from this article, and has disclosed no relevant affiliations beyond their academic appointment.
testing
genetic
dna
covid-19
spread
africa
europe
Plunging pound and crumbling confidence: How the new UK government stumbled into a political and financial crisis of its own making
Liz Truss took over as prime minister with an ambitious plan to cut taxes by the most since 1972 – investors balked after it wasn't clear how she would…
The new British government is off to a very rocky start – after stumbling through an economic and financial crisis of its own making.
Just a few weeks into its term on Sept. 23, 2022, Prime Minister Liz Truss' government released a so-called mini-budget that proposed £161 billion – about US$184 billion at today's rate – in new spending and the biggest tax cuts in half a century, with the benefits mainly going to Britain's top earners. The aim was to jump-start growth in an economy on the verge of recession, but the government didn't indicate how it would pay for it – or provide evidence that the spending and tax cuts would actually work.
Financial markets reacted badly, prompting interest rates to soar and the pound to plunge to the lowest level against the dollar since 1985. The Bank of England was forced to gobble up government bonds to avoid a financial crisis.
After days of defending the plan, the government did a U-turn of sorts on Oct. 3 by scrapping the most controversial component of the budget – elimination of its top 45% tax rate on high earners. This calmed markets, leading to a rally in the pound and government bonds.
As a finance professor who tracks markets closely, I believe at the heart of this mini-crisis over the mini-budget was a lack of confidence – and now a lack of credibility.
A looming recession
Truss' government inherited a troubled economy.
Growth has been sluggish, with the latest quarterly figure at 0.2%. The Bank of England predicts the U.K. will soon enter a recession that could last until 2024. The latest data on U.K. manufacturing shows the sector is contracting.
Consumer confidence is at its lowest level ever as soaring inflation – currently at an annualized pace of 9.9% – drives up the cost of living, especially for food and fuel. At the same time, real, inflation-adjusted wages are falling by a record amount, or around 3%.
It's important to note that many countries in the world, including the U.S. and in mainland Europe, are experiencing the same problems of low growth and high inflation. But rumblings in the background in the U.K. are also other weaknesses.
Since the financial crisis of 2008, the U.K. has suffered from lower productivity compared with other major economies. Business investment plateaued after Brexit in 2016 – when a slim majority of voters chose to leave the European Union – and remains significantly below pre-COVID-19 levels. And the U.K. also consistently runs a balance of payments deficit, which means the country imports a lot more goods and services than it exports, with a trade deficit of over 5% of gross domestic product.
In other words, investors were already predisposed to view the long-term trajectory of the U.K. economy and the British pound in a negative light.
An ambitious agenda
Truss, who became prime minister on Sept. 6, 2022, also didn't have a strong start politically.
The government of Boris Johnson lost the confidence of his party and the electorate after a series of scandals, including accusations he mishandled sexual abuse allegations and revelations about parties being held in government offices while the country was in lockdown.
Truss was not the preferred candidate of lawmakers in her own Conservative Party, who had the task of submitting two choices for the wider party membership to vote on. The rest of the party – dues-paying members of the general public – chose Truss. The lack of support from Conservative members of Parliament meant she wasn't in a position of strength coming into the job.
Nonetheless, the new cabinet had an ambitious agenda of cutting taxes and deregulating energy and business.
Some of the decisions, laid out in the mini-budget, were expected, such as subsidies limiting higher energy prices, reversing an increase in social security taxes and a planned increase in the corporate tax rate.
But others, notably a plan to abolish the 45% tax rate on incomes over £150,000, were not anticipated by markets. Since there were no explicit spending cuts cited, funding for the £161 billion package was expected to come from selling more debt. There was also the threat that this would be paid for, in part, by lower welfare payments at a time when poorer Britons are suffering from the soaring cost of living. The fear of welfare cuts is putting more pressure on the Truss government.
A collapse in confidence
Even as the new U.K. Chancellor of the Exchequer Kwasi Kwarteng was presenting the mini-budget on Sept. 23, the British pound was already getting hammered. It sank from $1.13 the day before the proposal to as low as $1.03 in intraday trading on Sept. 26. Yields on 10-year government bonds, known as gilts, jumped from about 3.5% to 4.5% – the highest level since 2008 – in the same period.
The jump in rates prompted mortgage lenders to suspend deals with new customers, eventually offering them again at significantly higher borrowing costs. There were fears that this would lead to a crash in the housing market.
In addition, the drop in gilt prices led to a crisis in pension funds, putting them at risk of insolvency.
Many members of Truss' party voiced opposition to the high levels of borrowing likely necessary to finance the tax cuts and spending and said they would vote against the package.
The International Monetary Fund, which bailed out the U.K. in 1976, even offered its figurative two cents on the tax cuts, urging the government to "reevaluate" the plan. The comments further spooked investors.
To prevent a broader crisis in financial markets, the Bank of England stepped in and pledged to purchase up to £65 billion in government bonds.
Besides causing investors to lose faith, the crisis also severely dented the public's confidence in the U.K. government. The latest polls showed the opposition Labour Party enjoying a 24-point lead, on average, over the Conservatives.
So the government likely had little choice but to reverse course and drop the most controversial part of the plan, the abolition of the 45% tax rate. The pound recovered its losses. The recovery in gilts was more modest, with bonds still trading at elevated levels.
Putting this all together, less than a month into the job, Truss has lost confidence – and credibility – with international investors, voters and her own party. And all this over a "mini-budget" – the full budget isn't due until November 2022. It suggests the U.K.'s troubles are far from over, a view echoed by credit rating agencies.
David McMillan does not work for, consult, own shares in or receive funding from any company or organisation that would benefit from this article, and has disclosed no relevant affiliations beyond their academic appointment.
recession
covid-19
subsidies
bonds
government bonds
housing market
pound
lockdown
recession
recovery
interest rates
european
europe
uk
Roubini: The Stagflationary Debt Crisis Is Here
Roubini: The Stagflationary Debt Crisis Is Here
Authored by Nouriel Roubini via Project Syndicate,
The Great Moderation has given way to…
Roubini: The Stagflationary Debt Crisis Is Here
Authored by Nouriel Roubini via Project Syndicate,
The Great Moderation has given way to the Great Stagflation, which will be characterized by instability and a confluence of slow-motion negative supply shocks. US and global equities are already back in a bear market, and the scale of the crisis that awaits has not even been fully priced in yet.
For a year now, I have argued that the increase in inflation would be persistent, that its causes include not only bad policies but also negative supply shocks, and that central banks' attempt to fight it would cause a hard economic landing. When the recession comes, I warned, it will be severe and protracted, with widespread financial distress and debt crises. Notwithstanding their hawkish talk, central bankers, caught in a debt trap, may still wimp out and settle for above-target inflation. Any portfolio of risky equities and less risky fixed-income bonds will lose money on the bonds, owing to higher inflation and inflation expectations.
How do these predictions stack up? First, Team Transitory clearly lost to Team Persistent in the inflation debate. On top of excessively loose monetary, fiscal, and credit policies, negative supply shocks caused price growth to surge. COVID-19 lockdowns led to supply bottlenecks, including for labor. China's "zero-COVID" policy created even more problems for global supply chains. Russia's invasion of Ukraine sent shockwaves through energy and other commodity markets. And the broader sanctions regime – not least the weaponization of the US dollar and other currencies – has further balkanized the global economy, with "friend-shoring" and trade and immigration restrictions accelerating the trend toward deglobalization.
Everyone now recognizes that these persistent negative supply shocks have contributed to inflation, and the European Central Bank, the Bank of England, and the US Federal Reserve have begun to acknowledge that a soft landing will be exceedingly difficult to pull off. Fed Chair Jerome Powell now speaks of a "softish landing" with at least "some pain." Meanwhile, a hard-landing scenario is becoming the consensus among market analysts, economists, and investors.
It is much harder to achieve a soft landing under conditions of stagflationary negative supply shocks than it is when the economy is overheating because of excessive demand. Since World War II, there has never been a case where the Fed achieved a soft landing with inflation above 5% (it is currently above 8%) and unemployment below 5% (it is currently 3.7%). And if a hard landing is the baseline for the United States, it is even more likely in Europe, owing to the Russian energy shock, China's slowdown, and the ECB falling even further behind the curve relative to the Fed.
Are we already in a recession? Not yet, but the US did report negative growth in the first half of the year, and most forward-looking indicators of economic activity in advanced economies point to a sharp slowdown that will grow even worse with monetary-policy tightening. A hard landing by year's end should be regarded as the baseline scenario.
While many other analysts now agree, they seem to think that the coming recession will be short and shallow, whereas I have cautioned against such relative optimism, stressing the risk of a severe and protracted stagflationary debt crisis. And now, the latest distress in financial markets – including bond and credit markets – has reinforced my view that central banks' efforts to bring inflation back down to target will cause both an economic and a financial crash.
I have also long argued that central banks, regardless of their tough talk, will feel immense pressure to reverse their tightening once the scenario of a hard economic landing and a financial crash materializes. Early signs of wimping out are already discernible in the United Kingdom. Faced with the market reaction to the new government's reckless fiscal stimulus, the BOE has launched an emergency quantitative-easing (QE) program to buy up government bonds (the yields on which have spiked).
Monetary policy is increasingly subject to fiscal capture. Recall that a similar turnaround occurred in the first quarter of 2019, when the Fed stopped its quantitative-tightening (QT) program and started pursuing a mix of backdoor QE and policy-rate cuts – after previously signaling continued rate hikes and QT – at the first sign of mild financial pressures and a growth slowdown. Central banks will talk tough; but there is good reason to doubt their willingness to do "whatever it takes" to return inflation to its target rate in a world of excessive debt with risks of an economic and financial crash.
Moreover, there are early signs that the Great Moderation has given way to the Great Stagflation, which will be characterized by instability and a confluence of slow-motion negative supply shocks. In addition to the disruptions mentioned above, these shocks could include societal aging in many key economies (a problem made worse by immigration restrictions); Sino-American decoupling; a "geopolitical depression" and breakdown of multilateralism; new variants of COVID-19 and new outbreaks, such as monkeypox; the increasingly damaging consequences of climate change; cyberwarfare; and fiscal policies to boost wages and workers' power.
Where does that leave the traditional 60/40 portfolio? I previously argued that the negative correlation between bond and equity prices would break down as inflation rises, and indeed it has. Between January and June of this year, US (and global) equity indices fell by over 20% while long-term bond yields rose from 1.5% to 3.5%, leading to massive losses on both equities and bonds (positive price correlation).
Moreover, bond yields fell during the market rally between July and mid-August (which I correctly predicted would be a dead-cat bounce), thus maintaining the positive price correlation; and since mid-August, equities have continued their sharp fall while bond yields have gone much higher. As higher inflation has led to tighter monetary policy, a balanced bear market for both equities and bonds has emerged.
But US and global equities have not yet fully priced in even a mild and short hard landing. Equities will fall by about 30% in a mild recession, and by 40% or more in the severe stagflationary debt crisis that I have predicted for the global economy. Signs of strain in debt markets are mounting: sovereign spreads and long-term bond rates are rising, and high-yield spreads are increasing sharply; leveraged-loan and collateralized-loan-obligation markets are shutting down; highly indebted firms, shadow banks, households, governments, and countries are entering debt distress.
The crisis is here.
Tyler Durden
Tue, 10/04/2022 - 17:25
recession
depression
unemployment
covid-19
stimulus
bonds
government bonds
credit markets
equities
monetary policy
qe
fed
federal reserve
currencies
us dollar
recession
unemployment
commodity markets
european
europe
russia
ukraine
china