Top Stock Market News For Today June 29, 2022
Stock index futures inch higher as big banks bump dividends higher.
The post Top Stock Market News For Today June 29, 2022 appeared first on Stock Market…
Stock Market Futures Edge Higher Despite Drop In Consumer Confidence For June
U.S. stock futures are seemingly stabilizing in early morning trading on Wednesday. This appears to be the case as investors continue to tread lightly ahead of this week's economic data release. For one thing, there appears to be a rather mixed bag of information to consider already. On one hand, some of the biggest banks in the U.S. are raising their dividends following the Fed's annual stress test. What this means is that the Fed gave the country's biggest lenders the greenlight to redistribute excess capital to shareholders. Among the firms that are raising their dividend payouts are Morgan Stanley (NYSE: MS), Goldman Sachs (NYSE: GS), and Wells Fargo (NYSE: WFC).
On the other hand, you have the June U.S. consumer confidence (CC) reading from the Conference Board. According to the board, its CC index is down by 4.5 points to about 98.7 this month. This substantial drop would, in theory, be due to growing consumer concerns regarding inflation and slowing economic growth. Even so, a key potential market mover to consider this week would be the Bureau of Economic Analysis' personal consumption expenditures due Thursday.
Commenting on the overall state of things is the CEO of investment advisory firm Waddell & Associates, David Waddell. He argues, "People are coming into the end of the quarter with a little bit more stability than they had certainly a month ago and have digested that the Fed may need to use recession as a policy tool." While processing all this input, here is how the major U.S. stock index futures are doing now. As of 4:58 a.m. ET, the Dow, S&P 500, and Nasdaq futures are trading higher by 0.15%, 0.09%, and 0.07% respectively.
Pinterest Stock In Focus After News Of Bill Ready Taking Over CEO Position
Making headlines in the stock market now would be Pinterest (NYSE: PINS). For the most part, this could be the result of its latest update to management. Diving in, the social media firm's CEO Ben Silbermann will be stepping down from his role at the helm. Instead, the Pinterest founder will be transitioning towards the position of executive chairman of the board. Taking his place is Bill Ready, the president of commerce at Alphabet's (NASDAQ: GOOGL) Google since 2020. Additionally, Ready also has experience as the former operating chief at PayPal (NASDAQ: PYPL) and CEO of Venmo.
Weighing in on this is Silbermann. He starts by saying, "In our next chapter, we are focused on helping Pinners buy, try and act on all the great ideas they see." Silbermann continues, "Bill is a great leader for this transition. He is a builder who deeply understands commerce and payments. And he shares our passion for creating a positive corner of the Internet. I'm confident he's going to be an outstanding CEO." On top of all that, Silbermann notes that Ready has a deep understanding of commerce and payments. This could, ideally, synergize with Pinterest's plans to better monetize its platform. After considering Ready's prior work history in industry-leading tech firms, investors would be eyeing PINS stock today.
[Read More] 4 Top Dividend Stocks To Watch Amid Recession Concerns
Disney CEO Bob Chapek Receives Three-Year Contract Extension
In other CEO-related news, Disney (NYSE: DIS) CEO Bob Chapek seems to be making the right moves. On the whole, this is apparent seeing as the Disney board of directors is now extending Chapek's contract. In detail, his contract was going to expire in February 2023. Through the current three-year extension, Chapek is set to maintain his role as CEO until July 2025. Seeing as the CEO continues to navigate Disney through the current challenging business environment, this is not all that surprising.
Adding some context to all this is the chairman of the Disney board, Susan Arnold. She highlights, "Disney was dealt a tough hand by the pandemic, yet with Bob at the helm, our businesses — from parks to streaming — not only weathered the storm, but emerged in a position of strength." Arnold also notes that as Disney continues to focus on growth, the board believes that Chapek is "the right leader at the right time." Notably, Disney's focus on streaming has and continues to fuel growth for the company amidst the pandemic. Even as pandemic restrictions lift, Chapek is a firm believer in the company's goal to achieve 230 million to 260 million Disney+ subscribers by 2024. Safe to say, all this could put DIS stock in focus amongst investors now.
[Read More] Recession-Proof Stocks To Invest In Now? 3 E-commerce Stocks To Watch
Qualcomm Outpaces AMD and Nvidia As Apple Reportedly Faces Issues With 5G Chip Development Plans
At the same time, shares of Qualcomm (NASDAQ: QCOM) are advancing following a report regarding Apple (NASDAQ: AAPL) and its 5G chip plans. Namely, Ming-Chi Kuo, an analyst from TF International Securities recently posted about Apple not being successful in its modem chip development plans. This, Kuo notes, is according to his latest survey data. Should this be the case, it could mean that Apple will have to continue relying on Qualcomm for 100% of its 5G modem chip needs. Arguably, this would translate to positive news for Qualcomm as consumer adoption of 5G tech continues to ramp up.
In fact, Kuo also believes that Qualcomm will "likely" top Wall Street estimates in late 2023 and 2024 because of this. While the analyst admits that Apple will continue to develop its 5G chips, he posits that this will not impact Qualcomm much. Kuo's logic on this front is that the chip titan's alternate business would have expanded enough to "significantly offset" any potential impacts from this by then. As such, QCOM stock is currently on the rise while competitors AMD (NASDAQ: AMD) and Nvidia (NASDAQ: NVDA) experience turbulence. 
[Read More] 4 Top Semiconductor Stocks To Watch In The Stock Market Today
Amazon Web Services CEO Adam Selipsky On The Future Of Cloud Computing
Amazon's (NASDAQ: AMZN) head of Amazon Web Services (AWS) Adam Selipsky is also in the news now. Overall, this is thanks to his latest interview with CNBC's Jim Cramer yesterday. During the interview, Selipsky speaks on the current state of cloud computing adoption in the IT world. According to the AWS CEO, we are only seeing the initial stages and there is plenty of growth lying ahead. In Selipsky's words, "Essentially, IT is going to move to the cloud. And it's going to take a while. You've seen maybe only, call it 10% of IT today move. So it's still day 1. It's still early. … Most of it's still yet to come."
Moreover, he also states that AWS "could become the largest business at Amazon." Evidently, AWS' revenue for the first quarter came in above consensus figures on Wall Street. To put things into perspective, AWS accounted for about 16% of Amazon's total revenue for the quarter. Because of this, Selipsky notes that AWS continues to push forward despite growing competition and a looming recession. In closing, he says, "Demand continues to be strong, with lots of new customers signing up and existing customers expanding." The question now is whether all this makes AMZN stock an attractive buy for investors following its recent stock split.
If you enjoyed this article and you're interested in learning how to trade so you can have the best chance to profit consistently then you need to checkout this YouTube channel. CLICK HERE RIGHT NOW!!
The post Top Stock Market News For Today June 29, 2022 appeared first on Stock Market News, Quotes, Charts and Financial Information | StockMarket.com.
recession
pandemic
economic growth
sp 500
nasdaq
stocks
fed
recession
The Sycamore Gap: four other significant tree destructions from history
The emotional response to the loss of the Sycamore Gap is part of a long history of emblematic trees, their destruction and renewal
The felling of a single sycamore tree prompted an outpouring of grief last week. The tree – known as the "Sycamore Gap" – had been an iconic landmark and its location, Hadrian's Wall in Northumberland, is a protected Unesco world heritage site.
The Sycamore Gap was an inspiration to photographers and artists and a focal point for common rites of passage – proposals, family reunions, remembering the dead. Planted in the late 19th century, the roots of the Sycamore Gap tree reached deep into individual and collective memory. The legends associated with such trees connect us with the past and remind us that we live in their shadow.
The emotional response to the loss of the Sycamore Gap is part of a long history of emblematic trees, their destruction and renewal. Here are four other examples of emotional tree fellings from history.
1. The Holy Thorn of Glastonbury
According to legend, St. Joseph of Arimathea brought Christianity to England in the first century BC. After reaching Glastonbury in Somerset, he climbed Wearyall Hill, rested and thrust his staff into the ground.
By morning, a miraculous thorn had apparently taken root. This "holy thorn" bloomed not once, but twice a year. The apparent miracle lead Glastonbury to be described as "the holyest erth of Englande".
Being rooted in the "holyest erth" was no guarantee that the holy thorn would be immune from attack, however. In 1647, the thorn was cut down by a Civil War soldier who deemed it a monument to Roman Catholicism and superstition.
In 1951, a new thorn was planted in its place, but in December 2010 this too was reduced to a stump. In language that echoed the legend of St. Joseph of Arimathea, the perpetrators were described by the director of Glastonbury Abbey, as "mindless vandals who have hacked down this tree" and "struck at the heart of Christianity".
On April 1 2012, a sapling grafted from a descendant of the pre-1951 thorn was consecrated and planted, but two weeks later it too was damaged beyond recovery.
In May 2019 the landowner removed what remained of the thorn. But despite its chequered history, traditions associated with the holy thorn endure. After the damage caused to the Holy Thorn in 1647, cuttings were taken from which a tree now growing in Glastonbury Abbey is believed to descend. A branch of this thorn in bud has been sent to the British monarch every Christmas since.
2. One Tree Hill
A similarly chequered history belongs to the 125-year-old Monterey Pine which sat on top One Tree Hill or Maungakiekie in Auckland, New Zealand.
Like the Sycamore Gap tree, the pine was an iconic landmark, dominating the skyline. But it was also a focus of controversy as a culturally and spiritually significant place for the Māori and Pākehā people.
The pine had been planted on the peak to replace a native tōtara tree, chopped down by a European settler. Twice – in 1994 and 1999 – attempts were made to destroy the tree as a protest against perceived injustices perpetrated against Māori people, before it was finally removed on safety grounds in 2000.
In 2016, at a dawn ceremony, nine young tōtara and pōhutukawa trees were planted on the hilltop, grown from parent trees on the maunga (the ancestral mountains of the Māori people), establishing a line of succession and memory.
3. Newton's apple trees
There is a proliferation of "Newton's apple" trees supposedly descended from the tree under which physicist Isaac Newton devised his law of universal gravity.
The original tree in his Woolsthorpe estate blew down in a gale, but scions (as at Glastonbury) were taken and grafted to create clones.
As a result, "Newton's apple trees" are now found across the world, their roots connecting to create a library of human history and discovery.
4. The Shawshank Redemption white oak
In 2016, strong winds uprooted a majestic white oak in Mansfield, Ohio in the US, made famous by the 1994 film The Shawshank Redemption. Film fans were distraught and souvenir-hunters rushed to the site, removing parts of the fallen tree.
A local craftsman reached an agreement with the landowner to keep the memory of the tree alive by using its wood to make furniture and fashion mementoes into which quotations from the film were carved. The tree stump itself has vanished beneath the crops that now grow in the field, but its emotional and cultural memory survives – like the Newton Apple Tree – embedded into objects that have been sold around the globe.
Throughout our history, trees have been assigned a religious and magical meaning, a medicinal purpose, a place in film and theatre and a functional value in agriculture and construction. Their branches and roots connect the brief history of humanity and the deeper history of our planet. No wonder then, that we feel their loss acutely.
---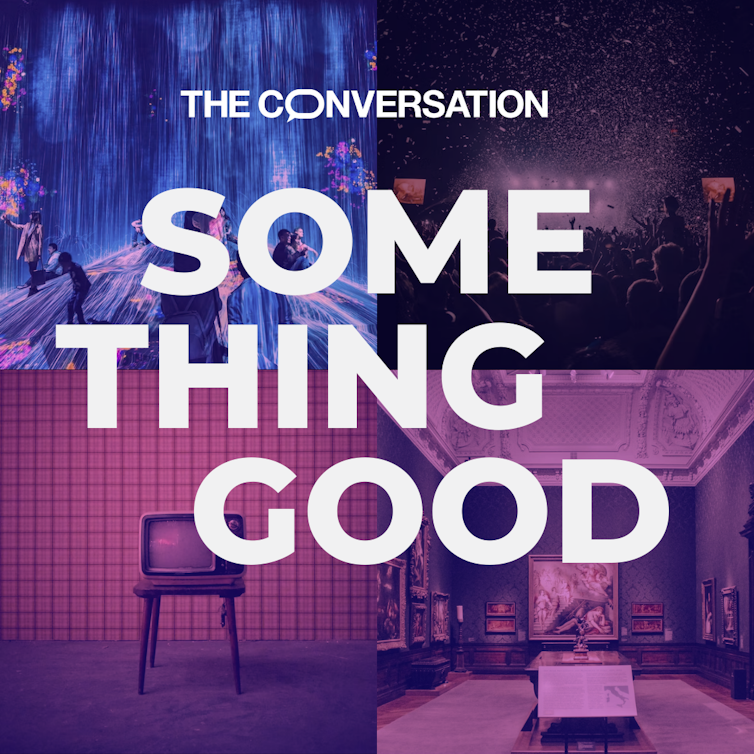 Looking for something good? Cut through the noise with a carefully curated selection of the latest releases, live events and exhibitions, straight to your inbox every fortnight, on Fridays. Sign up here.
---
Helen Parish does not work for, consult, own shares in or receive funding from any company or organisation that would benefit from this article, and has disclosed no relevant affiliations beyond their academic appointment.
recovery
european
bc
How we hired 2023 Nobel laureate Anne L'Huillier – and why we knew she was destined for greatness
L'Huillier was busy teaching when she her Nobel prize was awarded.
Most of the atomic physics division at Lund University were assembled in a spacious room with a big screen to await the announcement of the 2023 Nobel laureates in physics from the Royal Academy of Sciences on October 3. Of course, the Nobel secrecy is perfect, but there was still some expectation in the air.
When the screen with the laureates appeared, and with our colleague Anne L'Huillier´s face included, the roar almost lifted the roof – the big lasers in the basement must have been brought out of alignment!
L'Huillier, however, was nowhere to be seen – she had been giving a lecture to students.
New laser facility
About 30 years ago, the atomic physics group in Lund was considering a new research orientation. We ultimately selected the field of high-power laser-matter interaction. For this purpose, we managed to acquire a quite unique laser in 1992 (called a terawatt laser), firing 10 ultrashort pulses per second.
This was possible thanks to good academic contacts with leading laser groups in the US and Europe, as well as with industrial partners. The generous support by the Wallenberg Foundation (a key player in Swedish research financing) secured the realisation of arguably the most attractive system at the time for performing advanced research in a novel field of atomic physics.
At this point, L'Huillier was an up and coming researcher in France. Only years earlier, in 1987, had she discovered that many different overtones of light arise when you transmit infrared laser light through a noble gas – as a result of the gas and laser interacting.
With our new facility, we were able to attract L´Huillier to come to Lund with her own dedicated experimental set-up. This came quite naturally since we had, as project preparation, also visited the CEA Saclay Center where she was employed. I also invited her to be one of the key speakers at the inauguration of our new facility in Lund.
When on site for the experiments, it immediately became clear to us that L'Huillier was an extremely talented physicist, both regarding experiments and theory, with great promise for the future. We published our first joint paper in 1993.
L'Huillier felt good about Lund and, for many different reasons, decided to stay on. At first, she was employed on a lectureship and later on a dedicated professorship, which we got funded. This was a strike of luck for Lund – L'Huillier could easily have obtained prestigious positions elsewhere.
She was also very dedicated to learning Swedish. That says a lot. In a small country like Sweden, the natural language in an international endeavour like science is English, but L'Huillier became absolutely fluent in our "exotic" language.
At an early stage, I transferred the leadership of the high-power Laser laboratory to L´Huillier and Claes-Göran Wahlström. With the help of many talented collaborators, the field has developed tremendously in Lund, making it one of the leading hubs in this fascinating research field.
L´Huillier energetically pursued her work with high harmonics and the associated formation of attosecond laser pulses. These were the areas for which she ultimately won the Nobel prize – work that has helped scientists gain a window into the high-speed world of electrons.
In particular, she could show that processes earlier considered to occur instantaneously in fact come about with an extremely short delay.
Modest and rigorous
L´Huillier is absolutely brilliant. Despite that, she has always had quite a low-key personality. She cares a lot for her collaborators and students. It is perhaps her modesty and lack of interest in fame and glamour that makes her such a great physicist. She doesn't cut corners and has a deep, genuine interest in science.
She has been, and is, a true role model for young scientists – female and male alike – showing how excellent research can be combined with enthusiastic teaching.
L´Huillier eventually talked to the Royal Academy in Stockholm during a scheduled break in her class. She later joined our celebration party, beaming and extremely happy. Clearly this was the ultimate achievement, the diamond among the many other distinctions she had already received.
The celebrations went on all afternoon, together with university leadership and students alike. L´Huillier was in an endless row of interviews. Receiving the highest scientific award will certainly change her life, but I am sure that she will always remain the same generous and modest person that we all came to know her as.
Our warmest congratulations to our "own" Nobel laureate!
Sune Svanberg is an emeritus professor at Lund University, who received the initial funding for the build up of the Lund High Power Laser Facility.
europe
france
sweden
CME Group (CME) posts second-best ever September and Q3 volumes
There was strength across various asset classes, with interest-rate products among those growing at an impressive rate. The standout performer was Ultra…
There was strength across various asset classes, with interest-rate products among those growing at an impressive rate. The standout performer was Ultra US Treasury Bond Futures, which soared to 308,238 contracts. There was also robust volume growth for SOFR futures (+44%) and options (101%).
However, last year's record-setting September meant a year-over-year decline for a range of assets, even as the month compared favourably with over-trading periods overall. The ADV for interest rate dipped 10% from a year ago to 10.2m, though it did climb 6% overall in Q3 to 11m. There was also a 24% drop off for the equity index ADV, which came in at 7.1m last month.
---
Don't miss out the latest news, subscribe to LeapRate's newsletter
---
Investors reacted fairly positively to the news on Tuesday. CME Group did trade lower during the morning session but recovered to close 0.75% higher at $201.66. Those gains looked more impressive considering Tuesday proved to be a challenging day for many stocks and shares. CME Group is now not far off its yearly high of $209.31, which was set back in early August.
The post CME Group (CME) posts second-best ever September and Q3 volumes appeared first on LeapRate.
stocks
us treasury