Coronavirus Crisis Retail Brand Top 10 Winners and Losers
Top 10 fastest growing and declining retail brands in the world
This article was originally published by ValueWalk.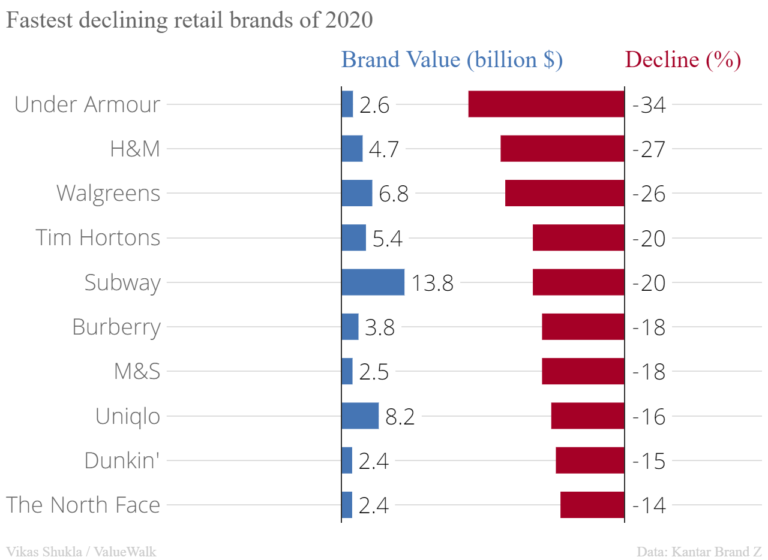 Brand value is one of the biggest strengths of a company. It influences consumers' purchase decisions, builds customer loyalty, and boosts profits. The
COVID-19 pandemic
has disrupted the retail sector worldwide. Many companies are struggling to manage their supply chains. Customer traffic in physical stores has declined significantly. Some retail brands have turned the coronavirus-induced crisis into an opportunity. Others have been forced to make tough choices to ensure their survival. Here we take a look at the top 10 fastest declining retail brands in the world.
Q1 2020 hedge fund letters, conferences and more
The ranking is based on data from Kantar's annual
Brand Z report
. The latest report sheds light on the changes in value of the world's leading retail brands in 2020 compared to 2019. The Brand Z report took mid-April as the cut-off date for the financial information. Given the timing of the cut-off, the latest brand values reflect the impact of the coronavirus pandemic. For the uninitiated, brand value is the estimated monetary amount that a brand contributes to the total business value of a company. Strong brands command premium pricing, greater customer loyalty, and influence the purchase decisions of consumers.
Fastest declining retail brands of 2020
Dozens of companies across the globe were already struggling, and the COVID-19 pandemic has only worsened their situation. Baltimore-based Under Armour has built a loyal fan base worldwide. But its brand value declined a steep 34% to $2.6 billion. It was followed by the Swedish apparel retailer H&M with 27% decline in brand value.
Walgreens' brand value has fallen 26% since last year. It operates more than 13,000 retail pharmacy stores across 25 countries. Canadian fast food restaurant chain Tim Hortons saw its brand value decline 20% YoY to $5.4 billion in 2020. Tim Hortons specializes in baked goods, fresh coffee, and home-style lunches. The value of American fast food restaurant chain Subway has also taken a hit amid the coronavirus-crisis. According to Brand Z, its brand value fell 20% to $13.8 billion this year. Subway operates more than 44,000 restaurant chains worldwide. British luxury fashion giant Burberry saw its brand value decline 18% YoY to $3.8 billion. Another UK-based retailer Marks & Spencer (M&S) witnessed an 18% drop in its brand value compared to last year. Marks & Spencer operates 1,423 retail stores selling clothing, food and home items. Japan's Uniqlo was named the 8th fastest declining retail brand in the world. Uniqlo operates more than 1,300 stores around the world. Its brand value dropped 16% YoY to $8.2 billion. Dunkin Donuts occupied the 9th spot with a 15% drop in its brand value. The Canton, Massachusetts-based company operates more than 11,000 fast food outlets worldwide. Rounding out the top ten was The North Face, whose brand value dropped 14% to $2.4 billion in 2020. California-based The North Face makes outdoor recreation products including clothing, footwear, and outdoor equipment.
Fastest growing retail brands of 2020
If you were curious about the fastest growing retail brands of 2020, here they are. Topping the list for the second consecutive year is the Canadian apparel giant Lululemon. Its brand value jumped 40% YoY to $9.7 billion. Lululemon makes and sells yoga, running, and training apparel worldwide.
Costco emerged as the second fastest growing retail brand this year. Its brand value rose 35% to $28.6 billion. Costco is a warehouse-style retail club that sells goods at discounted rates to members who pay an annual fee. It is also investing heavily in e-commerce. Amazon occupies the third spot as its brand value jumped 32% to $415.8 billion. Notably, three out of the ten fastest growing brands are owned by Walmart. Walmart's brand value has risen 24% to $45.8 billion. Its other brand Sam's Club saw its brand value grow 19% to $6.8 billion in 2020. Walmart
also owns
the Indian online retailer Flipkart, whose brand value increased 14% to $4.7 billion. As if that wasn't enough, Walmart also owns 12% stake in Chinese online retailer JD.com, which is the sixth fastest growing retail brand. Another Indian brand Tanishq, which operates more than 300 jewelry stores, has also made it to the top ten. The brand value of Chinese online retail behemoth Alibaba jumped 16% to $152.5 billion. The post
Top 10 fastest growing and declining retail brands in the world
appeared first on
ValueWalk
.
business
brand z
covid-19 pandemic
covid-19 stimulus checks
hampm
under armour
walgreens
valuewalk
japan
uk
License Plates Could Be Printed On McDonald's Bags To Stop Littering
License Plates Could Be Printed On McDonald's Bags To Stop Littering
There's been talk about McDonald's in southwest Great Britain could print…
License Plates Could Be Printed On McDonald's Bags To Stop Littering
There's been talk about McDonald's in southwest Great Britain could print car license plates on drive-thru bags to prevent customers from littering. 
"It's not clear exactly how the number plate would be printed on packaging, but it could be scanned onto the brown bags that contain the food," Daily Mail noted. 
Chris Howell, Swansea Council's head of waste, parks and cleansing, told a climate change corporate delivery committee meeting: 
"The Welsh Government has explored with McDonald's, or their franchises, whether or not they could print number plates of cars collecting takeaways from their drive-throughs with a view that that would discourage people from discarding their materials (litter)."
Howell said one of the biggest hurdles with fast-food companies is that if one chain adopts the climate initiative, customers will go to competitors that don't print license plates on bags. 
"If McDonald's do it, then people will just go to Burger King instead of McDonald's, because nobody wants to have their private details printed on that packaging." He added: "I think it's a really good idea but at the minute it's fraught with some difficulties." 
The nationalist political party in Wales, Plaid Cymru, first proposed the idea more than two years ago during the pandemic lockdown when party leaders noticed a spike in fast-food trash along city streets and highways. 
Welsh Government spokesperson told MailOnline:
"There are no current plans to introduce a requirement for drive-through restaurants to add vehicle registration details to fast food drive-through packaging.

"We are continuing to support Keep Wales Tidy with other initiatives to tackle roadside litter including their No Regrets campaign and their Adopt a Highway initiative."
Now 'the cat is out of the bag'. It's only a matter of time before governments start forcing fast-food companies to print license plate numbers on drive-thru bags. The dangers of this could be more surveillance, and who knows what corporations would do with license plate data if such a system were implemented. 
Tyler Durden
Sat, 11/26/2022 - 18:00
lockdown
pandemic
COVID Lockdown Protests Erupt In Beijing, Xinjiang After Deadly Fire
COVID Lockdown Protests Erupt In Beijing, Xinjiang After Deadly Fire
Protests have erupted in Beijing and the far western Xinjiang region…
COVID Lockdown Protests Erupt In Beijing, Xinjiang After Deadly Fire
Protests have erupted in Beijing and the far western Xinjiang region over COVID-19 lockdowns and a deadly fire on Thursday in a high-rise building in Urumqi that killed 10 people (with some reports putting the number as high as 40).
Crowds took to the street in Urumqi, the capitol of Xinjiang, with protesters chanting "End the lockdown!" while pumping their fists in the air, following the circulation of videos of the fire on Chinese social media on Friday night.
2/ one significant trigger for the protest was a deadly fire in a resident building.
dozens people died due to lockdown setting stopped fire fighters and fire engines coming inside the block. pic.twitter.com/26soQld816

— 巴丢草 Bad ї ucao (@badiucao) November 25, 2022
Protest videos show people in a plaza singing China's national anthem - particularly the line: "Rise up, those who refuse to be slaves!" Others shouted that they did not want lockdowns. In the northern Beijing district of Tiantongyuan, residents tore down signs and took to the streets.
3/ protestors from Urumqi were singing China's national anthem while waving a flag.
Quite common in China's protest,we call it '举着红旗反红旗' wave the flag while against it.
Its a self-protraction meaning ' i am against a policy not the nation/CCP'. pic.twitter.com/XqworKWUnb

— 巴丢草 Bad ї ucao (@badiucao) November 25, 2022
北京天通苑北一区
居民撕破隔离铁皮,走上街头 pic.twitter.com/McL6DCMMVq

— 李老师不是你老师 (@whyyoutouzhele) November 26, 2022
Reuters verified that the footage was published from Urumqi, where many of its 4 million residents have been under some of the country's longest lockdowns, barred from leaving their homes for as long as 100 days.

In the capital of Beijing 2,700 km (1,678 miles) away, some residents under lockdown staged small-scale protests or confronted their local officials over movement restrictions placed on them, with some successfully pressuring them into lifting them ahead of a schedule. -Reuters
People are really fed up. #china pic.twitter.com/q4mZnloGOG

— China Uncensored (@ChinaUncensored) November 25, 2022
According to an early Saturday news conference by Urumqi officials, COVID measures did not hamper escape and rescue during the fire, but Chinese social media wasn't buying it.
"The Urumqi fire got everyone in the country upset," said Beijing resident Sean Li.
【新疆的朋友私信发我的,不敢在朋友圈里发,会被派出所抓,求您推广,让大家知道,他们根本没办法逃生】 pic.twitter.com/rUV8QoEwz9

— 方舟子 (@fangshimin) November 26, 2022
6/ Video of 'anti zero-covid-lockdown protest' from Urumqi,Xinjiang, China after 100+ days lockdown

Many people took videos and post on social media inside of China.

All the little screens in the video is a spark of fire and life pic.twitter.com/yUVxpduq4i

— 巴丢草 Bad ї ucao (@badiucao) November 25, 2022
According to Reuters; 
A planned lockdown for his compound "Berlin Aiyue" was called off on Friday after residents protested to their local leader and convinced him to cancel it, negotiations that were captured by a video posted on social media.

The residents had caught wind of the plan after seeing workers putting barriers on their gates. "That tragedy could have happened to any of us," he said.

By Saturday evening, at least ten other compounds lifted lockdown before the announced end-date after residents complained, according to a Reuters tally of social media posts by residents.
This anti-lockdown protest in the suburbs of Beijing can be geolocated to the South Gate of the Tiantongyuan North #1 Community. From the inside looking out.
At 40.0731, 116.4109https://t.co/PjkDqEeeMO https://t.co/GzGJfHp7Lk pic.twitter.com/yBzA6y8j4s

— Nathan Ruser (@Nrg8000) November 26, 2022
On Nov 23, when a fire broke out in #Urumqi , people's doors were locked from outside. Fire truck couldn't get closer either( see my previous tweet). The latest figure says 44 were burnt to death, including a 3 y/o kid. That's one of the reasons for today's protests. pic.twitter.com/s4E0JHk4wQ

— Jennifer Zeng 曾錚 (@jenniferzeng97) November 25, 2022
Tyler Durden
Sat, 11/26/2022 - 12:00
fed
covid-19
lockdown
china
The Doctor Who Can Rebuild Trust: Joseph Ladapo
The Doctor Who Can Rebuild Trust: Joseph Ladapo
Authored by Jeffrey Tucker via The Brownstone Institute,
If you are like me, you are exhausted…
The Doctor Who Can Rebuild Trust: Joseph Ladapo
Authored by Jeffrey Tucker via The Brownstone Institute,
If you are like me, you are exhausted of the lies. Every day seems to bring new revelations about how our lives came to be upended. The connections are becoming clearer between the pandemic response and the growing economic crisis, the ballooning debt, the growth of the surveillance state, the corruption and scams, chilling absence of integrity in public life, and, with the failure of FTX, the way in which an outright financial scam was integral to the calamity. 
While we await new revelations, depositions, coverups, pleas for amnesty, and bad economic news, whom can we trust? Is anyone telling the truth? 
Today was Anthony Fauci's last White House press conference, and he spoke as if life is all normal and everything is fine. It's as if the whole disaster never happened. He never locked anyone down, he says. He has happy for any investigations, he says, because he has nothing to hide. And then he ended with a final push for everyone to get booster #5 or whatever number we are on. 
It's like we live in two universes: our own lives in which we read true things in some places, and official life, in which shills and publicists keep repeating the same nonsense over and over without flinching or providing anything like an honest account of these last three years. 
Perhaps for this reason – and also because by any historical standard this is a tremendous autobiography – reading Dr. Joseph Ladapo's Transcend Fear is a welcome relief from the nonsense of our times. It is brutally honest. It is emotionally affecting. It is careful and precise but also deeply radical in its observations. If what's called the "public health world" has lost touch with both the public and health, this book provides a path to restoring it. In short, it is a beautiful and inspiring experience. 
Dr. Ladapo is the Surgeon General of the State of Florida, picked by Governor Ron DeSantis to forge and explain the state's health decisions and priorities to the public in the midst of a grave crisis. He has faced down the national press time and time again with Zen-like wisdom. He seems emotionally unflappable while also sticking to the science as he understands it. He is the only public health official in the country who has been upfront about the limits of the vaccines and warned healthy young people that they don't need them. 
What we learn from this book is that he has been a warrior against pseudoscience from the very beginning of this pandemic and the government response. After the lockdowns, most scientists and health professionals fell silent, fearing reputational and financial loss. Dr. Ladapo was different, On March 24, 2020, still within the window of "15 Days to Flatten the Curve," he wrote in USA Today:
We are fretting and we are fuming. As a country, we have been caught miserably flat-footed after receiving warnings about what lay ahead when cases of Covid-19 began exploding in Wuhan, China. Messages from local and state leaders about how to respond to the pandemic change almost daily—a sure sign they have no idea what they are doing. Shutdowns are happening here in California and in New York, and will probably spread to the rest of the nation….
Here's the problem: Because of the (understandable) fear and hysteria of the moment, few US leaders are seriously talking about the endgame. The epidemiologic models I've seen indicate that the shutdowns and school closures will temporarily slow the virus' spread, but when they're lifted, we will essentially emerge right back where we started. And, by the way, no matter what, our hospitals will still be overwhelmed. There has already been too much community spread to prevent this inevitability. 
We don't have a totalitarian government like China, and we value our civil liberties too much to take the measures (i.e., total lockdown) that would be needed to rapidly decrease the infection rate to zero. This means that, even with shutdowns, the virus will still spread. Unfortunately, this also means that rates of "community immunity," often referred to as "herd immunity," will slow. As a result, we will always be vulnerable to the virus spreading rapidly again as soon as shutdown measures are lifted, unless they are immediately reimplemented—over and over and over again.
Was he the first post-lockdown voice from public health profoundly to object in a public forum of this magnitude? Perhaps so. Consider the bravery and presence of mind it required to write those sentences. The entire country was on a wartime footing with unprecedented horribles taking place. The media was screaming "Run for your lives" but most of us weren't even allowed out of our homes to do that. 
These were utterly crazy times. The whole world was going bonkers. And yet this man kept his cool. 
This book explains where his cool comes from. You see, he is the son of an immigrant from Nigeria, born 1979. A math and science whiz, he attended Wake Forest and then entered Harvard Medical School. While he was involved in his studies, he noted the existence of the Kennedy School of Government and enrolled there too. On graduation day, he was granted a MD plus a PhD in public policy. So essentially: the highest credentials in two fields that this country offers. He became professor of medicine at New York University and then the University of California, Los Angeles. 
The trouble was that none of his training had prepared him to deal with medical issues closer to home, namely his wife's unrelenting migraines that often landed her in the hospital and his own underlying psychological fears of social interaction. The details are very painful and told in this book with disarming detail. Long story short: his search for answers led him toward alternative medical paths that eventually fixed both issues, and burned a lesson in his mind. Health is individual, and the right path is not the same for everyone and not always found in expertise as codified in the textbooks and institutions. 
It was soon after these difficult times that the pandemic broke and, along with it, the claims that the experts had all the answers in lockdowns and eventual universal mandates for vaccination. 
Dr. Ladapo had meanwhile developed the self-confidence to speak about such matters truthfully and fearlessly. And he never stopped. He wrote for every venue he could, month after month, urging an end to the lockdowns, a focus on therapeutics, attention to the science we had, and genuine concern for the health of actual individuals, who are not lab rats but people with human rights and freedom. 
Even though Dr. Joseph Ladapo is obviously a hero (and one for the ages, so far as I'm concerned), the prose here is remarkably lucid, humble, and precise. That's why I say that the humane concern in this book is an inspiration. Moreover, reading it is a form of therapy because he connects with a common sense that we all had in 2019 before the world descended into utter madness. 
What's more, this book shows a path forward not only for public health but for all of us as individuals. He urges personal reflection as the first step in recovery, overcoming whatever hidden fears we had that caused too many among us to go along with the preposterous parade of dangerous nonsense that controlled our lives for so long. 
In my own view, this book is a classic of our times. Its value added is not only the author's credentials, though he has them galore, or even how it speaks so directly to issues that have profoundly affected all our lives. Its real value is as a model of autobiography that offers lessons for all of us without exception. 
We at Brownstone are deeply honored that Dr. Ladapo will be our dinner speaker at our annual conference and gala in Miami, December 3, 2022. There is still time to attend. You can register here. 
I write as Dr. Fauci just finished his last press conference without offering so much as a hint of apology for what has happened. Meanwhile, I'm sure Dr. Ladapo is tending to his work in Florida where he has been charged with dealing with public health policy with honesty, truth, and wisdom. I know who gets my vote for hero of the pandemic. 
Tyler Durden
Fri, 11/25/2022 - 16:00
white house
fauci
governor
pandemic
covid-19
therapy
spread
herd immunity
lockdown
recovery
wuhan
china