To have better disagreements, change your words – here are 4 ways to make your counterpart feel heard and keep the conversation going
Researchers have identified ways to have more productive conversations – even when you're talking to someone who holds an opposite view.
Your 18-year-old daughter announces she's in love, dropping out of college and moving to Argentina. Your yoga-teaching brother refuses to get vaccinated for COVID-19 and is confident that fresh air is the best medicine. Your boss is hiring another white man for a leadership team already made up entirely of white men.
At home, at work and in civic spaces, it's not uncommon to have conversations that make you question the intelligence and benevolence of your fellow human beings.
A natural reaction is to put forth the strongest argument for your own – clearly superior – perspective in the hope that logic and evidence will win the day. When that argument fails to have the intended persuasive impact, people often grow frustrated, and disagreement becomes conflict.
Thankfully, recent research offers a different approach.
For many years, psychologists have touted the benefits of making parties in conflict feel heard. Making someone you're arguing with feel that you're listening can calm the troubled waters, allowing both parties to get safely to the opposite shore. Two problems can get in the way, though.
First, when encountering disagreement, most people jump into "persuasion mode," which doesn't leave much room for listening, or even for pursuing other goals for the interaction. Any conversation could be an opportunity to learn something new, build a relationship that might bear fruit later, or simply have an interesting experience. But most of those goals get forgotten when the urge to persuade sets in. Second, and just as important, is that even when people do wish to make their counterparts feel heard they don't know how to do so.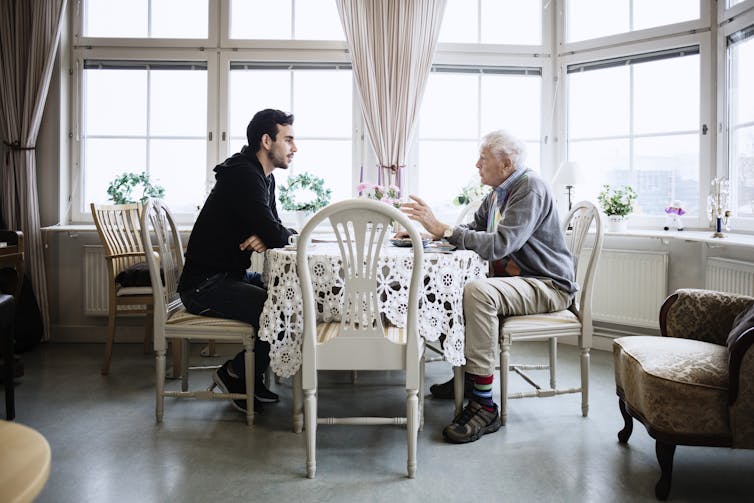 I lead a team of psychologists, negotiation scholars and computational linguists who have spent years studying ways that parties in conflict can behave to make their counterpart feel they are thoughtfully engaging with their perspective.
Rather than trying to change how you think of or feel about your counterpart, our work suggests that you should focus on changing your own behavior. Focusing on behavior rather than thoughts and feelings has two benefits: You know when you are doing it right, and so does your counterpart. And one of the easiest behaviors to change is the words that you say.
A conversational toolbox, based on what works
We used the tools of computational linguistics to analyze thousands of interactions between people who disagree with each other on hot-button social and political issues: police brutality, campus sexual assault, affirmative action and COVID-19 vaccines. Based on these analyses, we developed an algorithm that picks out specific words and phrases that make people in conflict feel that their counterpart is thoughtfully engaging with their perspective.
These words and phrases comprise a communication style we call "conversational receptiveness." People who use conversational receptiveness in their interactions are rated more positively by their conflict counterparts on a variety of traits.
Then we experimented with training people to use the words and phrases that have the most impact, even if they're not naturally inclined to do so. For example, in one of our earlier studies, we had people who held different positions about the Black Lives Matter movement talk to each other.
Those who received a brief conversational receptiveness training were seen as more desirable teammates and advisers by their counterpart. Training also turned out to make people more persuasive in their arguments than those who did not learn about conversational receptiveness.
We encapsulate this conversational style in the simple acronym H.E.A.R.:
H = Hedge your claims, even when you feel very certain about your beliefs. It signals a recognition that there are some cases or some people who might support your opponent's perspective.

E = Emphasize agreement. Find some common ground even when you disagree on a particular topic. This does not mean compromising or changing your mind, but rather recognizing that most people in the world can find some broad ideas or values to agree on.

A = Acknowledge the opposing perspective. Rather than jumping in to your own argument, devote a few seconds to restating the other person's position to demonstrate that you did indeed hear and understand it.

R = Reframing to the positive. Avoid negative and contradictory words, such as "no," "won't" or "do not." At the same time, increase your use of positive words to change the tone of the conversation.
Measuring benefits of the tools in practice
In a recent set of studies, my colleagues and I recruited people who were supportive of or hesitant about getting COVID-19 vaccinations. We paired vaccine-supportive participants with the vaccine hesitant and instructed them to persuade their partner to get the shot. Before the interaction, we randomly assigned the vaccine supporters to receive brief instructions in conversational receptiveness or guidance simply to use the best arguments they could think of.
We found that participants who received a couple minutes of instruction in conversational receptiveness were seen as more trustworthy and more reasonable by their counterparts. Their counterparts were also more willing to talk to them about other topics.
In a subsequent study, we explained the concept of conversational receptiveness to participants on both sides of the issue. Just knowing that they'd be engaging with someone trained in this technique made both parties report being 50% more willing to have a vaccine conversation. People felt more confident their discussion partner would hear them and less worried they'd be a dismissive jerk.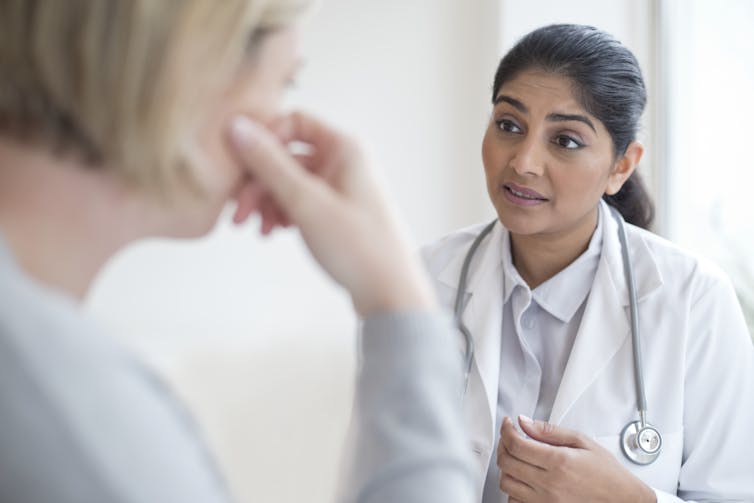 Dialing down the acrimony
This approach might be especially beneficial in conversations in which one party is highly motivated to engage while the other is less so. When such conversations turn contentious, the less motivated person can simply walk away.
That's an all-too-familiar experience for parents of teenagers who seem to have advanced degrees in ignoring unwelcome advice. Health care providers often face a similar challenge when they try to persuade patients to change behaviors they do not wish to change. In the workplace, this burden is most acutely felt by people lower in the hierarchy trying to have their views heard by higher-ups who just don't have to listen.
Conversational receptiveness is effective because it makes the interaction less confrontational and therefore less unpleasant. At the same time, it allows both parties to express their perspective. As a result, it gives people some confidence that if they approach a topic of disagreement, their partner will stay in the conversation, and the relationship will not sustain damage.
In recent years, many scholars across the social sciences have expressed concern about Americans' seeming inability to talk to their political opponents.
Yet the skills that are necessary for Democrats and Republicans to engage with one another are similarly lacking in our families and in our workplaces.
Our work on conversational receptiveness builds on extensive prior research on the benefits of showing engagement with opposing perspectives. By focusing on language that can be easily learned and precisely measured, we offer people a broadly applicable toolkit to live up to their best conversational intentions.
Julia Minson receives funding from Rita Allen Foundation and the Doris Duke Foundation.
vaccine
covid-19
One-third of all CFTC crypto enforcement actions took place this year — Chairman Behnam
CFTC Chairman Rostin Behnam told an audience at the Financial Industry Association Expo about the agency's activity in the crypto space and its need…
CFTC Chairman Rostin Behnam told an audience at the Financial Industry Association Expo about the agency's activity in the crypto space and its need for modern legislation.
United States Commodity Futures Trading Commission (CFTC) Chairman Rostin Behnam highlighted his agency's activity in the cryptosphere and the need for up-to-date legislation at the Financial Industry Association Expo 2023 event in Chicago. He described the CFTC Enforcement Division's efforts as a "nonstop drumbeat."
In the text version of his keynote address to the industry group, Behnam recounted the $6 billion his agency collected in penalties in fiscal year 2023. He added:
"45 of those [enforcement] actions this fiscal year involved digital asset-related misconduct, representing over 34% of the 131 such actions brought by the commission since 2015."
Behnam singled out the "precedent-setting litigation" his agency won against Ooki DAO, which resulted in the closure of the decentralized autonomous organization and netted a $643,542 penalty. In its default judgment against Ooki DAO, the U.S. District Court for the Northern District of California found that the DAO was a "person" under the Commodity Exchange Act (CEA) of 1936.
Behnam returned to the CEA when he discussed the agency's future direction. "The cornerstone of our latest era is disintermediation brought about by groundbreaking technology: DeFi, AI and standard WiFi," he said, but:
"The limits in the CEA established in essentially another era create real barriers to engaging in rulemakings and policy that is necessary to our mission, but just beyond our scope."
Furthermore, those limits force the agency "to engage in increasingly resource-intensive quests for assurances that we are acting within the bounds of our intended remit."
I look forward to speaking Monday morning at @FIAconnect #FIAExpo on the @CFTC agenda and enforcement. My remarks will be posted online at https://t.co/JojHNdQoVh.

— Rostin Behnam (@CFTCbehnam) October 2, 2023
Vertical integration — an "outgrowth of electronification and the promise of DeFi" — is occurring throughout financial markets and leading to regulatory concerns, and "customer protections mean something different now," according to Behnam.
Related: CFTC commissioner calls for crypto regulatory pilot program
Behnam's statements contrasted sharply with Securities and Exchange Commission Chair Gary Gensler's position that existing financial legislation "has been quite a benefit to investors and economic growth over the last 90 years" and should not be tampered with.
Behnam also indirectly addressed limitations on the CFTC's enforcement authority. "To suggest that […] we must wait until victims suffer and cry out for help to be proactive […] undermines our mission and purpose," he said. "I have continued to advocate for additional authority in the crypto space," he later added.
Magazine: Cleaning up crypto: How much enforcement is too much?
crypto
crypto
Volatility Shares cancels ETH futures ETF launch, 'didn't see the opportunity at this point in time'
The company's co-founder and president, Justin Young, told Cointelegraph in an email that plans to launch at a later date were "TBD."
…
The company's co-founder and president, Justin Young, told Cointelegraph in an email that plans to launch at a later date were "TBD."
Volatility Shares, a financial firm offering a range of exchange-traded fund (ETF) products, canceled its plans to launch an Ether (ETH) futures ETF on Oct. 2, citing changes in the market. 
In an email with Cointelegraph, the company's co-founder and president, Justin Young, confirmed the cancellation:
"You are correct — we did not launch today. We didn't see the opportunity at this point in time."
However, when asked if the company still planned to launch an ETH futures ETF at a later date, Young responded, "Of course," adding that "plans are TBD."
Ether futures ETFs track the prices of ETH futures contracts — agreements to trade the asset at a specific time and price in the future. Essentially, they allow investors to be involved in ETH trading without having to actually hold any of the cryptocurrency.
Related: SEC continues to delay decisions on crypto ETFs: Law Decoded
Volatility Shares was previously positioned to be the first firm to offer an ETH futures ETF. The United States Securities and Exchange Commission was expected to approve the first such product on Oct. 12, but concerns over the previously impending Oct. 1 U.S. government shutdown reportedly prompted the SEC to move the timeline for approval up.
As of Oct. 2, several firms have begun trading ETH futures ETFs, including Valkyrie, VanEck, ProShares and Bitwise.
Pretty meh volume for the Ether Futures ETFs as a group, a little under $2m, about normal for a new ETF but vs $BITO (which did $200m in first 15min) it is low. Tight race bt VanEck and ProShares in the single eth lane. pic.twitter.com/F9AHtrVcVf

— Eric Balchunas (@EricBalchunas) October 2, 2023
As Cointelegraph's Turner Wright recently wrote, "Bills for the good or ill of digital assets would be halted amid a shutdown, and financial regulators, including the Securities and Exchange Commission and Commodity Futures Trading Commission, would be running on a skeleton crew."
In a twist, the U.S. government managed to avoid the shutdown by passing a stopgap measure to keep services funded through Nov. 17, with the Senate voting 88-9 to pass the measure. U.S. President Joe Biden signed it into law immediately.
cryptocurrency
crypto
etf
crypto
Class-action suit filed against Binance for alleged harm to FTX before its collapse
A California resident is suing Binance and its CEO for tweets last November that, according to allegations, led to the collapse of the rival exchange….
A California resident is suing Binance and its CEO for tweets last November that, according to allegations, led to the collapse of the rival exchange.
A class-action suit was filed against Binance.US and Binance CEO Changpeng Zhao on Oct. 2 in the District Court of Northern California alleging various violations of federal and California law on unfair competition for attempting to monopolize the cryptocurrency market by harming its competitor FTX. The suit was brought by Nir Lahav, who is identified only as a California resident. 
At issue are posts made by Zhao on Twitter (now X) in early November on the eve of FTX's collapse. The posts were made in conjunction with the decision by the defendants to liquidate their holdings in the FTX utility token FTT on Nov. 6. The plaintiffs estimated that Binance owned up to 5% of all FTT tokens.
The following day, Zhao stated in a Twitter post that Binance had signed a letter of intent to acquire FTX, but it backed out of that deal one day later. According to the suit:
"Zhao publicly disseminated this information [on the withdrawal of the acquisition offer] on twitter and other social media platforms to hurt FTX Entities that ultimately lead to a rushed and unprecedented collapse of FTX Entities."
After began its argumentation with a defense of the Securities and Exchange Commission's (SEC) policies on crypto and invocation of the Supreme Court's Howey and Reves decisions, among others.
As part of Binance's exit from FTX equity last year, Binance received roughly $2.1 billion USD equivalent in cash (BUSD and FTT). Due to recent revelations that have came to light, we have decided to liquidate any remaining FTT on our books. 1/4

— CZ Binance (@cz_binance) November 6, 2022
It went on to claim that Zhao's Nov. 6 tweet, "Due to recent revelations that have came [sic] to light, we have decided to liquidate any remaining FTT on our books," was false and misleading, since Binance has already sold its FTT holdings, and the post was "intended to cause the price of FTT in the market to decline."
Related: New FTX documentary to spotlight SBF-CZ relationship
The plaintiffs found evidence for their claim in the same post by Zhao, where he wrote, "We are not against anyone. […] But we won't support people who lobby against other industry players behind their backs." The plaintiffs took the latter sentence to indicate that Binance opposed FTX CEO Sam Bankman-Fried's "regulatory efforts."
Sad day. Tried, but

— CZ Binance (@cz_binance) November 9, 2022
The suit alleges that Zhao's proposal to acquire FTX was not made in good faith and the episode would "ultimately lead" to the collapse of FTX:
"Zhao's tweet resulted in FTT price declining from US 23.1510 to US 3.1468. This significant drop plummeted FTX Entities into bankruptcy without giving an opportunity or chance to FTX Entities' executives and board of directors a chance [sic] to salvage the situation and put in safe guards to protect its clients and end-users."
The suit demanded monetary damages, court costs and disgorgement of ill-gotten gains based on seven counts. "Plaintiff believes that there are thousands of members of the proposed class," the suit stated.
CZ just executed the most gangster play we've seen in Crypto, ever, period. The BALLS on this man. Truly -- bravo.

Also bravo to Sam to choose the correct option that protects customer assets, swallow his pride, and not burn everything down in an unnecessary fight.

WHAT A SHOW!

— Autism Capital (@AutismCapital) November 8, 2022
As the suit noted, both Binance and FTX are currently subject to SEC actions. The criminal case against Bankman-Fried will begin Oct. 4 in New York. Zhao addressed potential accusations of unfair competition in the same tweet that is cited in the suit. "Regarding any speculation as to whether this is a move against a competitor, it is not," he wrote.
His statement did not stop speculation to that effect within the crypto community, however. The CEOs of the crypto exchanges traded jibes on then-Twitter for weeks afterward.
Magazine: FTX bankruptcy filing details, Binance's crypto industry fund and a U.S. CBDC pilot: Hodler's Digest, Nov. 13-19
cryptocurrency
crypto
crypto