There Is A Giant Illusion For The Majority Of Market Commentators Choosing Not To See It
There Is A Giant Illusion For The Majority Of Market Commentators Choosing Not To See It
By Michael Every of Rabobank
Holy Illusions
Hands…
There Is A Giant Illusion For The Majority Of Market Commentators Choosing Not To See It
By Michael Every of Rabobank
Holy Illusions
Hands up how many of you had 528K down as your US payrolls guess? Nobody, because the Bloomberg survey low was 50K and the high 325K. While there are question marks over these data given Covid --nearly 3m people weren't/couldn't work due to it-- and the "birth/death" model, the household survey saw jobs +179K; backwards payroll revisions were +28K; total employment was back to pre-pandemic levels, albeit with reallocation away from sectors such as leisure and hospitality (-1,214K) towards others, such as transport (+745K); the participation rate edged down to 62.1%, so the jobless rate fell to 3.5%, but even using pre-Covid participation rates unemployment would have been 5.4%, down from 5.5%; and average hourly earnings rose much faster than expected at 0.5% m-o-m, 5.2% y-o-y (and 6.0% annualized).
If it's an illusion, and look at full-time vs. part-time and multiple jobs as a clue...
... it still convinced Larry Summers to warn that if US CPI falls back this week, the Fed must not pivot, and Krugman to add it'd be "no justification for a pivot toward easier money." Indeed, it now seems the Fed may go another 75bps in September, and Bowman implies afterwards as well perhaps, and the Wall Street Journal underlines, "Witness the small army of Fed officials who have fanned out to warn markets that the Chairman didn't mean what he supposedly wasn't saying last week." In short, the illusion of a Fed dovish pivot is dispelled, with 2-year Treasury yields up 16bp to 3.23% Friday, and 10s up 14bp to 2.83%. More to come: or record yield curve inversion.
Add a Fed pivot to "transitory" inflation on the list of illusions fading for the same underlying reason: the global system is crumbling. They join EU energy, economic, and foreign policy, as the German regulator calls for 20% cuts in household gas usage, and the West's 'Great Illusion' that war just can't happen (to it) in the modern world.
On which, Ukraine just got another $1bn in US arms as a new phase of the war looms around Kherson: a counter-attack appears imminent. However, don't be under the illusion that the US can keep up that pace of arms supply - and its stocks can't be replaced quickly once depleted. The same is true for Russia, and in terms of men, but their media says North Korea might strike a deal to send 100,000 soldiers to fight in Ukraine in exchange for food and energy(!) If so, the war escalates further, and the EU energy outlook darkens further. NATO member Turkey on Friday also struck a deal with Russia to deepen economic ties: that is a terribly muddied picture for the EU and US as they try to isolate Moscow. However, illusions abound on all sides: Russia just released a video aimed at attracting people to move there due to its 'hospitality, vodka, and an economy that can withstand thousands of sanctions'.
Elsewhere, Reuters warns Chinese military exercises around Taiwan could disrupt key shipping lanes, and Taipei states they "simulate an attack" on its main island, drawing condemnation from the G7, but Russian support. China has now halted: communication with US military theatre leaders; defence meetings; maritime security dialogue; and co-operation over illegal migration, criminal justice, transnational crime, narcotics, and the climate - the US says this "punishes the world." The White House is now leaning on Congress to delay the bipartisan Taiwan Policy Act of 2022, which designates it a major non-NATO ally, provides $4.5bn in military aid, upgrades its international status, and allows the imposition of sanctions, including SWIFT bans, on major Chinese financial institutions. As the Carnegie Endowment think-tank notes, "The US and China are seriously talking past each other…That disconnect will lead to a very unstable new baseline."
Linking back to today's title, Friday saw the release of 'Holy Illusions', a report from a key think-tank backing UK PM candidate Truss. It argues, "Just as in the 1970s, the country faces many interconnected, serious but superficially very different problems." True.
Controversially, it diagnoses that "The most significant underlying economic problem… is the malign consequences of low to negative interest rates over a prolonged period."  Artificially low rates, it says, have "gradually prevented the normal mechanisms of a market economy from working properly… there has been a greater and greater search for yield on riskier and riskier assets, with everything that follows upon that, notably, market instability, huge asset price inflation, and inequality. The lack of rewards to enterprise and the ease with which fundamentally unproductive "zombie" companies can be maintained have made it difficult to generate those normal improvement mechanisms of a market economy which drive productivity and growth." It's hard to disagree with that Austrian and Marxist assessment.
The report then says other UK problems are manifold: "Implausible energy policies"; over-regulation, antipathy to risk; "Unsustainable" welfare; a shrinking labour force; a declining birth-rate (an issue in all major economies, except one); "Education systems that don't educate"; and, it claims, high immigration. It warns that if current UK growth rates continue --and this was presumably before the BOE's latest awful assessment-- then by 2035 the likes of Poland will "overtake" the UK: will they then import British plumbers?
It unsurprisingly argues Brexit is not an issue, even if it means short-term costs (and clearly more immigration is not on the cards). It says the UK isn't willing or able to do anything with the "full democracy" Brexit grants it, as "Our governing class seems to have forgotten how to govern, how to guide a state, and how to set a goal and direction of travel."
Then --perhaps contradicting itself for some readers-- it argues, "Given this set of daunting problems… there really ought to be strong political movements… to analyse and begin to deal with them. That is not the case. Instead we see the reverse - a refusal to get to grips with the problems or even to acknowledge them. It is easier to ignore the most pressing economic and societal issues of the day, pretend they don't exist, or claim they will be solved automatically as normal conditions return. We are, it seems, studiously pretending to be asleep." Again, no arguments here. To show it is not like the others, it dares to ask, "What is to be done?" - and it tells us government must:
"Convince the public that change is needed. The public must come to feel that we have taken a wrong path and to react against it." They are already there! Just as we have mortgage strikes in China, we may see energy strikes in the UK; and some warn of a looming 'winter of discontent. (And don't think Putin doesn't see this too, and won't act accordingly.)
"Show the electorate an alternative," which is "to increase the productive capacity of our economy (because without that other problems simply cannot be solved)". They are with you! But here comes the rub. What does that mean on energy? Silence. Moreover, the government must "persuade the public… that collectivist, socialist solutions are incapable of achieving that."
But how do you get the private sector to invest productively when other governments will? See 'how the US gave away a breakthrough battery technology to China', because the inventor "talked to almost all major investment banks; none of them [wanted to] invest in batteries," as they "wanted a return on their investments faster than the batteries would turn a profit." Will higher rates, lower taxes, and deregulation force banks to make loans to productive rather than "fictitious capital"? Austrians say yes: Marxists say not, and with the better track record; and they add that even productive loans will just be made abroad, where it is cheaper to invest.
That gaping theoretical/policy hole is more evident when we are then told the government must "persuade the public that this alternative route is actually possible; that [it] has a plan to get the country onto it; that continuing on the current path will simply make the inevitable correction measures more painful; and that failure to take such measures will mean a materially worse outcome. [It must] make this alternative politically feasible and hence potentially attractive."
--But what alternative?!--
Its conclusion avoids the answer in saying that: "A successful nation state needs market economics to create prosperity, and requires solidarity and a clear sense of identity to sustain itself. A reform programme must be similarly broad-based. It should reject the artificial polarity between the "market"  --"right wing" economics and economic globalisation-- and "society" --"left wing" statism and solidarity-- but recognise instead that running a successful country involves elements of both."
It just doesn't say how beyond rates, taxes, and fostering 'national unity': yet the latter alone was *wrongly* presumed by Smith and Ricardo to stop capitalists investing abroad at all, which we just edit out of our textbooks! If only we could edit it out of our financial flows so easily.
Ironically, the report also says, "the political difficulty is that governments and politicians have not for many years set out the reality of how economies work and how prosperity is created. Levels of understanding are low." Yes, they are: if it was as simple as 'getting the state out of the way', China would not be an economic superpower and Afghanistan might be.
Yet the underlying message that we been 'getting GDP wrong', and we can't get it right by only focusing on GDP is arguably very valid, as is the criticism of relying on low rates policy. We *do* need a higher common purpose, and higher rates, and others are saying similar things: here is an example arguing, "Without that, any aspiring state is just a gated community for the working wealthy, much like the ones for old retirees in South Florida." It's just that we need *more* than that structurally to boot, and 'Holy Illusions' still seems to cling to its own in avoiding that conclusion.
It *could* be seen as backing a neo-Hamiltonian free market behind high tariff barriers, with industrial policy, which was how the US (and China) developed. Yet that mercantilist model is also an illusion for the UK and others not large enough for economies of scale and a modern army, especially as large rivals *are* state-backed and have one; and as high debt levels logically require MMT and higher interest rates, if just to pay for that military. The flurry of legislation coming out of the US is not a million miles away from some of those ideas and developments.
But if we need 'Hamilton' in blocs, the UK still just rejected being a member of one. Does that mean it will end up in a new Holy Anglosphere? Some say that's no illusion, other that it is. Regardless, the above still implies global national-security/commodity/supply-chain/tech/values fragmentation ahead; and higher interest rates; and lower asset prices; and more productive, higher-wage investment - as we had already projected as a 2030 scenario. Unless that's just my own holy illusion.
What isn't is that if you don't keep track of these seemingly-esoteric developments, you won't be in a position to call where rates are going - which is why nobody in markets called three (or four?) back-to-back 75bps Fed hikes this year. That was "not how the political economy works". But the political economy had changed. To paraphrase Keynes, "When the facts change, I change my forecast. What do you do?"
That is what you should be focused on: not the illusion of the relevance/positivity of Chinese July trade data released Sunday, which showed exports up 18% y-o-y and imports only 2.3%, for a staggering trade surplus of $101.3bn. Does anyone think this $1.2 trillion annualised figure is good news for anyone: not China (where it means no demand); not globally (where it means no local supply). There is a giant illusion for the majority of market commentators choosing not to see it.
Tyler Durden
Mon, 08/08/2022 - 09:04
unemployment
pandemic
yield curve
stocks
fed
grants
white house
congress
army
us government
gdp
interest rates
unemployment
uk
poland
russia
ukraine
eu
china
Three Infrastructure Investments to Buy as War and Inflation Rage
Three infrastructure investments to buy as war and inflation rage offer ways to overcome ongoing economic risks in pursuit of precious profits. The three…
Three infrastructure investments to buy as war and inflation rage offer ways to overcome ongoing economic risks in pursuit of precious profits.
The three infrastructure investments to buy as war rains terror and destruction, inflation rampages and the Fed raises rates feature companies that appear well-positioned to succeed amid market mayhem. Stocks have advanced in the past couple of trading days, but the economic and geopolitical risks still leave many prognosticators warning that a new 2022 market bottom may yet lie ahead.
One of the three infrastructure investments to buy showcases a company whose unmanned drones have proven their value in Ukraine as the nation's outnumbered defenders recently have begun to push back a Russian invasion of more than 120,000 troops that began Feb. 26. Another company on the list of three infrastructure investments to buy includes a producer of solar panels that could help alleviate a war-related energy shortfall in Europe due to Russia cutting its supply of gas to nations opposing its attack of Ukraine.   
Three Infrastructure Investments to Buy Look to Evade Financial Fallout
"Stocks have been beset with no shortage of problems in recent weeks," wrote Mark Skousen, PhD, to subscribers of his weekly Home Run Trader advisory service. "The primary negative, of course, is that the Federal Reserve is determined to slow the economy, reduce demand, and thereby bring down inflation."
Mark Skousen, Forecasts & Strategies chief and Ben Franklin scion, meets Paul Dykewicz.
However, too much tightening, too fast, risks pushing the United States into a recession, continued Skousen, an economist who uses his analysis of inflation, interest rates and monetary policy in recommending stocks and options to buy. Economic statistics are showing a slowdown in the economy, if not a recession, he added.
"Even though real gross domestic product (GDP) is slightly negative, second-quarter gross output (GO) — which measures total spending in the economy — grew by 1.7% in real terms," Skousen stated. "GO includes the supply chain, which is still catching up from the lockdown-induced shortages."
Three Infrastructure Investments to Buy Face 'Super-Strong' Dollar
Additional concerns include a "super-strong dollar," sliding consumer confidence and a cooling residential real estate market, Skousen counseled.
Investors can consider an exchange-traded fund that offers broad exposure to companies providing automation infrastructure, said Bob Carlson, a pension fund manager who also leads the Retirement Watch investment newsletter.
Bob Carlson, investment guru of Retirement Watch, talks to Paul Dykewicz.
Carlson suggested Robo Global Robotics and Automation (ROBO), a fund that seeks to follow an index that is concentrated in robotics-related or automation-oriented companies. The fund had decent performance until 2022 when it plunged. The fund became caught in the downdraft that befell technology and industrial companies.
Both sectors have done poorly as interest rates rose in 2022, Carlson commented. The fund is down nearly 40% in 2022, while its three-year return is just shy of an annualized 6%.
The fund owns 81 stocks and has 17% of the fund in the 10 largest positions. ROBO's top holdings recently consisted of Cognex (NASDAQ: CGNX), Intuitive Surgical (NASDAQ: ISRG) and IPG Photonics (NASDAQ: IPGP).
Chart courtesy of www.stockcharts.com
Three Infrastructure Investments to Buy Buoyed by Unmanned Drone Stock
"Additive manufacturing technologies are at an inflection point in their ability to solve challenges faced by manufacturing companies, particularly with recent labor shortages and supply chain disruptions," according to Chicago-based investment firm William Blair & Co. "Historically, additive manufacturing applications have been limited by productivity capabilities and lack of industrial strength materials."
Executives of AeroVironment, Inc., (NASDAQ: AVAV), an Arlington, Virginia-based maker of unmanned drones and other multi-domain robotic systems, recently gave a presentation to William Blair analysts about how software from its Plank and Progeny acquisitions provided a key competitive advantage. Indeed, the success of AeroVironment's "kamikaze drones" in Ukraine may extend into Asia.
AeroVironment officials compared the Ukraine War-related Switchblade media coverage to "100 SuperBowl ads worth of press." Before the war, AeroVironment was not even authorized to export the Switchblade.
"It was used in the Middle East for over a decade, but it was viewed as a niche offering," William Blair analysts wrote. "Ukraine is providing a testing ground that proves the Switchblade 300 is incredibly valuable. Now it has U.S. State Department permission to sell to more than 20 countries. In mid-September, it was reported that Japan is evaluating purchasing several hundred kamikaze drones and is evaluating AeroVironment's Switchblade."
A recent Switchblade 600 contract for Ukraine valued at $2.2 million may be a tipping point. On Sept. 15, almost six months after an initial report that a contract was in the works, it came to fruition.
While Javelin, Stinger and TOW traditional missile systems have a three-mile maximum range, the Switchblade 600 has a 20-mile top range with similar effects. The Switchblade 600 has the same size warhead and can be launched without a visual lock on the target, William Blair analysts wrote in a recent research note.
AeroVironment Stands out Among Three Infrastructure Investments to Buy
William Blair rated AeroVironment to "outperform" the market and indicated it appears to be the favorite to win the Army $1 billion/10-year FTUAS program, but an executive at the robotics company estimated that the U.S. Navy addressable market may be larger than the potential market for the Army. Software from Planck, acquired by AeroVironment, enables the JUMP-20 military battlefield drone to perform vision-based autonomous landings onto moving platforms, such as maritime vessels.
The JUMP-20 is a vertical takeoff and landing (VTOL), fixed-wing unmanned aircraft used to provide advanced multi-sensor intelligence, surveillance and reconnaissance (ISR) services. AeroVironment's systems "flourished" during Navy IMX 2022 exercises earlier this year, according to William Blair. 
Regarded as the largest unmanned exercises in the world, IMX 2022 showed how AeroVironment's LEAP software received feeds from manned aircraft, unmanned aircraft, manned vessels and unmanned vessels. At IMX 2022, AeroVironment's LEAP software was not supposed to be the hub, but when other software "was not executing." AeroVironment's LEAP software assumed the hub role on an ad hoc basis.
"We expect AeroVironment's success at IMX 2022 to lead to contracts for its JUMP-20, Puma and Switchblade aircraft down the road," the William Blair analysts wrote.
Chart courtesy of www.stockcharts.com
Three Infrastructure Investments to Buy Include Standex International 
Standex International Corporation (NYSE: SXI), a multinational manufacturer of food service equipment, engravings, engineering technologies, electronics and hydraulics headquartered in Salem, New Hampshire, has many growth paths ahead of it. Rated by William Blair to "outperform" the market, Standex International could materially accelerate organic growth to 10% or more during the next two to three years, excluding its commercial solar panel production volumes for an innovative Gr3n joint venture with Italy's Enel (OTCMKTS: ENLAY).
That partnership with a multinational manufacturer and distributor of electricity and gas has gained importance due to the suspected sabotage of both under water pipelines of the Nord Stream 1 from Russia to Western Europe, along with one line of Nord Stream 2. Seismologists in Denmark and Sweden suggest that sizeable explosions on the order of 100 kilograms of TNT occurred in both incidents.
With Russia's President Vladimir Putin facing unexpected battlefield setbacks more than six months after he ordered a Feb. 26 invasion of neighboring Ukraine that the former KGB agent euphemistically called a "special military operation," the pipeline sabotage seems targeted to hurt European nations as winter nears. Since Putin ordered troops into Ukraine in February, Russia has cut supplies of natural gas to Europe to heat homes, generate electricity and fuel factories.
European Leaders Complain of 'Energy Blackmail' by Putin
European leaders have accused Putin of using "energy blackmail" to weaken their support for Ukraine as the country seeks to repel Russia's aggression.
Without presenting any evidence, Russian officials are attempting to blame the United States for the apparent sabotage, even though the affected nations are among America's closest allies. President Biden countered the accusations were the latest in a continuing Russian campaign of "disinformation and lies."
Biden also described the explosions of the Nordstream pipelines as acts of "sabotage" and discussed sending divers to examine the pipelines to find evidence that could be brought to light. Russia's audacious move to "annex" Ukrainian territory in a Putin-led ceremony last Friday, Sept. 30, was declared illegal by Ukraine, the United Nations, the United States and many other Western allies who said it violated Ukrainian and international law.
Solar Panel Design Aids One of Three Infrastructure Investments to Buy
Standex further plans to benefit from significantly higher research and development (R&D) investments for new product development to "materially increase organic sales growth," William Blair opined. New product launches are expected across all five of Standex's businesses in fiscal 2023, including high growth end-markets such as renewable energy, electric vehicles, human health, commercialization of space and sustainable products.
Standex's Gr3n joint venture could attain full commercialization by mid-decade, potentially becoming Standex's sixth business segment. The result could boost Standex's "organic sales growth" to the low teens in the next three to five years, the William Blair analysts wrote.
The joint venture has developed and tested a prototype for a highly innovative, extremely efficient and 100% recyclable new solar panel design that is 30-35% more efficient and weighs 38% less than traditional glass solar panels. With interest in solar panels rising as the European Union (EU) scrambles to replace the 40% of its energy previously sourced from Russia, Standex is expanding electronics' production capacity in Germany, China and India, the investment firm reported. 
"If the new recyclable, highly efficient solar panel can be cost-effectively produced, it could become the largest new product in Standex's history," according to the William Blair analysts.
Chart courtesy of www.stockcharts.com
U.S. CDC Halts Its Country-by-Country Travel Notices
The U.S. Centers for Disease Control and Prevention (CDC) dropped its country-by-country COVID-19 travel health notices on Monday, Oct. 3. Those warnings began early in the pandemic as COVID-19 cases and deaths climbed.
COVID risks affect supply and demand for infrastructure stocks, but not as much as cyclical companies whose share prices can soar when economic conditions are favorable but fall fast when inflation, a potential recession and Fed interest rate hikes imperil stock prospects. Savvy investors monitor COVID-19 outbreaks and lockdowns to forecast how certain stocks and sectors, such as infrastructure, are affected.
Another encouraging sign occurred when Canada announced on Sept. 26 that it would remove all remaining COVID-19 entry restrictions, such as testing, quarantine and isolation requirements. That development could boost trade and tourism between that country and the United States.
China's strict zero-tolerance COVID policy continues to be controversial and recently sparked a rare protest in its technology hub of Shenzhen, social media video showed. The dissent came after government officials ordered a sudden lockdown due to 10 new infections on Sept. 27 in the city of more than 18 million people. Officials ordered residents in three districts there to stay home.
China has locked down more than 70 cities fully or partially to preserve its zero-tolerance policy of COVID. However, 27 people were killed and 20 more were injured when a quarantine bus overturned on a mountain road on Sept. 20.
U.S. COVID-19 deaths ticked up by nearly 4,000, up about 1,000 compared to roughly 3,000 the previous week. Cases in the country totaled 96,481,081, as of early Oct. 5, while deaths jumped to 1,060,408, according to Johns Hopkins University. America stands out dubiously as the nation with the most COVID-19 deaths and cases.
Worldwide COVID-19 deaths in the past week rose by more than 11,000, up about 2,000 from the prior week. The number of deaths totaled 6,550,203, as of Oct. 5, according to Johns Hopkins. Global COVID-19 cases reached 619,211,562.
Roughly 79.5% of the U.S. population, or 264,112,767, have received at least one dose of a COVID-19 vaccine, as of Oct. 5, the CDC reported. Fully vaccinated people total 225,284,115, or 67.9%, of the U.S. population, according to the CDC. The United States also has given at least one COVID-19 booster vaccine to almost 110 million people.
The three infrastructure investments to buy can be repurchased at reduced prices after a rough 2022 market wide. Despite high inflation, Russia's continuing war in Ukraine and recession risk after 0.75% rate hikes by the Fed in June, July and Sept. 21, the three infrastructure investments to buy offer some insulation compared to cyclical stocks with government budgets less economically sensitive than the private sector. 
Paul Dykewicz, www.pauldykewicz.com, is an accomplished, award-winning journalist who has written for Dow Jones, the Wall Street Journal, Investor's Business Daily, USA Today, the Journal of Commerce, Seeking Alpha, Guru Focus and other publications and websites. Paul, who can be followed on Twitter @PaulDykewicz, is the editor of                                  StockInvestor.com and DividendInvestor.com, a writer for both websites and a columnist. He further is editorial director of Eagle Financial Publications in Washington, D.C., where he edits monthly investment newsletters, time-sensitive trading alerts, free e-letters and other investment reports. Paul previously served as business editor of Baltimore's Daily Record newspaper. Paul also is the author of an inspirational book, "Holy Smokes! Golden Guidance from Notre Dame's Championship Chaplain," with a foreword by former national championship-winning football coach Lou Holtz. The book is great as a gift and is endorsed by Joe Montana, Joe Theismann, Ara Parseghian, "Rocket" Ismail, Reggie Brooks, Dick Vitale and many others. Call 202-677-4457 for multiple-book pricing.
The post Three Infrastructure Investments to Buy as War and Inflation Rage appeared first on Stock Investor.
recession
pandemic
covid-19
dow jones
nasdaq
stocks
monetary policy
fed
federal reserve
real estate
cdc
disease control
army
vaccine
testing
deaths
quarantine
lockdown
recession
gdp
interest rates
india
japan
canada
european
europe
italy
germany
sweden
russia
ukraine
eu
china
Plunging pound and crumbling confidence: How the new UK government stumbled into a political and financial crisis of its own making
Liz Truss took over as prime minister with an ambitious plan to cut taxes by the most since 1972 – investors balked after it wasn't clear how she would…
The new British government is off to a very rocky start – after stumbling through an economic and financial crisis of its own making.
Just a few weeks into its term on Sept. 23, 2022, Prime Minister Liz Truss' government released a so-called mini-budget that proposed £161 billion – about US$184 billion at today's rate – in new spending and the biggest tax cuts in half a century, with the benefits mainly going to Britain's top earners. The aim was to jump-start growth in an economy on the verge of recession, but the government didn't indicate how it would pay for it – or provide evidence that the spending and tax cuts would actually work.
Financial markets reacted badly, prompting interest rates to soar and the pound to plunge to the lowest level against the dollar since 1985. The Bank of England was forced to gobble up government bonds to avoid a financial crisis.
After days of defending the plan, the government did a U-turn of sorts on Oct. 3 by scrapping the most controversial component of the budget – elimination of its top 45% tax rate on high earners. This calmed markets, leading to a rally in the pound and government bonds.
As a finance professor who tracks markets closely, I believe at the heart of this mini-crisis over the mini-budget was a lack of confidence – and now a lack of credibility.
A looming recession
Truss' government inherited a troubled economy.
Growth has been sluggish, with the latest quarterly figure at 0.2%. The Bank of England predicts the U.K. will soon enter a recession that could last until 2024. The latest data on U.K. manufacturing shows the sector is contracting.
Consumer confidence is at its lowest level ever as soaring inflation – currently at an annualized pace of 9.9% – drives up the cost of living, especially for food and fuel. At the same time, real, inflation-adjusted wages are falling by a record amount, or around 3%.
It's important to note that many countries in the world, including the U.S. and in mainland Europe, are experiencing the same problems of low growth and high inflation. But rumblings in the background in the U.K. are also other weaknesses.
Since the financial crisis of 2008, the U.K. has suffered from lower productivity compared with other major economies. Business investment plateaued after Brexit in 2016 – when a slim majority of voters chose to leave the European Union – and remains significantly below pre-COVID-19 levels. And the U.K. also consistently runs a balance of payments deficit, which means the country imports a lot more goods and services than it exports, with a trade deficit of over 5% of gross domestic product.
In other words, investors were already predisposed to view the long-term trajectory of the U.K. economy and the British pound in a negative light.
An ambitious agenda
Truss, who became prime minister on Sept. 6, 2022, also didn't have a strong start politically.
The government of Boris Johnson lost the confidence of his party and the electorate after a series of scandals, including accusations he mishandled sexual abuse allegations and revelations about parties being held in government offices while the country was in lockdown.
Truss was not the preferred candidate of lawmakers in her own Conservative Party, who had the task of submitting two choices for the wider party membership to vote on. The rest of the party – dues-paying members of the general public – chose Truss. The lack of support from Conservative members of Parliament meant she wasn't in a position of strength coming into the job.
Nonetheless, the new cabinet had an ambitious agenda of cutting taxes and deregulating energy and business.
Some of the decisions, laid out in the mini-budget, were expected, such as subsidies limiting higher energy prices, reversing an increase in social security taxes and a planned increase in the corporate tax rate.
But others, notably a plan to abolish the 45% tax rate on incomes over £150,000, were not anticipated by markets. Since there were no explicit spending cuts cited, funding for the £161 billion package was expected to come from selling more debt. There was also the threat that this would be paid for, in part, by lower welfare payments at a time when poorer Britons are suffering from the soaring cost of living. The fear of welfare cuts is putting more pressure on the Truss government.
A collapse in confidence
Even as the new U.K. Chancellor of the Exchequer Kwasi Kwarteng was presenting the mini-budget on Sept. 23, the British pound was already getting hammered. It sank from $1.13 the day before the proposal to as low as $1.03 in intraday trading on Sept. 26. Yields on 10-year government bonds, known as gilts, jumped from about 3.5% to 4.5% – the highest level since 2008 – in the same period.
The jump in rates prompted mortgage lenders to suspend deals with new customers, eventually offering them again at significantly higher borrowing costs. There were fears that this would lead to a crash in the housing market.
In addition, the drop in gilt prices led to a crisis in pension funds, putting them at risk of insolvency.
Many members of Truss' party voiced opposition to the high levels of borrowing likely necessary to finance the tax cuts and spending and said they would vote against the package.
The International Monetary Fund, which bailed out the U.K. in 1976, even offered its figurative two cents on the tax cuts, urging the government to "reevaluate" the plan. The comments further spooked investors.
To prevent a broader crisis in financial markets, the Bank of England stepped in and pledged to purchase up to £65 billion in government bonds.
Besides causing investors to lose faith, the crisis also severely dented the public's confidence in the U.K. government. The latest polls showed the opposition Labour Party enjoying a 24-point lead, on average, over the Conservatives.
So the government likely had little choice but to reverse course and drop the most controversial part of the plan, the abolition of the 45% tax rate. The pound recovered its losses. The recovery in gilts was more modest, with bonds still trading at elevated levels.
Putting this all together, less than a month into the job, Truss has lost confidence – and credibility – with international investors, voters and her own party. And all this over a "mini-budget" – the full budget isn't due until November 2022. It suggests the U.K.'s troubles are far from over, a view echoed by credit rating agencies.
David McMillan does not work for, consult, own shares in or receive funding from any company or organisation that would benefit from this article, and has disclosed no relevant affiliations beyond their academic appointment.
recession
covid-19
subsidies
bonds
government bonds
housing market
pound
lockdown
recession
recovery
interest rates
european
europe
uk
What's next for ancient DNA studies after Nobel Prize honors groundbreaking field of paleogenomics
Thousands of ancient genomes have been sequenced to date. A Nobel Prize highlights tremendous opportunities for aDNA, as well as challenges related to…
For the first time, a Nobel Prize recognized the field of anthropology, the study of humanity. Svante Pääbo, a pioneer in the study of ancient DNA, or aDNA, was awarded the 2022 prize in physiology or medicine for his breathtaking achievements sequencing DNA extracted from ancient skeletal remains and reconstructing early humans' genomes – that is, all the genetic information contained in one organism.
His accomplishment was once only the stuff of Jurassic Park-style science fiction. But Pääbo and many colleagues, working in large multidisciplinary teams, pieced together the genomes of our distant cousins, the famous Neanderthals and the more elusive Denisovans, whose existence was not even known until their DNA was sequenced from a tiny pinky bone of a child buried in a cave in Siberia. Thanks to interbreeding with and among these early humans, their genetic traces live on in many of us today, shaping our bodies and our disease vulnerabilities – for example, to COVID-19.
The world has learned a startling amount about our human origins in the last dozen years since Pääbo and teammates' groundbreaking discoveries. And the field of paleogenomics has rapidly expanded. Scientists have now sequenced mammoths that lived a million years ago. Ancient DNA has addressed questions ranging from the origins of the first Americans to the domestication of horses and dogs, the spread of livestock herding and our bodies' adaptations – or lack thereof – to drinking milk. Ancient DNA can even shed light on social questions of marriage, kinship and mobility. Researchers can now sequence DNA not only from the remains of ancient humans, animals and plants, but even from their traces left in cave dirt.
Alongside this growth in research, people have been grappling with concerns about the speed with which skeletal collections around the world have been sampled for aDNA, leading to broader conversations about how research should be done. Who should conduct it? Who may benefit from or be harmed by it, and who gives consent? And how can the field become more equitable? As an archaeologist who partners with geneticists to study ancient African history, I see both challenges and opportunities ahead.
Building a better discipline
One positive sign: Interdisciplinary researchers are working to establish basic common guidelines for research design and conduct.
In North America, scholars have worked to address inequities by designing programs that train future generations of Indigenous geneticists. These are now expanding to other historically underrepresented communities in the world. In museums, best practices for sampling are being put into place. They aim to minimize destruction to ancestral remains, while gleaning the most new information possible.
But there is a long way to go to develop and enforce community consultation, ethical sampling and data sharing policies, especially in more resource-constrained parts of the world. The divide between the developing world and rich industrialized nations is especially stark when looking at where ancient DNA labs, funding and research publications are concentrated. It leaves fewer opportunities for scholars from parts of Asia, Africa and the Americas to be trained in the field and lead research.
The field faces structural challenges, such as the relative lack of funding for archaeology and cultural heritage protection in lower income countries, worsened by a long history of extractive research practices and looming climate change and site destruction. These issues strengthen the regional bias in paleogenomics, which helps explain why some parts of the world – such as Europe – are so well-studied, while Africa – the cradle of humankind and the most genetically diverse continent – is relatively understudied, with shortfalls in archaeology, genomics and ancient DNA.
Making public education a priority
How paleogenomic findings are interpreted and communicated to the public raises other concerns. Consumers are regularly bombarded with advertisements for personal ancestry testing, implying that genetics and identity are synonymous. But lived experiences and decades of scholarship show that biological ancestry and socially defined identities do not map so easily onto one another.
I'd argue that scholars studying aDNA have a responsibility to work with educational institutions, like schools and museums, to communicate the meaning of their research to the public. This is particularly important because people with political agendas – even elected officials – try to manipulate findings.
For example, white supremacists have erroneously equated lactose tolerance with whiteness. It's a falsehood that would be laughable to many livestock herders from Africa, one of the multiple centers of origin for genetic traits enabling people to digest milk.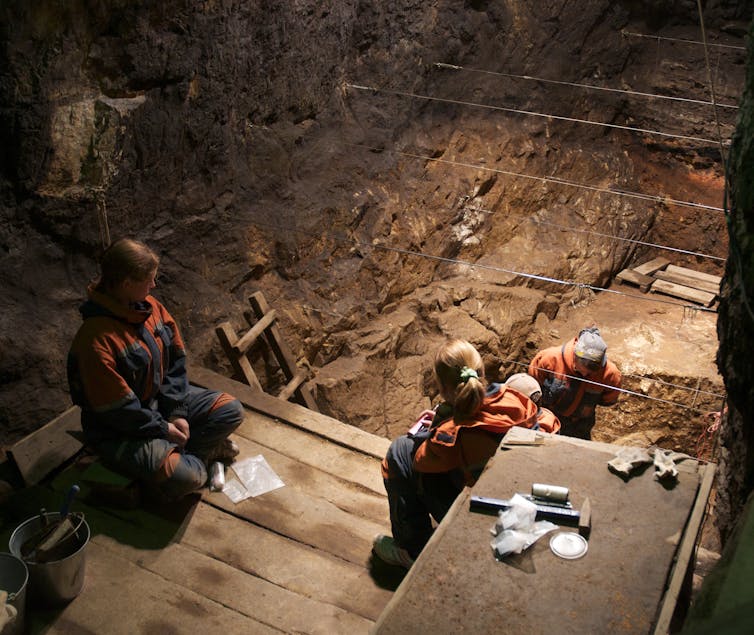 Leaning in at the interdisciplinary table
Finally, there's a discussion to be had about how specialists in different disciplines should work together.
Ancient DNA research has grown rapidly, sometimes without sufficient conversations happening beyond the genetics labs. This oversight has provoked a backlash from archaeologists, anthropologists, historians and linguists. Their disciplines have generated decades or even centuries of research that shape ancient DNA interpretations, and their labor makes paleogenomic studies possible.
As an archaeologist, I see the aDNA "revolution" as usefully disrupting our practice. It prompts the archaeological community to reevaluate where ancestral skeletal collections come from and should rest. It challenges us to publish archaeological data that is sometimes only revealed for the first time in the supplements of paleogenomics papers. It urges us to grab a seat at the table and help drive projects from their inception. We can design research grounded in archaeological knowledge, and may have longer-term and stronger ties to museums and to local communities, whose partnership is key to doing research right.
If archaeologists embrace this moment that Pääbo's Nobel Prize is spotlighting, and lean in to the sea changes rocking our field, it can change for the better.
Mary Prendergast does not work for, consult, own shares in or receive funding from any company or organisation that would benefit from this article, and has disclosed no relevant affiliations beyond their academic appointment.
testing
genetic
dna
covid-19
spread
africa
europe