The Madness Of Groupthink
The Madness Of Groupthink
Authored by Robert Malone via Brownstone Institute,
"Madness is the exception in individuals but the rule in…
The Madness Of Groupthink
Authored by Robert Malone via Brownstone Institute,
"Madness is the exception in individuals but the rule in groups."

~ Fredrich Nietzsche
We all seek to understand the root causes of the COVIDcrisis. We crave an answer, and hope is that we can find some sort of rationale for the harm that has been done, something that will help make sense out of one of the most profound policy fiascos in the history of the United States.
In tracing the various threads which seem to lead towards comprehension of the larger issues and processes, there has been a tendency to focus on external actors and forces. Examples include the Medical-Pharmaceutical Industrial complex, the World Health Organization, the World Economic Forum, the Chinese Central Communist Party, the central banking system/Federal Reserve, the large "hedge funds" (Blackrock, State Street, Vanguard), the Bill and Melinda Gates Foundation, Corporate/social media and Big Technology, the Trusted News Initiative, and the United Nations.
In terms of the inexplicable behavior of the general population in response to the information which bombards all of us, the denialism and seeming hypnosis of colleagues, friends and family, Mattias Desmet's 21st century update of the work of Hannah Arendt, Joost Meerloo, and so many others is often cited as the most important text for comprehending the large scale psychological processes which have driven much of the COVIDcrisis madness. Dr. Desmet, a professor of clinical psychology at Ghent University (Belgium) and a practicing psychoanalytic psychotherapist, has provided the world with guide to the Mass Formation process (Mass formation Psychosis, Mass Hypnosis) which seems to have influenced so much of the madness that has gripped both the United States as well as much of the rest of the world.
But what about the internal psychological processes at play within the United States HHS policy making group? The group which has been directly responsible for the amazingly unscientific and counterproductive decisions concerning bypassing normal bioethical, regulatory and clinical development norms to expedite genetic vaccine products ("Operation Warp Speed"), suppressing early treatment with repurposed drugs, mask and vaccine mandates, lockdowns, school closures, social devision, defamation and intentional character assassination of critics, and a wide range of massively disruptive and devastating economic policies.
All have lived through these events, and have become aware of the many lies and misrepresentations (subsequently contradicted by data) which have been walked back or historically revised by Drs. Fauci, Collins, Birx, Walensky, Redfield, and even Mr. Biden. Is there a body of scholarship and academic literature which can help make sense of the group dynamics and clearly dysfunctional decision making which first characterized the "coronavirus taskforce" under Vice President Pence, and then continued in a slightly altered form through the Biden administration?
During the early 1970s, as the (tragically escalated) Viet Nam War foreign policy fiasco was starting to wind down, an academic psychologist focusing on group dynamics and decision making was struck by parallels between his own research findings and the group behaviors involved in the Bay of Pigs foreign policy fiasco documented in A thousand days: John F. Kennedy in the White House by Arthur Schlesinger.
Intrigued, he began to further investigate the decision making involved in this case study, as well as the policy debacles of the Korean War, Pearl Harbor, and the escalation of the Viet Nam War. He also examined and developed case studies involving what he saw as major United States Government policy triumphs. These included the management of the Cuban missile crisis, and development of the Marshall Plan. On the basis of these case studies, examined in light of current group dynamic psychology research, he developed what a seminal book which became a cautionary core text for most students of Political Science.
The result was Victims of Groupthink: A psychological study of foreign-policy decisions and fiascoes by Author Irving Janis (Houghton Mifflin Company July 1, 1972).
Irving Janis (1918-1990) was a 20th century social psychologist who identified the phenomenon of groupthink. Between 1943 and 1945, Janis served in the Research Branch of the Army, studying the morale of military personnel. In 1947 he joined the faculty of Yale University and remained in the Psychology Department there until his retirement four decades later. He was also an adjunct professor of psychology at the University of California, Berkeley.

Janis focused much of his career on studying decision making, particularly in the area of challenging habitual acts such as smoking and dieting. He researched group dynamics, specializing in an area he termed "groupthink," which describes how groups of people are able to reach a compromise or consensus through conformity, without thoroughly analyzing ideas or concepts. He revealed the relationship peer pressure has to conformity and how this dynamic limits the confines of the collective cognitive ability of the group, resulting in stagnant, unoriginal, and at times, damaging ideas.

Throughout his career, Janis authored a number of articles and governmental reports and several books including Groupthink: Psychological Studies of Policy Decisions and Fiascoes and Crucial Decisions: Leadership in Policy Making and Crisis Management. 

Irving Janis developed the concept of groupthink to explain the disordered decision-making process that occurs in groups whose members work together over an extended period of time. His research into groupthink led to the wide acceptance of the power of peer pressure. According to Janis, there are several key elements to groupthink, including:
He observed that:
The group develops an illusion of invulnerability that causes them to be excessively optimistic about the potential outcomes of their actions.
Group members believe in the inherent accuracy of the group's beliefs or the inherent goodness of the group itself. Such an example can be seen when people make decisions based on patriotism. The group tends to develop negative or stereotyped views of people not in the group. 
The group exerts pressure on people who disagree with the group's decisions.
The group creates the illusion that everyone agrees with the group by censoring dissenting beliefs. Some members of the group take it upon themselves to become "mindguards" and correct dissenting beliefs. 
This process can cause a group to make risky or immoral decisions. 
This book was one of my assigned textbooks during undergraduate studies in the early 1980s, and it has deeply influenced my entire career as a scientist, physician, academic, entrepreneur, and consultant. It has been widely read, often as required reading during undergraduate political science coursework, and A Review of General Psychology survey (published in 2002) ranked Janis as the 79th most cited psychologist of the 20th century.
As I have considered the revelations provided by the recent books from Dr. Scott Atlas (A Plague Upon Our House: My Fight at the Trump White House to Stop COVID from Destroying America) and Dr. Deborah Birx (Silent Invasion: The Untold Story of the Trump Administration, Covid-19, and Preventing the Next Pandemic Before It's Too Late), I realized that the prescient insights of Dr. Janis were directly applicable to the group dynamics, behaviors and faulty decision making observed within the core HHS leadership "insider group" responsible for much of the grossly dysfunctional decision making which has characterized the COVIDcrisis.
Janis' insights into the process of groupthink in the context of dysfunctional public policy decision making profoundly foreshadowed the behaviors observed within the HHS COVID leadership team.
A high degree of group cohesiveness is conductive to a high frequency of symptoms of groupthink, which in turn are conductive to a high frequency of defects in decision-making.  Two conditions that may play an important role in determining whether or not group cohesiveness will lead to groupthink have been mentioned – insulation of the policy-making group and promotional leadership practices.
Rather than paraphrasing his ideas, below I provide key quotes from his seminal work which help shed light on the parallels between the foreign policy decision making fiascos which he examined and current COVIDcrisis mismanagement.
I use the term "groupthink" as a quick and easy way to refer to a mode of thinking that peole engage in when they are deeply involved in a cohesive in-group, when the member's strivings for unanimity override their motivation to realistically appraise alternative courses of action.  "Groupthink" is a term of the same order as the words in the newspeak vocabulary George Orwell presents in his dismaying 1984– a vocabulary with terms such as "doublethink" and "crimethink".  By putting groupthink with those Orwellian words, I realize that groupthink takes on an invidious connotation.  The invidiousness is intentional.  Groupthink refers to a deterioration of mental efficiency, reality testing, and moral judgment that results from in-group pressures.
Hardhearted actions by softheaded groups
At first I was surprised by the extent to which the groups in the fiascoes I have examined adhered to group norms and pressures toward uniformity.  Just as in groups of ordinary citizens, a dominant characteristic appears to be remaining loyal to the group by sticking with the decisions to which the group has committed itself, even when the policy is working badly and has unintended consequences that disturb the conscience of the members.  In a sense, members consider loyalty to the group the highest form of morality. That loyalty requires each member to avoid raising controversial issues, questioning weak arguments, or calling a halt to softheaded thinking. 

Paradoxically, softheaded groups are likely to be extremely hardhearted toward out-groups and enemies.  In dealing with a rival nation, policymakers comprising an amiable group find it relatively easy to authorize dehumanizing solutions such as large-scale bombings.  An affable group of government officials is unlikely to pursue the difficult and controversial issues that arise when alternatives to a harsh military solution come up for discussion.  Nor are members inclined to raise ethical issues that imply that this "fine group of ours, with its humanitarianism and its high-minded principles, might be capable of adopting a course of action that is inhumane and immoral."

The more amiability and esprit de corps among the members of a policy-making in-group, the greater is the danger that independent critical thinking will be replaced by groupthink, which is likely to result in irrational and dehumanizing actions directed against out groups.
Janis defined eight symptoms of groupthink:
1)    An illusion of invulnerability, shared by most or all of the members, which creates excessive optimism and encourages taking extreme risks.
2)    Collective efforts to rationalize in order to discount warnings which might lead the members to reconsider their assumptions before they recommit themselves to their past policy decisions.
3)    An unquestioned belief in the group's inherent morality, inclining the members to ignore the ethical or moral consequences of their decisions.
4)    Stereotyped views of enemy leaders as too evil to warrant genuine attempts to negotiate, or as too weak and stupid to counter whatever risky attempts are made to defeat their purposes.
5)    Direct pressure on any member who expresses strong arguments against any of the group's stereotypes, illusions, or commitments, making clear that this type of dissent is contrary to what is expected of all loyal members.
6)    Self-censorship of deviations from the apparent group consensus, reflecting each member's inclination to minimize to himself the importance of his doubts and counterarguments.
7)    A shared illusion of unanimity concerning judgements conforming to the majority view (partly resulting from self-censorship of deviations, augmented by the false assumption that silence means consent).
8)    The emergence of self-appointed mindguards- members who protect the group from adverse information that might shatter their shared complacency about the effectiveness and morality of their decisions.
It is relatively easy to identify errors of thought, process, and decision making in retrospect. Much harder is to devise recommendations that will help to avoid repeating history. Fortunately, Dr. Janis' provides a set of prescriptions which I have found useful throughout my career, and which can be readily and effectively applied in almost any group decision making environment.  He provides the following context for his treatment plan:
My two main conclusions are that along with other sources of error in decision-making, groupthink is likely to occur within cohesive small groups of decision-makers and that the most corrosive effects of groupthink can be counteracted by eliminating group insulation, overly directive leadership practices, and other conditions that foster premature consensus.  Those who take these conclusions seriously will probably find that the little knowledge they have about groupthink increases their understanding of the causes of erroneous group decisions and sometimes even has some practical value in preventing fiascoes.
Perhaps one step that might be taken to avoid further repeats of the public health policy "fiascoes" which characterize the domestic and global response to the COVIDcrisis is to mandate leadership training of the Senior Executive Service (much as mandated within DoD), and particularly within the leadership of the US Department of Health and Human Services. Whether or not this ever becomes the governmental policy, below are the nine key points which any of us can apply when seeking to avoid groupthink in groups that we participate in.
Nine action items for avoiding groupthink
1)    The leader of a policy-forming group should assign the role of critical evaluator to each member, encouraging the group to give high priority to airing objections an doubts.  This practice needs to be reinforced by the leader's acceptance of criticism of his own judgements in order to discourage the members from soft-pedaling their disagreements.2)    The leaders in an organizations hierarchy, when assigning a policy planning mission to a group, should be impartial instead of stating preferences and expectations out the outset.  This practice requires each leader to limit his briefings to unbiased statements about the scope of the problem and the limitations of available resources, without advocating specific proposals he would like to see adopted.  This allows the conferees the opportunity to develop and atmosphere of open inquiry and to explore impartially a wide range of policy alternatives.

3)    The organization should routinely follow the administrative practice of setting up several independent policy-planning and evaluation groups to work on the same policy question, each carrying out its deliberations under a different leader.

4)    Throughout the period when the feasibility and effectiveness of policy alternatives are being surveyed, the policy-making group should from time to time divide into two or more subgroups to meet separately, under different chairmen, and then come together to hammer out their differences.

5)    Each member of the policy-making group should discuss periodically the group's deliberations with trusted associates in his own unit of the organization and report back their reactions.

6)    One or more outside experts or qualified colleagues within the organization who are not core members of the policy-making group should be invited to each meeting on a staggered basis and should be encouraged to challenge the views of the core members.

7)    At every meeting devoted to evaluating policy alternatives, at least one member should be assigned the role of devil's advocate.

8)    Whenever the policy issue involves relations with a rival nation or organization, a sizable bloc of time (perhaps an entire session) should be spent surveying all warning signals from the rivals and constructing alternative scenarios of the rivals' intentions.

9)    After reaching a preliminary consensus about what seems to be the best policy alternative, the policy-making group should hold a "second chance" meeting at which every member is expected to express as vividly as he can all his residual doubts and to rethink the entire issue before making a definitive choice.
Tyler Durden
Thu, 08/11/2022 - 23:40
federal reserve
pandemic
coronavirus
covid-19
white house
army
fauci
hhs
trump
pence
vaccine
treatment
testing
genetic
world health organization
Three Infrastructure Investments to Buy as War and Inflation Rage
Three infrastructure investments to buy as war and inflation rage offer ways to overcome ongoing economic risks in pursuit of precious profits. The three…
Three infrastructure investments to buy as war and inflation rage offer ways to overcome ongoing economic risks in pursuit of precious profits.
The three infrastructure investments to buy as war rains terror and destruction, inflation rampages and the Fed raises rates feature companies that appear well-positioned to succeed amid market mayhem. Stocks have advanced in the past couple of trading days, but the economic and geopolitical risks still leave many prognosticators warning that a new 2022 market bottom may yet lie ahead.
One of the three infrastructure investments to buy showcases a company whose unmanned drones have proven their value in Ukraine as the nation's outnumbered defenders recently have begun to push back a Russian invasion of more than 120,000 troops that began Feb. 26. Another company on the list of three infrastructure investments to buy includes a producer of solar panels that could help alleviate a war-related energy shortfall in Europe due to Russia cutting its supply of gas to nations opposing its attack of Ukraine.   
Three Infrastructure Investments to Buy Look to Evade Financial Fallout
"Stocks have been beset with no shortage of problems in recent weeks," wrote Mark Skousen, PhD, to subscribers of his weekly Home Run Trader advisory service. "The primary negative, of course, is that the Federal Reserve is determined to slow the economy, reduce demand, and thereby bring down inflation."
Mark Skousen, Forecasts & Strategies chief and Ben Franklin scion, meets Paul Dykewicz.
However, too much tightening, too fast, risks pushing the United States into a recession, continued Skousen, an economist who uses his analysis of inflation, interest rates and monetary policy in recommending stocks and options to buy. Economic statistics are showing a slowdown in the economy, if not a recession, he added.
"Even though real gross domestic product (GDP) is slightly negative, second-quarter gross output (GO) — which measures total spending in the economy — grew by 1.7% in real terms," Skousen stated. "GO includes the supply chain, which is still catching up from the lockdown-induced shortages."
Three Infrastructure Investments to Buy Face 'Super-Strong' Dollar
Additional concerns include a "super-strong dollar," sliding consumer confidence and a cooling residential real estate market, Skousen counseled.
Investors can consider an exchange-traded fund that offers broad exposure to companies providing automation infrastructure, said Bob Carlson, a pension fund manager who also leads the Retirement Watch investment newsletter.
Bob Carlson, investment guru of Retirement Watch, talks to Paul Dykewicz.
Carlson suggested Robo Global Robotics and Automation (ROBO), a fund that seeks to follow an index that is concentrated in robotics-related or automation-oriented companies. The fund had decent performance until 2022 when it plunged. The fund became caught in the downdraft that befell technology and industrial companies.
Both sectors have done poorly as interest rates rose in 2022, Carlson commented. The fund is down nearly 40% in 2022, while its three-year return is just shy of an annualized 6%.
The fund owns 81 stocks and has 17% of the fund in the 10 largest positions. ROBO's top holdings recently consisted of Cognex (NASDAQ: CGNX), Intuitive Surgical (NASDAQ: ISRG) and IPG Photonics (NASDAQ: IPGP).
Chart courtesy of www.stockcharts.com
Three Infrastructure Investments to Buy Buoyed by Unmanned Drone Stock
"Additive manufacturing technologies are at an inflection point in their ability to solve challenges faced by manufacturing companies, particularly with recent labor shortages and supply chain disruptions," according to Chicago-based investment firm William Blair & Co. "Historically, additive manufacturing applications have been limited by productivity capabilities and lack of industrial strength materials."
Executives of AeroVironment, Inc., (NASDAQ: AVAV), an Arlington, Virginia-based maker of unmanned drones and other multi-domain robotic systems, recently gave a presentation to William Blair analysts about how software from its Plank and Progeny acquisitions provided a key competitive advantage. Indeed, the success of AeroVironment's "kamikaze drones" in Ukraine may extend into Asia.
AeroVironment officials compared the Ukraine War-related Switchblade media coverage to "100 SuperBowl ads worth of press." Before the war, AeroVironment was not even authorized to export the Switchblade.
"It was used in the Middle East for over a decade, but it was viewed as a niche offering," William Blair analysts wrote. "Ukraine is providing a testing ground that proves the Switchblade 300 is incredibly valuable. Now it has U.S. State Department permission to sell to more than 20 countries. In mid-September, it was reported that Japan is evaluating purchasing several hundred kamikaze drones and is evaluating AeroVironment's Switchblade."
A recent Switchblade 600 contract for Ukraine valued at $2.2 million may be a tipping point. On Sept. 15, almost six months after an initial report that a contract was in the works, it came to fruition.
While Javelin, Stinger and TOW traditional missile systems have a three-mile maximum range, the Switchblade 600 has a 20-mile top range with similar effects. The Switchblade 600 has the same size warhead and can be launched without a visual lock on the target, William Blair analysts wrote in a recent research note.
AeroVironment Stands out Among Three Infrastructure Investments to Buy
William Blair rated AeroVironment to "outperform" the market and indicated it appears to be the favorite to win the Army $1 billion/10-year FTUAS program, but an executive at the robotics company estimated that the U.S. Navy addressable market may be larger than the potential market for the Army. Software from Planck, acquired by AeroVironment, enables the JUMP-20 military battlefield drone to perform vision-based autonomous landings onto moving platforms, such as maritime vessels.
The JUMP-20 is a vertical takeoff and landing (VTOL), fixed-wing unmanned aircraft used to provide advanced multi-sensor intelligence, surveillance and reconnaissance (ISR) services. AeroVironment's systems "flourished" during Navy IMX 2022 exercises earlier this year, according to William Blair. 
Regarded as the largest unmanned exercises in the world, IMX 2022 showed how AeroVironment's LEAP software received feeds from manned aircraft, unmanned aircraft, manned vessels and unmanned vessels. At IMX 2022, AeroVironment's LEAP software was not supposed to be the hub, but when other software "was not executing." AeroVironment's LEAP software assumed the hub role on an ad hoc basis.
"We expect AeroVironment's success at IMX 2022 to lead to contracts for its JUMP-20, Puma and Switchblade aircraft down the road," the William Blair analysts wrote.
Chart courtesy of www.stockcharts.com
Three Infrastructure Investments to Buy Include Standex International 
Standex International Corporation (NYSE: SXI), a multinational manufacturer of food service equipment, engravings, engineering technologies, electronics and hydraulics headquartered in Salem, New Hampshire, has many growth paths ahead of it. Rated by William Blair to "outperform" the market, Standex International could materially accelerate organic growth to 10% or more during the next two to three years, excluding its commercial solar panel production volumes for an innovative Gr3n joint venture with Italy's Enel (OTCMKTS: ENLAY).
That partnership with a multinational manufacturer and distributor of electricity and gas has gained importance due to the suspected sabotage of both under water pipelines of the Nord Stream 1 from Russia to Western Europe, along with one line of Nord Stream 2. Seismologists in Denmark and Sweden suggest that sizeable explosions on the order of 100 kilograms of TNT occurred in both incidents.
With Russia's President Vladimir Putin facing unexpected battlefield setbacks more than six months after he ordered a Feb. 26 invasion of neighboring Ukraine that the former KGB agent euphemistically called a "special military operation," the pipeline sabotage seems targeted to hurt European nations as winter nears. Since Putin ordered troops into Ukraine in February, Russia has cut supplies of natural gas to Europe to heat homes, generate electricity and fuel factories.
European Leaders Complain of 'Energy Blackmail' by Putin
European leaders have accused Putin of using "energy blackmail" to weaken their support for Ukraine as the country seeks to repel Russia's aggression.
Without presenting any evidence, Russian officials are attempting to blame the United States for the apparent sabotage, even though the affected nations are among America's closest allies. President Biden countered the accusations were the latest in a continuing Russian campaign of "disinformation and lies."
Biden also described the explosions of the Nordstream pipelines as acts of "sabotage" and discussed sending divers to examine the pipelines to find evidence that could be brought to light. Russia's audacious move to "annex" Ukrainian territory in a Putin-led ceremony last Friday, Sept. 30, was declared illegal by Ukraine, the United Nations, the United States and many other Western allies who said it violated Ukrainian and international law.
Solar Panel Design Aids One of Three Infrastructure Investments to Buy
Standex further plans to benefit from significantly higher research and development (R&D) investments for new product development to "materially increase organic sales growth," William Blair opined. New product launches are expected across all five of Standex's businesses in fiscal 2023, including high growth end-markets such as renewable energy, electric vehicles, human health, commercialization of space and sustainable products.
Standex's Gr3n joint venture could attain full commercialization by mid-decade, potentially becoming Standex's sixth business segment. The result could boost Standex's "organic sales growth" to the low teens in the next three to five years, the William Blair analysts wrote.
The joint venture has developed and tested a prototype for a highly innovative, extremely efficient and 100% recyclable new solar panel design that is 30-35% more efficient and weighs 38% less than traditional glass solar panels. With interest in solar panels rising as the European Union (EU) scrambles to replace the 40% of its energy previously sourced from Russia, Standex is expanding electronics' production capacity in Germany, China and India, the investment firm reported. 
"If the new recyclable, highly efficient solar panel can be cost-effectively produced, it could become the largest new product in Standex's history," according to the William Blair analysts.
Chart courtesy of www.stockcharts.com
U.S. CDC Halts Its Country-by-Country Travel Notices
The U.S. Centers for Disease Control and Prevention (CDC) dropped its country-by-country COVID-19 travel health notices on Monday, Oct. 3. Those warnings began early in the pandemic as COVID-19 cases and deaths climbed.
COVID risks affect supply and demand for infrastructure stocks, but not as much as cyclical companies whose share prices can soar when economic conditions are favorable but fall fast when inflation, a potential recession and Fed interest rate hikes imperil stock prospects. Savvy investors monitor COVID-19 outbreaks and lockdowns to forecast how certain stocks and sectors, such as infrastructure, are affected.
Another encouraging sign occurred when Canada announced on Sept. 26 that it would remove all remaining COVID-19 entry restrictions, such as testing, quarantine and isolation requirements. That development could boost trade and tourism between that country and the United States.
China's strict zero-tolerance COVID policy continues to be controversial and recently sparked a rare protest in its technology hub of Shenzhen, social media video showed. The dissent came after government officials ordered a sudden lockdown due to 10 new infections on Sept. 27 in the city of more than 18 million people. Officials ordered residents in three districts there to stay home.
China has locked down more than 70 cities fully or partially to preserve its zero-tolerance policy of COVID. However, 27 people were killed and 20 more were injured when a quarantine bus overturned on a mountain road on Sept. 20.
U.S. COVID-19 deaths ticked up by nearly 4,000, up about 1,000 compared to roughly 3,000 the previous week. Cases in the country totaled 96,481,081, as of early Oct. 5, while deaths jumped to 1,060,408, according to Johns Hopkins University. America stands out dubiously as the nation with the most COVID-19 deaths and cases.
Worldwide COVID-19 deaths in the past week rose by more than 11,000, up about 2,000 from the prior week. The number of deaths totaled 6,550,203, as of Oct. 5, according to Johns Hopkins. Global COVID-19 cases reached 619,211,562.
Roughly 79.5% of the U.S. population, or 264,112,767, have received at least one dose of a COVID-19 vaccine, as of Oct. 5, the CDC reported. Fully vaccinated people total 225,284,115, or 67.9%, of the U.S. population, according to the CDC. The United States also has given at least one COVID-19 booster vaccine to almost 110 million people.
The three infrastructure investments to buy can be repurchased at reduced prices after a rough 2022 market wide. Despite high inflation, Russia's continuing war in Ukraine and recession risk after 0.75% rate hikes by the Fed in June, July and Sept. 21, the three infrastructure investments to buy offer some insulation compared to cyclical stocks with government budgets less economically sensitive than the private sector. 
Paul Dykewicz, www.pauldykewicz.com, is an accomplished, award-winning journalist who has written for Dow Jones, the Wall Street Journal, Investor's Business Daily, USA Today, the Journal of Commerce, Seeking Alpha, Guru Focus and other publications and websites. Paul, who can be followed on Twitter @PaulDykewicz, is the editor of                                  StockInvestor.com and DividendInvestor.com, a writer for both websites and a columnist. He further is editorial director of Eagle Financial Publications in Washington, D.C., where he edits monthly investment newsletters, time-sensitive trading alerts, free e-letters and other investment reports. Paul previously served as business editor of Baltimore's Daily Record newspaper. Paul also is the author of an inspirational book, "Holy Smokes! Golden Guidance from Notre Dame's Championship Chaplain," with a foreword by former national championship-winning football coach Lou Holtz. The book is great as a gift and is endorsed by Joe Montana, Joe Theismann, Ara Parseghian, "Rocket" Ismail, Reggie Brooks, Dick Vitale and many others. Call 202-677-4457 for multiple-book pricing.
The post Three Infrastructure Investments to Buy as War and Inflation Rage appeared first on Stock Investor.
recession
pandemic
covid-19
dow jones
nasdaq
stocks
monetary policy
fed
federal reserve
real estate
cdc
disease control
army
vaccine
testing
deaths
quarantine
lockdown
recession
gdp
interest rates
india
japan
canada
european
europe
italy
germany
sweden
russia
ukraine
eu
china
Plunging pound and crumbling confidence: How the new UK government stumbled into a political and financial crisis of its own making
Liz Truss took over as prime minister with an ambitious plan to cut taxes by the most since 1972 – investors balked after it wasn't clear how she would…
The new British government is off to a very rocky start – after stumbling through an economic and financial crisis of its own making.
Just a few weeks into its term on Sept. 23, 2022, Prime Minister Liz Truss' government released a so-called mini-budget that proposed £161 billion – about US$184 billion at today's rate – in new spending and the biggest tax cuts in half a century, with the benefits mainly going to Britain's top earners. The aim was to jump-start growth in an economy on the verge of recession, but the government didn't indicate how it would pay for it – or provide evidence that the spending and tax cuts would actually work.
Financial markets reacted badly, prompting interest rates to soar and the pound to plunge to the lowest level against the dollar since 1985. The Bank of England was forced to gobble up government bonds to avoid a financial crisis.
After days of defending the plan, the government did a U-turn of sorts on Oct. 3 by scrapping the most controversial component of the budget – elimination of its top 45% tax rate on high earners. This calmed markets, leading to a rally in the pound and government bonds.
As a finance professor who tracks markets closely, I believe at the heart of this mini-crisis over the mini-budget was a lack of confidence – and now a lack of credibility.
A looming recession
Truss' government inherited a troubled economy.
Growth has been sluggish, with the latest quarterly figure at 0.2%. The Bank of England predicts the U.K. will soon enter a recession that could last until 2024. The latest data on U.K. manufacturing shows the sector is contracting.
Consumer confidence is at its lowest level ever as soaring inflation – currently at an annualized pace of 9.9% – drives up the cost of living, especially for food and fuel. At the same time, real, inflation-adjusted wages are falling by a record amount, or around 3%.
It's important to note that many countries in the world, including the U.S. and in mainland Europe, are experiencing the same problems of low growth and high inflation. But rumblings in the background in the U.K. are also other weaknesses.
Since the financial crisis of 2008, the U.K. has suffered from lower productivity compared with other major economies. Business investment plateaued after Brexit in 2016 – when a slim majority of voters chose to leave the European Union – and remains significantly below pre-COVID-19 levels. And the U.K. also consistently runs a balance of payments deficit, which means the country imports a lot more goods and services than it exports, with a trade deficit of over 5% of gross domestic product.
In other words, investors were already predisposed to view the long-term trajectory of the U.K. economy and the British pound in a negative light.
An ambitious agenda
Truss, who became prime minister on Sept. 6, 2022, also didn't have a strong start politically.
The government of Boris Johnson lost the confidence of his party and the electorate after a series of scandals, including accusations he mishandled sexual abuse allegations and revelations about parties being held in government offices while the country was in lockdown.
Truss was not the preferred candidate of lawmakers in her own Conservative Party, who had the task of submitting two choices for the wider party membership to vote on. The rest of the party – dues-paying members of the general public – chose Truss. The lack of support from Conservative members of Parliament meant she wasn't in a position of strength coming into the job.
Nonetheless, the new cabinet had an ambitious agenda of cutting taxes and deregulating energy and business.
Some of the decisions, laid out in the mini-budget, were expected, such as subsidies limiting higher energy prices, reversing an increase in social security taxes and a planned increase in the corporate tax rate.
But others, notably a plan to abolish the 45% tax rate on incomes over £150,000, were not anticipated by markets. Since there were no explicit spending cuts cited, funding for the £161 billion package was expected to come from selling more debt. There was also the threat that this would be paid for, in part, by lower welfare payments at a time when poorer Britons are suffering from the soaring cost of living. The fear of welfare cuts is putting more pressure on the Truss government.
A collapse in confidence
Even as the new U.K. Chancellor of the Exchequer Kwasi Kwarteng was presenting the mini-budget on Sept. 23, the British pound was already getting hammered. It sank from $1.13 the day before the proposal to as low as $1.03 in intraday trading on Sept. 26. Yields on 10-year government bonds, known as gilts, jumped from about 3.5% to 4.5% – the highest level since 2008 – in the same period.
The jump in rates prompted mortgage lenders to suspend deals with new customers, eventually offering them again at significantly higher borrowing costs. There were fears that this would lead to a crash in the housing market.
In addition, the drop in gilt prices led to a crisis in pension funds, putting them at risk of insolvency.
Many members of Truss' party voiced opposition to the high levels of borrowing likely necessary to finance the tax cuts and spending and said they would vote against the package.
The International Monetary Fund, which bailed out the U.K. in 1976, even offered its figurative two cents on the tax cuts, urging the government to "reevaluate" the plan. The comments further spooked investors.
To prevent a broader crisis in financial markets, the Bank of England stepped in and pledged to purchase up to £65 billion in government bonds.
Besides causing investors to lose faith, the crisis also severely dented the public's confidence in the U.K. government. The latest polls showed the opposition Labour Party enjoying a 24-point lead, on average, over the Conservatives.
So the government likely had little choice but to reverse course and drop the most controversial part of the plan, the abolition of the 45% tax rate. The pound recovered its losses. The recovery in gilts was more modest, with bonds still trading at elevated levels.
Putting this all together, less than a month into the job, Truss has lost confidence – and credibility – with international investors, voters and her own party. And all this over a "mini-budget" – the full budget isn't due until November 2022. It suggests the U.K.'s troubles are far from over, a view echoed by credit rating agencies.
David McMillan does not work for, consult, own shares in or receive funding from any company or organisation that would benefit from this article, and has disclosed no relevant affiliations beyond their academic appointment.
recession
covid-19
subsidies
bonds
government bonds
housing market
pound
lockdown
recession
recovery
interest rates
european
europe
uk
What's next for ancient DNA studies after Nobel Prize honors groundbreaking field of paleogenomics
Thousands of ancient genomes have been sequenced to date. A Nobel Prize highlights tremendous opportunities for aDNA, as well as challenges related to…
For the first time, a Nobel Prize recognized the field of anthropology, the study of humanity. Svante Pääbo, a pioneer in the study of ancient DNA, or aDNA, was awarded the 2022 prize in physiology or medicine for his breathtaking achievements sequencing DNA extracted from ancient skeletal remains and reconstructing early humans' genomes – that is, all the genetic information contained in one organism.
His accomplishment was once only the stuff of Jurassic Park-style science fiction. But Pääbo and many colleagues, working in large multidisciplinary teams, pieced together the genomes of our distant cousins, the famous Neanderthals and the more elusive Denisovans, whose existence was not even known until their DNA was sequenced from a tiny pinky bone of a child buried in a cave in Siberia. Thanks to interbreeding with and among these early humans, their genetic traces live on in many of us today, shaping our bodies and our disease vulnerabilities – for example, to COVID-19.
The world has learned a startling amount about our human origins in the last dozen years since Pääbo and teammates' groundbreaking discoveries. And the field of paleogenomics has rapidly expanded. Scientists have now sequenced mammoths that lived a million years ago. Ancient DNA has addressed questions ranging from the origins of the first Americans to the domestication of horses and dogs, the spread of livestock herding and our bodies' adaptations – or lack thereof – to drinking milk. Ancient DNA can even shed light on social questions of marriage, kinship and mobility. Researchers can now sequence DNA not only from the remains of ancient humans, animals and plants, but even from their traces left in cave dirt.
Alongside this growth in research, people have been grappling with concerns about the speed with which skeletal collections around the world have been sampled for aDNA, leading to broader conversations about how research should be done. Who should conduct it? Who may benefit from or be harmed by it, and who gives consent? And how can the field become more equitable? As an archaeologist who partners with geneticists to study ancient African history, I see both challenges and opportunities ahead.
Building a better discipline
One positive sign: Interdisciplinary researchers are working to establish basic common guidelines for research design and conduct.
In North America, scholars have worked to address inequities by designing programs that train future generations of Indigenous geneticists. These are now expanding to other historically underrepresented communities in the world. In museums, best practices for sampling are being put into place. They aim to minimize destruction to ancestral remains, while gleaning the most new information possible.
But there is a long way to go to develop and enforce community consultation, ethical sampling and data sharing policies, especially in more resource-constrained parts of the world. The divide between the developing world and rich industrialized nations is especially stark when looking at where ancient DNA labs, funding and research publications are concentrated. It leaves fewer opportunities for scholars from parts of Asia, Africa and the Americas to be trained in the field and lead research.
The field faces structural challenges, such as the relative lack of funding for archaeology and cultural heritage protection in lower income countries, worsened by a long history of extractive research practices and looming climate change and site destruction. These issues strengthen the regional bias in paleogenomics, which helps explain why some parts of the world – such as Europe – are so well-studied, while Africa – the cradle of humankind and the most genetically diverse continent – is relatively understudied, with shortfalls in archaeology, genomics and ancient DNA.
Making public education a priority
How paleogenomic findings are interpreted and communicated to the public raises other concerns. Consumers are regularly bombarded with advertisements for personal ancestry testing, implying that genetics and identity are synonymous. But lived experiences and decades of scholarship show that biological ancestry and socially defined identities do not map so easily onto one another.
I'd argue that scholars studying aDNA have a responsibility to work with educational institutions, like schools and museums, to communicate the meaning of their research to the public. This is particularly important because people with political agendas – even elected officials – try to manipulate findings.
For example, white supremacists have erroneously equated lactose tolerance with whiteness. It's a falsehood that would be laughable to many livestock herders from Africa, one of the multiple centers of origin for genetic traits enabling people to digest milk.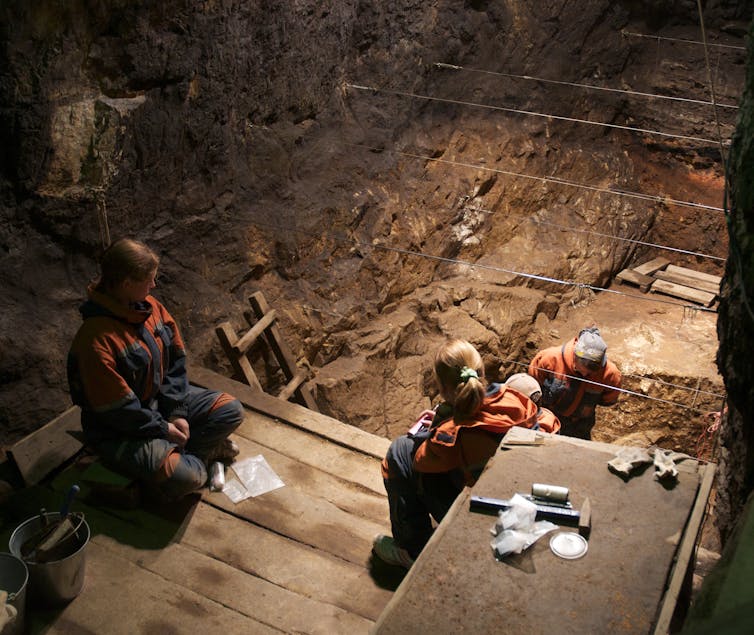 Leaning in at the interdisciplinary table
Finally, there's a discussion to be had about how specialists in different disciplines should work together.
Ancient DNA research has grown rapidly, sometimes without sufficient conversations happening beyond the genetics labs. This oversight has provoked a backlash from archaeologists, anthropologists, historians and linguists. Their disciplines have generated decades or even centuries of research that shape ancient DNA interpretations, and their labor makes paleogenomic studies possible.
As an archaeologist, I see the aDNA "revolution" as usefully disrupting our practice. It prompts the archaeological community to reevaluate where ancestral skeletal collections come from and should rest. It challenges us to publish archaeological data that is sometimes only revealed for the first time in the supplements of paleogenomics papers. It urges us to grab a seat at the table and help drive projects from their inception. We can design research grounded in archaeological knowledge, and may have longer-term and stronger ties to museums and to local communities, whose partnership is key to doing research right.
If archaeologists embrace this moment that Pääbo's Nobel Prize is spotlighting, and lean in to the sea changes rocking our field, it can change for the better.
Mary Prendergast does not work for, consult, own shares in or receive funding from any company or organisation that would benefit from this article, and has disclosed no relevant affiliations beyond their academic appointment.
testing
genetic
dna
covid-19
spread
africa
europe