The homebuilders got lucky this time
The homebuilders got lucky in the current recession since they don't have to compete with millions of existing homes.
Looking at the latest NAHB/Wells Fargo homebuilder confidence data and builder stock prices, I can say the homebuilders got very lucky this time around in the middle of a housing recession. There is one simple reason for this: it's not 2008. They have less competition as they are working from low sales levels in today's housing market. 
The truth is that if mortgage rates fell below 5.875% and kept going lower, everyone's housing predictions would need to be revised this year because the builders can sell their homes with lower mortgage rates. However, the glaring difference today versus the recession of 2008, is that in 2007 the builders had to deal with over 4 million active listings as competition for their pricey new homes. 
Last year we had monthly existing home sales collapse back to 2007 levels, except this time around, NAR has total inventory at 970,000 and not over 4 million.



In an odd twist of fate, the delays due to COVID-19 are currently an infrastructure and jobs program for Americans in the construction industry. Let me explain my logic with today's housing starts report.
Building permits
From Census: Building Permits: Privately-owned housing units authorized by building permits in January were at a seasonally adjusted annual rate of 1,339,000. This is 0.1 percent above the revised December rate of 1,337,000, but is 27.3 percent below the January 2022 rate of 1,841,000. Single-family authorizations in January were at a rate of 718,000; this is 1.8 percent below the revised December figure of 731,000. Authorizations of units in buildings with five units or more were at a rate of 563,000 in January.
As you can see in the chart below, housing permits are falling, new home sales are down, supply is up, and you don't issue more housing permits in this environment. Homebuilders will only permit new housing when they don't have excess supply and they know they can grow sales.



Housing starts: Privately-owned housing starts in January were at a seasonally adjusted annual rate of 1,309,000. This is 4.5 percent (±15.9 percent)* below the revised December estimate of 1,371,000 and is 21.4 percent (±10.6 percent) below the January 2022 rate of 1,666,000. Single-family housing starts in January were at a rate of 841,000; this is 4.3 percent (±16.4 percent)* below the revised December figure of 879,000. The January rate for units in buildings with five units or more was 457,000.  
As housing permits fall, as you can see below, housing starts also fall, so nothing is abnormal here with the housing data while in a recession.




Now comes the abnormal data line: housing completions. This is so slow my tortoise would look like the flash against this data line.
Housing completions: Privately-owned housing completions in January were at a seasonally adjusted annual rate of 1,406,000. This is 1.0 percent (±9.8 percent)* above the revised December estimate of 1,392,000 and is 12.8 percent (±13.0 percent)* above the January 2022 rate of 1,247,000. Single-family housing completions in January were at a rate of 1,040,000; this is 4.4 percent (±10.4 percent)* above the revised December rate of 996,000. The January rate for units in buildings with five units or more was 349,000.
As you can see below, housing completions are slowly moving along; the homebuilders have more new homes under construction that they haven't even started yet than active new homes for sale. While the two charts above are falling noticeably, housing completion data is slowly moving up. This is why construction workers haven't been laid off while other jobs in the housing market have been.



Let me be honest here: we got lucky as a country. If the homebuilders and homebuyers knew rates would hit 7% in 2022, many would not have taken those contracts they're canceling now. This means the builders would not have even considered taking permits out for those homes. So, for now, we are simply working through that backlog, which means we have more housing supply and construction workers are still employed. 
However, to my first point, the builders are lucky that total housing inventory is near all-time lows because this means their product holds more value. Buyers have fewer choices than normal in the past eight years — but in reality, since 1982.


Homebuilders confidence
The homebuilder's confidence index has picked up in the last two months, and three months ago, their forward-looking survey looked positive. I am not shocked that forward-looking housing data works again. As I have tried to highlight in my economic work, the housing market started to improve on Nov. 9, so we have three months of positive data trends filtering into the monthly housing reports now.
However, I tried to bring some context into this discussion on CNBC last Monday. Even though the housing data has improved, it needs to be understood in context from working off a historical dive in 2022. 


Historically speaking, when you see a bounce in the homebuilder's index like this, it tells us the economic recession is ending, or at least the housing recession has ended. However, I caution people not to look at it this way since the U.S. economy isn't in recession today, and mortgage rates have risen almost 1% from the recent lows.
New home sales
Next up is the new home sales report that comes out next week, so let's check on how the monthly supply for the builders looks before the report. In the last report, the builders had 9.0 months' supply, as the chart below shows.




Here's the breakout:
71,000 new homes have been completed: 1.4 months of supply.
291,000 homes are still under construction: 5.7 months of supply
99,000 homes have yet to be started: 1.9 months of supply
My rule of thumb for anticipating builder behavior is based on the three-month supply average. This has nothing to do with the existing home sales market; this monthly supply data only applies to the new home sales market, and the current nine months are too high for them to issue new permits.
When supply is 4.3 months, and below, this is an excellent market for builders.
When supply is 4.4 to 6.4 months, this is an OK market for the builders. They will build as long as new home sales are growing.
The builders will pull back on construction when the supply is 6.5 months and above.
Still, the builders have some work to do, and thankfully they're keeping construction workers employed while working off their backlog.
Homebuilders are efficient sellers of homes because it's like a commodity to them; they don't have to look for shelter after they sell or have a 3% mortgage rate they have to give up after they sell.
Back to the basics
Lower mortgage rates are good for the housing market, and higher rates are bad; we are back to basic affordability demand here. Just look at the chart below and how bad credit looked from 2005 to 2008, then the job loss recession happened. This chart is a direct link to the excess supply that the homebuilders don't have to deal with today.
Also, look how small the data looks in the bottom corner right If you need your glasses, I don't blame you.
Today, homeowners look great on paper. In an inflationary environment of rising wages they have fixed long-term debt. The American home and its fixed long-term debt cost has been the best hedge against inflation.
Now, the question is: How much longer can this last? People buy and sell homes every year and total inventory growth can happen over time as homes stay on the market longer and longer. With mortgage rates up again, this can lead to inventory growing higher when homes take longer to sell.
Last year new listing growth turned negative year over year when rates got over 6%; now with rates rising into the spring season, we will see a lack of enthusiasm from sellers.
recession
covid-19
link
home sales
mortgage rates
housing market
recession
The U.S. Office Sector: Further Disruption and Rightsizing May Give Way to a Golden Age
The NAIOP Research Foundation, as part of its Industry Trends meeting, recently hosted a panel discussion on what's next for the office sector. The panelists…
The NAIOP Research Foundation, as part of its Industry Trends meeting, recently hosted a panel discussion on what's next for the office sector. Analysts from leading service firms joined NAIOP Research Foundation Governors and office developers Greg Fuller, president and COO, Granite Properties and Paul Ciminelli, president and CEO, Ciminelli Development, to discuss problems and potential opportunities. The panelists agreed that the sector will undergo a shakeout that will include transformation, streamlining, new approaches to work and holistic solutions.
A "Broken" Market
Remote work and economic headwinds have created a negative demand shock in the office sector and a temporarily "broken" market that has not yet reached stability. Before the pandemic, office workspaces were densifying, with less square footage assigned per employee. Remote work and downsizing accelerated this trend, with tenants now needing less space per employee. Although office-using employment has rebounded from the brief pandemic-induced recession, office space demand has declined sharply. Phil Mobley, national director of office analytics at CoStar, estimated that the gap between office-using employment and previously expected demand could be as much as 400 million square feet. As supply continues to come online, vacancy rates will continue to climb over the next three years with negative absorption levels higher than during the Great Financial Recession.
According to Mobley, sublease availability is a key indicator of the market's health, and it has more than doubled since 2019 and continues to rise. While transactions have slowed down, the ones that have taken place in the last two years have been at lower price points, but with strong fundamentals such as lower cap rates, which gives the impression of positive price growth. However, this masks some of the underlying problems that will inevitably come to light during loan maturities and price discoveries. The Mortgage Bankers Association reports that over 40 percent of office loans are maturing in the next 20 months.
The Hardest-hit Buildings
Not all markets, nor all types of office buildings are experiencing dramatic setbacks. CBRE's Global Head of Occupier Thought Leadership, Julie Whelan, and her team conducted a study to identify the buildings that saw the most significant increase in vacancies. Their research revealed that smaller buildings (between 100,000-300,000 square feet) constructed between 1980 and 2009, located primarily in downtown areas with limited surrounding amenities and/or in high crime areas, were the most affected. Furthermore, the study found that only 10% of the buildings in the 64 markets examined accounted for 80% of the vacancies from Q1 2020 to Q1 2023.
During the pandemic, the vacancy rates of buildings in downtown markets have surpassed those of suburban areas. Specifically, 41% of buildings with the highest vacancy rates are in downtown markets, mainly in the Pacific Northwest and Northeastern regions of the United States. For instance, San Francisco's vacancy rate has surged from 4% before the pandemic to almost 30% due to its reliance on the tech sector. Additionally, buildings located in high-crime areas (usually downtowns) and those with fewer adjacent amenities (usually suburbs) are struggling to retain tenants. However, there are opportunities to reposition or reinvent these properties, but they will require innovative public-private partnerships and community-based approaches. What surrounds office buildings, such as safe and walkable mixed-use communities, is just as crucial as what is inside them, according to Whelan.
Back to the (New) Office
The shift to remote and hybrid work has had a significant impact on office space demand. However, many companies are realizing that returning to the office more often offers advantages. While some employers have opted for 100% remote, hybrid, or office-centric policies, Lauren Hasson, the vice president of workplace strategy at JLL, has noticed a growing number of companies that want their employees back in the office at least three days a week. Studies have shown that it is difficult to engage and mentor employees who are not physically present. Furthermore, there has been a decrease in innovation, as evidenced by a decline in patent applications. Remote job postings have decreased, but employee demand for remote work remains high. Remote job listings on LinkedIn reached their peak in early 2022 at around 20% before recently falling to 12%. However, over 50% of job applications submitted are for remote positions, indicating that many job seekers may need to accept hybrid or in-person jobs. Markets with higher costs of living, intense talent competition, and long commutes, such as Boston, San Francisco, and New York, tend to advertise a higher percentage of remote positions and have slower rates of return to the office.
Hasson has reported that companies that require employees to work in the office only one or two days a week have the highest turnover rates. Thus, companies that offer either full-time remote or full-time in-office work have a better chance of retaining their talent. However, tenants that require in-person work are offering more amenities, and flexibility while creating C-suite positions such as "Chief Workplace Experience Officer" to ensure employee satisfaction and engagement. Hasson believes that enhanced office workspace will become the ultimate recruiting tool, similar to how prospective students consider a university's athletic facilities and campus environment. According to Hasson, the new experiential office environment, which will be fueled by innovation, creativity, employee diversity, and cutting-edge technology, will recalibrate the sector and ultimately usher in a "golden age" of work.
Developers' Perspectives
According to Ciminelli and Fuller, the office market is going through both cyclical and structural changes. While some office properties are flourishing, others lack the necessary amenities and locations to attract employees. Fuller noted that pre-pandemic, office buildings were rarely completely occupied, with a strong occupancy rate of 72%. Currently, occupancy rates vary between 40 and 65%.
Certain buildings are structurally obsolete or not ideal for conversion, particularly when considering residential use. In some cases, it may not be feasible to convert due to the property's floorplan or location. Furthermore, the costs associated with redevelopment have risen considerably, making it necessary to acquire properties at lower costs.
Despite the challenges ahead, Fuller and Ciminelli anticipate opportunities once the dust settles. The office market will gradually reach an equilibrium as employees return to work, albeit with more flexibility and discipline in office space utilization. Like the retail sector, the office market will undergo a rightsizing process, ultimately emerging more streamlined and beneficial for both employees and employers.
recession
pandemic
April JOLTS report noisily shows continued deceleration
  – by New Deal democratIt is always a bad idea simply to project a current trend forward, especially with data series that are noisy and heavily revised….
 - by New Deal democrat
It is always a bad idea simply to project a current trend forward, especially with data series that are noisy and heavily revised. That was certainly on display with the April JOLTS report.
For the last several years, the jobs market has been a game of "reverse musical chairs," where there are always more chairs than participants. Those employers whose chairs weren't filled had to increase their wage and/or benefits offerings, or go without. This was good for labor, but certainly put pressure on prices as well. 
Because the jobs market has remained so strong, it has been unlikely that a recession would start unless the situation with job openings returned to at least close to its pre-pandemic levels. Only then could there be enough layoffs to actually be consistent with a negative monthly jobs number.
Last month, there were steep declines in job openings and hires also declined significantly. This morning's report reversed some of those dynamics, while the overall trend of deceleration remained intact. 
Job openings (blue in the graphs below) rose 353,000 (from a March number revised higher) to 10.013 million annualized (from a peak of 12.027 million in March 2022, vs. 7 million just before the pandemic), and actual hires (red) rose 47,000 from a downwardly revised March to 6.115 million (vs. a peak of 6.843 million in November 2021 and 6 million just before the pandemic).  Voluntary quits (gold) declined -49,000 to 3.793 million (vs. a peak of 4.501 million in November 2021 and 3.5 million just before the pandemic:
All of the above remained close to 2 year lows. 
Here is the longer term view of all 3 metrics from the series inception, better to show the current situation with the historical one before the pandemic hit:
All three remain at levels higher than at any time before the pandemic hit.
Contrarily, layoffs and discharges decreased -264,000 to 1.581 million annualized, reversing last month's big increase:
But even so, April's number remains well above the average for the past 2 years.
Here is the longer term historical record for layoffs showing how, before the pandemic, the current level would be extremely low:
There are two overarching trends in this data:
(1) the absolute fundamentals for labor remain quite positive,
(2) but they continue to decelerate.
All of the above remains consistent with a very positive jobs report this coming Friday, but continuing to show deceleration compared with the last 12 months.
recession
pandemic
recession
gold
To have better disagreements, change your words – here are 4 ways to make your counterpart feel heard and keep the conversation going
Researchers have identified ways to have more productive conversations – even when you're talking to someone who holds an opposite view.
Your 18-year-old daughter announces she's in love, dropping out of college and moving to Argentina. Your yoga-teaching brother refuses to get vaccinated for COVID-19 and is confident that fresh air is the best medicine. Your boss is hiring another white man for a leadership team already made up entirely of white men.
At home, at work and in civic spaces, it's not uncommon to have conversations that make you question the intelligence and benevolence of your fellow human beings.
A natural reaction is to put forth the strongest argument for your own – clearly superior – perspective in the hope that logic and evidence will win the day. When that argument fails to have the intended persuasive impact, people often grow frustrated, and disagreement becomes conflict.
Thankfully, recent research offers a different approach.
For many years, psychologists have touted the benefits of making parties in conflict feel heard. Making someone you're arguing with feel that you're listening can calm the troubled waters, allowing both parties to get safely to the opposite shore. Two problems can get in the way, though.
First, when encountering disagreement, most people jump into "persuasion mode," which doesn't leave much room for listening, or even for pursuing other goals for the interaction. Any conversation could be an opportunity to learn something new, build a relationship that might bear fruit later, or simply have an interesting experience. But most of those goals get forgotten when the urge to persuade sets in. Second, and just as important, is that even when people do wish to make their counterparts feel heard they don't know how to do so.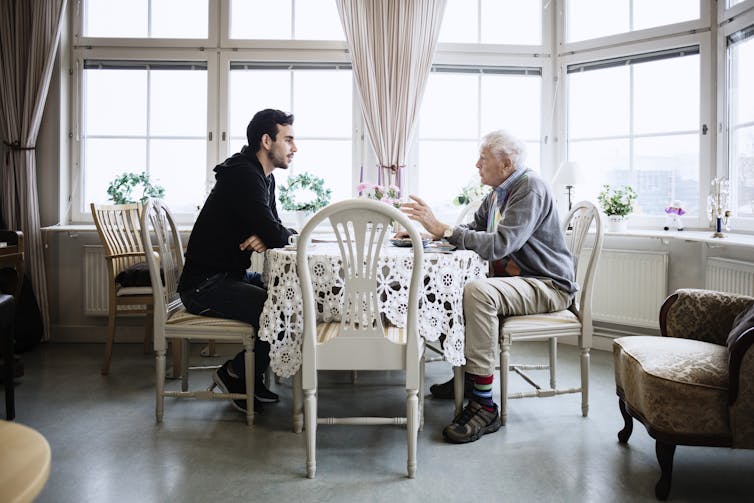 I lead a team of psychologists, negotiation scholars and computational linguists who have spent years studying ways that parties in conflict can behave to make their counterpart feel they are thoughtfully engaging with their perspective.
Rather than trying to change how you think of or feel about your counterpart, our work suggests that you should focus on changing your own behavior. Focusing on behavior rather than thoughts and feelings has two benefits: You know when you are doing it right, and so does your counterpart. And one of the easiest behaviors to change is the words that you say.
A conversational toolbox, based on what works
We used the tools of computational linguistics to analyze thousands of interactions between people who disagree with each other on hot-button social and political issues: police brutality, campus sexual assault, affirmative action and COVID-19 vaccines. Based on these analyses, we developed an algorithm that picks out specific words and phrases that make people in conflict feel that their counterpart is thoughtfully engaging with their perspective.
These words and phrases comprise a communication style we call "conversational receptiveness." People who use conversational receptiveness in their interactions are rated more positively by their conflict counterparts on a variety of traits.
Then we experimented with training people to use the words and phrases that have the most impact, even if they're not naturally inclined to do so. For example, in one of our earlier studies, we had people who held different positions about the Black Lives Matter movement talk to each other.
Those who received a brief conversational receptiveness training were seen as more desirable teammates and advisers by their counterpart. Training also turned out to make people more persuasive in their arguments than those who did not learn about conversational receptiveness.
We encapsulate this conversational style in the simple acronym H.E.A.R.:
H = Hedge your claims, even when you feel very certain about your beliefs. It signals a recognition that there are some cases or some people who might support your opponent's perspective.

E = Emphasize agreement. Find some common ground even when you disagree on a particular topic. This does not mean compromising or changing your mind, but rather recognizing that most people in the world can find some broad ideas or values to agree on.

A = Acknowledge the opposing perspective. Rather than jumping in to your own argument, devote a few seconds to restating the other person's position to demonstrate that you did indeed hear and understand it.

R = Reframing to the positive. Avoid negative and contradictory words, such as "no," "won't" or "do not." At the same time, increase your use of positive words to change the tone of the conversation.
Measuring benefits of the tools in practice
In a recent set of studies, my colleagues and I recruited people who were supportive of or hesitant about getting COVID-19 vaccinations. We paired vaccine-supportive participants with the vaccine hesitant and instructed them to persuade their partner to get the shot. Before the interaction, we randomly assigned the vaccine supporters to receive brief instructions in conversational receptiveness or guidance simply to use the best arguments they could think of.
We found that participants who received a couple minutes of instruction in conversational receptiveness were seen as more trustworthy and more reasonable by their counterparts. Their counterparts were also more willing to talk to them about other topics.
In a subsequent study, we explained the concept of conversational receptiveness to participants on both sides of the issue. Just knowing that they'd be engaging with someone trained in this technique made both parties report being 50% more willing to have a vaccine conversation. People felt more confident their discussion partner would hear them and less worried they'd be a dismissive jerk.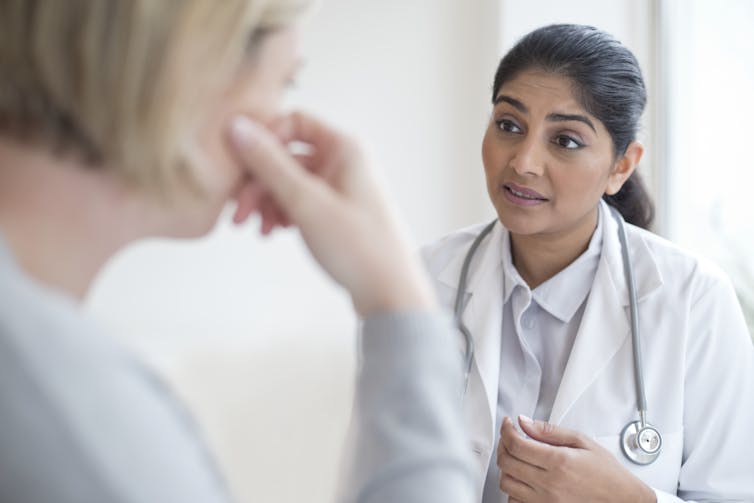 Dialing down the acrimony
This approach might be especially beneficial in conversations in which one party is highly motivated to engage while the other is less so. When such conversations turn contentious, the less motivated person can simply walk away.
That's an all-too-familiar experience for parents of teenagers who seem to have advanced degrees in ignoring unwelcome advice. Health care providers often face a similar challenge when they try to persuade patients to change behaviors they do not wish to change. In the workplace, this burden is most acutely felt by people lower in the hierarchy trying to have their views heard by higher-ups who just don't have to listen.
Conversational receptiveness is effective because it makes the interaction less confrontational and therefore less unpleasant. At the same time, it allows both parties to express their perspective. As a result, it gives people some confidence that if they approach a topic of disagreement, their partner will stay in the conversation, and the relationship will not sustain damage.
In recent years, many scholars across the social sciences have expressed concern about Americans' seeming inability to talk to their political opponents.
Yet the skills that are necessary for Democrats and Republicans to engage with one another are similarly lacking in our families and in our workplaces.
Our work on conversational receptiveness builds on extensive prior research on the benefits of showing engagement with opposing perspectives. By focusing on language that can be easily learned and precisely measured, we offer people a broadly applicable toolkit to live up to their best conversational intentions.
Julia Minson receives funding from Rita Allen Foundation and the Doris Duke Foundation.
vaccine
covid-19