The big challenges for supply chains in 2022
Supply chains are facing a complex and unpredictable world in the year ahead.
In the run-up to Christmas, there was considerable anxiety about shortages of festive food and gifts. Trade friction was already at the core of the Brexit debate, and supply chain issues have been made much worse by the COVID-19 pandemic.
For example, a computer chip shortage had a knock-on effect across many industries. Concerns have been also been raised about everything from lithium supply for electric vehicle batteries to restaurant food supplies to even coffee shortages.
Never has the issue of supply chain management been so prominent. The question now is what challenges supply chains face in the year ahead. So what can we expect?
Complex, fragmented, under pressure
Products reach consumers through a chain of companies involved, which typically includes manufacturers, logistics firms – who provide storage, distribution and transport – and retailers. Not surprisingly, the whole system is highly complex.
There's a whole philosophy of contemporary supply chain management (SCM) concerned with making supply chains much more integrated than they used to be. Done well, it can significantly improve the overall performance of companies, as well as benefiting the economy and society. Yet this long-term effort to make the whole system more efficient has been set back by a whole host of challenges in global supply chains.
Three big issues became particularly apparent in 2021. First, and probably the most obvious to many of us, was the unprecedented pressures on global supply chains created by the COVID pandemic and the subsequent series of lockdowns and restrictions which varied in their timing and severity from country to country.
This has resulted in significant geographical shifts in supply and demand, which in turn has created problems for finely tuned global supply chains. Trends that were apparent pre-pandemic, such as increases in online shopping and driver and other skill shortages, are now causing real problems.
Second, the economic and business environment became more challenging. For example, in the UK and the rest of Europe, supply chain pressures were caused by Brexit as a result of increases in red tape and cross-border checks. More widely, firms continue to grapple with a range of international business challenges ranging from fluctuating exchange rates to the building of global management teams.
This all matters because business has become increasingly international – often global – in recent years. This is thanks to the reduction of traditional barriers to the cross-border movement of products, services, capital, people and information. The impact of this change on logistics and SCM is the subject of my book Global Logistics: New Directions in Supply Chain Management.
Third, the environmental impact of logistics and supply chain activities is beginning to be more widely understood. If countries around the world are to meet their emissions targets and commitments, it is key that they develop more sustainable supply chain practices. Glasgow's COP26 in November had a strong focus on transport including freight and logistics. Business as usual is simply no longer an option if a sustainable future is to be achieved.
But uncertainty is a characteristic of the international business landscape in which supply chains operate. As a result, major companies have become strongly focus on supply chain risk management. This means identifying where risks of any kind exist in the network, assessing the potential impact of these risks, and putting mitigation strategies into place. A range of formal methodologies and tools have been developed to support this process.
The big question is how all this complexity can be handled, particularly in terms of design, planning and execution. These challenges are new in many respects, so past experience cannot be relied upon to generate solutions.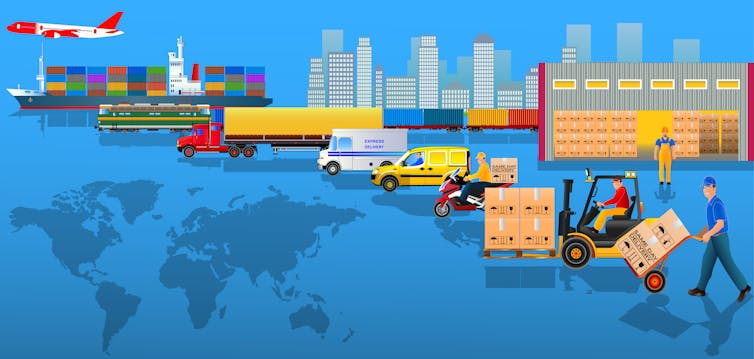 An unpredicatable world
So what kinds of things are going to affect global supply chains in 2022? As The Economist neatly put it recently, "the era of predictable unpredictability is not going away".
The arrival of omicron has provided a timely reminder of the unpredictability of the pandemic. The emergence of new variants during 2022 could accentuate some of the current pressures. In this context, China's continuing zero-COVID strategy with its tight border restrictions could create problems.
Despite some easing in recent months, international shipping costs are likely to remain high in 2022. Closer to home, the arrival of the full post-Brexit customs checks introduced on January 1 has introduced further friction and added costs, with many firms reporting a worrying lack of preparedness.
Above all, freight transportation and supply chain processes will continue to change during 2022 as more environmentally sustainable practices are adopted. These practices affect everything from transport vehicles, such as switching to electric delivery vans, through to changes in the wider supply chain, such as relocating distribution centres to minimise distances travelled.
Industry and academia are collaborating to develop innovative and sustainable practices, as can be seen in the work of the Centre for Sustainable Road Freight, for example. The year ahead will be key in the adoption of these practices, each of which requires change in the operational practices of firms. Such change will inevitably create short-term challenges as the new practices become embedded.
Business has to be resilient and capable of adapting to major disruptions so that it can develop long-term strategies and solutions to these complex challenges. In the meantime, shoppers are likely to see higher prices, with companies passing on increased shipping and other logistics costs to customers. We may continue to notice things missing from our supermarket shelves – new year product shortages are already being reported in some countries. So as consumers, we are going to have to keep being a bit more resilient ourselves.
Edward Sweeney ne travaille pas, ne conseille pas, ne possède pas de parts, ne reçoit pas de fonds d'une organisation qui pourrait tirer profit de cet article, et n'a déclaré aucune autre affiliation que son organisme de recherche.
mitigation
pandemic
covid-19
europe
uk
china
When Will Royal Caribbean Bring Back an Adult Favorite Activity?
The cruise line has not brought back a popular very adult event, but there are signs that may change.
The cruise line has not brought back a popular very adult event, but there are signs that may change.
Cruising has largely returned to what it was before the pandemic -- at least once you board the ship. Before you cruise, Royal Caribbean International (RCL) - Get Royal Caribbean Group Report, Carnival Cruise Lines (CCL) - Get Carnival Corporation Report, Norwegian Cruise Line (NCLH) - Get Norwegian Cruise Line Holdings Ltd. Report, and the other lines sailing from U.S. ports still require would-be passengers to check some boxes.
First, all passengers 12 and over must be fully vaccinated at least two weeks before the ship sails. Boosters are not required, but passengers do have to show their original vaccine cards. In addition, anyone sailing must show a negative covid test taken no more than two days before their sailing.
Proving you have met those requirements makes boarding a bit more of a chore, especially because some passengers do not have their documents in order. After you pass the boarding hurdles, however, being on a cruise feels almost entirely like what it did before the pandemic.
Masks are optional for passengers and capacities have inched back toward normal. Crew members remain masked and social-distancing signs are still up, but nobody is social distancing anymore. 
And nearly all activities have returned -- but a few guest favorites have not.
What Is Royal Caribbean's 'The Quest?'
Before the pandemic, Royal Caribbean offered an adults-only game show called "The Quest." It's a well-loved risque event that's sort of shrouded in secrecy. You're not supposed to take pictures or video, but lots of videos are on the internet.
A number of members of the message-boards section of the Royal Caribbean Blog attempted to explain the event:
"It's basically this giant scavenger hunt within your team. On Oasis it was in Studio B. There are 6ish couples who are team leads, and the cruise director shouts out tasks --things to find in the audience, or things to accomplish. For example, 6 ladies bras, or 3 shoelaces tied together. The team leads have a card with their number on it, and as soon as the task is done/found, they run up to the cruise director with the object and the card, wave it in his face. The fastest teams get more points," wrote hmills96.
It can get a bit raunchy, according to Jerel.
"It's a adult oriented game show where people willingly makes fools of themselves," he wrote. "...It doesn't take long before they are asking for girls who are wearing red thongs and to prove it on stage, or even ask a captain to produce 4 bras, many women will quickly rip them off btw. Also it's pretty much guaranteed to see men dirty dancing with each other and/or hairy men dressed up in women's clothing."
The post also noted that some people may have regrets the next day.
"It tends to be on the last night, I assume because you may not want to be seen in public the next day," he added.
Will Royal Caribbean Bring 'The Quest' Back?
"The Quest" involves a lot of people in a fairly small space, with touching a body a key part of the game. That's not a great look for the cruise line, even if social distancing has largely gone away on cruise ships.
Cruise-line personnel have told passengers that "The Quest" would return, but no timetable has been given. 
Multiple crew members noted that Studio B, where "The Quest" takes place on most ships, has been used for show rehearsals. Various productions have struggled to get to their full complement of cast or have had to integrate understudies due to positive covid tests.
The company has not made any official statement on "The Quest," but numerous crew members/activity personnel have said that it would come back.
For now, "The Quest," and balloon drops on the Royal Promenade along with certain parties in that same central corridor remain casualties of the pandemic. 
Balloon drops have been tested on some ships but have not formally returned while "The Quest" remains in the cruise line's plans, but it does not yet have a return date.

vaccine
pandemic
social distancing
Monkeypox may not mutate as fast as coronaviruses, but that doesn't mean it can't adapt to its new hosts
Monkeypox may not churn out variants at the rate of SARS-CoV-2, but that doesn't mean we can rest easy.
The recent outbreak of monkeypox virus has called into question the capabilities of these kinds large DNA viruses to evolve, adapt and change their biology.
Compared with small RNA viruses such as coronavirus, monkeypox virus and other large DNA viruses are thought to evolve slowly. Yet there's clear evidence that this really isn't a hindrance to these viruses. In fact, they can adapt to new environments like us.
Although most infections remain mild, monkeypox can be a serious life-threatening disease, resulting in sepsis, encephalitis (brain inflammation) and blindness. The most common symptoms are rash and skin lesions, alongside flu-like symptoms and swollen lymph nodes.
Cumulative monkeypox cases in current outbreak
Monkeypox virus naturally infects wild rodents, such as squirrels and rats, in west and central Africa – but it can jump species into humans and other animals. However, once it has jumped to humans, it cannot keep transmission going and eventually outbreaks die out. This is probably because monkeypox has not adapted itself to its new environment of humans, as spillback into wild rodents from infected humans is unlikely.
Monkeypox is closely related to the viruses that caused smallpox (variola viruses) and the virus that we use to vaccinate and eradicate smallpox (vaccinia virus). This group of viruses, referred to as poxviruses, are a kind of large DNA virus, meaning that their genome is composed of a chemical known as DNA, like our genome. (Coronavirus and related viruses use a cousin molecule called RNA.)
Other DNA viruses are the large DNA viruses adenoviruses and herpesviruses, but also small ones like papillomaviruses and parvoviruses. The viral genomes composed of either DNA or RNA essentially are the instructions to make new viruses, infect us and cause disease. Changes to the instructions can change virus biology.
As we have seen with SARS-CoV-2 and its variants, viruses can change how they behave with regards to spreading, disease severity and vaccine sensitivity. This is because of changes accumulating in the virus genome. Virus replication generates diversity in its genome, which can be acted on by evolutionary forces such as natural selection, to increase in frequency and maybe even out-compete older versions.
Evolutionary changes can occur when the virus encounters a new environment that it is not fully adapted to. Although all viruses can evolve rapidly due to their vast population sizes and rapid generation times, RNA viruses are thought to be masters of evolution because they have high mutation rates due to their small size, and many often lack error-correcting ability meaning more mutations occur every time they replicate.
Poxviruses have some characteristics that make them more generalist, including stable infectious particles, giving them more chances to infect. They use very common molecules on your cells to gain entry and infect, unlike SARS-CoV-2 which needs the specific ACE2 protein to gain entry to our cells.
Large DNA viruses such as monkeypox also contain lots of genes that target and manipulate different parts of the immune system.
Room for improvement
However, there's clear evidence that improvements can be made, because, in humans, monkeypox transmission is relatively inefficient, with long incubation periods.
In general, large DNA viruses such as monkeypox are no different from other viruses, and their mutability is the basis for our ability to track and trace monkeypox outbreaks. They make mistakes and errors accumulate, which can be used as fuel for evolution and biological changes. There's even evidence from the recent monkeypox outbreak that the host cell is directly mutating the virus genome.
Studies focusing on related poxviruses like the vaccinia virus have even uncovered new tricks they can use, which include rapidly amplifying the number of genes they use to attack our immune system. They could even borrow some of our own genes to help them infect us.
We can't predict the trajectory that monkeypox evolution will take, so we must take the threat of this virus adapting to its new hosts (humans) seriously. And we need to use all the public health tools at our disposal to halt the current outbreak in all countries – including those where it is endemic.
Connor Bamford receives funding from UKRI, Wellcome Trust, British Medical Association Foundation, SFI.
vaccine
genome
rna
dna
coronavirus
transmission
africa
Analysis: The next COVID booster shots will likely be updated for Omicron
COVID-19 vaccines this fall are likely to be based on the Omicron variant of the coronavirus rather than the original strain, although some experts suggest…
Analysis: The next COVID booster shots will likely be updated for Omicron
June 24, 2022, 7:22 AM EDT
NEW YORK, June 24 (Reuters) – COVID-19 vaccines this fall are likely to be based on the Omicron variant of the coronavirus rather than the original strain, although some experts suggest they may only offer significant benefits for older and immunocompromised people.
Moderna (MRNA.O), Pfizer (PFE.N) and Novavax (NVAX.O) have been testing vaccines based on the first BA.1 Omicron variant that became dominant last winter, driving a massive surge in infections.
On Wednesday, Moderna said its updated vaccine worked well against more recent Omicron subvariants, and that it was moving forward with plans to ask regulators for approval. read more
Vaccines that can bridge the gap between the original version of coronavirus and the Omicron variant would likely be "far, far better" for the fall, according to Trevor Bedford, a biologist at the University of Washington who has closely tracked mutations of the SARS-coV-2 virus.
Bedford said it would take too long to meet regulatory requirements for a switch to tailor the next vaccine to versions of Omicron spreading quickly now.
"Catching up to any of the Omicrons is really important," he said, noting the enormous jump in the number of mutations from the original strain that emerged in China to Omicron on the spike protein part of the virus the vaccines target.
The World Health Organization (WHO) plans to assess the effectiveness of vaccines built for Omicron, as do national health regulators like the U.S. Food and Drug Administration.
A group of WHO advisers said last week an Omicron-based vaccine may broaden immunity after the Omicron variant evaded much of the protection against infection generated by the vaccines designed for the original virus, a view other experts share. FDA scientific advisers will meet on June 28 to make a recommendation on the issue.
Important questions remain, including whether vaccines designed for variants circulating last winter will work well against significantly different subvariants that may emerge. Experts also want to know if the new shots will increase protection against severe disease and death for younger, healthier people or merely offer a few months additional safeguard against mild infection.
Scientists who have questioned the value of booster shots for young and healthy people say a broad campaign is not needed with an updated shot either.
BILLIONS OF DOLLARS AT STAKE
Unlike annual adjustments for influenza vaccines that manufacturers are allowed to try to align with circulating strains, regulators have asked companies to run clinical trials to prove their new COVID vaccines work better.
But nearly three years into the pandemic, vaccine makers are pushing for a flu-like model that would allow them to nimbly retool their shots to combat new variants.
At stake are billions of dollars in contracts with countries around the world. Moderna is already manufacturing the shots, with deals signed in some countries.
Moderna is asking regulators to greenlight a version of their COVID-19 shot targeting both the BA.1 Omicron variant and the original version of the virus, armed with fresh evidence it may be effective against more recently circulating subvariants.
"The challenge we have is the virus continues to evolve really quickly," Moderna President Stephen Hoge said in an interview, noting that millions of doses of the updated vaccine could be ready in August.
If the drugmaker needs to tweak the vaccine further and restart manufacturing, new shots may not be available until the middle of the fourth quarter, he said.
Pfizer and partner BioNTech (22UAy.DE) are testing variant-adapted COVID-19 vaccines but have yet to release any data. Novavax, whose vaccine is not yet authorized for U.S. use, launched a trial of its own Omicron-based vaccines in late May.
Dr. Jesse Goodman, a professor at Georgetown School of Medicine and a former top FDA scientist, said unlike for flu, regulators do not have enough experience with COVID vaccines to match them to circulating strains without clinical trials.
Dr. Luciana Borio, former acting chief scientist of the FDA, said the science generally supports the idea that it would be better to have vaccines that more closely match the currently circulating virus.
"We see that with people that have hybrid immunity from vaccination plus infection," Borio said. "The immune response that is generated is very rich."
Still, Borio and others are not convinced everyone should be vaccinated again.
"There's no evidence that a healthy 27-year-old person needs to be revaccinated," Borio said.
Reporting by Michael Erman Editing by Caroline Humer and Bill Berkrot
Our Standards: The Thomson Reuters Trust Principles.
vaccine
testing
fda
clinical trials
pandemic
coronavirus
covid-19
china
world health organization