The big challenges for supply chains in 2022
Supply chains are facing a complex and unpredictable world in the year ahead.
In the run-up to Christmas, there was considerable anxiety about shortages of festive food and gifts. Trade friction was already at the core of the Brexit debate, and supply chain issues have been made much worse by the COVID-19 pandemic.
For example, a computer chip shortage had a knock-on effect across many industries. Concerns have been also been raised about everything from lithium supply for electric vehicle batteries to restaurant food supplies to even coffee shortages.
Never has the issue of supply chain management been so prominent. The question now is what challenges supply chains face in the year ahead. So what can we expect?
Complex, fragmented, under pressure
Products reach consumers through a chain of companies involved, which typically includes manufacturers, logistics firms – who provide storage, distribution and transport – and retailers. Not surprisingly, the whole system is highly complex.
There's a whole philosophy of contemporary supply chain management (SCM) concerned with making supply chains much more integrated than they used to be. Done well, it can significantly improve the overall performance of companies, as well as benefiting the economy and society. Yet this long-term effort to make the whole system more efficient has been set back by a whole host of challenges in global supply chains.
Three big issues became particularly apparent in 2021. First, and probably the most obvious to many of us, was the unprecedented pressures on global supply chains created by the COVID pandemic and the subsequent series of lockdowns and restrictions which varied in their timing and severity from country to country.
This has resulted in significant geographical shifts in supply and demand, which in turn has created problems for finely tuned global supply chains. Trends that were apparent pre-pandemic, such as increases in online shopping and driver and other skill shortages, are now causing real problems.
Second, the economic and business environment became more challenging. For example, in the UK and the rest of Europe, supply chain pressures were caused by Brexit as a result of increases in red tape and cross-border checks. More widely, firms continue to grapple with a range of international business challenges ranging from fluctuating exchange rates to the building of global management teams.
This all matters because business has become increasingly international – often global – in recent years. This is thanks to the reduction of traditional barriers to the cross-border movement of products, services, capital, people and information. The impact of this change on logistics and SCM is the subject of my book Global Logistics: New Directions in Supply Chain Management.
Third, the environmental impact of logistics and supply chain activities is beginning to be more widely understood. If countries around the world are to meet their emissions targets and commitments, it is key that they develop more sustainable supply chain practices. Glasgow's COP26 in November had a strong focus on transport including freight and logistics. Business as usual is simply no longer an option if a sustainable future is to be achieved.
But uncertainty is a characteristic of the international business landscape in which supply chains operate. As a result, major companies have become strongly focus on supply chain risk management. This means identifying where risks of any kind exist in the network, assessing the potential impact of these risks, and putting mitigation strategies into place. A range of formal methodologies and tools have been developed to support this process.
The big question is how all this complexity can be handled, particularly in terms of design, planning and execution. These challenges are new in many respects, so past experience cannot be relied upon to generate solutions.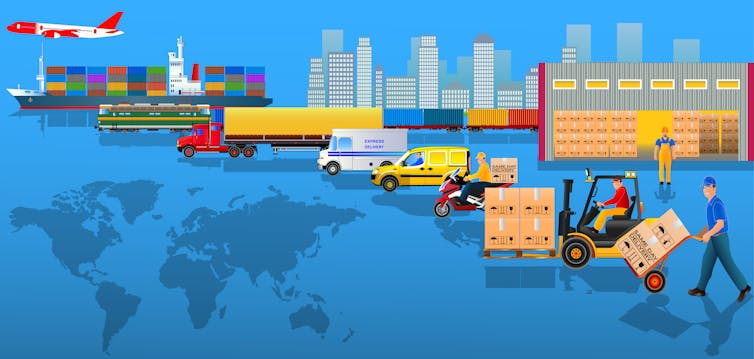 An unpredicatable world
So what kinds of things are going to affect global supply chains in 2022? As The Economist neatly put it recently, "the era of predictable unpredictability is not going away".
The arrival of omicron has provided a timely reminder of the unpredictability of the pandemic. The emergence of new variants during 2022 could accentuate some of the current pressures. In this context, China's continuing zero-COVID strategy with its tight border restrictions could create problems.
Despite some easing in recent months, international shipping costs are likely to remain high in 2022. Closer to home, the arrival of the full post-Brexit customs checks introduced on January 1 has introduced further friction and added costs, with many firms reporting a worrying lack of preparedness.
Above all, freight transportation and supply chain processes will continue to change during 2022 as more environmentally sustainable practices are adopted. These practices affect everything from transport vehicles, such as switching to electric delivery vans, through to changes in the wider supply chain, such as relocating distribution centres to minimise distances travelled.
Industry and academia are collaborating to develop innovative and sustainable practices, as can be seen in the work of the Centre for Sustainable Road Freight, for example. The year ahead will be key in the adoption of these practices, each of which requires change in the operational practices of firms. Such change will inevitably create short-term challenges as the new practices become embedded.
Business has to be resilient and capable of adapting to major disruptions so that it can develop long-term strategies and solutions to these complex challenges. In the meantime, shoppers are likely to see higher prices, with companies passing on increased shipping and other logistics costs to customers. We may continue to notice things missing from our supermarket shelves – new year product shortages are already being reported in some countries. So as consumers, we are going to have to keep being a bit more resilient ourselves.
Edward Sweeney ne travaille pas, ne conseille pas, ne possède pas de parts, ne reçoit pas de fonds d'une organisation qui pourrait tirer profit de cet article, et n'a déclaré aucune autre affiliation que son organisme de recherche.
mitigation
pandemic
covid-19
europe
uk
china
Dr. Peter McCullough: Official COVID "Narrative Has Crumbled"
Dr. Peter McCullough: Official COVID "Narrative Has Crumbled"
Authored by Art Moore via WND.com,
Dr. Peter McCullough – a renowned cardiologist and highly published medical scientist whose confrontation of the government's COVID-19 policies.
Dr. Peter McCullough: Official COVID "Narrative Has Crumbled"
Authored by Art Moore via WND.com,
Dr. Peter McCullough – a renowned cardiologist and highly published medical scientist whose confrontation of the government's COVID-19 policies has drawn more than 40 million views on Joe Rogan's podcast – told WND in a video interview Thursday night the official pandemic narrative that has been fiercely guarded by establishment media and social-media censors is "completely crumbling."
That narrative, he said, included "false statements regarding asymptomatic spread, reliance on lockdown and masks – which obviously didn't work – the suppression of early treatment, the mass promotion of vaccines that failed."
"And now here we are, almost in complete free fall," McCullough said, referring to the record number of COVID-19 cases as officials acknowledge the vaccines don't prevent infection or transmission.
McCullough noted that in California, with the more contagious but much milder omicron variant now dominant, health care workers who tested positive for COVID-19 and had symptoms were told to go back to work.
"With that, I think that's it. I think that's the end. The narrative has crumbled. People don't want these vaccines," McCullough said.

"The vaccines should be pulled off the market. They clearly are not solving the problem."
The focus, he said, should be on "treating high-risk patients who develop symptoms" with some of the early treatments that he and other physicians around the world have found to be effective, including ivermectin and a new drug granted emergency use authorization by the FDA, Paxlovid.
McCullough cited a study from Denmark and data from the U.K.'s health agency showing that the vaccines have zero effectiveness against omicron.
Completing this poll entitles you to WND news updates free of charge. You may opt out at anytime. You also agree to our Privacy Policy and Terms of Use.
"That's not misinformation," he said. "I'm just quoting the data. All of this can be looked up. Fact-checkers can look at it. I know I'll never have any problems with allegations of misinformation, because I just quote the data."
President Biden clearly had McCullough in mind when on Thursday he urged social media companies and media outlets to "please deal with the misinformation and disinformation that's on your shows. It has to stop."
McCullough pointed out his work has been relied upon by courts across the nation, including the U.S. Supreme Court, and he has testified to the U.S. Senate and will be back there later this month.
"I think America knows who is giving them the straight story."
In the half-hour video interview with WND (embedded below), McCullough also discussed:
The punishment of physicians who counter the official COVID narrative and use clinically indicated, FDA-approved drugs off-label such as ivermectin to treat COVID-19 patients, including a colleague in Maine whose was ordered to undergo a psychological examination after her license was suspended;

His participation in a rally in Washington, D.C., on Jan. 23 protesting vaccine mandates;

The Supreme Court's rulings Thursday on vaccine mandates;

The possibility that omicron could spell the end of the pandemic, serving as a "universal booster";

Data showing that vaccination has backfired, making the pandemic worse in nations with high vaccine intake;

The lethality of the mRNA vaccines;

His view on Biden's mass testing program;

His take on new FDA-approved treatments and his simple, inexpensive, over-the-counter protocol for treating omicron;

The unwillingness of so many doctors to "come off the sidelines" and treat patients for COVID-19;

The "crisis of competence" among top government health officials;

Where to find resources and support for physicians and patients, and for employees confronting mandates.
"I think Americans are going to understand that their individual choice is really what's going to matter in the end," he McCullough told WND in conclusion. "If Americans decide that they're not going to take any boosters or any more vaccines, it doesn't matter how many mandates or how many court decisions that happen. The vaccine program is going to crumble. I think it's just a matter of saying no."
He emphasized that the vaccines are still "research."
"No one can be forced into it," he said of vaccination. "And they're not turning out to be safe or effective. So, if  everybody just stands firm and declines the vaccines, I think that will be the quickest way for us to get out of this."
See the WND interview with Dr. Peter McCullough:
McCullough, in a video interview with WND in December, called for a "pivot" from the current policies to early treatment and "compassionate care" for those who have COVID or have suffered vaccine injuries, which have included myocarditis, neurological issues and blood clotting.
"Now is the time for doctors to step up. Now is not a time for rhetoric or harsh statements regarding scientific discourse," he said.
Many of McCullough's 600 peer-reviewed publications have appeared in top-tier journals such as the New England Journal of Medicine, Journal of the American Medical Association and The Lancet. He testified to the U.S. Senate in November 2020 against what he described as the federal government's politicization of health care during the pandemic, curbing or blocking the availability of cheap, effective treatments. In a speech in September, he told of having been stripped of the editorship of a Swiss-based journal after having lost his position with a major health system, "with no explanation and no due process." Baylor University Medical Center fired him in February. And Texas A&M College of Medicine, Texas Christian University and University of North Texas Health Science Center School of Medicine have cut ties with McCullough, accusing him of spreading misinformation.
"I've been stripped of every title that I've ever had in that institution. I've received a threat letter from the American College of Physicians, [and] a threat letter from the American Board," he said in September.
All because of his "lawful" participation "in a topic of public importance."
He said there are "powerful forces at work, far more powerful than we can possibly think of, that are influencing anybody who is in a position of authority."
McCullough is the chief medical adviser for the Truth for Health Foundation, a physician-founded charity that says it is "dedicated to following the Oath of Hippocrates to serve individual patients to the best of our ability and judgement and to uphold the highest standards of medical ethics."
*  *  *
Last year, America's doctors, nurses and paramedics were celebrated as frontline heroes battling a fearsome new pandemic. Today, under Joe Biden, tens of thousands of these same heroes are denounced as rebels, conspiracy theorists, extremists and potential terrorists. Along with massive numbers of police, firemen, Border Patrol agents, Navy SEALs, pilots, air-traffic controllers, and countless other truly essential Americans, they're all considered so dangerous as to merit termination, their professional and personal lives turned upside down due to their decision not to be injected with the experimental COVID vaccines. Biden's tyrannical mandate threatens to cripple American society – from law enforcement to airlines to commercial supply chains to hospitals. It's already happening. But the good news is that huge numbers of "yesterday's heroes" are now fighting back – bravely and boldly. The whole epic showdown is laid out as never before in the sensational October issue of WND's monthly Whistleblower magazine, titled "THE GREAT AMERICAN REBELLION: 'We will not comply!' COVID-19 power grab ignites bold new era of national defiance."
SUPPORT TRUTHFUL JOURNALISM. MAKE A DONATION TO THE NONPROFIT WND NEWS CENTER. THANK YOU!
Tyler Durden
Mon, 01/17/2022 - 23:50
emergency use authorization
senate
pandemic
covid-19
vaccine
treatment
testing
fda
spread
lockdown
transmission
suppression
Zinc Outlook 2022: Small Refined Zinc Deficit Ahead
Click here to read the previous zinc outlook. Following an uncertain 2020, zinc prices steadily rose throughout 2021 to hit a 14 year high in the second half of the year.The power crisis and an increasing demand for the base metal as the strict lockdown..
Click here to read the previous zinc outlook.
Following an uncertain 2020, zinc prices steadily rose throughout 2021 to hit a 14 year high in the second half of the year.
The power crisis and an increasing demand for the base metal as the strict lockdown restrictions were lifted supported prices during the 12 month period.
As the new year begins, the Investing News Network (INN) caught up with analysts to find out what's ahead for zinc supply, demand and prices.
---
Zinc outlook 2022: 2021 in review
Prices kicked off the year above the US$2,800 per tonne mark after rallying for most of the second half of 2020. The recovery in the steel sector helped the base metal throughout the first half of 2021 as COVID-19 lockdown measures eased, supporting demand for zinc.
Commenting on the main trends seen in the market in 2021, Helen O'Cleary of CRU Group told INN zinc's demand recovery was stronger than expected in the US and Europe but lagged in Asia excluding China.
In October, zinc prices hit their highest level in 14 years, hovering around the US$3,800 mark on the back of the power crisis and cost associated with carbon emissions.
"Zinc's price outperformed expectations in 2021 on the back of strong demand and smelter disruption, particularly in Q4 when European smelters started to cut back due to record high energy prices," O'Cleary said.
One of the world's top zinc smelters, Nyrstar (EBR:NYR), said in October it was planning to cut production at its European smelter operations. Mining giant Glencore (LSE:GLEN) also said it was adjusting production to reduce exposure to peak power pricing periods during the day.
Speaking with INN about zinc's performance, Carlos Sanchez of CPM Group said zinc has been in recovery since prices bottomed out in 2020, helped in part by vaccination globally and also by supply disruptions around the world.
"The most recent issue is the concern about high energy input costs into smelters in Europe — that's been pushing prices higher recently," he said.
Even though prices could not sustain that level until the end of the year, prices remained above US$3,500 on the last trading day of 2021.
Zinc outlook 2022: Supply and demand
As mentioned, demand for base metals saw an upward turn in 2021 as the world economy recovered on the back of stimulus plans and as vaccination rollouts took place in many parts of the world.
Looking at what's ahead for demand in 2022, CRU is expecting Chinese demand growth to slow to 1.1 percent year-on-year as the effects of stimulus wane.
"In the world ex. China we expect demand to grow by 2.4 percent, with the ongoing auto sector recovery partially offsetting the construction sector slowdown in Europe and the US," O'Cleary said.
CPM is also expecting demand to remain healthy in 2022, both in China and outside of China, including demand from developing countries.
"One thing that remains uncertain is what will happen with COVID," Sanchez said.
Moving onto the supply side of the picture, the analyst expects that if everything remains status quo, disruptions are unlikely to happen.
"There are going to be some blips here and there, but there have been some labor issues in Peru, yes, there's been some energy problems in Europe and China, but that's a fact in zinc output and in demand to an extent," Sanchez said. "But really the catalysts that we don't know, and how it can affect prices is how COVID will impact industries."
For her part, O'Cleary is expecting most disruptions in Q1, with CRU currently having a disruption allowance of 55,000 tonnes for that period.
"But this may well tip over into Q2," she said. CRU is expecting mine supply to grow by 5.10 percent year-on-year in 2022 and for the concentrates market to register a 190,000 tonnes surplus.
Meanwhile, smelter output is forecast to grow by less than 1 percent year-on-year in 2022, according to the firm, which is currently forecasting a small refined zinc deficit in 2022.
"Should smelter disruption exceed our 55,000 t allowance the deficit could grow," O'Cleary said. "But high prices and a tight Chinese market could lead to further releases of refined zinc from the State Reserves Bureau stockpile, which could push the market towards balance or even a small surplus."
Similarly, CPM Group is also expecting the market to shift into a deficit in 2022.
"That's due to the strong demand, recovering economies of COVID and its financial economic effects," Sanchez said.
Zinc outlook 2022: What's ahead
Commenting on how prices might perform next year, O'Cleary said prices are likely to remain high in Q1 due to the threat of further energy-related cutbacks in Europe during the winter heating season.
O'Cleary suggested investors to keep an eye on high prices and inflation, as these factors could hamper zinc demand growth.
Similarly, CPM Group is expecting prices to remain above current levels and to average around US$3,400 for the year.
"I wouldn't be surprised to see zinc top US$4,000," Sanchez said. "But at the same time, I don't think it holds above there; you'd have to have really strong fundamentals for that to happen, stronger than what's happening now."
The CPM director suggested zinc investors should keep an eye on COVID developments and be quick movers, taking a position whether it's short or long.
Looking ahead, for FocusEconomics analysts, prices for zinc are seen cooling markedly next year before falling further in 2023, as output gradually improves and new mines come online.
"Moreover, fading logistical disruptions and easing energy prices will exert additional downward pressure, although solid demand for steel will continue to support prices," they said in their December report, adding that pandemic-related uncertainty clouds the outlook.
Panelists recently polled by the firm see prices averaging US$2,827 per metric tonne in Q4 2022 and US$2,651 per metric tonne in Q4 2023.
Don't forget to follow us @INN_Resource for real-time news updates.
Securities Disclosure: I, Priscila Barrera, hold no direct investment interest in any company mentioned in this article.
Editorial Disclosure: The Investing News Network does not guarantee the accuracy or thoroughness of the information reported in the interviews it conducts. The opinions expressed in these interviews do not reflect the opinions of the Investing News Network and do not constitute investment advice. All readers are encouraged to perform their own due diligence.
stimulus
pandemic
covid-19
lockdown
recovery
stimulus
european
europe
china
Pfizer CEO Predicts Life On Earth "Will Return To Normal" In The Spring
Pfizer CEO Predicts Life On Earth "Will Return To Normal" In The Spring
Just a few days ago, Bill Gates shared some of his (revised) thoughts on the COVID pandemic and the trajectory that omicron has left us on. Several weeks after warning…
Pfizer CEO Predicts Life On Earth "Will Return To Normal" In The Spring
Just a few days ago, Bill Gates shared some of his (revised) thoughts on the COVID pandemic and the trajectory that omicron has left us on. Several weeks after warning that omicron's heightened infectiousness might send the pandemic into overdrive, the Microsoft founder postulated instead that omicron might hasten the end of the pandemic by leaving the human population with more antibodies against the virus. As a result, SARS-CoV-2 might enter its endemic stage more quickly, Gates suggested.
This view, that the end of the pandemic might finally be at hand after two years of suffering, has become increasingly popular as of late. Take this piece from the BBC: "Endemic COVID: Is the pandemic entering its endgame?".
While the piece mostly focused on the UK, the sense is that the developed world more broadly is closer to the end because of its access to vaccines.
So, is a new Covid-era truly imminent and what will that actually mean for our lives?

"We're almost there, it is now the beginning of the end, at least in the UK," Prof Julian Hiscox, chairman in infection and global health at the University of Liverpool, tells me. "I think life in 2022 will be almost back to before the pandemic."

What's changing is our immunity. The new coronavirus first emerged two years ago in Wuhan, China, and we were vulnerable. It was a completely new virus that our immune systems had not experienced before and we had no drugs or vaccines to help.
It even came with his handy illustration depicting the difference between "pandemic" and "endemic" COVID:
Well, it appears the CEO of Pfizer has caught on to this narrative - and he approves. Speaking to the French media, Pfizer CEO Albert Bourla that while he expects COVID to continue to circulate for many years to come, he expects future waves won't cause the types of restrictions that people have become used to over the last two years, and that life will return to "normal" in the spring.
Bourla told French news outlet Le Figaro in an interview published Jan. 16 that he expects a "return to normal life" at some point in spring of this year. However, he added the caveat that the mysterious dynamics of COVID's spread make accurate predictions more difficult.
"We will soon be able to resume a normal life," Albert Bourla told the French paper. "We are well positioned to get there in the spring thanks to all the tools at our disposal: tests, very effective vaccines and the first treatments that can be taken at home."
He also credited improvements in COVID testing, vaccines, and therapeutics for his optimistic outlook, telling BFM TV that he expects the current omicron-driven wave to be the "last with so many restrictions."
But given its affinity for its human hosts, COVID will likely be "very difficult to get rid of," which is why Bourla expects it to become endemic, with the occasional seasonal flareup, like the flu.
Finally, the Pfizer CEO shared details of local partnerships that he said would help France produce more of Pfizer's COVID fighting drug Paxlovid.
With his approval rating at an all-time low, President Biden better hope the likes of Bourla and Gates are right. Ending the COVID pandemic might be the only thing that could help Biden regain some support among the tired and frustrated American electorate.
Tyler Durden
Mon, 01/17/2022 - 17:00
testing
antibodies
pandemic
coronavirus
spread
wuhan
uk
france
china