Ride the Waves to Profits
Investors Alley
Ride the Waves to Profits
Wall Street analysts would have you believe that the global supply chain problems will be over with soon. Spoiler…
Investors Alley
Ride the Waves to Profits
Wall Street analysts would have you believe that the global supply chain problems will be over with soon.
Spoiler alert: they will not.
We have many months before the supply chain issues abate. The demand for physical goods that began during the pandemic only highlighted the infrastructure shortcomings that could take years to fix.
Investors who listened to Wall Street have dumped shipping stocks en masse, only serving to create an opportunity for investors that actually understand what is going on.
The world's largest container lines made extraordinary amounts of money in 2021. And 2022 will be another hugely profitable year for the world's biggest shipping companies, as freight rates along the busiest shipping lanes are expected to continue rising.
Like commodities companies reaping profits from exceptionally high commodities prices, shipping firms are rolling in cash while others down the supply chain fight to maintain margins.
Big Profits for Shipping Firms
Although shipping lines are facing much steeper fuel, vessel, and insurance costs, rate increases for shipping will continue to swell the revenues and profits made by the industry's giants. Maritime consultancy Drewry estimates their combined earnings before interest and tax will reach $300 billion this year—a 40% jump from the $214 billion made in 2021.
Drewry's forecast a further 39% increase in average global freight rates (a mix of spot and contract rates) for 2022, following a 110% spike in 2021.
Keep in mind that last year's profits of $214 billion dwarfed anything the industry had ever seen before.
Freights rates have stabilized—but at high levels. For example, the key trans-Pacific route from China to the U.S. West Coast has seen rates drop for six successive weeks before leveling off at $15,552 per forth-foot equivalent unit (FEU) by the end of April, according to the Freightos Baltic Index (FBX).
But this is still 162% higher than the same rate a year ago!
While spot rates have declined, contract rates the biggest shippers (think Walmart, etc.) pay for longer periods have continued to climb—up 11% in April and more than doubling year-over-year, according to the Xeneta Shipping Index.
The world's largest container shipping line, Denmark's AP Moeller Maersk (AMKBY), and the Swiss logistics giant Kuehne & Nagel (KHNGY) say that freight rates will begin to ease in the second half of this year, but they could take years to normalize.
Both believe that by 2025, as the supply chain finally normalizes, freight rates will gradually decline to a level just 15% above pre-pandemic levels.
Shipping Industry 101
Some of you may be wondering how—with the price of bunker fuel at all-time highs—profits can still be soaring. Let me explain briefly.
With fuel costs so high, ships slow down. Slow steaming requires considerably less fuel. This is called the "cube-rule": slow a boat by half, and it will use 1/8th the fuel it would at full speed.
Slowing a boat down obviously means it takes longer to sail from A to B…which also means it costs more to hire a ship, since rental is a daily charge. Charter rates have risen between 20-35%.
This is great news for ship owners. First it means they get paid more because their boats earn a higher rental on longer voyages. Second, for every knot that global shipping slows, an estimated 6% of the global fleet is made unavailable. In other words, slower ships mean fewer ships available, which pushes up charter rates.
So, shipping companies earn more, but goods reach markets slower, meaning you pay more for goods.
Another dominant driver of freight rates—and shipping company profits—since the start of the pandemic has been the capacity constraints at many ports. Lower port productivity has meant the effective capacity of container shipping lines was 17% below potential last year, and will probably remain 15% below potential this year, according to Drewry's forecasts.
Shipping Investment
The bottom line is that vessel capacity is one of just three significant bottlenecks faced by the industry. The other two are capacity at U.S. ports (specifically Los Angeles and Long Beach) and the required handling capacity (that is, the number of truckers available) to move goods inland.
For the global supply chain headache to end, all three bottlenecks will need to be solved in sync. Good luck with that—for at least a few years.
For now, I believe shipping a good place to park some money. The easiest way to do this is through buying an ETF. My specific recommendation is the SonicShares Global Shipping ETF (BOAT).
BOAT is up more than 31% in the past year and 5.15% year-to-date, despite a terrible stock market environment. The three most recent dividends paid (September, December, and March) are $0.052, $0.352, and $0.778 respectively.
With the ongoing market turmoil, this is a good ETF to get into a little at a time on big down days, at any price in the low $30s.
2 Stocks Paying Dividends EVERY WEEK!
For the first time ever, I've found two stocks that are not paying dividends annually… not quarterly… not monthly… but weekly.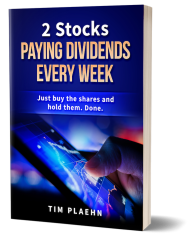 Every Week, one of these stocks will pay out a dividend. It's a conservative fund based on fixed-income investments. It's not one single company. Rather, it's a collection of strong companies like Delta and Ford. Except, you won't have to wait for quarterly dividends from them. Expect them weekly!
Want more conservative dividends? This second weekly payer also sends dividend checks out this Thursday. What's great about them is it's not a single stock. Rather, it's a fund diversified across 300 strong companies such as JP Morgan and Procter & Gamble.
Ride the Waves to Profits
Tony Daltorio
stocks
pandemic
etf
commodities
china
An Investor's Look Back for 2022
As we approach the end of June, now is a good time to look back over the market to see what has been happening. The price action is in the bottom right…
As we approach the end of June, now is a good time to look back over the market to see what has been happening.
The price action is in the bottom right corner of the charts, whereas, at the end of 2021, it was in the top right corner of the charts. Who could have seen the problems coming? I think the technical analysis arena did an excellent job of showing the risks for downside momentum to increase.
On December 17th, I recorded a video about the technical problems aligning in the market and how they created the situation for a rough start to 2022.
A historical look back
In six-month increments, let's take an educational look back on what has been happening.
June 2021
Starting in June 2021, we came off the effervescent high of the SPAC boom. As the book Reminiscences of A Stock Operator highlights so clearly, when there is an abundance of money trying to enter the market, the bankers will respond with new offerings. Nowadays, venture capitalists have all the data they need to be ready to hand over these companies at lofty valuations and step aside for the downside slide. By June 2021, the SPAC announcements had slowed to a relative crawl compared to the 4th quarter of 2020 and the first quarter of 2021.
The defensive side of the market was out of favour, still showing positive returns to their investors, but vastly underperforming. Energy raged forward as the vaccines were rolling out, suggesting the economy would surge with post-pandemic freedom. More on that later. Real Estate and financials were on fire. Interestingly, the growth areas of discretionary, communications and technology were middle of the pack.
December 2021
As the second half of 2021 rolled in, the market changed significantly. Communications and industrials vastly underperformed everything. Technology was back to a glory story, while discretionary and real estate continued to flourish. Financials were in the bottom third. Materials, energy and defensive names were middle of the pack.
By late December, we were also narrowing our focus on the Sexy Six large cap names that kept holding up, even while there was a large breakdown in many of the trendy areas of the market. We didn't know it at the time, but the November high in the Nasdaq was behind us. The move to electric cars and the investment theme around them came and went. Copper made a high in May 2021 and most of the metals moved sideways for the remainder of the year. Oil continued its steady climb in a big bull market that kicked off with the vaccine announcements fourteen months prior.
June 2022
As we turned the corner into 2022, almost all of the upward momentum was focused in energy. Technology stocks, including semiconductors and software, moved down meaningfully as the sexy six slowly let go. Alphabet, Meta and Amazon were the early leaders to the downside. Consumer discretionary and communications dropped hard.
By the end of June, the continuous slow demise of investors' love for the technology space came to the fore. By March, investors were touting the start of a new bull market in Energy. After a 1000% gain in the oil and coal stocks, the relative strength community reluctantly decided it was a new bull market in fossil fuel energy. (You can't make that stuff up!) Still, the technology investment community has been reluctant to dive into the dark side. While the tiger cubs watched 50% of their asset valuations disappear, they couldn't muster a shift into the best performing sector for the past 18 months.
To end the quarter, the financials wobbled sideways but slowly moved lower. On Friday, June 17th, the bank ETF closed at new 52-week lows. Commodity stock markets like Australia and Canada dropped meaningfully as oil names sold off hard. Oil stocks quickly plummeted for 10 days from new highs to their 200-day moving averages, casting down 25%. The technology names continue to be sold as inflation roars. The Fed is speeding up their time line for rate hikes as the economy slows quickly under the pressure of firm gasoline prices and rising food prices.
What's next?
The graph below shows the stock market price/earnings ratio (P/E) ticking down over the past 6 months. The move down is a 20% drop from all-time highs. Because this is a 100-year chart, the log scale makes the move down look small. An arithmetic chart would show this as a 20% plunge of the entire chart height. With the Fed continuously providing a trampoline for the markets from 2008 to 2022, the market has stretched into higher and more extreme valuations compared to history. Since the early nineties, the market has hugged the red line a lot more than the middle of the range at the blue line. Now that we are below the red line, we are in a relative value area for investment managers, as they have seen the market above the 20 P/E level most of their careers.
The next move for the market is unknown, but the fight between the headwinds of inflation forces and the desire for investment managers to make money before year-end should be an epic battle. Throw in the US Mid-terms and that adds more pressure.
The strength indexes we use at the Osprey Strategic website to evaluate when to put money to work are trying to turn up. If you are interested in getting help evaluating the market, check out the one-month trial at $7 on the homepage of OspreyStrategic.org. We are looking for the fourth buy point of the year right now. The last three were very short. Will this one be the one that extends into the next bull market?
nasdaq
stocks
pandemic
fed
real estate
etf
vaccine
stock markets
oil
canada
Stocks That Do Well in a Recession: Top 6 Companies to Buy
Here are six stocks that do well in a recession with strong cash positions, brand power, and market positions.
The post Stocks That Do Well in a Recession:…
New predictions from Goldman Sachs (NYSE: GS) show a 30% chance of a recession in the next year. As a result, investors are scrambling to find stocks that do well in a recession to protect their returns.
Inflation unexpectedly rose 8.6% from last year, its highest since 1981. Meanwhile, the Fed is aggressively hiking interest rates to combat it.
Raising interest rates can slow economic growth. Although this can be good for taming inflation, there are concerns it can spark a recession. With this in mind, companies are already seeing slower growth with higher inventory levels.
For example, the CEO mentioned changing consumer behavior on Target's (NYSE: TGT) Q1 earnings call. As a result, softer sales are leading to inventory levels well over pre-pandemic levels.
At the same time, some industries outperform during recessions. For instance, discount stores, fast food, and healthcare saw higher demand in the past few recessions.
During a recession, consumers are more cost-aware. They look to save money. So, cheaper options or necessities are solid investment ideas.
Below are six stocks that do well in a recession with strong cash positions, brand power, and market positions.
What Are the Best Stocks That Do Well in a Recession?
A recession means the economy is shrinking. Not to be confused with a depression, a recession means a few quarters of slower economic growth.
So far, U.S. GDP shrank 1.5% in the first quarter. Yet the Atlanta Fed estimates 0% growth in Q2. Will we see more damage in the second quarter with inflation and labor cutting into costs?
Investors are piling into defensive stocks like food and healthcare. Check out the stocks that do well in a recession below to get your portfolio back in the green this year.
No. 6 Mckesson (NYSE: MCK)
Industry: Healthcare
Revenue Growth: 11%
Mckesson is the largest U.S. pharmaceutical distributor. As such, the company plays a critical role in the healthcare industry.
With expanding access to health care and a growing population, Mckesson is well-positioned to continue growing. Total U.S. prescription sales expect to reach 1.4T by 2026. Not only that, but MCK is streamlining the business, focusing on high-margin opportunities.
If a recession does happen, people still need their medicine. And Mckesson is one of three drug wholesalers handling over 90% of medication.
No. 5 TJX Companies (NYSE: TJX)
Industry: Discount Retailer
Revenue Growth: 32%
TJX Companies is well known for its fleet of discount stores, including TJ-Maxx, Marshalls, and HomeGoods.
The discount retailer is off to a strong start this year. Though sales missed slightly, EPS and profit margins improved. The performance shows the leading off-price retailer's position as a consumer favorite.
TJX's business model helps them catch trends for 20% to 60% off regular prices. Furthermore, the company will likely benefit from retailers offloading high inventory levels. If there is a recession, shoppers will continue looking for deals, and TJX is the best in the business.
No. 4 Coca Cola (NYSE: KO)
Industry: Soft Drinks
Revenue Growth: 18%
Coca-Cola is another brand favorite with a dominant market position. In fact, Coke owns and markets five of the top six nonalcoholic drinks globally.
The drink maker has an advantage, though. Coke can raise prices to offset the higher costs and still sell. On top of this, the company focuses on high-potential areas such as coffee and low sugar.
Coke grew revenue by 18% in the first quarter with a better product and price mix. Moreover, KO stock is holding up well this year as investors rush for safety.
No. 3 Mcdonald's (NYSE: MCD)
Industry: Fast Food
Revenue Growth: 21%
As the largest fast-food company in the world, Mcdonald's is a go-to favorite for fast, cheap food.
When consumers look to save money, expensive food is usually one of the first to go. For this reason, Mcdonald's stock outperformed in 2008. Can Mickey D's do it again?
The company's growth strategy seems to be paying off so far. Global comp sales rose almost 12% in the first quarter while digital sales surpassed $5B.
Lastly, Mcdonald's continues expanding its market share by focusing on a modern, digital transformation. However, below are the top two stocks to buy that do well in a recession
No. 2 Walmart (NYSE: WMT)
Industry: Discount SuperMarket
Revenue Growth: 2%
Walmart's position as the largest global retailer continues to grow. By expanding into other revenue streams such as Walmart +, healthcare, and financial services, Walmart is further improving its earnings growth.
For example, comp sales have been growing significantly since last year. Not only that, but sales are increasing across the board.
Though inflation is shrinking Walmart's bottom line, the company is in a strong position as we advance. The ability to lower prices during challenging times has worked out in Walmart's favor. With this in mind, Walmart stock also grew during the 2008 recession.
No. 1 Dollar Tree (NASDAQ: DLTR)
Industry: Discount Store
Revenue Growth: 4%
After the first price rise in company history, higher margins are giving Dollar Tree new life. The hike is helping the company overcome higher costs. At the same time, the extra earnings allow DLTR to expand its selection.
Dollar Tree hit a new quarterly EPS record in Q1 of $2.37 as a result. It also opened 112 new stores in the quarter.
Meanwhile, the company plans to keep the momentum rolling with investments to add profitable growth. For example, Dollar Tree plans to upgrade data analytics, store systems, etc.
The company has a high return on invested capital (ROIC). In other words, the company is excellent at adding value for investors and consumers. To illustrate, DLTR stock gained almost 61% in 2008.
Will Buying Stocks That Do Well in a Recession Boost Returns
Recessions can cause high unemployment and painful losses. We have seen it before. But, buying stocks that do well in a recession can help buffer your portfolio from risk.
Don't get me wrong, investing in a recession is challenging. Most assets lose significant value. Yet, a handful of companies see higher demand. With this in mind, these are the companies you will want to focus on.
For example, Walmart and Dollar Tree increased shareholder value during the last recession. With superior low-priced business models, they were able to attract cost-aware shoppers.
The most important things to consider are market position, brand power and the nature of the business. Companies with necessary items such as food, health care or utilities tend to perform well.
The post Stocks That Do Well in a Recession: Top 6 Companies to Buy appeared first on Investment U.
recession
depression
unemployment
pandemic
economic growth
nasdaq
stocks
fed
medication
recession
gdp
interest rates
unemployment
Shiba Inu Price Prediction: Buy When Others Are Fearful?
When making a Shiba Inu price prediction, there are two big historical events to look at for this popular crypto.
The post Shiba Inu Price Prediction:…
When making a Shiba Inu price prediction, there are two big historical events to look at. These events are the coin's two massive surges in price. One of these surges came in the span of a few weeks in mid-2021. Then, towards the end of the year, the price surged again in an almost identical fashion. In both cases, the price retreated immediately afterward. If you want to make money buying Shina Inu Coin then the key is to buy it before the price surges. This means that you need to buy it when nobody is talking about Shiba Inu and the price isn't moving. Basically, you need to buy it during a time like now.
NOTE: The past performance of an asset is never an indicator of future performance. Shiba Inu coin is a very volatile asset. There is no guarantee that it will ever spike in price again.
What is Shiba Inu?
Shiba Inu is a cryptocurrency that has very little utility and is more of an experiment in community building. It was created after Dogecoin, another dog-themed memecoin, surged in popularity. Shiba is known for having a cult following as well as being incredibly cheap. Each Shib costs just a fraction of a cent. Despite this, it currently has a market capitalization of $5.7 billion. It is also the 11th most popular coin on Coinbase.
One of the main reasons that investors buy Shiba Inu coin is because of Dogecoin. Dogecoin mainly started as a joke. However, it actually gained a massive following and even garnered the endorsement of billionaire Elon Musk. Many investors feel that since Elon Musk likes Dogecoin, it must be worth buying and holding. In the past, a simple tweet from Elon about Dogecoin has been enough to send Dogecoin's price flying.
This is important because Shiba Inu's price tends to rise/fall in sympathy with Dogecoin.
Elon Doubles Down
At the Qatar Economic Forum, Elon Musk recently reiterated his support for Dogecoin. Although he did not make an outright recommendation to buy it, he stated that he "personally supports" Dogecoin. Dogecoin's price spiked on Elon's statements. Accordingly, Shiba Inu's price has spiked as well. As I write this, Shiba Inu coin is up 26% in the past week.
So does this mean that you should buy Shiba Inu?
Shiba Inu Price Prediction: Is it Time to Buy?
To start, you should never buy an investment based solely on someone's recommendation. This is because everyone has a different risk tolerance. For example, Elon Musk is the richest man in the world. He could invest a billion dollars into Shiba Inu coin without thinking twice. He could also light a billion dollars on fire and not lose sleep. But, for many people, investing even just $100 into Shiba Inu is fairly risky. But, this doesn't mean that buying Shiba Inu coin is always a bad idea.
Let's examine my Shiba Inu price prediction.
Buy When Others are Fearful
There is a famous quote from Warren Buffet that goes, "You should sell stocks when others are greedy and buy them when others are fearful." Essentially, Warren is saying that you should buy when everyone else is selling because this is when the asset's price is the lowest. This same thinking could apply to Shiba Inu.
Most of 2020 and 2021 were full of incredible optimism in the investment world. Despite the global pandemic, the S&P500 surged 44% from 2020 to 2021. This even includes a 33% dip in early March. At the same time, we witnessed a frenzy of retail trading in investments like AMC, Dogecoin and GameStop. For a while, it seemed like nearly everyone was making cash hand over fist. Since the end of 2021, most of that has changed.
Today, we are officially in a bear market. The United States is experiencing inflation rates not seen since the 1980s. There is a land war in Europe between Russia and Ukraine. And, the entire global supply chain is still suffering from the effects of COVID-19. The economic outlook is bleaker than it's been in years. Ironically, this could mean that it's a good time to buy Shiba Inu.
Trying to predict when Shiba Inu coin will surge is nearly impossible. So, to make money in Shiba Inu you need to establish a position early on before everyone else does. If you wait until the coin has already surged then you're too late. Right now, almost nobody is talking about buying Shiba Inu because there's so much risk in the world. Counterintuitively, this could mean that it's a perfect time to buy. This style of investing is known as contrarian investing.
Final Thoughts: Shiba Inu Coin
At the end of the day, you should associate buying Shiba Inu very closely with gambling. Remember that Shiba Inu has no underlying value or use. Additionally, there is no way to predict when its price will surge. This makes it very similar to putting money on red money at a roulette table. This doesn't mean that you should never buy it. Just that you should only ever do so with money that you can afford to lose.
If you want to buy Shiba Inu then this could be as good a time as any. Nobody is talking about Shiba and the coin's price has come nearly all the way down from its last surge. As long as you are patient and won't need your investment anytime soon then you'll be in a good position to wait for the next (potential) spike.
I hope that you've enjoyed this Shiba Inu price prediction. Please remember that I'm not a financial advisor and am just offering my own research and commentary. As usual, please base all investment decisions on your own due diligence.
The post Shiba Inu Price Prediction: Buy When Others Are Fearful? appeared first on Investment U.
stocks
pandemic
covid-19
cryptocurrency