Past pandemics exacerbated disadvantages – what we can learn from them about the coronavirus recovery
Past pandemics exacerbated disadvantages – what we can learn from them about the coronavirus recovery
Societies of the past were often better at dealing with problems than those of the present. It's a sign of our complacency that early warning systems were not in place before COVID-19 struck. This was despite the fact that the past century witnessed four major respiratory pandemics – the 1918-19 Spanish flu, 1957-58 Asian flu, 1967 Hong Kong flu and the 2009 H1N1 outbreak – each of which infected many tens of millions of people around the world and killed in large numbers.
Centuries ago, states understood the risks of infectious disease and had containment measures in place to make sure cases were quickly identified and prevented from spreading. Milan, for example, which had been badly hit by plague in the 1360s, put in place extensive networks of agents tasked with paying particular attention to reports of outbreaks of disease and monitoring trade routes and mountain passes for signs of infections.
The health authorities in the Ottoman Empire likewise fought a long-running battle over the course of many centuries against regular outbreaks of plague in Constantinople, Damascus and Aleppo in the 15th and 16th centuries. This resulted in the introduction of steps to identify and respond to cases rapidly and efficiently. It was the same story in the Ionian islands under the Venetians in the 17th and 18th centuries, and no coincidence that when measures failed, as they did twice in this period, it was because of misdiagnosis or delayed notification.
The aftermath of COVID-19 will presumably see a return to such levels of alertness. However, it is the long-terms effects of the disease that may have the greater impact on the world we live in.
Increased disadvantage
New research on the health, educational and productivity of Brazil in the early 20th century has revealed that despite directly killing few people there, the Spanish flu led to a marked increase of still births and infant mortality in the country into 1920. There were sharp changes, too, in sex ratios of new-born children, with a spike in the number of births of girls relative to boys, largely because female foetuses are less vulnerable than male foetuses to disease in general.
Over the next two decades, there was also a noticeable improvement in male literacy levels in Brazil, alongside a deterioration in female literacy levels in districts with greater influenza exposure. This was presumably because greater efforts went in to educating young boys, at the expense of girls. Such gendered educational imbalance is often seen in distressed communities, such as in Indonesia following the tsunami of 2004.
It's these sort of lessons from the past that will be so important to apply when it comes to developing policies in the wake of the current pandemic, which should correct for disadvantages. Another example comes from data from US censuses conducted in 1960, 1970 and 1980. Those conceived or in gestation during the 1918-19 flu crisis in the US had reduced educational attainment, lower lifetime incomes, and disability rates that were 20% higher compared to those in other birth cohorts.
Devising ways to compensate for such long-term disadvantages is crucial because pandemics correlate closely with violence, intolerance and racism. This is something shown most strikingly in the case of cities in Germany a century ago. Cities and areas that suffered the most deaths during the Spanish flu spent on average less per person on their inhabitants in the decade that followed than those cities with lower mortality rates, especially on areas affecting young people – most notably school funding.
These urban centres in Germany that experienced the most deaths and the lowest investment subsequently were also significantly more likely to vote for extremist parties during the federal elections of 1932 and 1933 that ultimately propelled Hitler to power. This is the case even after controlling the data for factors such as demographics, war-related change and unemployment.
This echoes research that suggests that places badly affected by the authorities' responses to disease require higher levels of trust-building to compensate and to re-calibrate how citizens respond to government advice in the future. Such places may also need greater levels of intervention to ensure that social and political polarisation do not take root and lead to intolerance and xenophobia in years to come.
---
Listen to Recovery, a series from The Anthill Podcast, to hear more about how the world recovered from past crises, including an episode on the recovery after the Spanish flu.
---
Roots of prejudice
The deep roots that pandemics have with extremism, violence and xenophobia can span centuries. During the Black Death in the 1340s, Jews were often accused of being responsible for a disease that, like COVID-19, also came from Asia.
Under torture, wrote the friar Herman Gigas, many Jews were forced to confess to breeding "spiders and toads in pots and pans" and to poisoning wells to kill Christians. The antisemitic persecutions were worst in Germany, where Jewish communities in some towns were burnt alive inside synagogues where they had taken refuge.
Antisemitism persisted in Germany in the intervening centuries. When expressions of violence against Jews became normalised in the 1920s, attacks were six times more likely to take place in towns and cities where Jews had been murdered 600 years earlier.
Support for the Nazi party was also significantly higher in these urban locations. Places where there was a high level of persecution of Jews during the Black Death correlate closely with places where most damage done to synagogues on Kristallnacht in 1938. Levels of deportations of Jews to concentration camps between 1933-44 were as much as 15% higher in cities that held pogroms during the 14th century than those that did not.
---
Read more: Epidemics have often led to discrimination against minorities – this time is no different
---
Failure to learn from the past is a key part of the COVID-19 story. There are remarkably similar patterns when you look at how US cities have fared during the current pandemic compared to during Spanish flu. Cities like San Francisco that performed well in 2020 also did so a century earlier because they had mayors who took drastic action. Those like New York, which took a more laissez-faire approach on both occasions, paid a heavy price each time.
As history can show us if we ask the right questions, the impact of COVID-9 will have consequences that stretch decades, perhaps centuries, into the future. But to look to tomorrow, it's important to understand the past – and to apply the valuable lessons it can teach.
Peter Frankopan does not work for, consult, own shares in or receive funding from any company or organisation that would benefit from this article, and has disclosed no relevant affiliations beyond their academic appointment.
unemployment
extremist
extremism
mortality
containment
deaths
recovery
brazil
hong kong
germany
Guerilla gardening: how you can make your local area greener without getting into trouble
Many people are gardening on land that is not theirs – here are some things to consider to avoid getting into trouble.
When Richard Reynolds first started gardening around London's streets, he was so worried he might be arrested that he worked under the cover of darkness. Reynolds was one of the UK's first modern guerrilla gardeners, a movement that encourages people to nurture and revive land they do not have the legal rights to cultivate.
Gardening, in general, offers physical and mental health benefits. But as many as one in eight British households have no access to a garden or outdoor space of their own.
This issue is particularly pronounced among city dwellers, ethnic minorities and young people. A 2021 survey conducted in England revealed that those aged 16-24 were more than twice as likely to lack access to a garden or allotment compared to those aged over 65.
---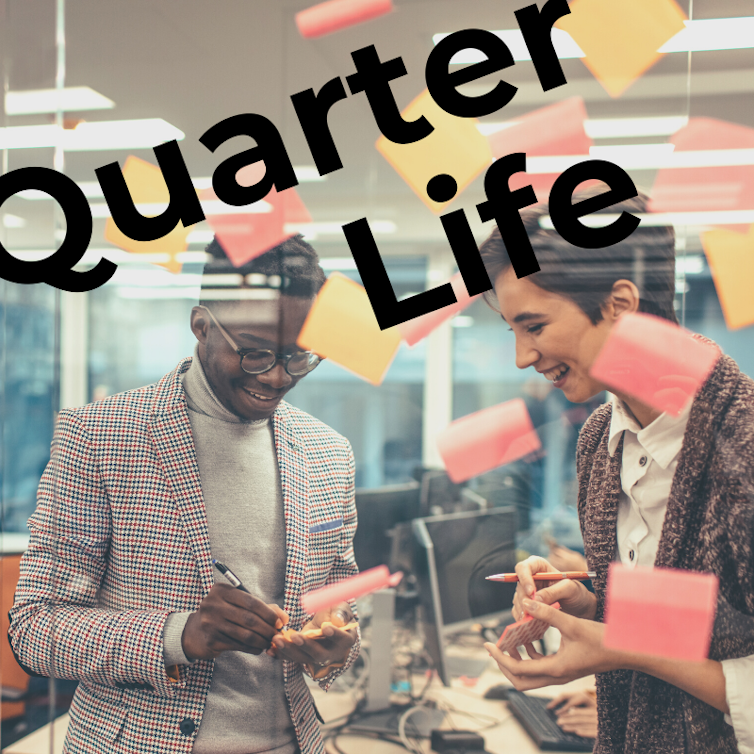 This article is part of Quarter Life, a series about issues affecting those of us in our twenties and thirties. From the challenges of beginning a career and taking care of our mental health, to the excitement of starting a family, adopting a pet or just making friends as an adult. The articles in this series explore the questions and bring answers as we navigate this turbulent period of life.
You may be interested in:
How community gardening could ease your climate concerns
Three ways to get your nature fix without a garden
How often do you think about the Roman empire? TikTok trend exposed the way we gender history
---
Guerrilla gardening is a particularly good option for these groups of people. It can involve planting herbs or vegetables for a whole community to enjoy, spreading seeds or plants, tidying weeds, or even something as simple as picking up litter.
But if you're considering becoming a guerilla gardener, it's important to understand your rights. Could you be arrested for it? And should you wait until after dark?
Can you be prosecuted?
It's important to remember that much of the unused or abandoned land that is potentially suitable for guerilla gardening in towns and cities throughout the UK is owned by local councils. Common examples of such locations include broken pavements with missing slabs, wasteland and the central areas of roundabouts.
Although much of this land is already open for the public to walk over, actively gardening on it would become an act of trespass.
The law of trespass sounds scary. However, gardening on this land would be a breach of civil law rather than a crime. This means that most guerrilla gardeners are unlikely to receive a fine or a criminal record.
Landowners do have the legal right to use "reasonable force" to remove trespassers from their land. But, fortunately, it seems most councils have ignored guerrilla gardeners, having neither the time, money or inclination to bring legal action against them.
Colchester Council, for example, were unable to track down the identity of the "human shrub", a mysterious eco-activist who restored the flowers in the city's abandoned plant containers in 2009. The shrub returned again in 2015 and sent a gift of seeds to a local councillor.
In other areas of the UK, the work of guerilla gardeners has been cautiously welcomed by local councils. In Salford, a city in Greater Manchester, there is a formal requirement to submit an application and obtain permission to grow on vacant spots in the city. But the local authority tends not to interfere with illegal grow sites.
There seems to be an unwritten acceptance that people can garden wherever they want, given the abundance of available space and the lack of active maintenance. This also offers the additional advantage of saving both time and money for the local council.
You should still be careful about where you trespass though. In some areas, guerrilla gardening can lead to unwelcome attention. During the May Day riots of 2000, for example, guerrilla gardeners were accused of planting cannabis seeds in central London's Parliament Square.
Gardening at night may draw the wrong attention too, particularly if you are carrying gardening tools that might be misunderstood by the police as threatening weapons.
How can you start?
There are many different types of guerrilla gardening that you could get involved in, from planting native plant species that benefit pollinators and other wildlife to tidying derelict land to create safer places for the local community.
One of the simplest forms of guerilla gardening is planting seeds. Some environmental projects circulate "seed bombs" and others use biodegradable "seed balloons" that are filled with helium and deflate after a day, distributing seeds by air.
Whatever you try, as a guerrilla gardener you shouldn't harm the environment or spoil other people's enjoyment of the space around you. Remember that weeds and wilderness have an environmental value too. And think carefully about the species you are going to plant so that you can protect local plants and wildlife.
The most attractive species to humans might not provide the best home or food for wildlife. Some can even outcompete native plants and drive them towards extinction. Planting certain harmful, invasive or poisonous species like ragwort, knotweed or Himalayan balsam is even prohibited by law.
That said, some guerrilla gardeners have used social media to organise "balsam bashing" events, where people come together to pull up this harmful invasive plant.
Guerrilla gardening takes many forms and can bring great benefits for people and the environment. You're unlikely to be arrested for planting and growing trees and other greenery in public spaces. But remember that these spaces should be shared with everyone, including your local wildlife.
Ben Mayfield does not work for, consult, own shares in or receive funding from any company or organisation that would benefit from this article, and has disclosed no relevant affiliations beyond their academic appointment.
uk
Fractyl Health's GLP-1 gene therapy spurs 25% weight loss in obese mice, clinical trials slated for 2024
One of the biggest problems facing the burgeoning class of weight loss drugs is that people must take them day after day, week after week. When the injections…
One of the biggest problems facing the burgeoning class of weight loss drugs is that people must take them day after day, week after week. When the injections of semaglutide — the ingredient in Ozempic and Wegovy — stop coming, so do the benefits. Lost weight is regained.
But researchers at Fractyl Health, a Lexington, MA-based biotech, believe they have a solution to that problem: a one-time gene therapy injected into the pancreas that lets the body make its own GLP-1 agonists in perpetuity.
New data slated to be presented today at a diabetes conference in Germany suggest that obese mice injected with the therapy lost nearly 25% of their body weight after just two weeks, according to a copy of the company's presentation obtained by Endpoints News.
The results leave many questions unanswered, including how safe and effective the approach will be beyond the first two weeks, although the presentation indicated that such studies are ongoing. Fractyl declined requests for an interview.
The company previously announced plans to begin testing the treatment in people with diabetes and obesity in 2024. It's a bold step towards moving gene therapy beyond the rare diseases typically pursued by biotech companies.
"It's hard to get people to take injections once a week, and if we can figure out how to do something closer to one and done, that would be a big step for patients," Randy Seeley, who directs an obesity research center at the University of Michigan School of Medicine, told Endpoints in an interview.
"But how permanent this will be can't really be answered in a mouse," he added. Seeley is a consultant to Fractyl, and the company supports research in his lab.
Fractyl was originally just developing the GLP-1 gene therapy for type 2 diabetes. In a diabetic mouse model, human pancreatic islets and human beta cell lines, the treatment significantly enhanced glucose-stimulated insulin secretion, improving blood sugar levels.
GLP-1 needs to act on receptors in the brain for its weight loss effects, and since the therapy is injected directly into the pancreas, the company didn't expect the diabetic mice would lose weight, Seeley said. But surprisingly, they did, shedding 23% of their mass after four weeks compared to a control group.
Those results spurred the company to test its gene therapy in a diet-induced obesity mouse model. Twenty mice were fed a high fat diet for 25 weeks before half of them got a single injection of the gene therapy while the other half received daily injections of semaglutide.
Both groups of mice began losing weight a day after the injections. Within five days, the mice who got the gene therapy were losing weight faster and shed 24.8% of their body weight after just two weeks, even as they maintained their high fat diet. The mice on semaglutide lost 18.4% of their weight, according to the data presented at the European Association for the Study of Diabetes Scientific Congress.
"The most surprising part of the data is how much weight these animals lose," Seeley said. "it's better than semaglutide, and it's not exactly clear how that occurs."
Given the uncertain long-term effects of taking GLP-1 drugs for weight loss, a potentially permanent gene therapy approach is sure to raise many questions.
"If you're taking your once-a-week version, if something goes wrong, we can turn it off and we just take it away," Seeley said. "But with gene therapy, there's no way to turn it off. It's unknown what happens, and so it is going to take both some careful thought."
fed
congress
treatment
testing
clinical trials
therapy
european
germany
Trans To Be Banned From Female Hospital Wards In UK
Trans To Be Banned From Female Hospital Wards In UK
Authored by Steve Watson via Summit News,
The UK Health Secretary is to issue a proposal…
Trans To Be Banned From Female Hospital Wards In UK
Authored by Steve Watson via Summit News,
The UK Health Secretary is to issue a proposal to ban trans patients from female hospital wards in the UK, as well as reinstating 'sex specific' language in National Health Service materials, according to reports.
The Daily Mail reports that "Steve Barclay will unveil the plans to push back against 'wokery' in the health service amid concerns that women's rights are being sidelined."
Daily Mail: "Trans women patients 'to be banned from female wards' under plans to be announced by Health Secretary Steve Barclay today"https://t.co/dPU9wbKEZL

— Emily Wilding Davison (@Wommando) October 3, 2023
The proposal would see only people of the same biological sex sharing wards, with care coming from doctors and nurses of the same sex, when it comes to intimate health matters.
"We need a common-sense approach to sex and equality issues in the NHS. That is why I am announcing proposals for clearer rights for patients," Barlcay stated, adding "It is vital that women's voices are heard in the NHS and the privacy, dignity and safety of all patients are protected."
He added "And I can confirm that sex-specific language has now been fully restored to online health advice pages about cervical and ovarian cancer and the menopause."
As we previously highlighted, the word 'women' was removed from such materials and replaced with non-gendered terms to be "more inclusive":
A source close to the Health Secretary told the Telegraph that "The Secretary of State is fed up with this agenda and the damage it's causing, language like "chestfeeding", talking about pregnant "people" rather than women. It exasperates the majority of people, and he is determined to take action."
"He is concerned that women's voices should be heard on healthcare and that too often wokery and ideological dogma is getting in the way of this," the source added.
Related:
*  *  *
Brand new merch now available! Get it at https://www.pjwshop.com/
In the age of mass Silicon Valley censorship It is crucial that we stay in touch. We need you to sign up for our free newsletter here. Support my sponsor – Summit Vitamins – super charge your health and well being.
Also, we urgently need your financial support here.
Tyler Durden
Wed, 10/04/2023 - 05:00
fed
uk