Pandemic, Protests, and Economic Collapse: A Time of Testing for Law Enforcement
Pandemic, Protests, and Economic Collapse: A Time of Testing for Law Enforcement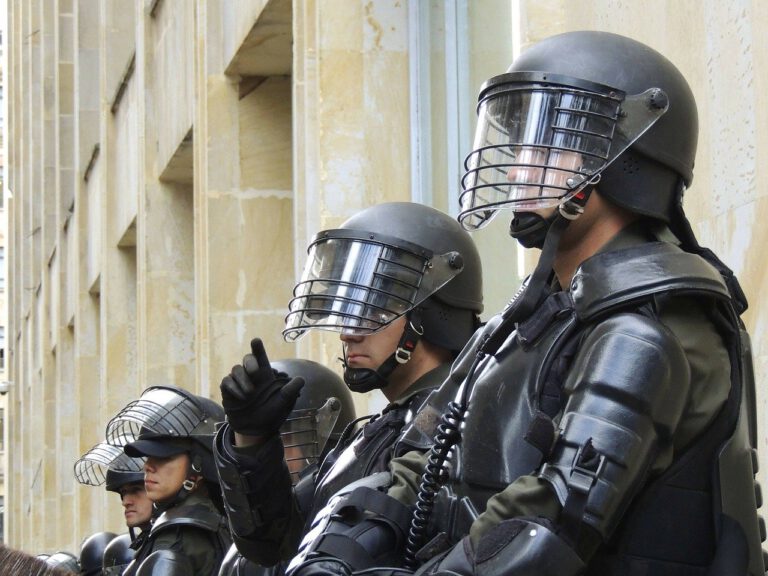 We are currently living through unprecedented times of epic proportions. But can correct courses of action help?
Q2 2020 hedge fund letters, conferences and more
Against the backdrop of a deadly relentless pandemic and its resulting economic and societal collapse, American cities have now been under siege from the backlash of peaceful protests gone horribly wrong. A tipping point was reached as those in the highest positions of authority threatened the use of active duty USA military against its own citizens; in the aftermath of these actions, voices around the country are now calling for the disbanding and restructuring of police forces throughout the USA.
The Most Correct Courses Of Action
These are challenging times for police all over the country. Police are tasked with quelling the rising violence; often put in situations where split second decisions must be made in the heat of the moment: decisions often questioned in the aftermath by administrators and the public with no understanding of the conditions prompting those decisions.
We are now collectively experiencing a severe time of moral testing. We have an opportunity to rise to the challenge with new and better ways of solving our myriad societal flaws. Our challenge is in knowing what the most correct courses of action would be and in having the inner fortitude to carry out those correct courses of action. So — how can we most effectively create positive change during these troubling times of extreme social discord?
When answers elude the mind, those answers can be found within. Each one of us possesses the means to elevate not only our own consciousness but the collective consciousness of our entire country. With greater clarity of mind and a broader perspective, we will then see clearly the most positive courses of action to take in any given situation. Transcendental Meditation (TM) is a proven, effective way to do that.
TM is a non-religious, powerful brain-based technology. Extensive peer-reviewed research shows that is an effective means not only to reduce individual stress but also to effectively and efficiently reduce the high levels of collective stress causing insurmountable societal problems, thereby creating lasting peace. In particular, published scientific research has shown that when even 1% of a given population practices the TM technique, crime rates and other negative social trends drop sharply. And extensive research on the advanced TM-Sidhi program has repeatedly demonstrated that its group practice creates the same measurable transformation in social trends: positive solutions to ongoing problems occur naturally and society shifts from division to unity.
The TM-Sidhi Program
Consider: The TM-Sidhi program was utilized in Washington D.C. over a two-month period in the summer of 1993, where 4000 meditators gathered for an experiment to lower crime. The result, as documented by an independent board of criminologists, was a 24 percent reduction in criminal violence. This profound reduction in social stress also influenced the public approval of the US president, which suddenly changed from a negative trend to a positive trend, as predicted.
If members of police departments were to learn the TM technique they would gain benefits such as increases in calmness, clarity of mind, happiness, creativity, and energy, as proven by hundreds of independent research studies. This evidence-based approach is highly effective for stress-related conditions such as PTSD, brain function, and cardiovascular health. Here is a chart which illustrates the significant improvements in health and discipline experienced by officers and cadets practicing the TM program in the State of Bahia, Brazil. These improvements resulted in improved community relations as measured by a dramatic increase (1,206%) in the number of positive reports received by the Police Department from the citizens of Salvador.
While this approach may seem too simple to be true, sometimes the simplest approach is the most effective. We recommend the following book: An Antidote to Violence: Evaluating the Evidence, by Barry Spivack and Patricia Anne Saunders, which details in depth the extensive supporting scientific research for utilizing TM to dispel violence and to alleviate PTSD.  The current times of pandemic, protest, and economic collapse is the perfect opportunity for us to re-evaluate our approaches to all societal issues, and to evaluate for ourselves the usefulness of TM as a powerful tool for police to use in keeping the peace and also for their own mental health under stressful conditions.
Governments have no time to lose as the very fabric of our society collapses around us; we all need to come up with effective solutions to these issues and the resulting societal discord before is too late.
---
About the Authors:
Arlene J. Schar has served as Dr. Leffler's Executive Assistant at the Center for Advanced Military Science (CAMS) StrongMilitary.org since 2015. She has co-authored and edited many of Dr. Leffler's articles.
Dr. David Leffler served as an Associate of the Proteus Management Group at the Center for Strategic Leadership, US Army War College. Currently, he serves as the Executive Director at CAMS.
The post Pandemic, Protests, and Economic Collapse: A Time of Testing for Law Enforcement appeared first on ValueWalk.
politics
coronavirus pandemic
law enforcement
social protests
army
testing
brazil
russia
Top Stories This Week: Gold Manipulators Go to Court, Silver's Industrial Side in Focus
Catch up and get informed with this week's content highlights from Charlotte McLeod, our editorial director.
The post Top Stories This Week: Gold Manipulators Go to Court, Silver's Industrial Side in Focus appeared first on Investing News Network.
The gold price held above US$1,800 per ounce this week, finishing the period around that level, which is down from last week's July high point of around US$1,830. 
Marc Lichtenfeld of the Oxford Club is one market watcher who's struggling to understand why gold isn't doing better this year. We had the chance to speak this week, and he pointed to money printing, the impact of COVID-19 and inflation as factors that should be pushing gold to record highs.
So far in 2021 those elements have have failed to do the trick, and Marc said he sees a disconnect between the yellow metal's traditional fundamentals and what's happening in the market.
"There just seems to be a disconnect between what are the traditional gold fundamentals and what's happening out in the world … it's really difficult to try to figure out what is happening with gold and why gold isn't at record highs" — Marc Lichtenfeld, the Oxford Club
Of course, some would argue that price manipulation is the reason gold isn't moving, and this week there was more news on that front. Chat logs were released in a spoofing trial for two former precious metals traders from the Bank of America's (NYSE:BAC) Merrill Lynch unit, and they show one of the traders bragging about how easy it is to manipulate the price of gold. The trial isn't over yet, but in its opening arguments that trader's attorney said he stopped spoofing after he found out it was illegal.
Looking over to silver, I heard this week from Collin Plume of Noble Gold Investments, who thinks industrial demand will help push the white metal above the US$40 per ounce mark in the next 12 to 18 months. Silver has struggled to pass US$30 so far this year.
Solar panels are one of silver's key uses, but it's also found in other high-tech applications such as electronics and electric vehicles. Collin isn't aware of any commodities that can replace silver in its end-use markets, and with demand "through the roof," he expects to see shortages of silver by next year.
With silver in mind, we asked our Twitter followers this week if they think its industrial or precious side is driving the most demand right now. By the time the poll closed, about 70 percent of respondents said they think the precious angle is more important.
We'll be asking another question on Twitter next week, so make sure to follow us @INN_Resource or follow me @Charlotte_McL to share your thoughts.
We're going to finish up with the cannabis space, where there was a major announcement last week.
A group of Democratic senators headed by Senate Majority Leader Chuck Schumer introduced a draft of the Cannabis Administration and Opportunity Act, which among other things would remove cannabis from the Controlled Substances Act. The long-awaited bill will need 60 votes to get through the Senate, and opinion is split on whether that will actually happen.
INN's Bryan Mc Govern spoke with Dan Ahrens of AdvisorShares Investments, who thinks it has "no chance of passing," but remains optimistic about prospects for American cannabis companies.
"No one should expect US (cannabis) legalization anytime soon. We should expect reforms; they're not coming as fast as anyone would like to see, but everybody agrees we're going to get some form of banking reform in the near future … we'll see baby steps" — Dan Ahrens, AdvisorShares Investments
Why? In his opinion, these stocks remain undervalued compared to their Canadian counterparts, and are operating well even without federal cannabis approval. Any legalization progress would be a bonus.
Want more YouTube content? Check out our YouTube playlist At Home With INN, which features interviews with experts in the resource space. If there's someone you'd like to see us interview, please send an email to cmcleod@investingnews.com.
And don't forget to follow us @INN_Resource for real-time updates! 
Securities Disclosure: I, Charlotte McLeod, hold no direct investment interest in any company mentioned in this article.
Editorial Disclosure: The Investing News Network does not guarantee the accuracy or thoroughness of the information reported in the interviews it conducts. The opinions expressed in these interviews do not reflect the opinions of the Investing News Network and do not constitute investment advice. All readers are encouraged to perform their own due diligence.
The post Top Stories This Week: Gold Manipulators Go to Court, Silver's Industrial Side in Focus appeared first on Investing News Network.
stocks
covid-19
senate
commodities
gold
Top 5 Rubber Stocks to Buy in 2021
Here are some of the best rubber stocks to buy right now. Increased demand and supply chain disruptions are putting pressure rubber prices.
The post Top 5 Rubber Stocks to Buy in 2021 appeared first on Investment U.
When it comes to investing, all the attention tends to go to healthcare, tech and increasingly renewable energy. But these aren't the only stocks on the block, and some old mainstays can also add value to your portfolio. One of those old, reliable industries is rubber: it always has some level of demand, and that won't likely change anytime soon. But recent economic conditions make rubber even more intriguing than usual. One of the biggest uses of rubber is car tires, and sharp economic recovery is likely to mean a sharp demand for new cars. Hence, we may also see a sharp increase in demand for rubber as many people head to the dealer to buy a new car. There's more to it than just the auto industry, of course.
CNBC reported
that disruptions in the supply chain are also causing major disruptions. And we use rubber for many different essential items, including personal protective equipment and countless other items. With increased demand and supply chain disruptions, rubber stocks are poised for a rise. Here are some of the best rubber stocks to buy:
Goodyear Tire & Rubber (Nasdaq: GT)
Trinseo (NYSE: TSE)
Michelin (OTC: MGDDY)
Carlisle Companies (NYSE: CSL)
Protolabs (NYSE: PRLB)
If you've never invested in rubber stocks before, you might be wondering if they are a good investment. Let's consider that question before looking at each stock more closely. And if you want to see how your investment portfolio might grow, check out our 
free investment calculator
.
Is Rubber a Good Investment?
Rubber can certainly be a good investment because it is nearly ubiquitous; it is used in many different products, including tires, footwear, pharmaceuticals, textiles and many other products. As
Zacks notes
, rubber is among the most profitable industries when it comes to natural resources. But rubber isn't exactly the most innovative product. Perhaps it was decades ago, but these days, it's something most of us are just used to seeing. We don't really demand rubber so much as the products that contain it. Hence, it's only when demand for those products increases that the demand for rubber spikes. And as mentioned earlier, we are at a point right now where many people are looking to buy new cars, and rubber's use in tires could cause a surge in demand. However, these things can be very cyclical. The Zacks page linked above highlights this very well. There, you can see the rubber tires industry has a YTD performance of 42.90% compared to 16.09% for IVV, an S&P 500 fund. But as good as that sounds, the 5-year performance for rubber tires is -33.71% compared to 112.67 for IVV. Given the downside risk, rubber is probably best used as part of a balanced portfolio containing more well-round assets, such as funds like IVV.
Rubber Stocks to Buy Now
If you want to "bounce" your returns upward with rubber stocks, here are some of the best rubber stocks to buy right now. Keep an eye on them as the situation with the auto industry progresses.
Goodyear Tire & Rubber
Goodyear Tire & Rubber is a tire manufacturer that makes tires for a variety of uses. Tires for automobiles are one of the biggest uses of Goodyear tires. However, they are also used on buses, trucks, aircraft, motorcycles, mining equipment, industrial equipment and farm equipment. In addition to the Goodyear name, it also has Dunlop and Kelly tires under its belt. Goodyear has been around since 1898 and was the first global tire manufacturer to enter the Chinese market. It produces a range of tires, rubber products and chemicals across the U.S. and Canada.
Trinseo
Trinseo is a global materials company that manufactures latex, plastics and synthetic rubber. Notably, it produces plastic for Lego. When it comes to rubber, Trinseo produces styrene-butadiene rubber (SSBR). This material is primarily used in high-performance tires. In addition to Legos, its plastic is used in automotive applications, LED lighting and medical devices. Trinseo is growing rapidly, with 17 manufacturing and 11 research facilities worldwide. In addition, it is already seeing healthy revenue increases as it continues to grow. Its website notes Trinseo is "dedicated to making a positive impact on society," and it will support the "sustainability goals of our customers in a wide range of end-markets."
Michelin
Michelin is another name that is big in the tire manufacturing business, and the demand for new cars places it squarely on this list. In addition to the Michelin tire brand, the company also owns BFGoodrich and Uniroyal. BFGoodrich is a premium tire brand for sports cars, offroad vehicles and light trucks. Michelin is the largest tire manufacturer in the US and the second-largest in the world. It has 34 plans in two countries and had over $8 billion of sales in 2020. Its revenue has been increasing, as has its stock price. As the situation with the auto industry evolves, it will be interesting to see how Michelin fares.
Carlisle Companies
Founded in 1917 and based in Scottsdale, Arizona, Carlisle Companies is about more than just rubber. It is more of an umbrella under which there are a number of different operations. Its products and services include healthcare, commercial roofing, aerospace and electronics, lawn and garden, agriculture, energy, mining and construction equipment, and dining. Of course, there are many uses for rubber and plastic across these industries. In 2018, Carlisle Companies released a plan called Vision 2025 in which it detailed how it will continue to grow over the next 100 years.
Protolabs
Protolabs is an intriguing company. It produces low-volume 3D printed, CNC-machining, sheet metal fabrication and injection-molded custom parts. These parts are then used for short-run production and in prototypes. The company describes itself as the "world's fastest digital manufacturing service." It also provides rubber, metal and commercial plastics. Given its business model, it was able to produce several items during the coronavirus pandemic, including face shields, plastic clips and items used in test kits. They were in turn used in Minnesota hospitals, where the company is based.
More Investing Opportunities
The rubber stocks above might produce some big returns for investors. Although, there are many industries and stocks to choose from. So, here are some more investing opportunities and research…
Profit Trends
. It's a free e-letter that's packed with investing tips and tricks. Whether you're new or already an experienced investor, there's something for everyone. The post
Top 5 Rubber Stocks to Buy in 2021
appeared first on
Investment U
.
economic recovery
pandemic
coronavirus
sp 500
nasdaq
stocks
otc
recovery
canada
Biden Says New Cuba Sanctions Are "Just The Beginning" 
Biden Says New Cuba Sanctions Are "Just The Beginning" 
President Biden says the newly announced sanctions against Cuba are "just the beginning" after rare widespread protests took over multiple cities on the communist-run island starting…
Biden Says New Cuba Sanctions Are "Just The Beginning" 
President Biden says the newly announced sanctions against Cuba are "just the beginning" after rare widespread protests took over multiple cities on the communist-run island starting earlier in July. In the Thursday fresh sanctions announcement Biden condemned "the mass detentions and sham trials that are unjustly sentencing to prison those who dared to speak out in an effort to intimidate and threaten the Cuban people into silence," according to a White House statement. 
Specifically these latest sanctions target the defense minister and the National Special Brigade of Cuba's Interior Ministry (on top of broader decades-long US sanctions against the government and economy).
Biden said these two officials in particular are spearheading the crackdown on Cuban protesters. He suggested there's much more to come.
"This is just the beginning — the United States will continue to sanction individuals responsible for oppression of the Cuban people," Biden said.
The administration further said it's working to "restore internet access" in Cuba after widespread shutdowns were reported over this month as Cuban security forces struggle to gain control of the demonstrations, largely driven by an economy in tatters, food and fuel shortages, and severe mismanagement of the pandemic crisis. 
Currently, the US even prohibits remittances, barring Cuban-Americans from sending money to their families, with last year Western Union also shutting down all money-sending services to Cuba after the Trump administration re-imposed sanctions. 
The Biden White House since he took office has vowed to "review" Trump era policies, but so far has kept them in place and now even appears to be ramping up the pressure once again. He again hinted this week that there could be a policy change toward "easing" restrictions. 
Cuba has for its part alleged a foreign hand behind the recent protests, especially following the so-called "Cuban Twitter" initiative of the past decade, which was long ago exposed as part of Washington's covert efforts to stir unrest on the island. 
Tyler Durden
Fri, 07/23/2021 - 20:40
white house
trump
pandemic