Pandemic, Protests, and Economic Collapse: A Time of Testing for Law Enforcement
Pandemic, Protests, and Economic Collapse: A Time of Testing for Law Enforcement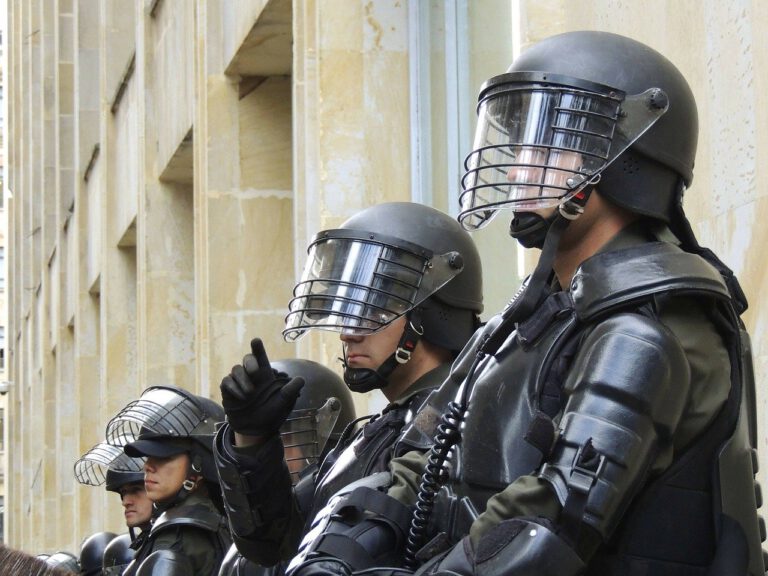 We are currently living through unprecedented times of epic proportions. But can correct courses of action help?
Q2 2020 hedge fund letters, conferences and more
Against the backdrop of a deadly relentless pandemic and its resulting economic and societal collapse, American cities have now been under siege from the backlash of peaceful protests gone horribly wrong. A tipping point was reached as those in the highest positions of authority threatened the use of active duty USA military against its own citizens; in the aftermath of these actions, voices around the country are now calling for the disbanding and restructuring of police forces throughout the USA.
The Most Correct Courses Of Action
These are challenging times for police all over the country. Police are tasked with quelling the rising violence; often put in situations where split second decisions must be made in the heat of the moment: decisions often questioned in the aftermath by administrators and the public with no understanding of the conditions prompting those decisions.
We are now collectively experiencing a severe time of moral testing. We have an opportunity to rise to the challenge with new and better ways of solving our myriad societal flaws. Our challenge is in knowing what the most correct courses of action would be and in having the inner fortitude to carry out those correct courses of action. So — how can we most effectively create positive change during these troubling times of extreme social discord?
When answers elude the mind, those answers can be found within. Each one of us possesses the means to elevate not only our own consciousness but the collective consciousness of our entire country. With greater clarity of mind and a broader perspective, we will then see clearly the most positive courses of action to take in any given situation. Transcendental Meditation (TM) is a proven, effective way to do that.
TM is a non-religious, powerful brain-based technology. Extensive peer-reviewed research shows that is an effective means not only to reduce individual stress but also to effectively and efficiently reduce the high levels of collective stress causing insurmountable societal problems, thereby creating lasting peace. In particular, published scientific research has shown that when even 1% of a given population practices the TM technique, crime rates and other negative social trends drop sharply. And extensive research on the advanced TM-Sidhi program has repeatedly demonstrated that its group practice creates the same measurable transformation in social trends: positive solutions to ongoing problems occur naturally and society shifts from division to unity.
The TM-Sidhi Program
Consider: The TM-Sidhi program was utilized in Washington D.C. over a two-month period in the summer of 1993, where 4000 meditators gathered for an experiment to lower crime. The result, as documented by an independent board of criminologists, was a 24 percent reduction in criminal violence. This profound reduction in social stress also influenced the public approval of the US president, which suddenly changed from a negative trend to a positive trend, as predicted.
If members of police departments were to learn the TM technique they would gain benefits such as increases in calmness, clarity of mind, happiness, creativity, and energy, as proven by hundreds of independent research studies. This evidence-based approach is highly effective for stress-related conditions such as PTSD, brain function, and cardiovascular health. Here is a chart which illustrates the significant improvements in health and discipline experienced by officers and cadets practicing the TM program in the State of Bahia, Brazil. These improvements resulted in improved community relations as measured by a dramatic increase (1,206%) in the number of positive reports received by the Police Department from the citizens of Salvador.
While this approach may seem too simple to be true, sometimes the simplest approach is the most effective. We recommend the following book: An Antidote to Violence: Evaluating the Evidence, by Barry Spivack and Patricia Anne Saunders, which details in depth the extensive supporting scientific research for utilizing TM to dispel violence and to alleviate PTSD.  The current times of pandemic, protest, and economic collapse is the perfect opportunity for us to re-evaluate our approaches to all societal issues, and to evaluate for ourselves the usefulness of TM as a powerful tool for police to use in keeping the peace and also for their own mental health under stressful conditions.
Governments have no time to lose as the very fabric of our society collapses around us; we all need to come up with effective solutions to these issues and the resulting societal discord before is too late.
---
About the Authors:
Arlene J. Schar has served as Dr. Leffler's Executive Assistant at the Center for Advanced Military Science (CAMS) StrongMilitary.org since 2015. She has co-authored and edited many of Dr. Leffler's articles.
Dr. David Leffler served as an Associate of the Proteus Management Group at the Center for Strategic Leadership, US Army War College. Currently, he serves as the Executive Director at CAMS.
The post Pandemic, Protests, and Economic Collapse: A Time of Testing for Law Enforcement appeared first on ValueWalk.
politics
coronavirus pandemic
law enforcement
social protests
army
testing
brazil
russia
FTSE 100 gains as commodity-linked stocks bounce back
The commodity-heavy FTSE 100 gained 0.4%, while mid-cap FTSE 250 index inched up 0.3% UK's FTSE 100 gained on Monday, as an easing of COVID-19 restrictions…
The commodity-heavy FTSE 100 gained 0.4%, while mid-cap FTSE 250 index inched up 0.3%
UK's FTSE 100 gained on Monday, as an easing of COVID-19 restrictions in China brought relief to commodity prices, lifting shares of major oil and mining companies.
As of 0704 GMT, the commodity-heavy FTSE 100 gained 0.4%, while mid-cap FTSE 250 index inched up 0.3%.
The risk sentiment improved after a Wall Street rally late last week and a rebound in copper and iron ore prices on Monday, boosted by an easing COVID-19 restrictions in Shanghai and relaxed testing mandates in several Chinese cities.
The burst of global enthusiasm for equities has put a spring in the step of the FTSE 100 at the start of the week, Hargreaves Lansdown analyst Susannah Streeter said.
Mining stocks led gains on the FTSE 100 index, with Anglo American, Rio Tinto and Glencore rising more than 3%, after Group of Seven leaders pledged to raise $600 billion private and public funds in five years to finance needed infrastructure in developing countries.
It is hoped this scheme, seen as a counter to China's Belt and Road Initiative, will set off a spurt of spending and demand for commodities around the world, Streeter added.
Among individual stocks, CareTech surged 20.8% after the UK-based provider of care and residential services agreed to be acquired by a consortium led by Sheikh Hoidings in an 870.3 million pounds ($1.07 billion) deal.
Carnival Corp jumped 5.6%, extending its Friday gains after the leisure travel company forecast a positive core profit for the current quarter despite surging costs.
London-listed shares of Rio Tinto added 2% after a U.S appeals court ruled that the federal government may give the UK copper miner a right to lands in Arizona.
BAE Systems inched up 0.4% after the defence company received a $12 billion contract from the U.S Department of Defence.
The post
FTSE 100 gains as commodity-linked stocks bounce back
first appeared on
Trading and Investment News
.
ftse
equities
stocks
covid-19
testing
commodities
oil
uk
china
The Depopulation Of Taiwan
The Depopulation Of Taiwan
Authored by Igor Chudov via Igor's Newsletter,
This is a continuation of my post from yesterday about a massive…
The Depopulation Of Taiwan
Authored by Igor Chudov via Igor's Newsletter,
This is a continuation of my post from yesterday about a massive 13% decline in births in Germany. Such a decline is a nine-sigma event, meaning that it is so unlikely to occur by chance, that it would naturally happen as rarely as an asteroid striking the Earth.
My article explored several more locales (UK, North Dakota, and Switzerland).
But no other place stands out as much as Taiwan does.
23% Drop in Birth Rate in Taiwan
According to a Taiwan government report, the birth rate dropped by 23.24% in May 2022, compared to May 2021.
I inputted historical birth rate data from Macrotrends for the years 2009-2021, and added the year 2022 as year 2021 adjusted down by 23.24%. Obviously, 2022 is not over and the number of Taiwanese babies to be born this year (or during the next 12 months) is unknown. So the chart below is an illustration of what would happen in the next 12 months if the 23.24% drop stays constant.
When expressed in "sigmas", units of standard deviation, the 23.24% drop in the birth rate in Taiwan is a 26-sigma event!
This is can be described as "unimaginable" in terms of the likelihood of happening due to random chance.
The Wolfram-Alpha illustration of likelihood by sigma only goes to ten-sigma. They thought that it would be pointless to show more sigmas. Except a 26-sigma drop in birth rate just happened in Taiwan.
What Happened In Taiwan?
Health experts are quick to blame Covid for all sorts of health problems afflicting those they advised to vaccinate. It is not the vaccine, they say, it is Covid. We tried to protect you with the vaccine, they would always insist. But you got Covid anyway, thanks to the evil antivaxxers, and your problems are due to Covid — that's their explanation.
We know for certain, though, that the drop in birth rate in Taiwan is NOT due to Covid. Yes, Taiwan is suffering from a terrible COVID pandemic right now (despite being 91% vaccinated), however, Covid in Taiwan only started around April 21 of 2022, and could not impact May birth rates much.
To see what could cause the extreme drop in births, go back 9 months from May 2022, so to September 2021.
Taiwan was a poster child for successful vaccination. 91% of all Taiwanese residents received a vaccine dose. By October 1, 2021, 56% of ALL people of Taiwan received Covid vaccines.
They got a fairly usual mix of "safe and effective" AstraZeneca, Moderna, and Pfizer vaccines.
People of Taiwan got their shots, felt assured that Covid-19 stops with every vaccinated person, and moved on with their lives.
I doubt that the people of Taiwan noticed anything at the end of September. They knew for sure that their vaccines were safe and effective and would not affect their sperm or pregnancies. So they proceeded with family plans just as before, trying to make babies on purpose, or partying and having fun and getting pregnant accidentally, just as people do elsewhere.
Except for 9 months later, they only gave birth to 77% of the number of babies expected.
I hope that the people of Taiwan will start asking their authorities: what is happening to us?
A Glimmer of Hope
If you are like me, and you like babies, children, and grandchildren, you are probably upset by now and are wondering what will happen to all of us. Let me mention a possibility that, although unlikely in my opinion, may make this drop in birth rates temporary.
Covid vaccines are known to "disrupt the menstrual cycle" and lower sperm counts. It is possible that some women, for a period of several months, could not conceive and become pregnant due to these disruptions. Because all Taiwanese women were vaccinated at almost the same time, those disruptions created a precipitous drop in birth rates.
My hope, as someone who likes people, is that this will turn out to be the case. However, in my opinion, we will likely see the opposite, and reductions in birth rates will be permanent. Why? Because vaccinating young people was a crime. It was not a mistake. Let me not explain why, in this article.
Crimes like this are NOT perpetrated to achieve a two-month drop in birth rates. Criminals of such nature who gave young people shots that they did not need, for sinister reasons, go for the jugular. Of course, not all people participating in vaccination campaigns were having such sinister intentions. But it is possible that some persons on top had criminal motives that they did not disclose.
Again, I hope that the preceding paragraph will turn out to be unfounded. I was, and am, against any of that happening, do not support anything that is happening in Taiwan, and I am very worried.
Time will tell.
They Told Us it is Safe
This fact check from Dec 5, 2020 says that the vaccine is definitely safe for pregnancy "because there is no evidence that it is unsafe". No trial specifically for pregnancy and fertility was conducted. They just lied to us that it is safe — but had no way of knowing.
Tyler Durden
Mon, 06/27/2022 - 23:15
vaccine
pandemic
covid-19
uk
germany
'A Dire Warning For Democrats': Over 1 Million Voters Switch To GOP Over The Last Year
'A Dire Warning For Democrats': Over 1 Million Voters Switch To GOP Over The Last Year
The Republican Party has been picking up support over…
'A Dire Warning For Democrats': Over 1 Million Voters Switch To GOP Over The Last Year
The Republican Party has been picking up support over the past year, as more than 1 million voters across 43 states switched to the GOP, according to voter registration data analyzed by the Associated Press.
More than 1 million voters across 43 states have switched to the Republican Party over the last year, according to voter registration data analyzed by The Associated Press. The previously unreported number reflects a phenomenon that is playing out in virtually every region of the country — Democratic and Republican states along with cities and small towns — in the period since President Joe Biden replaced former President Donald Trump. -AP
Democrats, meanwhile, picked up just 630,000 new voters in the analysis of 1.7 million voters who had switched affiliations over the last 12 months. The data, which was provided by political data firm L2, used a combination of state voter records and statistical modeling.
"While party switching is not uncommon, the data shows a definite reversal from the period while Trump was in office, when Democrats enjoyed a slight edge in the number of party switchers nationwide," reads the report.
The data points to a red wave brewing ahead of this fall's midterms, according to Axios.
The most damaging aspect of this shift to Democrats? The suburbs.
According to the report, 'well-educated swing voters who turned against Trump's Republican Party in recent years appear to be swinging back."
Over the last year, far more people are switching to the GOP across suburban counties from Denver to Atlanta and Pittsburgh and Cleveland. Republicans also gained ground in counties around medium-size cities such as Harrisburg, Pennsylvania; Raleigh, North Carolina; Augusta, Georgia; and Des Moines, Iowa. -AP
More notables about the report via Axios:
The party switches were evident across the board — in red states and blue states, cities and small towns and suburban areas, AP found.
Of the nearly 1.7 million voters who changed parties in states with available data over the last year, some two-thirds went to the GOP.
"Biden and Democrats are woefully out of touch with the American people, and that's why voters are flocking to the Republican Party in droves," RNC chair Ronna McDaniel told the AP.

Between the lines: One outlier was in Virginia, where Democrats saw an uptick in registered voters.
"It's more so a rejection of the left than embracing the right," according to 37-year-old Ben Smith of Larimer County, Colorado, who says he reluctantly left the Democratic party over the last year after becoming concerned about his former party's push for mandatory COVID-19 vaccines, as well as the party's inability to tame crime while focusing on racial justice.
AP called it a "dire warning for Democrats" who are already dealing with the macro effects of the economy reflecting in the polls this fall during midterms.
What's to blame?
According to the report, suburban parents grew 'increasingly frustrated' over the prolonged pandemic-related school closures, while the RNC began hosting voter registration events at gas stations in suburban locations within swing states, such as Arizona, Michigan, Nevada and Pennsylvania.
"Biden and Democrats are woefully out of touch with the American people, and that's why voters are flocking to the Republican Party in droves," said RNC Chair Ronna McDaniel. "American suburbs will trend red for cycles to come" thanks to "Biden's gas hike, the open border crisis, baby formula shortage and rising crime."
Over the last year, nearly every state — even those without high-profile Republican primaries — moved in the same direction as voters by the thousand became Republicans. Only Virginia, which held off-year elections in 2021, saw Democrats notably trending up over the last year. But even there, Democrats were wiped out in last fall's statewide elections.

In Iowa, Democrats used to hold the advantage in party changers by a 2-to-1 margin. That's flipped over the last year, with Republicans ahead by a similar amount. The same dramatic shift is playing out in Ohio.

In Florida, Republicans captured 58 percent of party switchers during those last years of the Trump era. Now, over the last year, they command 70 percent. And in Pennsylvania, the Republicans went from 58 to 63 percent of party changers. -AP
To understand more about why disaffected Democrats have left their party (aside from the overwhelming obvious), click here.
Tyler Durden
Mon, 06/27/2022 - 21:35
trump
pandemic
covid-19