Obesity strategy: policies placing responsibility on individuals don't work – so why does the government keep using them?
Obesity strategy: policies placing responsibility on individuals don't work – so why does the government keep using them?
The government has recently announced a strategy aimed at reducing obesity in the UK. It will introduce a ban on unhealthy food advertisements on TV before a certain hour, end "buy one, get one free" junk food deals, and create more comprehensive calorie contents on food and drinks.
The government has also launched the Better Health campaign, to motivate overweight and obese people to lose weight. The programme offers tools and support from NHS weight management services, including a Better Health 12-week weight loss plan app.
While some of the proposed strategies are long overdue – such as bans on junk food advertisements – most of these initiatives still place emphasis on getting people to change their eating and lifestyle habits. Not only does this type of strategy ignore the many drivers of obesity, such initiatives have also been proven ineffective time and again.
Individual responsibility
For decades now, health promotion policies targeting non-communicable diseases have focused on getting people to change their lifestyles. The rationale is that these diseases (such as diabetes and heart disease) are mostly due to modifiable factors – such as poor diet, smoking, consuming alcohol and not moving enough.
These campaigns aim to give people the information needed to change their behaviour. So-called "nudges" are also used to promote lifestyle change. Examples include greater visibility of healthy food in supermarkets and encouraging people to take the stairs where possible.
---
Read more: Four reasons the UK government's obesity strategy may not work for everyone
---
However, a growing body of research shows these types of health policies don't work. This is because such policies place responsibility on the person, ignoring the other drivers of obesity. Social inequity, the influence of food and beverage industries, and specific aspects of globalisation (including trade liberalisation) are all known causes of obesity.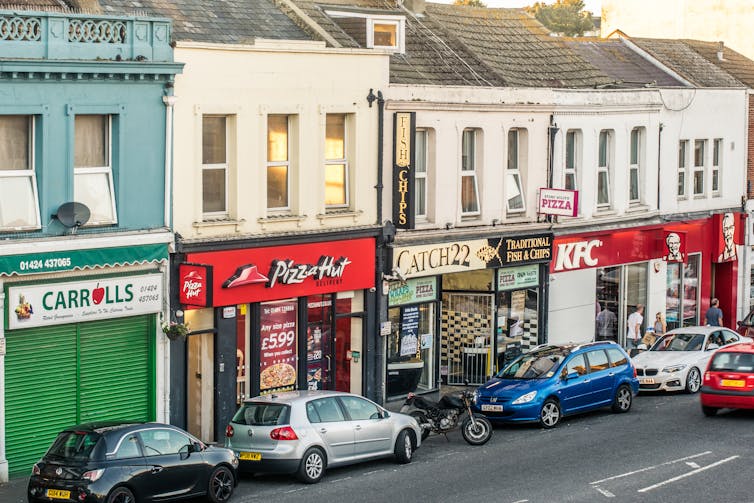 Policies focused on changing behaviour end up blaming people for factors which are often entirely out of their control. What's even more worrying in the current context is the government's emphasis on obesity as a reason for the UK's number of coronavirus deaths. While there's undoubtedly a link between obesity and COVID-19, the government's obesity strategy is effectively shifting the blame from the government's response onto people living with obesity.
Health policymakers increasingly acknowledge that many factors outside a person's control contribute to health inequalities. However, the health policies designed time and again still tend to promote lifestyle interventions as a solution.
Research shows that obesity disproportionately affects people from poorer backgrounds. Yet instead of seeking to change the causes of these inequalities, policy responses continue to promote lifestyle changes, only more strongly targeted at poorer populations. This stigmatises poorer population subgroups instead of offering real solutions. And it fails to take into account issues of access and affordability of healthy lifestyles that people from low-income communities often face.
Corporate involvement
One reason the government continues to design policies that place responsibility on individuals is because of the growing involvement of food and drink manufacturers in policymaking. This is because the food and drink industry is still considered an important partner in the fight against diet-related diseases – despite obvious conflicts of interest.
The idea that everyone can work together towards a common good, reflects a governance style that became popular over the last decades in the US and Europe. It promotes the creation of partnerships and the inclusion of industry at all stages of policymaking. This is done through impact assessments and consultations.
Blurring the boundaries between the private and public sector is problematic for public health. Processed food and soft drink industries have an interest in keeping health promotion policies focused on individual behaviour. Doing so, they avoid regulation and can protect their bottom line. In addition, they can engage in corporate social responsibility activities to promote healthy behaviours. This makes them look good, even though their products are the cause of the problem.
Although advertising bans go against industry interest, the commercial determinants of health are much more deeply ingrained than the obesity strategy currently recognises. If governments continue to embed industry lobbying in health promotion policies, they are likely to remain limited to individual responsibility.
Meaningful change will require a rethinking of policymaking processes to prioritise public health over private interests. It will also require more explicit engagement with the economic and political drivers of obesity when making future policies.
Charlotte Godziewski does not work for, consult, own shares in or receive funding from any company or organisation that would benefit from this article, and has disclosed no relevant affiliations beyond their academic appointment.
link
deaths
africa
europe
uk
New Zealand Ousts Leftist Lockdown Loons After Conservative Wins Election
New Zealand Ousts Leftist Lockdown Loons After Conservative Wins Election
Voters in New Zealand on Saturday ousted the party once led by Jacinda…
New Zealand Ousts Leftist Lockdown Loons After Conservative Wins Election
Voters in New Zealand on Saturday ousted the party once led by Jacinda Ardern, and have instead elected the country's most conservative government in decades.
Turns out forcing your citizens to take vaccines, decreeing state news the only 'truth,' and locking up peaceful protesters opposed pandemic authoritarianism did not go over well.
On Saturday, conservative Christopher Luxon was elected New Zealand's next prime minister. While the exact makeup of Luxon's government has yet to be determined, his center-right National party looks set to form a coalition government with one or two minor parties.
The National Party will likely combine its indicated 50 seats with the ACT party (11 seats), to give them 61 seats, providing a slim majority in the 121-seat New Zealand parliament. As Goldman notes, the results are largely in line with pre-election polling, with the incumbent Labour party on track to lose their outright majority in parliament for the first time since 2017.
"You have reached for hope and you have voted for change," Luxon told supporters to rapturous applause at an event in Auckland, alongside his wife Amanda and their children.
Outgoing Prime Mininster Chris Hipkins, who's held the job for nine months following the abrupt resignation of Jacinda Ardern, told supporters late Saturday that he'd called Luxon to concede.
Hipkins said that while the result wasn't his desired outcome, "I want you to be proud of what we achieved over the last six years," he told supporters in Wellington.
On the economic front, Goldman notes that Luxon's party has vowed to reduce effective tax rates on incomes and investment parties. And while National has pledged to offset the fiscal impact of tax cuts with savings elsewhere, Goldman sees the risks as "skewed to more stimulatory fiscal policy in 2024" vs New Zealand's current fiscal projections.
The proposed tax cuts and new spending amounts to around 0.8% of annual GDP, which would boost household disposable income by around 1.5% and also provide a tailwind to house prices in 2024. While National has pledged to offset the new spending and lower taxes with a reduction in spending and new taxes, overall we view the risks as skewed to more fiscal stimulus (compared to the current fiscal projections) and additional rate hikes from the RBNZ (GSe: base case on hold at 5.5%).
Luxon has also addressed crime in New Zealand, telling supporters that it's "out of control," adding "And we are going to restore law and order, and we are going to restore personal responsibility."
He's also vowed to fix the capital's traffic woes with a new tunnel project.
Tyler Durden
Sun, 10/15/2023 - 14:00
stimulus
lockdown
pandemic
gdp
"We Can't Force The Human Body To Accept Foreign Genetic Code" Dr. McCullough On mRNA Technology
"We Can't Force The Human Body To Accept Foreign Genetic Code" Dr. McCullough On mRNA Technology
Authored by Naveen Athrappully via The Epoch…
"We Can't Force The Human Body To Accept Foreign Genetic Code'' Dr. McCullough On mRNA Technology
Authored by Naveen Athrappully via The Epoch Times (emphasis ours),
Cardiologist Dr. Peter McCullough warned that messenger RNA (mRNA) vaccines inject "foreign genetic code" into human beings, which the body fails to break down or expel for a prolonged period of time.
Research on mRNA "has been going on for decades," Dr. McCullough said during an Oct. 5 interview. The 2023 Nobel Prize for medicine was awarded to two scientists for making "messenger RNA long-lasting in the human body," he said. "I mean, it has been tested in multiple applications … It's an absolute bust. It was just the worst idea ever to install the genetic code for a lethal protein without being able to shut it off. It wasn't the fact that it was rushed; it's just ill-conceived from the very beginning."
"We can't force the human body to accept foreign genetic code and produce a foreign protein … Messenger RNA for vaccines is a completely failed concept. It's a dangerous concept, and the U.S. government wasn't honest. They should have been honest. Trump should have come out and said, 'Listen, it's on our website; our military's been working on this since 2012.'"
During a testimony at the European Parliament last month, Dr. McCullough said, "There's not a single study showing that the messenger RNA is broken down" in the human body once it is injected.
"There's not a study showing it leaves the body." Since the vaccines are "made synthetically, they cannot be broken down."
He added that the lethal protein from the [COVID-19] vaccines found in the human body after vaccination was found to be circulating "at least for six months, if not longer."
In the case of seasonal jabs, that is, taking an injection or booster at the end of six months as recommended by the authorities, "there's another installation in more circulating potentially lethal protein."
Scientist Drew Weissman, who won the 2023 Nobel Prize in Medicine for his role in developing mRNA technology, warned in a 2018 paper that not only did clinical trials of mRNA vaccines produce "more modest [results] in humans than was expected based on animal models," but that the "side effects were not trivial."
Dr. Mccullough's comments come as the Gates Foundation is spending $40 million on countries in Africa and other economically backward nations to produce new mRNA vaccines in efforts to prevent diseases like tuberculosis and malaria.
Concealing a 'Global Security Threat'
In the Steve Deace interview, Dr. McCullough said that the ineffectiveness of the technology was not unknown to the government since they've been testing it for nearly 40 years.
He referred to a February 2023 paper published in the British Medical Journal (BMJ), which cited that the U.S. government has been investing billions of dollars in developing messenger RNA technology since 1985.
The Defense Advanced Research Projects Agency (DARPA) began investing in mRNA tech in 2011. DARPA then launched the Pandemic Prevention Platform (P3) program in 2016 that sought to produce "relevant numbers of doses" against infections within 60 days of identifying them.
The ADEPT P3 was a program by the U.S. military "to end pandemics in 60 days." There is no other technology "that our government has invested more in," Dr. McCullough said.
Dr. McCullough cited another paper that stated there were "over 9,000 patents on messenger RNA. And all the patent assignees are big entities. At the top is Sanofi, then Cervavac, BioNTech, Moderna, and the U.S. government. No single person invented messenger RNA. Someone who comes up in 2021 and says, 'You know I invented it'. That's impossible. This has been going on for decades."
Dr. McCullough pointed out that the United States and China have been in "collaboration for years" in their research on infectious and lethal coronavirus.
However, officials like Anthony Fauci, the former head of the National Institutes of Allergy and Infectious Diseases (NIAID), Francis Collins, the former head of the National Institutes of Health (NIH), and "a whole cadre of scientists, they collaborated to conceal this global security threat."
"They actually intentionally lied to the world and said the virus came out of nature. They knew it came out of the Wuhan lab," he said, citing a research paper by Ralph Baric and Dr. Zhengli-Li Shi that was published in the Nature journal in 2015.
Dr. Zhengli-Li Shi is affiliated with the Wuhan Institute of Virology, while Mr. Baric is from the Department of Epidemiology, University of North Carolina at Chapel Hill.
"They said they created SARS-CoV-2 virus. They called it the Wuhan Institute of Virology 1 virus. That was the prototype SARS-CoV-2. So, that's in 2015. Instead of bringing Ralph Baric out [and asking] 'Dr. Baric, how do we get ourselves out of this disaster,' you masterminded this virus funded by the US."
'Pull All COVID-19 Vaccines Off the Market'
In his interview, Dr. McCullough made three recommendations. "I say number one, I've called in the US Senate [and] now the European Parliament [to] pull all COVID-19 vaccines off the market before anyone else is harmed."
"Number two, US, EU and all westernized Nations [should] pull out of the WHO. They're not trustable. And number three, I'm following the World Council for Health. I am recommending a halt on all childhood vaccines, the entire vaccine schedule until this is clarified since messenger RNA is now on the schedule without any concerns for safety.
While some studies related to the safety of COVID-19 vaccines have shown the jabs to be safe, others have raised concerns about the safety of the shots.
A December 2022 study analyzed trials comparing vaccine recipients with individuals who did not receive a vaccine or were given a placebo.
It concluded that "compared to placebo, most vaccines reduce, or likely reduce, the proportion of participants with confirmed symptomatic COVID-19, and for some, there is high-certainty evidence that they reduce severe or critical disease."
However, a June 2022 study that looked at mRNA vaccinations found that "Pfizer and Moderna mRNA COVID-19 vaccines were associated with an increased risk of serious adverse events of special interest (AESI)."
"The excess risk of serious adverse events of special interest surpassed the risk reduction for COVID-19 hospitalization relative to the placebo group in both Pfizer and Moderna trials."
'Shedding' the Infection
During the interview, Mr. Deace asked about hearing issues that he and his colleague suffered and whether they had any ties with the vaccines. While he did not take a COVID-19 shot, the colleague was vaccinated. Mr. Deace asked if this was "further proof that basically the last few years Peter everybody was a lab rat whether you took the vaccine or not."
"It's true, nearly all of us have been exposed to the Wuhan spike protein," Dr. McCullough replied. "When I see patients in the office, we check antibodies against the spike protein. Invariably, they're elevated. Rarely, I'll find somebody who hasn't been exposed."
Dr. McCullough pointed out that there are "clear-cut papers" showing individuals suffering hearing loss after taking COVID-19 jabs. "It's all related to the spike protein," he said. mRNA vaccines work by instructing cells in the body to produce the spike protein found on the surface of the COVID-19 virus.
Once vaccinated, an individual's muscle cells begin producing spike protein pieces, displaying them on cell surfaces, which end up triggering the immune system to create antibodies. When such an individual gets infected with the COVID-19 virus, these antibodies will then fight the virus.
Dr. McCullough warned that even people who have not received mRNA COVID-19 vaccines can eventually get affected by messenger RNA through a vaccinated individual via "shedding."
"Shedding means that one has been exposed to the spike protein or to the messenger RNA from close contact with another individual. We know both of them can travel via exosomes which are small phospholipid packets that can be exhaled [via] breath, through sweat, [and] various forms of body fluid, typically you know very close contact."
"There was a big project called the Eva project in the UK showing 78 percent of women who take a vaccine—they actually have menstrual abnormalities. And those who even didn't take a vaccine, they end up having menstrual abnormalities. There's been plenty of these reports that have occurred."
Dr. McCullough cited an interview he did with scientist Helene Banoun, an expert on shedding, who believes such things "clearly happens, for sure, in people who've taken the vaccine within 30 days, close contact."
"Now, two studies—one in the United States, one in Japan—[show] the messenger RNA comes through breast milk. The spike protein may be shedded potentially for a much longer duration of time. It's been shown in the human body now for months, maybe even years afterward. And that's the rationale for what our recent proposal to actually undergo spike protein detoxification."
The cardiologist pointed out that "every signal" related to cardiovascular disease, neurologic disease, blood clots, immune disease, and cancer "is up."
"There can be debates on why all these chronic diseases are up, all-cause mortality up in every single area of the world," he said. "The two big exposures we've had are COVID-19 infection and now COVID-19 vaccines, and I think both mechanisms have led to this wave of disease."
"I think more powerfully with the vaccines since the vaccines are largely genetic, they're given every six months, and they install the genetic code for the disease-promoting and lethal Wuhan spike protein."
Tyler Durden
Sat, 10/14/2023 - 22:10
senate
fauci
trump
vaccine
testing
clinical trials
genetic
antibodies
rna
mortality
pandemic
coronavirus
covid-19
africa
japan
wuhan
european
uk
eu
china
Rent Control Is A Disaster – Don't Let It Spread Across The Nation
Rent Control Is A Disaster – Don't Let It Spread Across The Nation
Authored by Betsy McCaughey via The Epoch Times,
America's renters -…
Rent Control Is A Disaster - Don't Let It Spread Across The Nation
Authored by Betsy McCaughey via The Epoch Times,
America's renters - more than one-third of the nation's households - are in for trouble.
Left-wing politicians are demanding rent regulation from coast to coast. Wherever it is adopted, the result will be a disastrous reduction in the rental housing supply, leaving renters desperate for places to live.
New York is the poster child for the failures of rent regulation. The U.S. Supreme Court is currently mulling a challenge to the constitutionality of the city's rent regime.
Whatever the justices decide, the public needs to consider less destructive, more targeted ways to help low-income people pay for housing. The court of public opinion needs to consider these facts.
Fact No. 1: Rent regulation isn't targeted to the poor.
In New York, there's no means test. What you need is luck or connections. The mean income of a rent-stabilized apartment dweller is $47,000, but census data show that tens of thousands of them earn more than $150,000 per year. Some occupants use what they're saving on rent to pay for a weekend place in the Hamptons or New England.
The pols don't object—a sure sign they're calling for rent regulation to help themselves politically, not the poor.
In New York, 44 percent of rental apartments are regulated by the Rent Guidelines Board (RGB), established in 1969, which sets the maximum amount by which landlords are allowed to raise the rent. Those limits apply to all buildings of six or more units built before 1974.
In 2022, the RGB set the maximum rent hike at 3.25 percent on one-year leases and this year at 3 percent. Never mind that last year, fuel costs to heat the buildings soared by 19 percent and overall inflation hit 8.3 percent.
The decisions are political, not economic. Many Democratic politicians vilify building owners as "greedy landlords" and depict themselves as the champions of the downtrodden. It's a scam.
Fact No. 2: Winners and losers.
The winners are the lucky few with rent-regulated apartments and the pols who count on an army of tenant activists to turn out at the polls. The losers are the 56 percent of renters who don't score a regulated apartment and have to scour neighborhoods for an unregulated place that they can afford. They're paying more.
Why? Because regulation causes some landlords to walk away, reducing the overall supply of apartments. The laws of supply and demand mean rents go up. New Yorkers in unregulated apartments are paying the highest rents in the United States for a one-bedroom apartment. They're the real victims, and they should be furious.
Yet the left-wing press pretends that rent control offers only benefits. The New Republic warns that the Supreme Court challenge threatens "laws that have benefitted the city's tenants for generations." Sorry, untrue—only some tenants, and not always the neediest.
It's economic madness. The saner way to help those who need assistance paying rent is with a voucher. We offer the needy SNAP debit cards to help them pay for groceries. No one slaps price controls on grocery stores or designates certain stores as "regulated," forcing them to sell at below cost.
Yet New York forces certain landlords to pay what should be a public cost shared by all, an argument made to the court.
Fact No. 3: The Marxist fantasy that rent regulation will help the poor is spreading across the United States and Europe as well.
Maine and Minnesota have enacted laws allowing municipalities to impose rent regulations. In November 2024, California voters will be asked to approve a proposition allowing local governments to add additional restrictions to the state's existing rent caps.
The laws of supply and demand are international. Berlin froze rents in 2019, and the rental supply plummeted, according to the Ifo Institute, a think tank.
Yet London Mayor Sadiq Khan is calling for freezing rents for two years. London provides housing vouchers to the poor—a smarter approach—but when the city froze the voucher amounts during the COVID-19 pandemic, fewer apartments were available in the price range. The answer is to raise the voucher amount. Freezing rents will only make the shortage worse.
Ignore the demagogues. The evidence is in: Rent regulation is a political scam. There are better ways to help Americans afford a place to live.
Tyler Durden
Sat, 10/14/2023 - 16:20
army
spread
pandemic
covid-19
europe