New COVID variants could emerge from animals or from people with chronic infections – but it's not cause for panic
Animal reservoirs and people who experience chronic COVID infections could potentially see the emergence of new variants. But these variants aren't necessarily…
As the COVID pandemic rolls on, we're becoming all too familiar with the continued emergence of new variants. Some can thwart immunity from vaccines and prior infections, increasing their capacity to disrupt our everyday lives. But where do new variants actually come from?
Variants develop through changes in the genetic code of the virus. This happens most commonly through mutations, essentially copy errors in the virus' genetic information. Variants of concern are variants that have been identified to have a significant impact on transmissibility, severity of disease or immunity, likely to change the epidemiological situation of the pandemic.
Each time we're infected with SARS-CoV-2 (the virus that causes COVID), our bodies produce a large number of virus particles with a range of genetic differences to the original infecting virus and to each other. Many of these mutations will have no effect on the virus.
Occasionally, however, mutations will occur that give the virus an advantage. For example, delta was more transmissible than earlier variants because of a mutation in its spike protein (a protein on the surface of SARS-CoV-2) allowing the virus to infect our cells more easily.
Even though we know a lot about how mutation occurs, it's incredibly difficult to pinpoint where specific variants came from. But recent studies have investigated potential sources of new SARS-CoV-2 variants, including people who experience chronic COVID infections and animals.
Chronic infections
A chronic infection is where a person is actively infected with SARS-CoV-2 for a long period of time. This is different to long COVID, where symptoms persist well after the patient has recovered from the initial infection.
Chronic cases are rare and, to date, all documented cases have been in people with severely suppressed immune systems. These might be people undergoing treatment for cancer or following an organ transplant, for example.
Several studies have shown that the rate of mutation in these patients is higher than in those who are infected for a shorter time. Immunocompromised patients have a reduced immune response to infection and are often undergoing a range of treatments, both factors which are thought to allow a broader variety of mutations to develop. This is compounded by the longer period of time for which they may be infected.
---
Read more: Coronaviruses – a brief history
---
While new COVID variants do appear more likely to form in patients with chronic infections, the good news is they don't seem to pose a significant threat.
In a recent study that looked at 27 chronically infected patients, there was no clear pattern of mutations. And when comparing mutations identified in the chronic patients with existing variants of concern, the chronic infections often lacked key mutations repeatedly identified in the variants of concern.
The researchers suggest the the majority of variants arising from chronically infected patients enhance virus replication, but are not characterised by improved transmission. This means they're good at replicating in an infected person, but not as good at spreading from person to person.
The study demonstrated that there was no evidence of onward transmission from the patients with chronic infections to other people, which would be essential for a new variant to take hold and become a variant of concern. Although the authors note this may be due to human behaviour, rather than virus evolution, as immunosuppressed patients are likely to be confined to their homes.
That said, most variants of concern possess mutations that enhance transmission rather than replication, so it seems unlikely that these patients are significant sources of variants of concern.
Animal reservoirs
SARS-CoV-2 is likely to have been originally transmitted to humans via an animal market in China, and throughout the pandemic, we've learned that the virus can infect a variety of animals.
So another suggestion is that animals could be the source of new SARS-CoV-2 variants. The idea is they contract the virus from humans, which then mutates during infection in the animal host, before spreading back to humans.
A species jump (or "zoonosis") can only occur when multiple factors align. These include virological factors (for example, mutations that allow infection of human cells) and environmental factors (for example, close contact with infected animals). Zoonosis is not common, but is becoming more regular due to climate change and deforestation, which put more animals in contact with humans.
One study analysed the genetic code of omicron and showed high levels of similarity in the spike protein with that of mouse coronaviruses. The authors suggest the omicron variant may have occurred as a result of a human-to-mouse infection, mutation in the infected mouse, followed by transmission back to humans.
But often, when a virus infects a new host, such as a human, it's unable to be transmitted further to other humans. The virus has to quickly adapt to allow it to thrive in the new host and go on to infect others. Indeed, where animal-to-human transmission of COVID occurred on Dutch mink farms, while we did see the virus mutate, there was no evidence of further transmission from the farm workers into the wider community.
Similarly, we've observed many instances of people infected with bird flu through prolonged close contact with birds. But there have been very few events of further transmission to other humans.
So although new variants may form in animals occasionally, it seems unlikely that they're being re-transmitted back to humans and spreading.
---
Read more: Human catches COVID from a cat – here's why this new evidence is not cause for panic
---
While we can know geographically where new SARS-CoV-2 variants were first detected, it's almost certain we'll never know exactly where they come from. But as virus evolution is based on a combination of chance events such as mutation and human behaviour, it's most likely that variants of concern are formed in a wide range of infected patients across the world.
With so many people being infected at once, many living in dense cities and travelling across the globe, the chances of viral evolution and onward spread of new mutants are increased. If large numbers of infections continue globally, more variants will continue to arise.
Grace C Roberts works at the University of Leeds and receives funding from the MRC.
treatment
genetic
pandemic
spread
transmission
china
Plunging pound and crumbling confidence: How the new UK government stumbled into a political and financial crisis of its own making
Liz Truss took over as prime minister with an ambitious plan to cut taxes by the most since 1972 – investors balked after it wasn't clear how she would…
The new British government is off to a very rocky start – after stumbling through an economic and financial crisis of its own making.
Just a few weeks into its term on Sept. 23, 2022, Prime Minister Liz Truss' government released a so-called mini-budget that proposed £161 billion – about US$184 billion at today's rate – in new spending and the biggest tax cuts in half a century, with the benefits mainly going to Britain's top earners. The aim was to jump-start growth in an economy on the verge of recession, but the government didn't indicate how it would pay for it – or provide evidence that the spending and tax cuts would actually work.
Financial markets reacted badly, prompting interest rates to soar and the pound to plunge to the lowest level against the dollar since 1985. The Bank of England was forced to gobble up government bonds to avoid a financial crisis.
After days of defending the plan, the government did a U-turn of sorts on Oct. 3 by scrapping the most controversial component of the budget – elimination of its top 45% tax rate on high earners. This calmed markets, leading to a rally in the pound and government bonds.
As a finance professor who tracks markets closely, I believe at the heart of this mini-crisis over the mini-budget was a lack of confidence – and now a lack of credibility.
A looming recession
Truss' government inherited a troubled economy.
Growth has been sluggish, with the latest quarterly figure at 0.2%. The Bank of England predicts the U.K. will soon enter a recession that could last until 2024. The latest data on U.K. manufacturing shows the sector is contracting.
Consumer confidence is at its lowest level ever as soaring inflation – currently at an annualized pace of 9.9% – drives up the cost of living, especially for food and fuel. At the same time, real, inflation-adjusted wages are falling by a record amount, or around 3%.
It's important to note that many countries in the world, including the U.S. and in mainland Europe, are experiencing the same problems of low growth and high inflation. But rumblings in the background in the U.K. are also other weaknesses.
Since the financial crisis of 2008, the U.K. has suffered from lower productivity compared with other major economies. Business investment plateaued after Brexit in 2016 – when a slim majority of voters chose to leave the European Union – and remains significantly below pre-COVID-19 levels. And the U.K. also consistently runs a balance of payments deficit, which means the country imports a lot more goods and services than it exports, with a trade deficit of over 5% of gross domestic product.
In other words, investors were already predisposed to view the long-term trajectory of the U.K. economy and the British pound in a negative light.
An ambitious agenda
Truss, who became prime minister on Sept. 6, 2022, also didn't have a strong start politically.
The government of Boris Johnson lost the confidence of his party and the electorate after a series of scandals, including accusations he mishandled sexual abuse allegations and revelations about parties being held in government offices while the country was in lockdown.
Truss was not the preferred candidate of lawmakers in her own Conservative Party, who had the task of submitting two choices for the wider party membership to vote on. The rest of the party – dues-paying members of the general public – chose Truss. The lack of support from Conservative members of Parliament meant she wasn't in a position of strength coming into the job.
Nonetheless, the new cabinet had an ambitious agenda of cutting taxes and deregulating energy and business.
Some of the decisions, laid out in the mini-budget, were expected, such as subsidies limiting higher energy prices, reversing an increase in social security taxes and a planned increase in the corporate tax rate.
But others, notably a plan to abolish the 45% tax rate on incomes over £150,000, were not anticipated by markets. Since there were no explicit spending cuts cited, funding for the £161 billion package was expected to come from selling more debt. There was also the threat that this would be paid for, in part, by lower welfare payments at a time when poorer Britons are suffering from the soaring cost of living. The fear of welfare cuts is putting more pressure on the Truss government.
A collapse in confidence
Even as the new U.K. Chancellor of the Exchequer Kwasi Kwarteng was presenting the mini-budget on Sept. 23, the British pound was already getting hammered. It sank from $1.13 the day before the proposal to as low as $1.03 in intraday trading on Sept. 26. Yields on 10-year government bonds, known as gilts, jumped from about 3.5% to 4.5% – the highest level since 2008 – in the same period.
The jump in rates prompted mortgage lenders to suspend deals with new customers, eventually offering them again at significantly higher borrowing costs. There were fears that this would lead to a crash in the housing market.
In addition, the drop in gilt prices led to a crisis in pension funds, putting them at risk of insolvency.
Many members of Truss' party voiced opposition to the high levels of borrowing likely necessary to finance the tax cuts and spending and said they would vote against the package.
The International Monetary Fund, which bailed out the U.K. in 1976, even offered its figurative two cents on the tax cuts, urging the government to "reevaluate" the plan. The comments further spooked investors.
To prevent a broader crisis in financial markets, the Bank of England stepped in and pledged to purchase up to £65 billion in government bonds.
Besides causing investors to lose faith, the crisis also severely dented the public's confidence in the U.K. government. The latest polls showed the opposition Labour Party enjoying a 24-point lead, on average, over the Conservatives.
So the government likely had little choice but to reverse course and drop the most controversial part of the plan, the abolition of the 45% tax rate. The pound recovered its losses. The recovery in gilts was more modest, with bonds still trading at elevated levels.
Putting this all together, less than a month into the job, Truss has lost confidence – and credibility – with international investors, voters and her own party. And all this over a "mini-budget" – the full budget isn't due until November 2022. It suggests the U.K.'s troubles are far from over, a view echoed by credit rating agencies.
David McMillan does not work for, consult, own shares in or receive funding from any company or organisation that would benefit from this article, and has disclosed no relevant affiliations beyond their academic appointment.
recession
covid-19
subsidies
bonds
government bonds
housing market
pound
lockdown
recession
recovery
interest rates
european
europe
uk
What's next for ancient DNA studies after Nobel Prize honors groundbreaking field of paleogenomics
Thousands of ancient genomes have been sequenced to date. A Nobel Prize highlights tremendous opportunities for aDNA, as well as challenges related to…
For the first time, a Nobel Prize recognized the field of anthropology, the study of humanity. Svante Pääbo, a pioneer in the study of ancient DNA, or aDNA, was awarded the 2022 prize in physiology or medicine for his breathtaking achievements sequencing DNA extracted from ancient skeletal remains and reconstructing early humans' genomes – that is, all the genetic information contained in one organism.
His accomplishment was once only the stuff of Jurassic Park-style science fiction. But Pääbo and many colleagues, working in large multidisciplinary teams, pieced together the genomes of our distant cousins, the famous Neanderthals and the more elusive Denisovans, whose existence was not even known until their DNA was sequenced from a tiny pinky bone of a child buried in a cave in Siberia. Thanks to interbreeding with and among these early humans, their genetic traces live on in many of us today, shaping our bodies and our disease vulnerabilities – for example, to COVID-19.
The world has learned a startling amount about our human origins in the last dozen years since Pääbo and teammates' groundbreaking discoveries. And the field of paleogenomics has rapidly expanded. Scientists have now sequenced mammoths that lived a million years ago. Ancient DNA has addressed questions ranging from the origins of the first Americans to the domestication of horses and dogs, the spread of livestock herding and our bodies' adaptations – or lack thereof – to drinking milk. Ancient DNA can even shed light on social questions of marriage, kinship and mobility. Researchers can now sequence DNA not only from the remains of ancient humans, animals and plants, but even from their traces left in cave dirt.
Alongside this growth in research, people have been grappling with concerns about the speed with which skeletal collections around the world have been sampled for aDNA, leading to broader conversations about how research should be done. Who should conduct it? Who may benefit from or be harmed by it, and who gives consent? And how can the field become more equitable? As an archaeologist who partners with geneticists to study ancient African history, I see both challenges and opportunities ahead.
Building a better discipline
One positive sign: Interdisciplinary researchers are working to establish basic common guidelines for research design and conduct.
In North America, scholars have worked to address inequities by designing programs that train future generations of Indigenous geneticists. These are now expanding to other historically underrepresented communities in the world. In museums, best practices for sampling are being put into place. They aim to minimize destruction to ancestral remains, while gleaning the most new information possible.
But there is a long way to go to develop and enforce community consultation, ethical sampling and data sharing policies, especially in more resource-constrained parts of the world. The divide between the developing world and rich industrialized nations is especially stark when looking at where ancient DNA labs, funding and research publications are concentrated. It leaves fewer opportunities for scholars from parts of Asia, Africa and the Americas to be trained in the field and lead research.
The field faces structural challenges, such as the relative lack of funding for archaeology and cultural heritage protection in lower income countries, worsened by a long history of extractive research practices and looming climate change and site destruction. These issues strengthen the regional bias in paleogenomics, which helps explain why some parts of the world – such as Europe – are so well-studied, while Africa – the cradle of humankind and the most genetically diverse continent – is relatively understudied, with shortfalls in archaeology, genomics and ancient DNA.
Making public education a priority
How paleogenomic findings are interpreted and communicated to the public raises other concerns. Consumers are regularly bombarded with advertisements for personal ancestry testing, implying that genetics and identity are synonymous. But lived experiences and decades of scholarship show that biological ancestry and socially defined identities do not map so easily onto one another.
I'd argue that scholars studying aDNA have a responsibility to work with educational institutions, like schools and museums, to communicate the meaning of their research to the public. This is particularly important because people with political agendas – even elected officials – try to manipulate findings.
For example, white supremacists have erroneously equated lactose tolerance with whiteness. It's a falsehood that would be laughable to many livestock herders from Africa, one of the multiple centers of origin for genetic traits enabling people to digest milk.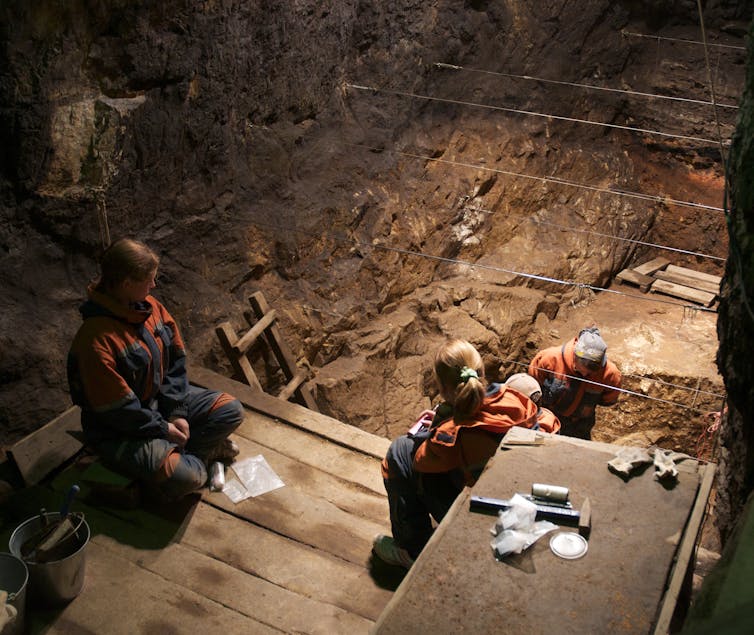 Leaning in at the interdisciplinary table
Finally, there's a discussion to be had about how specialists in different disciplines should work together.
Ancient DNA research has grown rapidly, sometimes without sufficient conversations happening beyond the genetics labs. This oversight has provoked a backlash from archaeologists, anthropologists, historians and linguists. Their disciplines have generated decades or even centuries of research that shape ancient DNA interpretations, and their labor makes paleogenomic studies possible.
As an archaeologist, I see the aDNA "revolution" as usefully disrupting our practice. It prompts the archaeological community to reevaluate where ancestral skeletal collections come from and should rest. It challenges us to publish archaeological data that is sometimes only revealed for the first time in the supplements of paleogenomics papers. It urges us to grab a seat at the table and help drive projects from their inception. We can design research grounded in archaeological knowledge, and may have longer-term and stronger ties to museums and to local communities, whose partnership is key to doing research right.
If archaeologists embrace this moment that Pääbo's Nobel Prize is spotlighting, and lean in to the sea changes rocking our field, it can change for the better.
Mary Prendergast does not work for, consult, own shares in or receive funding from any company or organisation that would benefit from this article, and has disclosed no relevant affiliations beyond their academic appointment.
testing
genetic
dna
covid-19
spread
africa
europe
A Policy Mistake In The Making
A Policy Mistake In The Making
Authored by Lance Roberts via RealInvestmentAdvice.com,
"Market Instability" Causes BOE To Reverse QT….
A Policy Mistake In The Making
Authored by Lance Roberts via RealInvestmentAdvice.com,
"Market Instability" Causes BOE To Reverse QT. Is The Fed Next?
"Market instability" remains the most significant risk to central banks globally. Despite their desire to combat surging inflation, market instability is a greater risk to global economies due to the massive amounts of leverage. We previously discussed the importance of controlling instability. To wit:
"Interestingly, the Fed is dependent on both market participants and consumers, believing in this idea. With the entirety of the financial ecosystem now more heavily levered than ever due to the Fed's profligate measures of suppressing interest rates and flooding the system with excessive levels of liquidity, the "instability of stability" is now the most significant risk.

The 'stability/instability paradox' assumes that all players are rational, and such rationality implies avoidance of complete destruction. In other words, all players will act rationally, and no one will push 'the big red button.'"
So far, the Fed remains fortunate with a low volatility decline in markets. In other words, "market stability" continues to afford the Federal Reserve the operating room needed for the most aggressive rate hiking campaign since the late 70s. Market volatility and credit spreads remain "well contained" despite drastically higher interest rates and an ongoing stock market decline.
However, stable markets can become unstable rapidly when something breaks due to rising rates or volatility. The Bank of England (BOE) is an excellent example of what happens when things go awry. The BOE was forced to start buying bonds to solve a potential crisis with U.K. pension funds. The pension funds receive margin with yields fall and post additional collateral when yields rise. However, when yields spike, as they have recently, the pension funds are hit with "margin calls," which have the potential to cause market instability. Due to leverage built up through the entire financial system, market instability can spread like a virus through global markets. Such was last seen with the Lehman Crisis in 2008.
Is the BOE's actions an isolated event? Maybe not. According to Charles Gasparino, the Fed could be next.
SCOOP (1/2): @federalreserve officials getting increasingly worried about "financial stability" as opposed to inflation as higher rates begin to crush bonds, several big investors tell me. Fed growing worried about possible "Lehman Moment" w a 4% FF rate as Bonds and derivatives

— Charles Gasparino (@CGasparino) September 30, 2022
The Market Instability Risk
The Federal Reserve is deeply committed to its aggressive campaign to quell surging inflation. As Jerome Powell stated at this year's Jackson Hole Summit:
"Restoring price stability will take some time and requires using our tools forcefully to bring demand and supply into better balance. Reducing inflation is likely to require a sustained period of below-trend growth. Moreover, there will very likely be some softening of labor market conditions. While higher interest rates, slower growth, and softer labor market conditions will bring down inflation, they will also bring some pain to households and businesses. These are the unfortunate costs of reducing inflation. But a failure to restore price stability would mean far greater pain."
While the Federal Reserve is willing to cause "some pain" to achieve victory, they hope to do so without evoking a recession. Such may be a challenge for two primary reasons:
The Fed remains focused on lagging economic data, such as employment, which are highly subject to future revisions, and;

Changes to monetary policy do not show up in the economy until roughly 9-12 months in the future.
The problem with the Fed's use of economic data to guide monetary policy decisions was the subject of a St. Louis Federal Reserve research note. To wit:
"In the two quarters leading up to the average recession, all measures were still experiencing varying degrees of positive growth. Meanwhile, immediately following the onset of the average recession, all six indicators declined, which ultimately persisted for the entirety of the recession."
Such brings us to the second most critical point.
Changes to monetary policy have a 9-12 month lag before showing up in the economy. Therefore, as the Fed is hiking rates based on lagging economic data, the risk of a "policy mistake" becomes heightened. By the time the economic data deteriorates, the preceding rate hikes have yet to impact the economy, which eventually deepens the recession.
As shown, the annual rate of change of the Fed Funds rate is now the most aggressive increase in history. However, every previous rate hiking campaign has led to a recession, bear markets, or economic event.
However, the Federal Reserve does not operate in an economic vacuum. Other factors also contribute to the tightening of monetary policy and the impact on economic growth. When those other factors such as higher interest rates, falling asset prices, or a surging dollar coincide with the Fed's policy campaign, the risk of "market instability" increases.
A Policy Mistake In The Making
The current bout of inflation is vastly different than that seen in the late 70s.
Milton Friedman once stated corporations don't cause inflation; governments create inflation by printing money. There was no better example of this than the massive Government interventions in 2020 and 2021 that sent subsequent rounds of checks to households (creating demand) when an economic shutdown constrained supply due to the pandemic.
The following economic illustration shows such taught in every "Econ 101" class. Unsurprisingly, inflation is the consequence if supply is restricted and demand increases by providing "stimulus" checks.
The problem for the Fed is the influence of lagging economic data on its decisions. In contrast, forward estimates for inflation are already falling quickly as economic demand falters due to collapsing liquidity.
Historically, the "best cure for high prices is high prices." In other words, inflation would resolve itself as high costs curtail consumption. However, the Fed is not operating in a vacuum. While the Fed is hiking interest rates to slow economic activity, interest rates and the dollar have also increased dramatically in recent months. Those increases apply further downward economic pressures by increasing costs domestically and globally. Not surprisingly, sharp annual increases in the dollar are coincident with market instability and economic fallout.
Furthermore, the surge in the dollar accompanied the sharpest increase in interest rates in history. Sharp increases in interest rates, particularly in a heavily indebted economy, are problematic as debt servicing requirements and borrowing costs surge. Interest rates alone can destabilize an economy, but when combined with a surging dollar and inflation, the risks of market instability increase markedly.
The Fed Will Blink
After more than 12 years of the most unprecedented monetary policy program in U.S. history, the Federal Reserve has put itself into a poor situation. They risk an inflation spiral if they don't hike rates to quell inflation. If the Fed hikes rates to kill inflation, the risk of a recession and market instability increases.
As noted at the outset, the behavioral biases of individuals remain the most serious risk facing the Fed. For now, investors have not "hit the big red button," which gives the Fed breathing room to lift rates. However, the BOE discovered that market instability surfaces quickly when "something breaks."
When will the Fed find the limits of its monetary interventions? We don't know, but we suspect they have already passed the point of no return, and history is an excellent guide to the adverse outcomes.
In the early '70s, it was the "Nifty Fifty" stocks,

Then Mexican and Argentine bonds a few years after that

"Portfolio Insurance" was the "thing" in the mid -80's

Dot.com anything was an excellent investment in 1999

Real estate has been a boom/bust cycle roughly every other decade, but 2007 was a doozy.

Today, it's real estate, FAANNGT, debt, credit, private equity, SPACs, IPOs, "Meme" stocks…or rather…" everything."
The Federal Reserve continues to state its intentions to hike rates and reduce its balance sheet at the fastest pace in history, as inflation is the enemy it must defeat. However, while high inflation is detrimental to economic growth, market instability is far more insidious. Such is why the Federal Reserve rushed to bail out banks in 2008.
Unfortunately, we doubt the Fed has the stomach for "market instability." As such, we doubt they will hike rates as much as the market currently expects.
Tyler Durden
Tue, 10/04/2022 - 16:20
recession
pandemic
stimulus
economic growth
bonds
stocks
monetary policy
fed
federal reserve
real estate
spread
recession
interest rates