Modern monetary theory: the rise of economists who say huge government debt is not a problem
Modern monetary theory: the rise of economists who say huge government debt is not a problem
There is no limit to the quantity of money that can be created by a central bank such as the Bank of England. It was different in the days of the gold standard, when central banks were restrained by a promise to redeem their money for gold on demand. But countries moved away from this system in the early part of the 20th century, and central banks nowadays can issue as much money as they like.
This observation is the root of modern monetary theory (MMT), which has attracted new attention during the pandemic, as governments around the world increase spending and public debts become all the more burdensome.
MMT proponents argue that governments can spend as necessary on all desirable causes – reducing unemployment, green energy, better healthcare and education – without worrying about paying for it with higher taxes or increased borrowing. Instead, they can pay using new money from their central bank. The only limit, according to this view, is if inflation starts to rise, in which case the solution is to increase taxes.
MMT's roots
The ideas behind MMT were mainly developed in the 1970s, notably by Warren Mosler, an American investment fund manager, who is also credited with doing much to popularise it. However, there are many threads that can be traced further back, for instance to an early 20th-century group called the chartalists, who were interested in explaining why currencies had value.
These days, prominent supporters of MMT include L Randall Wray, who teaches regular courses on the theory at Bard college in Hudson, New York state. Another academic, Stephanie Kelton, has gained the ear of politicians such as Bernie Sanders and, more recently, Democrat US presidential candidate Joe Biden, providing theoretical justification for expanding government spending.
There are more strands to MMT besides the idea that governments don't need to worry overly about spending. For instance, supporters advocate job guarantees, where the state creates jobs for unemployed people. They also argue that the purpose of taxation is not, as mainstream economics would have it, to pay for government spending, but to give people a purpose for using money: they have to use it to pay their tax.
But if we overlook these points, the main policy implication of MMT is not so controversial. It is not too far from the current new-Keynesian orthodoxy which advises that if there is unemployment, this can be cured by stimulating the economy – either through monetary policy, which focuses on cutting interest rates; or through the fiscal policies of lower taxes and higher spending.
Against this position is the monetarist doctrine that inflation is caused by too much money, and the common belief that too much government debt is bad. These two principles explain why central banks are strongly focused on inflation targets (2% in the UK), while the aversion to debt in the UK and elsewhere was the driving force behind the "austerity" policy of cutting government spending to reduce the deficit – at least until the coronavirus pandemic made governments change direction.
The crux
So, who is right – the MMT school or the fiscal and monetary conservatives? In particular, is it sensible to pay for government spending with central bank money?
When a government spends more than it receives in taxation, it has to borrow, which it usually does by selling bonds to private sector investors such as pension funds and insurance companies. Yet since 2009, the central banks of the UK, US the eurozone, Japan and other countries have been buying large amounts of these bonds from the private-sector holders, paying for their purchases with newly created money. The purpose of this so-called "quantitative easing" (QE) has been to stimulate economic activity and to prevent deflation, and it has been greatly expanded in response to the pandemic.
At present in the UK, over £600 billion or 30% of government debt is effectively financed by central bank money – this is the value of government bonds now held by the Bank of England as a result of QE. There are similar high proportions in the other countries that have been undertaking QE.
Despite all this creation of new central bank money and the large increase in government debt in the UK and other large economies since the financial crisis of 2007-09, nowhere has there been a problem with inflation. Indeed, Japan has struggled for three decades to raise its inflation rate above zero. This evidence – that neither large debt nor large money creation has caused inflation – seems to vindicate the MMT policy recommendation to spend.
UK public debt as a % GDP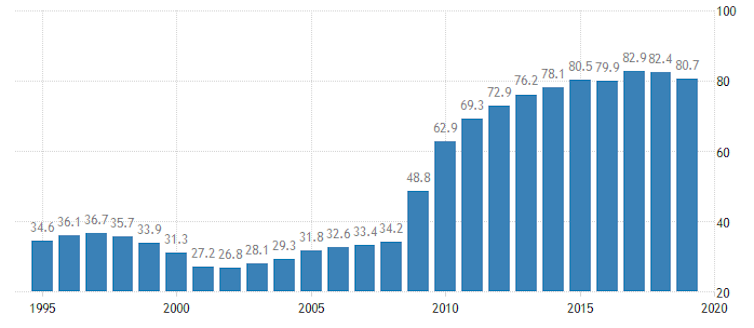 Of course, there are many counterexamples in which these conditions have been associated with hyperinflation, such as Argentina in 1989, Russia at the breakup of the Soviet Union, and more recently Zimbabwe and Venezuela. But in all these cases there was an assortment of additional problems such as government corruption or instability, a history of defaults on government debt, and an inability to borrow in the country's own currency. Thankfully, the UK does not suffer from these problems.
Since the outbreak of the coronavirus pandemic, UK government spending has been rapidly increasing. Debt is now about £2 trillion or 100% of GDP. And the Bank of England, under its latest QE programme, has been buying up UK government bonds almost as fast as the government is issuing it.
Thus the crucial question is: will inflation remain subdued? Or will this vast new increase in QE-financed government spending finally cause inflation to take off, as the easing of lockdown releases pent-up demand?
If there is inflation, the Bank of England's task will be to choke it off by raising interest rates, and/or reversing QE. Or the government could try out the MMT proposal to stifle the inflation with higher taxes. The trouble is that all these responses will also depress economic activity. In such circumstances, the MMT doctrine of free spending will not look so attractive after all.
John Whittaker does not work for, consult, own shares in or receive funding from any company or organisation that would benefit from this article, and has disclosed no relevant affiliations beyond their academic appointment.
monetary policy
qe
government debt
bonds
government bonds
unemployment
currencies
lockdown
gdp
interest rates
japan
uk
russia
gold
Removing antimicrobial resistance from the WHO's 'pandemic treaty' will leave humanity extremely vulnerable to future pandemics
Drug-resistant microbes are a serious threat for future pandemics, but the new draft of the WHO's international pandemic agreement may not include provisions…
In late May, the latest version of the draft Pandemic Instrument, also referred to as the "pandemic treaty," was shared with Member States at the World Health Assembly. The text was made available online via Health Policy Watch and it quickly became apparent that all mentions of addressing antimicrobial resistance in the Pandemic Instrument were at risk of removal.
Work on the Pandemic Instrument began in December 2021 after the World Health Assembly agreed to a global process to draft and negotiate an international instrument — under the Constitution of the World Health Organization (WHO) — to protect nations and communities from future pandemic emergencies.
---
Read more: Drug-resistant superbugs: A global threat intensified by the fight against coronavirus
---
Since the beginning of negotiations on the Pandemic Instrument, there have been calls from civil society and leading experts, including the Global Leaders Group on Antimicrobial Resistance, to include the so-called "silent" pandemic of antimicrobial resistance in the instrument.
Just three years after the onset of a global pandemic, it is understandable why Member States negotiating the Pandemic Instrument have focused on preventing pandemics that resemble COVID-19. But not all pandemics in the past have been caused by viruses and not all pandemics in the future will be caused by viruses. Devastating past pandemics of bacterial diseases have included plague and cholera. The next pandemic could be caused by bacteria or other microbes.
Antimicrobial resistance
Antimicrobial resistance (AMR) is the process by which infections caused by microbes become resistant to the medicines developed to treat them. Microbes include bacteria, fungi, viruses and parasites. Bacterial infections alone cause one in eight deaths globally.
AMR is fueling the rise of drug-resistant infections, including drug-resistant tuberculosis, drug-resistant pneumonia and drug-resistant Staph infections such as methicillin-resistant Staphylococcus aureus (MRSA). These infections are killing and debilitating millions of people annually, and AMR is now a leading cause of death worldwide.
Without knowing what the next pandemic will be, the "pandemic treaty" must plan, prepare and develop effective tools to respond to a wider range of pandemic threats, not solely viruses.
Even if the world faces another viral pandemic, secondary bacterial infections will be a serious issue. During the COVID-19 pandemic for instance, large percentages of those hospitalized with COVID-19 required treatment for secondary bacterial infections.
New research from Northwestern University suggests that many of the deaths among hospitalized COVID-19 patients were associated with pneumonia — a secondary bacterial infection that must be treated with antibiotics.
Treating these bacterial infections requires effective antibiotics, and with AMR increasing, effective antibiotics are becoming a scarce resource. Essentially, safeguarding the remaining effective antibiotics we have is critical to responding to any pandemic.
That's why the potential removal of measures that would help mitigate AMR and better safeguard antimicrobial effectiveness is so concerning. Sections of the text which may be removed include measures to prevent infections (caused by bacteria, viruses and other microbes), such as:
better access to safe water, sanitation and hygiene;
higher standards of infection prevention and control;
integrated surveillance of infectious disease threats from human, animals and the environment; and
strengthening antimicrobial stewardship efforts to optimize how antimicrobial drugs are used and prevent the development of AMR.
The exclusion of these measures would hinder efforts to protect people from future pandemics, and appears to be part of a broader shift to water-down the language in the Pandemic Instrument, making it easier for countries to opt-out of taking recommended actions to prevent future pandemics.
Making the 'pandemic treaty' more robust
Measures to address AMR could be easily included and addressed in the "pandemic treaty."
In September 2022, I was part of a group of civil society and research organizations that specialize in mitigating AMR who were invited the WHO's Intergovernmental Negotiating Body (INB) to provide an analysis on how AMR should be addressed, within the then-draft text.
They outlined that including bacterial pathogens in the definition of "pandemics" was critical. They also identified specific provisions that should be tweaked to track and address both viral and bacterial threats. These included AMR and recommended harmonizing national AMR stewardship rules.
In March 2023, I joined other leading academic researchers and experts from various fields in publishing a special edition of the Journal of Medicine, Law and Ethics, outlining why the Pandemic Instrument must address AMR.
The researchers of this special issue argued that the Pandemic Instrument was overly focused on viral threats and ignored AMR and bacterial threats, including the need to manage antibiotics as a common-pool resource and revitalize research and development of novel antimicrobial drugs.
Next steps
While earlier drafts of the Pandemic Instrument drew on guidance from AMR policy researchers and civil society organizations, after the first round of closed-door negotiations by Member States, all of these insertions, are now at risk for removal.
The Pandemic Instrument is the best option to mitigate AMR and safeguard lifesaving antimicrobials to treat secondary infections in pandemics. AMR exceeds the capacity of any single country or sector to solve. Global political action is needed to ensure the international community works together to collectively mitigate AMR and support the conservation, development and equitable distribution of safe and effective antimicrobials.
By missing this opportunity to address AMR and safeguard antimicrobials in the Pandemic Instrument, we severely undermine the broader goals of the instrument: to protect nations and communities from future pandemic emergencies.
It is important going forward that Member States recognize the core infrastructural role that antimicrobials play in pandemic response and strengthen, rather than weaken, measures meant to safeguard antimicrobials.
Antimicrobials are an essential resource for responding to pandemic emergencies that must be protected. If governments are serious about pandemic preparedness, they must support bold measures to conserve the effectiveness of antimicrobials within the Pandemic Instrument.
Susan Rogers Van Katwyk is a member of the WHO Collaborating Centre on Global Governance of Antimicrobial Resistance at York University. She receives funding from the Wellcome Trust and the Social Sciences and Humanities Research Council of Canada.
treatment
pandemic
coronavirus
covid-19
deaths
canada
world health organization
Repeated COVID-19 Vaccination Weakens Immune System: Study
Repeated COVID-19 Vaccination Weakens Immune System: Study
Authored by Zachary Stieber via The Epoch Times (emphasis ours),
Repeated COVID-19…
Repeated COVID-19 Vaccination Weakens Immune System: Study
Authored by Zachary Stieber via The Epoch Times (emphasis ours),
Repeated COVID-19 vaccination weakens the immune system, potentially making people susceptible to life-threatening conditions such as cancer, according to a new study.
Multiple doses of the Pfizer or Moderna COVID-19 vaccines lead to higher levels of antibodies called IgG4, which can provide a protective effect. But a growing body of evidence indicates that the "abnormally high levels" of the immunoglobulin subclass actually make the immune system more susceptible to the COVID-19 spike protein in the vaccines, researchers said in the paper.
They pointed to experiments performed on mice that found multiple boosters on top of the initial COVID-19 vaccination "significantly decreased" protection against both the Delta and Omicron virus variants and testing that found a spike in IgG4 levels after repeat Pfizer vaccination, suggesting immune exhaustion.
Studies have detected higher levels of IgG4 in people who died with COVID-19 when compared to those who recovered and linked the levels with another known determinant of COVID-19-related mortality, the researchers also noted.
A review of the literature also showed that vaccines against HIV, malaria, and pertussis also induce the production of IgG4.
"In sum, COVID-19 epidemiological studies cited in our work plus the failure of HIV, Malaria, and Pertussis vaccines constitute irrefutable evidence demonstrating that an increase in IgG4 levels impairs immune responses," Alberto Rubio Casillas, a researcher with the biology laboratory at the University of Guadalajara in Mexico and one of the authors of the new paper, told The Epoch Times via email.
The paper was published by the journal Vaccines in May.
Pfizer and Moderna officials didn't respond to requests for comment.
Both companies utilize messenger RNA (mRNA) technology in their vaccines.
Dr. Robert Malone, who helped invent the technology, said the paper illustrates why he's been warning about the negative effects of repeated vaccination.
"I warned that more jabs can result in what's called high zone tolerance, of which the switch to IgG4 is one of the mechanisms. And now we have data that clearly demonstrate that's occurring in the case of this as well as some other vaccines," Malone, who wasn't involved with the study, told The Epoch Times.
"So it's basically validating that this rush to administer and re-administer without having solid data to back those decisions was highly counterproductive and appears to have resulted in a cohort of people that are actually more susceptible to the disease."
Possible Problems
The weakened immune systems brought about by repeated vaccination could lead to serious problems, including cancer, the researchers said.
Read more here...
Tyler Durden
Sat, 06/03/2023 - 22:30
vaccine
testing
antibodies
rna
covid-19
mortality
mexico
Robert F. Kennedy Jr. Banned By Major Social Media Site, Campaign Pages Blocked
Robert F. Kennedy Jr. Banned By Major Social Media Site, Campaign Pages Blocked
Authored by Jack Phillips via The Epoch Times (emphasis ours),
Twitter…
Robert F. Kennedy Jr. Banned By Major Social Media Site, Campaign Pages Blocked
Authored by Jack Phillips via The Epoch Times (emphasis ours),
Twitter owner Elon Musk invited Democrat presidential candidate Robert F. Kennedy Jr. for a discussion on his Twitter Spaces after Kennedy said his campaign was suspended by Meta-owned Instagram.
"Interesting… when we use our TeamKennedy email address to set up @instagram accounts we get an automatic 180-day ban. Can anyone guess why that's happening?" he wrote on Twitter.
An accompanying image shows that Instagram said it "suspended" his "Team Kennedy" account and that there "are 180 days remaining to disagree" with the company's decision.
In response to his post, Musk wrote: "Would you like to do a Spaces discussion with me next week?" Kennedy agreed, saying he would do it Monday at 2 p.m. ET.
Hours later, Kennedy wrote that Instagram "still hasn't reinstated my account, which was banned years ago with more than 900k followers." He argued that "to silence a major political candidate is profoundly undemocratic."
"Social media is the modern equivalent of the town square," the candidate, who is the nephew of former President John F. Kennedy, wrote. "How can democracy function if only some candidates have access to it?"
The Epoch Times approached Instagram for comment.
Interesting… when we use our TeamKennedy email address to set up @instagram accounts we get an automatic 180-day ban. Can anyone guess why that's happening? pic.twitter.com/0G8oRnoXTv

— Robert F. Kennedy Jr (@RobertKennedyJr) June 2, 2023
It's not the first time that either Facebook or Instagram has taken action against Kennedy. In 2021, Instagram banned him from posting claims about vaccine safety and COVID-19.
After he was banned by the platform, Kennedy said that his Instagram posts raised legitimate concerns about vaccines and were backed by research. His account was banned just days after Facebook and Instagram announced they would block the spread of what they described as misinformation about vaccines, including research saying the shots cause autism, are dangerous, or are ineffective.
"This kind of censorship is counterproductive if our objective is a safe and effective vaccine supply," he said at the time.
Read more here...
Tyler Durden
Sat, 06/03/2023 - 20:30
vaccine
covid-19
spread