Jacinda Ardern resignation has people wondering when to quit – but that's the wrong way to think about burnout
Burnout prevention needs to start with the organisation, not the employee.
Jacinda Ardern's resignation as New Zealand prime minister has sparked discussions about burnout and when is the "right time" to leave a job. Some have written admirably about Ardern's decision to leave, saying that she is being kind to herself and not overstaying her welcome – in contrast to many other world leaders.
One of the youngest holders of public office, Ardern had become an international symbol for how to integrate work and personal life. She famously held her infant daughter while addressing the UN general assembly. But now this narrative is marking her departure with misogynistic headlines such as "Can women really have it all?".
This attitude suggests that Ardern didn't know her limits, and maybe bit off more than she could chew. This is part of a larger misrepresentation of the phenomenon of burnout, which equates it with the need for people to take better care of themselves. Even Arden herself may have inadvertently reinforced this focus on the individual aspect of burnout with her parting words, urging people to "be strong, and be kind".
---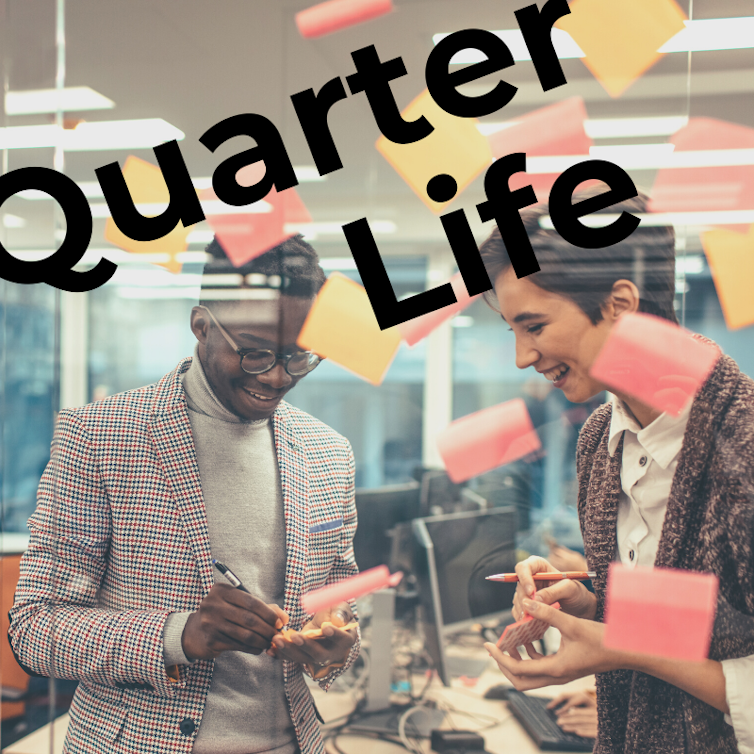 This article is part of Quarter Life, a series about issues affecting those of us in our twenties and thirties. From the challenges of beginning a career and taking care of our mental health, to the excitement of starting a family, adopting a pet or just making friends as an adult. The articles in this series explore the questions and bring answers as we navigate this turbulent period of life.
You may be interested in:
Thinking about quiet quitting? Here's why – and how – you should talk to your boss instead
How the philosophy behind the Japanese art form of kintsugi can help us navigate failure
How to disagree without making enemies in the age of the pandemic – tips from a psychologist
---
Many people (especially healthcare professionals) wear burnout like a badge of honour. Burnout is evidence that they have worked hard, putting everything into their job.
But in her resignation speech, Ardern said she "no longer had enough in the tank" to continue, suggesting that she felt continuing in the job was unsustainable. This is a necessary reminder that burnout starts with the work environment. Instead of asking why Ardern could not continue in her post, we should be asking what factors in her job contributed to her feeling this way.
The world is full of people like Ardern who would love to leave their jobs but can't, due to their economic and social circumstances. As a prime minister, Ardern would have had many resources at her disposal. If even someone in her position can reach this point, it's clear we need to be thinking more about how organisations treat people – not what people themselves can do to avoid getting burnout.
Recognising burnout
According to the World Health Organization, burnout is characterised by three elements, which can reinforce each other and create a vicious cycle:
I feel continuously exhausted;
I feel more cynical about my work;
I feel less capable about my performance at work.
If you are experiencing these feelings, remember that burnout is not an individual failing but is driven and maintained by working conditions.
There is no doubt that individual level "solutions" (yoga, therapy, mindfulness, leaving your job) can offer some respite, but they will do nothing to address the organisational elements driving burnout. More importantly, they reinforce the dangerous narrative that employees simply need to be more resilient.
Much of today's working culture rewards going the extra mile, often at personal cost. This mindset is particularly dangerous for new and younger employees, who want to prove their worth through overwork.
Some may feel they are expendable if they fail to perform, and that there are others waiting in the wings to replace them. This helps explain why people wait until it's too late before a quitting a job that is toxic and bad for their health. It's important to avoid becoming a martyr to your job, whereby you continuously ruminate about what you need to do to perform better, and hope that your sacrifices will be appropriately rewarded.
If you are stretched to your limits, take a look at how your workplace functions generally. If overwork is the organisational norm, you are likely not the only person suffering from burnout.
Preventing burnout
There are strong economic arguments for employers to address burnout. Evidence shows that poor staff health and wellbeing in the NHS is costly, with estimates in excess of £12 billion per year. Improvements in staff mental health could lead to initial savings of up to £1 billion per year.
Successfully addressing burnout is all about prevention, not intervention. But each industry has different demands – there is no one size fits all solution.
A career is a marathon, not a sprint. You need to know about the conditions of the race, not just your personal fitness. We approach jobs wanting to know what the rewards and perks are, but we should be more interested in how employers will treat us if we break down.
Take an audit of how much your employer understands (or actually cares) about what is really driving burnout. Find out whether your organisation (or future employer) has a detailed plan on how to support your wellbeing. This should include when you are doing well, and when you are suffering due to the demands of your job.
Burnout can be related to feelings of anxiety and depression – find out whether your employer offers support for these issues, or resources if you need to seek outside help.
Ultimately, the best way to know if an organisation is equipped to prevent burnout is the degree to which it acknowledges and supports you with the unavoidable demands of your job, makes you feel competent about yourself as an employee, and encourages meaningful relationships and collaborations between colleagues.
Anthony Montgomery does not work for, consult, own shares in or receive funding from any company or organisation that would benefit from this article, and has disclosed no relevant affiliations beyond their academic appointment.
depression
pandemic
therapy
world health organization
Von Greyerz: As West, Debt, & Stocks Implode; East, Gold, & Oil Explode
Von Greyerz: As West, Debt, & Stocks Implode; East, Gold, & Oil Explode
Authored by Egon von Greyerz via GoldSwitzerland.com,
"The…
Von Greyerz: As West, Debt, & Stocks Implode; East, Gold, & Oil Explode
Authored by Egon von Greyerz via GoldSwitzerland.com,
"The risk of over-tightening by the European Central Bank is nothing less than catastrophic" says Prof Kenneth Rogoff .
At Davos he also said:
"Italy is extremely vulnerable. But this could pop anywhere. Global debt has gone up massively since the pandemic: public debt, corporate debt, everything."
Rogoff believes that it is a miracle that the world averted a financial crisis in 2022, but the odds of a major accident are shortening as the delayed effects of past tightening feed through.
As Rogoff said: 
"We were very fortunate that we didn't have a global systemic event in 2022, and we can count our blessings for that, but rates are still going higher and the risk keeps rising."
But lurking in the murkiness is also the global financial assets/liabilities which is almost $500 trillion including the shadow banking system at 46% of the total. The shadow banking sector includes  pension funds, hedge funds and other financial institutions which are largely unregulated.
Shadow banking is not subject to the normal mark-to-market rules. Thus no one knows what the real position or losses are. This means that central banks are in the dark when it comes to evaluation of the real risks of the system.
Clearly, I am not the only one harping on about the catastrophic global debt/liability situation.
And no one knows the extent of total global derivatives. But if they have grown in line with debt and also with the shadow banking system, they could easily be in excess of $3 quadrillion.
Cultures don't die overnight, but the US has been in decline since at least the Vietnam war in the 1960s. Interestingly, the US has not had a real Budget surplus since the early 1930s with a handful of years of exception.
But when you, like the US, live on borrowed time and borrowed money, it becomes increasingly difficult to keep up appearances. In 1971, the pressures on the US economy and currency became too great.  Thus Nixon closed the Gold Window with the dollar having lost over 98% in real terms since then. This is of course a total catastrophe and a guarantee that the remaining 2% fall to ZERO will come in the near term future, whether it takes 5 or 10 years for the dollar to reach oblivion. Remember that the final 2% is 100% from today!
The US, EU and Japan have now reached the stage when no one wants their debt. So sovereign debt of these nations is no longer a question of "passing the parcel" but keeping the parcel. When every third party holder of these debts is a seller, who will buy?
These three countries will end up holding their own debt. Japan already holds over 50% of its debt. Before the Western Ponzi scheme comes to an end, these three nations will virtually hold 100% of their own debt. At that point, the bonds will be worthless and interest rates will have reached infinity. Not a pretty prospect!
US – PERFECT RECIPE FOR DISASTER
The final phase of all empires always includes excessive deficits and debts, inflation, a collapsing currency, decadence and war. And the US qualifies perfectly in all those categories.
Ernest Hemingway stated it superbly:
The first panacea of a mismanaged nation is inflation of the currency; the second is war.
Both bring temporary prosperity;
both bring a permanent ruin.
But both are the refuge of political
and economic opportunists. 
The US has failed in every war since the Vietnam war, including the Yugoslav Wars, Afghanistan, Iraq, Syria and Libya. The results have been massive casualties and destruction of the countries, often leading to economic misery, anarchy and terrorism.
The Ukrainian war is not between Ukraine and Russia but between the US and Russia as I discussed in a previous article (Link). The clear proof that there is no desire for peace from the US is that they are sending money and weapons to Ukraine in the $100s of billions and "encouraging" an increasingly suffering Europe to do the same. But they are not sending any peace negotiators to Russia in an attempt to end the war. This is very ominous.
The geopolitical situation is now on a knife edge with two major nuclear powers fighting about a relatively insignificant country. This is how major wars normally start.
Let us hope that the current conflict does not lead to a major nuclear war since that would be the end of the world. Thus not worth to speculate about the outcome of this high risk scenario.
But the economic war and the collapse of the US dominated financial system is not just  inevitable but also catastrophic for the Western economies.
A COMMODITY DOMINATED WORLD
As the hegemony of the US is coming to an end, the dominance of the decadent West is moving quickly to the East and South. Commodity based countries like the enlarged BRICS will dominate for the next few decades and probably longer. Oil and gas will form the base of this shift but also many other commodities including gold which is now starting a new era.
It is likely that 2023 will be the first year of many when we will see a strong rise in gold just like 2000 – 2011 which saw a 7.5X gain.
The end of the Western debt based cycle and the rise of the Eastern and Southern commodity cycle is well illustrated in the graph below
OIL, GOLD TO GO UP > 9X AGAINST STOCKS
The S&P Commodity Index relative to Stocks has recently made a 50 year low. Just to return to the mean, the index would need to go up 4X. But when long term cycles turn up from a historical low, they tend to trend higher and longer than anyone expects. So a move past the 1990 high of 9 is very likely. This would mean that commodities, and especially oil and gold, relative to stocks would move up more than 9X!
This  9X move  would obviously involve a combination of falling stocks and rising commodity prices.
The expected move of the index confirms the shift from the West, based on an unsound and debt infested system, to the East & South, based on commodities.
Much of this move is based on the fossil fuels of the countries involved – to the chagrin of the climate movement zealots.
In today's woke world, there is a tendency to believe that we can change all the laws of nature and science. This is the case both in the economy and climate.  Bankers and governments are confident that they can create permanent prosperity by printing worthless pieces of paper believing that these represent real and lasting value and wealth.
Well surprise, surprise, these people will soon have the shock of a lifetime as all that printed money returns to its intrinsic value of ZERO.
A debt based economy eventually becomes a self-fulfilling prophecy.
The higher the debt, the more the debt needs to grow in a never ending vicious circle. In the end the debt cycle becomes a perpetual motion Ponzi scheme……. UNTIL IT ALL CRASHES!
The debt feeds on itself and the more that is issued, the more needs to be issued. As inflation rises, the escalating interest cost on the debt leads to more debt. Next is defaults, both private and foreign. Then the $2-3 quadrillion derivatives, a great part of which is in the shadow banking system, comes under pressure. This leads to massive further debt creation by the Fed and other central banks, desperately trying to save the system.
This will eventually lead to what von Mises called:  "…. a final and total catastrophe of the currency system involved."
But remember that we are here talking about the Western financial system. The economic sun in the East will rise strongly and eventually be the guiding light for the world economy.
The debt based US and West will to quote Hemingway decline "first gradually and then suddenly."  So due to the $2+ quadrillion size of the problem, the biggest part of the decline is unlikely to take more than 10 years and it could be a lot faster, especially at the end.
But the climate zealots
 will have to wait to 2050 to learn that through their actions they didn't manage to limit the increase in temperature to 1.5 degrees. But with a lot of luck, climate cycles might be on their side and make the weather much colder.
Personally I believe that cycles determine the climate and not humans.
The climate cycle graph below covering 11,000 years shows that there has been numerous periods with warmer temperatures than currently. At the peak of the Roman Empire 2000 years ago, Rome had a tropical climate.
Fossil fuels produce 83% of the world's energy today. According to forecasts this percentage is unlikely to come down significantly in the next 50 years.
Partly due to the increased cost of producing energy, fossil fuel production will fall by 26% by 2048. Increases in nuclear and renewables will not compensate for this decline.
If the world stops using fossil fuels, the world economy would totally collapse. Sadly the climate activist movement does not seem to worry about such disastrous consequences.
So it seems fairly clear that for a very long time, the world will be dependent on fossil fuels in order for the economy and population not to collapse.
For the above reasons, the commodity based countries will soon dominate the world and that for a very long time.
The constellations of commodity rich nations are forming rapidly.
Firstly we have the BRICS countries which currently consist of Brazil, Russia, India, China and South Africa. Many countries are in the process of joining BRICS including Saudi Arabia, Iran, Algeria, Argentina and Turkey.
It is the enlarged BRICS aim to bypass the dollar and create their own trading currency.
Many talk about the Petroyuan replacing the Petrodollar but what would everyone do with the Chinese currency since it isn't freely convertible. Better then to have a currency linked to several commodity countries like Special Drawing Rights. This would create more stability and usability. The Credit Suisse analyst Pozsar calls this Bretton Woods III.
There is also the EAEU or Eurasia Economic Union with Russia leading plus China, India, Iran, Turkey and UAE involved.
The SCO – the Shanghai Cooperation Organisation headquartered in China is also an important force. The SCO is a political, economic, international security and defence organisation. It includes many Eurasian nations like China, Russia, Uzbekistan, Kazakhstan etc.
All the economies involved in this important development are commodity based. For example, commodities are 30% of Russian GDP. Their target is to expand gold mining to 3% of GDP and become the biggest gold producer in the world.
Russia has the world's largest commodity reserves at $75 trillion and produces 11 million barrels of oil per day. Russian friendly provinces produce another 14M totalling 25M. China produces 5m barrels and the Middle East Oil going through the Strait of Hormuz is 22M barrels.  So in a conflict with the US, Russia, China and Iran  could decide to close the Strait of Hormuz which means they would have control over 50% of global oil supply. As Goldman Sachs has stated, oil would then be in the $1000s.
If we take Russia, Iran and Venezuela, they control 40% of the global oil supply.
The point I am making is that these various constellations of commodity countries will be the dominant economic power of the future as the US and Europe decline.
So for Russia, gold and oil are two strategic commodities which will play an important role not just for Russia but for all of these Eastern/Southern countries.
And no one should believe that the US and European sanctions are working. Russia and Iran are selling oil and gas to China at a discount. China then exports this, including refined products, to Europe at premium.
So the sanctions are a farce which totally kills the European economy.
Interestingly, the relationship between yellow gold and black gold has been stable for decades as this chart shows:
GOLD / OIL RATIO 1950 – 2023
GOLD – THE VITAL WEALTH PRESERVATION ASSET FOR 2023 AND BEYOND
Gold was the best performing asset class in 2022 but the investment world didn't notice since it is hanging on to the declining bubble assets of stocks, bonds and property.
Let's look at gold's performance in various currencies in 2022:
The chart shows gold up 15% against Swedish Kroner on the right and for example up 11.6% in pounds, 6% in Euros and virtually unchanged in US$.
Bearing in mind that most asset markets, including bonds, have fallen by 20-30%, this is an outstanding performance by gold.
But no one must believe that gold is going up. All gold does it to reflect the total mismanagement of most economies. The chart above should be turned upside down to reflect the loss of purchasing power of all paper money.
As has been the case since 1971, this trend of falling currencies will continue but not at the same steady pace.
With the debt infested Western economies collapsing, their currencies will implode one after the other.
So please firstly acquire as much physical gold as you can afford and then some more.
And when you own your gold, don't measure the value in collapsing currencies. Just measure your gold in ounces, kilos or grammes.
Also please don't keep it in the country where you live, especially if that country has a tendency to grab assets. I don't need to tell you which countries you can't trust. The problem is, there are not many you can trust.
BEWARE – A GOLD CUSTODIAN DISAPPEARED WITH CLIENTS' METALS
Also if you store your gold with a gold custodian, ensure that only you can release it by having the Warehouse Receipt in your name. A custodian gold company disappeared last year with the major customer assets in spite of the gold being stored with a major vault company. The weakness was that the gold company could release the gold without the client's approval. This is not an acceptable way to store your wealth preservation asset. 
Finally remember that gold is not just your most important wealth preservation asset but can also be beautiful.
TUTANKHAMUN'S DEATH MASK 1327 BC
Tyler Durden
Sat, 01/28/2023 - 11:30
bonds
pandemic
stocks
fed
link
currencies
gdp
interest rates
commodities
gold
oil
iran
africa
india
brazil
japan
european
europe
italy
russia
ukraine
eu
bc
china
Week Ahead Alchemy: Can Powell Turn a Quarter-Point Move into a Hawkish Hike?
The new year is still young, but the week ahead may be one of the most important weeks of the year. The divergence that the market has been anticipating…
The new year is still young, but the week ahead may be one of the most important weeks of the year. The divergence that the market has been anticipating will materialize. The Federal Reserve will most likely hike by 25 bp on Wednesday, followed by half-point moves by the European Central Bank and the Bank of England the following day. On Friday, February 3, the US will report its January employment situation. It could be the slowest job creation since the end of 2020. The Bureau of Labor Statistics also will release the preliminary estimate of its annual benchmark revisions. 
The markets' reaction may be less a function of what is done than what is communicated. The challenge for Fed Chair Powell is to slow the pace of hiking while pushing against the premature easing of financial conditions. In December, ECB President Lagarde pre-committed to a 50 bp hike in February and hinted that another half-point move was possible in March. With the hawks showing their talons in recent days, will she pre-commit again? Amid a historic cost-of-living squeeze that has already kneecapped households, can Bank of England Governor Bailey deliver another 50 bp rate hike and sell the idea that it is for the good of Britain, for which the central bank does not expect growth to return until next year?
United States: The Federal Reserve has a nuanced message to convey. It wants to slow the pace of hikes, as even the hawkish Governor Waller endorsed, but at the same time, persuade the market that tighter financial conditions are necessary to ensure a times convergence of price pressures to the target. Indeed, Fed Chair Powell may warn investors that if it continues to undo the Fed's work, more tightening may be necessary. The market has heard this essentially before and is not impressed. Financial conditions have eased. Consider that the 2-year yield is down 20 bp this year, and the 10-year yield has fallen twice as much. The trade-weighted dollar is off by more than 1.5%. The S&P 500 is up 4.6% after a 7% rally in Q4 22. The Russell 200 has gained nearly 7% this month, on top of the 5.8% in the last three months of 2022.  
Last year, Powell drew attention to the 18-month forward of the three-month T-bill yield compared to the cash 3-month bill as a recession tell. It has been inverted for over two months and traded below -100 bp last week, the most inverted since the tech bubble popped over two decades ago. The market seems more convinced that inflation will fall sharply in the coming months. The monetary variables and real economy data, including retail sales, industrial production, and the leading economic indicators, suggest a dramatic weakening of the economy. Yet just like most looked through the contraction in H1 22, seeing it as primarily a quirk of inventory and trade, the 2.9% growth reported in Q4 22 does not change many minds that the US economy is still headed for weaker growth, leaving aside the fuzzy definition of a recession.
The median forecast in Bloomberg's survey is for a 188k rise in January nonfarm payrolls. If accurate, it would be seen as concrete evidence that the jobs market is slowing. This is also clear by looking at averages for this volatile series. For example, in the last three months of 2022, the US created an average of 247k jobs a month. In the first nine months of the year, nonfarm payrolls rose by an average of 418k a month. Average hourly earnings growth also is moderating. A 0.3% rise on the month will see the year-over-year pace slow to 4.3%. That matches the slowest since June 2021. The decline in the work week in December to 34.3 hours spurred narratives about how businesses, hoarding labor, would cut hours before headcount. Yet, we suspect it was partly weather-related, and that the average work week returned to 34.4 hours, which is around where it was pre-Covid. 
Benchmark revisions are usually of more interest to economists than the market, but last month's report by the Philadelphia Fed raised the stakes.  It looked more closely at the April-June 2022 jobs data. After adjusting for updated data from the Quarterly Census on Employment and Wages, it concluded that job growth was nearly flat in Q2 22. It estimated that only 10,500 net new jobs were created, a far cry from the 1.05 mln jobs estimated by the Bureau of Labor Statistics. The Business Employment Dynamics Summary (released last week) was starker still. It points to a job loss of nearly 290k. Lastly, we note that US auto sales are expected to have recovered from the unexpected almost 6% decline (SAAR) in December. However, the 14.1 mln unit pace would still represent a 6% decline from January 2022, when sales spiked to 15.04 mln.  
The Dollar Index continues to hover around 102, corresponding to the (50%) retracement of the rally recorded from January 2021 through September 2022. It has not closed above the 20-day moving average (now ~102.80) since January 3. It remains in the range set on January 18, when it was reported that December retail sales and manufacturing output fell by more than 1%. That range was about 101.50-102.90. Although we are more inclined to see it as a base, the prolonged sideways movement last month saw new lows this month. That said, the next retracement target (61.8%) is near 99.00.
Eurozone:  The ECB rarely pre-commits to a policy move, precisely what ECB President Lagarde did last month. Apparently, as part of the compromise with members who at first advocated another 75 bp hike in December, an agreement to raise rates by 50 bp was accompanied by an agreement to hike by another 50 on February 2 and explicitly not rule out another half-point move in March. There was a weak effort to soften the March forward guidance, but the hawks pushed back firmly. The swaps market has about a 70% chance of a 50 bp hike in March rather than a 25 bp move. 
The ECB's deposit rate stands at 2.00%, and the swaps market is pricing 125 bp of hikes in the first half of the year. In contrast, the Fed is expected to raise the Fed funds target range by 50 bp. This has been reflected in the two-year interest rate differential between the US and Germany, falling from about 275 bp last August to around 160 bp now. We had anticipated the US premium would peak before the dollar, and there is a lag of almost two months. The direction and change of the interest rate differential often seem more important than the level. In late 2019, before Covid struck, the US premium was near 220 bp, and the euro was a little below $1.12.
There has been a significant shift in sentiment toward the eurozone. The downside risks that seemed so dominant have been reduced. A milder-than-anticipated winter, the drop in natural gas prices, and successful conservation and conversion (to other energy sources) lifted the outlook. Some hopeful economists now think that the recession that seemed inevitable may be avoided. The preliminary January CPI will be published a day before the ECB meets. The monthly pace fell in both November and December. The year-over-year rate is expected to ease to 5.1% from 5.2%, while the core rate slips to 5.1% from 5.2%. The base effect suggests a sharp decline is likely here in Q1, but divergences may become more evident in the euro area. This could see a reversal of the narrowing of core-periphery interest rate spreads. 
The EU's ban on refined Russian oil products (e.g., diesel and fuel oil) will be implemented on February 5. It is considering imposing a price cap as it did with crude oil. Diesel trades at a premium to crude, while fuel oil sells at a discount. There have been reports of European utilities boosting purchases from Russia ahead of the embargo. Separately, reports suggest that the EU was still the largest importer of Russian oil in December when pipeline and oil products were included. However, at the end of December, Germany stopped importing Russia's oil delivered through pipelines. This does not count oil and refined producers that first go to a third country, such as India, before being shipped to Europe.  
Pullbacks in the euro have been shallow and brief. Most pullbacks since the low was recorded last September, except the first, have mostly been less than two cents. That would suggest a pullback toward the $1.0730 area, but buyers may re-emerge in front of that, maybe around $1.0775. On the top side, the $1.0940 is the (50%) retracement of the euro's losses since January 2021. The euro rose marginally last week, even though it slipped by around 0.2% in the last two session. It has risen in eight of the past 10 weeks.   
UK: Without some forward guidance that stopped short of a pre-commitment, the market is nearly as confident that the Bank of England will deliver another half-point hike in the cycle to lift the base rate to 4.0%. The BOE was among the first of the G10 countries to begin the interest rate normalization process and raised the base rate in December 2021 from the 0.10% it had been reduced to during the pandemic. The swaps market projects the peak between 4.25% and 4.50%, with the lower rate seen as slightly more likely.
High inflation readings and strong wage growth appear to outweigh the economic slump. The BOE's forecasts see the economy contracting 1.5% year-over-year this year and output falling another 1% in 2024. The market is not as pessimistic. The monthly Bloomberg survey (51 economists) founds a median forecast for a 0.9% contraction this year and an expansion of the same magnitude next year. The survey now sees only a 0.2% quarterly contraction in Q4 22 rather than -0.4% in the previous survey. The median forecast for the current quarter was unchanged at -0.4%. 
Sterling continues to encounter resistance in front of $1.2450, which it first approached in mid-December. Although marginal new highs have been recorded, like the euro, it has been mainly confined to the range set on January 18 (~$1.2255-$1.2435). We are inclined to see this sideways movement as a topping pattern rather than a base, but it likely requires a break of the 1.2225 area to confirm.
Japan:  After contracting in Q3 22, the Japanese economy is expected to have rebounded in Q4 (~3.0% annualized pace). Reports on last month's labor market, retail sales, and industrial production will help fine-tune expectations. This month's rise in the flash composite PMI moved back above 50, pointing to some momentum. Still, Tokyo's higher-than-expected January CPI warns of upside risk to the national figure due offers good insight into the national figure, which may draw the most attention. We expect Japanese inflation to peak soon. The combination of government subsidies, the decline in energy prices, including the natural gas it gets from Russia, and the stronger yen (which bottomed in October) will help dampen price pressures. We look for a peak here in Q1 23. 
Last week, the dollar moved broadly sideways against the yen as it continued to straddle the JPY130 area. It repeatedly toyed with the 20-day moving average (~130.40) last week but has yet to close above this moving average for more than two months. Rising US and European yields may encourage the market to challenge the 50 bp cap on Japan's 10-year bond. A break of the JPY128.80 area may spur a test on the JPY128.00 area. However, the market seems to lack near-term conviction.
China:   Mainland markets re-open after the week-long Lunar New Year holiday. There may be two drivers. The first is catch-up. Equity markets in the region rose. The MSCI Asia Pacific Index rose every session last week and moved higher for the fifth consecutive week. The JP Morgan Emerging Market Currency Index rose about 0.40% last week and is trading near its best level since mid-2022. The euro and yen were little changed last week (+/- <0.20%). The second driver is new news--about Covid and holiday consumption. The PMI is due on January 31, and the median forecast in the Bloomberg survey is for improvement. It has the manufacturing PMI rising to 49.9 from 47.0 and the service PMI jumping to 51.5 from 41.6.  The offshore yuan edged up 0.3% last week, suggesting an upside bias to the onshore yuan, against which the dollar settled at CNY6.7845 ahead of the holiday. 
Canada:  After the Bank of Canada's decision last week, the FOMC meeting, and US employment data in the days ahead, Canada is out of the limelight. It reports November GDP figures and the January manufacturing PMI. Neither are likely to be market movers. The Bank of Canada is the first of the G7 central banks to announce a pause (conditional on the economy evolving like the central bank anticipates) with a target rate of 4.50%. The central bank sees the economy expanding by 1% this year and 1.8% next. It suggests that the underlying inflation rate has peaked and, by the end of the year, may slow to around 2.6%. The swaps market has 50 bp of cut discounted in the second half of the year. 
The Canadian dollar held its own last week, rising by about 0.5%, which was second only to the high-flying Australian dollar. The greenback approached CAD1.3300, its lowest level since last November when it traded around CAD1.3225. Quietly, the Canadian dollar has strung together a six-week advance, and since its start in mid-December, it has been the third-best performer in the G10 behind the yen (~6.2%) and the Australian dollar (~6.1%). We are more inclined to see the greenback bounce toward CAD1.3400 before those November lows are re-tested. 
Australia:  The market's optimism about China recovering from the Covid surge, with the help of government support and attempts to help the property market, has been reflected in the strength of the Australian dollar, which leads the G10 currencies with around a 4.4% gain this year. Yet, changes in the exchange rate and Chinese stocks are not highly correlated in the short- or medium-term. The surge of inflation at the end of last year, reported last week, lent greater credence to our view that the Reserve Bank of Australia will lift the cash target rate by 25 bp when it meets on February 7. In the week ahead, Australia reports December retail sales, private sector credit, and some housing sector data, along with the final PMI readings. The momentum indicators are stretched after a 2.5-cent rally from the low on January 19. It is at risk of a pullback and suggests a break of $0.7080 may be the first indication that it is at hand. We see potential initially toward $0.7000-$0.7040.
Mexico:  After falling by nearly 5.25% in the first part of the month against the Mexican peso, the dollar is consolidating. The underlying case for peso exposure remains, but there are two mitigating conditions. First, surveys of real money accounts suggest many are already overweight. Second, the dollar met key target levels in it late-2019 (~MXN18.80), even if not to the February 2020 low (slightly below MXN18.53). On January 31, Mexico reports Q4 GDP. The economy is expected to have expanded by 0.5% after 0.9% quarter-over-quarter growth in Q3 22. Growth is expected to slow further in Q1 23 before grinding to a halt in the middle two quarters. The following day, Mexico reports December worker remittances. These have been a strong source of capital inflows in Mexico. Remittances have a strong seasonal pattern of rising in December from November, which sees remittances slow. However, after surging for the last couple of years, they appear to have begun stabilizing. Also, the optimism around China is understood to be more supportive of Brazil and Chile, for example, than Mexico.  
We do not have a very satisfying explanation for the two-day jump in the dollar from about MXN18.5670 to MXN19.11 (January 18-19) outside of market positioning and the possibility of some large hedge working its way through. Still, it seemed like a transaction-related flow rather than a change in the underlying situation. The greenback has trended lower since then and has fallen in five of the last six sessions. It fell to nearly MXN18.7165 ahead of the weekend. Latam currencies, in general, did well, with the top two emerging market currencies coming from there (Brazil and Chile). The Mexican peso rose about 0.4% last week.   Last week, the Argentine peso's loss of almost 1.2% gave it the dubious honor of the worst performer among emerging market currencies. It is now off nearly 4.6% for this month. Mexican stocks and bonds extended their rallies. A firmer dollar ahead of the February 1 conclusion of the FOMC meeting may see the peso consolidate its recent gains.
Disclaimer
recession
pandemic
subsidies
bonds
sp 500
stocks
fomc
fed
federal reserve
currencies
canadian dollar
euro
yuan
governor
recession
gdp
oil
india
brazil
mexico
japan
canada
european
europe
uk
germany
russia
eu
china
How far could UK property prices drop and should investors be concerned?
The more pessimistic analysts believe that UK house prices could drop by as much as 30% over the next couple of years.…
The post How far could UK property…
The more pessimistic analysts believe that UK house prices could drop by as much as 30% over the next couple of years. Property prices leapt alongside most other asset classes over the long bull market that ran relatively uninterrupted over the 13 year period from the start of the recovery from the international financial crisis in 2009 and last year.
Average prices across the country almost doubled from £154,500 in March 2009 to just under £296,000 in October last year, when the market hit its most recent record high. Global stock markets had been in a downward spiral for almost a year while property prices kept climbing.
Source: PropertyData
However, a combination of rising interest rates, up from 0.1% in late 2021 to 3.5% in January 2023 and further hikes expected this year, soaring inflation putting pressure on household budgets and nerves around a recession has seen house prices ease. There still not far off their record highs of late 2022 but the trend is downward.
Source: BankofEngland
The big question for homeowners and property investors is just how far could UK residential property prices drop over the next couple of years? How long prices might take to recover from a drop is another important unknown.
First time buyers struggling to get onto the property ladder may welcome a significant drop in UK house prices. Even if higher interest rates mean monthly mortgage costs don't change much, lower sales prices should reduce the minimum deposits required to secure a mortgage.
However, for anyone who currently owns a home, especially if purchased in the past couple of years towards the top of the market, a significant drop in valuation would be extremely unwelcome. That is particularly the case for home owners at risk of falling into negative equity, which means the market value of their property is lower than the outstanding sum due on the mortgage.
Falling house prices, if the decline is steep, could also create a wider economic crisis and spill over into other parts of the economy and financial markets.
But not everyone agrees UK house prices will drop by anywhere near 30%. Let's explore the factors that would affect the residential property market over 2023 and beyond and different opinions on how serious a market slump could be. As well as the wider potential consequences that could result if the dive in home valuations turns out to be in line with more negative forecasts.
How much will UK house prices fall by?
The short answer to that question is that we don't know but the most pessimistic outlook is for drops of up to 30% over the next couple of years. However, there are a number of factors that mean there is a high chance valuations will slide by less. But let's look at the negative scenario first.
A 30% drop in home valuations sounds like a lot and it is. However, against the backdrop of the last couple of years that kind of fall looks a little less extreme. Prices are up 28% since April 2019 and a 30% fall would take the average price of a home in the UK to around £210,000, where it was in 2016. A less severe 20% drop in prices would see the average price settle at around £235,000, where it was just before the onset of the Covid-19 pandemic and the Bank of England dropping interest rates to just 0.1%.
Mid-term interest rates are likely to have the biggest influence on house prices. At the BoE's current 3.5% base rate, the best mortgage deals available are 2 years fixed at 4.8% compared to 1% deals available until recently. At an LTV of 60% on a £400,000 mortgage, that would push the monthly rate up to £2300 a month from £1500 a month.
For some borrowers, that is likely to prove problematic. It is also likely to mean lower demand for properties from buyers who might have otherwise decided to move up the property ladder and first time buyers. A drop in demand at higher price brackets due to affordability thresholds being passed will see property prices fall.
Will demand drop enough to lead to a 30% fall? That depends on factors that are currently unknown. How high interest rates go will have a huge influence and that will depend on inflation. There are signs inflation is easing and today the Fed's preferred gauge for inflation, the personal consumption expenditures (PCE) price index, rose 5.0% in December from a year earlier. That was slower than the 5.5% 12-month gain as of November and the lowest level since September 2021.
In the UK, inflation has also eased from 11.1% year-on-year in October to 10.5% in December. It's still much higher than in the USA but will hopefully now maintain a consistent downward trend helped by easing energy prices.
There are hopes the Fed will pull back on further interest rate rises from March and that would set a tone that the Bank of England may well follow with a slight delay. The Fed's base rate is also already higher than in the UK at 4.25% to 4.5%.
If interest rates and, more importantly, mortgage rates do not rise by more than 1% from where they are today it is unlikely valuation drops of as much as 30% eventuate. But if they did what would the consequences be?
What happens if UK house prices fall 30%?
The good news is that even a house price fall as extreme as 30% would be unlikely to lead to systematic issues in the UK's financial services sector. More people own their homes outright than have a mortgage – 8.8 million to 6.8 million homes. Lloyds Bank, one of the UK's biggest mortgage lenders recently reported the average LTV of its mortgage portfolio is just 40%.
Even if average LTV is a little higher for other banks, a wave of defaults is unlikely to threaten their stability and infect other areas of financial markets or the wider economy. Mortgage lenders are also reluctant to repossess homes they've lent against as it's an expensive process for them. They will do as much as they can to work with borrowers who are struggling to meet increased mortgage payments.
What does falling property prices mean for investors?
For property investors, it's really a case of if rental income will continue to cover mortgage payments, or get close enough to mean the investment still adds up. If mortgage payments are likely to exceed realistic rental income over the next few years investors may consider selling up. Unless the property was purchased in the last 2-3 years, that could still mean walking away with a reasonable return.
For investors in the wider financial markets, it seems unlikely that falling property prices, even if up to 30% is knocked off valuations, will see serious contagion spread and spark a crisis.
It's not impossible that UK property prices could fall by as much as 30% over the next couple of years as a result of higher interest rates and tighter household budgets but the likelihood is the average drop will be less. And in the worst case scenario, wider fallout should be limited. A repeat of the systemic crash that led to the 2008 financial crisis does not seem like a real prospect. Lenders are well capitalised and the system looks strong enough to cope.
The post
How far could UK property prices drop and should investors be concerned?
first appeared on
Trading and Investment News
.
recession
pandemic
covid-19
global stock markets
fed
mortgage rates
spread
recession
recovery
interest rates
stock markets
uk