Hybrid working post-COVID: how young professionals can optimise their time in the office (and why they should)
About two-thirds of generation Z seem to want a hybrid working pattern in the future.
During the pandemic, around 100 million people in Europe switched to working from home – nearly half of them for the first time. This shift was rapid, with employees quickly noticing the benefits of remote work. These can include freedom from commuting, more time for personal wellbeing and increased productivity.
As we move on from pandemic restrictions, we've seen a strong, global demand for more flexible forms of working, particularly to retain an element of remote work. While some employees want to work from home permanently, most want what's coming to be regarded as the best of both worlds: hybrid working. Only a minority of workers now want to return to the office full time.
One group which may be particularly keen on hybrid working is young professionals. And for this group, time spent in the office could be especially valuable.
---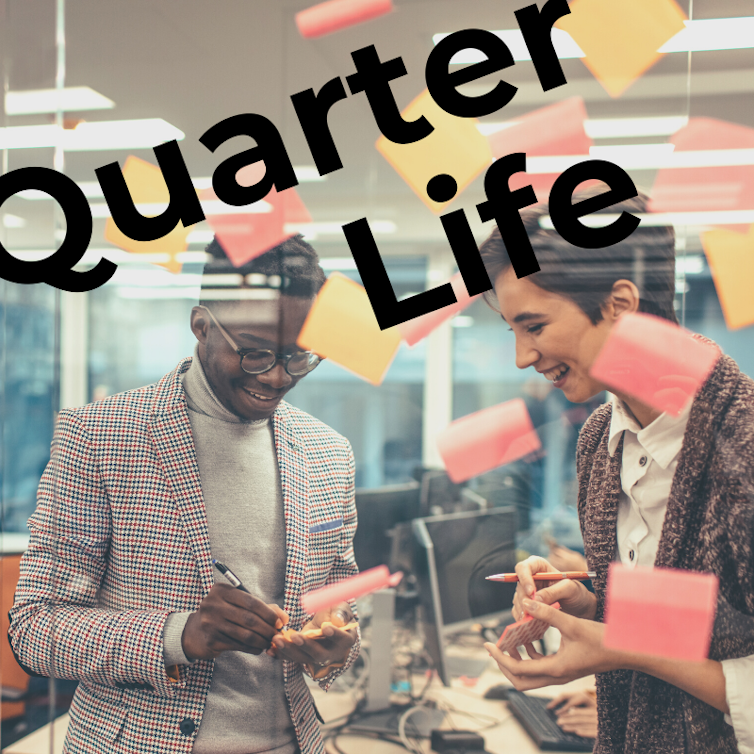 This article is part of Quarter Life, a series about issues affecting those of us in our twenties and thirties. From the challenges of beginning a career and taking care of our mental health, to the excitement of starting a family, adopting a pet or just making friends as an adult. The articles in this series explore the questions and bring answers as we navigate this turbulent period of life.
You may be interested in:
Long social distancing: how young adults' habits have changed since COVID
Working in the metaverse: what virtual office life could look like
Six misunderstood concepts about diversity in the workplace and why they matter
---
Young people and remote work
Surveys undertaken during the pandemic indicated that generation Z (those born after 1996) were more likely to say that they were struggling with work-life balance and post-work exhaustion than older generations.
There are several possible reasons for this. Younger people may find it more difficult to establish a good homeworking set up, depending on their living arrangements. Those early in their careers may have smaller professional networks, leading to greater isolation. Or they may simply have less experience managing the boundaries between work and life outside of work, which can be made more difficult when there's no physical office to leave at the end of the day.
Despite this, emerging evidence suggests that younger workers want remote and flexible work rather than a return to the office full time. Surveys vary, but generally indicate that around two-thirds of members of generation Z working in office jobs want a hybrid working pattern in the future – and they're prepared to move employers to find it.
According to a recent survey by management consulting company McKinsey, employees aged 18–34 were 59% more likely to say they would quit their current role to move to a job with flexible working compared with older employees aged 55–64.
It's worth going into the office sometimes
Remote and hybrid working can bring many benefits. For employees, remote work provides the opportunity to reallocate costly and sometimes stressful commuting time into activities that support work-life balance and health. Indeed, more than three-quarters of hybrid and remote workers report improved work-life balance compared with when they worked in an office full time.
Meanwhile, hybrid work provides autonomy and choice for employees. They can combine time at home for focused and independent work with time in the office for collaboration and connection. A hybrid working model can be good for productivity, inclusion and motivation.
However, the belief that work is best done in an office environment is pervasive – and young people in particular are thought to need to go into the office to build professional networks and to learn.
---
Leer más: Hybrid working: how to make it a success
---
There could be some truth to the idea that young people early in their careers uniquely benefit from going into the office. Research conducted prior to the pandemic has associated being out of sight while working remotely with also being out of mind. Notably, people who work exclusively at home are less likely to receive promotions and bonuses.
Conversely, being with colleagues in person has been associated with greater career advancement. In part, this is probably because being physically present in the office appears to signal commitment to the organisation.
Can hybrid work address the risks of fully remote work and preserve the rewards associated with face-to-face interactions in the office? Only time will tell.
Finding the right balance
Before 2020, remote work was still relatively rare. Hybrid working at scale is a new concept.
But throughout the pandemic, perceptions about working from home have improved globally. The latest UK data suggests nearly one-quarter of working adults are now hybrid. So in the future, we'll need to understand more about the impact of remote work both on organisations and the people who undertake it.
The challenge for younger employees is to identify an effective working pattern that suits both them and their organisation – and supports their career goals. As tempting as it may be to ditch the commute as often as possible, younger employees may instead wish to consider a more strategic approach.
---
Leer más: What the great work from home experiment has taught us about the way we work
---
When in the office, they should focus on personal visibility, and building and maintaining relationships with colleagues and managers. Networking and learning must be the focus of working in-person, and wherever possible, online meetings or independent work should be saved for remote working time.
Combine this with good wellbeing practices when working from home, especially around switching off from work, and hybrid might just deliver on its promises of better work for everyone – young and not so young alike.
Gemma Dale no recibe salario, ni ejerce labores de consultoría, ni posee acciones, ni recibe financiación de ninguna compañía u organización que pueda obtener beneficio de este artículo, y ha declarado carecer de vínculos relevantes más allá del cargo académico citado.
social distancing
pandemic
europe
uk
Exosomes Could Improve Inhaled Therapeutics
Instead of disguising vaccines in synthetic lipid nanoparticles, researchers used exosomes as their drug delivery vehicles to the lung. The exosomes are…
For respiratory diseases, from asthma to COVID-19, inhaled treatments can quickly deliver a drug to the desired target, the lungs. Global health depends on such treatments. As Kristen Popowski, a PhD candidate in comparative biomedical sciences at the North Carolina State University's College of Veterinary Medicine in Raleigh, and her colleagues wrote: "Respiratory diseases are among the leading causes of morbidity and mortality worldwide, with coronavirus disease 2019 (COVID-19) remaining prevalent in the ongoing pandemic."
Although lipid nanoparticles offer one delivery vehicle for such treatments, nature creates an obstacle. "The lung has natural defense mechanisms against inhaled particulates, and traditional lipid-nanoparticle vaccines present challenges in cytotoxicity and respiratory clearance," says Popowski. "A nanoparticle formulation that can withstand these defense mechanisms remains a critical challenge." So, Popowski and her colleagues explored an alternative approach.
"Instead of disguising vaccines in synthetic lipid nanoparticles, we utilize cell-secreted nanoparticles called exosomes as our drug delivery vehicles to the lung," Popowski explains. "Our exosomes are secreted from native lung cells and are recognizable by the lung."
Consequently, she says, "We can minimize pulmonary toxicity and clearance to better deliver and retain vaccines." In addition, the exosome-based treatments developed by Popowski and her colleagues can be formulated as a dry powder that requires no refrigeration and can have a shelf life of 28 days.
Despite the incentives to take an exosome-based approach to inhaled treatments for respiratory diseases, turning that into a part of bioprocessing requires more research.
"Although commercial manufacturing of exosomes has recently shown extensive improvement, optimization of mRNA loading into exosomes remains a challenge," Popowski says. "Endogenous mRNA expression through exosome engineering would likely be necessary for large-scale production."
The post Exosomes Could Improve Inhaled Therapeutics appeared first on GEN - Genetic Engineering and Biotechnology News.
genetic
pandemic
coronavirus
covid-19
mortality
War, peace and security: The pandemic's impact on women and girls in Nepal and Sri Lanka
The impacts of COVID-19 must be incorporated into women, peace and security planning in order to improve the lives of women and girls in postwar countries…
Attention to the pandemic's impacts on women has largely focused on the Global North, ignoring countries like Nepal and Sri Lanka, which continue to deal with prolonged effects of war. While the Nepalese Civil War concluded in 2006 and the Sri Lankan Civil War concluded in 2009, internal conflicts continue.
As scholars of gender and war, our work focuses on the United Nations Security Council Resolution 1325 on women, peace and security. And our recently published paper examines COVID-19's impacts on women and girls in Nepal and Sri Lanka, looking at policy responses and their repercussions on the women, peace and security agenda.
COVID-19 has disproportionately and negatively impacted women in part because most are the primary family caregivers and the pandemic has increased women's caring duties.
This pattern is even more pronounced in war-affected countries where the compounding factors of war and the pandemic leave women generally more vulnerable. These nations exist at the margins of the international system and suffer from what the World Bank terms "fragility, conflict and violence."
Women, labour and gender-based violence
Gendered labour precarity is not new to Nepal or Sri Lanka and the pandemic has only eroded women's already poor economic prospects.
Prior to COVID-19, Tharshani (pseudonym), a Sri Lankan mother of three and head of her household, was able to make ends meet. But when the pandemic hit, lockdowns prevented Tharshani from selling the chickens she raises for market. She was forced to take loans from her neighbours and her family had to skip meals.
Some 1.7 million women in Sri Lanka work in the informal sector, where no state employment protections exist and not working means no wages. COVID-19 is exacerbating women's struggles with poverty and forcing them to take on debilitating debts.
Although Sri Lankan men also face increased labour precarity, due to gender discrimination and sexism in the job market, women are forced into the informal sector — the jobs hardest hit by the pandemic.
The pandemic has also led to women and girls facing increased gender-based violence.
In Nepal, between March 2020 and June 2021, there was an increase in cases of gender-based violence. Over 1,750 incidents were reported in the media, of which rape and sexual assault represented 82 per cent. Pandemic lockdowns also led to new vulnerabilities for women who sought out quarantine shelters — in Lamkichuha, Nepal, a woman was allegedly gang-raped at a quarantine facility.
Gender-based violence is more prevalent among women and girls of low caste in Nepal and the pandemic has made it worse. The Samata Foundation reported 90 cases of gender-based violence faced by women and girls of low caste within the first six months of the pandemic.
What's next?
While COVID-19 recovery efforts are generally focused on preparing for future pandemics and economic recovery, the women, peace and security agenda can also address the needs of some of those most marginalized when it comes to COVID-19 recovery.
The women, peace and security agenda promotes women's participation in peace and security matters with a focus on helping women facing violent conflict. By incorporating women's perspectives, issues and concerns in the context of COVID-19 recovery, policies and activities can help address issues that disproportionately impact most women in war-affected countries.
These issues are: precarious gendered labor market, a surge in care work, the rising feminization of poverty and increased gender-based violence.
Policies could include efforts to create living-wage jobs for women that come with state benefits, emergency funding for women heads of household (so they can avoid taking out predatory loans) and increasing the number of resources (like shelters and legal services) for women experiencing domestic gender-based violence.
The impacts of COVID-19 must be incorporated into women, peace and security planning in order to achieve the agenda's aims of improving the lives of women and girls in postwar countries like Nepal and Sri Lanka.
Luna KC is a Postdoctoral Researcher at the Research Network-Women Peace Security, McGill University. This project is funded by the Government of Canada Mobilizing Insights in Defence and Security (MINDS) program.
Crystal Whetstone does not work for, consult, own shares in or receive funding from any company or organisation that would benefit from this article, and has disclosed no relevant affiliations beyond their academic appointment.
economic recovery
pandemic
coronavirus
covid-19
vaccine
quarantine
recovery
canada
ThreatX raises a fresh round of capital to protect APIs and web apps
ThreatX, a vendor selling API protection services to mainly enterprise clients, today announced that it raised $30 million in a Series B funding round…
ThreatX, a vendor selling API protection services to mainly enterprise clients, today announced that it raised $30 million in a Series B funding round led by Harbert Growth Partners with participation from Vistara Growth, .406 Ventures, Grotech Ventures and Access Venture Partners. With the new cash, which brings ThreatX's total raised to $52 million, CEO Gene Fay tells TechCrunch that ThreatX will "accelerate" investments in platform development while scaling sales and marketing initiatives.
The raise highlights investors' continued confidence in cybersecurity businesses to net returns, despite the current macroeconomic woes. While there's some evidence that fundraising has begun to slow down, cybersecurity startups raised $2.4 billion between January and June, according to PitchBook. Companies that defend APIs from outside attack have been particularly fruitful, lately, with startups such as Ghost Security and Corsha raising tens of millions of dollars in capital.
ThreatX was co-founded in 2014 by Bret Settle and Andrius Useckas. Prior to starting ThreatX, Settle was VP of enterprise architecture at BMC; Useckas had worked with Bret at BMC, where he was an enterprise security architect. The two were also colleagues at Corporate Express, which was acquired by Staples in 2008, where Useckas came in as an external pen tester.
"Over the course of working together for several years, Settle and Andrius saw a massive gap in the market in terms of solutions to protect BMC's application portfolio," said Fay, who was appointed CEO of ThreatX in 2020. "The products available required endless tuning and rule-writing and returned piles of false positives. Through all of this, the notion of innovating in the space — and ThreatX — was born."

ThreatX offers API protection, bot and DDoS mitigation and traditional web application firewalls (WAF) for first- and third-party web apps. The platform builds a profile of threat actors, leveraging a detection and correlation engine to show which actors are actively attacking and which might pose the greatest threat.
Fay sees ThreatX competing primarily with two categories of cybersecurity vendors. The first are newer API observability tools such as Salt Security and Noname. The second are bot management platforms like Cequence and WAF players such as Akamai, F5 and Imperva, which generally rely on applying rules-based protection to web apps and APIs.
Fay argues that the former group — the bot management and WAF vendors —  tend to offer capabilities that came together through acquisition, so they're less integrated. As for the latter — the API observability tools — Fay asserts that they often don't offer web app or bot protection and require offline analysis, which precludes the ability to block attacks in real time.
"The bottom line is that to protect APIs, you must be able to block attacks in real time," Fay said. "Grabbing data through observation and analyzing it after the fact may be interesting, but it does little from an immediate security standpoint. For our customers, the number one priority is protection — in real time, all the time. That is the value proposition we offer to our customers."
Real-time protection or no, it's true that API attacks are a growing cyber threat. Gartner predicts that by 2022, API attacks will become the most frequent attack vector, causing data breaches for enterprise web software.
"The COVID-19 pandemic accelerated use of APIs as companies looked at how they might provide new services to deliver value — and derive revenue — from customers," Fay added. "As people — both as consumers and professionals — turned to technology to get more done, reliance on both APIs and web applications grew substantially. That, in turn, has increased the need for security in this context — which presents a ton of opportunity for ThreatX.
While Fay demurred when asked about financials, he said that ThreatX currently has "more than" 100 customers. He declined to name any names.
When reached for comment, Harbert Growth Partners general partner Tom Roberts said in a statement:
APIs are a strategic priority for businesses of all sizes and have become a primary target for threat actors. Organizations are now contending with constant threats and require API and web application protection capabilities that can identify and respond to attacks in real time. This need for "real-time attack protection" is driving the API security market toward an aggressive pivot. Based on ThreatX's strong customer traction and unique product capabilities, we believe the company is well positioned to meet this shift head-on as a valuable partner to businesses looking to secure their attack surface.
mitigation
pandemic
covid-19