How to hone your leadership skills, and what your company can do to help
In the rapidly changing, ambiguous and unpredictable world of work, future leaders must be able to learn fast.
The UK labour market has finally started to see a fall in vacancies following a post-COVID spike in open positions. But there are still more than a million job vacancies, which are "damaging the economy by preventing firms from fulfilling order books and taking on new work", according to the British Chambers of Commerce.
A recent survey by this business lobby group found four-fifths of firms can't recruit the people they need. Companies often look outside for external candidates to fill senior roles, but this overlooks current employees who may have the potential to move up within an organisation – even if they do not know it yet.
Overlooking employees often happens when management plays it safe, rather than risking giving "one of their own" an important new assignment. The resulting untapped employee potential can leave people feeling underused and frustrated. You need to be given opportunities to stretch, learn and develop to fulfil your potential at work.
---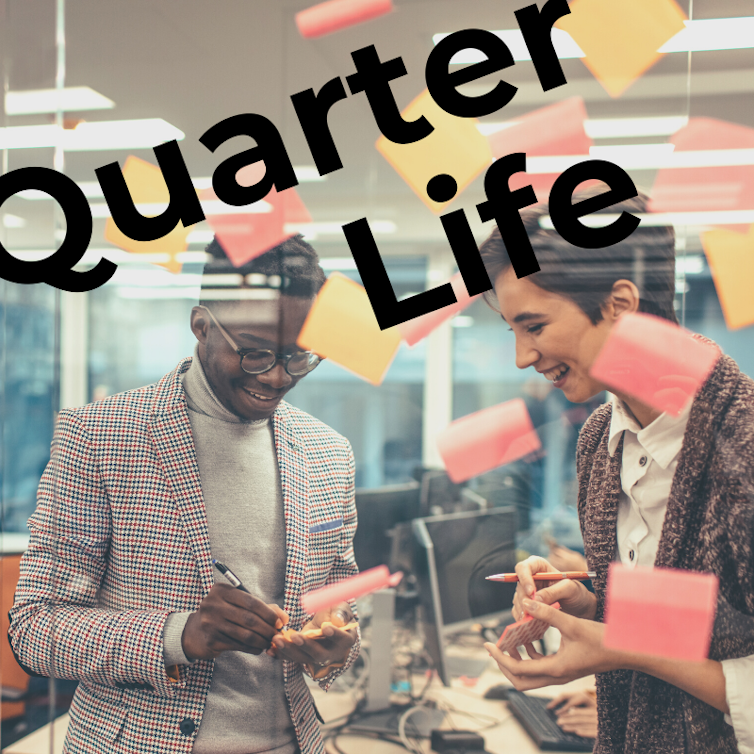 This article is part of Quarter Life, a series about issues affecting those of us in our twenties and thirties. From the challenges of beginning a career and taking care of our mental health, to the excitement of starting a family, adopting a pet or just making friends as an adult. The articles in this series explore the questions and bring answers as we navigate this turbulent period of life. You may be interested in:
Expert advice for budding UK entrepreneurs during a cost of living crisis
Trust is important if you want to succeed at work - here's how to build it
Why menstrual leave could be bad for women
---
Human resource managers use potential – and in particular, leadership potential – to identify the employees that could be their organisation's future leaders. In the business world (and often in academic research too), the term "high potential" typically means you are able to develop further and faster than others in a similar situation.
Someone with leadership potential has the capacity to be an effective leader in the future, but may need support to develop the right skills and experience to succeed. So, how can you work out your own leadership potential? Research highlights three main traits you need:
1. Growth: learning and motivation
Many studies identify the ability to learn as key to predicting future leadership effectiveness. This incorporates keenness to learn, the ability to extract as many lessons as possible from different experiences, and to adapt by applying these to enhance your future performance.
This explains why some people learn more from their experiences (and develop faster) than others. There is also a motivational component that includes drive and perseverance to achieve results, and the ambition to lead.
2. Foundational: cognitive and personality characteristics
Research shows that people who are more emotionally balanced, sociable, ambitious, conscientious and curious are more likely to become leaders.
Also, because it's important to be able to make decisions effectively in any senior role, cognitive capabilities are key. These typically include strong judgment skills in complex and ambiguous situations, and being able to collect and evaluate information from diverse sources to reach solid decisions.
3. Career: qualities specific to the future role
Some models of potential also include "career dimensions", which are specific skills relevant to a future role. For leadership potential, these might include qualities such as strategic thinking or collaboration.
New technology and workplace trends are among the factors that are changing how we work. This means the demands of future roles – and the career-specific qualities required to excel in them – may be quite different to those of your current job. In fact, research shows that more than 70% of today's top performers still lack the key qualities that will help them to be successful in their future roles.
How can you develop these qualities?
As rapid change renders knowledge and skills out of date at an astonishing rate, the ability to learn is increasingly crucial to future leaders. Rather than "having all the answers", you need to be able to find or figure the answers out. This means that leaders need the humility to know they don't know it all, and the interpersonal skills to listen openly and learn from a diverse network of people.
At the height of the COVID pandemic, for example, New Zealand's then prime minister Jacinda Ardern didn't have all the answers. But she used her platform to quite literally ask for information. Ardern did a series of video interviews with different experts to get some key answers, speaking to a psychologist about coping with the stresses of the pandemic, and an experienced business mentor about supporting small businesses.
Having asked, listened and sought varied insights, leaders must then apply strong judgment and problem-solving skills to decide on the best way forward – even if there is no obvious path. This draws upon cognitive ability, but it also involves skills that can be learnt.
Problems identifying potential
Unfortunately, organisations often rely upon current (or past) performance as a barometer of potential, which is far from ideal – not just because only a small proportion of current high performers also have high potential, but because people with strong potential may not currently be performing at their best. Perhaps they aren't in the right role, or aren't being sufficiently stretched or supported.
Either way, your employer shouldn't conflate your current performance with your potential. This could also perpetuate the lack of diversity that persists at leadership level in many firms. Past performance is limited by opportunity. Some people, due to biases and stereotypes, may not have been offered the chance to show what they are capable of yet.
To avoid these problems, organisations need to assess their employees objectively to find those with leadership potential. This could include doing psychometric tests of their personality and cognitive and learning abilities. Simulations of typical tasks or problems could also replicate the likely cognitive demands of future leadership roles, helping to identify people who can best cope and learn from the experience.
Supporting future leaders
It's important to remember that potential does not automatically unfold once it's identified. Indeed, some studies claim that 40% of high-potential promotions end in failure.
However, if you're good at learning from experiences and applying this to improve how you do things, and are motivated to progress and grow, you have a good chance of developing the career dimension qualities needed to be a future leader – and to do this faster than your peers.
But organisations must help by finding ways to stretch employees, while also building the scaffolding to support their learning and development. They should balance challenge with support through coaching, to help employees learn as much as they can from their experiences. If you want to be a future leader, you can then use these experiences to enhance your job performance and reach your full potential.
Zara Whysall also works for Kiddy & Partners, part of Gateley Plc.
uk
pandemic
Von Der Leyen Speech Suggests Russia Dropped Nuke On Hiroshima 
Von Der Leyen Speech Suggests Russia Dropped Nuke On Hiroshima 
Von der Leyen just said what?…
This past Wednesday, President of the European…
Von Der Leyen Speech Suggests Russia Dropped Nuke On Hiroshima 
Von der Leyen just said what?...
This past Wednesday, President of the European Commission Ursula von der Leyen delivered a speech before the 2023 Atlantic Council Awards in New York, where she sounded the alarm over the specter of nuclear war centered on the Russia-Ukraine conflict. But while invoking remembrance of the some 78,000 civilians killed instantly by the atomic bomb dropped on Hiroshima at the end of WWII, she said her warning comes "especially at a time when Russia threatens to use nuclear weapons once again". She  actually framed the atomic atrocity in a way that made it sound like the Russians did it. Watch:
Shameful words by the President of the European Commission, Ursula von der Leyen.

What do you mean with "once again"?

Treacherous words used on her speech delivered at the 2023 Atlantic Council Awards to suggest that Russia used nuclear weapons in Hiroshima and Nagasaki,… pic.twitter.com/nJFd8acJbq

— Alexandre Guerreiro (@ATGuerreiro) September 22, 2023
There was not one single acknowledgement in Von der Leyen's speech that it was in fact the United States which incinerated and maimed hundreds of thousands when it dropped no less that two atomic bombs on Japanese cities.
Here were her precise words, according to an Atlantic Council transcript...
You, dear Prime Minister, showed me the meaning of this proverb during the G7 summit in Japan last year. You brought us to your hometown of Hiroshima, the place where you have your roots and which has deeply shaped your life and leadership. Many of your relatives lost their life when the atomic bomb razed Hiroshima to the ground. You have grown up with the stories of the survivors. And you wanted us to listen to the same stories, to face the past, and learn something about the future.

It was a sobering start to the G7, and one that I will not forget, especially at a time when Russia threatens to use nuclear weapons once again. It is heinous. It is dangerous. And in the shadow of Hiroshima, it is unforgivable. 
The above video of that segment of the speech gives a better idea of the subtle way she closely associated in her rhetoric the words "once again" with the phrase "shadow of Hiroshima" while focusing on what Russia is doing, to make it sound like it was Moscow behind the past atrocities.
Russian media not only picked up on the woefully misleading comments, but the Kremlin issued a formal rebuke of Von der Leyen's speech as well:
In response to von der Leynen's remarks, Russian Foreign Ministry spokeswoman Maria Zakharova accused the European Commission president of making "no mention whatsoever of the US and its executioners who dropped the bombs on populated Japanese cities."

Zakharova responded on social media, arguing that von der Leyen's assertions on Moscow's supposed intentions to employ nuclear weapons "is despicable and dangerous" and "lies."
Empire of lies and its lords

Nuclear weapons were used only twice in history. But at the Atlantic Council Awards, EU's Von der Leyen, without mentioning that both times US did it, falsely claimed that "Russia threatens to use nuclear weapons once again". Shame. pic.twitter.com/wRY2sntxl0

— Russian Embassy in Kenya/Посольство России в Кении (@russembkenya) September 23, 2023
Some Russian embassies in various parts of the globe also highlighted the speech on social media, denouncing the "empire of lies" and those Western leaders issuing 'shameful' propaganda and historical revisionism.
Tyler Durden
Sun, 09/24/2023 - 13:15
japan
european
russia
ukraine
eu
Saudi Arabia Sentences Schoolgirl To 18 Years In Prison Over Tweets
Saudi Arabia Sentences Schoolgirl To 18 Years In Prison Over Tweets
Via Middle East Eye,
Saudi Arabia has sentenced a secondary schoolgirl…
Saudi Arabia Sentences Schoolgirl To 18 Years In Prison Over Tweets
Saudi Arabia has sentenced a secondary schoolgirl to 18 years in jail and a travel ban for posting tweets in support of political prisoners, according to a rights group.
On Friday, ALQST rights group, which documents human rights abuses in Saudi Arabia, revealed that the Saudi Specialised Criminal Court handed out the sentence in August to 18-year-old Manal al-Gafiri, who was only 17 at the time of her arrest.
The Saudi judiciary, under the de facto rule of Crown Prince Mohammed bin Salman, has issued several extreme prison sentences over cyber activism and the use of social media for criticising the government.
They include the recent death penalty against Mohammed al-Ghamdi, a retired teacher, for comments made on Twitter and YouTube, and the 34-year sentence of Leeds University doctoral candidate Salma al-Shehab over tweets last year.
The crown prince confirmed Ghamdi's sentence during a wide-ranging interview with Fox News on Wednesday. He blamed it on "bad laws" that he cannot change. 
"We are not happy with that. We are ashamed of that. But [under] the jury system, you have to follow the laws, and I cannot tell a judge [to] do that and ignore the law, because... that's against the rule of law," he said.
Saudi human rights defenders and lawyers, however, disputed Mohammed bin Salman's allegations and said the crackdown on social media users is correlated with his ascent to power and the introduction of new judicial bodies that have since overseen a crackdown on his critics. 
"He is able, with one word or the stroke of a pen, in seconds, to change the laws if he wants," Taha al-Hajji, a Saudi lawyer and legal consultant with the European Saudi Organisation for Human Rights, told Middle East Eye this week.
According to Joey Shea, Saudi Arabia researcher at Human Rights Watch, Ghamdi was sentenced under a counterterrorism law passed in 2017, shortly after Mohammed bin Salman became crown prince. The law has been criticised for its broad definition of terrorism.
Saudi Crown Prince Mohammed bin Salman has confirmed that retired teacher Muhammed al Ghamdi was indeed sentenced to death for his tweets.

He blamed the sentence on "bad laws."https://t.co/2YFNWLO4B0 pic.twitter.com/gm91G9p5dD

— SAMRIReports2 (@SReports2) September 22, 2023
Similarly, two new bodies - the Presidency of State Security and the Public Prosecution Office - were established by royal decrees in the same year.
Rights groups have said that the 2017 overhaul of the kingdom's security apparatus has significantly enabled the repression of Saudi opposition voices, including those of women rights defenders and opposition activists. 
"These violations are new under MBS, and it's ridiculous that he is blaming this on the prosecution when he and senior Saudi authorities wield so much power over the prosecution services and the political apparatus more broadly," Shea said, using a common term for the prince.
Tyler Durden
Sun, 09/24/2023 - 11:30
european
Biden To Join UAW Picket Line As Strike Expands, Good Luck Getting Repairs
Biden To Join UAW Picket Line As Strike Expands, Good Luck Getting Repairs
Authored by Mike Shedlock via MishTalk.com,
In a symbolic, photo-op…
Biden To Join UAW Picket Line As Strike Expands, Good Luck Getting Repairs
Authored by Mike Shedlock via MishTalk.com,
In a symbolic, photo-op gesture to win union votes, Biden will head to Michigan for a token visit.
Biden to Walk the Picket Line
Tuesday, I'll go to Michigan to join the picket line and stand in solidarity with the men and women of UAW as they fight for a fair share of the value they helped create.

It's time for a win-win agreement that keeps American auto manufacturing thriving with well-paid UAW jobs.

— President Biden (@POTUS) September 22, 2023
Taking Sides
CNN had some Interesting comments on Biden Talking Sides.
Jeremi Suri, a presidential historian and professor at University of Texas at Austin, said he doesn't believe any president has ever visited a picket line during a strike.

Presidents, including Biden, have previously declined to wade into union disputes to avoid the perception of taking sides on issues where the negotiating parties are often engaged in litigation.

On September 15, the day the strike started, Biden said that the automakers "should go further to ensure record corporate profits mean record contracts for the UAW."

Some Democratic politicians have been urging Biden to do more. California Rep. Ro Khanna on Monday told CNN's Vanessa Yurkevich that Biden and other Democrats should join him on the picket line.

"I'd love to see the president out here," he said, arguing the Democratic Party needs to demonstrate it's "the party of the working class."
UAW Announces New Strike Locations
As the strike enters a second week, UAW Announces New Strike Locations
UAW President Shawn Fain called for union members to strike at noon ET Friday at 38 General Motors and Stellantis facilities across 20 states. He said the strike call covers all of GM and Stellantis' parts distribution facilities.

The strike call notably excludes Ford, the third member of Detroit's Big Three, suggesting the UAW is more satisfied with the progress it has made on a new contract with that company.

General Motors plants being told to strike are in Pontiac, Belleville, Ypsilanti, Burton, Swartz Creek and Lansing, Michigan; West Chester, Ohio; Aurora, Colorado; Hudson, Wisconsin; Bolingbrook, Illinois; Reno, Nevada; Rancho Cucamonga, California; Roanoke, Texas; Martinsburg, West Virginia; Brandon, Mississippi; Charlotte, North Carolina; Memphis, Tennessee; and Lang Horne, Pennsylvania.

The Stellantis facilities going on strike are in Marysville, Center Line, Warren, Auburn Hills, Romulus and Streetsboro, Michigan; Milwaukee, Wisconsin; Plymouth, Minnesota; Commerce City, Colorado; Naperville, Illinois; Ontario, California; Beaverton, Oregon; Morrow, Georgia; Winchester, Virginia; Carrollton, Texas; Tappan, New York; and Mansfield, Massachusetts.
Contract Negotiations Are Not Close
Good Luck Getting Repairs
Good luck getting your car repaired:

Auto worker strikes now expanding to *38* parts and distribution locations across 20 states.

This feels like a movie.

(via CNBC)

— CarDealershipGuy (@GuyDealership) September 23, 2023
Party of the Working Cass, Really?
Let's discuss the nonsensical notion that Democrats are the party of the "working class".
Unnecessary stimulus, reckless expansion of social services, student debt cancellation, eviction moratoriums, earned income credits, immigration policy, and forcing higher prices for all, to benefit the few, are geared towards the "unworking class".
On top of it, Biden wants to take away your gas stove, end charter schools to protect incompetent union teachers, and force you into an EV that you do not want and for which infrastructure is not in place.
All of this increases inflation across the board as do sanctions and clean energy madness.
Exploring the Working Class Idea
If you don't work and have no income, Biden may make your healthcare cheaper. If you do work, he seeks to take your healthcare options away.
If you want to pay higher prices for cars, give up your gas stove, be forced into an EV, subsidize wind energy then pay more for electricity on top of it, you have a clear choice. If you support those efforts, by all means, please join him on the picket line for a token photo-op (not that you will be able to get within miles for the staged charade).
But if you can think at all, you understand Biden does not support the working class, he supports the unworking class.
Tyler Durden
Sun, 09/24/2023 - 10:30
stimulus
ontario