How can scientists update coronavirus vaccines for omicron? A microbiologist answers 5 questions about how Moderna and Pfizer could rapidly adjust mRNA vaccines
The new omicron variant of coronavirus has a number of mutations that may require manufacturers to update vaccines. The unique attributes of mRNA vaccines make updating them fast and easy.
If the omicron variant of the coronavirus is different enough from the original variant, it's possible that existing vaccines won't be as effective as they have been. If so, it's likely that companies will need to update their vaccines to better fight omicron. Deborah Fuller is a microbiologist who has been studying mRNA and DNA vaccines for over two decades. Here she explains why vaccines might need to be updated and what that process would look like.
1. Why might vaccines need to be updated?
Basically, it's a question of whether a virus has changed enough so that antibodies created by the original vaccine are no longer able to recognize and fend off the new mutated variant.
Coronaviruses use spike proteins to attach to ACE-2 receptors on the surface of human cells and infect them. All mRNA COVID-19 vaccines work by giving instructions in the form of mRNA that direct cells to make a harmless version of the spike protein. This spike protein then induces the human body to produce antibodies. If a person is then ever exposed to the coronavirus, these antibodies bind to the coronavirus's spike protein and thus interfere with its ability to infect that person's cells.
The omicron variant contains a new pattern of mutations to its spike protein. These changes could disrupt the ability of some – but probably not all – of the antibodies induced by the current vaccines to bind to the spike protein. If that happens, the vaccines could be less effective at preventing people from getting infected by and transmitting the omicron variant.
2. How would a new vaccine be different?
Existing mRNA vaccines, like those made by Moderna or Pfizer, code for a spike protein from the original strain of coronavirus. In a new or updated vaccine, the mRNA instructions would encode for the omicron spike protein.
By swapping out the genetic code of original spike protein for the one from this new variant, a new vaccine would induce antibodies that more effectively bind the omicron virus and prevent it from infecting cells.
People already vaccinated or previously exposed to COVID-19 would likely need only a single booster dose of a new vaccine to be protected not only from the new strain but also other strains that may be still in circulation. If omicron emerges as the dominant strain over delta, then those who are unvaccinated would only need to receive 2-3 doses of the updated vaccine. If delta and omicron are both in circulation, people would likely get a combination of the current and updated vaccines.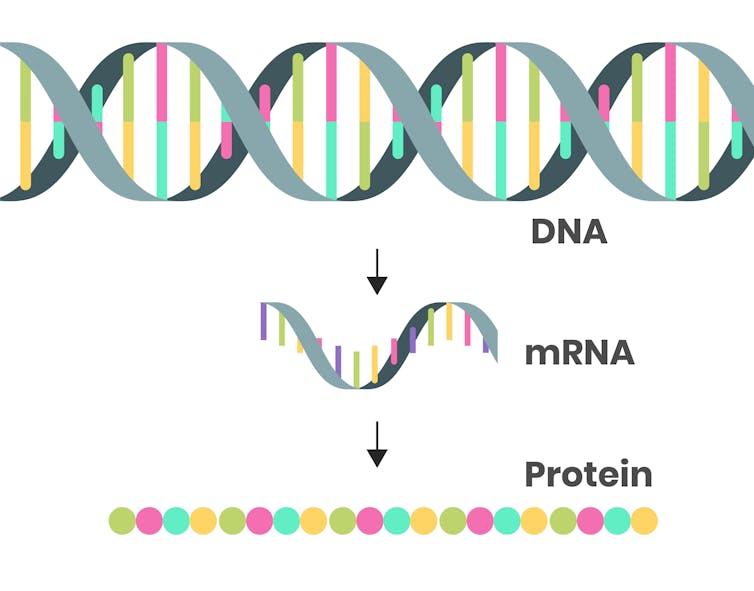 3. How do scientists update a vaccine?
To make an updated mRNA vaccine, you need two ingredients: the genetic sequence of the spike protein from a new variant of concern and a DNA template that would be used to build the mRNA.
In most organisms, DNA provides the instructions for making mRNA. Since researchers have already published the genetic code for the omicron spike protein, all that's left to do is make a DNA template for the spike protein that would be used to produce the mRNA part of new vaccines.
To do this, researchers mix DNA templates with synthetic enzymes and four molecular building blocks that make mRNA – G, A, U and C for short. The enzymes then build an mRNA copy of the DNA template, a process called transcription. Using this process, it takes only minutes to produce a batch of the mRNA for vaccines. Researchers then place the mRNA transcripts within fatty nanoparticles that protect the instructions until they are safely delivered into cells in your arm.
4. How long until a new vaccine might be ready?
It takes only three days to generate the DNA template needed to make a new mRNA vaccine. Then it would take about a week to produce sufficient doses of the mRNA vaccine for testing in the lab and another six weeks to perform the pre-clinical tests on human cells in test tubes to make sure a new vaccine works as it should.
So within 52 days, scientists could have an updated mRNA vaccine ready to plug into the manufacturing process and begin producing doses for a human clinical trial. That trial would likely require at least another few weeks for a total of around 100 days to update and test a new vaccine.
While that trial is going on, manufacturers could start switching their current process to making a new vaccine. Ideally, once the clinical trial is complete – and if the vaccine gets authorized or approved – a company could immediately start rolling out doses of a new vaccine.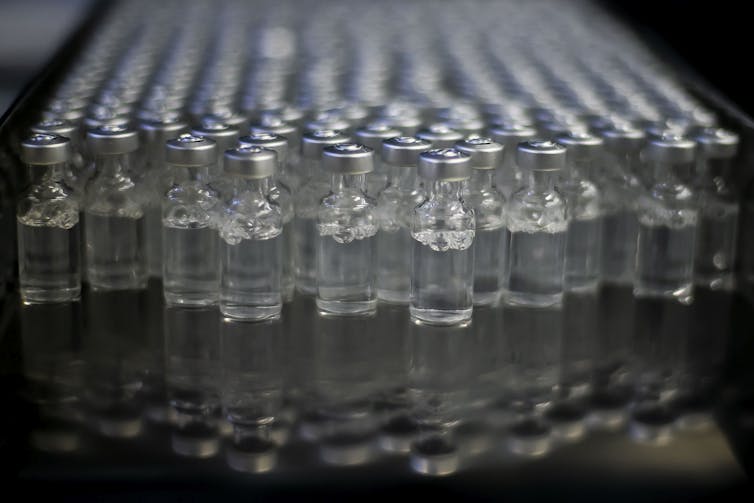 5. Does an updated vaccine need full clinical trials?
It's currently not clear how much clinical data would be required to get FDA approval or authorization for an updated COVID-19 vaccine. However, all the ingredients would be the same in a new vaccine. The only difference would be a few lines of genetic code that would ever so slightly change the shape of the spike protein. From a safety perspective, an updated vaccine is essentially identical to the already tested vaccines. Because of these similarities, clinical testing may not need to be as extensive as what was needed for the first-generation COVID-19 vaccines.
At a minimum, clinical trials for updated vaccines would likely require safety testing and confirmation that an updated vaccine induces antibody levels on par with the response of the original vaccine against the original, beta and delta strains. If these are the only requirements, then researchers would enroll only hundreds – not tens of thousands – of people to obtain the clinical data needed.
[The Conversation's science, health and technology editors pick their favorite stories. Weekly on Wednesdays.]
One important thing to note is that if vaccine manufacturers decide to update their vaccines for the omicron variant, it wouldn't be their first time making this kind of change.
A previous variant, B.1.351, emerged in October 2020 and was sufficiently resistant to then-current vaccines to warrant updating them. Manufacturers quickly responded to the potential threat by developing an updated mRNA vaccine to match this variant and performed clinical trials to test the new vaccine. Fortunately, this variant did not become the dominant variant. But if it had, vaccine manufacturers would have been ready to roll out an updated vaccine.
If it turns out that omicron – or any future variant, for that matter – warrants a new vaccine, companies have already completed the dress rehearsals and are ready to meet the challenge.
Deborah Fuller is co-founder of Orlance, Inc, a biotechnology company developing a needle free technology to deliver RNA and DNA vaccines. She also serves as a scientific advisor for HDT Bio, a biotechnology company developing RNA vaccines for COVID19 and other infectious diseases. She receives funding supporting basic and translational research in RNA and DNA vaccines from the National Institutes of Health.
vaccine
testing
fda
clinical trials
genetic
antibodies
rna
dna
coronavirus
covid-19
Weekly investment update – The soft underbelly of hard inflation data
Warnings by the US and Chinese authorities have underscored the dilemma of conflicting inflation and growth data, with energy and tight labour markets…
Warnings by the US and Chinese authorities have underscored the dilemma of conflicting inflation and growth data, with energy and tight labour markets pushing up producer and consumer prices amid creeping signs of softening growth. This has put global monetary policy, and markets in risky assets, in a bind.
The Dow Jones Industrial Average fell for the seventh consecutive week last week, while the benchmark US Treasury 10-year yield hovered around 3.0% (almost double the 1.6% of a year ago). Commodity prices came under selling pressure as risk aversion among investors mounted. Safe-haven flows pushed up the US dollar, driving its trade-weighted index to near two-decade highs (see Exhibit 1).
Policy warnings…
China fanned market worries early last week, with Premier Li Keqiang warning that the domestic jobs situation was getting 'complicated and grave'. The country's zero-Covid policy is taking a heavy toll on the local economy with negative spillover effects globally. While Shanghai's lockdown may be wound down soon, other major cities (including Beijing) are facing renewed restrictions.
US Federal Reserve Chair Jerome Powell issued a warning mid-week: The Fed could not guarantee a 'soft landing' as it looked to get runaway inflation back to its 2% target amid a tight US labour market. The US Senate nonetheless overwhelmingly confirmed Powell for a second term, signalling monetary policy continuity.
Earlier in the week, former Fed Chair Ben Bernanke warned about the risk of stagflation in an interview with The New York Times.
Aggravated by hard inflation data…
US consumer price inflation was 8.3% YoY in April, down slightly from 8.5% in March. However, core inflation (which excludes food and energy prices), rose on the month from 0.3% to 0.6%, a level still too high for the Fed's comfort.
Services inflation was particularly strong, rising by 0.7% MoM in April, marking the biggest monthly gain since August 1990. Underscoring continued robust consumer demand, retail sales rose by 0.9% vs the prior month, though this marks the third month in a row that the growth rate has decelerated. 
The prospects for inflation to fall back to the Fed's 2% target anytime soon may not be good: High wage growth – hourly earnings rose at around 5% YoY – could continue to fuel inflation in the near term. We note that services inflation tends to be much stickier than other index components.
From the Fed's perspective, these price pressures could in turn drive inflation expectations higher.
The market perceives the latest inflation report as sealing a 50bp rate rise at the June and July meetings of Fed policymakers. It also boosts the chances of the Fed persisting in its aggressive tightening stance at later meetings. A key question is the extent to which – and when – higher interest rates will hit real incomes and crimp demand growth, slowing the economy overall. 
The high services inflation data also suggests labour market tightness would have to ease significantly to bring wage growth back to levels that are acceptable to the Fed. We believe something will have to give. If not, the Fed may have to tap harder on the brakes down the line.
The ECB continues to move closer towards a hawkish policy, with the market now expecting its asset purchasing programme (APP) to end in July, to be followed by a 25bp rate rise soon after. Underpinning the ECB's policy tightening stance is strong inflation, which rose by 7.4% YoY in April (same as in March), and falling unemployment (the jobless rate hit a record low of 6.8% in March).
The war in Ukraine has added to the upside risks to inflation via food and energy price increases and supply bottlenecks. In addition to higher inflation, the ECB also appears to be concerned about the spillover effects from wage increases. An increasing number of policymakers has spoken out recently in favour of an initial rate rise as soon as July.
And creeping signs of slower growth
Indications of weakening growth momentum have appeared, most noticeably in the UK where GDP growth contracted unexpectedly by 0.1% MoM in March.
In the eurozone, industrial production shrank by 1.8% MoM in March and manufacturing output was down by 1.6%. The main culprit was disruption caused by the war in Ukraine. The weakness was concentrated in Germany, whose supply chains are more integrated with eastern Europe. Its car sector is missing components produced in Ukraine.
Even in the US, recent data showed signs of slowing growth. Jobless claims filings showed an increase in initial claims; the May Senior Loan Officer Opinion survey recorded a drop in demand for mortgages; the University of Michigan consumer sentiment May index hit its lowest level since the start of the pandemic; and the May Empire State Manufacturing survey plunged.
China also released weak data, with industrial output, fixed-asset investment and retail sales all showing year-on-year declines. The property market's woes deepened, with new home sales and starts falling precipitously.
Investment implications
Mr. Bernanke's warning of stagflation underscores the dilemma facing policymakers and financial markets: Inflation and growth data are sending conflicting signals. Parts of the US yield curve are inverted, pointing to some risk of an economic recession.
The slowdown concerns are linked to inflation forcing the Fed to tighten policy into restrictive territory and turning weaker growth into a contraction.
The situation is similar in the eurozone: inflation is at its highest ever and could lead the ECB to take stronger measures, exacerbating headwinds from weak Chinese activity and a Russia-induced energy supply shock.
Against the backdrop of the continuing Ukrainian conflict and prolonged supply-chain disruptions, we do not favour sovereign bonds and European equities at this point. We prefer commodities, Japanese and emerging market equities, including Chinese stocks.
---
Disclaimer
Please note that articles may contain technical language. For this reason, they may not be suitable for readers without professional investment experience.
Any views expressed here are those of the author as of the date of publication, are based on available information, and are subject to change without notice. Individual portfolio management teams may hold different views and may take different investment decisions for different clients. The views expressed in this podcast do not in any way constitute investment advice.
The value of investments and the income they generate may go down as well as up and it is possible that investors will not recover their initial outlay. Past performance is no guarantee for future returns.
Investing in emerging markets, or specialised or restricted sectors is likely to be subject to a higher-than-average volatility due to a high degree of concentration, greater uncertainty because less information is available, there is less liquidity or due to greater sensitivity to changes in market conditions (social, political and economic conditions). Some emerging markets offer less security than the majority of international developed markets. For this reason, services for portfolio transactions, liquidation and conservation on behalf of funds invested in emerging markets may carry greater risk.
Writen by Chi Lo. The post Weekly investment update – The soft underbelly of hard inflation data appeared first on Investors' Corner - The official blog of BNP Paribas Asset Management, the sustainable investor for a changing world.
recession
unemployment
consumer sentiment
pandemic
bonds
yield curve
dow jones
emerging markets
equities
stocks
monetary policy
fed
federal reserve
us treasury
home sales
us dollar
senate
lockdown
gdp
interest rates
commodities
european
europe
uk
germany
russia
ukraine
china
Moderna's HIV vaccine prepped for trials in Africa
Moderna has joined forces with non-profit organisation IAVI on a third phase 1 trial of its candidate HIV
The post Moderna's HIV vaccine prepped for…
Moderna has joined forces with non-profit organisation IAVI on a third phase 1 trial of its candidate HIV vaccine in Africa, where the burden of the virus is still being keenly felt.
IAVI (the International AIDS Vaccine Initiative) has started screening subjects to be included in the study, called IAVI G003, at centres in Rwanda and South Africa, said the biotech.
Moderna's vaccines deliver HIV-specific antigens discovered by researchers at IAVI and Scripps Research that have already been tested in a proof-of-concept study carried out last year using an adjuvant protein vaccine approach.
There are hopes that its mRNA approach, which proved so effective against COVID-19, could succeed where traditional vaccine technologies have failed in HIV.
One candidate – mRNA-1644 – has already shown its potential in an earlier phase 1 trial (IAVI G001) run in the US. It codes for an antigen called eOD-GT8 60mer and, in the study, stimulated a targeted B-cell immune response in 97% of vaccine recipients.
Moderna says that B-cell activation should lead to the induction of broadly neutralising antibodies (bnAbs), widely considered to be a goal of an efficacious HIV vaccine, but that immunising with eOD-GT8 60mer alone will almost certainly not be sufficient.
The biotech is looking at a combination regimen of vaccines targeting different HIV immunogens such as Core-g28v2 60mer to try to boost the immune response further against HIV and improve the protective efficacy.
Earlier this year, the first healthy volunteers were dosed with mRNA-1644 in a second phase 1 trial (IAVI G002), which is being funded in part by the Bill & Melinda Gates Foundation and is being carried out in US populations.
On HIV Vaccine Awareness Day, we want to acknowledge and thank the scientists, clinical trial participants, volunteers and so many others around the globe working together to advance the hope of a preventive #HIV #vaccine. #HVAD #HVAD2022 pic.twitter.com/KLrVRXtEAv

— Moderna (@moderna_tx) May 18, 2022
IAVI G003 will enrol 18 healthy HIV-negative adult volunteers who will receive two doses of the eOD-GT8 60mer mRNA shot. They will be followed for six months to gauge the safety and immunogenicity of the vaccine.
Moderna said the trial is a "first-in-Africa" study, evaluating an mRNA-delivered HIV immunogen in Africa with African researchers leading the project.
Despite more than 30 years of research, the tendency of the virus to mutate means that classical approaches to vaccine design have been ineffective, and at least four prior vaccine candidates have failed in clinical trials.
In February, one of the front-runner candidates in the decades-long quest to find an HIV vaccine – Johnson & Johnson – reported that its candidate failed a phase 2b trial.
The Ad26.Mos4.HIV vaccine – which uses the same adenoviral technology as J&J's COVID-19 vaccine and targets four HIV antigens – showed that the shot was safe but unable to meet its target of reducing transmission of HIV by 50%.
And last year, the HVTN 702 study of two co-administered HIV candidate vaccines from Sanofi Pasteur and GlaxoSmithKline, combined with GSK's adjuvant MF59, was also discontinued due to a lack of efficacy.
The post Moderna's HIV vaccine prepped for trials in Africa appeared first on .
vaccine
clinical trials
antibodies
covid-19
transmission
africa
Missouri Bill Prevents Doctors Being Disciplined If They Prescribe Ivermectin Or Hydroxychloroquine
Missouri Bill Prevents Doctors Being Disciplined If They Prescribe Ivermectin Or Hydroxychloroquine
Authored by Naveen Athrappully via The…
Missouri Bill Prevents Doctors Being Disciplined If They Prescribe Ivermectin Or Hydroxychloroquine
Authored by Naveen Athrappully via The Epoch Times (emphasis ours),
Missouri lawmakers passed legislation that prevents state licensing boards from disciplining doctors who prescribe ivermectin and hydroxychloroquine.
Sponsored by Rep. Brenda Kay Shields (R-Mo.), HB 2149 also bars pharmacists from questioning doctors or disputing patients regarding the usage of such drugs and their efficacy.
With a convincing 130–4 vote in the House, HB 2149 passed both chambers on May 12 and currently heads to the office of Gov. Mike Parson to be potentially signed into law.
"The board shall not deny, revoke, or suspend, or otherwise take any disciplinary action against, a certificate of registration or authority, permit, or license required by this chapter for any person due to the lawful dispensing, distributing, or selling of ivermectin tablets or hydroxychloroquine sulfate tablets for human use in accordance with prescriber directions," reads the draft of the bill (pdf).
It adds, "A pharmacist shall not contact the prescribing physician or the patient to dispute the efficacy of ivermectin tablets or hydroxychloroquine sulfate tablets for human use unless the physician or patient inquires of the pharmacist about the efficacy of ivermectin tablets or hydroxychloroquine sulfate tablets."
Critics of the bill have noted that the Food and Drug Administration (FDA) has not given approval for usage of the drugs. Ivermectin and hydroxychloroquine have been divisive drugs and politically polarized throughout the pandemic.
"But, nevertheless, the Missouri legislature has chosen to 'own the libs' by issuing a gag order against every pharmacist in this state from offering their medical opinion on taking either one of those medications—even if it could kill their patient," wrote former Democratic nominee Lindsey Simmons in a May 12 Twitter post.
Although 22 countries across the world have approved the use of ivermectin in treating COVID-19, the FDA maintains that the current data show the drug to be ineffective. Large doses can be dangerous, it says.
A recent study published in the International Journal of Infectious Diseases analyzed a national federated database of adults that compared ivermectin with the FDA-approved COVID-19 medication, remdesivir.
"After using propensity score matching and adjusting for potential confounders, ivermectin was associated with reduced mortality vs remdesivir," researchers wrote. "To our knowledge, this is the largest association study of patients with COVID-19, mortality, and ivermectin."
According to The Associated Press, Missouri state Rep. Patty Lewis, a Democrat, agreed to the bill to satisfy a group of conservatives in the Senate. She added that the bill will not change anything significantly as medical boards do not engage in punishing doctors who prescribe drugs legally.
Tyler Durden
Wed, 05/18/2022 - 23:25
senate
pandemic
covid-19
fda
medication
remdesivir
hydroxychloroquine
mortality