Guerilla gardening: how you can make your local area greener without getting into trouble
Many people are gardening on land that is not theirs – here are some things to consider to avoid getting into trouble.
When Richard Reynolds first started gardening around London's streets, he was so worried he might be arrested that he worked under the cover of darkness. Reynolds was one of the UK's first modern guerrilla gardeners, a movement that encourages people to nurture and revive land they do not have the legal rights to cultivate.
Gardening, in general, offers physical and mental health benefits. But as many as one in eight British households have no access to a garden or outdoor space of their own.
This issue is particularly pronounced among city dwellers, ethnic minorities and young people. A 2021 survey conducted in England revealed that those aged 16-24 were more than twice as likely to lack access to a garden or allotment compared to those aged over 65.
---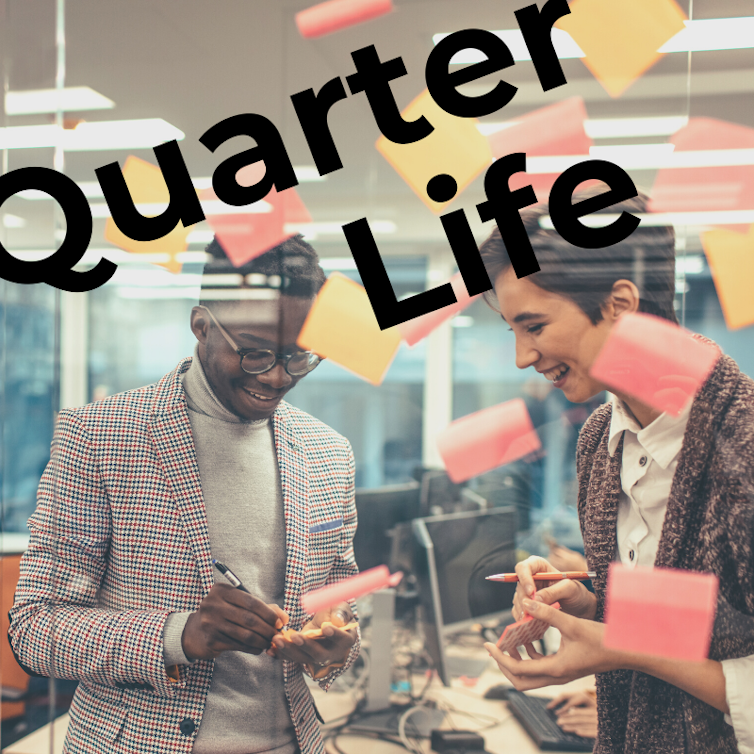 This article is part of Quarter Life, a series about issues affecting those of us in our twenties and thirties. From the challenges of beginning a career and taking care of our mental health, to the excitement of starting a family, adopting a pet or just making friends as an adult. The articles in this series explore the questions and bring answers as we navigate this turbulent period of life.
You may be interested in:
How community gardening could ease your climate concerns
Three ways to get your nature fix without a garden
How often do you think about the Roman empire? TikTok trend exposed the way we gender history
---
Guerrilla gardening is a particularly good option for these groups of people. It can involve planting herbs or vegetables for a whole community to enjoy, spreading seeds or plants, tidying weeds, or even something as simple as picking up litter.
But if you're considering becoming a guerilla gardener, it's important to understand your rights. Could you be arrested for it? And should you wait until after dark?
Can you be prosecuted?
It's important to remember that much of the unused or abandoned land that is potentially suitable for guerilla gardening in towns and cities throughout the UK is owned by local councils. Common examples of such locations include broken pavements with missing slabs, wasteland and the central areas of roundabouts.
Although much of this land is already open for the public to walk over, actively gardening on it would become an act of trespass.
The law of trespass sounds scary. However, gardening on this land would be a breach of civil law rather than a crime. This means that most guerrilla gardeners are unlikely to receive a fine or a criminal record.
Landowners do have the legal right to use "reasonable force" to remove trespassers from their land. But, fortunately, it seems most councils have ignored guerrilla gardeners, having neither the time, money or inclination to bring legal action against them.
Colchester Council, for example, were unable to track down the identity of the "human shrub", a mysterious eco-activist who restored the flowers in the city's abandoned plant containers in 2009. The shrub returned again in 2015 and sent a gift of seeds to a local councillor.
In other areas of the UK, the work of guerilla gardeners has been cautiously welcomed by local councils. In Salford, a city in Greater Manchester, there is a formal requirement to submit an application and obtain permission to grow on vacant spots in the city. But the local authority tends not to interfere with illegal grow sites.
There seems to be an unwritten acceptance that people can garden wherever they want, given the abundance of available space and the lack of active maintenance. This also offers the additional advantage of saving both time and money for the local council.
You should still be careful about where you trespass though. In some areas, guerrilla gardening can lead to unwelcome attention. During the May Day riots of 2000, for example, guerrilla gardeners were accused of planting cannabis seeds in central London's Parliament Square.
Gardening at night may draw the wrong attention too, particularly if you are carrying gardening tools that might be misunderstood by the police as threatening weapons.
How can you start?
There are many different types of guerrilla gardening that you could get involved in, from planting native plant species that benefit pollinators and other wildlife to tidying derelict land to create safer places for the local community.
One of the simplest forms of guerilla gardening is planting seeds. Some environmental projects circulate "seed bombs" and others use biodegradable "seed balloons" that are filled with helium and deflate after a day, distributing seeds by air.
Whatever you try, as a guerrilla gardener you shouldn't harm the environment or spoil other people's enjoyment of the space around you. Remember that weeds and wilderness have an environmental value too. And think carefully about the species you are going to plant so that you can protect local plants and wildlife.
The most attractive species to humans might not provide the best home or food for wildlife. Some can even outcompete native plants and drive them towards extinction. Planting certain harmful, invasive or poisonous species like ragwort, knotweed or Himalayan balsam is even prohibited by law.
That said, some guerrilla gardeners have used social media to organise "balsam bashing" events, where people come together to pull up this harmful invasive plant.
Guerrilla gardening takes many forms and can bring great benefits for people and the environment. You're unlikely to be arrested for planting and growing trees and other greenery in public spaces. But remember that these spaces should be shared with everyone, including your local wildlife.
Ben Mayfield does not work for, consult, own shares in or receive funding from any company or organisation that would benefit from this article, and has disclosed no relevant affiliations beyond their academic appointment.
uk
Fighting the Surveillance State Begins with the Individual
It's a well-known fact at this point that in the United States and most of the so-called free countries that there is a robust surveillance state in…
It's a well-known fact at this point that in the United States and most of the so-called free countries that there is a robust surveillance state in place, collecting data on the entire
populace
. This has been proven beyond a shadow of a doubt by people like Edward Snowden, a National Security Agency (NSA) whistleblower who exposed that the NSA was conducting mass surveillance on US citizens and the world as a
whole
. The NSA used applications like those from Prism Systems to piggyback on corporations and the data collection their users had agreed to in the terms of service. Google would scan all emails sent to a Gmail address to use for personalized advertising. The government then went to these companies and demanded the
data
, and this is what makes the surveillance state so interesting. Neo-Marxists like Shoshana Zuboff have dubbed this "
surveillance capitalism
." In China, the mass surveillance is conducted at a loss. Setting up closed-circuit television
cameras
and hiring government workers to be a mandatory editorial staff for blogs and
social media
can get quite expensive. But if you parasitically leech off a profitable business practice it means that the surveillance state will turn a profit, which is a great asset and an even greater weakness for the system. You see, when that is what your surveillance state is predicated on you've effectively given your subjects an opt-out button. They stop using services that spy on them. There is software and online services that are called "open source," which refers to software whose code is publicly available and can be viewed by anyone so that you can see exactly what that software does. The opposite of this, and what you're likely already familiar with, is proprietary software. Open-source software generally markets itself as privacy respecting and doesn't participate in data collection. Services like that can really undo the tricky situation we've found ourselves in. It's a simple fact of life that when the government is given a power—whether that be to regulate, surveil, tax, or plunder—it is nigh impossible to wrestle it away from the state outside somehow disposing of the state entirely. This is why the issue of undoing mass surveillance is of the utmost importance. If the government has the power to spy on its populace, it will. There are people, like the creators of
The
Social Dilemma
, who think that the solution to these privacy invasions isn't less government but more government, arguing that data collection should be taxed to dissuade the practice or that regulation needs to be put into place to actively prevent abuses. This is silly to anyone who understands the effect regulations have and how the internet really works. You see, data collection
is
necessary. You can't have email without some elements of data collection because it's simply how the protocol functions. The issue is how that data is stored and used. A tax on data collection itself will simply become another cost of doing business. A large company like Google can afford to pay a tax. But a company like Proton Mail, a smaller, more privacy-respecting business, likely couldn't. Proton Mail's business model is based on paid
subscriptions
. If there were additional taxes imposed on them, it's possible that they would not be able to afford the cost and would be forced out of the market. To reiterate, if one really cares about the destruction of the surveillance state, the first step is to personally make changes to how you interact with online services and to whom you choose to give your data.
china
Stock Market Today: Stocks turn higher as Treasury yields retreat; big tech earnings up next
A pullback in Treasury yields has stocks moving higher Monday heading into a busy earnings week and a key 2-year bond auction later on Tuesday.
Updated at 11:52 am EDT
U.S. stocks turned higher Monday, heading into the busiest earnings week of the year on Wall Street, amid a pullback in Treasury bond yields that followed the first breach of 5% for 10-year notes since 2007. Investors, however, continue to track developments in Israel's war with Hamas, which launched its deadly attack from Gaza three weeks ago, as leaders around the region, and the wider world, work to contain the fighting and broker at least a form of cease-fire. Humanitarian aid is also making its way into Gaza, through the territory's border with Egypt, as officials continue to work for the release of more than 200 Israelis taken hostage by Hamas during the October 7 attack. Those diplomatic efforts eased some of the market's concern in overnight trading, but the lingering risk that regional adversaries such as Iran, or even Saudi Arabia, could be drawn into the conflict continues to blunt risk appetite. Still, the U.S. dollar index, which tracks the greenback against a basket of six global currencies and acts as the safe-haven benchmark in times of market turmoil, fell 0.37% in early New York trading 105.773, suggesting some modest moves into riskier assets. The Japanese yen, however, eased past the 150 mark in overnight dealing, a level that has some traders awaiting intervention from the Bank of Japan and which may have triggered small amounts of dollar sales and yen purchases. In the bond market, benchmark 10-year note yields breached the 5% mark in overnight trading, after briefly surpassing that level late last week for the first time since 2007, but were last seen trading at 4.867% ahead of $141 billion in 2-year, 5-year and 7-year note auctions later this week. Global oil prices were also lower, following two consecutive weekly gains that has take Brent crude, the global pricing benchmark, firmly past $90 a barrel amid supply disruption concerns tied to the middle east conflict. Brent contracts for December delivery were last seen $1.06 lower on the session at $91.07 per barrel while WTI futures contract for the same month fell $1.36 to $86.72 per barrel. Market volatility gauges were also active, with the CBOE Group's VIX index hitting a fresh seven-month high of $23.08 before easing to $20.18 later in the session. That level suggests traders are expecting ranges on the S&P 500 of around 1.26%, or 53 points, over the next month. A busy earnings week also indicates the likelihood of elevated trading volatility, with 158 S&P 500 companies reporting third quarter earnings over the next five days, including mega cap tech names such as Google parent Alphabet  (
GOOGL
) -
Get Free Report
, Microsoft  (
MSFT
) -
Get Free Report
, retail and cloud computing giant Amazon  (
AMZN
) -
Get Free Report
 and Facebook owner Meta Platforms  (
META
) -
Get Free Report
. "It's shaping up to be a big week for the market and it comes as the S&P 500 is testing a key level—the four-month low it set earlier this month," said Chris Larkin, managing director for trading and investing at E*TRADE from Morgan Stanley. "How the market responds to that test may hinge on sentiment, which often plays a larger-than-average role around this time of year," he added. "And right now, concerns about rising interest rates and geopolitical turmoil have the potential to exacerbate the market's swings."
Heading into the middle of the trading day on Wall Street, the S&P 500, which is down 8% from its early July peak, the highest of the year, was up 10 points, or 0.25%. The Dow Jones Industrial Average, which slumped into negative territory for the year last week, was marked 10 points lower while the Nasdaq, which fell 4.31% last week, was up 66 points, or 0.51%. In overseas markets, Europe's Stoxx 600 was marked 0.11% lower by the close of Frankfurt trading, with markets largely tracking U.S. stocks as well as the broader conflict in Israel. In Asia, a  slump in China stocks took the benchmark CSI 300 to a fresh 2019 low and pulled the region-wide MSCI ex-Japan 0.72% lower into the close of trading.
Get investment guidance from trusted portfolio managers without the management fees. Sign up for Action Alerts PLUS now.
dow jones
sp 500
nasdaq
stocks
currencies
testing
interest rates
oil
iran
japan
europe
china
iPhone Maker Foxconn Investigated By Chinese Authorities
Foxconn, the Taiwanese company that manufactures iPhones on behalf of Apple (AAPL), is being investigated by Chinese authorities, according to multiple…
Foxconn, the Taiwanese company that manufactures iPhones on behalf of Apple (AAPL), is being investigated by Chinese authorities, according to multiple media reports. Foxconn's business has been searched by Chinese authorities and China's main tax authority has conducted inspections of Foxconn's manufacturing operations in the Chinese provinces of Guangdong and Jiangsu. At the same time, China's natural-resources department has begun onsite investigations into Foxconn's land use in Henan and Hubei provinces within China. Foxconn has manufacturing facilities focused on Apple products in three of the Chinese provinces where authorities are carrying out searches. While headquartered in Taiwan, Foxconn has a huge manufacturing presence in China and is a large employer in the nation of 1.4 billion people. The investigations suggest that China is ramping up pressure on the company as Foxconn considers major investments in India, and as presidential elections approach in Taiwan. Foxconn founder Terry Gou said in August of this year that he intends to run for the Taiwanese presidency. He has resigned from the company's board of directors but continues to hold a 12.5% stake in the company. Gou is currently in fourth place in the polls ahead of the election that is scheduled to be held in January 2024. The potential impact on Apple and its iPhone manufacturing comes amid rising political tensions between politicians in Washington, D.C. and Beijing. Apple's stock has risen 16% over the last 12 months and currently trades at $172.88 U.S. per share.
india
hubei
china