Forget Tesla—Here Are the Real Winners in the EV Race
Investors AlleyForget Tesla—Here Are the Real Winners in the EV Race
When someone says electric vehicles (EVs), many people immediately think of Tesla (TSLA). But from an investment viewpoint, there's a lot more to the industry than just one company….
Investors Alley
Forget Tesla—Here Are the Real Winners in the EV Race
When someone says electric vehicles (EVs), many people immediately think of Tesla (TSLA). But from an investment viewpoint, there's a lot more to the industry than just one company.
My favored EV subsector is the supply chain. Without batteries, there is no EV industry. And without the necessary raw materials, there would be no batteries.
That's why my attention was grabbed by a recent Nikkei Asia article, reporting: "The price of batteries for electric vehicles looks set to rise in 2022 following a decade of sharp decline as supplies of lithium and other raw materials fail to keep up with ballooning demand."
Keep in mind this follows a decade of sharp declines in the cost of electric vehicle batteries. Any such increases could undermine the technological/efficiency gains that produced longer-life, higher-performance batteries in recent years, all while reducing costs.
Sales of EVs had just started to really gain traction before this news. According to Bloomberg NEF, global electric car sales are estimated to have reached 5.6 million vehicles in 2021, up from 3.1 million in 2020, thanks to robust sales in China.
Soaring EV Metals Prices
But now, soaring prices for lithium and other necessary commodities used in batteries may throw a wrench in the global auto industry's ambitious plans for electrification, even as more companies, including Toyota, embrace targets for electric vehicle production.
The benchmark prices of lithium carbonate ended 2021 at record numbers. In China—the biggest battery-producing country in the world—the price was 261,500 yuan (just over $41,060) per ton. That is more than five times higher than it was last January!
Other commodities used in cathodes (the most expensive part of a battery) have also been rising. For example, the price of cobalt has doubled since last January, to $70,208 per ton.
According to a December report from S&P Global Market Intelligence, further demand growth for electric vehicles in 2022 will mean a lithium deficit this year, as use of the material outstrips production and depletes stockpiles.
The report said that supply could jump to 636,000 metric tons of lithium carbonate equivalent in 2022, up from an estimated 497,000 in 2021. However, demand will jump even more, to 641,000 tons, from an estimated 504,000.
It Is Different This Time
This is drastically changing from how lithium prices acted in the past. Previously, after a short boom, prices would crash, with many smaller industry players wiped out.
But no longer.
In a research report, Wood Mackenzie said that lithium prices are unlikely to crash as they did in previous cycles: "We're entering a sort of new era in terms of lithium pricing over the next few years, because the growth will be so strong."
I believe Wood Mackenzie is spot on. There are a few factors at work limiting supplies.
First, several producers in Australia closed down their mines in 2020 because of the aforementioned period of low prices. And now, the pandemic has made it difficult to rehire workers and bring production back to pre-pandemic levels.
Second, in China, the lithium-processing companies that make lithium carbonate have been affected by restrictions on power use introduced in the autumn. Though some restrictions have eased, companies are struggling to catch up.
So far, the expected battery price increases are small. According to Bloomberg NEF, prices of lithium-ion battery packs were more than $1,200 per kilowatt-hour in 2010, but plummeted to $132 by 2021; however, average prices could rise to $135 per kilowatt-hour in 2022.
EV Materials Investment
We all know the problems automakers have faced in the last year from the semiconductor shortage.
But now, sourcing battery raw materials could be just as problematic for many carmakers. Some of them may not be able to produce electric vehicles in the numbers planned, due to shortages of raw materials for batteries.
That's why an investment into the EV materials sector makes sense. The easiest way to do this is through an exchange traded fund (ETF).
The VanEck Rare Earth/Strategic Metals ETF (REMX) is a nicely broad-based ETF in this sector. Its largest exposure is to Australian stocks (43.5%). Among its top position are such well-known companies in the sector as Pilbara Minerals, Lynas Rare Earths, Allkem, Standard Lithium, MP Materials,and Lithium Americas. Any price in the $100 to $115 range is a good entry point price.
2 Stocks Paying Dividends EVERY WEEK!
For the first time ever, I've found two stocks that are not paying dividends annually… not quarterly… not monthly… but weekly.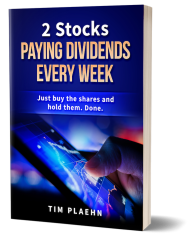 Every Week, one of these stocks will pay out a dividend. It's a conservative fund based on fixed-income investments. It's not one single company. Rather, it's a collection of strong companies like Delta and Ford. Except, you won't have to wait for quarterly dividends from them. Expect them weekly!
Want more conservative dividends? This second weekly payer also sends dividend checks out this Thursday. What's great about them is it's not a single stock. Rather, it's a fund diversified across 300 strong companies such as JP Morgan and Procter & Gamble.
Forget Tesla—Here Are the Real Winners in the EV Race
Tony Daltorio
stocks
pandemic
etf
yuan
commodities
china
Weekly investment update – Weaker economic outlook weighs on markets
Global equities have continued their sell-off over the last week. What is new is that markets are now reacting to risks of weaker economic data weighing…
Global equities have continued their sell-off over the last week. What is new is that markets are now reacting to risks of weaker economic data weighing on earnings. Real bond yields, whose rise triggered the recent drop in equity markets, have fallen as investors price a higher probability of a recession.   
Yields of US Treasury bonds have slipped since reaching around 3.12% in early May (see Exhibit 1). The rally has been driven by fears of a global recession due to poor economic data, strong inflation numbers, aggressive talk from central bankers and concerns over the consequences of Covid in China.
Recent data that contributed to the bond market's unease about the prospects for the US economy includes: 
The Richmond Federal Reserve Manufacturing survey, which fell to its lowest since 2020 at -9.
The monthly survey of manufacturers in New York State conducted by the Federal Reserve Bank of New York fell to -11.6, with the shipment measure falling at its fastest pace since the start of the pandemic two years ago.
The Federal Reserve Bank of Philadelphia's May business index dropped 15 points to 2.6, with the six-month outlook falling to its lowest since December 2008 (though the underlying details were better than the headline number).
Existing and new home sales dropped for a third month, to its lowest since 2020, held back by lean inventory, rising prices and higher mortgage rates. 
Taken together, the various regional Federal Reserve surveys suggest that the ISM Report for Business may come in at around 53, above 50 so still clearly in expansion territory for the US economy, but down noticeably from the upper 50s/lows 60s readings to which markets have become accustomed.
US equities still weak
US equities have remained weak as the down move continues for its seventh week.
It has been apparent that, in contrast to the start of the year when rising real bond yields were undermining equity markets, it is now fears of falling earnings due to a weaker economy that are weighing on stocks.
The last week has seen, in accordance with the risk-off regime, more buying-the-dip and selling-the-rally. There has also been a rotation out of growth and cyclicals into value and defensives (healthcare, real estate, utilities and staples).
European markets under the cosh
Bearish sentiment is prevalent in Europe, too, with investors cutting exposures to European equities.
There was another outflow in the week to 18 May, taking the total to 14 weeks of outflows in a row. Cyclicals, in particular, saw strong outflows, led by the materials, financials and energy sectors.
Our multi-asset team are inclined to reduce exposure to equity markets given the deterioration in the outlook.
European economy resists
Economic activity indicators have fallen so far in May, but remain above 50. Activity edged up in the manufacturing sector despite the fallout from the Ukraine war and supply chain disruptions that have intensified with China's coronavirus lockdowns.
Although factories continue to report widespread supply constraints and diminished demand for goods amid elevated price pressures, the eurozone economy is being boosted by pent-up demand for services as pandemic-related restrictions are wound down.
While purchasing manager indices are still pointing to growth, it may be that these surveys understate the shock to activity, while sentiment surveys likely overstate the shock. Markets are increasingly tilting towards anticipation of a contraction in the coming quarters.
Higher food prices
Restrictions on the export of Ukrainian cereals continue and risks increasing food insecurity as the UN World Food Programme has highlighted.
As much of Russian and Ukrainian wheat goes to poorer nations, hunger could be a critical risk, driving up political instability.
The risk of further rises in food prices will be a key driver of inflation, particularly in emerging markets, the worst-case scenario being that the situation worsens significantly.
Moreover, lower fertiliser supply will have a greater impact on the next few months' harvests, while the pass-through of costlier logistics and input prices is likely to drive food prices even higher.
Coming up…
Minutes of the meeting of the US Federal Open Markets Committee on 3-4 May will be published later on Wednesday.
However, market conditions have soured appreciably since the Fed's first 50bp rate rise, so some of the language in the minutes pertaining to financial risks and market conditions will be outdated.
Instead, the three major focus points for market participants will likely be: 
Policymakers' views on the conditions which could lead to a shift down, back to a pace of raising rates by 25bp at each FOMC meeting;
Any hints as to how far and for how long policymakers intend to push policy rates into restrictive territory;
Guidance shaping expectations for the next Summary of Economic Projections — aka the dot plot — due to be released at the June meeting. 
Forthcoming economic data  
US personal income and spending data for April should give investors an insight into the US consumer's behaviour: Are they tightening the purse strings? The report may also show the Fed's preferred inflation gauge (core PCE deflator) starting to decelerate.
Perhaps equally important, the report should shed light on how consumers are responding to the current high inflation environment, indicating how wages are performing relative to inflation and how aggressively consumers are tapping into the USD 2.5 trillion of accumulated savings from the pandemic period.
Disclaimer
Any views expressed here are those of the author as of the date of publication, are based on available information, and are subject to change without notice. Individual portfolio management teams may hold different views and may take different investment decisions for different clients. The views expressed in this podcast do not in any way constitute investment advice.
The value of investments and the income they generate may go down as well as up and it is possible that investors will not recover their initial outlay. Past performance is no guarantee for future returns.
Investing in emerging markets, or specialised or restricted sectors is likely to be subject to a higher-than-average volatility due to a high degree of concentration, greater uncertainty because less information is available, there is less liquidity or due to greater sensitivity to changes in market conditions (social, political and economic conditions).
Some emerging markets offer less security than the majority of international developed markets. For this reason, services for portfolio transactions, liquidation and conservation on behalf of funds invested in emerging markets may carry greater risk.
Writen by Andrew Craig. The post Weekly investment update – Weaker economic outlook weighs on markets appeared first on Investors' Corner - The official blog of BNP Paribas Asset Management, the sustainable investor for a changing world.
recession
pandemic
coronavirus
treasury bonds
bonds
emerging markets
equities
stocks
fomc
fed
federal reserve
us treasury
home sales
mortgage rates
real estate
recession
european
europe
ukraine
china
5 Top Consumer Stocks To Watch Right Now
Are these consumer stocks a buy amid the earnings season?
The post 5 Top Consumer Stocks To Watch Right Now appeared first on Stock Market News, Quotes,…
5 Trending Consumer Stocks To Watch In The Stock Market Now         
As we tread through the earnings season, consumer stocks could be worth watching in the stock market this week. This would be the case since a number of big consumer names such as Costco (NASDAQ: COST) and Macy's (NYSE: M) will be posting their financials for the quarter. As such, investors will be keeping an eye on these reports for clues on the strength of consumer spending amid this period of high inflation.
However, despite the soaring prices across the economy, it seems that consumers are surprisingly showing resilience. According to the Commerce Department, retail sales in April outpaced inflation for a fourth straight month. This could suggest that consumers as a whole were not only sustaining their spending, but spending more even after adjusting for inflation. Ultimately, it could be a reassuring sign that consumers are still supporting the economy and helping to diminish the narrative of an incoming recession. With that being said, here are five consumer stocks to check out in the stock market today.
Consumer Stocks To Buy [Or Sell] Right Now
Nordstrom
Starting off our list of consumer stocks today is Nordstrom. For the most part, it is a fashion retailer of full-line luxury apparel, footwear, accessories, and cosmetics among others. The company operates through multiple retail channels, boutiques, and online as well. As it stands, Nordstrom operates around 100 stores in 32 states in the U.S. and three Canadian provinces.
Yesterday, the company reported its financials for the first quarter of 2022. Starting with revenue, Nordstrom pulled in net sales worth $3.47 million for the quarter. This marks an increase of 18.7% from the same quarter last year. Its Nordstrom banner saw net sales rise by 23.5% year-over-year, exceeding pre-pandemic levels. Next to that, its Nordstrom Rack banner saw a 10.3% increase in net sales from last year. Besides, net earnings were $20 million, with earnings per share of $0.13 for the quarter. Considering Nordstrom's solid quarter, should you invest in JWN stock?
[Read More] Best Stocks To Invest In Right Now? 5 Value Stocks To Watch This Week
The Wendy's Company
Next up, we have The Wendy's Company. For the most part, it is the holding company for the major fast-food chain, Wendy's. Being one of the world's largest hamburger fast-food chains, the company boasts over 6,500 restaurants in the U.S. and 29 other countries. The chain is known for its square hamburgers, sea salt fries, and the Frosty, a form of soft-serve ice cream mixed with starches. WEN stock is rising by over 8% on today's opening bell.
According to an SEC filing, Wendy's largest shareholder, Trian Partners, is looking into making a potential deal with the company. Trian said that it is considering a deal to "enhance shareholder value." Also, the firm adds that this could lead to an acquisition or business combination. In response, Wendy's stated that it is constantly reviewing strategic priorities and opportunities. It added that the company's board will carefully review any proposal from Trian. Given this piece of news, will you be watching WEN stock?
[Read More] 4 Semiconductor Stocks To Watch In The Stock Market Today
Foot Locker
Another stock investors could be watching is the shoes and apparel company, Foot Locker. In brief, the company uses its omnichannel capabilities to bridge the digital world and physical stores. As such, it provides buy online and pickup-in-store services, order-in-store, as well as the growing trend of e-commerce. Some of its most notable brands include Eastbay, Footaction, Foot Locker, Champs Sports, and Sidestep. Last week, the company reported its results for the first quarter of the year.
For starters, total sales came in at $2.175 billion, a slight uptick compared to sales of $2.153 billion in the year prior. Next to that, Foot Locker reported a net income of $133 million. Accordingly, adjusted earnings per share came in at $1.60, beating Wall Street's expectations of $1.54. CEO Richard Johnson added, "Our progress in broadening and enriching our assortment continues to meet our customers' demand for choice. These efforts helped drive our strong results in the first quarter, which will allow us to more fully participate in the robust growth of our category going forward."  As such, is FL stock one to add to your watchlist? 
Tyson Foods 
Tyson Foods is a company that built its name on providing families with wholesome and great-tasting protein products. Its segments include Beef, Pork, Chicken, and Prepared Foods. With some of the fastest-growing portfolio of protein-centric brands, it should not be surprising that TSN stock often comes to mind when investors are looking for the best consumer stocks to buy. 
Earlier this month, Tyson Foods provided its fiscal second-quarter financial update. The company's total sales for the quarter were $13.1 billion, representing an increase of 15.9% compared to the prior year's quarter. Meanwhile, its GAAP earnings per share climbed to $2.28, up 75% year-over-year. According to Tyson, these financial figures are a reflection of the increasing consumer demand for its brands and products. To top it off, the company was also able to reduce its total debt by approximately $1 billion. Thus, does TSN stock have a spot on your watchlist?
[Read More] Stock Market Today: Dow Jones, S&P 500 Rise, Wendy's Stock Gains On Potential Deal
DoorDash
DoorDash is a consumer company that operates an online food ordering and delivery platform. In fact, it is one of the largest delivery companies in the U.S. and enjoys a huge market share. The company connects hundreds of thousands of merchants to over 25 million consumers in the U.S., Canada, Australia, and Japan through its local logistics platform. Accordingly, its platform allows local businesses to thrive in today's "convenience economy," as the company puts it.
On May 5, the company reported its first-quarter financials for 2022. Diving in, it posted a revenue of $1.5 billion, growing by 35% year-over-year. This was driven by total orders that grew by 23% year-over-year to $404 million. Along with that, it reported a GAAP gross profit of $662 million, an increase of 34% year-over-year. The company said that it added more consumers than any quarter since Q1 2021, due in part to the growth of its DashPass members. The growth in Monthly Active Users and average order frequency has helped it gain share in the U.S. Food Delivery category this quarter as well. Given DoorDash's performance for the quarter, should you watch DASH stock?
If you enjoyed this article and you're interested in learning how to trade so you can have the best chance to profit consistently then you need to checkout this YouTube channel. CLICK HERE RIGHT NOW!!
The post 5 Top Consumer Stocks To Watch Right Now appeared first on Stock Market News, Quotes, Charts and Financial Information | StockMarket.com.
recession
pandemic
dow jones
sp 500
nasdaq
stocks
consumer spending
japan
canada
Finding Shelter in an Inverse ETF
As the old saying goes, "What goes up must come down." Indeed, up until the recent selling wave caused by Russia's war against Ukraine and the continued…
As the old saying goes, "What goes up must come down."
Indeed, up until the recent selling wave caused by Russia's war against Ukraine and the continued effects of supply chain disruptions amid the COVID-19 pandemic, tech stocks, including semiconductors, were the darlings of the investment world. That is, it seemed as if the sky-high valuations of some tech stocks were sustainable in an atmosphere of seemingly perpetual growth.
That, of course, was not the case, and the too-good-to-be-true valuations were quickly brought down to earth by the forces of inflation and tight monetary policy. As a result, the tech-heavy Nasdaq entered a free-fall that has not yet found a bottom.
At the same time, that does not mean that we should abandon the sector as a lost cause. One such way to play the sector during its downhill slide is the exchange-traded fund (ETF) Direxion Daily Semiconductor Bear 3X Shares (NYSEARCA: SOXS).
As its title suggests, this is an inverse ETF, meaning that it is built to go up in value when its parent index goes down. Specifically, SOXS provides three times leveraged inverse exposure to a modified market-cap-weighted index of semiconductor companies that trade in American markets by using swap agreements, futures contracts and short positions.
While the index's holdings are weighted by market capitalization, the fund's managers cap the weights of the top five securities in the portfolio at 8% each. The weight of the remaining securities is capped at 4% each.
As of May 24, SOXS has been up 0.37% over the past month and up 24.73% for the past three months. It is currently up 60.47% year to date.
Chart courtesy of www.stockcharts.com
The fund has amassed $258.15 million in assets under management and has an expense ratio of 1.01%.
In short, while SOXS does provide an investor with a way to invest in an inverse ETF, this kind of ETF may not be appropriate for all portfolios. Thus, interested investors always should conduct their due diligence and decide whether the fund is suitable for their investing goals.
As always, I am happy to answer any of your questions about ETFs, so do not hesitate to send me an email. You just may see your question answered in a future ETF Talk.
The post Finding Shelter in an Inverse ETF appeared first on Stock Investor.
nasdaq
stocks
pandemic
covid-19
monetary policy
etf
russia
ukraine