Deep-Value ETF Report: 21 May 2020
Deep-Value ETF Report: 21 May 2020
The coronavirus crisis has reordered expectations and valuations in global markets, but searching for the deepest discounts (based on negative return) delivers a familiar result: the commodities realm continues to offer the darkest shade of red.
The concept of value investing generally, thanks to weak results, has come under renewed scrutiny, again, in recent history. By some accounts, the notion of buying assets on the cheap and expecting to earn a relatively high risk premium for the effort has become null and void in the 21st century. Die-hard advocates of the value factor respond: Baloney! We've been here before and value's dry spell will, once more, give way to its historical pattern of generating high absolute and relative returns to patient investors willing to tolerate short-term pain. By that reasoning, overweighting value, in one or more of its various guises, will continue to provide opportunities for portfolio design and asset allocation.
While we wait for Mr. Market to sort out this debate, let's catch up with the numbers on the value front through a performance lens. But first, a quick refresher on the ranking system used below.
The metric of choice for "deep value" in this column is the 5-year return, which is based on an idea outlined in a paper by AQR Capital Management's Cliff Asness and two co-authors:  "Value and Momentum Everywhere," published in a 2013 issue of the Journal of Finance. There are numerous value metrics and so no one should confuse the 5-year-performance benchmark as the definitive measure of bargain-priced assets. But as a starting point in the process of identifying where the crowd's expectations have stumbled, the 5-year change is a useful metric.
---
Learn To Use R For Portfolio Analysis
Quantitative Investment Portfolio Analytics In R:
An Introduction To R For Modeling Portfolio Risk and Return

By James Picerno
---
One advantage of using a 5-year performance measure: It can be applied over a broad set of assets, thereby dispensing a level playing field for evaluating value (or the lack thereof). Another plus: this metric is simple and therefore immune to estimation risk, which can complicate accounting-based value gauges, such as price-to-book and price-to-earnings measures. In short, the 5-year return is a handy tool as a first approximation for identifying ETFs that appear to be deeply discounted by the crowd — and thereby seem to offer relatively high expected returns via the value proposition for investing.
But before you rush in this door, keep in mind that the standard caveat applies, namely: there are no guarantees that value, no matter the definition, will lead to superior performance anytime soon, if ever. Recent history suggests no less. All the more so when it comes to commodities– fossil-based energy investments in particular. As the world grapples with the risk of climate change, there are predictions that the glory days for oil companies and the like are behind us. In sum, traditional energy companies are deeply discounted for a reason and so investors should proceed with caution in this space.
The ranking below covers 135 exchange-traded products that run the gamut: US and foreign stocks, bonds, real estate, commodities and currencies. You can find the full list here, sorted in ascending order by annualized 5-year return — 1260 trading days — through yesterday's close: May 20, 2020.
Keep in mind that the list is quite granular. In equities, for instance, the ETFs range from broad regional definitions (Asia, Latin America, etc,) to country funds, down to US sectors (energy, financials, for instance) and industries (e.g., oil & gas equipment & services). The only limitation is what's available for US exchange-listed funds. Note, too, that just one representative ETF for each market niche is selected, albeit subjectively. For instance, there's only one fund on the list for US real estate investment trusts. Otherwise, the search is broad and deep, as allowed by the current availability of US-listed ETFs.
Let's start by ranking the major asset classes. Once again, a broad definition of commodities continues to post the deepest shade of red for 5-year results, echoing the results in CapitalSpectator.com's previous value review in January. The iPath Bloomberg Commodity (DJP) – an exchange-trade note – has lost an annualized 10.1%. Foreign real estate shares, along with emerging-markets stocks and bonds, are also posting sub-zero returns, albeit mildly so.
Let's drill down into the specifics and focus on the deepest 20 losses for all 135 ETFs. The biggest decline at the moment is in oil patch stocks via SPDR Oil & Gas Equipment & Services (XES), which has lost an astonishing 34.7% a year for the past five years.
XES has been ailing for some time. The question is whether it will recover? Looking through value-corrected glasses leaves room for optimism. Stay tuned for Mr. Market's verdict.
---
How is recession risk evolving? Monitor the outlook with a subscription to:
The US Business Cycle Risk Report
---
uncategorized
xes
djp
cycle
equities
stocks
real estate
bonds
recession
etf
currencies
recession
commodities
oil
Hyro secures $20M for its AI-powered, healthcare-focused conversational platform
Israel Krush and Rom Cohen first met in an AI course at Cornell Tech, where they bonded over a shared desire to apply AI voice technologies to the healthcare…
Israel Krush and Rom Cohen first met in an AI course at Cornell Tech, where they bonded over a shared desire to apply AI voice technologies to the healthcare sector. Specifically, they sought to automate the routine messages and calls that often lead to administrative burnout, like calls about scheduling, prescription refills and searching through physician directories.
Several years after graduating, Krush and Cohen productized their ideas with Hyro, which uses AI to facilitate text and voice conversations across the web, call centers and apps between healthcare organizations and their clients. Hyro today announced that it raised $20 million in a Series B round led by Liberty Mutual, Macquarie Capital and Black Opal, bringing the startup's total raised to $35 million.
Krush says that the new cash will be put toward expanding Hyro's go-to-market teams and R&D.
"When we searched for a domain that would benefit from transforming these technologies most, we discovered and validated that healthcare, with staffing shortages and antiquated processes, had the greatest need and pain points, and have continued to focus on this particular vertical," Krush told TechCrunch in an email interview.
To Krush's point, the healthcare industry faces a major staffing shortfall, exacerbated by the logistical complications that arose during the pandemic. In a recent interview with Keona Health, Halee Fischer-Wright, CEO of Medical Group Management Association (MGMA), said that MGMA's heard that 88% of medical practices have had difficulties recruiting front-of-office staff over the last year. By another estimates, the healthcare field has lost 20% of its workforce.
Hyro doesn't attempt to replace staffers. But it does inject automation into the equation. The platform is essentially a drop-in replacement for traditional IVR systems, handling calls and texts automatically using conversational AI.
Hyro can answer common questions and handle tasks like booking or rescheduling an appointment, providing engagement and conversion metrics on the backend as it does so.
Plenty of platforms do — or at least claim to. See RedRoute, a voice-based conversational AI startup that delivers an "Alexa-like" customer service experience over the phone. Elsewhere, there's Omilia, which provides a conversational solution that works on all platforms (e.g. phone, web chat, social networks, SMS and more) and integrates with existing customer support systems.
But Krush claims that Hyro is differentiated. For one, he says, it offers an AI-powered search feature that scrapes up-to-date information from a customer's website — ostensibly preventing wrong answers to questions (a notorious problem with text-generating AI). Hyro also boasts "smart routing," which enables it to "intelligently" decide whether to complete a task automatically, send a link to self-serve via SMS or route a request to the right department.
"Our AI assistants have been used by tens of millions of patients, automating conversations on various channels," Krush said. "Hyro creates a feedback loop by identifying missing knowledge gaps, basically mimicking the operations of a call center agent. It also shows within a conversation exactly how the AI assistant deduced the correct response to a patient or customer query, meaning that if incorrect answers were given, an enterprise can understand exactly which piece of content or dataset is labeled incorrectly and fix accordingly."
Of course, no technology's perfect, and Hyro's likely isn't an exception to the rule. But the startup's sales pitch was enough to win over dozens of healthcare networks, providers and hospitals as clients, including Weill Cornell Medicine. Annual recurring revenue has doubled since Hyro went to market in 2019, Krush claims.
Hyro's future plans entail expanding to industries adjacent to healthcare, including real estate and the public sector, as well as rounding out the platform with more customization options, business optimization recommendations and "variety" in the AI skills that Hyro supports.
"The pandemic expedited digital transformation for healthcare and made the problems we're solving very clear and obvious (e.g. the spike in calls surrounding information, access to testing, etc.)," Krush said. "We were one of the first to offer a COVID-19 virtual assistant that deployed in under 48 hours based on trusted information from the health system and trusted resources such as the CDC and World Health Organization …. Hyro is well funded, with good growth and momentum, and we've always managed a responsible budget, so we're actually looking to expand and gather more market share while competitors are slowing down."
Hyro secures $20M for its AI-powered, healthcare-focused conversational platform by Kyle Wiggers originally published on TechCrunch
link
pandemic
covid-19
real estate
cdc
testing
world health organization
Burger King Adds a Failed McDonald's Comfort-Food Menu Item
Both companies have tried to make this beloved southern staple work, and Burger King is trying again with multiple new versions.
Fast-food burger chains deal in the familiar. 
They sell comfort food, meals that make their customers feel good (even if that feeling soon enough turns to regret).
When one of the big three chains -- McDonald's, Wendy's (WEN) - Get Free Report, and Burger King -- adds a new menu item, it's either something outrageous designed to get publicity or an item that builds on the comfort-food model.
DON'T MISS: Unique McDonald's Sandwich Makes Its Menu Return
That's why so many fast-food innovations arise from taking a core menu item and give it a small twist. Wendy's does this more than any other chain as it rotates in different takes on cheese fries and new burgers that add well-known flavors like pretzel buns or more bacon.
McDonald's (MCD) - Get Free Report has been experimenting with similar ideas -- specifically trying to make southern classics like sweet tea and chicken biscuits -- work. The chain has had more success with sweet tea, which has become a menu staple, than it has with making chicken biscuits a morning staple.
And while McDonald's has tried to add southern style chicken biscuits to its morning menu without sustained success, that has not stopped its rivals from taking their own shot at the regional favorite. 
Wendy's has offered its Honey Butter Chicken Biscuit since it brought back its breakfast menu in 2020. And now Restaurant Brands International's (QSR) - Get Free Report Burger King has decided to add multiple takes on a chicken biscuit to its morning menu.
Burger King Adds Multiple Chicken Biscuits  
Burger King has built its morning menu around meat. The chain sells versions of its famed Croissan'Wich with double sausage, one with bacon, ham, and sausage, and similar offerings on biscuits.
Now, Burger King has been testing adding chicken to its meaty morning lineup.
Some of the chain's locations already sell a regular Chicken Biscuit and a Smoky Maple Chicken Croissan'wich (although those items are not being sold nationwide) and now it's testing a new take on a chicken biscuit in select markets.
"The Smoky Maple Chicken Biscuit features breaded white meat chicken with a smoky maple glaze on a warm buttermilk biscuit. It will be available through Aug. 31 while supplies last," according to Restaurant Business Online.
Burger King is offering the Smoky Maple Chicken Biscuit only in the Kansas City and Orlando-Daytona Beach markets.
McDonald's Also Bets On Breakfast Comfort Food 
McDonald's first put bagels on its breakfast menu in 1999. They were removed in January 2022 when the chain eliminated all-day breakfast and slimmed down its morning menu due to the covid pandemic.
Losing the bagels wasn't just about customers getting one less bread choice for their breakfast sandwich. It also invvolved McDonald's removing steak -- a meat that was only sold on a bagel -- from its morning menu.
Now, after a slow rollout across the country, McDonald's has returned its popular breakfast bagels to menus nationwide (albeit without making an official announcement).
Fans clamored for the return on social media in April 2022, when McDonald's Tweeted "Bring back ____." Tens of thousands of fans answered the query and the Breakfast Bagels were a popular request.
The most-requested item, the Snack Wrap, has not been returned and might not despite customer interest because making them adds complexity to the chain's kitchen operations. 
That's something the company has been working against as it works to streamline delivery and digital sales.         
testing
pandemic
How to hone your leadership skills, and what your company can do to help
In the rapidly changing, ambiguous and unpredictable world of work, future leaders must be able to learn fast.
The UK labour market has finally started to see a fall in vacancies following a post-COVID spike in open positions. But there are still more than a million job vacancies, which are "damaging the economy by preventing firms from fulfilling order books and taking on new work", according to the British Chambers of Commerce.
A recent survey by this business lobby group found four-fifths of firms can't recruit the people they need. Companies often look outside for external candidates to fill senior roles, but this overlooks current employees who may have the potential to move up within an organisation – even if they do not know it yet.
Overlooking employees often happens when management plays it safe, rather than risking giving "one of their own" an important new assignment. The resulting untapped employee potential can leave people feeling underused and frustrated. You need to be given opportunities to stretch, learn and develop to fulfil your potential at work.
---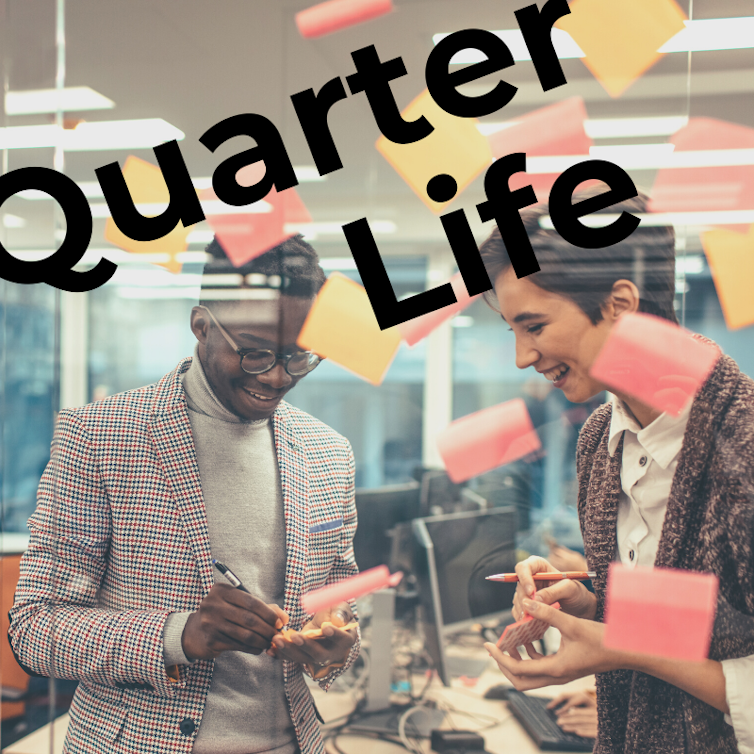 This article is part of Quarter Life, a series about issues affecting those of us in our twenties and thirties. From the challenges of beginning a career and taking care of our mental health, to the excitement of starting a family, adopting a pet or just making friends as an adult. The articles in this series explore the questions and bring answers as we navigate this turbulent period of life. You may be interested in:
Expert advice for budding UK entrepreneurs during a cost of living crisis
Trust is important if you want to succeed at work - here's how to build it
Why menstrual leave could be bad for women
---
Human resource managers use potential – and in particular, leadership potential – to identify the employees that could be their organisation's future leaders. In the business world (and often in academic research too), the term "high potential" typically means you are able to develop further and faster than others in a similar situation.
Someone with leadership potential has the capacity to be an effective leader in the future, but may need support to develop the right skills and experience to succeed. So, how can you work out your own leadership potential? Research highlights three main traits you need:
1. Growth: learning and motivation
Many studies identify the ability to learn as key to predicting future leadership effectiveness. This incorporates keenness to learn, the ability to extract as many lessons as possible from different experiences, and to adapt by applying these to enhance your future performance.
This explains why some people learn more from their experiences (and develop faster) than others. There is also a motivational component that includes drive and perseverance to achieve results, and the ambition to lead.
2. Foundational: cognitive and personality characteristics
Research shows that people who are more emotionally balanced, sociable, ambitious, conscientious and curious are more likely to become leaders.
Also, because it's important to be able to make decisions effectively in any senior role, cognitive capabilities are key. These typically include strong judgment skills in complex and ambiguous situations, and being able to collect and evaluate information from diverse sources to reach solid decisions.
3. Career: qualities specific to the future role
Some models of potential also include "career dimensions", which are specific skills relevant to a future role. For leadership potential, these might include qualities such as strategic thinking or collaboration.
New technology and workplace trends are among the factors that are changing how we work. This means the demands of future roles – and the career-specific qualities required to excel in them – may be quite different to those of your current job. In fact, research shows that more than 70% of today's top performers still lack the key qualities that will help them to be successful in their future roles.
How can you develop these qualities?
As rapid change renders knowledge and skills out of date at an astonishing rate, the ability to learn is increasingly crucial to future leaders. Rather than "having all the answers", you need to be able to find or figure the answers out. This means that leaders need the humility to know they don't know it all, and the interpersonal skills to listen openly and learn from a diverse network of people.
At the height of the COVID pandemic, for example, New Zealand's then prime minister Jacinda Ardern didn't have all the answers. But she used her platform to quite literally ask for information. Ardern did a series of video interviews with different experts to get some key answers, speaking to a psychologist about coping with the stresses of the pandemic, and an experienced business mentor about supporting small businesses.
Having asked, listened and sought varied insights, leaders must then apply strong judgment and problem-solving skills to decide on the best way forward – even if there is no obvious path. This draws upon cognitive ability, but it also involves skills that can be learnt.
Problems identifying potential
Unfortunately, organisations often rely upon current (or past) performance as a barometer of potential, which is far from ideal – not just because only a small proportion of current high performers also have high potential, but because people with strong potential may not currently be performing at their best. Perhaps they aren't in the right role, or aren't being sufficiently stretched or supported.
Either way, your employer shouldn't conflate your current performance with your potential. This could also perpetuate the lack of diversity that persists at leadership level in many firms. Past performance is limited by opportunity. Some people, due to biases and stereotypes, may not have been offered the chance to show what they are capable of yet.
To avoid these problems, organisations need to assess their employees objectively to find those with leadership potential. This could include doing psychometric tests of their personality and cognitive and learning abilities. Simulations of typical tasks or problems could also replicate the likely cognitive demands of future leadership roles, helping to identify people who can best cope and learn from the experience.
Supporting future leaders
It's important to remember that potential does not automatically unfold once it's identified. Indeed, some studies claim that 40% of high-potential promotions end in failure.
However, if you're good at learning from experiences and applying this to improve how you do things, and are motivated to progress and grow, you have a good chance of developing the career dimension qualities needed to be a future leader – and to do this faster than your peers.
But organisations must help by finding ways to stretch employees, while also building the scaffolding to support their learning and development. They should balance challenge with support through coaching, to help employees learn as much as they can from their experiences. If you want to be a future leader, you can then use these experiences to enhance your job performance and reach your full potential.
Zara Whysall also works for Kiddy & Partners, part of Gateley Plc.
uk
pandemic