COVID reinfections could be more severe for some – but overall evidence doesn't give us cause for concern
Intuitively, we would assume that subsequent infections should be less severe. But this won't always be the case.
The COVID pandemic has been going on for well over two years now. During this time, SARS-CoV-2 (the virus that causes COVID-19) has slowly mutated, allowing it to evade the immune system enough to infect people many times.
As so many of us have had COVID already, it's no surprise that plenty of people are catching the virus for a second or even a third time. In the UK, this has been particularly noticeable since the emergence of the omicron variant from December 2021 onwards.
But when reinfected, are you likely to feel better or worse than you did the first time you had COVID? As well as being a question many people are curious about, this is an important issue from a public health perspective.
If symptoms are more severe, each time someone gets infected, we would expect the pandemic to escalate as people become sicker and sicker. A zero-COVID strategy would be the only way to avert waves of serious illness.
The alternative is almost precisely the opposite. If each subsequent infection is less severe, the pandemic would eventually fizzle out on its own without the need for masking, quarantine, lockdowns or other measures.
So what does the evidence say?
A recent preprint (an article published online before undergoing peer review) was interpreted as suggesting that symptoms of reinfections with COVID are worse than those of initial infections.
But the authors didn't specifically look at symptom severity. They looked at the likelihood of death from any cause, hospitalisation, and a variety of health problems within six months after infection. The researchers concluded that these measures were worse after reinfections.
While this isn't good news, the results need to be interpreted carefully. The data used in this study comes from electronic healthcare records of over 5 million US army veterans, over 290,000 of whom had COVID at least once.
For a start, the group studied was already at higher risk of experiencing worse outcomes compared with the overall population. The average age was 60, around 20% smoked and more than 80% of those who contracted COVID were not vaccinated. So the results may not apply to the general population.
Second, the reinfection group were analysed immediately after reinfection, while the initial infection group were not analysed until 30 days following infection. This means that the outcomes observed for reinfection include all the early COVID symptoms (headache, cough, fatigue and so on) which the other group may have recovered from. As the data included any symptoms or health problems that occurred within the study period, including acute infection in one group skews the findings, making reinfections appear worse.
---
Read more: COVID reinfections: are they milder and do they strengthen immunity?
---
So what does this preprint show? It suggests that reinfections increase your general risk of health problems. But it's worth remembering that the study population was at higher risk already.
Respiratory infections such as influenza are a leading cause of death globally, so it's not entirely surprising that any extra respiratory infections will increase a person's risk of health problems.
This finding, however, is not the same as symptoms of reinfections being more severe.
Immune memory
This study caused somewhat of a stir on Twitter because we would expect the opposite – that each subsequent infection would tend to cause less severe symptoms than an initial infection, or at least very little change.
Immune memory is the phenomenon where the immune system "remembers" past infections and responds more quickly and effectively to reinfections, lessening the spread of the virus and general symptoms. This is because the immune system makes antibodies, and a type of white blood cell called a T cell during the initial infection. The immune system then reuses the same antibodies and T cells to fight the reinfection.
Many modern vaccines (including COVID vaccines) are based on this concept – they "train" the immune system to remember the virus next time.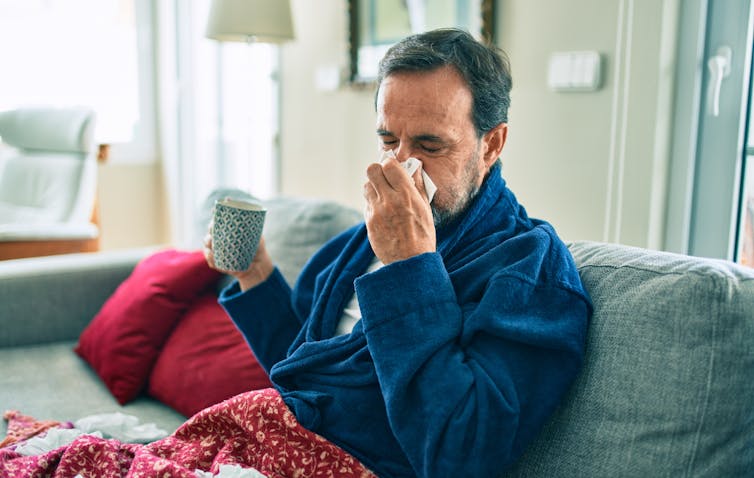 For many diseases, such as smallpox, measles and chickenpox, surviving the illness once gives you immunity that makes any reinfection much less severe. One exception is dengue fever where the immune system can make antibodies that actually aid reinfection, making symptoms worse in some cases.
With COVID, studies on reinfections tend to look at deaths and hospitalisations, as these are easier to measure than symptoms. In general, they find that reinfections are less severe than initial infections.
It's not the same for everyone
You might be thinking, "my second infection hit me harder than the first". It is plausible that some people might experience worse symptoms from reinfection compared with initial infection. This could be due to several factors. Different strains might cause more severe symptoms, such as delta, which is likely more severe than beta.
A higher initial dose of virus (say, if someone with COVID sneezes on you) might allow more virus spread before the immune system can control the infection.
Finally, the waning of immune responses over time might lead to worse symptoms. For example, if your first infection occurs very soon after vaccination, but you're then reinfected months later when your antibody levels are lower, it would make sense that your first infection was milder.
---
Read more: Hybrid immunity: a combination of vaccination and prior infection probably offers the best protection against COVID
---
These things will happen in individual people but are unlikely to play a major role across large populations. What would concern me is if we started to see trends of hospital admissions among people who had mild symptoms during a first infection but were getting very sick with reinfections. So far, I have seen no evidence of this.
Ben Krishna does not work for, consult, own shares in or receive funding from any company or organisation that would benefit from this article, and has disclosed no relevant affiliations beyond their academic appointment.
army
pandemic
covid-19
antibodies
spread
deaths
quarantine
uk
War, peace and security: The pandemic's impact on women and girls in Nepal and Sri Lanka
The impacts of COVID-19 must be incorporated into women, peace and security planning in order to improve the lives of women and girls in postwar countries…
Attention to the pandemic's impacts on women has largely focused on the Global North, ignoring countries like Nepal and Sri Lanka, which continue to deal with prolonged effects of war. While the Nepalese Civil War concluded in 2006 and the Sri Lankan Civil War concluded in 2009, internal conflicts continue.
As scholars of gender and war, our work focuses on the United Nations Security Council Resolution 1325 on women, peace and security. And our recently published paper examines COVID-19's impacts on women and girls in Nepal and Sri Lanka, looking at policy responses and their repercussions on the women, peace and security agenda.
COVID-19 has disproportionately and negatively impacted women in part because most are the primary family caregivers and the pandemic has increased women's caring duties.
This pattern is even more pronounced in war-affected countries where the compounding factors of war and the pandemic leave women generally more vulnerable. These nations exist at the margins of the international system and suffer from what the World Bank terms "fragility, conflict and violence."
Women, labour and gender-based violence
Gendered labour precarity is not new to Nepal or Sri Lanka and the pandemic has only eroded women's already poor economic prospects.
Prior to COVID-19, Tharshani (pseudonym), a Sri Lankan mother of three and head of her household, was able to make ends meet. But when the pandemic hit, lockdowns prevented Tharshani from selling the chickens she raises for market. She was forced to take loans from her neighbours and her family had to skip meals.
Some 1.7 million women in Sri Lanka work in the informal sector, where no state employment protections exist and not working means no wages. COVID-19 is exacerbating women's struggles with poverty and forcing them to take on debilitating debts.
Although Sri Lankan men also face increased labour precarity, due to gender discrimination and sexism in the job market, women are forced into the informal sector — the jobs hardest hit by the pandemic.
The pandemic has also led to women and girls facing increased gender-based violence.
In Nepal, between March 2020 and June 2021, there was an increase in cases of gender-based violence. Over 1,750 incidents were reported in the media, of which rape and sexual assault represented 82 per cent. Pandemic lockdowns also led to new vulnerabilities for women who sought out quarantine shelters — in Lamkichuha, Nepal, a woman was allegedly gang-raped at a quarantine facility.
Gender-based violence is more prevalent among women and girls of low caste in Nepal and the pandemic has made it worse. The Samata Foundation reported 90 cases of gender-based violence faced by women and girls of low caste within the first six months of the pandemic.
What's next?
While COVID-19 recovery efforts are generally focused on preparing for future pandemics and economic recovery, the women, peace and security agenda can also address the needs of some of those most marginalized when it comes to COVID-19 recovery.
The women, peace and security agenda promotes women's participation in peace and security matters with a focus on helping women facing violent conflict. By incorporating women's perspectives, issues and concerns in the context of COVID-19 recovery, policies and activities can help address issues that disproportionately impact most women in war-affected countries.
These issues are: precarious gendered labor market, a surge in care work, the rising feminization of poverty and increased gender-based violence.
Policies could include efforts to create living-wage jobs for women that come with state benefits, emergency funding for women heads of household (so they can avoid taking out predatory loans) and increasing the number of resources (like shelters and legal services) for women experiencing domestic gender-based violence.
The impacts of COVID-19 must be incorporated into women, peace and security planning in order to achieve the agenda's aims of improving the lives of women and girls in postwar countries like Nepal and Sri Lanka.
Luna KC is a Postdoctoral Researcher at the Research Network-Women Peace Security, McGill University. This project is funded by the Government of Canada Mobilizing Insights in Defence and Security (MINDS) program.
Crystal Whetstone does not work for, consult, own shares in or receive funding from any company or organisation that would benefit from this article, and has disclosed no relevant affiliations beyond their academic appointment.
economic recovery
pandemic
coronavirus
covid-19
vaccine
quarantine
recovery
canada
CDC Announces Overhaul After Botching Pandemic
CDC Announces Overhaul After Botching Pandemic
After more than two years of missteps and backpedaling over Covid-19 guidance that had a profound…
CDC Announces Overhaul After Botching Pandemic
After more than two years of missteps and backpedaling over Covid-19 guidance that had a profound effect on Americans' lives, the Centers for Disease Control (CDC) announced on Wednesday that the agency would undergo a complete overhaul - and will revamp everything from its operations to its culture after failing to meet expectations during the pandemic, Bloomberg reports.
Director Rochelle Walensky began telling CDC's staff Wednesday that the changes are aimed at replacing the agency's insular, academic culture with one that's quicker to respond to emergencies. That will mean more rapidly turning research into health recommendations, working better with other parts of government and improving how the CDC communicates with the public. -Bloomberg
"For 75 years, CDC and public health have been preparing for Covid-19, and in our big moment, our performance did not reliably meet expectations," said Director Rochelle Walensky. "I want us all to do better and it starts with CDC leading the way.  My goal is a new, public health action-oriented culture at CDC that emphasizes accountability, collaboration, communication and timeliness."
As Bloomberg further notes, The agency has been faulted for an inadequate testing and surveillance program, for not collecting important data on how the virus was spreading and how vaccines were performing, for being too under the influence of the White House during the Trump administration and for repeated challenges communicating to a politically divided and sometimes skeptical public."
A few examples:
Walensky made the announcement in a Wednesday morning video message to CDC staff, where she said that the US has 'significant work to do' in order to improve the country's public health defenses.
"Prior to this pandemic, our infrastructure within the agency and around the country was too frail to tackle what we confronted with Covid-19," she said. "To be frank, we are responsible for some pretty dramatic, pretty public mistakes — from testing, to data, to communications."
Expired: Trust the science

Wired: Trust the restructuring https://t.co/JL4G0JQOel

— zerohedge (@zerohedge) August 17, 2022
The CDC overhaul comes on the heels of the agency admitting that "unvaccinated people now have the same guidance as vaccinated people" - and that those exposed to COVID-19 are no longer required to quarantine.
Tyler Durden
Wed, 08/17/2022 - 12:22
white house
cdc
disease control
trump
pandemic
coronavirus
covid-19
vaccine
testing
quarantine
Why Is No One at Nike Working This Week?
And will the move gain broader acceptance among American employers?
And will the move gain broader acceptance among American employers?
You go into an office, pull at the door and find that it doesn't give and nobody's there. 
It may sound like the start of the common rushing-to-the-office-on-a-Saturday nightmare but, more and more, collective time off is being embraced by employees as part of a push for a better work culture.
While professional social media platform LinkedIn  (MSFT) - Get Microsoft Corporation Report and dating app Bumble  (BMBL) - Get Bumble Inc. Report had already experimented with collective time off for workers, the corporate ripples truly began with Nike  (NKE) - Get Nike Inc. Report.
In August 2021, the activewear giant announced that it was giving the 11,000-plus employees at its Oregon headquarters the week off to "power down" and "destress" from stress brought on by the covid-19 pandemic.
"In a year (or two) unlike any other, taking time for rest and recovery is key to performing well and staying sane," Matt Marrazzos, Nike's senior manager of global marketing science, wrote to employees at the time.
Nike Is On Vacation Right Now
The experiment was, not exactly unexpectedly, very well-received — a year later, the company instituted its second annual "Well-Being Week." Both the corporate headquarters in Beaverton, Ore., and three Air Manufacturing design labs with over 1,500 employees are closed for a collective paid vacation from Aug. 15 to 19.
"We knew it would be impactful, but I was blown away by the feedback from our teammates [...]," Nike's Chief Human Resources Officer Monique Matheson wrote in a LinkedIn post.
"Because everyone was away at the same time, teammates said they could unplug – really unplug, without worrying about what was happening back at the office or getting anxiety about the emails piling up."
Of course, the time off only applies to corporate employees. To keep the stores running and online orders fulfilled but not exacerbate the differences between blue and white collar workers, Nike gave its retail and distribution employees a week's worth of paid days off that they can use as they see fit.
Nike has tied the change to its commitment to prioritize mental health. In the last year, it launched everything from a "marathon of mental health" to a podcast that discusses how exercise can be used to manage anxiety and depression.
Rippling Through the Corporate World?
But as corporations are often criticized for turning mental health into positive PR without actually doing much for employees, the collective week off was perhaps the most significant thing the company did for workers' mental health.
Real Money
Elevate Your Portfolio
Get actionable market insights from a team of experts who actually invest, trade, and manage money for a living
Daily Market Commentary
Actionable Trading Ideas
Investment Advice
The practice of set office closures has long been common practice in many European countries. In France, not only corporate offices but even restaurants and retail stores empty out over the month of August for what is culturally considered sacred vacation time. 
But as American work culture prioritizes individual choice and "keeping business going" above all else, the practice has been seen as radical by many corporate heads and particularly small businesses that may find it more difficult to have such a prolonged drop in business. 
But in many ways, the conversations mirror some companies' resistance to remote work despite the fact that one-fourth of white-collar jobs in the U.S. are expected to be fully remote by 2023
"This is the kind of perk that makes employees want to stay," industry analyst Shep Hyken wrote in a comment for RetailWire. "And knowing they can't completely shut the entire company down, I like the way they are compensating the distribution and retail store employees."
depression
pandemic
covid-19
recovery
european
france