COVID: how careful do I still need to be around older and vulnerable family members?
The advent of COVID vaccines has radically changed things for the better, but doesn't mean we can fully return to our pre-pandemic lives.
We are all pretty fed up with COVID, and perhaps keen for a summer of holidays, social outings and family get togethers. But while the threat posed by COVID has certainly decreased the virus can still be dangerous, especially for older people.
Meanwhile, young people are generally at lower risk from COVID. So if you are younger and healthy, how should you balance attempts to return to normal social activities with a moral responsibility to care for people who may still be vulnerable?
---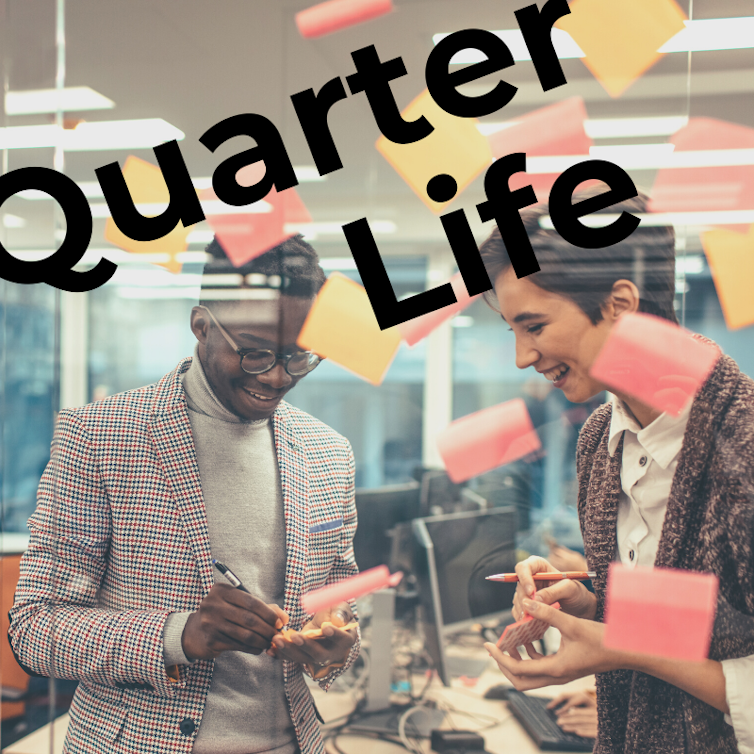 This article is part of Quarter Life, a series about issues affecting those of us in our twenties and thirties. From the challenges of beginning a career and taking care of our mental health, to the excitement of starting a family, adopting a pet or just making friends as an adult. The articles in this series explore the questions and bring answers as we navigate this turbulent period of life.
You may be interested in:
I have COVID symptoms. Should I do a test?
Should I still go on holiday if I have COVID?
Five tips for young people dealing with long COVID – from a GP
---
Although there have been significantly fewer deaths since the introduction of COVID vaccines, it's important to realise that vaccines are less effective at preventing infections and reinfections, particularly as time increases since the most recent dose.
This isn't necessarily a big concern for most people, who will experience mild symptoms, especially if they've been vaccinated. But there are still some people, mostly older or with a range of health conditions, who remain at a higher risk of severe outcomes from COVID.
Although antiviral and other treatments for COVID are significantly better than they were a couple of years ago, it's far safer not to need to rely on them in the first place. It's also important to acknowledge that every COVID case carries a risk of potentially life-changing long COVID complications following the initial infection.
So while we can now rely on vaccines and medications to a certain extent, we still face significant challenges working out what a proportionate response should be as COVID infections continue to fluctuate.
---
Read more: Caught COVID? Here's what you should and shouldn't do when self-isolation isn't mandatory
---
A balancing act
As an example, we know that another way to reduce the impact of COVID is through public health interventions. But while some, such as the wearing of face masks, are effective and fairly benign, more intrusive restrictions must be balanced against their negative effects, especially among certain parts of the population.
Younger adults, for instance, are disproportionately affected by enforced behavioural changes including lockdowns, social distancing and working from home. An increasing number of studies now show poorer mental health and wellbeing during the pandemic among people in the 18 to 29 age group in particular.
At the other end of the spectrum we know social restrictions lead to increased loneliness among older people.
To address this balancing act, perhaps the most proportionate thing any of us can do is to simply remain aware of COVID. This could take the form of wearing a face mask in public spaces, washing our hands more often, and avoiding mixing with others if we are feeling unwell. A lesson we should all have learned from COVID is that it's not OK to "push on" when we are ill.
Similarly, we should try to be more aware of other people. Just because you may not be concerned about catching COVID (again), this does not mean that everyone else is equally unconcerned. Realising that others have legitimate reasons to worry is important.
In relation to older and vulnerable family members, it's worth having conversations about what they feel comfortable with. They may want to be very cautious, or they may decide that spending time with family and friends is more important to them.
If you do decide to socialise, it's relatively cheap and easy to take a COVID test prior to visiting someone who may be at higher risk, and consider postponing a visit or activity if necessary. It should also go without saying that we should all keep our COVID vaccinations and boosters up to date.
---
Read more: Long social distancing: how young adults' habits have changed since COVID
---
The pandemic isn't over
None of this is new or should be surprising, yet the strong desire to move on from COVID seems to mean that many are rapidly forgetting the lessons and precautions learned over the past couple of years.
Vaccines and other medical advances have been game changers, but while they mean it is unlikely that we will ever return to the draconian restrictions of 2020, we still need to take some precautions. COVID may be less lethal than it was at the outset of the pandemic, but it's still a serious disease that demands our respect.
Simon Kolstoe is chair of the UKHSA's Research Ethics and Goverance Group.
fed
pandemic
deaths
social distancing
Woke Airline Policies Threaten Safety, Workers Say
Woke Airline Policies Threaten Safety, Workers Say
Authored by Janice Hisle via The Epoch Times (emphasis ours),
Southwest Airlines Co. is…
Woke Airline Policies Threaten Safety, Workers Say
Authored by Janice Hisle via The Epoch Times (emphasis ours),
Southwest Airlines Co. is basking in accolades for its "diversity, equity, and inclusion" (DEI) efforts, award-winning customer service, and record-breaking quarterly revenues.
Behind the scenes of that rosy picture, heartaches are afflicting Southwest, called "the airline with Heart" because of its heart-shaped logo and a corporate culture steeped in "The Golden Rule," treating others the same way they'd like to be treated.
But eight current Southwest employees, including three minorities, told The Epoch Times that "woke, leftist" DEI policies, as implemented, have tarnished the cherished Golden Rule principle, fractured a once-cohesive workforce, and, ultimately, may put safety at risk.
Faced with pandemic-related staffing shortages and pressure to add minorities, the company has changed the way it hires, trains, and disciplines workers—mostly to benefit less-qualified new hires representing the diversity rainbow, the employees say.
One Southwest flight attendant, a Hispanic female, said: "They are compromising safety for the sake of race, gender identity, and sexual preference … They're risking people's lives because of agendas."
Southwest, one of America's largest air carriers, didn't respond to messages seeking comment.
Similar issues have spread industry-wide, according to 10 airline employees who agreed to be interviewed. Four are pilots and six are flight attendants; most have 20 or more years of experience. All of them, including two American Airlines pilots, spoke on condition of anonymity to protect their jobs.
While no one thinks the policies are causing an imminent threat of a plane falling out of the sky tomorrow, all of the interviewees agreed that each time a standard is lowered, or a less-qualified employee is hired, the risk that something can go horribly wrong inches forward a notch or two. In an industry that depends on a near-miracle integration of people, machinery, and computers, even a few deviations can culminate in catastrophe.
Still, some employees worry about what could happen if current trends continue to stress out and distract safety professionals. Said one flight attendant: "It's a recipe for disaster. I just hope I'm not at work when it happens."
Us-Versus-Them Mentality
While promoting diversity sounds like a great idea, the inclusionary policies have actually become exclusionary at Southwest, employees say. Disparate treatment has divided their ranks into two distinct camps: those with "desirable" or "approved" personal, social, or political characteristics—and those without.
Minorities or people with leftist political views, varying gender identities, and alternative sexual orientations appear to be given wide latitude. This "protected class" is allowed to bend or break rules, and new hires in these classifications may be given extra chances to pass required skills tests, the employees said.
At the same time, veteran workers—especially those who are white, heterosexual, and conservative—find themselves in the crosshairs for almost anything, including making a personal statement of religious or political beliefs, the Southwest workers said. Even minorities can be shifted into this targeted group if they espouse personal beliefs running counter to causes that the company supports.
"There are two sets of standards: One for us and one for them," said an experienced flight attendant.
One of her colleagues said: "The company is trying to eliminate anybody who does not agree with their agenda. The last few years, anybody who speaks up against them, they want gone." That flight attendant said she had no problems at work until she posted her Christian religious beliefs on her personal Facebook page, along with her support of President Donald Trump. A coworker reported the posts to Southwest, and the flight attendant said she has faced repercussions ever since.
She and others say the targeting of conservatives is common—and they point to the recently publicized case of fired Southwest flight attendant Charlene Carter as a prime example.
'Targeted Assassinations' of Conservatives
Last month, a federal jury in Texas awarded Carter more than $5 million after finding that Southwest wrongfully terminated her and that her union didn't live up to its duty to represent her. The company fired Carter after she expressed her pro-life views to a union leader via social media and opposed the union's pro-abortion activism.
The company supported the union's political activism, Carter's suit says, by accommodating work-shift changes for union members so they could participate in the Women's March on Washington, D.C., in January 2017. Marchers were protesting Trump's inauguration; one of the primary sponsors of the event was Planned Parenthood. Southwest also showed "solidarity" with the protesters by bathing its airplane cabins in pink lights on some D.C.-bound flights, Carter's lawsuit says.
Documents in the case revealed that some union officials and political activists were singling out dissenting Southwest employees for "targeted assassinations," meaning that they would try to get the company to fire them, using the company's social media policy as a bludgeon.
In an interview with The Epoch Times on Aug. 8, Carter, who lives near Denver, Colorado, said she can't believe that some leaders of Transport Workers Union of America Local 556, who helped set her up to be fired, are still working for Southwest.
Carter also validated her coworkers' concerns about the disparate treatment of employees who dare to oppose leftist agendas. "I think there are a ton of cases out there just like mine," she said. Terminated employees from Southwest and other airlines have been continuously contacting Carter for help after learning about the July 14 verdict in her case.
Carter spent five years fighting in court; she thinks she was one of the first casualties of the erosion of Southwest's unique corporate culture, which she witnessed during the latter part of her 20-plus years at the airline.
"We all loved our jobs; we all loved each other—our CoHearts, that's what we called each other," Carter said, pointing out that the airline's stock ticker is LUV, a nod to its birthplace at Love Field, Texas.
Corporate Culture Shift
But corporate leadership and philosophy shifted. Carter said, her former coworkers tell her the culture is now one where people are fired on a whim, and they're encouraged to file complaints against each other over perceived insults, such as failure to use the "preferred pronoun" of a person asserting an alternative gender identity.
Employees who face such accusations are presumed guilty, a current flight attendant said, and they risk suspension or termination. "That is how we are treated now," she said.
"It's gotten ridiculous," Carter said. She was astounded to learn that lapel pins, designating preferred pronouns, are being offered to staff.
A fellow flight attendant says the company's priorities are misplaced.
"We used to be focused on hiring 'the best of the best,'" she said. "So why is it now that we feel at Southwest Airlines that we have to use the right pronouns and we have to acquiesce to someone's gender-fluid mentality?"
The DEI Effect
The interviewed employees blame DEI policies for sowing the seeds of division. Ironically, before DEI was implemented, "people were never labeled," a flight attendant said. "I find it very divisive," she said, "because now everyone is labeled, divided by race, gender sexual orientation … whatever."
"This is wrong—all the way wrong," she said.
The company's annual report, in its DEI section, says, "Southwest Airlines recognizes, respects, and values differences. … At Southwest, DEI is and always has been a part of our DNA."
All four major airlines—and many other American companies—publicly disclose DEI-related information, such as data on minority recruitment and the racial makeup of their workforce.
"Every airline is trying to push forward with minority hiring because they want to 'show that they care,'" aviation analyst Jay Ratliff said. "They're being asked, 'How many women are within your pilot ranks? … How many pilots of color?'"
If an airline's diversity metrics seem low in comparison to their competitors' numbers, the company's reputation and bottom line can suffer, Ratliff said.
That's not necessarily fair, he said, because few people have the ability, interest, and financial means to qualify as a commercial airline pilot. Amassing the FAA-required 1,500 hours of flight time with an instructor can cost $75,000 or more, pilots said.
Last year, United Airlines announced its goals: to train 5,000 new pilots by 2030 at its new flight school, with "at least half of those students to be women or people of color." The first class of new recruits "exceeded that goal," with 80 percent of the 30 students fitting that category, the airline said in a report.
Considering that white males make up about one-third of the American population, a Southwest pilot said that composing a class with 80 percent minorities and women looks like "DEI special-status hiring on steroids."
Scoring Systems Push Diversity
DEI data play a significant role in corporate ESG scores—ratings of a company's "environmental, social, and governance" performance. It's a complex—and controversial—way to assess which companies are considered "good corporate citizens."
Most of the interviewed airline employees believe that the pursuit of ESG scores is driving corporate personnel practices, including ignoring well-qualified male applicants while eagerly hiring less-experienced female and minority candidates.
Increasingly, ESG scores can help determine whether a company sinks or swims. A good ESG score can attract investors, government contracts, and favorable loan-interest rates—benefits that are especially important for the airline industry, in which lucrative U.S. Department of Defense contracts are at stake and profit margins are razor-thin because of astronomical costs for equipment and personnel.
ESG ratings have existed in some form for decades, yet they barely registered a blip on internet searches until a few months ago, amid the Biden administration's continued push for businesses to address environmental concerns and to institute "green" policies, which weigh heavily in ESG scores and DEI metrics.
Florida Gov. Ron DeSantis recently announced his intent to push back against ESG, calling it "leveraging corporate power to impose an ideological agenda on society."
Refinitiv, a company that produces ESG scores, says its process for calculating the ratings starts with collecting more than 630 ESG measures from each company's public disclosures. Other ESG assessors have their own rating systems, which means results can vary depending on which assessment method is being used. ESG advocates are now working on standardizing how these scores are calculated.
Several airline employees said it would benefit their company, their industry, and society in general if ESG scores and DEI programs were abolished.
One Southwest pilot with decades of experience said such measures create unnecessary complications with no positive effect on the airline's core mission.
"Why do we need DEI programs? Why do we need ESG? A lot of the public isn't even aware these things exist," he said. "The passengers just want people like me to get them, and their bags, to the same place at the same time, safely … DEI and ESG do nothing to support that—zero."
"I need these DEI programs and ESG scores to go out the back of the airplane like the jet fuel that we burn."
Non-Pilots Hiring Pilots
Southwest's annual report says it has been "evolving hiring and development practices to support diversity goals."
Those changes are troubling to the interviewed employees and to the pilots' union. In a letter to members last month, the Southwest Airlines Pilots Association pointed out that, for the first time in the company's 51-year history, a non-pilot is in charge of hiring pilots. The "system chief pilot" used to have that responsibility. "We are just a single step away" from hiring pilots based upon mere reviews of their resumes, association president Casey Murray wrote to union members. Southwest has about 9,600 pilots, the letter said.
Putting a non-pilot in charge of hiring pilots most likely will affect the quality of the pilots who are being hired, Southwest interviewees said. People who lack specific knowledge of this specialized job would have a hard time telling the difference between a good hire and a bad one, pilots said. One of the interviewed pilots said that the chief pilot told him: "The diversity department has a very strong voice in who gets hired."
Southwest wants to hire more than 2,000 pilots in the next year, the union's letter said, questioning whether those new hires will be required to meet Southwest's traditionally high standards. "Across the entire commercial aviation industry, employers are fighting for an ever-shrinking pool of qualified pilots," yet Southwest may be at a disadvantage to compete for those pilots. Contract negotiations with Southwest's pilots are lagging, compared to progress with other airlines' pilot unions, Murray said.
"Pilots are the fuel that powers Southwest Airlines, and right now Southwest's supply of fuel is running low. Time is growing critical, and options are becoming limited," Murray wrote.
Seeking the Best (Non-White) Pilots?
Current pilots also say they have learned that hiring decisions are being driven by a job candidate scoring system; they're unsure how long it has been in place, how it works, or whether it unfairly elevates minorities. The company controls all of that information.
Still, the employees feel confident in anecdotal evidence suggesting that the scoring system, coupled with other hiring practices, could be producing a pattern of discrimination against men, especially white men who come from military backgrounds—previously highly sought-after job candidates. "We could be wrong, but I don't think we are," said one pilot who has military experience.
That pilot said he thinks the vast majority of his colleagues have heard accounts of possible discrimination similar to the following:
When a well-qualified former military pilot applied for a job, Southwest never contacted him for an interview. But the applicant learned that a woman was hired as a pilot, despite having half as much experience in the airline industry.
Further, the man had experience as a captain while the woman had only been a first officer, who sits next to the captain in the cockpit. "It's a completely different world" when a person shifts into the captain's chair, said the pilot.
"We're leaving a lot of people behind who are better-qualified, just because they're the wrong color, or they're identified the wrong way. That's concerning. We're not putting the best up-front," he said. "We have people's lives in our hands. It's just like with doctors. If you go to a doctor, you want to go to the best doctor you can."
An American Airlines pilot with decades of experience said he was less troubled than some of the Southwest interviewees who worried about the effects of reduced standards as a result of the increased emphasis on diversity hiring. However, that pilot said he would become very concerned if standards are lowered "to the point where people aren't flying as confidently."
A second American Airlines pilot said he has observed that "training is not nearly as comprehensive as it used to be," he said. "But these people who are starting out are flying with people who are supremely qualified to be flying airplanes—so mistakes can be covered."
He thinks the reduced standards could eventually cause problems if the hyperfocus on diversity continues: "If you're looking for a diverse workforce and not a qualified workforce, you've got issues. … You haven't seen any accidents because of 'diversity,' but the potential is there."
All 11 people who were interviewed for this story, including Carter, the ex-flight attendant, said personal traits such as gender and race shouldn't be part of the equation at all.
"From the cockpit door forward, guys and gals of all ethnicities are after the same thing—and that's a safe flight," said one of the American Airlines pilots. "They don't care who sits next to them as long as they can do the job."
More Than Snack Servers
Most air passengers think of flight attendants as hospitality ambassadors who make them comfortable with beverages, snacks, blankets, and pillows. But their main purpose is to assist in the rare event of an in-flight emergency.
Six Southwest flight attendants, along with Carter, say they feel less able to perform crucial duties because of the climate in which they're now operating—and new hires appear to be less equipped to shoulder those responsibilities.
"They have just made it such a hostile work environment. Southwest has made it that way, and flight attendants are afraid to do their jobs," a flight attendant said. "But you're supposed to put a smile on your face and pretend that everything is grand."
The flight attendants describe feeling as though a backstabber is always ready to pounce, to report any action or statement that doesn't fit the corporate ideology. They're being held to strict conduct and uniform standards while "accommodations" are extended to people in protected classes, such as a minority woman who was allowed to wear a nose ring—which got a white female in trouble—and a male flight attendant who described himself as "nonbinary"—neither totally male nor totally female—being allowed to wear a skirt that appeared to be shorter than regulations allowed.
The nonbinary employee seemed to be using his position at the airline as a platform for LGBTQ activism and self-promotion, rather than focusing on benefiting the company or its customers, fellow flight attendants said. They shared screenshots of the nonbinary employee's social media posts. One is a selfie of the mustached man posing in his Southwest uniform, with the comment, "My dress looks better on me than most chicks."
That employee no longer works for Southwest, flight attendants said. Yet they said they were aware that a couple of employees faced disciplinary action for referring to the nonbinary employee as "he" in a members-only Facebook group for flight attendants.
Antics Embarrass Fellow Flight Attendants
One flight attendant perceives that the company is making skewed, unfair hiring decisions, and creating a level of absurdity that's hard to stomach. She knows of people who are related to Southwest employees and have college degrees—which go beyond the high-school education requirement for flight attendants—"and they don't get hired, and yet we have this guy, with a mustache, in a skirt, distracting us all because the company wants to fight over his pronouns."
Being a flight attendant used to be considered prestigious and classy; Southwest was viewed as "Mount Rushmore," a pinnacle for flight attendants, who felt proud just to be hired.
"Now the pride is not about the brand of Southwest Airlines," a flight attendant said. "It's about how different I can be as an employee of Southwest Airlines—like, 'Y'all need me more than I need you.'"
Public perception of the role has diminished, not just at Southwest, but across the industry. Airlines grant diversity-based exceptions to people who don't want to look or act professional, the flight attendants said.
It used to be unusual to see flight attendants behave in ways that brought embarrassment to their coworkers. Now, quite a few of the new hires who were prized for their diversity "are rather risqué," a flight attendant said. "They become very emboldened; they feel they can get away with this because they are in a protected class."
Still, Southwest has had to fire employees who pushed the envelope too far, including one minority flight attendant who solicited sex in a social media video and another who videoed herself twerking. In both instances, the videos, provided to the Epoch Times, show the employees in Southwest uniforms.
Such conduct disgusts the flight attendants, and their concern is more than superficial. "If we relax the appearance standards and we're letting people lower their professional standards, then they obviously are not equipped to handle any type of safety issue that can happen on that plane," a flight attendant said.
"Where do you draw the line and say enough is enough?"
Commitment, Skills Insufficient
One of the flight attendants who has been targeted for religious and political views said her commitment to her job boils down to this: "I will give my life for my passengers and my crew, if that's what I need to do. My last words will be, 'Let's roll,'" she said, referencing the famous words spoken by a passenger on one of the U.S. airplanes that were hijacked on Sept. 11, 2001.
She doesn't see that same level of grit from the new hires. "They don't have the same tough mentality," she said. Nor do they have the same work ethic, which might be attributable to differences between the younger and older generations.
The older flight attendant described being busy from the beginning to the end of each flight while many of the new hires tend to just serve one round of drink orders, "then they go back to the back (of the airplane) and sit down for the rest of the flight."
The new employees aren't demonstrating mastery of the skills they were supposed to have been taught, or willingness to perform them. A passenger was having a medical emergency but the flight attendant in charge of that section "wouldn't even come out of the galley to assist," said one flight attendant. Instead, she and a second colleague had to take care of the ailing passenger.
Such an incident stokes her worst fear: "Somebody's gonna die. With the lack of training that we're seeing in the new hires that are coming out … there's going to be somebody who's not trained, facing an emergency."
Read more here...
Tyler Durden
Thu, 08/11/2022 - 06:30
trump
pandemic
treatment
dna
spread
interest rates
COVID antibody declines prompts call for booster jabs ASAP
Figures from the UK Office for National Statistics (ONS) have revealed that the number of people with higher
The post COVID antibody declines prompts call…
Figures from the UK Office for National Statistics (ONS) have revealed that the number of people with higher levels of COVID-19 antibodies in their blood is declining quickly – leading to calls for booster vaccination campaigns to be started as soon as possible.
The ONS survey – based on swab and blood samples from thousands of households across the country – found that the proportion of people in England with antibody levels of at least 800 ng/ml fell from 82.4% in March to 71.9% in mid-July.
The 12.7% decrease is "obviously concerning," according to Dr Quinton Fivelman, chief scientific officer at private testing company London Medical Laboratory, who says the trend is the same in other countries of the UK.
"We already know the latest Omicron BA.4 and BA.5 sub-variants are the most contagious yet and remain a potentially considerable threat to our health," he said. "The UK population needs to retain a substantial number of antibodies going into the dangerous winter months."
The finding comes as the percentage of people testing positive for COVID-19 continues to decrease in England, Wales and Scotland, with an uncertain trend, in Northern Ireland, according to the ONS' latest update, which was published on 5 August.
Fivelman's concern is that if the rate of decline continues, only 60% of the UK population will retain substantial antibodies if the next booster campaign for the over-50s and vulnerable people gets underway in early October.
"The new Omicron BA.4 and BA.5 sub-variants do not produce as high an immune response as the previous strains, so re-infection is more likely to occur," he points out. "Higher levels of antibodies are important to neutralise the virus, stopping infection and limiting people transmitting the virus to others."
On the plus side, the UK's baseline antibody level of at least 179 ng/ml, determined at the height of the Delta variant, has held firm. In all 97.8% of people in England had antibody levels of 179 ng/ml in mid-March, and this had fallen only fractionally, to 96.3% by mid-July.
One issue facing the government is that new versions of the Pfizer and Moderna vaccines that have been tweaked to improve efficacy against Omicron may not be available in time for an earlier start for the booster campaign – or indeed October, unless the Medicines and Healthcare products Regulatory Agency (MHRA) can approve them quickly.
Both shots – based on the original Wuhan strain of SARS-CoV-2 and the BA.1 Omicron subvariant – are currently under review at the regulator.
The post COVID antibody declines prompts call for booster jabs ASAP appeared first on .
testing
antibodies
covid-19
wuhan
uk
Monkeypox: demand for vaccines is outstripping supply – this is what's causing the shortages
Chronic weaknesses in our global vaccine manufacturing and distribution systems may broadly be to blame.
Over 30,000 cases of monkeypox have been reported in more than 80 countries worldwide in 2022. Most are in countries that have never previously reported monkeypox. While monkeypox is not as transmissible as many respiratory infections (such as COVID-19), it's still important to curb the spread.
One way to control spread is by vaccinating vulnerable people. Fortunately, we already have vaccines which are very effective at preventing monkeypox. But as case numbers continue to rise, reports are emerging that demand for vaccines is outstripping supply in many parts of the world currently seeing an outbreak, including the US, UK and Europe.
Vaccine supply
There are a number of reasons why we are seeing shortages of the vaccine used to protect against monkeypox. Broadly, it's due to chronic weaknesses in our global vaccine manufacturing and distribution systems, which make it especially difficult to supply the vaccines needed to protect against new infections and outbreaks.
The vaccine currently being used to protect against monkeypox is the smallpox vaccine, which works because the monkeypox virus is so closely related to smallpox.
Until now, the smallpox vaccine has been a niche product because it's not been needed since smallpox was eradicated in 1980. Pharmaceutical companies can't afford to manufacture vast numbers of doses just in case, and few governments can justify buying a vaccine that isn't used. This means the vaccines currently being administered are from emergency stockpiles that were created to respond to an accidental (or deliberate) release of smallpox.
---
Read more: Monkeypox Q&A: how do you catch it and what are the risks? An expert explains
---
As such, there are limited stocks and production capacity globally, so demand is rapidly outstripping supply. Even the US, with one of the largest smallpox vaccine stockpiles, recently ordered 2.5 million additional doses in response to the monkeypox outbreak. But there are reports that the factory in Denmark which makes the world's only smallpox vaccine approved for monkeypox is temporarily closed, which may further impact the world's ability to source more vaccine doses. And unfortunately, transferring production to other facilities is not straightforward.
One particular problem for vaccine manufacturers is that it's hard to predict when or where big outbreaks of infections may happen. Of course, there are some infections that we know consistently require a regular supply of vaccines – such as the influenza virus. But while 1 billion influenza vaccines are produced globally each year, it still takes approximately six months from picking the most important new strains to manufacturing and rolling out jabs.
So even with vaccines in high demand, it isn't simple to manufacture more doses. This is why we are still striving to innovate ways to rapidly produce new vaccines affordably and at a very large scale.
Vaccines are inherently complicated to make. Because they are made from relatively fragile and complex biological materials (such as a virus), the product has to be exactly right every time. If the formula changes even slightly, it might not work as well – or even increase the risk of side-effects.
Adding to this challenge is the fact that different vaccine products may be manufactured by different methods. For example, the equipment needed to produce a viral vaccine (such as the smallpox vaccine used against monkeypox) will be very different to that used to make COVID-19 RNA vaccines. It's also slow and expensive to test any necessary modifications or improvements that may be needed to make a vaccine safer and more effective.
Surprisingly, even some simple processes common to all vaccines and other medicines – such as filling doses into vials for distribution to patients – still have a mismatch of capacity. Vaccines are usually manufactured in different locations to packaging facilities, raising logistical hurdles (such as strictly controlled refrigeration requirements) that can further delay distribution. These facilities are used for many different medicines and are usually fully booked years in advance; schedules that are still recovering from COVID-19 disruptions may now be experiencing urgent changes to package the smallpox vaccine from stockpiles.
It also isn't just a case of developing new monkeypox vaccines that are easier to manufacture. Even with major recent scientific progress, it would take many months to develop a safe and effective new vaccine. For monkeypox, it's far quicker and simpler to use the existing smallpox vaccine.
What can be done?
Smallpox vaccine production is likely to be increased to meet demand. But until this happens, many countries will have to make best use of what supplies they can access, and rely on other strategies to help curb the virus's spread.
The most effective way to prevent monkeypox causing further harm is by using an integrated, locally led public health response – vaccines are just one part of this. Testing and contact tracing is vital. If enough infected people in a region can be identified and supported to isolate while they're infectious, transmission can be blocked.
Given the vaccine shortages, we expect that people don't need two vaccine doses to be protected against monkeypox. This is why vaccinating the most at-risk groups with one dose now, paired with other public health measures, is the most effective strategy for curbing the spread of monkeypox – especially while vaccine supplies are limited. Second doses can be administered to maximise immunity when supplies do become available.
The current monkeypox outbreak is yet another reminder of the importance of investing in global health, and ensuring there's more equal access to vaccines and other medical interventions that can help prevent the spread of harmful diseases.
Alexander Edwards does not work for, consult, own shares in or receive funding from any company or organisation that would benefit from this article, and has disclosed no relevant affiliations beyond their academic appointment.
stocks
covid-19
vaccine
testing
vaccine production
rna
spread
transmission
europe
uk