COVID-19 messes with Texas: What went wrong, and what other states can learn as younger people get sick
COVID-19 messes with Texas: What went wrong, and what other states can learn as younger people get sick
The July 4 holiday weekend usually means cookouts and big gatherings in Texas, but right now, the state is facing a public health catastrophe.
Hospitals in Dallas and Houston are nearing ICU capacity as the number of COVID-19 cases spikes across the state. The death toll from the virus is up 50% from a month ago.
It did not begin like this. Texas had lower COVID-19 rates and case counts than many other large states through most of the spring.
What happened, and what can be done to turn it around now? As Gov. Greg Abbott halts plans to further reopen the economy, orders bars closed and limits large gatherings, the answers to both of those questions may hold lessons for other states.
As public health researchers and professors at Texas A&M University, we have been monitoring the shifting dynamics of the disease's spread to help county and state officials plan for increasing health care and other needs related to COVID-19.
Texas started out doing well
When the pandemic arrived in Texas in early March, state officials provided clear messages that the virus was a dangerous threat and that public health safety precautions would be necessary.
They ordered travel restrictions between Texas and Louisiana, where New Orleans had an outbreak, and instituted a mandatory 14-day self-quarantine for anyone from high-risk areas flying into the state. Local leaders issued stay-at-home orders, and the governor followed with a similar statewide order in April and closed nonessential businesses.
As the shutdown continued, however, COVID-19 cases didn't overwhelm the health care system as feared. The governor allowed the stay-at-home order to lapse on April 30 and began reopening the economy. The weekend the order ended, Texas' beaches were crowded with people, many no longer worrying about social distancing or wearing masks. Restaurants and bars began reopening, bringing more people together.
Now, the risk has shifted again, and in a very short time frame. Since June 1, there have been over 70,000 new confirmed cases in Texas, with daily increases reaching more than 6,000.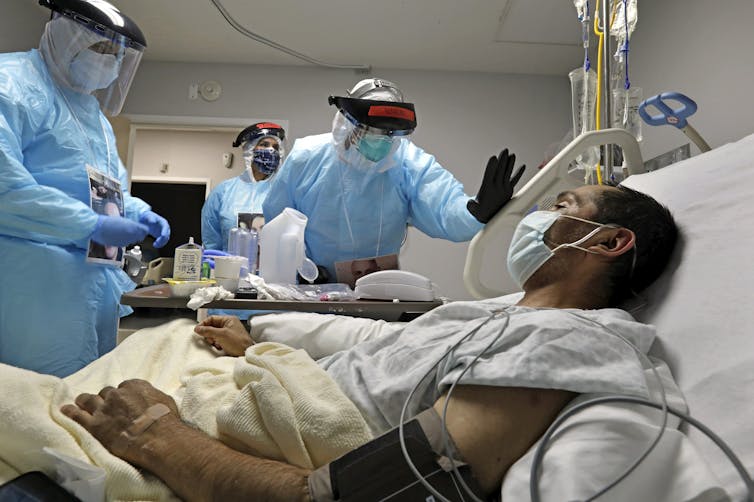 Where previously the confirmed COVID-19 cases tended to occur in clusters around the state such as nursing homes, assisted living facilities and processing plants, the phased reopening of businesses provided new opportunities for disease spread in the broader community. The people infected now are notably younger and concentrated in the largest cities.
Abbott said the state had identified bars as one of the most dangerous spreaders of the virus, and he expressed regret about allowing them to reopen so quickly. "If I could go back and redo anything, it probably would have been to slow down the opening of bars," he told KVIA. "People go to bars to get close and to drink and to socialize, and that's the kind of thing that stokes the spread of the coronavirus."
Testing, contact tracing and human behavior
There are three keys to preventing the spread of the coronavirus while there is no vaccine: testing to find it, contact tracing to prevent those who might have been exposed from spreading it, and the big one – individual and group behavior.
Texas' testing has slowly increased over time, but it has been accompanied by a much larger percentage increase in positive results. While more testing is needed, getting people to agree to be tested isn't always easy. Many Texans perceive that results take too long, cost too much, are inconvenient or are not needed, particularly if they have mild or no symptoms.
The nature of the virus makes contact tracing challenging. The delay of up to two weeks between exposure and symptoms, if symptoms appear at all, means carriers are generally unaware they are spreading the virus to others. Texas is investing in more contact tracing to educate and isolate individuals who may have been exposed, but it only had 2,900 of the planned 4,000 contact tracers in place by June 1.
Because this latest spike in COVID-19 cases is linked to community-based spread, intensive contact tracing to target individuals needs to be matched with disease containment strategies in affected communities.
Statements from political and health leaders encouraging people to stay home, wear masks, wash their hands frequently and avoid large gatherings helped make the early response effective.
Reinforcing these strategies now so individuals, particularly those in the lowest risk categories for serious illness, understand their role in preventing the spread of the virus is critical to flattening the curve again. Knowing that there is a lag of one to two weeks from an increase in cases to the predictable consequences of more serious illnesses, hospitalizations and fatalities, makes this a huge challenge.
[Expertise in your inbox. Sign up for The Conversation's newsletter and get expert takes on today's news, every day.]
The unfortunate reality is that many Texans who now have COVID-19 but aren't yet showing symptoms will become severely ill or even die of COVID-19 in July.
What needs to happen?
The governor's order on June 25 to pause reopening the economy – along with orders to close bars, reduce restaurant capacity and limit gatherings of over 100 people – has reminded Texans who may have perceived an "all clear" in recent weeks that the virus remains dangerous. Several city and county officials are now urging the governor to go farther and issue a new stay-at-home order or let them issue their own.
Aligning messaging from the governor and local leaders may help encourage people to take more care, particularly since the governor has taken a stance that a balance between health and the economy is needed.
Whether Texas and states like Florida and Arizona that are also experiencing steep rises in COVID-19 illnesses can bring the virus back under control without closing more of the economy again is the big question. Florida and Texas have both ordered bars closed to target some leading sources of the latest disease spread. They are allowing cities and counties to require mask-wearing in public, but neither state has mandated it. Abbott earlier had blocked local governments from enforcing face mask rules. In Arizona, Gov. Doug Ducey first urged people to stay home without mandating behavior changes, then later ordered bars, gyms and theaters to close.
Will these steps be enough to flatten the curve?
The answer depends largely on changing people's behavior. Going forward, some of the most important steps are to reinforce the messaging of established public health practices:
If possible, stay at home.

Use precautions, such as wearing a mask, social distancing and frequent hand-washing when not at home, and avoid gatherings in spaces with limited airflow.

If you are showing symptoms or may have been exposed to someone infected with the coronavirus, quarantine yourself, and seek care if symptoms are severe or prolonged.
Texans tend to be neighborly and pragmatic. As the state manages this new rise in cases, it will be important to consider the short- and long-term health and economic consequences that matter most. The new spike may, unfortunately, mean more of the state's residents personally experience COVID-19 or know people who are hospitalized or die because of it. And that may spur behavior changes.
This article has been updated with new developments from Texas cities calling for the governor to allow local stay-at-home orders and Arizona ordering bars, gyms and theaters to close.
The authors do not work for, consult, own shares in or receive funding from any company or organisation that would benefit from this article, and have disclosed no relevant affiliations beyond their academic appointment.
reopening
governor
vaccine
testing
containment
spread
social distancing
quarantine
stay-at-home orders
confirmed cases
flattening the curve
Fighting the Surveillance State Begins with the Individual
It's a well-known fact at this point that in the United States and most of the so-called free countries that there is a robust surveillance state in…
It's a well-known fact at this point that in the United States and most of the so-called free countries that there is a robust surveillance state in place, collecting data on the entire
populace
. This has been proven beyond a shadow of a doubt by people like Edward Snowden, a National Security Agency (NSA) whistleblower who exposed that the NSA was conducting mass surveillance on US citizens and the world as a
whole
. The NSA used applications like those from Prism Systems to piggyback on corporations and the data collection their users had agreed to in the terms of service. Google would scan all emails sent to a Gmail address to use for personalized advertising. The government then went to these companies and demanded the
data
, and this is what makes the surveillance state so interesting. Neo-Marxists like Shoshana Zuboff have dubbed this "
surveillance capitalism
." In China, the mass surveillance is conducted at a loss. Setting up closed-circuit television
cameras
and hiring government workers to be a mandatory editorial staff for blogs and
social media
can get quite expensive. But if you parasitically leech off a profitable business practice it means that the surveillance state will turn a profit, which is a great asset and an even greater weakness for the system. You see, when that is what your surveillance state is predicated on you've effectively given your subjects an opt-out button. They stop using services that spy on them. There is software and online services that are called "open source," which refers to software whose code is publicly available and can be viewed by anyone so that you can see exactly what that software does. The opposite of this, and what you're likely already familiar with, is proprietary software. Open-source software generally markets itself as privacy respecting and doesn't participate in data collection. Services like that can really undo the tricky situation we've found ourselves in. It's a simple fact of life that when the government is given a power—whether that be to regulate, surveil, tax, or plunder—it is nigh impossible to wrestle it away from the state outside somehow disposing of the state entirely. This is why the issue of undoing mass surveillance is of the utmost importance. If the government has the power to spy on its populace, it will. There are people, like the creators of
The
Social Dilemma
, who think that the solution to these privacy invasions isn't less government but more government, arguing that data collection should be taxed to dissuade the practice or that regulation needs to be put into place to actively prevent abuses. This is silly to anyone who understands the effect regulations have and how the internet really works. You see, data collection
is
necessary. You can't have email without some elements of data collection because it's simply how the protocol functions. The issue is how that data is stored and used. A tax on data collection itself will simply become another cost of doing business. A large company like Google can afford to pay a tax. But a company like Proton Mail, a smaller, more privacy-respecting business, likely couldn't. Proton Mail's business model is based on paid
subscriptions
. If there were additional taxes imposed on them, it's possible that they would not be able to afford the cost and would be forced out of the market. To reiterate, if one really cares about the destruction of the surveillance state, the first step is to personally make changes to how you interact with online services and to whom you choose to give your data.
china
Forget Ron DeSantis: Walt Disney has a much bigger problem
The company's political woes are a sideshow to the one key issue Bob Iger has to solve.
Walt Disney has a massive, but solvable, problem.
The company's current skirmishes with Florida Gov. DeSantis get a lot of headlines, but they're not having a major impact on the company's bottom line.
Related: What the Bud Light boycott means for Disney, Target, and Starbucks
DeSantis has made Walt Disney (DIS) - Get Free Report a target in what he calls his war on woke, an effort to win right-wing support as he tries to secure the Republican Party nomination for president. 
That effort has generated plenty of press and multiple lawsuits tied to the governor's takeover of the former Reedy Creek Improvement District, Disney's legislated self-governance operation. But it has not hurt revenue at the company's massive Florida theme-park complex.  
Disney Chief Executive Bob Iger addressed the matter during the company's third-quarter-earnings call, without directly mentioning DeSantis.
"Walt Disney World is still performing well above precovid levels: 21% higher in revenue and 29% higher in operating income compared to fiscal 2019," he said. 
And "following a number of recent changes we've implemented, we continue to see positive guest-experience ratings in our theme parks, including Walt Disney World, and positive indicators for guests looking to book future visits."
The theme parks are not Disney's problem. The death of the movie business is, however, a hurdle that Iger has yet to show that the company has a plan to clear.
Disney needs a plan to monetize content 
In 2019 Walt Disney drew in more $11 billion in global box office, or $13 billion when you add in the former Fox properties it also owns. In that year seven Mouse House films crossed the billion-dollar threshold in theaters, according to data from Box Office Mojo.
This year, the company will struggle to reach half that and it has no billion-dollar films, with "Guardians of the Galaxy Vol. 3" closing its theatrical run at $845 million globally. 
(That's actually good for third place this year, as only "Barbie" and "The Super Mario Bros. Movie" have broken the billion-dollar mark and they may be the only two films to do that this year.)
In the precovid world Disney could release two Pixar movies, three Marvel films, a live-action remake of an animated classic, and maybe one other film that each would be nearly guaranteed to earn $1 billion at the box office.
That's simply not how the movie business works anymore. While theaters may remain part of Disney's plan to monetize its content, the past isn't coming back. Theaters may remain a piece of the movie-release puzzle, but 2023 isn't an anomaly or a bad release schedule.
Consumers have big TVs at home and they're more than happy to watch most films on them.
Disney owns the IP but charges too little
People aren't less interested in Marvel and Star Wars; they're just getting their fix from Disney+ at an absurdly low price. 
Over the past couple of months through the next few weeks, I will have watched about seven hours of premium Star Wars content and five hours of top-tier Marvel content with "Ahsoka" and "Loki" respectively. 
Before the covid pandemic, I gladly would have paid theater prices for each movie in those respective universes. Now, I have consumed about six movies worth of premium content for less than the price of two movie tickets.
By making its premium content television shows available on a service that people can buy for $7.99 a month Disney has devalued its most valuable asset, its intellectual property. 
Consumers have shown that they will pay the $10 to $15 cost of a movie ticket to see what happens next in the Marvel Cinematic Universe or the Star Wars galaxy. But the company has offered top-tier content from those franchises at a lower price.
Iger needs to find a way to replace billions of dollars in lost box office, but charging less for the company's content makes no sense. 
Now, some fans likely won't pay triple the price for Disney+. But if it were to bundle a direct-to-consumer ESPN along with content that currently gets released to movie theaters, Disney might create a package that it can price in a way that reflects the value of its IP.
Consumers want Disney's content and they will likely pay more for it. Iger simply has to find a way to make that happen.
Get investment guidance from trusted portfolio managers without the management fees. Sign up for Action Alerts PLUS now.
governor
Stock Market Today: Stocks turn higher as Treasury yields retreat; big tech earnings up next
A pullback in Treasury yields has stocks moving higher Monday heading into a busy earnings week and a key 2-year bond auction later on Tuesday.
Updated at 11:52 am EDT
U.S. stocks turned higher Monday, heading into the busiest earnings week of the year on Wall Street, amid a pullback in Treasury bond yields that followed the first breach of 5% for 10-year notes since 2007. Investors, however, continue to track developments in Israel's war with Hamas, which launched its deadly attack from Gaza three weeks ago, as leaders around the region, and the wider world, work to contain the fighting and broker at least a form of cease-fire. Humanitarian aid is also making its way into Gaza, through the territory's border with Egypt, as officials continue to work for the release of more than 200 Israelis taken hostage by Hamas during the October 7 attack. Those diplomatic efforts eased some of the market's concern in overnight trading, but the lingering risk that regional adversaries such as Iran, or even Saudi Arabia, could be drawn into the conflict continues to blunt risk appetite. Still, the U.S. dollar index, which tracks the greenback against a basket of six global currencies and acts as the safe-haven benchmark in times of market turmoil, fell 0.37% in early New York trading 105.773, suggesting some modest moves into riskier assets. The Japanese yen, however, eased past the 150 mark in overnight dealing, a level that has some traders awaiting intervention from the Bank of Japan and which may have triggered small amounts of dollar sales and yen purchases. In the bond market, benchmark 10-year note yields breached the 5% mark in overnight trading, after briefly surpassing that level late last week for the first time since 2007, but were last seen trading at 4.867% ahead of $141 billion in 2-year, 5-year and 7-year note auctions later this week. Global oil prices were also lower, following two consecutive weekly gains that has take Brent crude, the global pricing benchmark, firmly past $90 a barrel amid supply disruption concerns tied to the middle east conflict. Brent contracts for December delivery were last seen $1.06 lower on the session at $91.07 per barrel while WTI futures contract for the same month fell $1.36 to $86.72 per barrel. Market volatility gauges were also active, with the CBOE Group's VIX index hitting a fresh seven-month high of $23.08 before easing to $20.18 later in the session. That level suggests traders are expecting ranges on the S&P 500 of around 1.26%, or 53 points, over the next month. A busy earnings week also indicates the likelihood of elevated trading volatility, with 158 S&P 500 companies reporting third quarter earnings over the next five days, including mega cap tech names such as Google parent Alphabet  (
GOOGL
) -
Get Free Report
, Microsoft  (
MSFT
) -
Get Free Report
, retail and cloud computing giant Amazon  (
AMZN
) -
Get Free Report
 and Facebook owner Meta Platforms  (
META
) -
Get Free Report
. "It's shaping up to be a big week for the market and it comes as the S&P 500 is testing a key level—the four-month low it set earlier this month," said Chris Larkin, managing director for trading and investing at E*TRADE from Morgan Stanley. "How the market responds to that test may hinge on sentiment, which often plays a larger-than-average role around this time of year," he added. "And right now, concerns about rising interest rates and geopolitical turmoil have the potential to exacerbate the market's swings."
Heading into the middle of the trading day on Wall Street, the S&P 500, which is down 8% from its early July peak, the highest of the year, was up 10 points, or 0.25%. The Dow Jones Industrial Average, which slumped into negative territory for the year last week, was marked 10 points lower while the Nasdaq, which fell 4.31% last week, was up 66 points, or 0.51%. In overseas markets, Europe's Stoxx 600 was marked 0.11% lower by the close of Frankfurt trading, with markets largely tracking U.S. stocks as well as the broader conflict in Israel. In Asia, a  slump in China stocks took the benchmark CSI 300 to a fresh 2019 low and pulled the region-wide MSCI ex-Japan 0.72% lower into the close of trading.
Get investment guidance from trusted portfolio managers without the management fees. Sign up for Action Alerts PLUS now.
dow jones
sp 500
nasdaq
stocks
currencies
testing
interest rates
oil
iran
japan
europe
china