Reopening States Fails To Stop the Plunge in Consumer Sentiment Index
Consumer Confidence Continues Decline in May
This article was originally published by ValueWalk.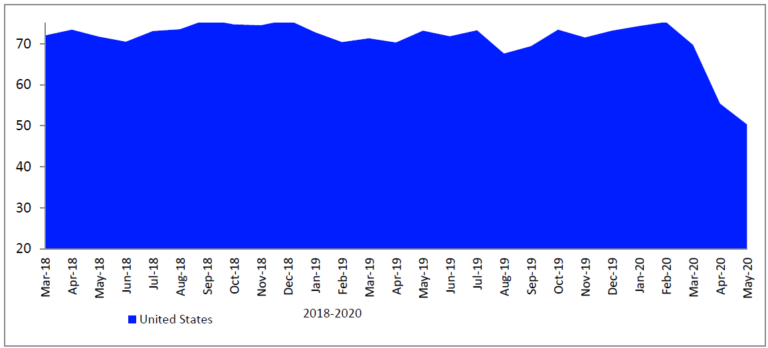 WASHINGTON, DC – American consumer confidence, as measured by the Refinitiv/Ipsos Primary Consumer Sentiment Index, is at 45.4 for the month of May 2020. This represents a 2.4 point decrease from last month.
Q1 2020 hedge fund letters, conferences and more
Current And Jobs Indices See Significant Declines
Declines in the overall PCSI are on a smaller scale than they were last month. This is driven by an increase in the Expecations Index but drops in Current, Investment, and Jobs indices. The most significant declines are seen across the Current and Jobs indices, both of which are down roughly 5 points.
"Even though the Coronavirus outbreak continues across the country, consumers and business owners are beginning to see glimmers of hope as some states and communities begin to open their economies again. However, there is still a lot of concern around the long term outlook and potential fear around resurgence of future waves of the virus." reports Chris Jackson of Ipsos, "Even though consumers are hopeful, there remains some concern about how many people will be willing to take part in the economy for fear of contracting the virus. Meanwhile, business owners and consumers are learning to adapt to a new normal."
Jharonne Martis, Director of Consumer Research at Refinitiv, said, "Omnichannel is key for retailers in the new normal, as consumers gravitate online and use mobile devices to order curbside pickup and ship their orders. U.S. retailers that have reopened abroad are telling us that store traffic has picked up, but consumers are still going online to finalize their shopping orders. Best Buy's ecommerce alone grew 250% over Q1 2019, as consumer's make the shift towards the omnichannel experience. Still, retailers have taken a hit because of the coronavirus pandemic and Refinitiv retail earnings index is expected to see a 31.7% decline for Q1 2020.
Current
The PCSI Current Condition Index shows a decrease of 5.6 points since last month (currently at 32.2) While Americans are generally more pessimistic about the economy as a whole, their confidence on their current financial situations remains unchanged.
Expectations
The PCSI Expectations Index is up 7.8 points to stand at 62.7. Americans are beginning to feel more confident about the economy's impact on their personal finances and their job security.
Investment
The PCSI Investment Index is down 3.6 points from last month to 37.6. Comfort in making major purchases as well as other household purchases is down. Moreover, Americans feel less confident in their ability to invest in the future.
Jobs
The PCSI Jobs Index is down 5.1 points currently standing at 50.3. There is an elevated actual experience with job loss. Job security and expectations for job security have both continued to weaken in the last month.
The post Consumer Confidence Continues Decline in May appeared first on .
business
consumer confidence
jobs indices
appear
consumer sentiment
China Suggests It Could Maintain 'Zero COVID' Policy For 5 Years
China Suggests It Could Maintain 'Zero COVID' Policy For 5 Years
Authored by Paul Joseph Watson via Summit News,
China has suggested it will…
China Suggests It Could Maintain 'Zero COVID' Policy For 5 Years
Authored by Paul Joseph Watson via Summit News,
China has suggested it will maintain its controversial 'zero COVID' policy for at least 5 years, eschewing natural immunity and guaranteeing repeated rounds of new lockdowns.
"In the next five years, Beijing will unremittingly grasp the normalization of epidemic prevention and control," said a story published by Beijing Daily.
The article quoted Cai Qi, the Communist Party of China's secretary in Beijing and a former mayor of the city, who said that 'zero COVID' approach would remain in place for 5 years.
After the story prompted alarm, reference to "five years" was removed from the piece and the hashtag related to it was censored by social media giant Weibo.
"Monday's announcement and the subsequent amendment sparked anger and confusion among Beijing residents online," reports the Guardian.

"Most commenters appeared unsurprised at the prospect of the system continuing for another half-decade, but few were supportive of the idea."
Although western experts severely doubt official numbers coming out of China, Beijing claimed success in limiting COVID deaths by enforcing the policy throughout 2021.
However, this meant that China never achieved anything like herd immunity, and at one stage the Omicron variant caused more more coronavirus cases in Shanghai in four weeks than in the previous two years of the entire pandemic.
Back in May, World Health Organization Director General Tedros Adhanom Ghebreyesus suggested that China would be better off if it abandoned the policy, but Beijing refused to budge.
As we previously highlighted, the only way of enforcing a 'zero COVID' policy is via brutal authoritarianism.
In Shanghai, children were separated from their parents in quarantine facilities and others were left without urgent treatment like kidney dialysis.
Panic buying of food also became a common occurrence as the anger threatened to spill over into widespread civil unrest.
Former UK government COVID-19 advisor Neil Ferguson previously admitted that he thought "we couldn't get away with" imposing Communist Chinese-style lockdowns in Europe because they were too draconian, and yet it happened anyway.
"It's a communist one party state, we said. We couldn't get away with it in Europe, we thought," said Ferguson.
"And then Italy did it. And we realised we could," he added.
*  *  *
Brand new merch now available! Get it at https://www.pjwshop.com/
In the age of mass Silicon Valley censorship It is crucial that we stay in touch. I need you to sign up for my free newsletter here. Support my sponsor – Turbo Force – a supercharged boost of clean energy without the comedown. Get early access, exclusive content and behinds the scenes stuff by following me on Locals.
Tyler Durden
Tue, 06/28/2022 - 18:05
treatment
pandemic
coronavirus
covid-19
deaths
herd immunity
quarantine
europe
uk
italy
china
world health organization
No sign of major crude oil price decline any time soon
Bullish pressure on crude oil markets doesn't seem to be easing Crude oil prices fell last week, notching their second weekly decline in the face of…
Bullish pressure on crude oil markets doesn't seem to be easing
Crude oil prices fell last week, notching their second weekly decline in the face of concern that rising interest rates could push the global economy into recession.
Yet the future of crude oil still seems bullish to many. Spare capacity, or lack of it, is just one of the reasons.
The global surplus of crude production capacity in May was less than half the 2021 average, the U.S. Energy Information Administration (EIA) reported on Friday.
The EIA estimated that as of May, producers in nations not members of the Organization of Petroleum Exporting Countries (OPEC) had about 280,000 barrels per day (bpd) of surplus capacity, down sharply from 1.4 million bpd in 2021. It said 60 per cent of the May 2021 figure was from Russia, which is increasingly under sanctions related to its invasion of Ukraine.
The OPEC+ alliance of oil producers is running out of capacity to pump crude, and that includes its most significant member, Saudi Arabia, Nigerian Minister of State for Petroleum Resources Timipre Sylva told Bloomberg last week.
"Some people believe the prices to be a little bit on the high side and expect us to pump a little bit more, but at this moment there is really little additional capacity," Sylva said in a briefing with reporters on Friday. "Even Saudi Arabia, Russia, of course, Russia, is out of the market now more or less." Nigeria was also unable to fulfil its output obligations, added Sylva.
Recent COVID-19-related lockdowns in parts of China – the world's largest crude importer – also played a significant role in the global oil dynamics. The lack of Chinese oil consumption due to the lockdowns helped keep the markets in a check – somewhat.
Oil prices haven't peaked yet because Chinese demand has yet to return to normal, a United Arab Emirates official told a conference in Jordan early this month. "If we continue consuming, with the pace of consumption we have, we are nowhere near the peak because China is not back yet," UAE Energy Minister Suhail Al-Mazrouei said. "China will come with more consumption."
Al-Mazrouei warned that without more investment across the globe, OPEC and its allies can't guarantee sufficient supplies of oil as demand fully recovers from the pandemic.
But the check on the Chinese crude consumption seems to be easing.
On Saturday, Beijing, a city of 21 million-plus people, announced that primary and secondary schools would resume in-person classes. And as life seemed to return to normal, the Universal Beijing Resort, which was closed for nearly two months, reopened on Saturday.
Chinese economic hub Shanghai, with a population of 28 million-plus people, also declared victory over COVID after reporting zero new local cases for the first time in two months.
The two major cities were among several places in China that implemented curbs to stop the spread of the omicron wave from March to May.
But the easing of sanctions should mean oil's price trajectory will resume its upward march.
In the meantime, in the U.S., the Biden administration is eying tougher anti-smog requirements. According to Bloomberg, that could negatively impact drilling across parts of the Permian Basin, which straddles Texas and New Mexico and is the world's biggest oil field.
While the world is looking for clues about what the loss of supply from Russia will mean, reports are pouring in that the ongoing political turmoil in Libya could plague its oil output throughout the year.
The return of blockades on oilfields and export terminals amid renewed political tension is depriving the market of some of Libya's oil at a time of tight global supply, said Tsvetana Paraskova in a piece for Oilrpice.com.
And in the ongoing political push to strangle Russian energy output, the G7 was reportedly discussing a price cap on oil imports from Russia. Western countries are increasingly frustrated that their efforts to squeeze out Russian energy supplies from the markets have had the counterproductive effect of driving up the global crude price, which is leading to Russia earning more money for its war chest.
To tackle the issue, and increase pressure on Russia, U.S. Treasury Secretary Janet Yellen is proposing a price cap on Russian crude oil sales. The idea is to lift the sanction on insurance for Russian crude cargo for countries that accept buying Russian oil at an agreed maximum price. Her proposal is aimed at squeezing Russian crude out of the market as much as possible.
So the bullish pressure on crude oil markets doesn't seem to be easing.
By Rashid Husain Syed
Toronto-based Rashid Husain Syed is a respected energy and political analyst. The Middle East is his area of focus. As well as writing for major local and global newspapers, Rashid is also a regular speaker at major international conferences. He has provided his perspective on global energy issues to the Department of Energy in Washington and the International Energy Agency in Paris.
Courtesy of Troy Media
recession
pandemic
covid-19
spread
interest rates
oil
mexico
russia
ukraine
china
WTI Extends Gains After Unexpected Crude Draw
WTI Extends Gains After Unexpected Crude Draw
Oil prices are higher today following relatively positive news from China (easing some of its…
WTI Extends Gains After Unexpected Crude Draw
Oil prices are higher today following relatively positive news from China (easing some of its COVID quarantine restrictions), Macron-inspired doubts over the ability of Saudi Arabia and the United Arab Emirates to significantly boost output, and unrest in Ecuador and Libya helped lift prices.
"We're in the crunch period, it's hard to see any meaningful price relief for crude," said John Kilduff.

There's a lot of strength with China relaxing its Covid restrictions and starting its independent refiners, "we're going to have another chunk of demand for crude oil," as China relaxes its Covid-19 restrictions.
With no EIA data released last week due to a "systems issue" (they have issued a statement confirming that the data - and the newest data - will both be released tomorrow), the only guidance we have for now on the past week's inventory changes is from API...
Crude +5.607mm

Cushing -390k

Gasoline +1.216mm - first build since March

Distillates -1.656mm
API (this week)
Crude -3.799mm

Cushing -650k

Gasoline +2.852mm

Distillates +2.613mm
Crude stocks unexpectedly fell last week, almost erasing the major build from the week before (according to API). Gasoline stocks rose for the second straight week
Source: Bloomberg
WTI was hovering around $111.75 and pushed up to $112 after the unexpected crude draw...
Finally, we note that the tight supply situation in oil (especially European) is revealing itself in the WTI-Brent spread, grew to $6.19, the widest in almost three months.
"European demand will remain robust, especially as natural gas supplies run out, while the North American demand for crude is weakening," said Ed Moya, senior market analyst at Oanda.
This is not good news for President Biden as prices are rising...
And his ratings are hitting record lows.
Tyler Durden
Tue, 06/28/2022 - 16:37
stocks
covid-19
spread
quarantine
oil
european
china