Cluttercore: Gen Z's revolt against millennial minimalism is grounded in Victorian excess
More is more in #cluttercore, the new interior trend championed by the young maximalists of TikTok.
Have you heard maximalism is in and minimalism is out? Rooms bursting at the seams with clashing florals, colourful furniture and innumerable knick-knacks, this is what defines the new interiors trend cluttercore (or bricabracomania).
Some say it's a war between generation Z (born 1997-2012) and minimal millennials (born 1981-1996), symptomatic of bigger differences. Others say it's a pandemic response, where our domestic prisons became cuddly cocoons, stimulating our senses, connecting us with other people and places. But what really lays behind the choice to clutter or cull?
Why do some people revel in collections of novelty eggcups? Or have so many framed pictures you can barely see the (ferociously busy) wallpaper? And why do those at the other end of the spectrum refuse to have even the essential stuff visible in the home, hiding it behind thousands of pounds' of incognito cupboards?
---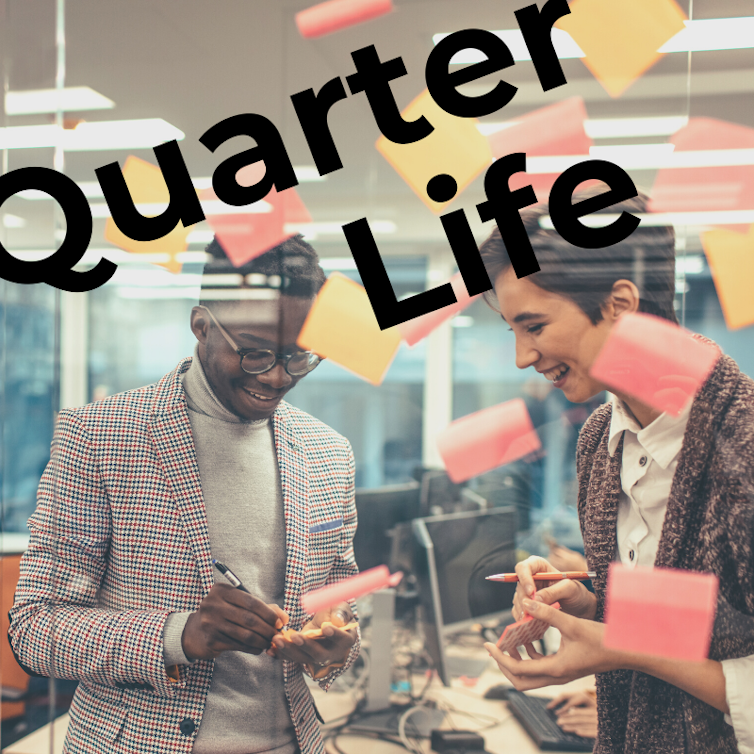 This article is part of Quarter Life, a series about issues affecting those of us in our twenties and thirties. From the challenges of beginning a career and taking care of our mental health, to the excitement of starting a family, adopting a pet or just making friends as an adult. The articles in this series explore the questions and bring answers as we navigate this turbulent period of life._
You may be interested in:
Rihanna and radical pregnancy fashion – how the Victorians made maternity wear boring
Goblin mode: a gothic expert explains the trend's mythical origins, and why we should all go 'vampire mode' instead
William Morris – how a great thinker and poet was overlooked for his wallpaper
---
One important reason for the clash between minimalism and maximalism is simple: the relentless pendulum swing of fashion. Whatever psychological or cultural rationale pundits may suggest, fashion is always about the love of what strikes us as new or different.
This struggle might seem new but it is just history repeating itself, encapsulated in the interior struggle between less and more that began between class-ridden Victorian commodity culture and modernism's seemingly healthy and egalitarian dream.
A lot of stuff
Victorians liked stuff that they could put on display. These things communicated their status through solid evidence of capital, connectedness, signs of exotic travel and colonial power. Think inherited antique cabinets and Chinese ivory animals. Then imagine the labour required to not only create, but polish, dust, manage and maintain these myriad possessions.
But this deluge of stuff was made possible for more people as mass-produced commodities – especially those created from synthetic materials – became cheaper.
All this created a novel and lasting problem: how to choose and how to organise a world with so much aesthetic possibility – how to make things "go together". The 19th and 20th-century guardians of culture and the "public good" were just as concerned about the spiritual chaos of too much clutter as modern "organisational consultants" like Marie Kondo.
In response, they set up design schools and educational showcases, like the Great Exhibition of 1851, the 1930 New York World's Fair and the Festival of Britain in 1951.
Very little stuff
The minimalist mantra "less is more", courtesy of German art school the Bauhaus was established in the 1920s. For some modernists, "needless decoration" was a sign of an "uncivilised" (read feminine and non-white) mind. They nevertheless also looked to "primitive" cultures for bold aesthetics and authenticity superior to western excess.
Modernists believed that simplicity and elegant functionality, enabled by mass production and cost-effective new materials (like tubular steel and plywood), could promote social equality in interior design. They had a point. Without staff, what working person can, realistically, keep "curated" clutter looking cool (and clean)?
But, what about "cosiness"? That feeling, described in the 1990s as "cocooning or providing a "warm welcome" to guests?
A 1980s American study found that the "homeyness" desired in interiors was achieved by successive circles of stuff – from the white picket fence, to the wisteria on the exterior walls, the wallpaper, pictures and bookshelves lining the interior walls and then furniture arranged also in roughly circular formations.
These layers would then be overlain with decorations and texture, making symbolic entry points as well as enclosures. "Homey" was aesthetically the total opposite of modern minimalism, whose "functionality" was perceived as cold, unsympathetic and unwelcoming.
Despite this popular rejection, modernism was the postwar default for European "good taste", seen in design HQs and high-end interiors magazines. But wasn't it all not just uncomfortable, but also a bit boring? And, unfortunately, every bit as unforgiving without a lot of cash and a team of cleaners?
Modernism on the cheap is just depressing (see the concrete blocks of 1960s UK council flats). Sleek built-in cupboards cost a lot. And smooth, unadorned surfaces show every speck of dirt.
Rebelling against modernist mantras, 1980s design sought to put "the fun back into function" for sophisticates. However, ordinary people were always buying fun stuff, from plastic pineapples to granny chic knick knacks.
The impossibility of it all
Nowadays, the "safe" and default mainstream option is a broadly-defined "modern" look characterised by Ikea. But it's not really minimalist. This look encourages an accumulation of stuff that never quite functions or fits together and which still fills a room according to the ethos of homeyness – even though each object may "look modern".
It fails to tell a convincing story of the self or remain tidy, prompting further purchases of "storage solutions". Minimalists strip this back to a minimum of objects with a neutral palette. Fewer mistakes equals less chucking out. Less stuff equals less to change when you tire of it.
But minimalism is more difficult than ever. We are powerless against the tides of half-wanted incoming consumer stuff – especially if you have children – which makes achieving minimalism all the more impressive. People who do achieve it frame their shots with care and they chuck a lot of stuff away.
Making a more elastic aesthetic look good is also difficult, maybe more difficult. Clutter lovers range from sub-pathological hoarders, to upper middle-class apers of aristocratic eclecticism, to ethical "keepers". An aesthetic mess can look like an accidental loss of human control, identity or hope. It takes a lot to make harmony out of all that potential noise – and keep it tidy.
Cluttercore is perfect for now, a vehicle to display the curated self, the "interesting" and "authentic" self so demanded by social media. And it hides behind the idea that anything goes, when in fact, maybe some things must.
Vanessa Brown does not work for, consult, own shares in or receive funding from any company or organisation that would benefit from this article, and has disclosed no relevant affiliations beyond their academic appointment.
default
pandemic
commodities
european
uk
eu
This Week in Apps: Twitter Notes, Instagram age verification, Spotify's Live Events
Welcome back to This Week in Apps, the weekly TechCrunch series that recaps the latest in mobile OS news, mobile applications and the overall app economy….
Welcome back to This Week in Apps, the weekly TechCrunch series that recaps the latest in mobile OS news, mobile applications and the overall app economy.
The app industry continues to grow, with a record number of downloads and consumer spending across both the iOS and Google Play stores combined in 2021, according to the latest year-end reports. Global spending across iOS, Google Play and third-party Android app stores in China grew 19% in 2021 to reach $170 billion. Downloads of apps also grew by 5%, reaching 230 billion in 2021, and mobile ad spend grew 23% year over year to reach $295 billion.
Today's consumers now spend more time in apps than ever before — even topping the time they spend watching TV, in some cases. The average American watches 3.1 hours of TV per day, for example, but in 2021, they spent 4.1 hours on their mobile device. And they're not even the world's heaviest mobile users. In markets like Brazil, Indonesia and South Korea, users surpassed five hours per day in mobile apps in 2021.
Apps aren't just a way to pass idle hours, either. They can grow to become huge businesses. In 2021, 233 apps and games generated over $100 million in consumer spend and 13 topped $1 billion in revenue. This was up 20% from 2020, when 193 apps and games topped $100 million in annual consumer spend and just eight apps topped $1 billion.
This Week in Apps offers a way to keep up with this fast-moving industry in one place, with the latest from the world of apps, including news, updates, startup fundings, mergers and acquisitions and suggestions about new apps to try, too.
Do you want This Week in Apps in your inbox every Saturday? Sign up here: techcrunch.com/newsletters
Top Stories
Instagram to verify users' ages in new test
Instagram announced this week it's testing a new set of features for verifying users' ages in the app, including things like video selfies, vouching from adult friends and providing an ID. The tests, which will begin in the U.S., will apply to users who try to change their age to 18 or over after being previously set to under 18. These users may be trying to correct an earlier mistake or they could be teens trying to circumvent the app's newer age-appropriate restrictions.
If users are prompted to provide an ID card, like a passport or driver's license, Meta will store it on its servers for 30 days before deletion. If users choose the social vouching option, they'll need at least three other adult friends to vouch for their age — and Instagram will choose a list of six people randomly who meet the criteria. Those users can't have a new account or be vouching for others at the same time.
The company also said it's using AI that can estimate users' ages in video selfies. The company is working with the London-based digital identify firm Yoti which will examine the file, make an estimate, then delete the file.
Age verification is an increasingly common feature in social apps used by younger users as a result of tighter regulations. Another company catering to Gen Z users, Yubo, recently rolled out its own age estimating tech as well.
Twitter goes long form
TechCrunch broke the news that Twitter was testing a long-form writing feature called Twitter Notes. The next day after our report went live, Twitter announced it officially.
The news is one of Twitter's more significant changes since doubling the character count from 140 to 280 characters, as it will allow users to write on Twitter directly, as if it's a blogging platform. With Twitter Notes, users are able to create articles using rich formatting and uploaded media, which can then be tweeted and shared with followers upon publishing. The company also said it would merge its newsletter service, Revue, into Twitter Notes.
Users with access can create Twitter Notes from the "Write" link in Twitter's navigation. For the time being, Twitter is testing Notes with a small group of writers in the United States, Canada, Ghana and the United Kingdom. The Notes can be up to 2,500 words in length.
The feature could encourage users to rely on Twitter Thread (tweetstorms) less in order to share their longer thoughts, ideas or stories with their Twitter followers, Community or Circle. It could also put an end to using a screenshot from the Notes app to tweet something longer than 280 characters. Meanwhile, Twitter Notes can tap into the potential for viral distribution that comes with posting to the platform. Like tweets, the Notes would have their own link and could be tweeted, retweeted, sent in DMs, liked and bookmarked. They can also be reported and must comply with Twitter's rules.
It's worth noting (ha!) that Twitter Notes also gives the company a new business and potential revenue stream as it further develops the product. The feature may allow the social platform to compete with established services, like Medium for blogging, or Substack's newsletters.
Weekly News
Platforms: Apple
E-commerce
As part of its ongoing efforts to expand into e-commerce, Twitter announced a new partnership with Shopify. The deal will see Twitter launching a sales channel app that will be made available to all of Shopify's U.S. merchants through its app store. The app allows merchants to onboard themselves to Twitter's Shopping Manager, the dashboard offered by the social media company where sellers can access product catalog tools and enable other shopping features for their profiles. Merchants will be able to use the new sales channel app to connect their Twitter account to their Shopify admin then get set up with Twitter's Shopping Manager and other free tools Twitter built for "Professionals." This includes Twitter's launch of a new feature called Location Spotlight, which allows local businesses in the U.S., Canada, U.K. and Australia to display information like their street address, contact info and operating hours directly on their profile.
Augmented Reality
Fintech
Coinbase is shutting down its standalone Pro service by year's end and replacing it with Advanced Trade across its website and app. The latter offers comparable features to the Pro service, which had lowered fees to traders who interacted directly with the Coinbase Exchange order book.
Facebook Pay formally rebranded to Meta Pay. The change had already been announced but is now rolling out in the U.S. before expanding globally.
Social
Messaging
Telegram said it now has over 700 monthly active users and announced Telegram Premium, a subscription that gives users access to exclusive features like doubled limits, 4 GB file uploads, faster downloads, exclusive stickers and reactions, improved chat management and more.
Photos
Camera+, an alternative to Apple's built-in app, added a new "UltraRes upscaling" feature. With machine learning technology, the app can upscale images to up to four times what the native sensor can capture.
Dating
Match-owned Hinge added a new feature that allows users to share their "Dating Intentions" — meaning whether they're looking for long-term, short-term, open relationships and more. The update changes Hinge's focus as the company has historically been the app designed to connect people looking for more serious relationships, while Match-owned Tinder was aimed at those seeking casual encounters.
Streaming & Entertainment
Gaming
Epic Games has come up with a new system for game ratings. While these changes apply to its own online games store, it's an example of why alternative app stores could be useful to provide competition with Apple's own — they can be a ground to test out new ideas. In Epic's case, random players who have played a game for over two hours will be asked to rate the game on a five-point scale. Over time, these will create the game's Overall Rating. The system, which relies on random sampling, could cut down on review bombing and reviews left by those who aren't actual players, the company notes.
China's regulation of the mobile gaming market may be leading to declining use of the App Store in the country, according to Morgan Stanley. The firm's latest analysis estimated that the App Store only saw 1% growth in June so far, compared with 6% growth in May.
Health & Fitness
Fitbit added a new premium feature, "Sleep Profile," which will allow users to track their sleep patterns across 10 key metrics, including new data points like bedtime consistency, the time before sound sleep and disrupted sleep. The feature is rolling out to the Fitbit app's Premium users and supports devices including Sense, Versa 3, Versa 2, Charge 5, Luxe or Inspire 2.
Travel & Transportation
Apple is planning to expand its CarPlay experience to China, according to a job posting.
Polestar has now added Apple CarPlay to its all-electric Polestar 2 sedan via an over-the-air software update, after previously only supporting Android Auto.
Car rental apps saw their MAUs grow 19% year-over-year in the U.S. in May, reported Apptopia, despite rising gas prices.
Government & Policy
TikTok offered a series of commitments in the EU to improve user reporting and disclosure requirements around ads/sponsored content as well as an agreement to boost transparency around its digital coins and virtual gifts. The agreement follows a series of complaints over child safety and consumer protection complaints filed back in February 2021.
The U.S. Department of Justice today entered into an agreement with Meta to resolve a lawsuit that alleged Meta engaged in discriminatory advertising in violation of the Fair Housing Act (FHA). As a result, Meta has agreed to develop a new system for housing ads and will pay a roughly $115,000 penalty, the maximum under the FHA.
Reading & News
India-based VerSe Innovation rolled out its news aggregator Dailyhunt in the UAE, Saudi Arabia, Bahrain, Oman, Qatar and Kuwait, with over 5,000 content partners in the region.
Security & Privacy
Google Chrome for iOS gained a number of new features in a recent update, including access to Enhanced Safe Browsing to protect users from dangerous websites and malware, as well as the ability to make Google Password Manager your Autofill provider. Other additions include Chrome Actions (typed commands in the URL bar) and access to Google's Discover feed on the main page.
Daycare apps including those from Brightwheel, HiMama and others were found to lack 2FA and other privacy protections, in an analysis.
Google threat researchers detailed a commercial spyware system called Hermit, used in Kazakhstan and Italy, which targeted both Android and iOS. The iOS version had six exploits, including two zero-days. Targeted victims are tricked into installing a malicious app — which masquerades as a legitimate branded telco or messaging app — from outside the app store.
Funding and M&A
Courier raised $35 million in a Series B funding round led by GV. The company provides an API for sending notifications across multiple channels, including email, text, web and mobile.
Ghana-based fintech Fido raised $30 million in equity investment and some undisclosed debt funding in a Series A round led by Israel-based private equity fund Fortissimo Capital. The round brings the total equity investment raised to date to $38 million. The startup says it's adding savings and payment products to its portfolio later this year and will enter Uganda.
Twitter asked its shareholders to approve the $44 billion Elon Musk acquisition. At the time of its SEC filing, Twitter's share price was around $38.12 — lower than Musk's offer price of $54.20 a share. The company's market cap had also dropped below $30 billion, making a $44 billion deal look very good.
Downloads
WatchTube
Well, here's something kind of crazy: 9to5Mac this week highlighted the new app WatchTube, which lets you watch YouTube videos directly on your Apple Watch. Yes, really!
The app is not the best experience for watching videos, as you may have guessed, but it is pretty wild that it actually works. The app by default shows you top trending videos, but you can customize this so the videos that appear are selected from a particular genre, like Music, News, Gaming, Movies and more. While it would be enough to just accomplish bringing YouTube to the Watch, the developer also added other features like the ability to search for videos, save videos to the app's local Library and subscribe to Channels. When you get back to your other devices, you can also scan a QR code to share the video back to your iPhone or iPad.
default
pandemic
link
testing
consumer spending
south korea
india
brazil
canada
italy
eu
china
Diesel Demand Set To Drop As Economies Enter Recession: Kemp
Diesel Demand Set To Drop As Economies Enter Recession: Kemp
By John Kemp, senior energy analyst
U.S. diesel consumption is likely to decline…
Diesel Demand Set To Drop As Economies Enter Recession: Kemp
By John Kemp, senior energy analyst
U.S. diesel consumption is likely to decline by 200,000 to 600,000 barrels per day (5%-15%) over the next year as the economy slows in response to rising interest rates.
The Federal Reserve is not deliberately trying to induce a recession to bring inflation under control, central bank chief Jerome Powell told legislators on Wednesday. But he said that was a possible and foreseeable outcome of rapid rate rises – an interesting application of the doctrine of double effect.
The central bank hopes for soft landing but feels it must risk a hard one to reduce inflation running at the fastest rate for 40 years. Distillate fuel oil, a category that includes diesel, gas oil and heating oil, are the petroleum products most sensitive to changes in the business cycle so they will be impacted most as the rate of growth slows.
Even if the central bank can engineer a mid-cycle slowdown, rather than a cycle-ending recession, consumption of distillates is very likely to decline over the next year.
Both recessions and mid-cycle slowdowns have tended to reduce consumption of distillates by between 5% and 15% compared with the previous year.
With the volume of distillates supplied to domestic customers in the United States running at a little over 4 million barrels per day, the expected decline is equivalent to between 200,000 and 600,000 bpd.
Eurozone Recession
Europe's distillate consumption is likely to see a similar or greater fall as the region's economy enters a recession in response to Russia's invasion of Ukraine and the impact of sanctions.
Eurozone manufacturers are already on the leading edge of a recession, according to preliminary data from purchasing managers' surveys for the first part of June.
The eurozone composite manufacturing activity index slumped to 52.0 (47th percentile for all months since 2006) in early June, down from 54.6 (65th percentile) in May and 63.4 (100th percentile) in June 2021.
Rapidly escalating prices for crude, diesel, gasoline, gas and electricity as well as food are likely to force households and businesses to reduce spending over the next few months, pushing the economy into recession.
Lower volumes of manufacturing, construction and freight transportation activity will in turn cut diesel and gas oil consumption in the region, likely by a similar amount to the United States.
Lower distillate consumption is the only way to resolve shortages caused by the rapid rebound in economic activity after pandemic lockdowns, Russia's invasion of Ukraine, and sanctions imposed by the United States, the EU and their allies in response on Russia's oil exports.
In time, reduced distillate consumption will give the global refiners a chance to replenish severely depleted inventories and take some of the heat out of diesel crack spreads and prices.
Ultimately, reduced distillate consumption will stabilize and then lower fuel prices and transportation costs, which will flow through into slower inflation later in 2022 and 2023.
But the transition to lower oil prices and slower inflation is likely to involve a painful contraction in manufacturing and construction activity and employment first.
The Fed and the other major central banks may not intend to induce a recession or a significant mid-cycle slowdown, but that is the logical effect of sharply higher interest rates and tighter financial conditions.
Tyler Durden
Sat, 06/25/2022 - 14:30
recession
pandemic
fed
federal reserve
recession
interest rates
oil
europe
russia
ukraine
eu
The Gas Inflation Crisis Is Far From Over – Where Will Prices Finally Stop?
The Gas Inflation Crisis Is Far From Over – Where Will Prices Finally Stop?
Authored by Brandon Smith via Alt-Market.us
After a single…
The Gas Inflation Crisis Is Far From Over – Where Will Prices Finally Stop?
Authored by Brandon Smith via Alt-Market.us
After a single Federal Reserve rate hike of 75bps I am noticing a trend among mainstream economists whipping out their crystal balls and predicting an almost immediate reversion to deflationary conditions. In their view, a recession will "balance everything out." For most of these people I would suggest that they keep their crystal balls in their pants; they have been consistently wrong and it's time for them to shut up. If you were predicting that inflation would be "transitory" last year, then you have no right to act like you are an economist today.
It's going to take a lot more than one semi-aggressive rate hike from the central bank to stop the inflation problem, and when I say "inflation" I am talking about PRICE INFLATION, not the mere increase of the money supply or a bubble in stock markets. There are far too many financial analysts out there that don't even grasp what true inflation really entails.
There are certain sectors of the economy that will indeed see deflationary pressures. Real GDP, for example, is witnessing declines. Retail sales are in decline. US wages are stagnant in comparison to prices. Housing sales are now falling rapidly. Manufacturing is dropping. Yet, prices continue to remain high. Clearly there is a mix of inflationary and deflationary elements within the same economic crisis. In other words, it's a stagflation event.
An area in which prices continue to climb without much relent is energy. The mainstream blames this almost entirely on Russia's conflict with Ukraine and the evolving sanctions against Russian oil and natural gas. However, gas prices were spiking well before Russia ever invaded Ukraine. Inflation in the overall economy hit 40 year highs long before Ukraine became an issue, as Federal Reserve Chairman Jerome Powell finally admitted this past week.
Let's not pretend like we don't know the cause of all of this. It is caused by fiat money printing by the Federal Reserve since 2008, and central banks in general are the culprits. The bankers can fund or refuse to fund whatever they wish. Government politicians play their role in creating inflation by ASKING for the money, but it is the Fed that decides if they create the money. The government has zero power to dictate policy to the Fed; as Alan Greenspan once admitted, the Fed answers to no one.
The central bank could print us into oblivion if they wished, and this is essentially what they have done. That said, there are other elements to our current crisis beyond too many dollars. There is also the issue of supply chain disruptions.
I am specifically reminded of the stagflation threat that occurred in 1970s. The oil and stagflation crisis of the late 1970s ran its course right before I was born, so obviously I can't give a first hand accounting of what it was like, but when I study the events that led up to it I find a lot of similarities to the situation we are facing today. Though, the crisis that is developing right now has the potential to become far worse.
In the early 1970s Richard Nixon, at the request of central bankers, removed the dollar from the last vestiges of the gold standard. Central banks shifted away from gold as the primary trade mechanism between governments and started switching over to Special Drawing Rights; the IMF's basket currency system. Not surprisingly, the dollar began an immediate spiral and its buying power began to crash. Stagflation became a household concern throughout the 70s.
This problem was mitigated eventually as the dollar's world reserve status grew. Basically, we exported many of our dollars overseas for use in global trade, and by extension we also exported a lot of our inflation/stagflation. As long as the dollar remained the premier reserve currency, most of the consequences of central bank fiat printing would not be felt by the general populace. In terms of gasoline, the dollar has been the petro-currency for decades which allowed us to keep prices in the US lower than in many countries.
But things are changing. The dollar's portion of global trade has been in decline for the past several years, and the Fed just keeps creating more greenbacks from nothing. In 2020 alone, the Fed conjured $6 trillion to fuel the covid stimulus response, pumping all that money directly into the system through covid checks and PPP loans. In order for this process to continue, the dollar's global percentage of trade would have to keep growing in order to export US inflation overseas. This is not happening. The dollar's percentage of global trade is in reversion.
We are dealing with the end of a cycle that started in the 1970s. We are going back to the beginning.
Furthermore, the gas crisis in the late 70s and early 80s was also driven by the Iranian revolution and the removal of Iranian oil supplies from the global market. This created a loss of around 7% of total oil from markets, but it resulted in gas prices exploding from 65 cents in 1978 to $1.35 in 1981. Prices more than doubled in the span of three years and never went back to where they were before the crisis.
As in the late 1970s, we also have a supply chain issue with an OPEC nation. The Russian portion of the global oil production was around 10% in 2020, but the nation is the 2nd largest oil exporter in the world. Only 3% of oil imported into the US comes from Russia, but Europe relies on Russia for around 25% of its total oil consumption.
The EU now supposedly cutting off that supply of oil, though there are questions surrounding loopholes and how much Russian oil is actually still being supplied to European nations. As sanctions continue, the EU will have to go to other exporters to get what they need and this is reducing the amount of supply available to western countries. The Russians have simply adapted, and are now selling more oil as a discount to major eastern markets like China and India. But for the rest of us, Europe's thirst for oil is going to continue to cause price expansion as supplies falter.
So where does this leave us? Our situation is similar to the gas crisis of the late 1970s because we have ongoing stagflation, a weakening currency as well as a major economic conflict with an OPEC producer. That said, things are measurably worse than the 1970s for a few reasons, notably the fact that our country is in far more debt, foreign treasury and dollar holdings are in decline, and the conflict with Russia is far more egregious than our troubles with Iran in the 70s.
I suspect we will see at least a 300% markup in gas prices from pre-pandemic lows, which were around $2.60 per gallon for regular. Meaning, prices will continue to climb over the course of this year and level out around $7.50 per gallon by the second quarter of 2023. I am basing the pace of the price increases according to the pace that occurred from 1979-1981.
Obviously, there will be market dips and pauses, but it is unlikely we will see prices at the pump fall dramatically anytime soon. There will be endless predictions in the mainstream media about when inflation will stop and many pundits will claim that the Fed will capitulate soon on rate hikes. All this clamor will affect oil markets to a point, but prices will continue to rise regardless.
Some people will argue that declining demand will stop rising prices, however, the stagflation problem does not only revolve around demand, there are many other factors at play. Unless we see a drop in demand similar to what we saw at the beginning of the pandemic lockdowns, there is little chance there will be a meaningful reversal.
Also, for anyone hoping that US shale or OPEC will pick up the slack from Russia, this is not going to happen. Oil industry experts have already noted that because of inflation and lack of manpower there will not be a major uptick in oil pumping and so shortages will continue for some time.
What does this mean for the wider economy? Inflation in necessities like gasmuch means an implosion in retail. People will divert funds away from other purchases to cover gas and energy costs. Expensive gas also means expensive freight rates, which means higher prices for everything else on the store shelves. Expensive gas will also cause smaller freight companies to go bankrupt or close up shop, along with much higher interest rates being instituted by the Fed. My own grandfather lost his trucking and freight company in the 1970's for this exact reason.
In turn, less freight means less supply, which in turn means higher prices on everything. It's a terrible cycle. The point is, you should expect gas prices to remain very high (into the $7 per gallon range) over the course of the next year, and this will affect EVERYTHING else in terms of your pocket book and your life. Don't put too much stock in the people claiming deflation is on the way; not in prices of necessities it's not.
Eventually, lack of demand will slow price increases but not until we are much higher than the current national average of $5 a gallon. And, if you live in a state with high gas taxes like California, then be prepared for double digit costs at the pump.
Tyler Durden
Sat, 06/25/2022 - 13:30
recession
pandemic
stimulus
fed
federal reserve
recession
gdp
global trade
interest rates
stimulus
stock markets
gold
oil
iran
india
european
europe
russia
ukraine
eu
china