Climate breakdown: even if we miss the 1.5°C target we must still fight to prevent every single increment of warming
Every tenth of a degree makes climate change significantly worse.
Is it game over for our attempts to avert dangerous climate change? For millions of people in India and Pakistan the answer is clearly yes as they continue to suffer from a record-breaking spring heatwave that is testing the limits of human survivability.
As global emissions continue, such extreme weather will become more likely. Back in 2015, the international community agreed that warming beyond 1.5°C would cause devastation on an intolerable scale. This was codified into the Paris Agreement which sought to limit temperature increases since pre-industrial levels to well below 2°C, with 1.5°C as a goal. In reality, there is a vast gulf of impacts between 1.5°C and 2°C. The IPCC's 6th Assessment Report showed that once-in-50-years heatwaves will become nine times more frequent at 1.5°C, and 14 times more frequent at 2°C.
The 1.5°C goal requires immediate, large and sustained cuts in greenhouse gas emissions. But emissions are currently surging upwards as the global economy recovers from COVID-19. At current rates and current inaction, the average global surface temperature of our home planet will increase beyond 1.5°C shortly after 2030. The World Meteorological Organisation estimates there is now a 50:50 chance that temperatures will exceed 1.5°C one year within the next five.
Does this mean the Paris Agreement has failed? What next for climate politics and activism? These and other questions are only becoming more urgent. We must come up with answers and strategies for dealing with their answers now. And we must do that while remembering that every fraction of a degree of warming spared will save people, ecosystems and nations that would be condemned as temperatures increase.
As complex as the climate change conundrum is, in important respects it can be characterised with a simple question: how many people are we willing to see die as a consequence of our governments' and banks' continued coddling of the fossil fuel industry? And let us remember, it is the world's poorest people – those least responsible for the problem – that will be doing most of the dying. If warming were to significantly exceed 1.5°C, then many people in richer, industrialised nations will join them. Climate breakdown is non-linear, so a 3°C warmer world would have far more than twice the impact of a 1.5°C world. Stable societies may be impossible. Humanity may be plunged into a period of mass death.
In many ways this not-so-distant future world is unimaginable. Yet this is the world that a recent survey of IPCC lead authors – scientists that draft the comprehensive climate change assessment reports – deemed most likely. The leading science journal Nature found that 60% of those that responded concluded that of all the possible futures for humanity, 3°C warming by 2100 seemed the most probable. Only 4% of respondents believed that 1.5°C was likely.
Wealth and power are obstacles
If we want to limit the destruction and death that climate change will cause, while at the same time ensuring all of humanity has a good, decent, dignified life, then we must look at how our civilization's resources are being used, and how they have been accumulated. That means we must respond to the political reality that there are powerful forces that are keeping us locked into our current trajectory. Such forces have arisen as a consequence of centuries of fossil fuel exploitation which have created vast concentrations of both wealth and power. Is it any surprise that this wealth and power resists redistribution?
This is not to say that technological and financial innovations are not important. We must harness new ways of generating zero-carbon electricity at the same time as reforming the processes that funnel the trillions of dollars that flow across the world so that they make their way to equitable and just climate solutions. But such acts in the absence of deeper engagement with the drivers of our current crisis can only serve as sticking plasters.
Keep climate justice alive
It is that context that we must reflect on where we are right now. Declaring 1.5°C to be lost, that the Paris Agreement is dead, risks playing directly into a narrative of dangerous delay. Many people, instead of being galvanised into desperate and all-out action to keep warming as low as possible, might instead conclude that this means we will fall back to 2°C. Such a conclusion would be music to the ears of fossil fuel interests which have resisted decarbonisation for decades – and risks locking us into warming far beyond 2°C.
There are legitimate fears that, as the situation rapidly deteriorates, political pressure will be applied to keep us safe – where "us" in this instance will be some of those living in rich, industrialised nations. The fact these nations are most responsible for the problem may count for little if politics takes a strongly protectionist turn. Securing energy, food and water supplies – ensuring national security – would take precedence, turning desperate migrants and climate refugees away at the borders, condemning them to danger, famine and death. This implies effectively abandoning the majority of humanity to face unprecedented environmental change with all the potential for failures and even collapse in social, economic and political systems.
Dangerous path to safety
The Paris Agreement was a rare victory for those most vulnerable to climate change. That we are on course to barrel past 1.5°C should not be a reason to disavow the values that underpin it. It should instead focus minds and energies.
The decisions we make become more – not less – important as the world continues to heat up. If our actions were truly transformative, then yes – it could still be possible to limit warming to no more than 1.5°C, or stay as close as feasible.
But we must be honest about the prospects of such transformation given the profoundly dysfunctional political and economic systems we find ourselves in. This includes the powerful forces that will continue to strongly resist our actions. So we must go beyond meekly and vaguely asking for "increased political will". If we want to keep humanity safe, if we want to preserve the extraordinarily complex and beautiful world that we live in, then we must not turn away from the situation we are in and the difficult and dangerous paths to safety. We must all become engaged and active to protect our world, by all means possible.
Are we on track to limit warming to no more than 1.5°C? No, we are nowhere near. So: what are we – what are you – going to do about it?
---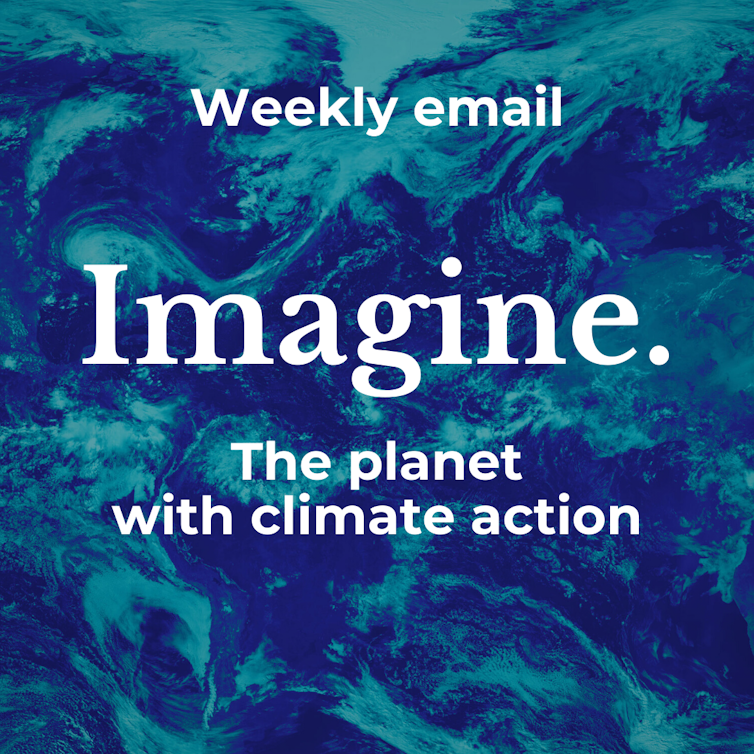 Don't have time to read about climate change as much as you'd like?
Get a weekly roundup in your inbox instead. Every Wednesday, The Conversation's environment editor writes Imagine, a short email that goes a little deeper into just one climate issue. Join the 10,000+ readers who've subscribed so far.
James Dyke is an academic lead at Faculty for a Future.
Julia K. Steinberger receives a Research Leadership Award from The Leverhulme Trust on her research project "Living Well Within Limits."
testing
covid-19
india
China Suggests It Could Maintain 'Zero COVID' Policy For 5 Years
China Suggests It Could Maintain 'Zero COVID' Policy For 5 Years
Authored by Paul Joseph Watson via Summit News,
China has suggested it will…
China Suggests It Could Maintain 'Zero COVID' Policy For 5 Years
Authored by Paul Joseph Watson via Summit News,
China has suggested it will maintain its controversial 'zero COVID' policy for at least 5 years, eschewing natural immunity and guaranteeing repeated rounds of new lockdowns.
"In the next five years, Beijing will unremittingly grasp the normalization of epidemic prevention and control," said a story published by Beijing Daily.
The article quoted Cai Qi, the Communist Party of China's secretary in Beijing and a former mayor of the city, who said that 'zero COVID' approach would remain in place for 5 years.
After the story prompted alarm, reference to "five years" was removed from the piece and the hashtag related to it was censored by social media giant Weibo.
"Monday's announcement and the subsequent amendment sparked anger and confusion among Beijing residents online," reports the Guardian.

"Most commenters appeared unsurprised at the prospect of the system continuing for another half-decade, but few were supportive of the idea."
Although western experts severely doubt official numbers coming out of China, Beijing claimed success in limiting COVID deaths by enforcing the policy throughout 2021.
However, this meant that China never achieved anything like herd immunity, and at one stage the Omicron variant caused more more coronavirus cases in Shanghai in four weeks than in the previous two years of the entire pandemic.
Back in May, World Health Organization Director General Tedros Adhanom Ghebreyesus suggested that China would be better off if it abandoned the policy, but Beijing refused to budge.
As we previously highlighted, the only way of enforcing a 'zero COVID' policy is via brutal authoritarianism.
In Shanghai, children were separated from their parents in quarantine facilities and others were left without urgent treatment like kidney dialysis.
Panic buying of food also became a common occurrence as the anger threatened to spill over into widespread civil unrest.
Former UK government COVID-19 advisor Neil Ferguson previously admitted that he thought "we couldn't get away with" imposing Communist Chinese-style lockdowns in Europe because they were too draconian, and yet it happened anyway.
"It's a communist one party state, we said. We couldn't get away with it in Europe, we thought," said Ferguson.
"And then Italy did it. And we realised we could," he added.
*  *  *
Brand new merch now available! Get it at https://www.pjwshop.com/
In the age of mass Silicon Valley censorship It is crucial that we stay in touch. I need you to sign up for my free newsletter here. Support my sponsor – Turbo Force – a supercharged boost of clean energy without the comedown. Get early access, exclusive content and behinds the scenes stuff by following me on Locals.
Tyler Durden
Tue, 06/28/2022 - 18:05
treatment
pandemic
coronavirus
covid-19
deaths
herd immunity
quarantine
europe
uk
italy
china
world health organization
No sign of major crude oil price decline any time soon
Bullish pressure on crude oil markets doesn't seem to be easing Crude oil prices fell last week, notching their second weekly decline in the face of…
Bullish pressure on crude oil markets doesn't seem to be easing
Crude oil prices fell last week, notching their second weekly decline in the face of concern that rising interest rates could push the global economy into recession.
Yet the future of crude oil still seems bullish to many. Spare capacity, or lack of it, is just one of the reasons.
The global surplus of crude production capacity in May was less than half the 2021 average, the U.S. Energy Information Administration (EIA) reported on Friday.
The EIA estimated that as of May, producers in nations not members of the Organization of Petroleum Exporting Countries (OPEC) had about 280,000 barrels per day (bpd) of surplus capacity, down sharply from 1.4 million bpd in 2021. It said 60 per cent of the May 2021 figure was from Russia, which is increasingly under sanctions related to its invasion of Ukraine.
The OPEC+ alliance of oil producers is running out of capacity to pump crude, and that includes its most significant member, Saudi Arabia, Nigerian Minister of State for Petroleum Resources Timipre Sylva told Bloomberg last week.
"Some people believe the prices to be a little bit on the high side and expect us to pump a little bit more, but at this moment there is really little additional capacity," Sylva said in a briefing with reporters on Friday. "Even Saudi Arabia, Russia, of course, Russia, is out of the market now more or less." Nigeria was also unable to fulfil its output obligations, added Sylva.
Recent COVID-19-related lockdowns in parts of China – the world's largest crude importer – also played a significant role in the global oil dynamics. The lack of Chinese oil consumption due to the lockdowns helped keep the markets in a check – somewhat.
Oil prices haven't peaked yet because Chinese demand has yet to return to normal, a United Arab Emirates official told a conference in Jordan early this month. "If we continue consuming, with the pace of consumption we have, we are nowhere near the peak because China is not back yet," UAE Energy Minister Suhail Al-Mazrouei said. "China will come with more consumption."
Al-Mazrouei warned that without more investment across the globe, OPEC and its allies can't guarantee sufficient supplies of oil as demand fully recovers from the pandemic.
But the check on the Chinese crude consumption seems to be easing.
On Saturday, Beijing, a city of 21 million-plus people, announced that primary and secondary schools would resume in-person classes. And as life seemed to return to normal, the Universal Beijing Resort, which was closed for nearly two months, reopened on Saturday.
Chinese economic hub Shanghai, with a population of 28 million-plus people, also declared victory over COVID after reporting zero new local cases for the first time in two months.
The two major cities were among several places in China that implemented curbs to stop the spread of the omicron wave from March to May.
But the easing of sanctions should mean oil's price trajectory will resume its upward march.
In the meantime, in the U.S., the Biden administration is eying tougher anti-smog requirements. According to Bloomberg, that could negatively impact drilling across parts of the Permian Basin, which straddles Texas and New Mexico and is the world's biggest oil field.
While the world is looking for clues about what the loss of supply from Russia will mean, reports are pouring in that the ongoing political turmoil in Libya could plague its oil output throughout the year.
The return of blockades on oilfields and export terminals amid renewed political tension is depriving the market of some of Libya's oil at a time of tight global supply, said Tsvetana Paraskova in a piece for Oilrpice.com.
And in the ongoing political push to strangle Russian energy output, the G7 was reportedly discussing a price cap on oil imports from Russia. Western countries are increasingly frustrated that their efforts to squeeze out Russian energy supplies from the markets have had the counterproductive effect of driving up the global crude price, which is leading to Russia earning more money for its war chest.
To tackle the issue, and increase pressure on Russia, U.S. Treasury Secretary Janet Yellen is proposing a price cap on Russian crude oil sales. The idea is to lift the sanction on insurance for Russian crude cargo for countries that accept buying Russian oil at an agreed maximum price. Her proposal is aimed at squeezing Russian crude out of the market as much as possible.
So the bullish pressure on crude oil markets doesn't seem to be easing.
By Rashid Husain Syed
Toronto-based Rashid Husain Syed is a respected energy and political analyst. The Middle East is his area of focus. As well as writing for major local and global newspapers, Rashid is also a regular speaker at major international conferences. He has provided his perspective on global energy issues to the Department of Energy in Washington and the International Energy Agency in Paris.
Courtesy of Troy Media
recession
pandemic
covid-19
spread
interest rates
oil
mexico
russia
ukraine
china
WTI Extends Gains After Unexpected Crude Draw
WTI Extends Gains After Unexpected Crude Draw
Oil prices are higher today following relatively positive news from China (easing some of its…
WTI Extends Gains After Unexpected Crude Draw
Oil prices are higher today following relatively positive news from China (easing some of its COVID quarantine restrictions), Macron-inspired doubts over the ability of Saudi Arabia and the United Arab Emirates to significantly boost output, and unrest in Ecuador and Libya helped lift prices.
"We're in the crunch period, it's hard to see any meaningful price relief for crude," said John Kilduff.

There's a lot of strength with China relaxing its Covid restrictions and starting its independent refiners, "we're going to have another chunk of demand for crude oil," as China relaxes its Covid-19 restrictions.
With no EIA data released last week due to a "systems issue" (they have issued a statement confirming that the data - and the newest data - will both be released tomorrow), the only guidance we have for now on the past week's inventory changes is from API...
Crude +5.607mm

Cushing -390k

Gasoline +1.216mm - first build since March

Distillates -1.656mm
API (this week)
Crude -3.799mm

Cushing -650k

Gasoline +2.852mm

Distillates +2.613mm
Crude stocks unexpectedly fell last week, almost erasing the major build from the week before (according to API). Gasoline stocks rose for the second straight week
Source: Bloomberg
WTI was hovering around $111.75 and pushed up to $112 after the unexpected crude draw...
Finally, we note that the tight supply situation in oil (especially European) is revealing itself in the WTI-Brent spread, grew to $6.19, the widest in almost three months.
"European demand will remain robust, especially as natural gas supplies run out, while the North American demand for crude is weakening," said Ed Moya, senior market analyst at Oanda.
This is not good news for President Biden as prices are rising...
And his ratings are hitting record lows.
Tyler Durden
Tue, 06/28/2022 - 16:37
stocks
covid-19
spread
quarantine
oil
european
china