Calabria wants total government control over Fannie Mae, Freddie Mac
Calabria wants total government control over Fannie Mae, Freddie Mac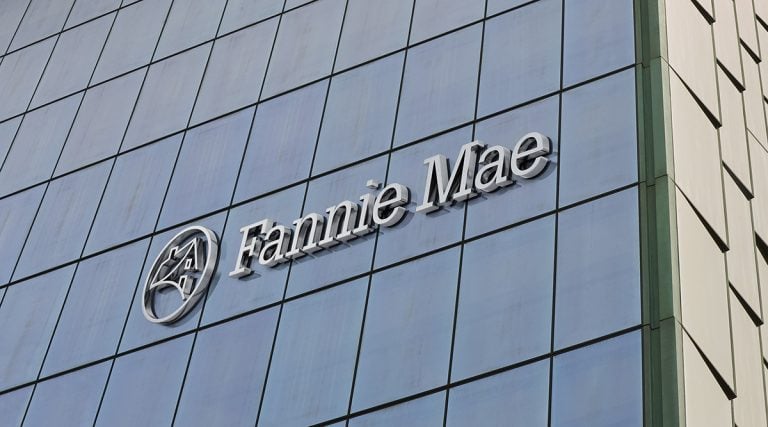 One of the reasons to invest in Fannie Mae and Freddie Mac is because they will soon be out of government control in the form of their conservatorships. However, there's no denying that Fannie Mae and Freddie Mac will remain under some level of government control because of their prominent place in the housing industry.
Q3 2020 hedge fund letters, conferences and more
A key question is how much control the government will retain over the government-sponsored enterprises after they exit their conservatorships. Federal Housing Finance Agency Director Mark Calabria made some comments during the virtual convention for the Mortgage Bankers Association this week that provided fodder for those who see no value in the GSEs' common shares.
Calabria wants continued government control of Fannie Mae, Freddie Mac
In a note following Calabria's MBA speech, analyst Dick Bove of Odeon Capital said Calabria wants Fannie and Freddie to get approval from the FHFA for any new product they might want to offer in the future. He wants this government control over Fannie Mae and Freddie Mac to ensure that both companies live up to their stated purpose, which is to provide resources to support housing during stressful times.
Bove believes Calabria wants to ensure that the FHFA will continue to make all the rules for Fannie Mae and Freddie Mac if or when they become private companies, keeping them under government control. Calabria expects to lead the FHFA for at least three and a half more years, which Bove said means he is asking for "dictatorial power" over the two companies.
"This power would offset any controls that private shareholders would have should the two companies ever make another stock offering," Bove declared.
Competition in the housing finance market
Calabria also said he wants to make sure the GSEs operate in an environment in which they foster a free and fully competitive housing finance market. Bove believes Calabria is "very happy" that he "stepped the two companies from offering volume discounts." Bove believes this reduces their ability to compete on favorable terms, thus "shrinking their market share."
He's confused about Calabria's statements because Calabria is a Republican, and Republicans call for free and open markets. However, he has also proclaimed himself to be a Libertarian, which would normally mean that he doesn't like government control. Despite those two factors, he is calling for total government control over Fannie Mae and Freddie Mac, even after they are private, apparently.
Bove also believes Calabria is calling for government control of the housing market in the U.S. since the GSEs "set the tone for the whole $11 trillion housing finance market."
"Does the President or the Secretary of the Treasury know what he is proposing?" Bove exclaimed. "Does the Supreme Court, who is currently about to opine on the constitutionality of his position understand what he wants? Will the Supreme Court, which supposedly now dislikes bureaucrats from legislating, really allow this to happen?"
Preparing for earnings numbers
Calabria also told the MBA that the measures taken by the FHFA to protect homeowners and renters during the COVID-19 pandemic will cost about $6 billion. However, he did not say how that loss will be handled by the GSEs. Fannie and Freddie are expected to release their third-quarter earnings results within the next 10 days.
Bove noted that if this $6 billion loss is taken up front, it will reduce their earnings and their ability to grow their capital at a time when they are trying to do so. The capital rule currently calls for them to have $240 billion in capital, and they won't be able to keep building their capital if they take a $6 billion hit.
Calabria also explained the steps Fannie and Freddie and the FHFA have taken during the pandemic. Bove congratulates him for his work during the crisis, describing it as "a true public service which will benefit thousands of homeowners."
Will shareholders approve government control over Fannie Mae, Freddie Mac?
Bove questions whether potential shareholders will want to raise $240 billion to recapitalize and release Fannie Mae and Freddie Mac from their conservatorships when they will be under total government control after. He thinks they will not and advises investors to stay with the GSEs' preferred shares "and hope that the Supreme Court, at least, believes in the law."
It should be noted that banks remain somewhat under the control of the government in the form of rules and regulations, although Calabria's call for the FHFA to be able to approve the GSEs' future products does go further. It's unclear whether he would even be able to institute such a rule if the Supreme Court backs up the previous court finding which stated that his position as director of the FHFA is unconstitutional.
The post Calabria wants total government control over Fannie Mae, Freddie Mac appeared first on ValueWalk.
business
fannie mae
freddie mac
gses
mark calabria
housing market
Weekly investment update – The soft underbelly of hard inflation data
Warnings by the US and Chinese authorities have underscored the dilemma of conflicting inflation and growth data, with energy and tight labour markets…
Warnings by the US and Chinese authorities have underscored the dilemma of conflicting inflation and growth data, with energy and tight labour markets pushing up producer and consumer prices amid creeping signs of softening growth. This has put global monetary policy, and markets in risky assets, in a bind.
The Dow Jones Industrial Average fell for the seventh consecutive week last week, while the benchmark US Treasury 10-year yield hovered around 3.0% (almost double the 1.6% of a year ago). Commodity prices came under selling pressure as risk aversion among investors mounted. Safe-haven flows pushed up the US dollar, driving its trade-weighted index to near two-decade highs (see Exhibit 1).
Policy warnings…
China fanned market worries early last week, with Premier Li Keqiang warning that the domestic jobs situation was getting 'complicated and grave'. The country's zero-Covid policy is taking a heavy toll on the local economy with negative spillover effects globally. While Shanghai's lockdown may be wound down soon, other major cities (including Beijing) are facing renewed restrictions.
US Federal Reserve Chair Jerome Powell issued a warning mid-week: The Fed could not guarantee a 'soft landing' as it looked to get runaway inflation back to its 2% target amid a tight US labour market. The US Senate nonetheless overwhelmingly confirmed Powell for a second term, signalling monetary policy continuity.
Earlier in the week, former Fed Chair Ben Bernanke warned about the risk of stagflation in an interview with The New York Times.
Aggravated by hard inflation data…
US consumer price inflation was 8.3% YoY in April, down slightly from 8.5% in March. However, core inflation (which excludes food and energy prices), rose on the month from 0.3% to 0.6%, a level still too high for the Fed's comfort.
Services inflation was particularly strong, rising by 0.7% MoM in April, marking the biggest monthly gain since August 1990. Underscoring continued robust consumer demand, retail sales rose by 0.9% vs the prior month, though this marks the third month in a row that the growth rate has decelerated. 
The prospects for inflation to fall back to the Fed's 2% target anytime soon may not be good: High wage growth – hourly earnings rose at around 5% YoY – could continue to fuel inflation in the near term. We note that services inflation tends to be much stickier than other index components.
From the Fed's perspective, these price pressures could in turn drive inflation expectations higher.
The market perceives the latest inflation report as sealing a 50bp rate rise at the June and July meetings of Fed policymakers. It also boosts the chances of the Fed persisting in its aggressive tightening stance at later meetings. A key question is the extent to which – and when – higher interest rates will hit real incomes and crimp demand growth, slowing the economy overall. 
The high services inflation data also suggests labour market tightness would have to ease significantly to bring wage growth back to levels that are acceptable to the Fed. We believe something will have to give. If not, the Fed may have to tap harder on the brakes down the line.
The ECB continues to move closer towards a hawkish policy, with the market now expecting its asset purchasing programme (APP) to end in July, to be followed by a 25bp rate rise soon after. Underpinning the ECB's policy tightening stance is strong inflation, which rose by 7.4% YoY in April (same as in March), and falling unemployment (the jobless rate hit a record low of 6.8% in March).
The war in Ukraine has added to the upside risks to inflation via food and energy price increases and supply bottlenecks. In addition to higher inflation, the ECB also appears to be concerned about the spillover effects from wage increases. An increasing number of policymakers has spoken out recently in favour of an initial rate rise as soon as July.
And creeping signs of slower growth
Indications of weakening growth momentum have appeared, most noticeably in the UK where GDP growth contracted unexpectedly by 0.1% MoM in March.
In the eurozone, industrial production shrank by 1.8% MoM in March and manufacturing output was down by 1.6%. The main culprit was disruption caused by the war in Ukraine. The weakness was concentrated in Germany, whose supply chains are more integrated with eastern Europe. Its car sector is missing components produced in Ukraine.
Even in the US, recent data showed signs of slowing growth. Jobless claims filings showed an increase in initial claims; the May Senior Loan Officer Opinion survey recorded a drop in demand for mortgages; the University of Michigan consumer sentiment May index hit its lowest level since the start of the pandemic; and the May Empire State Manufacturing survey plunged.
China also released weak data, with industrial output, fixed-asset investment and retail sales all showing year-on-year declines. The property market's woes deepened, with new home sales and starts falling precipitously.
Investment implications
Mr. Bernanke's warning of stagflation underscores the dilemma facing policymakers and financial markets: Inflation and growth data are sending conflicting signals. Parts of the US yield curve are inverted, pointing to some risk of an economic recession.
The slowdown concerns are linked to inflation forcing the Fed to tighten policy into restrictive territory and turning weaker growth into a contraction.
The situation is similar in the eurozone: inflation is at its highest ever and could lead the ECB to take stronger measures, exacerbating headwinds from weak Chinese activity and a Russia-induced energy supply shock.
Against the backdrop of the continuing Ukrainian conflict and prolonged supply-chain disruptions, we do not favour sovereign bonds and European equities at this point. We prefer commodities, Japanese and emerging market equities, including Chinese stocks.
---
Disclaimer
Please note that articles may contain technical language. For this reason, they may not be suitable for readers without professional investment experience.
Any views expressed here are those of the author as of the date of publication, are based on available information, and are subject to change without notice. Individual portfolio management teams may hold different views and may take different investment decisions for different clients. The views expressed in this podcast do not in any way constitute investment advice.
The value of investments and the income they generate may go down as well as up and it is possible that investors will not recover their initial outlay. Past performance is no guarantee for future returns.
Investing in emerging markets, or specialised or restricted sectors is likely to be subject to a higher-than-average volatility due to a high degree of concentration, greater uncertainty because less information is available, there is less liquidity or due to greater sensitivity to changes in market conditions (social, political and economic conditions). Some emerging markets offer less security than the majority of international developed markets. For this reason, services for portfolio transactions, liquidation and conservation on behalf of funds invested in emerging markets may carry greater risk.
Writen by Chi Lo. The post Weekly investment update – The soft underbelly of hard inflation data appeared first on Investors' Corner - The official blog of BNP Paribas Asset Management, the sustainable investor for a changing world.
recession
unemployment
consumer sentiment
pandemic
bonds
yield curve
dow jones
emerging markets
equities
stocks
monetary policy
fed
federal reserve
us treasury
home sales
us dollar
senate
lockdown
gdp
interest rates
commodities
european
europe
uk
germany
russia
ukraine
china
The retailers that should weather the coming economic storm
Conditions are about to get tougher for retailers as they face a perfect storm of falling incomes, galloping inflation, and rising interest rates.  These…
Conditions are about to get tougher for retailers as they face a perfect storm of falling incomes, galloping inflation, and rising interest rates.  These impacts will crimp the discretionary spending power of many people. The one exception could be the under 25-year-old Gen Z demographic, who have fewer non-discretionary costs than other age groups. The retailers who sell to them could fare better than most.
Over the last six months, discretionary retail stocks have been among the worst performers on the ASX, with the S&P/ASX 300 Retailers Accumulation Index underperforming the broader market index by 13 per cent over that period. Admittedly, this recent under performance merely unwinds the 20 per cent out performance of this index in the preceding 18 month period which coincided with the recovery in the market from the pandemic lows.
Over the last six months, only 1 of the 17 stocks in this index has managed to perform better than the broader market, JB HiFi, while four generated losses of over 50 per cent. Notably these stocks, Red Bubble, Kogan, City Chic and Temple & Webster, are all online retailers, and performed very strongly over the first year of the pandemic as they were perceived to be COVID winners.
Figure 1: Total return of retailing stocks between 16 Nov 2021 and 16 May 2022
Source: Bloomberg
The market is concerned that the combination of falling incomes – as households face rising inflation on a broad basis eating into real spending power, and rising interest rates – will reduce discretionary spending power. However, it is not as simple as this. 
While these factors are likely to lead to pressure on overall discretionary consumption, these factors do not affect all segments of the economy equally.
CBA's economic team has released data for household income and spending growth for the March quarter of 2022. This data is broken down by age demographic.
In looking at the potential impact of spending from cycling the impact of large stimulus payments that were received by households in the prior year, CBA's data suggests that the percentage of Millennials receiving some sort of government payment has fallen the most relative to the December quarter of 2021 followed by Generation X. Gen Z and Baby Boomers have experienced less of a reduction.
Offsetting the reduction in government benefits is an increase in the percentage of people receiving a salary. This is likely as a result of people returning to work post the pandemic and the current strong labour market.
Figure 2: Share of households receiving government benefits or salaries
(change between 4Q21 and 1Q22)

Source: CBA
This then feeds into the impact on each demographic's growth in overall income over the last 12 months. This shows that Gen Z has benefited the most from the current strong employment market with increased employment and strong wage growth while the percentage receiving government benefits remains higher than other demographics and above pre-pandemic levels. 
Figure 3: Household income and spending – annual average % change in 1Q22

Source: CBA

Not surprisingly, it is also Gen Z that has shown the strongest spending growth in the March quarter. For the other generations, spending growth has exceeded income growth, implying that their savings rates have declined to fund that growth in spending.
But savings are still well above 2019 levels for all generations and still rising. This will provide a buffer against cost increases and slowing growth in the medium term as inflation and higher interest rates bite. Gen Z has the biggest savings buffer.
Figure 4: Household savings – average deposit and offset balances
Source: CBA
Not surprisingly, overall household wealth is considerably higher than at the end of 2019, primarily as a result of rocketing residential property prices on the back of emergency monetary policy settings. The wealth effect of housing prices is an important driver of discretionary spending in Australia and has benefited retailers over the last two years.
Figure 5: Household wealth – average per household
Source: CBA
Of course, what interest rates can give, they can also take away. With variable mortgage rates likely to increase 1-2 percentage points over the next year, residential property prices are expected to fall, reversing some of this wealth effect.
There is no doubt that conditions are set to tighten for retailers over the coming year. However, reversing wealth effects from falling property prices and falling discretionary income levels will primarily impact those generations that own most of the housing stock, namely the Baby Boomers, Gen X and to a lesser extent the Millennials. Baby Boomers are more likely to be impacted by falls in house prices while Millennials will be more impacted by the need to allocate more of their income toward mortgage repayments.
For those that rent rather than own their home, rents are also likely to rise, as property owners try to pass on rising mortgage, utility and maintenance costs to tenants.
Those with families will be more impacted by rising prices of non-discretionary goods and services like food and utilities. This impact will be concentrated on Millennials and Gen X.
While not immune, the younger Gen Z demographic is likely to fare better than other generations given it faces fewer non-discretionary costs, and is not as exposed to property and wealth effects. At the same time, it is experiencing the strongest income growth and has had the most significant increase in its savings over the last two years.
Hence, we prefer retailers that cater to this younger demographic in the discretionary segment such and Universal Store and Accent Group.
The Montgomery Funds owns shares in City Chic, Universal Store and Accent Group. This article was prepared 18 May 2022 with the information we have today, and our view may change. It does not constitute formal advice or professional investment advice. If you wish to trade Goodman Group you should seek financial advice.
stimulus
pandemic
stocks
monetary policy
mortgage rates
recovery
interest rates
stimulus
Goldman Economist Warns US Consumers Maxing Out Credit Cards Will Lead To Late 2022 Spending Collapse
Goldman Economist Warns US Consumers Maxing Out Credit Cards Will Lead To Late 2022 Spending Collapse
A little over a week ago, when looking…
Goldman Economist Warns US Consumers Maxing Out Credit Cards Will Lead To Late 2022 Spending Collapse
A little over a week ago, when looking at the latest consumer credit data from the Federal Reserve, we were shocked to learn that in March, credit card debt soared by a record $52.4 billion, the biggest monthly increase on record and more than double the expected change.
Summarizing our views on this historic surge in credit-fueled purchases, we said that "while this unprecedented rush to buy everything on credit at a time when there were no notable Hallmark holidays should not come as much of a surprise, after all we have repeatedly shown that for the middle class any "excess savings" are now gone, long gone...
... the fact is that most economists - such as those at Goldman Sachs - had previously anticipated that continued spending of savings by consumers (who they fail to realize are now tapped out) is what will keep the US economy levitating in 2022. Unfortunately, as today's consumer credit numbers clearly demonstrate, any savings that US middle class households may have stored away courtesy of stimmies, are long gone."
Hilariously, yesterday it was none other than the person who in late 2021 predicted - incorrectly - that "pent up savings" would provide a major boost to the US economy in Q1 and Q2 of 2022, much to our amusement and criticism (of which we dispensed generously here)...
... and who admitted that US consumers, drowning in inflation, are "already relying on leverage to some extent to fund their spending." 
We are talking, of course, about Goldman chief economist Jan Hatzius, who no longer sees any "pent-up savings" offsetting either the fiscal or the hyperinflationary drag (unlike what he said in October) and instead speaking on Bloomberg TV, said that "borrowing is going to be a short-term driver of spending, and I think has been to some degree already."  Did the explosive growth in credit card borrowing tip him off?
Sarcasm aside, Hatzius was at least was correct in saying that "consumer spending is going to be relatively slow. Income is going to be quite weak in 2022" which is also why the bank slashed its GDP forecast over the weekend and now see only a 1.25% gain in gross domestic product in the fourth quarter of 2022 compared with the same period of 2021.
Echoing verbatim what we have said since late 2021, Hatzius also said that not only is consumer credit on the rise, but there has been a pickup in mortgage-equity withdrawal where homeowners take out a loan against the appreciated equity in their property, and concluded that both dynamics are supporting spending. Well of course. The question is what happens when those credit cards are maxed out.
The Goldmanite's remarks contrast with the view of some (idiot) economists who see bloated stockpiles of savings, thanks especially to government transfers during the pandemic, as a major pillar of support for consumer demand. Newsflash: as we have said since the summer of 2021, those "excess savings" are gone... all gone.  In other words, take the whole "consumer is strong" narrative and shove it.
Which is a problem since Goldman (for now) is sticking with its call that the Federal Reserve will raise its benchmark rate to a 3%-to-3.25% range. "The risk case is that they have to do more and that then also raises the risk of a hard landing," Hatzius said. Meantime, consumers' reliance on leverage "supports spending in the short term but ultimately is not going to be a sustainable source of big increases in spending," Hatzius said. "So it builds in a slowdown, sort of down the road."
You mean, precisely what Zero Hedge said in October in counter to the cheerful optimistic econotakes by... Jan Hatzius last October. Yes, why yes indeed.
And yes, for those wondering, Goldman did actually publish a note a few days ago (available to professional subs), explaining why the surge in consumer credit is quite concerning...
... concluding that "once credit levels have normalized and households can no longer grow credit at a higher than normal pace, we see potential for binding credit constraints to subtract up to 2% from the level of PCE."
In conclusion, Hatzius said that the timing of a downturn in housing will determine the turning point, he said. While that's not yet evident in the data, it's bound to come given the surge in mortgage rates.
The implications, as we correctly said two weeks ago, are profound: any model that projected that US spending will be fueled by "savings" can now be trashed. And since this is most of them, the consequences are dire as they confirm - once again - that the Fed is tapering, QTing and hiking right into a consumer-driven recession which was not visible until new precisely because of all the credit-card fueled spending, which according to Deutsche Bank will begin in late 2023 and which according to Morgan Stanley can start in as little as 5 months. Today's data suggests that Morgan Stanley is right.
More in the full Goldman report available to pro subs.
Tyler Durden
Wed, 05/18/2022 - 15:45
recession
pandemic
fed
federal reserve
mortgage rates
recession
gross domestic product
gdp
consumer spending