Biden Forms New Task Force To Tackle Future COVID Variants
Biden Forms New Task Force To Tackle Future COVID Variants
Even Bill Gates believes that omicron might finally mark the end of the COVID pandemic, but with his approval rating reaching new lows, President Biden is pulling out all the stops…
Biden Forms New Task Force To Tackle Future COVID Variants
Even Bill Gates believes that omicron might finally mark the end of the COVID pandemic, but with his approval rating reaching new lows, President Biden is pulling out all the stops to assemble a group that will help protect the US from any future COVID variants.
Biden's new organization is called "The Pandemic Innovation Task Force", and it was created by the White House Office of Science and Technology Policy (or OSTP). It will focus on developing vaccines, treatments, diagnostic tests and other tools, according to officials familiar with the matter, who asked for anonymity as the details aren't yet public.
This will help prepare the US should new versions of SARS-CoV-2 surface, or should any new viral threats emerge in the coming years.
While some officials stressed the group wasn't created specifically as a response to omicron, the timing certainly is notable. The omicron variant is driving more COVID infections than at any time since the first COVID cases were confirmed in the US, Bloomberg reports.
Health officials have warned that new variants could emerge that could scramble the body's protections.
Though studies suggest that omicron causes milder infections than earlier strains, many hospitals have seen an influx of patients filling beds.
Additionally, rapid tests have been in short supply, and businesses have been disrupted by infected employees having to isolate.
Unlike the White House Coronavirus Task Force, the new group won't focus on day-to-day pandemic response or the omicron variant, or things like distribution of vaccines, testing and therapeutic treatments.
Instead, it will work on "preparedness projects" that could be used to manage waves of new variants that could emerge within six months to two years. It's also being designed to handle other viral threats.
Tyler Durden
Sat, 01/15/2022 - 13:00
white house
pandemic
coronavirus
testing
Microsoft Corporation (NASDAQ: MSFT) Issues a Status Report to Its Shareholders Before the Commencement of the Next Quarter
Microsoft Corporation (NASDAQ: MSFT) recently announced the disposing of its stock without the value of its upcoming dividend remittance. The company disposed…
Microsoft Corporation (NASDAQ: MSFT) recently announced the disposing of its stock without the value of its upcoming dividend remittance. The company disposed of the stocks a day before its record date, which entails Microsoft deciding who is entitled to acquire a dividend. Microsoft initiated the ex-dividend day due to the traffic caused once it announced a stock trade. During the announcement, the platform disclosed that the purchase price of each share would be $2.48, thus accruing a dividend of $ 0.62 per share.
An organisation should ensure that it reviews its dividend remittance and ensure that it is renewable, thus ensuring that expanding it further and creating a source of income. Microsoft's sales in the previous year indicated the amount of income that the company bears, thus increasing its number of shareholders.
The SAP Sapphire gathering was helpful after a long hiatus
The recent SAP Sapphire gathering was held physically following a three-year hiatus due to the restrictions issued in the pandemic.  The event took place in Orlando, Florida, and invited various organisations worldwide; thus, major tech platforms, including Microsoft, were present. The organisation disclosed its latest projects at the conference, including the RISE with SAP on the Microsoft Cloud. Microsoft's cloud assists all types of institutions update and share their SAP solutions in the cloud.
Microsoft also disclosed a testimonial from TalkTalk, an organisation that offers solutions to connectivity issues in the UK. The avenue completely welcomed Microsoft's Viva Suite as a method to aid its workers' satisfaction.
The software is an employee satisfaction avenue that identifies factors that ensure proper workflow, including education, assets, and others.
Microsoft's contributions to the recent consumer privacy concerns 
Various organisations insist on the placing of passwords on crucial software and accounts, including TikTok or emails. The passwords differ in the form of restrictions placed by the developer at the time of logging in.
However, Fast Identity Online Alliance recently developed a method that allows users to log in to their accounts without a password. The institution designed a method that allows consumers to store their security details on their phones, thus allowing them to sync and access their accounts. Organisations are attempting to obtain mechanisms to make this method permanent.
Please make sure to read and completely understand our disclaimer at https://www.wallstreetpr.com/disclaimer. While reading this article one must assume that we may be compensated for posting this content on our website.
The post Microsoft Corporation (NASDAQ: MSFT) Issues a Status Report to Its Shareholders Before the Commencement of the Next Quarter appeared first on Wall Street PR.
nasdaq
stocks
pandemic
uk
How digital technology can help keep cities green and pleasant
We know cities need green spaces – but what should they look like and where should they go?
Parks, small woodlands and even simple patches of grass not only keep a city attractive, but also help people find a sense of bliss in an otherwise bustling urban environment. With new technologies, we can plan and monitor these urban "green spaces" better than ever before.
As several studies have highlighted, nature within urban settings plays a pivotal role in combating many of the global public health challenges commonly associated with urbanisation. This includes maladies such as depression and high blood pressure. A 2022 study showed that trees actually have the ability to improve urban air quality as leaves and pine needles capture pollutants from the air.
That cities do need green spaces is therefore not a particularly contentious issue. It is, however, an open question as to how much green space a city ought to have. Even here, science can provide some guidelines, as research points to at least 9 square metres of green space per individual, with an ideal value of 50 square metres per capita in a city (for comparison, an average UK car parking space takes up about 12 square metres).
Green landscaping
The big question is therefore what kind of green space do we want? A well-kept but human-made park? Or something more natural and unkempt, such as groves, meadows or field-like areas? As we discuss in our forthcoming book, Designing Smart and Resilient Cities for a Post-Pandemic World: Metropandemic Revolution, this is largely contingent on the geographic preconditions of the city in question. The World Health Organization (WHO) recommends a diversity of different kinds of green areas if possible, yet it is an inescapable fact that some cities are blessed with lush vegetation while others are not.
However, all is not lost for cities without much natural green area, as such environments can be constructed in urban settings that have previously been bereft of naturally growing trees and grass. This "green landscaping" can be undertaken even in areas that would otherwise seem unlikely. One prime example is the High Line in New York City, a 1.45 mile (2.33km) long elevated linear park built on an abandoned railway viaduct. Since it opened in stages about a decade ago, the High Line has become an exemplar of green landscape redesign that seeks to turn obsolete infrastructure into green, vibrant public spaces.
While it is known that greenery has positive effects on mankind at large, it is more difficult to prove the exact causal relationship in exactly how green areas affect our health. In this regard, digital technology can be an essential tool for urban planners to determine where green landscape redesign is best employed.
Smart technology
One concept that is seeing particularly rapid development is "smart urban forests", which refers to using tree monitors, 3D-imagery and other internet of things-linked technologies to help manage the forest. This "internet of nature" could monitor soil health, measure air pollution or ensure urban forests are adequately hydrated.
Future technology could also enable the use of open data platforms and more public engagement. Planners could collect various perspectives from the general population using an app, for instance, while also using digital technology to map and boost urban biodiversity and to ensure that green areas are placed where they will achieve maximum efficiency.
One example of this is the Treepedia research initiative, which was launched in 2016 by Massachusetts-based MIT Senseable City Lab. Treepedia aspires to raise awareness of urban forests by the use of digital vision techniques based on Google Street View images.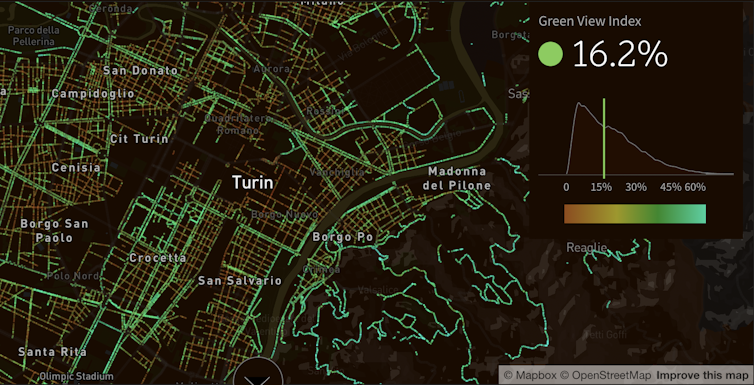 Treepedia focuses on pedestrian street trees found in multiple cities around the world, as opposed to parks. The main reason is that pedestrians are more likely to see street trees without planning to, whereas most people in parks made an active choice to be there. Using an open-source library, Treepedia means the public can calculate the quantities of tree coverage for their own city or region.
If urban planners become more aware of the potential of digital technology, then urban green spaces should have a bright future. However, designing the optimal green space that we want for our cities may also call for a deeper future collaboration between urban planners and engineers.
---
Read more: Neighbourhood green space is in rapid decline, deepening both the climate and mental health crises
---
Anthony Larsson works for the Stockholm Chamber of Commerce.
Andreas Hatzigeorgiou is also CEO of the the Stockholm Chamber of Commerce, and sits on the board of the Stockholm Senseable Lab, which is a collaboration between MIT and the KTH Royal Institute of Technology.
depression
pandemic
uk
world health organization
Updated: US sees spike in Paxlovid usage as Merck's molnupiravir and AstraZeneca's Evusheld are slower off the shelf
New data from HHS show that more than 162,000 courses of Pfizer's Covid-19 antiviral Paxlovid were administered across the US over the past week, continuing…
New data from HHS show that more than 162,000 courses of Pfizer's Covid-19 antiviral Paxlovid were administered across the US over the past week, continuing a streak of increased usage of the pill, and signaling not only rising case numbers but more awareness of how to access it.
In comparison to this week, about 670,000 courses of the Pfizer pill have been administered across the first five months since Paxlovid has been on the US market, averaging about 33,000 courses administered per week in that time.
A Pfizer spokesperson told Endpoints News the company does "not have any concerns nor foresee any supply issues in our ability to support if [usage] rates increase."
Cumulatively, as of May 24, almost 3.8 million doses of Paxlovid have been made available to states so far by the federal government, and about 2.4 million of those have been ordered by states, with more than 831,000 courses administered.
Signs for such a spike in usage were evident earlier this month, as in a call with reporters senior HHS officials credited the surge in the use of Paxlovid to their outreach, and through the Biden administration's Test to Treat initiative, which allows for use of Paxlovid with a positive test at participating pharmacies.
"We have seen more than a 315% increase in Paxlovid use over the past four weeks. In the first week of May, nearly 115,000 courses were dispensed," an official said at the time.
Meanwhile, outside of Paxlovid, few other treatment options are really in wide use.
Merck's molnupiravir, known commercially as Lagevrio, has struggled to make its way out of the inventory closet, according to the latest numbers posted by HHS.
Only about 20,000 courses of the Merck pill were used in the past week, and only about 13% of the total US inventory of molnupiravir has been used to date. That compares with about 35% of overall usage of Paxlovid courses ordered by states so far, and the bulk of those orders have come within the last several months.
But for AstraZeneca's preexposure mAb Evusheld, only about 16,000 courses were administered in the past week. About 38% of all Evusheld ordered by states has been administered so far, according to the latest HHS numbers.
For Eli Lilly's bebtelovimab, which is a monoclonal antibody that's supposed to be used ahead of molnupiravir if both are on hand, about 100,000 courses in total have been administered of 379,526 courses ordered (542,330 courses available). Bebtelovimab is the follow-on mAb after Lilly's former combo mAb (850,000+ courses distributed earlier in the pandemic) that lost efficacy against the latest variant.
Meanwhile, HHS has become less and less transparent with its data and information on its distribution of Covid-19 therapeutics.
After the Trump administration, and the beginning of the Biden administration allowed for the public posting of weekly calls between HHS and states on Covid-19 therapeutic distribution, those calls have since been made private and the prior recordings have been deleted from the ASPR website.
In addition, each week's therapeutic administration numbers have to be tallied independently because HHS now deletes the previous week's numbers.
Editor's note: Article updated to add Pfizer comment and note the stats for Lilly's Covid-19 treatments bebtelovimab too.
hhs
trump
pandemic
covid-19
treatment