Avinor launches €830 million retail and F&B tender across Norwegian airports
The following article was published by Future Travel Experience
Avinor aims to attract a wide range of operators that will strengthen the airport's unique sense of place, while creating inspiring and sustainable concepts. Avinor has issued a call for…
The following article was published by Future Travel Experience
Avinor aims to attract a wide range of operators that will strengthen the airport's unique sense of place, while creating inspiring and sustainable concepts.
Avinor has issued a call for tender submissions covering retail and food & beverage outlets across four major Norwegian airports, including Oslo, Bergen, Stavanger and Trondheim.
A total of 38 contracts have been announced and cover everything from convenience, F&B, book stores and pharmacies to souvenir and electrical shops, as well as lifestyle and fashion boutiques.
This is the first time Avinor has announced such a wide-ranging portfolio of contracts across its airports at the same time. Smaller operators may bid for individual outlets, while major national and international operators have the opportunity to bid on multiple contracts in order to achieve economies of scale.
Avinor said it aims to attract a wide range of operators that will appeal to both Norwegian and international passengers, and which will strengthen the airports' unique sense of place, while creating inspiring and sustainable concepts that can elevate the passenger experience.
The five-year contracts have been designed to increase attractiveness to potential bidders with features including the removal of fixed rents on retail premises, and the implementation of exclusively turnover-based rent and operating costs.
"During normal operations, Avinor's airports are among the largest and most attractive marketplaces in Norway, with a broad and diverse group of customers with strong purchasing power," says Joachim Lupnaav Johnsen, Avinor's Executive Vice President Commercial.
"We aim to create a wider selection of concepts at each airport and across our portfolio of sites, and we want to strengthen the regional sense of place. For example, we want it to be obvious that you have arrived in Bergen – rather than just any other European airport. We want there to be a good balance between the global and the local providers, and we thereby hope to see new, interesting constellations as a result."
The majority of the contracts will go into operation in 2023, starting 1 January 2023, ending 31 December 2027. The deadline for tender submission is 8 March, 2022.
FTE launches World Airport Retailing Summit to drive disruption in airport commercial approaches
Future Travel Experience is excited to launch the new FTE World Airport Retailing Summit (WAR) – the most adventurous and energetic airport retail convention ever, and crucially, one that puts technology at the heart of the airport retail proposition. This event is co-located with FTE Ancillary – the world's leading gathering of commercial airline executives, so for the first time ever we will bring together under one roof executives representing every type of industry stakeholder globally to help establish creative new ways of working together collaboratively to create more revenues for all to share in. Following the pandemic the time is right to bring the world's airports, and their partners, together to share best practice, new ideas and knowledge on scaling disruptive new approaches that drive new levels of conversion with passengers through digital means. Visit the new show website to find out more about our plans >>
Article originally published here:
Avinor launches €830 million retail and F&B tender across Norwegian airports
european
pandemic
Microsoft Corporation (NASDAQ: MSFT) Issues a Status Report to Its Shareholders Before the Commencement of the Next Quarter
Microsoft Corporation (NASDAQ: MSFT) recently announced the disposing of its stock without the value of its upcoming dividend remittance. The company disposed…
Microsoft Corporation (NASDAQ: MSFT) recently announced the disposing of its stock without the value of its upcoming dividend remittance. The company disposed of the stocks a day before its record date, which entails Microsoft deciding who is entitled to acquire a dividend. Microsoft initiated the ex-dividend day due to the traffic caused once it announced a stock trade. During the announcement, the platform disclosed that the purchase price of each share would be $2.48, thus accruing a dividend of $ 0.62 per share.
An organisation should ensure that it reviews its dividend remittance and ensure that it is renewable, thus ensuring that expanding it further and creating a source of income. Microsoft's sales in the previous year indicated the amount of income that the company bears, thus increasing its number of shareholders.
The SAP Sapphire gathering was helpful after a long hiatus
The recent SAP Sapphire gathering was held physically following a three-year hiatus due to the restrictions issued in the pandemic.  The event took place in Orlando, Florida, and invited various organisations worldwide; thus, major tech platforms, including Microsoft, were present. The organisation disclosed its latest projects at the conference, including the RISE with SAP on the Microsoft Cloud. Microsoft's cloud assists all types of institutions update and share their SAP solutions in the cloud.
Microsoft also disclosed a testimonial from TalkTalk, an organisation that offers solutions to connectivity issues in the UK. The avenue completely welcomed Microsoft's Viva Suite as a method to aid its workers' satisfaction.
The software is an employee satisfaction avenue that identifies factors that ensure proper workflow, including education, assets, and others.
Microsoft's contributions to the recent consumer privacy concerns 
Various organisations insist on the placing of passwords on crucial software and accounts, including TikTok or emails. The passwords differ in the form of restrictions placed by the developer at the time of logging in.
However, Fast Identity Online Alliance recently developed a method that allows users to log in to their accounts without a password. The institution designed a method that allows consumers to store their security details on their phones, thus allowing them to sync and access their accounts. Organisations are attempting to obtain mechanisms to make this method permanent.
Please make sure to read and completely understand our disclaimer at https://www.wallstreetpr.com/disclaimer. While reading this article one must assume that we may be compensated for posting this content on our website.
The post Microsoft Corporation (NASDAQ: MSFT) Issues a Status Report to Its Shareholders Before the Commencement of the Next Quarter appeared first on Wall Street PR.
nasdaq
stocks
pandemic
uk
How digital technology can help keep cities green and pleasant
We know cities need green spaces – but what should they look like and where should they go?
Parks, small woodlands and even simple patches of grass not only keep a city attractive, but also help people find a sense of bliss in an otherwise bustling urban environment. With new technologies, we can plan and monitor these urban "green spaces" better than ever before.
As several studies have highlighted, nature within urban settings plays a pivotal role in combating many of the global public health challenges commonly associated with urbanisation. This includes maladies such as depression and high blood pressure. A 2022 study showed that trees actually have the ability to improve urban air quality as leaves and pine needles capture pollutants from the air.
That cities do need green spaces is therefore not a particularly contentious issue. It is, however, an open question as to how much green space a city ought to have. Even here, science can provide some guidelines, as research points to at least 9 square metres of green space per individual, with an ideal value of 50 square metres per capita in a city (for comparison, an average UK car parking space takes up about 12 square metres).
Green landscaping
The big question is therefore what kind of green space do we want? A well-kept but human-made park? Or something more natural and unkempt, such as groves, meadows or field-like areas? As we discuss in our forthcoming book, Designing Smart and Resilient Cities for a Post-Pandemic World: Metropandemic Revolution, this is largely contingent on the geographic preconditions of the city in question. The World Health Organization (WHO) recommends a diversity of different kinds of green areas if possible, yet it is an inescapable fact that some cities are blessed with lush vegetation while others are not.
However, all is not lost for cities without much natural green area, as such environments can be constructed in urban settings that have previously been bereft of naturally growing trees and grass. This "green landscaping" can be undertaken even in areas that would otherwise seem unlikely. One prime example is the High Line in New York City, a 1.45 mile (2.33km) long elevated linear park built on an abandoned railway viaduct. Since it opened in stages about a decade ago, the High Line has become an exemplar of green landscape redesign that seeks to turn obsolete infrastructure into green, vibrant public spaces.
While it is known that greenery has positive effects on mankind at large, it is more difficult to prove the exact causal relationship in exactly how green areas affect our health. In this regard, digital technology can be an essential tool for urban planners to determine where green landscape redesign is best employed.
Smart technology
One concept that is seeing particularly rapid development is "smart urban forests", which refers to using tree monitors, 3D-imagery and other internet of things-linked technologies to help manage the forest. This "internet of nature" could monitor soil health, measure air pollution or ensure urban forests are adequately hydrated.
Future technology could also enable the use of open data platforms and more public engagement. Planners could collect various perspectives from the general population using an app, for instance, while also using digital technology to map and boost urban biodiversity and to ensure that green areas are placed where they will achieve maximum efficiency.
One example of this is the Treepedia research initiative, which was launched in 2016 by Massachusetts-based MIT Senseable City Lab. Treepedia aspires to raise awareness of urban forests by the use of digital vision techniques based on Google Street View images.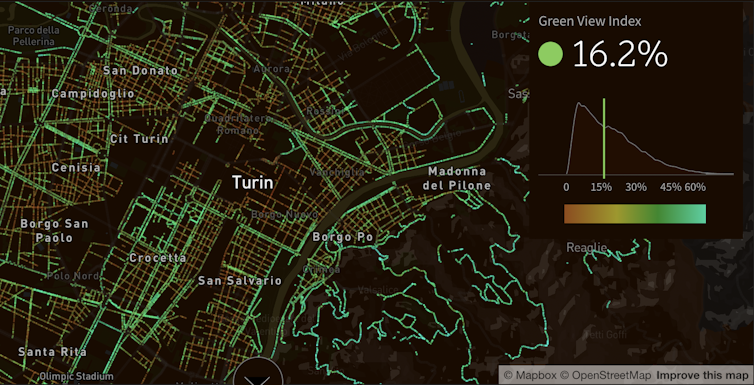 Treepedia focuses on pedestrian street trees found in multiple cities around the world, as opposed to parks. The main reason is that pedestrians are more likely to see street trees without planning to, whereas most people in parks made an active choice to be there. Using an open-source library, Treepedia means the public can calculate the quantities of tree coverage for their own city or region.
If urban planners become more aware of the potential of digital technology, then urban green spaces should have a bright future. However, designing the optimal green space that we want for our cities may also call for a deeper future collaboration between urban planners and engineers.
---
Read more: Neighbourhood green space is in rapid decline, deepening both the climate and mental health crises
---
Anthony Larsson works for the Stockholm Chamber of Commerce.
Andreas Hatzigeorgiou is also CEO of the the Stockholm Chamber of Commerce, and sits on the board of the Stockholm Senseable Lab, which is a collaboration between MIT and the KTH Royal Institute of Technology.
depression
pandemic
uk
world health organization
EUR/GBP price prediction: is the bears' pain over?
Ever since Brexit happened, the British pound gained against the common currency, the euro. Despite many analysts calling for the pound's decline, it…
Ever since Brexit happened, the British pound gained against the common currency, the euro. Despite many analysts calling for the pound's decline, it gained ground in a relentless bearish trend.
The downtrend was so strong that even in 2022, some analysts believe that the EUR/GBP exchange rate will still hover around 0.84 in March 2023 – about 10 months from now.
Currently, EUR/GBP trades at 0.85, bouncing from its lows and looking constructive from fundamental and technical perspectives. So, where will the exchange rate go next?
Here is a price prediction considering both the technical and fundamental aspects.
The two central banks' policies are set to diverge
Let's start with the fundamental perspective. A currency pair moves based on the monetary policy differences between the two central banks.
In this case, the Bank of England was one of the first major central banks in the world that decided to increase the interest rate in the aftermath of the COVID-19 induced recession. Moreover, it did so not once but multiple times.
At the same time, the European Central Bank did nothing. It couldn't do so, as a war started in Eastern Europe (Russia invaded Ukraine) in February.
In order to shelter European economies from the war's economic impact, the European Central Bank preferred a wait-and-see stance. However, inflation is running way higher than the central bank's target, and one of the causes is just the war.
As such, the central bank recently announced that it plans to end negative rates by September. Considering that the deposit facility rate is at negative 50bp, it means that a couple of rate hikes are on the table during the summer.
Yet, the Bank of England is now in a wait-and-see mode. Therefore, the fundamentals favor a move higher in the EUR/GBP exchange rate over the summer.
An inverse head and shoulders shows EUR/GBP struggling to overcome resistance
From a technical perspective, the market may have bottomed with the move to 0.82. It was quickly retraced, suggesting the presence of an inverse head and shoulders pattern.
A close above 0.86 should put the 0.90 area in focus. That is where the pattern's measured move points to, and the move also implies that the lower highs series would be broken, thus ending the bearish bias.
All in all, EUR/GBP looks bullish here. Both technical and fundamental aspects favor more strength in the months ahead.
The post EUR/GBP price prediction: is the bears' pain over? appeared first on Invezz.
recession
covid-19
monetary policy
pound
euro
european
europe
russia
ukraine