Are local shutdowns effective, or should COVID-19 lockdowns be in lockstep province-wide?
Are local shutdowns effective, or should COVID-19 lockdowns be in lockstep province-wide?
During the COVID-19 pandemic, decision-makers around the world have grappled with the question of whether to reopen counties and cities all at the same time or allow less affected places to reopen first. Our research suggests that with sufficient testing and co-ordination, reopening schools and businesses in areas of Ontario without active outbreaks can be as effective as a lengthy province-wide lockdown in minimizing total infections while also reducing closures.
It may surprise many readers that we came at this project from the study of climate change negotiations and underwater giant kelp forests.
Famously, lush kelp stands can be rapidly grazed down into rocky barrens by sea urchins — animals little more than spine-covered balls with a mouth. Yet we found that collective urchin behaviour is all-important: sometimes urchins stay close to their shelters and maintain only small barren patches, while at other times urchins swarm and quickly bulldoze kelp forests into barrens over large swaths of the coastline.
Inspired by this, we asked whether local activism or global negotiations form the fastest path to reducing greenhouse gas emissions worldwide. The answer turned out to lie in between: switch from regional climate coalitions to enforceable global agreements once several — but not yet all — regions commit to reducing emissions. We found the same principle applied when the spring COVID-19 outbreak began to recede in Ontario and launched debates over reopening.
Some argued that areas with lower case counts should be allowed to open sooner, while others argued that a patchwork of opened and closed areas would only cause individuals to travel from closed areas to open areas in order to access services, thereby spreading the virus to areas that had it more under control.
Further, travellers could spread the virus out from large cities, which were hotspots of travel and COVID-19 cases. Therefore, we decided to tackle this question with a mathematical model that is not unlike the models we use to study kelp forests and climate change, all of which are concerned with populations distributed across patches.
This kind of accidental insight, where researchers working on one problem can see applications of their methods or concepts in some other apparently unconnected area, happens all the time in the mathematical sciences. And perhaps it is not so accidental, after all, because mathematical modelling can provide a unifying framework to discover commonalities in apparently different systems.
What we found
Our study in the Proceedings of the National Academy of Sciences used actual commuting patterns to account for daily travel among census divisions and modelled county-to-county differences in travel and in COVID-19 transmission, the presence of symptoms and recovery time. We also used daily case counts for each public health unit to estimate how COVID-19 transmission rate increases in more densely populated areas. These data show that in Ontario's four largest urban areas COVID-19 spreads quickly, is hard to eliminate and is 250 per cent more prevalent compared to the province overall.
But in many less-populated counties, we found that outbreaks are less intense and subside faster once schools and workplaces close. By closing on an as-needed basis when local cases begin to spike, municipalities in our model stay on top of the epidemic and cases imported by travellers — even when we doubled rates of travel from previous years.
Accordingly, the local strategy also affords flexibility to prolong closures in areas with continuing active outbreaks — primarily more populous counties with higher epidemic spread rates — without keeping the rest of the province in lockdown.
Act fast and act locally, co-ordinate globally
For this local approach to work, however, sufficient testing capacity and fast test turnaround times are needed to catch local outbreaks in time. In addition, acting decisively by closing schools and workplaces as soon as detected cases per 100,000 exceed a critical threshold reduces the total number of days in lockdown. These two things were difficult to achieve in Canada early in the epidemic (March-May), and hence a province-wide lockdown was the best approach at that time.
These results don't mean that individual counties can go it alone. In the United States, we have seen how poor federal co-ordination led to very late closures or premature reopenings in some states, which then became a source of COVID-19 cases country-wide.
Accordingly, within Ontario, our model shows that county-by-county closures are most beneficial when testing and closing/reopening criteria are co-ordinated by the province. Otherwise, travellers from counties that open prematurely spread cases to opened areas, forcing them to re-enter lockdown.
What about re-closing?
COVID-19 cases have been rising steadily since summer 2020. The trend will likely accelerate exponentially now that schools have reopened and temperatures are dropping, causing people to spend more time indoors.
Our model projections for the current phase show that local re-closing of counties and cities will continue to work better than a province-wide closure, subject to our provisos on co-ordinating and fast testing. As we enter the fall and winter, greater testing capacity, prompt action and a flexible county-by-county approach will continue to be the keys to reducing the economic and social impacts of the pandemic while minimizing COVID-19 infections.
Chris Bauch receives funding from the Natural Sciences and Engineering Research Council of Canada and the Ontario Ministry of Colleges and Universities for COVID-19 research.
Madhur Anand receives funding from the Natural Sciences and Engineering Council of Canada and the James S. McDonnelll Foundation.
Vadim Karatayev ne travaille pas, ne conseille pas, ne possède pas de parts, ne reçoit pas de fonds d'une organisation qui pourrait tirer profit de cet article, et n'a déclaré aucune autre affiliation que son poste universitaire.
reopening
testing
spread
lockdown
transmission
recovery
canada
ontario
Guerilla gardening: how you can make your local area greener without getting into trouble
Many people are gardening on land that is not theirs – here are some things to consider to avoid getting into trouble.
When Richard Reynolds first started gardening around London's streets, he was so worried he might be arrested that he worked under the cover of darkness. Reynolds was one of the UK's first modern guerrilla gardeners, a movement that encourages people to nurture and revive land they do not have the legal rights to cultivate.
Gardening, in general, offers physical and mental health benefits. But as many as one in eight British households have no access to a garden or outdoor space of their own.
This issue is particularly pronounced among city dwellers, ethnic minorities and young people. A 2021 survey conducted in England revealed that those aged 16-24 were more than twice as likely to lack access to a garden or allotment compared to those aged over 65.
---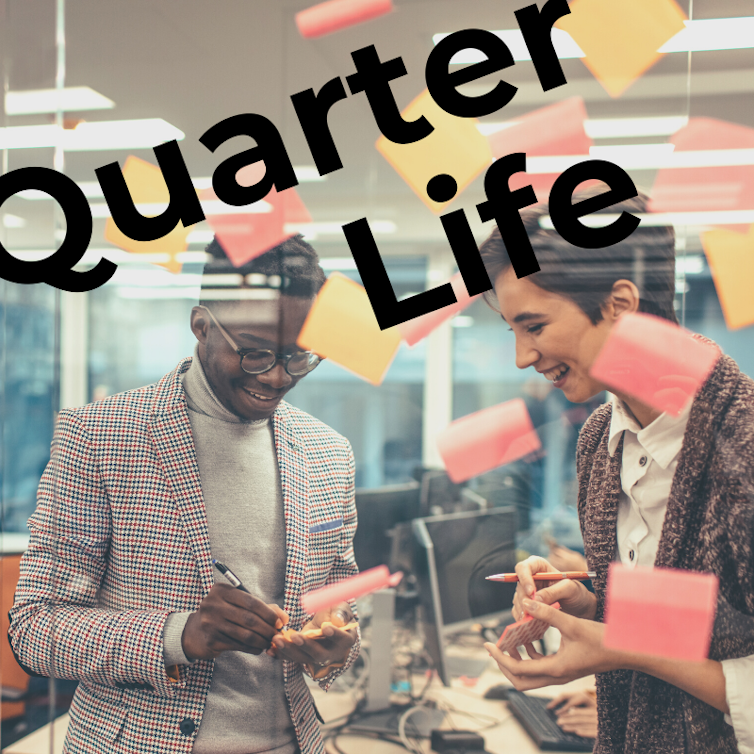 This article is part of Quarter Life, a series about issues affecting those of us in our twenties and thirties. From the challenges of beginning a career and taking care of our mental health, to the excitement of starting a family, adopting a pet or just making friends as an adult. The articles in this series explore the questions and bring answers as we navigate this turbulent period of life.
You may be interested in:
How community gardening could ease your climate concerns
Three ways to get your nature fix without a garden
How often do you think about the Roman empire? TikTok trend exposed the way we gender history
---
Guerrilla gardening is a particularly good option for these groups of people. It can involve planting herbs or vegetables for a whole community to enjoy, spreading seeds or plants, tidying weeds, or even something as simple as picking up litter.
But if you're considering becoming a guerilla gardener, it's important to understand your rights. Could you be arrested for it? And should you wait until after dark?
Can you be prosecuted?
It's important to remember that much of the unused or abandoned land that is potentially suitable for guerilla gardening in towns and cities throughout the UK is owned by local councils. Common examples of such locations include broken pavements with missing slabs, wasteland and the central areas of roundabouts.
Although much of this land is already open for the public to walk over, actively gardening on it would become an act of trespass.
The law of trespass sounds scary. However, gardening on this land would be a breach of civil law rather than a crime. This means that most guerrilla gardeners are unlikely to receive a fine or a criminal record.
Landowners do have the legal right to use "reasonable force" to remove trespassers from their land. But, fortunately, it seems most councils have ignored guerrilla gardeners, having neither the time, money or inclination to bring legal action against them.
Colchester Council, for example, were unable to track down the identity of the "human shrub", a mysterious eco-activist who restored the flowers in the city's abandoned plant containers in 2009. The shrub returned again in 2015 and sent a gift of seeds to a local councillor.
In other areas of the UK, the work of guerilla gardeners has been cautiously welcomed by local councils. In Salford, a city in Greater Manchester, there is a formal requirement to submit an application and obtain permission to grow on vacant spots in the city. But the local authority tends not to interfere with illegal grow sites.
There seems to be an unwritten acceptance that people can garden wherever they want, given the abundance of available space and the lack of active maintenance. This also offers the additional advantage of saving both time and money for the local council.
You should still be careful about where you trespass though. In some areas, guerrilla gardening can lead to unwelcome attention. During the May Day riots of 2000, for example, guerrilla gardeners were accused of planting cannabis seeds in central London's Parliament Square.
Gardening at night may draw the wrong attention too, particularly if you are carrying gardening tools that might be misunderstood by the police as threatening weapons.
How can you start?
There are many different types of guerrilla gardening that you could get involved in, from planting native plant species that benefit pollinators and other wildlife to tidying derelict land to create safer places for the local community.
One of the simplest forms of guerilla gardening is planting seeds. Some environmental projects circulate "seed bombs" and others use biodegradable "seed balloons" that are filled with helium and deflate after a day, distributing seeds by air.
Whatever you try, as a guerrilla gardener you shouldn't harm the environment or spoil other people's enjoyment of the space around you. Remember that weeds and wilderness have an environmental value too. And think carefully about the species you are going to plant so that you can protect local plants and wildlife.
The most attractive species to humans might not provide the best home or food for wildlife. Some can even outcompete native plants and drive them towards extinction. Planting certain harmful, invasive or poisonous species like ragwort, knotweed or Himalayan balsam is even prohibited by law.
That said, some guerrilla gardeners have used social media to organise "balsam bashing" events, where people come together to pull up this harmful invasive plant.
Guerrilla gardening takes many forms and can bring great benefits for people and the environment. You're unlikely to be arrested for planting and growing trees and other greenery in public spaces. But remember that these spaces should be shared with everyone, including your local wildlife.
Ben Mayfield does not work for, consult, own shares in or receive funding from any company or organisation that would benefit from this article, and has disclosed no relevant affiliations beyond their academic appointment.
uk
Fractyl Health's GLP-1 gene therapy spurs 25% weight loss in obese mice, clinical trials slated for 2024
One of the biggest problems facing the burgeoning class of weight loss drugs is that people must take them day after day, week after week. When the injections…
One of the biggest problems facing the burgeoning class of weight loss drugs is that people must take them day after day, week after week. When the injections of semaglutide — the ingredient in Ozempic and Wegovy — stop coming, so do the benefits. Lost weight is regained.
But researchers at Fractyl Health, a Lexington, MA-based biotech, believe they have a solution to that problem: a one-time gene therapy injected into the pancreas that lets the body make its own GLP-1 agonists in perpetuity.
New data slated to be presented today at a diabetes conference in Germany suggest that obese mice injected with the therapy lost nearly 25% of their body weight after just two weeks, according to a copy of the company's presentation obtained by Endpoints News.
The results leave many questions unanswered, including how safe and effective the approach will be beyond the first two weeks, although the presentation indicated that such studies are ongoing. Fractyl declined requests for an interview.
The company previously announced plans to begin testing the treatment in people with diabetes and obesity in 2024. It's a bold step towards moving gene therapy beyond the rare diseases typically pursued by biotech companies.
"It's hard to get people to take injections once a week, and if we can figure out how to do something closer to one and done, that would be a big step for patients," Randy Seeley, who directs an obesity research center at the University of Michigan School of Medicine, told Endpoints in an interview.
"But how permanent this will be can't really be answered in a mouse," he added. Seeley is a consultant to Fractyl, and the company supports research in his lab.
Fractyl was originally just developing the GLP-1 gene therapy for type 2 diabetes. In a diabetic mouse model, human pancreatic islets and human beta cell lines, the treatment significantly enhanced glucose-stimulated insulin secretion, improving blood sugar levels.
GLP-1 needs to act on receptors in the brain for its weight loss effects, and since the therapy is injected directly into the pancreas, the company didn't expect the diabetic mice would lose weight, Seeley said. But surprisingly, they did, shedding 23% of their mass after four weeks compared to a control group.
Those results spurred the company to test its gene therapy in a diet-induced obesity mouse model. Twenty mice were fed a high fat diet for 25 weeks before half of them got a single injection of the gene therapy while the other half received daily injections of semaglutide.
Both groups of mice began losing weight a day after the injections. Within five days, the mice who got the gene therapy were losing weight faster and shed 24.8% of their body weight after just two weeks, even as they maintained their high fat diet. The mice on semaglutide lost 18.4% of their weight, according to the data presented at the European Association for the Study of Diabetes Scientific Congress.
"The most surprising part of the data is how much weight these animals lose," Seeley said. "it's better than semaglutide, and it's not exactly clear how that occurs."
Given the uncertain long-term effects of taking GLP-1 drugs for weight loss, a potentially permanent gene therapy approach is sure to raise many questions.
"If you're taking your once-a-week version, if something goes wrong, we can turn it off and we just take it away," Seeley said. "But with gene therapy, there's no way to turn it off. It's unknown what happens, and so it is going to take both some careful thought."
fed
congress
treatment
testing
clinical trials
therapy
european
germany
Sweden's Deadly Gun Violence
Sweden's Deadly Gun Violence
Swedish Prime Minister Ulf Kristersson is calling on the military to assist the police with tackling the rise…
Sweden's Deadly Gun Violence
Swedish Prime Minister Ulf Kristersson is calling on the military to assist the police with tackling the rise in gang-related violence in the country, as fatal shootings and bombings claimed the lives of 12 people last month.
As Statista's Anna Fleck reports, in the latest move, the Swedish government said on Friday that it would authorize future military assistance to the police, following a meeting between Krisstersson and the heads of both forces on how to reduce violence from organized criminal gangs. It is not yet clear exactly which duties the military will take on.
"The wave of violence is unprecedented in Sweden, but it is also unprecedented in Europe, no other country has a situation like the one we have," Kristersson commented in a televised speech.

"The police cannot do all the work themselves."
According to the Swedish Police Authority's annual reports, last year a total of 62 people were killed by gunfire, marking the deadliest year for shootings since the authorities started publishing data in late 2016.
You will find more infographics at Statista
A total of 11 people were fatally shot last month alone, in addition to one person who died in a bomb blast. These 11 bring the death toll by firearms to 42 in 2023, a figure that may rise further yet with three months left until the end of the year.
September marks the second deadliest month on record for gun crime in Sweden, following only after December 2019 when 12 people were shot and killed.
Tyler Durden
Wed, 10/04/2023 - 04:15
europe
sweden