Arcadia Minerals
A Battery Metal Explorer Operating Within Resource-Rich Namibia
The post Arcadia Minerals appeared first on Investing News Network.
This Arcadia Minerals profile is part of a paid investor education campaign.*
Overview
Demand for battery metals has dramatically increased in recent years alongside the rise of electric vehicles, renewable energy technologies, and consumer electronics. The global battery market is currently estimated at US$120.4 billion and is expected to reach an astounding US$279.7 billion by 2027. Metals such as nickel, lithium, copper and tantalum are necessary to satisfy the ever-growing demand for these batteries.
This is also the exact reason why a country like Namibia continues to prove itself as a key player in this movement due to its rich deposits of battery metals. Plus, with mining contributing approximately 10 percent to its GDP, experts predict that contribution will undoubtedly increase as mining production is expected to increase by 15 percent in 2022, and by an additional 8 percent in 2023. The presence of rich zinc, lithium and cobalt deposits has attracted multiple mining companies to the region in recent years.
Arcadia Minerals (ASX: AM7) is an exploration company that's focused on exploring battery metals located throughout its multiple projects in Namibia, a country known for its rich metal deposits. The company's portfolio is composed of active exploration projects that feature tantalum, nickel, lithium, copper and gold. All of its projects are fully funded and led by a strong management team with decades of experience.
The company's flagship Swanson Project, which covers approximately 19.4 square kilometers, is located in the well-mineralized southern region of Namibia that is largely known for its tantalum deposits. Tantalum is an extremely rare mineral that's required for the production of capacitors that are used in a variety of electronic equipment. The neighboring AIM mine has already produced 594,000 tons of ore. Arcadia Minerals is currently exploring pegmatites to identify targets for future production.
"Battery metals are very important for the new age where renewable energy is the method for supplying the energy and the power necessary. We intend to play a large role [in this field]," said Jurie Wessels, Executive Chairman of Arcadia Minerals, in a recent interview
The company is also led by a strong management team that has a proven track record of leading successful mining projects. Philip Le Roux, CEO of Arcadia Minerals, brings decades of experience leading companies from exploration to production throughout a diverse portfolio of geological landscapes. He currently is managing a team of geologists in Namibia that are moving each of the company's projects forward. The executive team is also experienced in overseeing mining projects within the African continent. The CEO, country manager, and chief geologist all reside in Namibia, which allows them to cultivate a network of consultants and advisors that may allow them to generate additional value for the company.
Arcadia Minerals' Company Highlights
Arcadia Minerals has an experienced executive team that has a track record for taking companies from exploration to production
The company's projects are all located within Namibia
Each project within Arcadia Mineral's portfolio is focused on minerals that are needed for producing electric vehicles, batteries and other green technologies
The company currently has an in-country team led by executives that are currently exploring each of the projects. COVID-19 has not caused any delays in their explorative measures.
Namibia has a strong regional infrastructure that currently supports an established mining industry
Arcadia Minerals' Key Projects
Swanson Tantalum
The Swanson advanced Tantalum exploration project contains 15 shallow and nearly horizontal pegmatites that are currently being explored. Preliminary testing of the tantalum content within the pegmatites illustrates that the average grade is +420ppm, classifying it as high grade by global standards.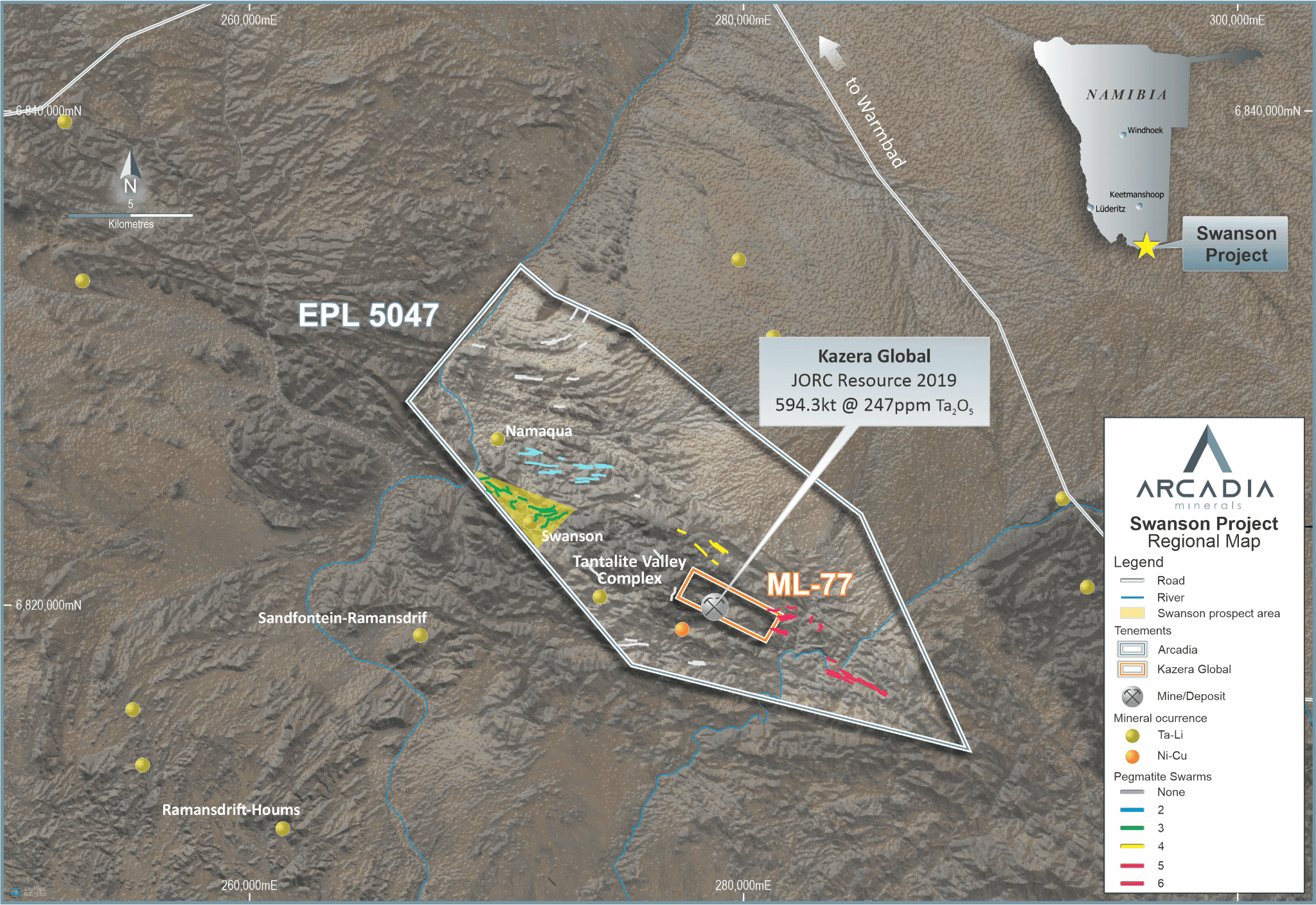 A neighboring mine operated by Kazera Global PLC has produced 594,000 tons of tantalum at a grade of 247ppm. The historical results produced by the nearby mine demonstrate the potential output that may be achievable through the Swanson Tantalum project.
The Swanson project holds the potential to become cash generative utilising inexpensive gravimetric processing methods.  The potential cash flow generated from this project could assist the Company to fund further exploration at the other projects.
Kum-Kum Nickel Project
This early-stage exploration project is located in the same area as the Swanson project and covers 787.61 square miles. The Kum-Kum project covers the Kum-Kum Igneous Complex, which has been historically shown to contain nickel and copper with grades ranging from 0.21 to 0.58 percent nickel and 0.30 to 0.50 percent copper. These results are from the 1970s and are the only results that Arcadia Minerals was able to obtain. However, surface sampling completed by Arcadia Minerals returned results of 4.62 percent nickel and 6.3 percent copper.
The project also contains three underexplored mafic complexes with discovery potential for magmatic-hosted Ni-Cu-PGE massive sulfides. Further exploration is required to ascertain more information about these complexes.
Bitterwasser Lithium-in-Brine Project
This project exhibits attributes that are considered inherent to lithium-in-brine deposits. Confirming the presence of lithium-in-brine would reveal a new lithium province in Africa containing this valuable element. The Brukkaros Volcano as a potential source of the lithium, mineralised clay pans in the area, geothermal activity, known brines in water boreholes, favourable geology that supports the forming of a closed basin and an arid climate at similar latitudes than the famous Lithium Triangle in South America also indicate that the Bitterwasser project is very prospective for lithium exploration.
The Bitterwasser Lithium-in-Brine project is supported by environmental and geologic indicators that all indicate the presence of high grades of lithium, both in clay and in brine. Further exploration is required to determine the amount and grade of lithium in this project.
Karibib Project
The Karibib Project is located approximately 45 kilometers south of the town of Karibib. This project covers 409.86 square kilometers and is located south of the Navachab Gold Mine, the home of an important gold discovery in 2019.
This project contains a regional magnetic structure that is 1-2 kilometers wide and 20 kilometers in length. A recently completed grab sampling program returned results that confirmed mineralisation in conducive mineralogical environments that is known to yield economic deposits in the area.  Average results from 57 sites over the exposed area of the structural feature returned values that include 4.32 % Cu (highest 28.40% Cu), 2.06 g/t Au (highest 26.30 g/t Au) and 50.50 g/t Ag (highest 453 g/t Ag).
Arcadia Minerals' Management Team
Philip Le Roux — Chief Executive Officer
Philip Le Roux has 30 years of experience in exploration, mining and economic geology, with extensive exposure to different geological terrains worldwide. Le Roux commenced his career as a Mine Geologist for Gencor Limited, then became a Mining Analyst for the Industrial Development Corporation of South Africa and operated as an independent consultant to several junior and mid-tier mining companies. Le Roux has progressed numerous projects from greenfields to feasibility and into production. Le Roux was responsible for progressing the projects that are the subject of the acquisitions by Arcadia from a technical point of view. Le Roux is a member of the Geological Society of South Africa and holds an Honours Degree in Geology from the University of Stellenbosch.
Jurie Wessels — Executive Chairman
Jurie Wessels has 24 years' experience in the exploration industry and co-founded a number of exploration and mining companies including public companies such as Bauba Resources Ltd (BAU.J), GoldStone Resources Ltd (GRL.L), and Vanadium Resources Ltd (ASX:VR8) where he is currently executive chairman. Wessels has in depth experience in the creation, funding and management of exploration and mining companies.  He also formed various exploration companies active in Africa, South America and Europe and practiced as a minerals lawyer up to 2003, but is still admitted as an attorney (non-practicing) and a notary of the High Court of South Africa.
---
INN does not provide investment advice and the information on this profile should not be considered a recommendation to buy or sell any security. INN does not endorse or recommend the business, products, services or securities of any company profiled.
The information contained here is for information purposes only and is not to be construed as an offer or solicitation for the sale or purchase of securities. Readers should conduct their own research for all information publicly available concerning the company. Prior to making any investment decision, it is recommended that readers consult directly with Arcadia Minerals and seek advice from a qualified investment advisor.
The post Arcadia Minerals appeared first on Investing News Network.
testing
covid-19
gdp
gold
africa
south america
europe
Breaking the tape
The top performers among drugs launched in 2020 were each the first of their kind.
Breaking the tape
The top performers among drugs launched in 2020 were each the first of their kind.
By Joshua Slatko • josh.slatko@medadnews.com
The leaders in pharma's Class of 2020 were all firsts. Veklury, for COVID, and Tepezza, for thyroid eye disease, were each the first drug of any kind to be approved by FDA for their respective disease targets. And while other treatments for migraine exist, Ubrelvy was the first orally administered calcitonin gene-related peptide (CGRP) receptor antagonist (gepant) for the treatment of migraine attacks once they start. The era of follow-ons in pharma may not entirely be over; but surely the industry's researchers are still breaking barriers. 
Veklury
The very first drug to be approved in the United States for the treatment of COVID-19, Gilead's Veklury received emergency use authorization from FDA during May 2020, an expanded EUA three months later, and full approval for treating patients with COVID requiring hospitalization during October 2020. Veklury had originally been developed for the treatment of hepatitis C and had been studied in Ebola and Marburg virus, without success. 
FDA approval was based on three randomized controlled trials including final results of the National Institute of Allergy and Infectious Diseases' double blind, placebo-controlled Phase III ACTT-1 trial, which showed that treatment with Veklury resulted in clinically meaningful improvements across multiple outcome assessments compared with placebo in hospitalized patients with COVID-19. Based on the strength of these data, Veklury became a standard of care for the treatment of COVID-19 in hospitalized patients.
In the randomized, double-blind, placebo-controlled ACTT-1 trial, Veklury significantly improved time to recovery as compared to placebo – by five days in the overall study population (10 versus 15 days) and seven days in patients who required oxygen support at baseline (11 versus 18 days). As a secondary endpoint, Veklury also reduced disease progression in patients needing oxygen, resulting in a significantly lower incidence of new mechanical ventilation or ECMO (13 percent versus 23 percent). In the overall patient population, there was a trend toward reduced mortality with Veklury compared with placebo at Day 29.
In June 2021, Gilead announced positive data from three retrospective studies of the real-world treatment of patients hospitalized with COVID-19, adding to the body of mortality and hospital discharge data for patients treated with Veklury. All three of the real-world analyses observed that, in the overall patient populations, patients who received Veklury treatment had significantly lower risk for mortality compared with matched controls. A reduction in mortality was observed across a spectrum of baseline oxygen requirements. The results were consistently observed at different time frames over the course of the pandemic and across geographies. Two of the studies also observed that patients who received Veklury had a significantly increased likelihood of discharge from the hospital by Day 28.
In January 2022, FDA granted expedited approval of a supplemental new drug application for Veklury for the treatment of non-hospitalized adult and adolescent patients who are at high risk of progression to severe COVID-19, including hospitalization or death. The expanded indication allowed for Veklury to be administered in qualified outpatient settings that can administer daily intravenous infusions over three consecutive days. FDA also expanded the pediatric EUA of Veklury to include non-hospitalized pediatric patients younger than 12 years of age who are at high risk of disease progression.
These actions by FDA came amidst a surge in COVID-19 cases and the reduced susceptibility to several anti-SARS-CoV-2 monoclonal antibodies (mAbs) due to the Omicron variant. In contrast, Veklury targets the highly conserved viral RNA polymerase, thereby retaining activity against existing SARS-CoV-2 variants of concern. In vitro laboratory testing has shown that Veklury retains activity against the Omicron variant. 
The FDA sNDA approval, pediatric EUA expansion, and updated National Institutes of Health Treatment Guidelines for COVID-19 that additionally recommend Veklury for treatment in non-hospitalized settings were based on results from the PINETREE Phase III randomized, double-blind, placebo-controlled trial. The study evaluated the efficacy and safety of a three-day course of Veklury for intravenous use for the treatment of COVID-19 in non-hospitalized patients at high risk for disease progression. An analysis of 562 participants randomly assigned in a 1:1 ratio to receive Veklury or placebo, demonstrated that treatment with Veklury resulted in a statistically significant 87 percent reduction in risk for the composite primary endpoint of COVID-19 related hospitalization or all-cause death by Day 28 (0.7 percent, 2/279) compared with placebo (5.3 percent, 15/283). In the study, no deaths were observed in either arm by Day 28.
In February, Gilead released data demonstrating the in vitro activity of Veklury against 10 SARS-CoV-2 variants, including Omicron. Results of Gilead's studies were consistent with other in vitro studies independently conducted by researchers from institutions in other countries, including Belgium, the Czech Republic, Germany, Poland and the United States, which confirmed Veklury's antiviral activity against multiple previously identified variants of SARS-CoV-2, including Alpha, Beta, Gamma, Delta and Omicron.
The study analyzed in vitro antiviral activity by two methods to understand the susceptibility of 10 major SARS-CoV-2 variants to Veklury. The study results showed similar activity of Veklury against the variants and an early ancestral A lineage isolate detected in Seattle, Wash. (WA1 strain). Specifically, Delta and Omicron variants both remained fully susceptible to Veklury, and these laboratory results demonstrated that Veklury has remained active against all major variants isolated over the past two years.
In April, FDA approved a supplemental new drug application for Veklury for the treatment of pediatric patients who are older than 28 days, weighing at least 3 kg, and are either hospitalized with COVID-19 or have mild-to-moderate COVID-19 and are considered high risk for progression to severe COVID-19, including hospitalization or death. This approval made Veklury the first and only approved treatment for pediatric COVID patients in the United States. Under the expanded indication, a three-day Veklury treatment regimen is recommended to help prevent hospitalization in non-hospitalized COVID-19 pediatric patients who are at high risk for COVID-19 disease progression. For hospitalized pediatric patients who do not require invasive mechanical ventilation and/or ECMO, a five-day treatment course is recommended. The approval was supported by results from the CARAVAN Phase II/III single arm, open-label study, which demonstrated that Veklury was generally well-tolerated among pediatric patients hospitalized with COVID-19 with a high proportion of participants showing clinical improvement and recovery, as well as data from trials in adults.
Tepezza
When it earned approval in January 2020, Horizon Therapeutics' Tepezza became the first and only FDA-approved medicine for thyroid eye disease, a serious, progressive and vision-threatening rare autoimmune disease that is associated with proptosis (eye bulging), diplopia (double vision), blurred vision, pain, inflammation, and facial disfigurement. Tepezza is a fully human monoclonal antibody (mAb) and a targeted inhibitor of the insulin-like growth factor-1 receptor (IGF-1R) that is administered to patients once every three weeks for a total of eight infusions.
The FDA approval of Tepezza was supported by a robust body of clinical evidence, including statistically significant, positive results from the Phase II clinical study, as well as the Phase III confirmatory clinical study OPTIC. The OPTIC study found that significantly more patients treated with Tepezza (82.9 percent) had a meaningful improvement in proptosis (≥ 2 mm) as compared with placebo patients (9.5 percent) without deterioration in the fellow eye at Week 24. Additional secondary endpoints were also met, including a change from baseline of at least one grade in diplopia (double vision) in 67.9 percent of patients receiving Tepezza compared to 28.6 percent of patients receiving placebo at Week 24. In a related analysis of the Phase II and Phase III clinical studies, there were more patients with complete resolution of diplopia among those treated with Tepezza (53 percent) compared with those treated with placebo (25 percent).
In October 2020, Horizon announced new long-term follow-up data from the Phase II clinical trial of Tepezza, which showed a sustained response up to one year following completion of treatment for thyroid eye disease. All patients with Week 72 data (37/37) reported some improvement in at least one of the study outcomes from baseline. 97 percent (36/37) of study participants had an improvement in clinical activity score (decrease of at least 1 point). 86 percent (31/36) had any decrease in proptosis. One patient chose elective TED surgery at Week 70 and did not have proptosis measurements at Week 72. Of patients with baseline diplopia, 70 percent (23/33) had an improvement of at least one grade. 70 percent (26/37) had disease inactivation (CAS of 0 or 1 point).
During December 2020, Horizon announced that the company expected a short-term disruption in Tepezza supply as a result of government-mandated COVID-19 vaccine production orders related to Operation Warp Speed that dramatically restricted capacity available for the production of Tepezza at its drug product contract manufacturer, Catalent. In March 2021, FDA cleared a prior approval supplement to the previously approved Biologics Licensing Application giving Horizon authorization to manufacture more Tepezza drug product resulting in an increased number of vials with each manufacturing slot. The company began to resupply the market in April, which ended the supply disruption.
In April 2021, new pooled data from the Tepezza Phase II and III trials was published in The Lancet Diabetes & Endocrinology. This data further reinforced that Tepezza significantly improves proptosis and diplopia for TED patients in different subgroups, with most maintaining a long-term response. There was no evidence for acute disease rebound (increase in percentage of patients no longer meeting proptosis, diplopia or ophthalmic composite outcome) seven weeks after the last dose of Tepezza. Proptosis (87 percent; 62/71), diplopia (66 percent; 38/58) and ophthalmic composite outcome (92 percent; 66/72) responses were observed seven weeks after the last dose of Tepezza. A post-hoc analysis of the composite ophthalmic outcome indicated that 81 percent (68/84) of Tepezza patients versus 44 percent (38/87) of placebo patients were responders at Week 24. Proptosis (67 percent; 38/57), diplopia (69 percent; 33/48) and composite outcome response (83 percent; 48/58) were observed 51 weeks after the last dose of Tepezza for those who had long-term off-treatment data available.
Additionally, in a post-hoc analysis, Tepezza-treated patients with more severe disease (those with ≥3 mm of proptosis and/or inconstant or constant diplopia) and those with less severe disease at baseline both experienced significant improvements in proptosis and diplopia. In patients with more severe disease, those treated with Tepezza had a proptosis response of 79 percent (50/63) compared to 17 percent (11/65) of those who received placebo, and a diplopia response of 68 percent (38/56) compared to 31 percent of those who received placebo (15/49). In patients with less severe disease, those treated with Tepezza had a proptosis response of 71 percent (15/21) compared to 9 percent in those who received placebo (2/22), and a diplopia response of 80 percent (8/10) compared to 30 percent in placebo (3/10).
In post-hoc analyses, patients who received Tepezza in both the lower baseline CAS subgroup (4 or 5) and the higher CAS subgroup (6 or 7) demonstrated statistically significant improvements compared with placebo in proptosis and diplopia. Overall response and CAS of 0 or 1 response also improved.
Post-hoc analysis from the Phase III study also demonstrated that in patients treated with Tepezza, those with higher (≥10 IU/L) or lower (<10 IU/L) serum thyrotropin-binding inhibitory immunoglobulin (TBII) baseline levels both had a proptosis response (mean reduction of -3.65 mm and -3.01 mm, respectively) with no treatment difference between the two groups. In patients with higher baseline TBII, 71 percent (10/14) of patients who received Tepezza experienced an improvement in diplopia compared to 23 percent (3/13) of patients who received placebo.
In November 2021, Horizon announced findings of a real-world adherence analysis of Tepezza for the treatment of TED. The analysis found that more than 90 percent (n=995) of people who were prescribed Tepezza for TED went on to complete all eight infusions, indicating a high level of adherence to the medicine in clinical practice. The study evaluated 1,101 people living with TED (71 percent female, mean age 58 years) who started treatment with Tepezza prior to July 2020. Non-compliance was low at approximately 1 percent (n=15). Only 8 percent (n=84) reported that they discontinued because of adverse events.
In June 2022, Horizon announced results of a new analysis examining rates of hyperglycemia among patients treated with Tepezza for TED compared to placebo in the Phase II and OPTIC Phase III clinical trials. The analysis found a total of nine adverse event reports of hyperglycemia in eight patients (8/84, 10 percent) who received Tepezza, and one patient (1/86; 1.2 percent) who received placebo. The majority (5/8, 63 percent) of patients who experienced hyperglycemia while taking Tepezza had pre-existing diabetes. Of the hyperglycemic AEs reported in the Tepezza-treated patients, all were controlled with medicine. All reported AEs were grade 1 (>ULN-160mg/dl) or grade 2 (161 – 250mg/dl), and none led to study discontinuation. HbA1c levels increased by 0.22 percent in those treated with Tepezza compared to 0.04 percent among placebo patients.
Ubrelvy
Approved by FDA in late December of 2019, Ubrelvy was the first orally administered calcitonin gene-related peptide (CGRP) receptor antagonist (gepant) for the treatment of migraine attacks once they start. Ubrelvy works by blocking CGRP, a protein that is released during a migraine attack, from binding to its receptors. It works without constricting blood vessels, which some older treatments were known to do. FDA's approval was based on four clinical studies (ACHIEVE I, ACHIEVE II, UBR-MD-04, and 3110-105-002), which demonstrated efficacy, safety, and tolerability of orally administered Ubrelvy in the acute treatment of migraine. Both 50 mg and100 mg dose strengths demonstrated significantly greater rates of pain freedom and freedom from the most bothersome migraine-associated symptom at two hours, compared with placebo. Ubrelvy joined AbbVie's portfolio when that company completed its acquisition of Allergan in May 2020. 
In August 2020, AbbVie announced Serena Williams as the spokesperson for Ubrelvy to raise awareness of an effective acute treatment option for people living with migraine. The multichannel marketing campaign featuring Williams highlighted how Ubrelvy works for people with different lifestyles by helping individuals treat their migraine attacks anytime, anywhere. As spokesperson, she was featured in a video, available on social media, talking with neurologist and paid AbbVie consultant Dr. Jennifer McVige about her experience with migraine and Ubrelvy. Williams was also included in print and digital advertising and other marketing initiatives.
In September 2021, FDA approved Abb­Vie's Qulipta, another drug from the gepant family, for the preventive treatment of episodic migraine in adults. Qulipta is the first and only oral calcitonin gene-related peptide receptor antagonist specifically developed for the preventive treatment of migraine. The approval was supported by data from a robust clinical program evaluating the efficacy, safety, and tolerability of Qulipta in nearly 2,000 patients who experienced 4 to 14 migraine days per month, including the pivotal Phase III ADVANCE study, the pivotal Phase IIb/III trial, and the Phase III long-term safety study.
In the pivotal Phase III, multicenter, randomized, double-blind, placebo-controlled, parallel-group ADVANCE trial, the primary endpoint was change from baseline in mean monthly migraine days across the 12-week treatment period. All Qulipta dose groups met the primary endpoint and demonstrated statistically significant reductions in mean monthly migraine days compared to placebo. Patients treated with 60 mg of Qulipta across 12 weeks experienced a 4.2-day reduction from baseline of 7.8. A key secondary endpoint in the ADVANCE trial measured the proportion of patients that achieved a ≥50 percent reduction in monthly migraine days across the 12-week treatment period. The trial demonstrated that 56 percent/59 percent/61 percent of patients in the 10 mg/30 mg/60 mg Qulipta arms, respectively, achieved a 50-100 percent reduction, compared to 29 percent of patients in the placebo arm.
During June, AbbVie submitted a supplemental NDA to FDA for Qulipta to support the preventive treatment of chronic migraine in adults. If approved, Qulipta would be the first gepant cleared for the broad indication of the preventive treatment of migraine, including episodic and chronic. The supplemental NDA submission includes data from the pivotal Phase III PROGRESS trial in patients with chronic migraine, which supplements the existing data in episodic migraine. People living with chronic migraine experience headaches for 15 or more days per month, which, on at least eight of those days per month, have the features of migraine.
The Phase III PROGRESS trial met its primary endpoint of statistically significant reduction from baseline in mean monthly migraine days compared to placebo across the 12-week treatment period in adults with chronic migraine. The trial also demonstrated that treatment with Qulipta 60 mg once daily (QD) and 30 mg daily (BID) resulted in statistically significant improvements in all six secondary endpoints. This includes a key secondary endpoint that measured the proportion of patients that achieved at least a 50 percent reduction in mean monthly migraine days across the 12-week treatment period. 
| | |
| --- | --- |
| | Josh Slatko is contributing editor of Med Ad News and PharmaLive.com. |
emergency use authorization
pandemic
covid-19
vaccine
treatment
testing
fda
clinical trials
vaccine production
antibodies
monoclonal antibodies
rna
mortality
deaths
recovery
germany
poland
czech
How to Use Dividends to Find the Best Tech Stock
Investors Alley
How to Use Dividends to Find the Best Tech Stock
When we talk about tech stock investing, we hear discussions of all sorts about different…
Investors Alley
How to Use Dividends to Find the Best Tech Stock
When we talk about tech stock investing, we hear discussions of all sorts about different measures used for picking stocks.
For example, some tech investors use year-over-year revenue growth. Others subscribe to a theory that has been floating around for many years, that the secret to picking tech stocks was looking at the percentage of cash flows spent on research and development.
All too often, tech stock analysis consists of storytelling and searching for ideas that will change the world, something I've heard thousands of times during my career. The number of companies that actually did change the world probably totals up to a few dozen over three decades.
Some of those beat the market. Others did not.
I have found a variable that can help tech investors spot promising opportunities to identify technology companies that have higher probabilities of providing market-beating returns: dividends.
Note a stock's dividend yield: investors who want higher dividends with an overall total return would be smart to look into high-yield tech stocks as part of their income strategy. The key to using dividends to find market-beating tech stocks is to look at the rate of their dividend growth. It doesn't matter how high the dividend is at any given time. We want to see companies that are consistently growing their dividends.
A tech company that pays a dividend is making a statement. It tells the world: "We are generating enough cash to pay the bills, hire great people, and fund our future growth plans as well as R&D. In fact, we are generating so much cash we have some left over to pay out to our investors."
Ideally, we want to limit our universe of companies to those who are increasing their payout by at least 20% annually. Growing a dividend at that high a rate says that things are just continuing to get better.
Once we have a universe of tech companies that are growing their payouts at high levels, we want to make sure we only own those that really do have a wonderful business that just keeps getting better. We want to use a financial checklist to make sure our companies are in excellent financial shape and have what it takes to keep growing the business.
I prefer the nine-point checklist developed by Professor Joseph Piotroski when he was at the University of Chicago – known as the "Piotroski F-Score". This is a list of nine criteria of profitability, leverage, and efficiency. On each criterion, a firm can either get one or zero points – pass or fail.
I limit my universe of tech stocks with paid dividend growth to just two to three with the highest scores on the Piotroski checklist.
Using this simple method for picking tech stock winners has crushed the S&P 500 over the past decade and even edged at the tech-heavy NASDAQ 100.
Texas Instruments (TXN) makes the current list of technology companies with high dividend growth and outstanding fundamentals and prospects. The company makes most of its revenues from semiconductors, but it does still have some revenues from its calculators and other business machines. (I have had one of these, a Texas BAII calculator, within arm's reach for most of my career.)
Texas Instruments had a solid second quarter and increased its guidance for the third quarter. The company has not suffered the China slowdown problems that have plagued some of their competitors so far. The brightest spot in the recent report was semiconductors being sold to the automobile industry, which were up 20%.
Although we have seen some slowdown in semiconductors due to the supply chain issues created by the pandemic, Texas Instruments has powerful tailwinds from all the developments we see in technology over the next decade.
Every one of the hottest trends in the economy—from renewable energy to artificial intelligence and everything in between—is going to increase demand for semiconductor chips. There are thousands of semiconductors in every electric vehicle, which will be another massive source of demand for the industry.
Texas Instruments has a yield of 2.5% right now, and has been growing that payout by 20.5% annually.
Another semiconductor company, Broadcom (AVGO) has the fastest-growing payout on our list right now. The company makes chips for smartphones, networking, broadband, and wireless connectivity. Broadcom's recent purchase of Symantec's Enterprise Business also puts it in the cybersecurity business.
Broadcom's shares currently yield 2.97% and the payment has risen by an average of 49% annually for the past five years.
Most investors will never think of using dividends as part of the stock selection process. Rigorous testing shows that dividend growth is actually an important part of identifying companies with the potential to be huge winners.
My favorite way to invest in those companies isn't to buy their stock, though. Instead, I like to use a special, little-known investment that lets me invest in these companies for up to 18% less than what others pay…
While collecting twice or more the dividend yield!
All without any more risk. I'm tracking 5 opportunities like that right now, and I lay them all out right here.
But using them, I can beat the market 2-to-1 while collecting 2-10X MORE yield from regular dividend stocks.
I learned this trick while I was rubbing elbows with some of the biggest fund managers in US history.
They too are buying these little known funds, cashing in huge discounts and collecting income while they do it.
How to Use Dividends to Find the Best Tech Stock
Tim Melvin
sp 500
nasdaq
stocks
pandemic
testing
china
Where Carnival, Norwegian, Royal Caribbean Sit on Covid Vaccines
Do You still need to be vaccinated to go on a Royal Caribbean, Carnival, or Norwegian Cruise?
Do You still need to be vaccinated to go on a Royal Caribbean, Carnival, or Norwegian Cruise?
Cruise line covid-19 vaccination and testing rules, which were imposed by the Centers for Disease Control and Prevention at the beginning of the pandemic, have been stricter than most. After the pandemic started in early 2020, the CDC signed a No Sail Order on March 14, 2020, which was finally lifted after nearly eight months on Oct. 30, 2020.
After the No Sail Order was lifted, the CDC enacted extremely restrictive rules and regulations to help keep passengers safe with the covid pandemic still raging throughout the world. The rules and regulations were set forth to begin to return cruise lines to operational status.
The cruise lines first had to be staffed accordingly and set up with the ability to test, treat and quarantine for covid medical emergencies. Testing for crew and passengers before embarkment and before dis-embarkment was required. The testing at pre-embarkment was a measure to protect those boarding, while the post-trip testing was for determining if an infection started on the cruise line itself. Being able to track the virus was very important in the prevention of spreading the virus and protecting patrons.
Vaccination Still Not a Free Pass to Board
Once the vaccination was developed and approved, it became part of the CDC guidelines for cruise line adult passengers to have their vaccination before boarding. Even with a vaccination, guests still needed to test before they boarded the cruise lines. As the vaccine was approved for younger age groups, those age groups were then also required to have the vaccine to travel. Passengers were required to be fully vaccinated unless they are exempt by some status.
Before boarding, cruise line passengers who tested positive, as well as their travel companions, were not allowed to board, depending on the cruise line and how long the cruise may be. Some passengers were allowed to board and then isolate, others would have to reschedule their trip. Trip insurance is a good buy these days.
Cruise Lines Letting Loose on Vaccine Policies
Carnival Cruise Line  (CCL) - Get Carnival Corporation Report has now removed pre-cruise testing for vaccinated guests and also welcomes unvaccinated guests to travel. Fully vaccinated guests traveling less than 16 nights with the cruise line will no longer be subjected to testing, but still must provide proof of their vaccination status. Unvaccinated travelers will only need to provide a negative covid test result to board the ships. All rules and regulations are still subject to the destination country's guidelines.
According to the Healthy Sail Center for Royal Caribbean  (RCL) - Get Royal Caribbean Group Report, the cruise line has updated its covid vaccination protocol. The cruise line will now allow passengers regardless of vaccination status to board in some ports if the travelers meet the testing requirements. Testing requirements vary by cruise departure and destination. Check the cruise lines port departure for updated information on requirements.
There is, however, a major exception, at least for now, which is obvious when you look at the specific wording shared by the cruise line:
"Starting with September 5 departures, all travelers regardless of vaccination status can cruise on the following itineraries, as long as they meet any testing requirements to board.
Cruises from Los Angeles, California.
Cruises from Galveston, Texas.
Cruises from New Orleans, Louisiana.
Cruises from a European homeport.
Notice that Florida, a major port for the cruise line, is not currently on the list.
In the U.S. aside from Florida, any guest with a valid negative covid test within the last three days will be able to board. These guests will also not be required to take a second test at the boarding terminal. Fully vaccinated guests do not need to provide proof of a negative covid test for shorter cruises. See the cruise line website for all updated information as it is subject to change.
Beginning Sept. 3, Norwegian Cruise Line  (NCLH) - Get Norwegian Cruise Line Holdings Ltd. Report is dropping its covid vaccine requirements for all its cruises. The cruise line stated that it is continuing to follow requirements for all destination countries, so guests traveling will want to check on destination vaccine and testing requirements. All guests 12 and older regardless of vaccination need to show proof of a negative test within 72 hours. Check NCL online for further instructions prior to travel.
The CDC has taken the stance that travelers are now well informed enough to make their own decisions when it comes to traveling on cruise lines. The travelers are taking their own assumed risk for their health and well-being. Cruise lines are now welcoming this new freedom for their passengers. 
cdc
disease control
pandemic
covid-19
vaccine
testing
quarantine
european