3.5 Trillion Reasons To Brace For Tomorrow's Massive Quad-Witching Expiration
3.5 Trillion Reasons To Brace For Tomorrow's Massive Quad-Witching Expiration
As Goldman's head of FX sales Tony Pasquariello wrote last Friday,…
3.5 Trillion Reasons To Brace For Tomorrow's Massive Quad-Witching Expiration
As Goldman's head of FX sales Tony Pasquariello wrote last Friday, "next week is a huge one, featuring the FOMC on Wednesday and a major derivatives expiry on Friday." And indeed, now that the Fed's rate hike is officially a fact and in the rearview mirror, Wall Street traders are bracing for the week's final fireworks.
In the quarterly event known as "quad witching" (technically, it's been "triple" since the close of OneChicago in September 2020, when single stock futures ceased trading, but for veteran traders it will always be quad), over $3.5 trillion of Index Options, Index Futures and Single Stock Options expire, either at the open of trade or at the close.
Adding to the frenzy, at the same time more near-the-money options are maturing than at any time since 2019 meaning that highly caffeinated traders will actively be trading around those positions as they seek to capitalize on any drift away "pins" (we will have a full list of the stocks most likely to see significant volatility tomorrow morning).
Furthermore, according to Goldman's Rocky Fishman, investors will also be watching the ETN market given the substantial size of expiring VXX. As a reminder, the VXX - the single largest volatility-tracking ETN - has been trading at a 12% premium to its NAV since its issuer suspended creations...
... and should the VXX rally strongly from its current level, its in-the-money call options would be large relative to shares outstanding.
Tomorrow's quad witching also coincides with a rebalancing of benchmark indexes including the S&P 500, a two-for-one special that leads to soaring trading volumes that rank among the highest of the year. According to an estimate from Howard Silverblatt, senior index analyst at S&P Dow Jones Indices, the rebalance in the index alone could spur $33 billion of stock trades.
Traditionally, over the past year, "quad witches" have seen poor market returns, however heading into tomorrow's option expiration, the S&P is posting the best 3-day return since the Dec 2020 election.
So is the party about to end? As many contracts expire, Bloomberg notes that the key question is whether investors will rebuild their record holdings of index puts amid growth concerns and the war in Ukraine -- or will they come out of their shells, and chase the market rebound with call contracts, creating a negative gamma meltup at a time when most dealers are still short gamma.
Or will stocks tumble as trading desks such as JPMorgan "sell the rally" to naive investors who listen to the bank's latest call to buy the dip.
But while retail investors are confident they know how to trade tomorrow's chaos, veteran traders are ducking for cover: "I've never seen an environment where you've had so many potential overhangs in the market that can not be controlled," said David Wagner, a portfolio manager at Aptus Capital Advisors. "We'll see if people can see to redeploy their puts."
If not, we may get an extension of the meltup as an avalanche of put closing sparks a delta cascade: exploding derivatives volume has been a fixture of the post-pandemic market -- whipsawing underlying stocks in both directions, again and again. To strategists including Nomura's Charlie McElligott, this week's advance in the S&P 500 has again been amplified by the hedging activity of market-makers. And should we get another gamma squeeze, the S&P may soar.
On the other hand, many of the usual catalysts for a melt up are missing: thanks to the recent surge in stocks, dealers are now flat gamma, meaning they no longer have to accentuate market trends..
Meanwhile, thanks to the recent 3-day meltup, the negative delta has also been unwound faster than anticipated. Notably, as SpotGamma explains, yesterday saw a total lack of positive call deltas in the SPY & QQQ. You can see below that SPY traders were fairly heavy call sellers into the AM short-stock cover, and then after 1PM ET and through the FOMC flow was neutral. The QQQ chart was similar.
Commenting on the same phenomenon, Nomura's McElligott writes that the "Short Delta" hedge cover on the murdering of downside Puts led to move short-covering of client dynamic hedges in futures too, where for ES, the bank's imbalance monitor showed what was the second largest day of "buy pressure" over the past month for all lot sizes, led by what looked like straight-up VWAP style buying-to-cover (slicing your order in the machine over "small lots")
Another reason why stocks could defy prevailing sentiment, which as the latest Fear and Greed index describes simply as "fear"...
... is technicals and positioning. As Marko Kolanovic notes, current risk positioning is very light as a result of high and persistent volatility, and risk aversion caused by global geopolitical developments: "the AAII bull-bear indicator at -27 is near its 2020 lows and 2 standard deviations below average. Equity exposure for volatility sensitive investors – the largest and fastest group of investors (including insurance, risk parity, dynamically hedged portfolios, HF platforms, etc.) – is now in its ~5-10th percentile, and for this reason risks are skewed to the upside." Meanwhile, with market sentiment weak and institutional-fund exposure to equities near mutliyear lows, caution in the derivatives market is everywhere. The 20-day average of the Cboe put-call ratio for equities, for example, hovers near a two-year high, which means that once again many are hedged and with little impetus to sell, stocks may simply melt up instead.
For those asking which strikes matter the most now into Op-Ex / and what % of overall gamma is set to expire along with the current and max Gamma sensitivity, here is the answer courtesy of Nomura.
SPX / SPY currently "pinning" btwn 4400 strike ($4.1B $Gamma), 4350 ($2.5B), 4300 ($2.4B); currently see ~43% of the $Gamma dropping-off for Friday's expiration; currently at "Zero Gamma" level, "Max Short Gamma" at 4125 and -$17B per 1% move
Source: Nomura
QQQ $350 strike ($640mm $Gamma), $345 ($608mm), $340 ($595mm); currently see 56% of the $Gamma dropping-off for Friday's expiration; currently at "Zero Gamma" level, "Max Short Gamma" at $314 and ~-$1.7B per 1%
Source: Nomura
IWM $200 strike ($471mm $Gamma), $205 ($274mm), $195 ($199mm); currently see 63% of the $Gamma dropping-off for Friday's expiration; currently a modest "Short Gamma vs Spot" at -$100mm per 1% currently, "Max Short Gamma" at $192 and ~-$600mm per 1%
Source: Nomura
HYG $82 strike ($973mm $Gamma), $81 ($799mm), $80 ($477mm); currently see 58% of the $Gamma dropping-off for Friday's expiration; currently still very "Short Gamma vs Spot" at -$1.0B per 1% move, "Max Short Gamma" at $79, -$1.2B per 1% move
That is a lot of gamma to 'unclench'.
In any case, amid this cacophony of bullish and bearish catalysts, it is virtually impossible to come up with a coherent case for either sustained market upside or another sharp burst of selling: "We see a general trend of continued risk aversion among investors, and expectations that the stock market remains volatile," said Steve Sears, president at Options Solutions. "There are so many major events that could change the market's tempo that hedging and patient fortitude appears to be the message from the options market."
Tyler Durden
Thu, 03/17/2022 - 21:25
dow jones
sp 500
equities
stocks
pandemic
fomc
fed
ukraine
Amazon has a fix for a big problem Walmart, Target can't offer
The online retailer has found a way to make customers feel better about what they're buying that even Walmart and Target would struggle to copy.
On an aggregate level, customer reviews help people make decisions. If a product on Amazon, Walmart, or Target's website has hundreds of reviews and the average comes out about 4 stars, that's probably a good product.
The problem, however, is that it's rare that any item with a lot of reviews doesn't have a few 1-star reviews mixed in with the better ones. In many cases, the writeups with the negative reviews can give a would-be-purchaser pause, even when it seems like an outlier opinion.
That small handful of people could have had unique, not-likely-to-be-duplicated bad experiences or they could be overly critical and picky. It's also possible that those customers learned something that all the 5-star reviewers ignored, which makes acting on reviews tricky at best.
There's also the small matter that most reviewers are simply random strangers. They might have a bad experience that would not be applicable to how you might use the product or they might be idiots using the item incorrectly. 
So, product reviews are useful but have real limitations. Amazon (AMZN) - Get Free Report has found a unique way to make reviews a lot better and much more useful.   
Amazon tests a new review feature
Amazon has a lot of reasons to want customers to be happy with their purchases. The key one is that returns are both expensive and inconvenient. No customer wants to have to go to a UPS store, Kohl's, Whole Foods, or other Amazon pickup location to bring something back.
It's an added hassle that essentially undermines the reason people shop online in the first place — it's convenient and they don't have to go anywhere.
To help limit returns, Amazon has been testing a new shopping feature. Amazon Shopping Director Oliver Messenger shared the news in a post on the company's blog.
"Sometimes, it helps to get a little advice from your friends or family. But when it comes to online shopping, it can be hard to keep track of feedback from multiple people across messaging apps. Enter Amazon's latest collaborative shopping feature— Consult-a-Friend, a new mobile shopping experience we are currently testing that lets you quickly and easily request, view, and manage your friends' feedback on products within the Amazon Shopping app," he wrote.
The feature will allow shoppers to get the opinion of people they actually know who know them, which takes the anonymity out of the review process.   
Consult-a-Friend also offers other benefits.
As an example, Messenger wrote, "Not sure what to get your notoriously hard-to-buy-for dad? Survey your siblings on the newest model smart TV and see their responses in one spot."
Amazon raises the bar on shopping
Amazon has a distinct advantage that even Target and Walmart can't reach. The sheer size of the company's customer base allows it to take for granted that your friends and family are on Amazon and checking it enough to be useful for a feature like Consult-a-Friend. 
"Typically, I'm critical of any actions that add friction to a transaction, and that was my first reaction here. However, I think this makes a lot of sense. For some purchases, asking around from friends and family makes sense. This creates a digital version of my dragging my kids to a store to 'help' me buy something for my wife," 50-year retail veteran Gary Sankary shared in a comment on a RetailWire story about Consult-a-Friend. 
Messenger shared that the new feature is in the first stages of testing.
"Consult-a-Friend is currently being tested with select customers in the U.S., Australia, Belgium, Canada, France, Germany, India, Italy, Japan, Mexico, Netherlands, Poland, Spain, Saudi Arabia, Singapore, Sweden, Turkey, UAE, and the UK," he wrote.
The company has not shared plans for a full rollout or what the criteria is for the test to be considered successful.
testing
singapore
india
mexico
japan
canada
uk
france
spain
italy
germany
netherlands
sweden
poland
SpaceX CEO Elon Musk's latest move in Gaza mirrors his position with Ukraine
Elon Musk, offering Starlink connectivity to Gaza, outlined the 'extraordinary measures' SpaceX will take throughout the process.
Earlier in the year, billionaire and tech magnate Elon Musk took heat for the prominent role he played in the war between Russia and Ukraine. In his position as the CEO of SpaceX, the private company that operates Starlink, a satellite internet constellation that the Ukrainian government was granted access to shortly after the initial invasion, Musk was able to partially influence the Ukrainian military's offensives. 
In 2022, Musk received an emergency request from the Ukrainian government to enable a Starlink internet connection up to Sevastopol in Crimea, in an apparent effort to enable a strike against a Russian naval fleet. Musk, afraid of possible nuclear escalation, declined to grant the request.
"If I had agreed to their request, then SpaceX would be explicitly complicit in a major act of war and conflict escalation," Musk said. 
Related: Why Elon Musk Was Able to Exert Control in Ukraine War
The New York Times reported in July that government officials remain concerned about Musk's role in the war. 
"How am I in this war? Starlink was not meant to be involved in wars," Musk told biographer Walter Isaacson. "It was so people can watch Netflix and chill and get online for school and do good peaceful things, not drone strikes."
Just a few weeks into the outbreak and continued escalation of violence in the Middle East between Palestinian terrorist group Hamas and Israel, Musk has found himself in a similar situation.
Following an internet blackout in Gaza on Saturday, Musk wrote in a post on X that Starlink will "support connectivity to internationally recognized aid organizations in Gaza." 
He reiterated this point several times, saying that, as of Saturday, "no terminal has requested a connection in the area." 
Israel's communication minister Shlomo Karhi, responding to Musk, said that "Israel will use all means at its disposal to fight this." Karhi said that HAMAS will take advantage of any Starlink connections for "terrorist activities. There is no doubt about it, we know it and Musk knows it." 
Karhi suggested that Musk should consider making Starlink access conditional to the release of abducted Israeli citizens. 
We are not so naive.

Per my post, no Starlink terminal has attempted to connect from Gaza.

If one does, we will take extraordinary measures to confirm that it is used *only* for purely humanitarian reasons.

Moreover, we will do a security check with both the US and Israeli…

— Elon Musk (@elonmusk) October 28, 2023
Even with widespread approval, getting the hardware necessary to create a Starlink uplink into Gaza would remain a challenge. 
Musk, responding to Karhi, reiterated the fact that, as yet, no Starlink terminal has requested access. If SpaceX does see a request for Starlink access, Musk said, "we will take extraordinary measures to confirm that it is used only for purely humanitarian reasons." 
"We are not so naive," Musk wrote. 
Related: Elon Musk sheds new light on controversial decision he was criticized for
These measures, he said, will include a security check with both the U.S. and Israeli governments before SpaceX will activate "even a single terminal." 
He did not further explain the details of SpaceX's so-called "extraordinary" verification measures. SpaceX did not immediately respond to TheStreet's request for greater details on this specific point. 
In a separate post, Musk admitted to feeling global pressure to provide Starlink support for Gaza as he struggles with figuring out the best way to approach the problem. 
"Ever since he was a scrawny and socially awkward kid getting beaten up on his school playground in South Africa, Elon Musk has liked to imagine himself as a hero rushing to the rescue, engaged in epic quests," Isaacson wrote in his recent biography of Musk.
"The war in Ukraine, when no other company or even country could manage to keep communications satellites working, gave him a center-stage opportunity to show his humanitarian instincts while playing superhero." 
Get investment guidance from trusted portfolio managers without the management fees. Sign up for Action Alerts PLUS now.
africa
russia
ukraine
Carbon budget for 1.5°C will run out in six years at current emissions levels – new research
For a two-in-three chance of staying within 1.5°C, the budget shrinks to one-and-a-half years.
If humanity wants to have a 50-50 chance of limiting global warming to 1.5°C, we can only emit 250 another gigatonnes (billion metric tonnes) of CO₂. This effectively gives the world just six years to get to net zero, according to calculations in our new paper published in Nature Climate Change.
The global level of emissions is presently 40 gigatonnes of CO₂ per year. And, as this figure was calculated from the start of 2023, the time limit may be actually closer to five years.
Our estimate is consistent with an assessment published by 50 leading climate scientists in June and updates with new climate data many of the key figures reported by the Intergovernmental Panel on Climate Change (IPCC) in August 2021.
How much CO₂ can still be emitted while remaining under a certain level of warming is referred to as the "carbon budget". The carbon budget concept works because the increase in Earth's global mean surface temperature has increased in a linear fashion with the total amount of CO₂ people have emitted since the industrial revolution.
The other side of this equation is that, roughly speaking, warming stops when CO₂ emissions stop: in other words, at net zero CO₂. This explains why net zero is such an important concept and why so many countries, cities, and companies have adopted net zero targets.
We revised the remaining carbon budget down from the 500 gigatonnes reported by the the IPCC from the start of 2020. Some of this revision is merely timing: three years and 120 gigatonnes of CO₂ emissions later, the world is closer to the 1.5°C threshold. Improvements we made to the method for calculating budget adjustments shrank the remaining budget further.
Clearing the air
Alongside CO₂, humanity emits other greenhouse gases and air pollutants that contribute to climate change. We adjusted the budget to account for the projected warming caused by these non-CO₂ pollutants. To do this, we used a large database of future emissions scenarios to determine how non-CO₂ warming is related to total warming.
Some of the warming caused by greenhouse gases is offset by cooling aerosols such as sulphates – air pollutants that are emitted along with CO₂ from car exhausts and furnaces. Almost all emissions scenarios project a reduction in aerosol emissions in the future, regardless of whether fossil fuels are phased out or CO₂ emissions continue unabated. Even in scenarios where CO₂ emissions increase, scientists expect stricter air quality legislation and cleaner combustion.
In its most recent report, the IPCC updated its best estimate of how much air pollution cools the climate. As a result, we expect that falling air pollution in future will contribute more to warming than previously assessed. This reduces the remaining 1.5°C budget by about another 110 gigatonnes.
Other updates we made to the carbon budget methodology tend to reduce the budget even more, such as projections of thawing permafrost that were not included in earlier estimates.
All is not lost
It is important to stress that many aspects of our carbon budget estimate are uncertain. The balance of non-CO₂ pollutants in future emissions scenarios can be as influential on the remaining carbon budget as different interpretations of how the climate is likely to respond.
We also do not know for sure whether the planet will really stop warming at net zero CO₂ emissions. On average, evidence from climate models tends to suggest it will, but some models show substantial warming continuing for decades after net zero is reached. If further warming after net zero is the case, the budget would be further reduced.
These uncertain factors are why we quote a 50/50 likelihood of limiting warming to 1.5°C at 250 gigatonnes of CO₂. A more risk-averse assessment would report a two-in-three chance of staying under 1.5°C with a remaining budget of 60 gigatonnes - or one-and-a-half years of current emissions.
Time is running out to limit global heating to 1.5°C above pre-industrial levels. While we have revised the remaining carbon budget, the message from earlier assessments is unchanged: a dramatic reduction in greenhouse gas emissions is necessary to halt climate change.
It looks less likely that we will limit warming to 1.5°C, but this does not mean that we should give up hope. Our update also revised the budget for 2°C downwards relative to the IPCC's 2021 estimate, but by a smaller amount – from 1,350 to 1,220 gigatonnes, or from 34 to 30 years of current emissions. If current national climate policies are fully implemented (admittedly, an optimistic scenario), this may be enough to hold warming below 2°C.
The risks of triggering tipping points such as the dieback of the Amazon rainforest increase – sometimes sharply – with increasing warming, but 1.5°C itself is not a hard boundary beyond which climate chaos abounds.
With effective action on emissions, we can still limit peak warming to 1.6°C or 1.7°C, with a view to bringing temperatures back below 1.5°C in the longer term.
This is a goal absolutely worth pursuing.
---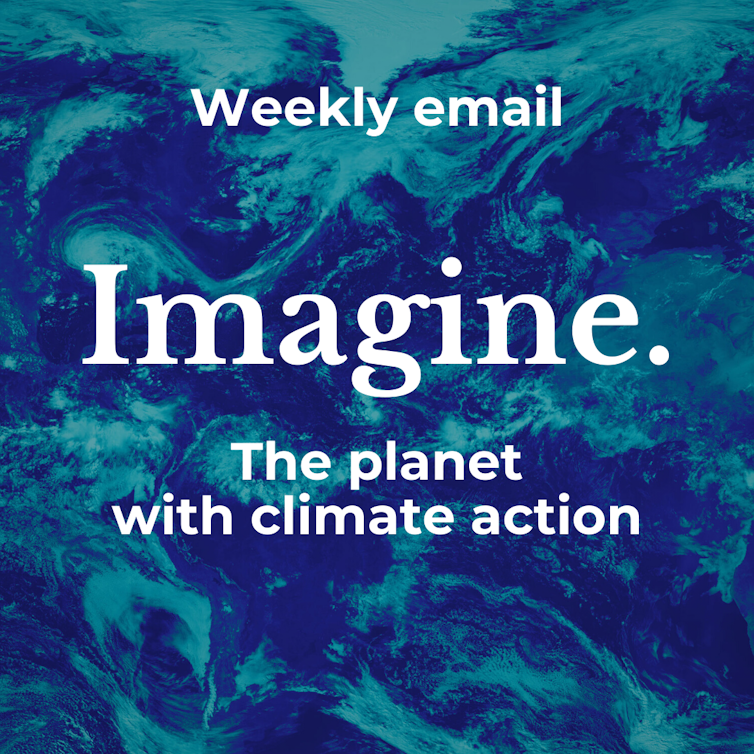 Don't have time to read about climate change as much as you'd like?
Get a weekly roundup in your inbox instead. Every Wednesday, The Conversation's environment editor writes Imagine, a short email that goes a little deeper into just one climate issue. Join the 20,000+ readers who've subscribed so far.
---
Chris Smith receives funding from the Natural Environment Research Council and UK Research and Innovation.
Robin Lamboll has received EU Horizon funding from PROVIDE and CONSTRAIN.
uk
eu