18/4/20: Shocking Wave of Jobs Destruction in the U.S.
18/4/20: Shocking Wave of Jobs Destruction in the U.S.
The last four weeks witnessed an unprecedented level of jobs shut down in the U.S. (and elsewhere in the world). My earlier post here 
https://trueeconomics.blogspot.com/2020/04/16420-four-weeks-of-true-unemployment.html
 provided some comparatives. But here is a summary of jobs losses in every U.S. recessions from 1945 through 2019, and comparative figures for jobs losses in March to mid-April 2020:
Put simply, last four weeks of U.S. jobs shut downs are roughly equivalent to the
total
 jobs losses in
all
 U.S. recessions 1945-2002, or, looking in the opposite direction, to
all jobs losses
in every recession from 1960 through 2009.
As an important aside, U.S> recoveries have been slower and slower in recent decades in terms of jobs creation. 2007-2009 recession took 76 month to restore jobs numbers to pre-recession peak, while 2001 recession took 47 months. In fact, the last four recessions rank as the worst, second worst, fourth worst and fifth worst in terms of jobs recoveries.
This is not to say that the post COVID-19 shutdown recovery is going to be even longer - after all, the last four weeks saw shut down of jobs, not necessarily destruction of jobs, so some of the shut down jobs will be restored as soon as economic activity recovers. Nonetheless, the above numbers really are shocking.
covid19
covid2019
us jobs
us jobs destruction
us unemployment
recovers
How digital technology can help keep cities green and pleasant
We know cities need green spaces – but what should they look like and where should they go?
Parks, small woodlands and even simple patches of grass not only keep a city attractive, but also help people find a sense of bliss in an otherwise bustling urban environment. With new technologies, we can plan and monitor these urban "green spaces" better than ever before.
As several studies have highlighted, nature within urban settings plays a pivotal role in combating many of the global public health challenges commonly associated with urbanisation. This includes maladies such as depression and high blood pressure. A 2022 study showed that trees actually have the ability to improve urban air quality as leaves and pine needles capture pollutants from the air.
That cities do need green spaces is therefore not a particularly contentious issue. It is, however, an open question as to how much green space a city ought to have. Even here, science can provide some guidelines, as research points to at least 9 square metres of green space per individual, with an ideal value of 50 square metres per capita in a city (for comparison, an average UK car parking space takes up about 12 square metres).
Green landscaping
The big question is therefore what kind of green space do we want? A well-kept but human-made park? Or something more natural and unkempt, such as groves, meadows or field-like areas? As we discuss in our forthcoming book, Designing Smart and Resilient Cities for a Post-Pandemic World: Metropandemic Revolution, this is largely contingent on the geographic preconditions of the city in question. The World Health Organization (WHO) recommends a diversity of different kinds of green areas if possible, yet it is an inescapable fact that some cities are blessed with lush vegetation while others are not.
However, all is not lost for cities without much natural green area, as such environments can be constructed in urban settings that have previously been bereft of naturally growing trees and grass. This "green landscaping" can be undertaken even in areas that would otherwise seem unlikely. One prime example is the High Line in New York City, a 1.45 mile (2.33km) long elevated linear park built on an abandoned railway viaduct. Since it opened in stages about a decade ago, the High Line has become an exemplar of green landscape redesign that seeks to turn obsolete infrastructure into green, vibrant public spaces.
While it is known that greenery has positive effects on mankind at large, it is more difficult to prove the exact causal relationship in exactly how green areas affect our health. In this regard, digital technology can be an essential tool for urban planners to determine where green landscape redesign is best employed.
Smart technology
One concept that is seeing particularly rapid development is "smart urban forests", which refers to using tree monitors, 3D-imagery and other internet of things-linked technologies to help manage the forest. This "internet of nature" could monitor soil health, measure air pollution or ensure urban forests are adequately hydrated.
Future technology could also enable the use of open data platforms and more public engagement. Planners could collect various perspectives from the general population using an app, for instance, while also using digital technology to map and boost urban biodiversity and to ensure that green areas are placed where they will achieve maximum efficiency.
One example of this is the Treepedia research initiative, which was launched in 2016 by Massachusetts-based MIT Senseable City Lab. Treepedia aspires to raise awareness of urban forests by the use of digital vision techniques based on Google Street View images.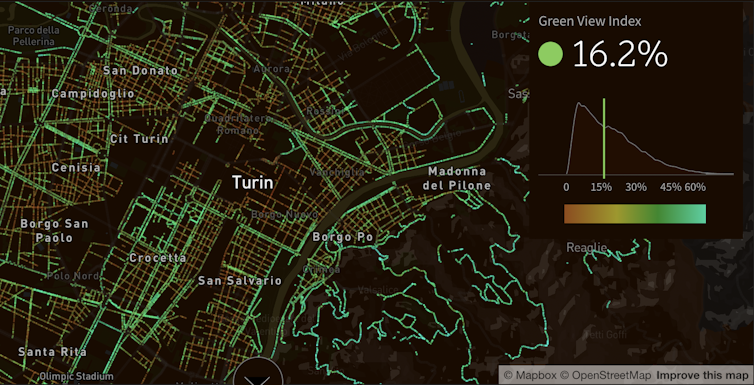 Treepedia focuses on pedestrian street trees found in multiple cities around the world, as opposed to parks. The main reason is that pedestrians are more likely to see street trees without planning to, whereas most people in parks made an active choice to be there. Using an open-source library, Treepedia means the public can calculate the quantities of tree coverage for their own city or region.
If urban planners become more aware of the potential of digital technology, then urban green spaces should have a bright future. However, designing the optimal green space that we want for our cities may also call for a deeper future collaboration between urban planners and engineers.
---
Read more: Neighbourhood green space is in rapid decline, deepening both the climate and mental health crises
---
Anthony Larsson works for the Stockholm Chamber of Commerce.
Andreas Hatzigeorgiou is also CEO of the the Stockholm Chamber of Commerce, and sits on the board of the Stockholm Senseable Lab, which is a collaboration between MIT and the KTH Royal Institute of Technology.
depression
pandemic
uk
world health organization
EUR/GBP price prediction: is the bears' pain over?
Ever since Brexit happened, the British pound gained against the common currency, the euro. Despite many analysts calling for the pound's decline, it…
Ever since Brexit happened, the British pound gained against the common currency, the euro. Despite many analysts calling for the pound's decline, it gained ground in a relentless bearish trend.
The downtrend was so strong that even in 2022, some analysts believe that the EUR/GBP exchange rate will still hover around 0.84 in March 2023 – about 10 months from now.
Currently, EUR/GBP trades at 0.85, bouncing from its lows and looking constructive from fundamental and technical perspectives. So, where will the exchange rate go next?
Here is a price prediction considering both the technical and fundamental aspects.
The two central banks' policies are set to diverge
Let's start with the fundamental perspective. A currency pair moves based on the monetary policy differences between the two central banks.
In this case, the Bank of England was one of the first major central banks in the world that decided to increase the interest rate in the aftermath of the COVID-19 induced recession. Moreover, it did so not once but multiple times.
At the same time, the European Central Bank did nothing. It couldn't do so, as a war started in Eastern Europe (Russia invaded Ukraine) in February.
In order to shelter European economies from the war's economic impact, the European Central Bank preferred a wait-and-see stance. However, inflation is running way higher than the central bank's target, and one of the causes is just the war.
As such, the central bank recently announced that it plans to end negative rates by September. Considering that the deposit facility rate is at negative 50bp, it means that a couple of rate hikes are on the table during the summer.
Yet, the Bank of England is now in a wait-and-see mode. Therefore, the fundamentals favor a move higher in the EUR/GBP exchange rate over the summer.
An inverse head and shoulders shows EUR/GBP struggling to overcome resistance
From a technical perspective, the market may have bottomed with the move to 0.82. It was quickly retraced, suggesting the presence of an inverse head and shoulders pattern.
A close above 0.86 should put the 0.90 area in focus. That is where the pattern's measured move points to, and the move also implies that the lower highs series would be broken, thus ending the bearish bias.
All in all, EUR/GBP looks bullish here. Both technical and fundamental aspects favor more strength in the months ahead.
The post EUR/GBP price prediction: is the bears' pain over? appeared first on Invezz.
recession
covid-19
monetary policy
pound
euro
european
europe
russia
ukraine
Weekly investment update – Weaker economic outlook weighs on markets
Global equities have continued their sell-off over the last week. What is new is that markets are now reacting to risks of weaker economic data weighing…
Global equities have continued their sell-off over the last week. What is new is that markets are now reacting to risks of weaker economic data weighing on earnings. Real bond yields, whose rise triggered the recent drop in equity markets, have fallen as investors price a higher probability of a recession.   
Yields of US Treasury bonds have slipped since reaching around 3.12% in early May (see Exhibit 1). The rally has been driven by fears of a global recession due to poor economic data, strong inflation numbers, aggressive talk from central bankers and concerns over the consequences of Covid in China.
Recent data that contributed to the bond market's unease about the prospects for the US economy includes: 
The Richmond Federal Reserve Manufacturing survey, which fell to its lowest since 2020 at -9.
The monthly survey of manufacturers in New York State conducted by the Federal Reserve Bank of New York fell to -11.6, with the shipment measure falling at its fastest pace since the start of the pandemic two years ago.
The Federal Reserve Bank of Philadelphia's May business index dropped 15 points to 2.6, with the six-month outlook falling to its lowest since December 2008 (though the underlying details were better than the headline number).
Existing and new home sales dropped for a third month, to its lowest since 2020, held back by lean inventory, rising prices and higher mortgage rates. 
Taken together, the various regional Federal Reserve surveys suggest that the ISM Report for Business may come in at around 53, above 50 so still clearly in expansion territory for the US economy, but down noticeably from the upper 50s/lows 60s readings to which markets have become accustomed.
US equities still weak
US equities have remained weak as the down move continues for its seventh week.
It has been apparent that, in contrast to the start of the year when rising real bond yields were undermining equity markets, it is now fears of falling earnings due to a weaker economy that are weighing on stocks.
The last week has seen, in accordance with the risk-off regime, more buying-the-dip and selling-the-rally. There has also been a rotation out of growth and cyclicals into value and defensives (healthcare, real estate, utilities and staples).
European markets under the cosh
Bearish sentiment is prevalent in Europe, too, with investors cutting exposures to European equities.
There was another outflow in the week to 18 May, taking the total to 14 weeks of outflows in a row. Cyclicals, in particular, saw strong outflows, led by the materials, financials and energy sectors.
Our multi-asset team are inclined to reduce exposure to equity markets given the deterioration in the outlook.
European economy resists
Economic activity indicators have fallen so far in May, but remain above 50. Activity edged up in the manufacturing sector despite the fallout from the Ukraine war and supply chain disruptions that have intensified with China's coronavirus lockdowns.
Although factories continue to report widespread supply constraints and diminished demand for goods amid elevated price pressures, the eurozone economy is being boosted by pent-up demand for services as pandemic-related restrictions are wound down.
While purchasing manager indices are still pointing to growth, it may be that these surveys understate the shock to activity, while sentiment surveys likely overstate the shock. Markets are increasingly tilting towards anticipation of a contraction in the coming quarters.
Higher food prices
Restrictions on the export of Ukrainian cereals continue and risks increasing food insecurity as the UN World Food Programme has highlighted.
As much of Russian and Ukrainian wheat goes to poorer nations, hunger could be a critical risk, driving up political instability.
The risk of further rises in food prices will be a key driver of inflation, particularly in emerging markets, the worst-case scenario being that the situation worsens significantly.
Moreover, lower fertiliser supply will have a greater impact on the next few months' harvests, while the pass-through of costlier logistics and input prices is likely to drive food prices even higher.
Coming up…
Minutes of the meeting of the US Federal Open Markets Committee on 3-4 May will be published later on Wednesday.
However, market conditions have soured appreciably since the Fed's first 50bp rate rise, so some of the language in the minutes pertaining to financial risks and market conditions will be outdated.
Instead, the three major focus points for market participants will likely be: 
Policymakers' views on the conditions which could lead to a shift down, back to a pace of raising rates by 25bp at each FOMC meeting;
Any hints as to how far and for how long policymakers intend to push policy rates into restrictive territory;
Guidance shaping expectations for the next Summary of Economic Projections — aka the dot plot — due to be released at the June meeting. 
Forthcoming economic data  
US personal income and spending data for April should give investors an insight into the US consumer's behaviour: Are they tightening the purse strings? The report may also show the Fed's preferred inflation gauge (core PCE deflator) starting to decelerate.
Perhaps equally important, the report should shed light on how consumers are responding to the current high inflation environment, indicating how wages are performing relative to inflation and how aggressively consumers are tapping into the USD 2.5 trillion of accumulated savings from the pandemic period.
Disclaimer
Any views expressed here are those of the author as of the date of publication, are based on available information, and are subject to change without notice. Individual portfolio management teams may hold different views and may take different investment decisions for different clients. The views expressed in this podcast do not in any way constitute investment advice.
The value of investments and the income they generate may go down as well as up and it is possible that investors will not recover their initial outlay. Past performance is no guarantee for future returns.
Investing in emerging markets, or specialised or restricted sectors is likely to be subject to a higher-than-average volatility due to a high degree of concentration, greater uncertainty because less information is available, there is less liquidity or due to greater sensitivity to changes in market conditions (social, political and economic conditions).
Some emerging markets offer less security than the majority of international developed markets. For this reason, services for portfolio transactions, liquidation and conservation on behalf of funds invested in emerging markets may carry greater risk.
Writen by Andrew Craig. The post Weekly investment update – Weaker economic outlook weighs on markets appeared first on Investors' Corner - The official blog of BNP Paribas Asset Management, the sustainable investor for a changing world.
recession
pandemic
coronavirus
treasury bonds
bonds
emerging markets
equities
stocks
fomc
fed
federal reserve
us treasury
home sales
mortgage rates
real estate
recession
european
europe
ukraine
china